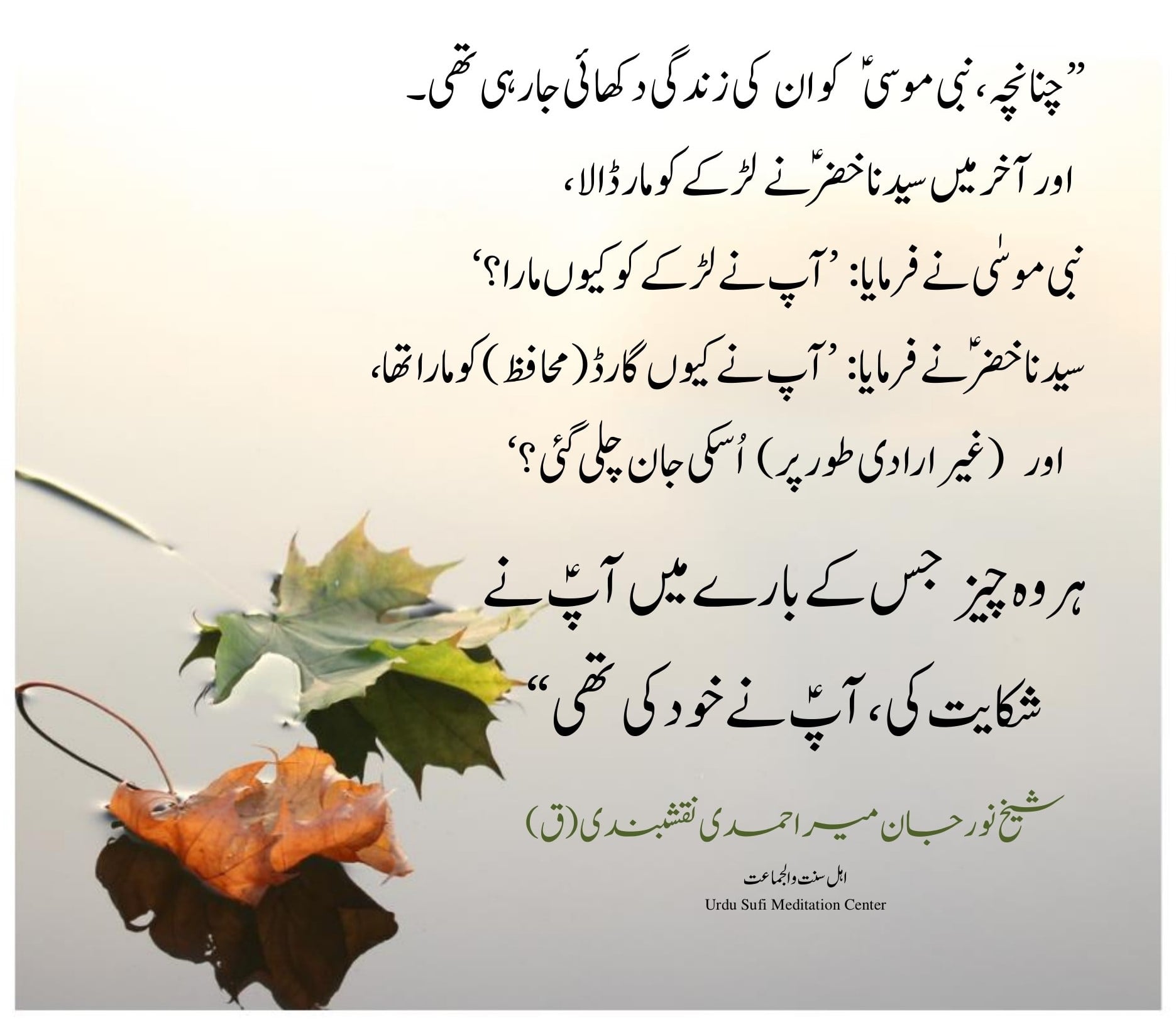 Urdu – 'Nabi Musa's (as) Tests Were a Reflection of His Own Life' 3. Hit the Guard ٣)…
'Nabi Musa's (as) Tests Were a Reflection of His Own Life'
3. Hit the Guard
٣)محافظ (گارڈ) کو مارنا: چنانچہ ، نبی موسی علیہ السلام کو انکی زندگی دکھائی جارہی تھی اور آخر میں حضر ت خضؑر نے لڑکے کو مار ڈالا ، نبی موسٰی نے فرمایا ، "آپ نے لڑکے کو کیوں مارا؟" "آپ نے گارڈ کو کیوں مارا اور (غیر ارادی طور پر) اُس کی جان چلی گئی ؟" ہر وہ چیز جس کے بارے میں آپ نے شکایت کی ، آپ نے خود کی ہے!
وَدَخَلَ الْمَدِينَةَ عَلَىٰ حِينِ غَفْلَةٍ مِّنْ أَهْلِهَا فَوَجَدَ فِيهَا رَجُلَيْنِ يَقْتَتِلَانِ هَـٰذَا مِن شِيعَتِهِ وَهَـٰذَا مِنْ عَدُوِّهِ ۖ فَاسْتَغَاثَهُ الَّذِي مِن شِيعَتِهِ عَلَى الَّذِي مِنْ عَدُوِّهِ فَوَكَزَهُ مُوسَىٰ فَقَضَىٰ عَلَيْهِ ۖ قَالَ هَـٰذَا مِنْ عَمَلِ الشَّيْطَانِ ۖ إِنَّهُ عَدُوٌّ مُّضِلٌّ مُّبِينٌ ﴿١٥﴾ 28:15 –
اور موسیٰ (علیہ السلام) ایک ایسے وقت شہر میں آئے جبکہ شہر کے لوگ غفلت میں تھے۔ یہاں دو شخصوں کو لڑتے ہوئے پایا، یہ ایک تو اس کے رفیقوں میں سے تھا اور یہ دوسرا اس کے دشمنوں میں سے، اس کی قوم والے نے اس کے خلاف جو اس کے دشمنوں میں سے تھا اس سے فریاد کی، جس پر موسیٰ (علیہ السلام) نے اس کو مارا اور [غیر ارادی طور پر] اسے مار ڈالا۔ موسیٰ (علیہ السلام) کہنے لگے یہ تو شیطانی کام ہے، یقیناً شیطان دشمن اور کھلے طور پر بہکانے واﻻ ہے۔ قرآن مجید (28:15)
(Our Translation)
"So, Nabi Musa (as) was being shown his own life and at the end he killed the boy, he said "why'd you kill the boy"? Why did you hit the guard and he died? Everything you complained about, you did.
وَدَخَلَ الْمَدِينَةَ عَلَىٰ حِينِ غَفْلَةٍ مِّنْ أَهْلِهَا فَوَجَدَ فِيهَا رَجُلَيْنِ يَقْتَتِلَانِ هَـٰذَا مِن شِيعَتِهِ وَهَـٰذَا مِنْ عَدُوِّهِ ۖ فَاسْتَغَاثَهُ الَّذِي مِن شِيعَتِهِ عَلَى الَّذِي مِنْ عَدُوِّهِ فَوَكَزَهُ مُوسَىٰ فَقَضَىٰ عَلَيْهِ ۖ قَالَ هَـٰذَا مِنْ عَمَلِ الشَّيْطَانِ ۖ إِنَّهُ عَدُوٌّ مُّضِلٌّ مُّبِينٌ ﴿١٥﴾
28:15 – "Wa dakhalal madeenata 'alaa heene ghaflatim min ahlihaa fawajada feeha raju laini yaqtatilaani haazaa min shee'atihee wa haaza min 'aduwwihee fastaghaasahul lazee min shee'atihee 'alal lazee min 'aduwwihee fawakazahoo Musaa faqadaa 'alaihi qaala haaza min 'amalish Shaitaani innahoo 'aduwwum mmudillum mubeen" (Surat Al-Qasas)
"And he entered the city at a time of inattention by its people and found therein two men fighting: one from his faction and one from among his enemy. And the one from his faction called for help to him against the one from his enemy, so Moses struck him and [unintentionally] killed him. [Moses] said, 'This is from the work of Satan. Indeed, he is a manifest, misleading enemy.'" (The Stories, 28:15)
Read More: https://nurmuhammad.com/secrets-of-18-safar-people-of-…/