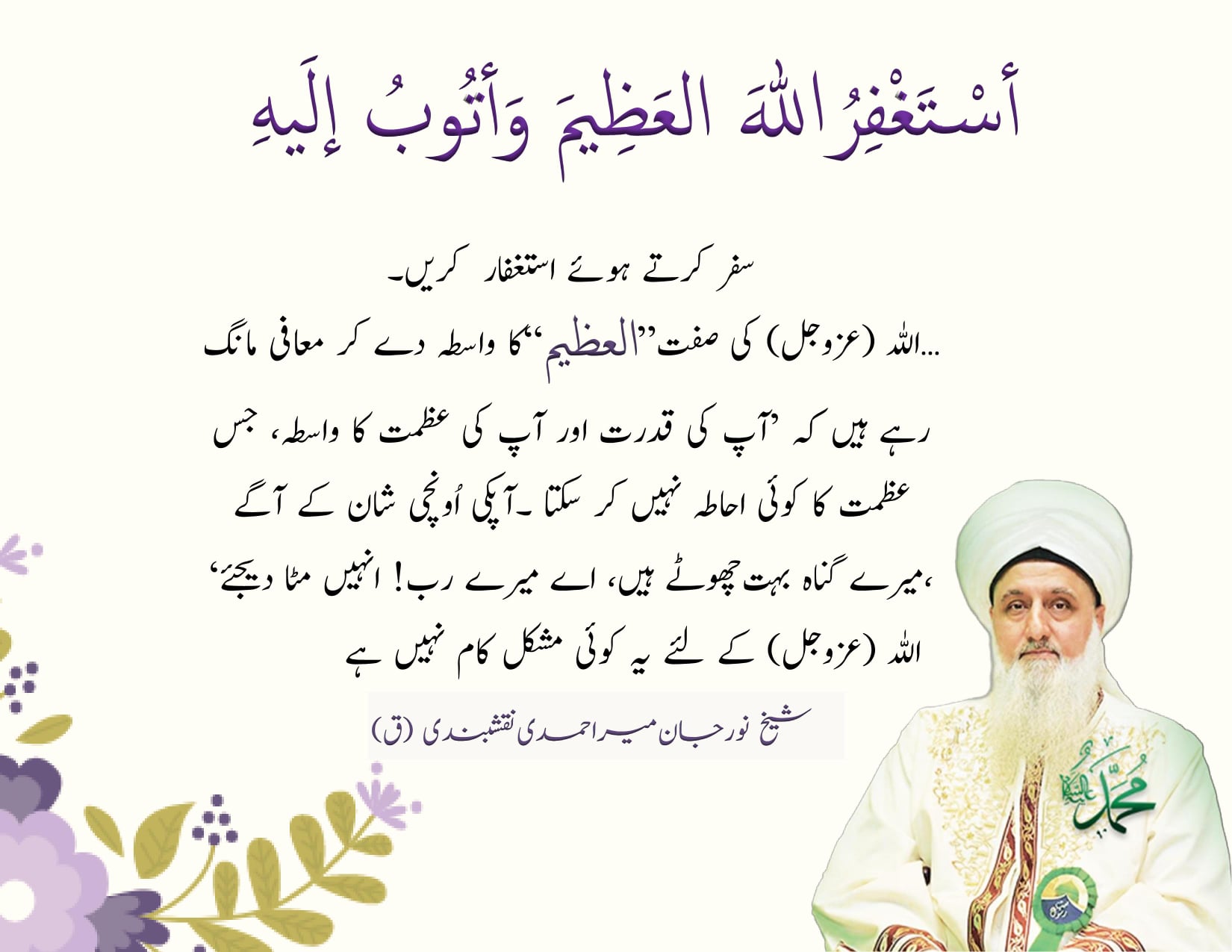 Urdu – Meditating in Public Places: Q&A Session with Sh. Nurjan (Q) سوال 2: کیا ہم …
Meditating in Public Places:
? Q&A Session with Sh. Nurjan (Q)?
سوال 2: کیا ہم عوامی جگہوں پر (کسی شاپنگ مال یا ریستوران میں بیٹھے ہوئے) مراقبہ کرسکتے ہیں؟ کیا ہم کار / بس / ٹرین میں سفر کرتے ہوئے مراقبہ(غوروفکر) کر سکتے ہیں؟
شیخ نورجان (ق): "اس کی اجازت نہیں ہے۔ عوامی جگہوں پر مراقبہ (غوروفکر) بہتر نہیں سمجھا جاتا کیونکہ جب تم مراقبہ کرتے ہو، تم ایک بہت ہی مثبت انرجی کھینچو گے اور تم ہرگز نہیں چاہو گے کہ (پبلک جگہ پر موجود ) تمام منفی انرجی کو کھینچ لو۔ جب بھی تم مراقبہ کرنے لگو (روحانی سفر پر نکلو) تو تمہیں کسی ایسے ماحول میں ہونا چاہیے جو نہایت صاف ستھرا اور بہت پاک ہو۔ تم نہیں چاہو گے کہ شاپنگ مال کے درمیان میں بیٹھ کر کثرت سے ذکر شروع کر دو، کیونکہ ایسا کرنے سے تمام منفی انرجی تمہاری طرف کھنچی چلی آئے گی ، پھر ہو سکتا ہے تمہاری آنکھیں سرخ اور بھاری ہوجائیں اور جب تک تم گھر پہنچو گے،خود کو بیمار محسوس کرو گے۔
سوال 3: میں ہر روز بس میں دو گھنٹے سفر کرتا ہوں کیا میں سفر کے دوران ذکر کر سکتا ہوں ، بیانِ شیخ دیکھ سکتا ہوں؟ پرانے ذکر سن سکتا ہوں ؟
شیخ نورجان (ق) :استغفار کریں: " استغفر الله العظيم و اتوب اليه" پڑھیں۔ (سفر کرتے ہوئے ) وہ استغفار کرسکتے ہیں کیونکہ استغفار انہیں (گناہوں سے) پاک کردے گا ،حتیٰ کہ اُنکے عزیزوں کے (گناہ) بھی صاف کردے گا اور اُس (منفی ) انرجی کو بھی صاف کرے گا جو خود اس شخص کے ساتھ جڑنے کی کوشش کر رہی ہے۔ لہذا ، اگر سفر لمبا ہو اور آپ ذکر کرنا چاہتے ہیں تو ، " استغفر الله العظيم و اتوب اليه" پڑھتے رہیں، آپ اللہ (عزوجل) کی صفت "العظيم" کا واسطہ دے کر معافی مانگ رہے ہیں کہ 'آپ کی قدرت اور آپ کی عظمت کا واسطہ، جس عظمت کا کوئی احاطہ نہیں کر سکتا ۔ آپکی اُونچی شان کے آگے ،میرے گناہ بہت چھوٹے ہیں، اے میرے رب ، انہیں مٹا دیجئے'، اللہ (عزوجل) کے لئے یہ کوئی مشکل کام نہیں ہے۔
Roman Urdu:
Sawal 2 : Kya hum awaami jaghon par ( kisi shopping mall ya restaurant mein baithy hue ) muraqba kar saktay hain? kya hum car / bas / train mein safar karte hue muraqba ( ghor-o-fikar ) kar satke hain ?
Sheikh Nurjan(Q) : Iss ki ijaazat nahi hai. Awaami jaghon par Muraqba ( ghor-o-fikar ) behtar nahi samgha jata kyunkay jab tum Muraqba karte ho, tum aik bohat hi masbet (positive) energy khencho ge aur tum hargiz nahi chaho ge ke ( public jagah par mojood ) tamam manfi (negative energy ko khech lo. Jab bhi tum Muraqba karne lagu ( Rohani safar par niklo ) to tumhe kisi aisay mahol mein hona chahiye jo nihayat saaf suthra aur bohat pak ho. Tum nahi chaho ge ke shopping mall ke darmain mein baith kar kasrat se zikar shuru kar do, kyunkay aisa karne se tamam manfi energy tumhari taraf khinchi chali aeye gi, phir ho sakta hai tumhari ankhen surkh aur bhaari ho jaien aur jab taq tum ghar pohncho ge, khud ko bemaar mehsoos karo ge .
Sawal 3 : Mein har roz bas mein do ghantay safar karta hon kya mein safar ke douran zikar kar sakta hon, bayan Sheikh dekh sakta hon? puranay zikar sun sakta hon ?
Shiekh Nurjan (Q): Astaghfar karen. 'Astaghfirullah al-'Azeem wa atubu ilaih' parheen,( Safar karte hue ) woh astaghfar kar saktay hain kyunkay astaghfar inhen ( gunaaho se ) pak kardey ga, hatta ke anke azeezon ke ( gunah ) bhi saaf kardey ga aur uss ( manfi ) energy ko bhi saaf kere ga jo khud is shakhs ke sath jurne ki koshish kar rahi hai. lehaza, agar safar lamba ho aur aap zikar karna chahtay hain to 'Astaghfirullah al-'Azeem wa atubu ilaih' parhte rahen, aap Allah ( azzwajal ) ki sift "العظیم" Al-Azeem ka waastaa day kar maffi maang rahay hain kay, Aap ki qudrat aur aap ki Azmat ka vaastaa, jis Azmat ka koi ihaata nahi kar sakta. Appki unchi shaan ke agay, mere gunah bohat chhootey hain, Ae Mere Rab! inhen mita dijiye ', Allah ( azzwajal ) ke liye yeh koi mushkil kaam nahi hai .
Question 2: Can we meditate in public spaces ( while sitting in a mall or restaurant)? Can we meditate while travelling in a car /bus /train?
Shaykh Nurjan (Q): That's not allowed. That's not looked upon as something good because as soon as you're going to meditate, you are going to bring upon a very strong positive energy and the last thing you would want to do is to carry all the negative energy and when You are about to open yourself up spiritually, You want to be in an environment that is very clean and very purified. You don't want to sit in the middle of the mall and start doing excessive amount of Zikr because then all the negative energy will be flying towards You, most likely your eyes will become all red and become heavy and You will feel sick by the time You get home.
Question 3 : I travel daily two hours on a bus, all the time. What can I do zikr, watch sohba's, listen to old zikrs, what else can we do besides meditating?
Shaykh Nurjan (Q): Astaghfirullah hal 'azim wa Atubo Alaik , they can make Isteghfar cause that Isteghfar will clean them, clean their loved ones and at least clean the energy that is trying to attach itself to the person. So,, if you're going to make a zikr, the journey is long then Isteghfar Astaghfirullah hal 'azim wa atubo alaih, Hal azim cause you asking from forgiveness by asking Allah (AJ) Sifat al-Azeem that your might and your majesty that nobody can comprehend and my sins are small in comparison to your greatness Ya Rabbi, wipe it away and it's not something difficult for Allah (AJ).