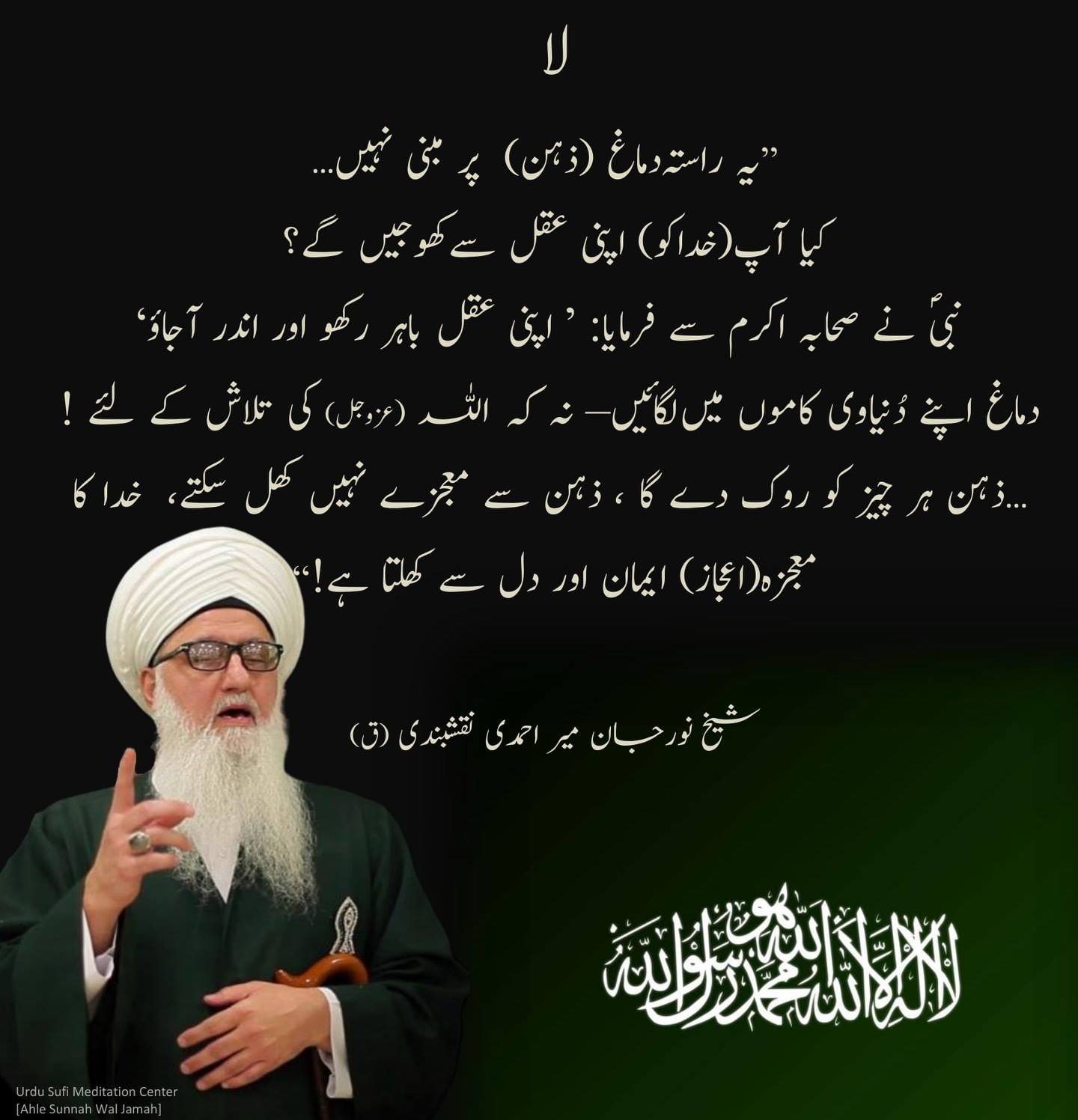 Urdu – La! – no head "یہ راستہ دماغ پر مبنی نہیں ہے ،اصل میں،آپکا سر (دماغ) ہرحق…
La!
– no head
"یہ راستہ دماغ پر مبنی نہیں ہے ،اصل میں،آپکا سر (دماغ) ہرحقیقت کو ر وک رہا ہے۔ تو ، یہ جنگ آپکے دماغ اور دل کے درمیان ہے۔ جتنا آپ کا دماغ سخت(ضدی) ہے،وہ کوشش کرے گاکہ دل کا دَم گھونٹ ڈالے ۔ یعنی پھر سارا مقصد دماغ سے پیچھا چھڑانا ہے۔ دماغ کا استعمال کرنا چھوڑ دیں۔ (شیخ نورجان ہنستے ہوئے) اپنا جسمانی سر نہیں کاٹنا ! کچھ لوگ یہ نہ بولیں، اوہ دیکھو اس شیخ نےکہا اپنا سر کاٹ دو! ۔ لیکن یہ ایک عقل کی بات ہے ، آخر زماں میں کیوں اللہ عزوجل ان تمام لوگوں کے سر کٹتے دکھا رہا ہے؟ ٹھیک ؟جب بھی یہ گروہ اکھٹے ہوتے ہیں، سب کے سر (کٹتے) اڑتے جاتے ہیں تو پہلے ہی انہیں دماغ کی ضرورت تو ہوتی نہیں، کیونکہ وہ دماغ کو(دین) کی غلط تفہیم میں لگاتے ہیں۔ تو مطلب یہ ہوا کہ تفکر کا پہلا قدم، پہلا ذکر " لآ اِلٰہَ اِلَّااللہ " ہے ، لا (شیخ نورجان نے سر کی طرف اشارہ کیا) الٰہٰ (شیخ نے دائیں طرف اشارہ کیا) اِلَّا اللہ (شیخ نے دل کی طرف اشارہ کیا)۔ آپ سانس ، اِنرجی اوپر لے جائیں، لا ! کہ یہ راستہ میرے دماغ پر مبنی نہیں ہے ، میرے ذہن کی، عقل کی منطق پر مبنی نہیں ہے ،کیا آپ اپنا ذہن کھوجیں گے؟ کیسے خدا کو اپنے ذہن کے ساتھ ڈھونڈیں گے؟ تونبی اکرمﷺ نے صحابہ اکرم سے فرمایا: ' اپنی عقل باہر رکھیں اور اندر آجائیں' ۔ اپنے دُنیاوی کام کے لئے اپنا دماغ صرف کریں– اپنے روزمرہ کے کاموں کے لئے کہ سودا سلف کیا لانا ہے؛ نہ کہ اللہ عزوجل کی تلاش کے لئے !۔ آپ اس اِنرجی کو سر کی جانب لائیں، دماغ چلانا بند کردیں۔ اے میرے رب ! یہ انرجی بھیجیں اور میرا سر اس طرح بنا دیجیے، جیسے میں غائب دماغ ہوں اور جب مولانا شیخ فرماتے تھے کہ 'اوہ تم بےعقل شخص کی طرح ہو!'تو دراصل ایک تعریف تھی کہ تم نے اپنا ذہن استعمال نہیں کرنا کہ ذہن بہت زیادہ متحرک ہے۔ ذہن ہر چیز کو روک دے گا ، ذہن سے معجزے نہیں کھل سکتے ۔ خدا کا معجزہ(اعجاز) ایمان اور دل سے کھلتا ہے۔ لہذا ، ہم لآ اِلٰہَ کی ضرب لگاتے ہیں پھر الہٰ کی حقیقت میں ایک طاقتِ اِلہٰیہ موجود ہے کیونکہ میری زندگی میرے آئینے سے ہم آہنگ ہے۔ میں واقعتا یہاں اس طرح حاضر نہیں ہوں۔ میری حقیقت کا آئینہ دوسری طرف ہے اور دل اس جانب ہے۔ اس زمین پر ہمارا محض ایک عکس ہے ، میری حقیقت بھی ایسی ہے (شیخ نورجان دونوں ہاتھوں کی انگلیوں کی نوک ملا کر فرماتے ہیں )۔ سب کچھ مخالف سمت میں ہے۔ ہم آج رات اس موضوع پر بات نہیں کر رہےکہ اسکا مطلب کیا ہے لیکن لآ اِلٰہَ –اور پھر جو ساری انرجی اور قدرہ آپکی دائیں طرف سینے میں جاتی ہے، اُس نور کو دل کی طرف لے جائیں اِلَّااللہ! اللہ کے سوا کچھ موجود نہیں ہے! اِلَّااللہ، اِلَّااللہ، اِلَّااللہ ۔ اور وہ سانس لیتے ہیں اور آپ اپنے تفکر کے لئے بیٹھ سکتے ہیں۔ اس سارے سمندر اور مراقبہ کی سائنس کی وجہ سے تفکر کے بہت سے مختلف پہلو ہیں ۔ جیسے ایک پہلو، یہ سیکھنا ہے کہ آپ ( شیوخ سے روحانی) رابطہ کیسے قائم کریں، ایک پہلو یہ سیکھنا ہے کہ سانس کیسے لیں، ایک یہ ہے کہ جب آپ سانس لے رہے ہو تو اِنرجی کیسے منتقل کرنا شروع کریں، سو مرتبہ " لآ اِلٰہَ اِلَّااللہ " پڑھ سکتے ہیں ۔ "
شیخ نورجان میر احمدی نقشبندی (ق)
[our Translation]
"…this way is not based on my head, not based on the logic of my understanding of my mind, you're going to find your mind and how you're going to find God with your mind. So, Prophet ﷺ told companions leave your head outside and come in. your head for your work, for your day to day activities, what to choose for your groceries, not to find Allah (AJ). You bring this energy to the head, shut the head off. Ya Rabbi bring this energy and begin to make my head like no head person and then Mawlana shaykh was saying oh you are like a no-mind person which was actually a compliment cause you're not to use your mind, the mind is way too active.
The mind will block everything, the miracle will not open through the mind. The miracle of God opens through faith and the heart.
So, we keep making LA ILAHA then the reality of ILAHA there's a divine power because my life is the symmetry of my mirror. I'm not really appearing here like this. The mirror of my reality is on that side and the heart is on that side. This merely our reflection on this earth, my reality is like this (shaykh joins the tip of the fingers of both hands). Everything is on the opposite. So, we're not going that to night what that means, but LA ILAHA and then bring all the energy and the qudra of what's on your right breast move that light into the heart ILALLAH. There is nothing but Allah, ILALLAH, ILALLAH, ILALLAH and they breathe and you can sit for your taffakur. Cause all of this ocean and science of meditation, taffakur has many different aspects. One is to learn how to connect, one is to learn how to breathe, one is now how to begin to move the energy that when you're breathing you can say for hundred times, LA ILAHA ILALLAH, ILALLAH. "
🌺 Sh. Nurjan Mirahmadi Naqshbandi (Q) 🌺
Watch here: https://www.youtube.com/watch?v=eztpRLiOj08