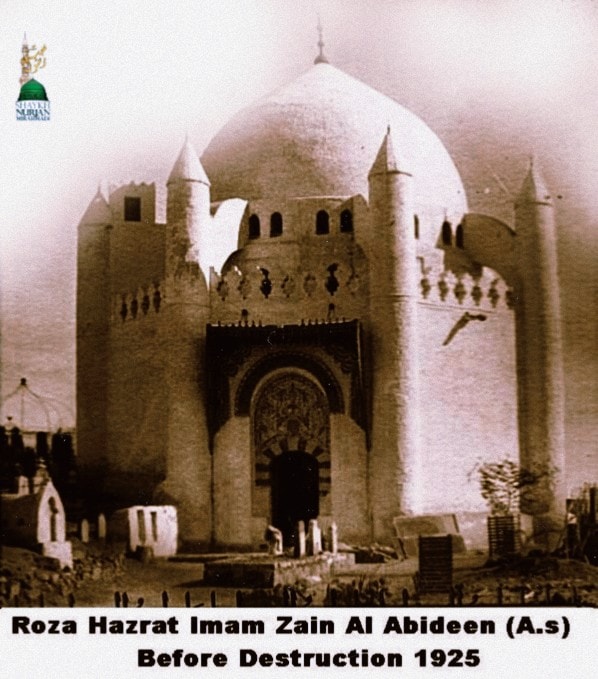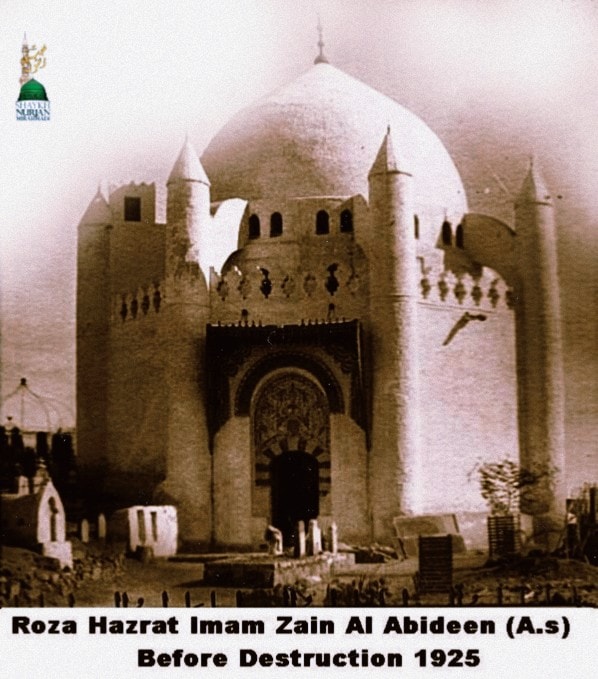 Urdu – Imam Zain Abadeen [as] |امام زین العابدینؑ|مصر میں، مقامِ سیدنا امام زین العابد…
Imam Zain Abadeen [as]❤️
|امام زین العابدینؑ|مصر میں، مقامِ سیدنا امام زین العابدینؑ
💕خلفاء کا احترام💕
ایک بار عراق سے کچھ لوگ ، امام زین العابدین (رضی اللہ عنہہ) سے ملنے آئے۔ دورانِ گفتگو ، انہوں نے حضرت ابوبکر صدیق ؑ، حضرت عمرؑ اور حضرت عثمان علیہ السلام کےمتعلق توہین آمیز الفاظ کہنا شروع کردیئے۔جو وہ کہنا چاہتے تھے جب وہ بول چکے، تو امام زین العابدینؑ نے فرمایا: مجھے بتاؤ، کیا تم مہاجرینِ اوَّل ہو؟ جن کے بارے میں اللہ تعالیٰ کا ارشاد ہے،
لِلۡفُقَرَآءِ الۡمُہٰجِرِیۡنَ الَّذِیۡنَ اُخۡرِجُوۡا مِنۡ دِیَارِہِمۡ وَ اَمۡوَالِہِمۡ یَبۡتَغُوۡنَ فَضۡلًا مِّنَ اللّٰہِ وَ رِضۡوَانًا وَّ یَنۡصُرُوۡنَ اللّٰہَ وَ رَسُوۡلَہٗ ؕ اُولٰٓئِکَ ہُمُ الصّٰدِقُوۡنَ ۚ﴿۸)
"وہ لوگ جو اللہ کے فضل اور اس کی خوشنودی کیلئے اپنے گھروں اور اپنے مال سے بے دخل ہوئے،اللہ اور اس کے رسول (صلی اللہ علیہ وآلہ وسلم) کی مدد کرتے ہیں، یہی لوگ ہی سچے مؤمن ہیں۔ [سورہ حشر آیت 8]
انہوں نے یہ کہتے ہوئے نفی میں جواب دیا کہ آیت ان کا حوالہ نہیں دیتی ۔ حضرت امام زین العابدین (رضی اللہ تعالیٰ عنہہ) نے پھر پوچھا کہ کیا وہ انصار میں سے ہیں؟، جن کے بارے میں اللہ عزوجل نے قرآن مجید میں ارشاد فرمایا ہے ،
الَّذِیۡنَ تَبَوَّؤُ الدَّارَ وَ الۡاِیۡمَانَ مِنۡ قَبۡلِہِمۡ یُحِبُّوۡنَ مَنۡ ہَاجَرَ اِلَیۡہِمۡ وَ لَا یَجِدُوۡنَ فِیۡ صُدُوۡرِہِمۡ حَاجَۃً مِّمَّاۤ اُوۡتُوۡا وَ یُؤۡثِرُوۡنَ عَلٰۤی اَنۡفُسِہِمۡ وَ لَوۡ کَانَ بِہِمۡ خَصَاصَۃٌ ؕ۟ وَ مَنۡ یُّوۡقَ شُحَّ نَفۡسِہٖ فَاُولٰٓئِکَ ہُمُ الۡمُفۡلِحُوۡنَ ۚ﴿۹)
"اور وہ لوگ جنہوں نے ابتداء سے ہی اس شہر میں اپنے گھروں کو ایمان کے ساتھ قائم کیا تھا۔وہ ، (جو) ان لوگوں سے محبت کا اظہار کرتے ہیں ، جو ان کی طرف ہجرت کر گئے ہیں ، اور جن کے دلوں میں کوئی حاجت نہیں پائی جاتی ہے ، اس کے لئے جو باقی رہ گیا ہے ، اور وہ ان کو اپنی زندگیوں پر ترجیح دیتے ہیں ، حالانکہ ان کو بہت ضرورت ہے۔"
[سورہ حشر آیت 9]
ایک بار پھر ، انہوں نے نفی میں جواب دیا۔ پھر امام زین العابدینؑ نے فرمایا ، میں قسم کھاتا ہوں کہ آپ قرآن مجید کی اس آیت کے اہل بھی نہیں ہیں جس میں اللہ عزوجل کا فرمان ہے ،
الَّذِیۡنَ جَآءُوۡ مِنۡۢ بَعۡدِہِمۡ یَقُوۡلُوۡنَ رَبَّنَا اغۡفِرۡ لَنَا وَ لِاِخۡوَانِنَا الَّذِیۡنَ سَبَقُوۡنَا بِالۡاِیۡمَانِ وَ لَا تَجۡعَلۡ فِیۡ قُلُوۡبِنَا غِلًّا لِّلَّذِیۡنَ اٰمَنُوۡا رَبَّنَاۤ اِنَّکَ رَءُوۡفٌ رَّحِیۡمٌ ﴿۱۰)
"اور وہ جو ان کے بعد آئے،عرض کرتے ہیں۔ اے ہمارے رب! ہمیں بخش دے اور ہمارے بھائیوں کو جو ہم سے پہلے ایمان لائے اور ہمارے دل میں ایمان والوں کی طرف سے کینہ نہ رکھ،اے ہمارے رب! بیشک تو ہی نہایت مہربان رحم والا ہے،[سورہ حشر آیت 10]
یہ فرمانے کے بعد ، امام زین العابدینؑ نے انہیں رخصت ہونے کا کہا۔ دوسرے الفاظ میں ، امام زین العابدینؑ نے انھیں دکھایا کہ وہ مہاجرین ، یا انصار میں سے نہیں تھے ، یہاں تک کہ وہ مومنین میں سے بھی نہیں تھے۔ لہذا امام زین العابدینؑ نے اُن لوگوں کو خلفائے ثلاثہ کی بے توقیری کرنے سے سختی سے روک دیا۔
Imam Zain Abadeen [as]❤️
Maqam Sayyaduna Imam Zain al-'Abideen in Egypt
RESPECT FOR THE KHULAFA💕
Once some people from Iraq, came to visit Imam Zain al-'Abideen (Radi ALLAHu Ta'ala Anho). During their visit, they began to say disrespectful words concerning Hadrat Abu Bakr, Hadrat Umar and Hadrat Uthman (Ridwanullahi Ta'aal Alaihim Ajma'een).
When they had completed saying what they wished to, He said, Tell me, are you from amongst the first Muhajireen, concerning whom Almighty Allah says, "Those who were driven out from their homes and their possessions seeking the grace of Allah and His Pleasure, and helping Allah and His Messenger. They are the truthful." [Surah Hashr verse 8]
They replied in the negative, by saying that the verse did not refer to them. Hadrat Imam Zain al-'Abideen (Radi ALLAHu Ta'ala Anho) then asked if they were from amongst the Ansaar, concerning whom Almighty Allah says in the Quran, And those who had established their homes in this city, with faith, from inception, They, (who) show love to those, who migrated towards them, and who find no need in their hearts, for that which has been left, and they give preference to them over their lives, even though they are in great need. [Surah Hashr verse 9]
Again, they answered in the negative. He then said, I swear, that you are not even worthy of this verse of the Quran wherein Allah says, And those who came after them say, O Allah! Pardon us and our brothers, who brought faith before us, And keep not in our hearts hostility towards those with Imaan. O Our Lord, Verily you are most Compassionate, Most Merciful.
After saying this, he asked them to leave his presence. In other words, he showed them that they were not from amongst the Muhajireen, or the Ansaar, or even from amongst the believers. He therefore shunned them for being disrespectful to the Khulafa-e-Thalaasa.