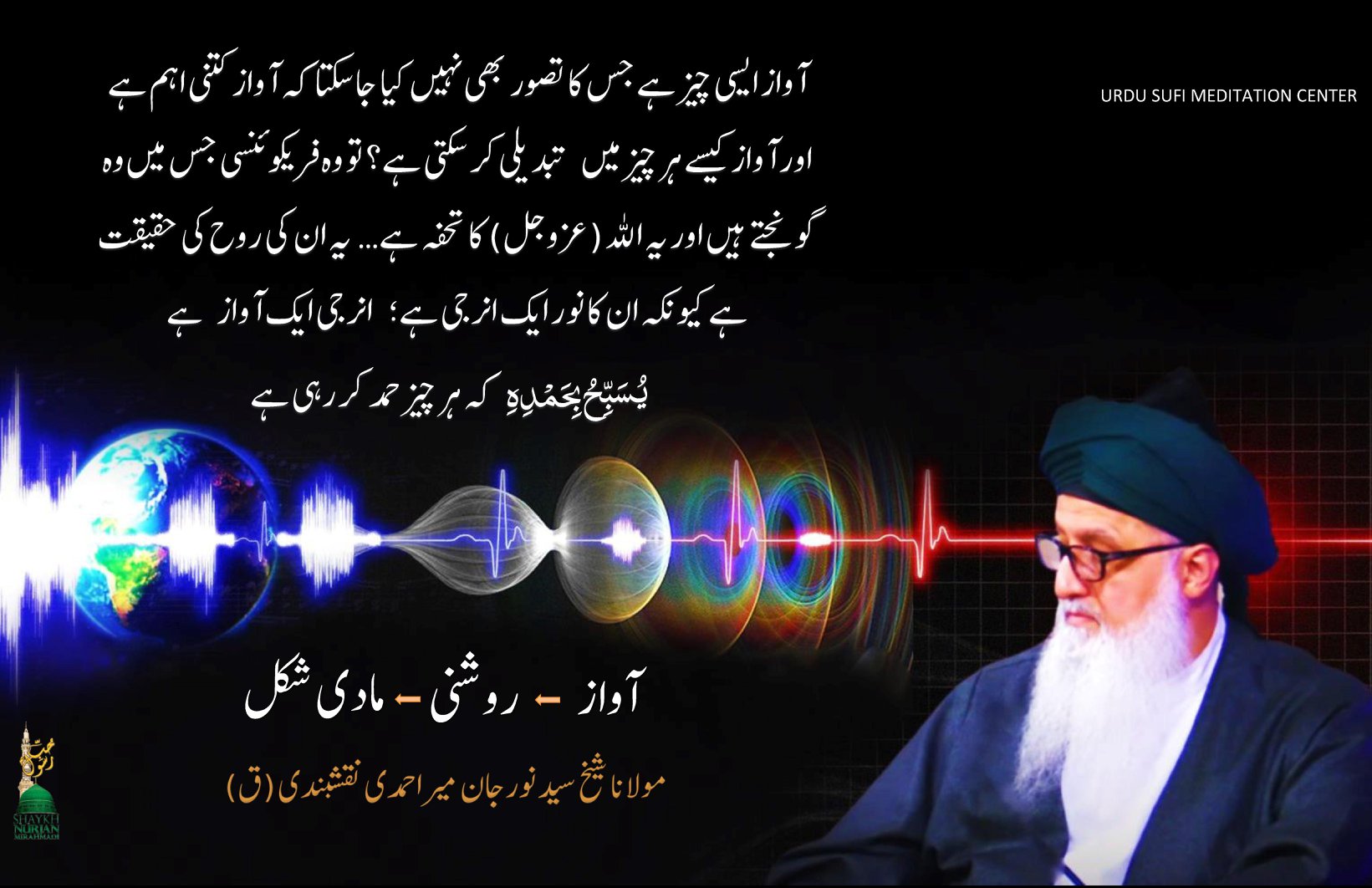 Urdu – |Heart is a Finely-tuned Instrument Q&A| |دل ایک فائن ٹیونڈ آلہ ہے— سوال و جواب…
|Heart is a Finely-tuned Instrument Q&A|
|دل ایک فائن ٹیونڈ آلہ ہے— سوال و جواب |
|Dil Ek Fine-tunned Aala Hai. Sawalo Jawab|
مولانا شیخ سید نورجان میراحمدی نقشبندی (قدس اللہ سرہٗ) کی تعلیمات مولانا (ق) کے حقائق سے
اَعُوْذُ بِاللہ مِنَ الشَّیْطٰنِ الرَّجِیْمِ ۞ بِسْمِ اللہ الرَّحْمٰنِ الرَّحِیْمِ ۞
اللہ کی پناہ مانگتا ہوں شیطان مردود سے۔اللہ کے نام سے شروع کرتا ہوں جو نہایت مہربان رحم کرنے والا ہے
سوال: جب کسی دوسرے کو بخار ہوتا ہے تو مجھےایسا محسوس ہوتا ہے، جیسے مجھے بھی بخار ہے لیکن زیادہ تیز ہے، اس کا کوئی معانی ہے؟
|Sawal: Jab kisi dosray ko bukhaar hota hai to mujhe aisa mehsoos hota hai, jaisay mujhe bhi bukhaar hai lekin ziyada taiz hai, is ka koi maaeni hai?|
Question: When someone else has a temperature I also feel as though I have a temperature but magnified, any understanding on that?
مولانا شیخ سید نورجان میر احمدی نقشبندی (ق(:
آپ کسی سے کہیں کہ اُس شخص کو تھپڑ مارے اور پھر آ پکو تھپڑ مارا جائے ۔ دیکھیں آ پکو یہ محسوس ہوا ! (ہنسی گونج اُٹھی)۔ آپ کے دل میں ، آ پ کو لوگوں سے ایک لگاؤ ہو سکتا ہے۔لہذا ایسا ربط اور ایسا رشتہ اور ایسی محبت ہوسکتی ہے کہ ایک کے احساسات اور جذبات دوسرا محسوس کرے۔ اور وہ جو اپنے دلوں کو تربیت دے رہے ہیں ، دل ایک فائن ٹیون آلہ ہے، جس میں ہم نے 'ٹیوننگ' کو بیان کیا ہے۔ تو شیخ کے ساتھ وفاداری کا مقصد ٹیوننگ کا ہی ساراموضوع ہے۔ اگر تم ذکر میں آتے ہیں تو ،شیخ ایک فریکوئنسی پر وایبریٹ کر رہے ہیں ۔ اور آپکو الفاظ میں سمجھانے کیلئے (مثال ہے کہ ) وہ 10 فریکوئنسی پر وایبریٹ ہو رہے ہیں ، دوسرے شیخ 9 پر وایبریٹ ہو رہے ہیں ، کوئی اور شیخ 8 پر— طاقت کی بات نہیں ہو رہی، بلکہ مختلف فریکوئنسی ہیں ۔
|Maulana Shaykh Nurjan Mirahmadi Naqshbandi (Q) : Aap kisi se kahin ke uss shakhs ko thapar maaray aur phir ap ko thapar mara jaye. Dekhen apko yeh mehsoos hwa! ( hansi goonj uthee ). Aap ke dil mein, aap ko logon se aik lagao ho sakta hai. Lehaza aisa rabt aur aisa rishta aur aisi mohabbat hosakti hai ke aik ke ehsasat aur jazbaat dosra mehsoos kere. Aur woh jo apne dilon ko tarbiyat day rahay hain,dil aik fine tune saaz hai, jis mein hum ne' tuning' ko bayan kya hai. To Shaykh ke sath wafadaari ka maqsad attuning ka hi sara muzu hai. Agar tum zikar mein atay hain to, Shaykh aik frequency par vibrate kar rahay hain. Aur aapko alfaaz mein samjhane ke liye ( misaal hai ke ) woh 10 frequency par vibrate ho rahay hain, dosray Shaykh 9 par vibrate ho rahay hain, koi aur Shaykh 8 par— taaqat ki baat nahi ho rahi, balkay mukhtalif frequency hain.|
From the Realities of Mawlana (Q) as taught by Shaykh Nurjan Mirahmadi.
A'udhu Billahi Minash Shaitanir Rajeem
Bismillahir Rahmanir Raheem
I seek refuge in Allah from Satan, the rejected one
In the Name of Allah, the Most Beneficent, the Most Merciful
Shaykh Nurjan Mirahmadi: You have to get somebody to slap that person, and then slap you. See if you felt that! [Laughter] You could have an affinity with people in your heart. So there can be such a connection and such a bond, and such a love that the feelings and the emotions of one can be felt by another. And those whom they are training their hearts, the heart is a fine-tuned instrument, in which we described 'tuning.' So the purpose of being loyal with the shaykh is the whole subject of tuning. If you come into the zikr (remembrance), the shaykh is vibrating with a frequency. And let's say for your understanding to put into words, he's vibrating at a ten, another shaykh is vibrating at a nine, another shaykh at an eight, not in powers but different frequencies.
شیخ جو کام کر رہے ہیں ، اسکی حقیقت یہ ہے کہ جب تم ان کی مجلس میں آؤ گے— چاہے لائیو یا آن لائن آئیں ، وہ تمہاری نفی کریں گے، وہ تمہیں سکھائیں گے ، وہ تمہاری تمام فریکوئنسی نیچے لائیں گے ، اور پھر وہ اپنی فریکوئنسی سےتمہارے ساتھ گونج رہے ہیں۔ تو پھر تم ایک اٹیوننگ فورک کی طرح ہوجاتے ہو ۔ جہاں تم اسے رکھ کر (تجربہ کرتے ہو ) **لرز ش کی آواز جو ٹیوننگ فورک سے ٹکرانے پر آتی ہے(مولانا ازراہ مذاق کہتے ہیں ، میرے اپنے ساوئنڈ ایفکٹس ہیں، حاضرین مسکرا دیئے) اور پھر دوسری چیز ** (فورک میں بھی لرز ش پیدا ہوتی ہے ) ۔ تم واقعی کسی چیز کو ٹیون کرسکتے ہوکیونکہ یہ سب تمہاری فریکوئنسی پر منحصر ہوتا ہے جیسے ہی تم کسی ایک چیز کو مارتے ہیں ، دوسری چیزیں اُسی طرح وایبریٹ ہونےلگتی ہیں۔
|Shaykh jo kaam kar rahay hain, uski haqeeqat yeh hai ke jab tum un ki majlis mein aao ge — chahay live ya online ayen, woh tumhari nafi karen ge, woh tumhe sikhain ge, woh tumhari tamam frequency neechay layein ge, aur phir woh apni frequency se tumahray sath goonj rahay hain. To phir tum aiktuning fork ki terhan ho jatay ho. Jahan tum usay rakh kar ( tajurbah karte ho ) * larazish ki aawaz jo attuning fork se takaraane par aati hai ( mawlana azrah mazaq kehte hain, mere –apne sound effects hain, hazreen muskura diye ) aur phir doosri cheez * ( fork mein bhi larazish peda hoti hai ). Tum waqai kisi cheez ko tune kar saktay hu kyunke yeh sab tumhari frequency par munhasir hota hai jaisay hi tum kisi aik cheez ko maartay hain, doosri cheeze usi terhan vibrate honay lagti hain .|
The reality of what the shaykh is doing is that when you come into their association, whether live or online, they're going to negate you, they're going to teach you, they're going to bring down all of your frequencies, and then they're going to resonate with their frequency onto you. So then you become like a attuning fork. Where you put it up and you go 'bowowo' [indicating the vibration of hitting a attuning fork]. 'I have my own special effects' [everyone laughs]. And then the other thing goes, 'wowowo' [indicating replication of frequency]. You can actually tune something because it's all based onto your frequency as soon as you hit the one thing, the other things vibrating the same.
پھر تمہیں کیا لگتا ہے کہ دل کی طاقت کیسی ہے جو اللہ (عزوجل) کی تخلیق کا سب سے نازک ساز (آلہ) ہے۔ جب تم شیخ کے ساتھ مطابقت رکھتے ہو اور جب آپ وہ مشقیں کرتے ہیں جو وہ آپکو بتا رہے ہیں؛ وہ آداب برقرار رکھتے ہیں، جو وہ آپکو بتا رہے ہیں بتا رہے ہیں ، وہ آپکی فریکوئنسی کی نفی کر رہے ہیں۔ جیسے ہی آپ ان کی مجالس میں شرکت کرو گے آپ انکی فریکوئنسی پر وایبریٹ کررہے ہو۔ ان کی انرجی آپ کے ذکر کو ڈھانپ رہی ہے ، ان کی فریکوئنسی آپکی فریکوئنسی کو ڈریس کررہی ہے۔ اور یہی وجہ ہے کہ شیخ عبداللہ الفائز الدغستانی ( ق) نے فرمایا : "میرے ساتھ صرف پانچ منٹ بیٹھو اور میں تمہیں اپنے مقام پر لے جاتا ہوں '۔
|Phir tumhe kya lagta hai ke dil ki taaqat kaisi hai jo Allah (AJ) ki takhleeq ka sab se naazuk saaz ( aala ) hai. Jab tum Shaykh ke sath mutabqat rakhtay ho aur jab aap woh mashqen karte hain jo woh apko bta rahay hain woh aadaab barqarar rakhtay hain, jo woh apko bta rahay hain bta rahay hain, woh apki frequency ki nafi kar rahay hain. Jaisay hi aap un ki majalis mein shirkat karo ge aap unki frequency par vibrate kar rahay ho. Un ki energy aap ke zikar ko dhaanp rahi hai, un ki frequency apkee frequency ko drees kar rahi hai. Aur yahi wajah hai ke Shaykh Abdullah al-Faiz ad-Daghestani (Q) neh farmaya : "mere sath sirf paanch minute baitho aur mein tumhe –apne maqam par le jata hon' .|
What do you think then is the power of the heart which is the most delicate instrument from Allah's (AJ) creation. When you're in tune with the shaykh and you're doing the practices they're telling you, keeping the way of what they're telling you, they're negating your frequency. As soon as you attend their associations you're vibrating at their frequency. Their energy is dressing your zikr, their frequency is dressing your frequency. And that's why Shaykh Abdullah al-Faiz ad-Daghestani (Q) said, 'Just sit five minutes with me and I take you to my station.'
وہ اس حقیقت سے میراث پارہے ہیں کہ جیسے ہی وہ اپنی فریکوینسی پر ہوں وہ بندے کو وہیں لے جارہے ہیں، جہاں وہ ہیں۔ لہذا ، اس کا مطلب ہے کہ یہ اٹیوننگ کے حقائق ہیں۔ جیسے ہی تم تفکر کی تربیت کرنے لگو؛ طریقت (روحانی راہ) کی راہ میں تربیت کرنے لگو، تمہارا دل بہت حساس ہوجاتا ہے۔ اور تم کہیں جاکر محسوس کروگے کہ تمہارا دل بہت تیزی سے دھڑک رہا ہے، گویا تمہیں بے چینی محسوس ہورہی ہے لیکن یہ تم نہیں جو پریشان ہے۔ تم کسی سے بات کرو جو بہت غصہ میں ہو ، اور تمہیں لگتا ہے کہ اُن کی دل کی دھڑکن بہت تیز ہے۔ تم بے چینی محسوس کرو گے ، تمہیں لگتا ہے کہ تمہارے ساتھ کچھ غلط ہے۔ کیا غلط ہے؟ یہ تم نہیں بلکہ یہ ایسا آلہ ہے جسکی ٹیوننگ ہو ئی ہے (یعنی دل) ۔ اگر یہ کسی ایسی جگہ جاتا ہے جہاں کوئی بہت غصہ میں ہے ، انتہائی جارحانہ ہے ، تو تم اسے محسوس کرو گے ۔
|Woh is haqeeqat se meeras pa rahe hain ke jaisay hi woh apni frequency par hon woh bande ko wahein le jarahay hain, jahan woh hain. Lehaza, is ka matlab hai ke yeh attuning ke haqayiq hain. Jaisay hi tum taffakur ki tarbiyat karne lago؛ tareqat ( rohani raah ) ki raah mein tarbiyat karne lagu, tumhara dil bohat hassas hojata hai. Aur tum kahin jaakar mehsoos karogay ke tumhara dil bohat taizi se dharak raha hai, goya tumhe be cheeni mehsoos horahee hai lekin yeh tum nahi jo pareshan hai. Tum kisi se baat karo jo bohat gussa mein ho, aur tumhe lagta hai ke unn ki dil ki dharkan bohat taiz hai. Tum be cheeni mehsoos karo ge, tumhe lagta hai ke tumahray sath kuch ghalat hai. Kya ghalat hai? Yeh tum nahi balkay yeh aisa aala hai jiski attuning hoi hai ( yani dil ). Agar yeh kisi aisi jagah jata hai jahan koi bohat gussa mein hai, intahi jarehana hai, to tum usay mehsoos karo ge .|
They're inheriting from that reality. That as soon as they're on their frequency they're uplifting the servant to where they are. So, it means these realities of attuning, as soon as you begin to train in tafakkur (contemplation), train in the way of tariqah (spiritual path), your heart becomes very sensitive. And you may go somewhere and feel that your heart is beating very fast as if you feel agitation but it's not you that's agitated. You could be talking to someone who's very angry, and you feel their heartbeat moving very fast. That you feel uncomfortable, you think something's wrong with you. What's wrong? It's not you but it's attuned piece of equipment (the heart). If it goes somewhere where someone is resonating very angry, very aggressive, you can feel it.
اور بہت سارے طالب علم ہیں جو محسوس کرنا شروع کردیں گے۔ اسی لئے پھر ہم نے بیان کیا ، 'اپنے دل پر توجہ دو!' جب تم کہیں داخل ہوتے ہو اور تمہارا دل کہتا ہے کہ 'کچھ ٹھیک نہیں ہے ، کچھ ٹھیک نہیں ہے' تو باہر نکل جاؤ! جب تم کہیں جاتے ہو اور کوئی کسی لہجہ میں بات کر رہا ہو اور تم دل میں محسوس کرو کہ کچھ ٹھیک نہیں ہے تو ، (واقعی) کچھ ٹھیک نہیں!
|Aur bohat saaray taalib ilm hain jo mehsoos karna shuru kar dein ge. Isi liye phir hum naay bayan kya,' –apne dil par tavajja do !' jab tum kahin daakhil hotay ho aur tumhara dil kehta hai ke' kuch theek nahi hai, kuch theek nahi hai' to bahar nikal jao! Jab tum kahin jatay ho aur aur koi kisi lehja mein baat kar raha ho aur tum dil mein mehsoos karo ke kuch theek nahi hai to, ( waqai ) kuch theek nahi !|
And there are many students who will begin to feel. That's why we said then, 'Pay attention to your heart!' When you enter into somewhere and your heart's telling you, 'Something's not right, something's not right,' get out! When you go somewhere and someone's talking a certain way and you feel in your heart something's not right, something is not right!
تو ہاں ، یہ اٹیوننگ سمجھنے کی ابتدا ہے۔ اور آواز کے حقائق کو سمجھنے کا آغاز ہے۔ آواز ایسی چیز ہے جس کا تصور بھی نہیں کیا جاسکتا کہ آواز کتنی اہم ہے اور آواز کیسے ہر چیز میں ہیرا پھیری کر سکتی ہے؟ تو وہ فریکوئنسی جس میں وہ گونجتے ہیں اور یہ اللہ (عزوجل) کا تحفہ ہے، ایسا نہیں ہے کہ وہ ایکپیلا ہیں (موسیقی کے بغیر سُر میں گانے والے ) اور وہ ایک خاص آواز پر ریاض کرتے ہیں ، یہ حقیقت نہیں ہے ، ' اوہ ' ( شیخ نچلے سر کی آواز بناتے ہیں ) ، اور پھر تم بدلنا شروع ہو جاؤ گے۔
|To haan, yeh attuning samajhney ki ibtida hai. Aur aawaz ke haqayiq ko samajhney ka aaghaz hai. Aawaz aisi cheez hai jis ka tasawwur bhi nahi kiya ja sakta ke aawaz kitni ahem hai aur aawaz kaisay har cheez mein heera pheri kar sakti hai? To woh frequency jis mein woh gunjtey hain aur yeh Allah (AJ) ka tohfa hai, aisa nahi hai ke woh acappellas hain ( moseeqi ke baghair sur mein ganay walay ) aur woh aik khaas aawaz par riaz karte hain, yeh haqeeqat nahi hai,' oh' ( Shaykh nichale sur ki aawaz banatay hain ), aur phir tum badalna shuru ho jao ge .|
So yes, this is the beginning of understanding attuning. And this is the beginning of the understanding of the realities of sound. Sound is something that it's not imaginable. How much important sound is and how the sound can manipulate everything? So the frequency in which they resonate and that's Allah's (AJ) gift. It's not that they're acappellas and they practice a certain sound, it's not that reality, 'Ohhh' [Shaykh makes low pitch sound], and then you start to change.
یہ ان کی روح کی حقیقت ہے کیونکہ ان کا نور ایک انرجی ہے؛ انرجی ایک آواز ہے۔ " يُسَبِّحُ بِحَمْدِهِ " کہ ہر چیز حمد کر رہی ہے۔
تُسَبِّحُ لَهُ السَّمَاوَاتُ السَّبْعُ وَالْأَرْضُ وَمَن فِيهِنَّ ۚ وَإِن مِّن شَيْءٍ إِلَّا يُسَبِّحُ بِحَمْدِهِ وَلَـٰكِن لَّا تَفْقَهُونَ تَسْبِيحَهُمْ ۗ إِنَّهُ كَانَ حَلِيمًا غَفُورًا۞
"ساتوں آسمان اور زمین اور وہ سارے موجودات جو ان میں ہیں اللہ کی تسبیح کرتے رہتے ہیں، اور کوئی بھی چیز ایسی نہیں جو اس کی حمد کے ساتھ تسبیح نہ کرتی ہو لیکن تم ان کی تسبیح (کا طریقہ ) سمجھ نہیں سکتے، بیشک وہ بڑا بُردبار بڑا بخشنے والا ہے"۔
سورۃ الاسراء (۱۷) آیت ۴۴
|Yeh un ki rooh ki haqeeqat hai kyunkay un ka noor aik energy hai ؛ energy aik aawaz hai." yussabihu wa bi hamdihi" ke har cheez hamd kar rahi hai.
It's the reality of their soul because their light is an energy; energy is a sound. So that "Yusabbihu bihamdihi," for everything is praising.
تُسَبِّحُ لَهُ السَّمَاوَاتُ السَّبْعُ وَالْأَرْضُ وَمَن فِيهِنَّ ۚ وَإِن مِّن شَيْءٍ إِلَّا يُسَبِّحُ بِحَمْدِهِ وَلَـٰكِن لَّا تَفْقَهُونَ تَسْبِيحَهُمْ ۗ إِنَّهُ كَانَ حَلِيمًا غَفُورًا ﴿٤٤
17:44 – "Tusabbihu lahus samawatus sab'u wal ardu wa man fee hinna wa in min shayin illa yusabbihu bihamdihi wa lakin la tafqahoona tasbeehahum innahu kana haleeman ghafoora." (Surat Al-Isra)
"The seven heavens and the earth and whatever is in them exalt [praises] Him. And there is not a thing except that it exalts [Allah] by His praise, but you do not understand their [way of] exalting. Indeed, He is ever Forbearing and Forgiving." (The Night Journey 17:44)
تو اللہ (عزوجل)نے ان کی روح کو جو حمد دی ہے وہ اللہ (عزوجل) کی قدرت سے ہے۔ لہذا وہ آواز کی سطح پر کچھ نہیں کہہ رہے ، جسے لوگ سمجھ نہیں سکتے ہیں۔ یہ تحفہ ہے جو کہ اللہ (عزوجل) نے اُن کی روح کو دیا تھا کہ اللہ (عزوجل) اُن کی روح میں ایک حمد لکھی ہے، وہ روح دوسری روحوں پر اثر انداز ہونے کی طاقت رکھتی ہے۔
|To Allah (AJ) ne un ki rooh ko jo hamd di hai woh Allah (AJ) ki qudrat se hai. Lehaza woh aawaz ki satah par kuch nahi keh rahay, jisay log samajh nahi satke hain. Yeh tohfa hai jo ke Allah (AJ) ne unn ki rooh ko diya tha ke Allah (AJ) unn ki rooh mein aik hamd likhi hai, woh rooh doosri roohon par assar andaaz honay ki taaqat rakhti hai|
So the praise that Allah (AJ) gives their soul is by Allah's (AJ) power. So He's not saying something at a sound level that people don't understand. It's the gift that Allah (AJ) gave to his soul, that Allah (AJ) has written a hamd (praise) within their soul. That soul has the power to influence other souls.
لہذا ، آپ اسے روشنی کے طور پر دیکھتے ہیں اور لائٹس متاثر کرتی ہیں۔ حقیقت میں یہ ایک انرجی ہے ، لہذا انرجی متاثر کر رہی ہے۔ اس کی اعلی حقیقت، در حقیقت ایک آواز ہے۔ اور اس شیخ کی آواز تمہاری روح کو متاثر کررہی ہے ، ان شاء اللہ ۔
|Lehaza, aap usay roshni ke tor par dekhaty hain aur lights mutasir karti hain. Haqeeqat mein yeh aik energy hai, lehaza energy mutasir kar rahi hai. Is ki aala haqeeqat, darhaqeeqt aik aawaz hai. Aur is Shaykh ki aawaz tumhari rooh ko mutasir kar rahi hai, in sha allah|
So you see it as light and the lights are influencing. In reality it's an energy, so the energy is influencing. Its highest reality is actually, it's a sound. And the sound of that shaykh is influencing your soul, inshaAllah.
یہ بیان اس لنک پر دیکھا جا سکتا ہے
Youtube Link to Watch This Suhbah:
https://youtu.be/7yXrpRk0tjE
یہ آرٹیکل انگلش میں پڑھنے کیلئے
Read this Article (English)
https://nurmuhammad.com/heart-is-a-finely-tuned-instru…/
یو ٹیوب چینل ابھی سبسکرایب کیجئے
Subscribe Now: The Muhammadan Way Sufi Realities
www.youtube.com/channel/UC4E8QX7OgwYDgyuuXTBMrcg
شیخ سید نور جان میر احمدی نقشبندی (ق) کا آفشیل فیس بک پیج لائک کیجئے
Official Page: Shaykh Nurjan Mirahmadi
facebook.com/shaykhnurjanmirahmadi/
1/2