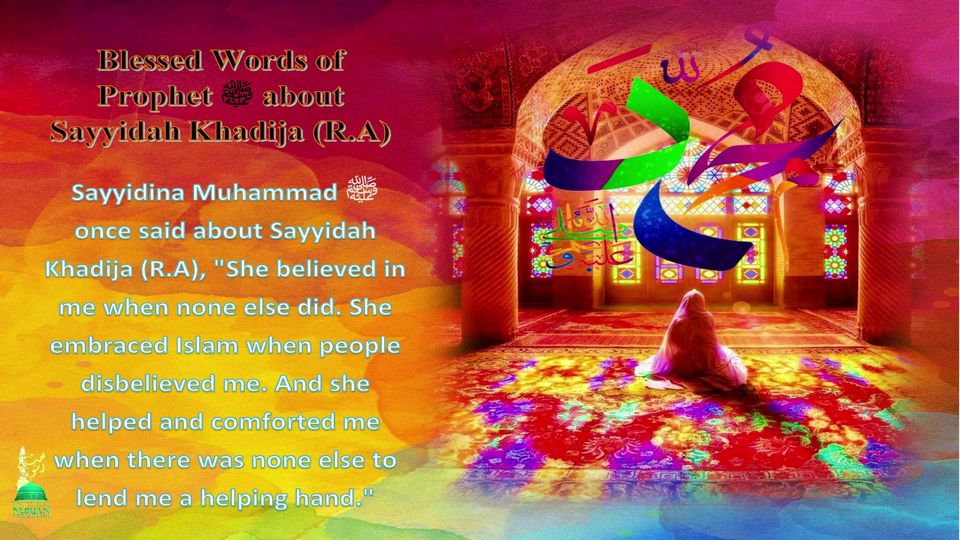 Urdu – From the Golden Teachings of Shaykh Nurjan Mirahmadi (ق) بِسْمِ اللَّـهِ الرَّ…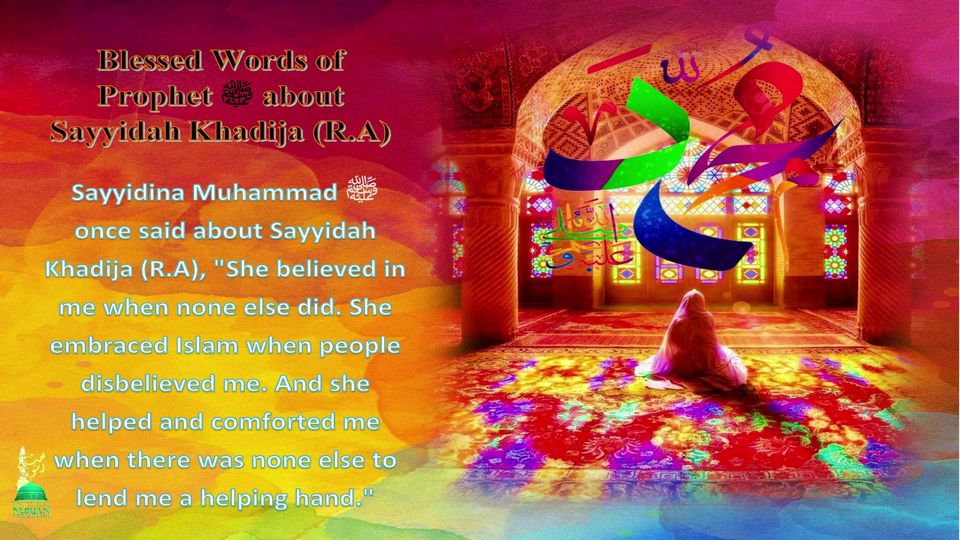 ?From the Golden Teachings of Shaykh Nurjan Mirahmadi (ق) ?
بِسْمِ اللَّـهِ الرَّحْمَـٰنِ الرَّحِيمِ
اَلَّھُمَّ صَلِّ عَلَی سَیَّدِنَا محَمَّدٍ ﷺ وَعَلَی آلِ سَیَّدِنَا محَمَّدٍ ﷺ
The 10th Ramadan ul Mubarak marks the Yaum al-Wisal (death anniversary) of Ummul momineen Sayyidah Khadija tul Kubra (Ra) the Mother of Believers, First wife Prophet Mohammad(saw) and the blessed mother of Sayyidah Fatima tul Zahra (As).
Sayyidina Rasoolullah's ﷺ marriage with Sayyidah Khadija (RA) took place about fifteen years before the beginning of the Revelation, she remained with him for the quarter of a century as a great source of "strength" and "consolation" to him.
Sayyidina Rasoolullah ﷺ once said about Sayyidah Khadija (Ra) "She believed in me when none else did. She embraced Islam when people disbelieved me. And she helped and comforted me when there was none else to lend me a helping hand."
Sayyida Khadijah passed away from the material world on the 10th of ramadan, in November AD 619?
?To listen to the stories of the Grand Shaykhs of the Naqshbandi Golden Chain: https://soundcloud.com/muha…/…/golden-chain-miracle-stories…
?To read articles on Ramadan and much more, download the awesome Islamic app "Muhammadan Way" which includes
? Books – full salawats and nasheeds
? Duas – duas (supplications)
? "The Daily Awrad", "
? Salah – supplications recited during prayers
? Secrets of the Months – special practices, duas for holy nights,
? Media – library of audio and video files
? Events – Zikr, celebrations of Islamic holy nights,
This app is free and donations are most welcome to support our ongoing efforts!
Download now from the following links:
Google Play Store: https://play.google.com/store/apps/details…
iTunes: https://apps.apple.com/us/app/muhammadan-way/id1244297852
✨Charity is Our Protection and Honor In the Presence of Allah Almighty
(9:75 Surah Tauba)
وَمِنْهُم مَّنْ عَاهَدَ اللَّهَ لَئِنْ آتَانَا مِن فَضْلِهِ
لَنَصَّدَّقَنَّ وَلَنَكُونَنَّ مِنَ الصَّالِحِينَ
"Amongst them are men who made a covenant with Allah, that if He bestowed on them of His bounty, they would give (largely) in charity, and be truly amongst those who are righteous".
⚡️We encourage everyone to donate generously in this month, and to reap the rewards! If anyone would like to sponsor an iftar or suhoor program at that Center, please donate online by clicking the links below,:
Donate USA: https://www.paypal.com/us/fundraiser/charity/3796446
Donate CAN: https://www.paypal.com/ca/fundraiser/charity/3464399
or speak with staff at , [email protected].

Source