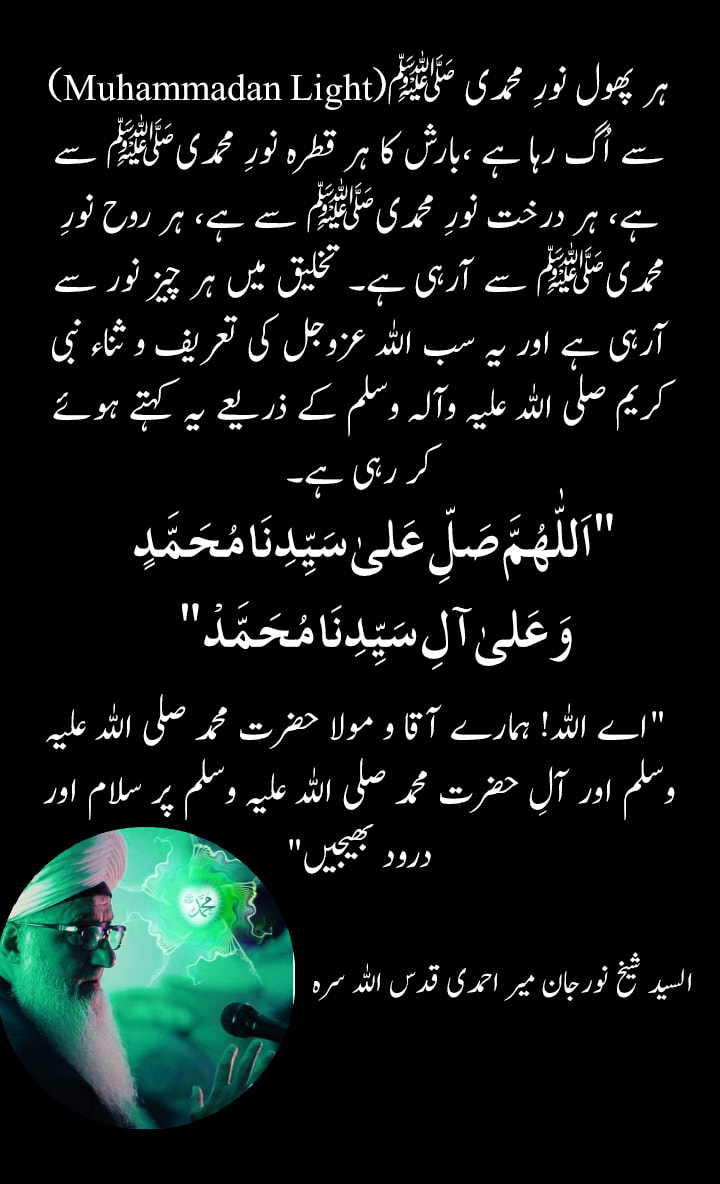 Urdu – Every flower is growing from the Muhammadan Light, every drop of rain from the M…
Every flower is growing from the Muhammadan Light, every drop of rain from the Muhammadan Light, every tree from the Muhammadan Light, every soul is coming from the Muhammadan Light. Everything in Creation is coming from the light and all of it praising upon Allah (Azza wa Jal) through Prophet ( Salla Allahu Alayhi wassalam)
"اَللّٰھُمَّ صَلِّ عَلیٰ سَیِّدِنَا مُحَمَّدٍ وَعَلیٰ آلِ سَیِّدِنَا مُحَمَّدْ"
O Allah! Send Peace and blessings upon Muhammad and upon the Family of Muhammad (Peace be Upon him)
As-Sayyed Shaykh Nurjan Mirahmadi Naqshbandi Qs
ہر پھول نورِ محمدی ﷺ (Muhammadan Light)سے اُگ رہا ہے ،بارش کا ہر قطرہ نورِ محمدیﷺ سے ہے، ہر درخت نورِ محمدیﷺ سے ہے، ہر روح نورِ محمدی سے آرہی ہے۔ تخلیق میں ہر چیز نور سے آرہی ہے اور یہ سب اللہ عزوجل کی تعریف و ثناء نبی کریم صلی اللہ علیہ وآلہ وسلم کے ذریعے یہ کہتے ہوئے کر رہی ہے۔
"اَللّٰھُمَّ صَلِّ عَلیٰ سَیِّدِنَا مُحَمَّدٍ وَعَلیٰ آلِ سَیِّدِنَا مُحَمَّدْ"
"اے اللہ! ہمارے آقا و مولا حضرت محمد صلی اللہ علیہ وسلم اور آلِ حضرت محمد صلی اللہ علیہ وسلم پر سلام اور درود بھیجیں"
السید شیخ نورجان میر احمدی قدس اللہ سرہ