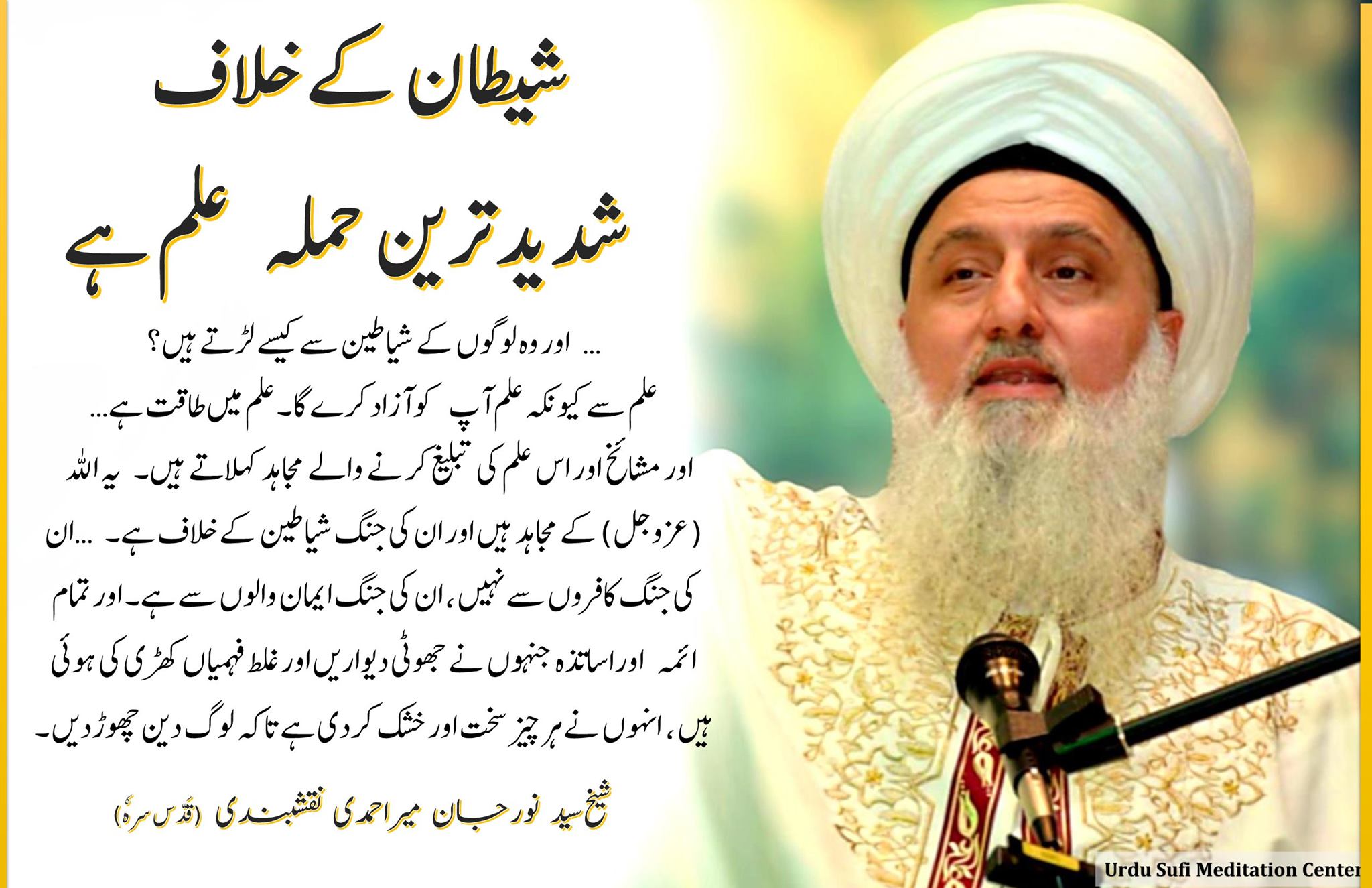 Urdu – Dawah is a Spiritual Battle| دعوۃ ایک روحانی جنگ ہے |Dawah ek Ruhani Jung Hai|…
Dawah is a Spiritual Battle|
دعوۃ ایک روحانی جنگ ہے
|Dawah ek Ruhani Jung Hai|
مولانا شیخ سید نورجان میر احمدی نقشبندی (ق) کی تعلیمات مولانا (ق) کے حقائق سے
اَعُوْذُ بِاللہ مِنَ الشَّیْطٰنِ الرَّجِیْمِ ۝ بِسْمِ اللہ الرَّحْمٰنِ الرَّحِیْمِ ۝
…أَطیعُوا اللّٰهِ وَأَطیعُوا الرَّسُول وَأُولی الأمرِ مِنْکُمْ۝
اللہ کی پناہ مانگتا ہوں شیطان مردود سے۔اللہ کے نام سے شروع کرتا ہوں جو نہایت مہربان رحم کرنے والا ہے…اللہ (عزوجل) کی اطاعت کرو اور رسول (ﷺ) کی اطاعت کرو اوراپنے میں سے صاحبانِ اَمر (اولیا اللہ )کی) سورۃ النساء آیت 59(
شیطان کے خلاف شدید ترین حملہ علم ہے
|Shaytan Ke Khilaaf Shadeed Tareen Hamla Ilm Hai|
The Fiercest Attack Against Shaitan is Knowledge
اور ایک یاد دہانی ہمیشہ اپنی ذات کیلئے ہے کہ اَنَا عَبْدُكَ الْعَاجِزُ، ضَعِیْفُ ، مِسْکِینُ وَ ظَالِمْ وَ جَھَلْ ( یا رب، میں آپ کا بندہِ عاجز، ضعیف، مسکین اور ظالم اور جاہل ہوں ) لیکن اللہ (عزوجل) کے کرم سے ہمارا وجود ابھی تک قائم ہے۔ اور ایک یاد دہانی ہمیشہ اپنے لیے کہ ہم جو یہ کام کرتے ہیں وہ شیطان کے خلاف ایک جنگ ہے۔ یہ تفریح نہیں ہے، اگرچہ تم تنبک بجا رہے ہو اور اس سے لطف اندوز ہو رہے ہو اور کباب کا سوچ رہے ہو، جو بعد میں ملیں گے۔ لیکن شیطان کے خلاف سخت ترین حملہ علم ہے؛ علم کی تبلیغ ، علم کی جستجو ، علم سکھانا۔ جسے اللہ (عزوجل) ایک قرآنی عنوان دیتا ہے: ربانیون بن جائیں— کہ انہوں نے کتاب کو سیکھا اور انہوں نے کتاب پڑھائی۔
…وَلَـٰكِن كُونُوا رَبَّانِيِّينَ بِمَا كُنتُمْ تُعَلِّمُونَ الْكِتَابَ وَبِمَا كُنتُمْ تَدْرُسُونَ
۔۔۔ ربانی بن جاؤ/ رب کے عبادت گزار/ خادم، اس وجہ سے کہ تم نے کتاب کی تعلیم دی اور اس وجہ سے کہ تم نے توجہ سے اس کی تعلیم لی۔
سورۃ آل عمران (3) آیت 79
|| Aur aik yaad dehani hamesha apni zaat ke liye hai ke ana abdukal 'ajeez, wa dayeef, wa miskin, wa zhalim, wa jahl ( ya Rab, mein aap ka bandah aajiz, zaeef, maskeen aur zalim aur jaahil hon ) lekinAllah (AJ) ke karam se hamara wujood abhi taq qaim hai. Aur aik yaad dehani hamesha –apne liye ke hum jo yeh kaam karte hain woh shaytan ke khilaaf aik jung hai. Yeh tafreeh nahi hai, agarchay tum tunmbak baja rahay ho aur is se lutaf andoz ho rahay ho, aur kabaab ka soch rahay ho, jo baad mein milein ge. Lekin shaytan ke khilaaf sakht tareen hamla ilm hai; ilm ki tableegh, ilm ki justojoo, ilm sikhana. Jisay Allah (AJ) aik Qurani unwan deta hai Rabbaniyoon ban jain— ke unhon ne Kitaab ko seekha aur unhon ne Kitaab parhai . "… Rabbani Ban Jao / Rab Ke Ibadat Guzaar / Khadim, Is Wajah Se Ke Tum Ne Kitaab Ki Taleem Di Aur Is Wajah Se Ke Tum Ne Tavajja Se Is Ki Taleem Li." ( 3:79) ||
From the Realities of Mawlana (Q) as taught by Shaykh Nurjan Mirahmadi.
A'udhu Billahi Minash Shaitanir Rajeem
Bismillahir Rahmanir Raheem
I seek refuge in Allah from Satan, the rejected one
In the Name of Allah, the Most Beneficent, the Most Merciful
A'udhu Billahi Minash Shaitanir Rajeem Bismillahir Rahmanir Raheem Wassalatu was salaam ala ashrafil mursaleen Sayyidina wa Mawlana Muhammad al Mustafa (s) bi madadikum wa nazarikum Sayyidi Ya Rasulul Kareem Ya Sayyidi Ya Sultanul Awliya Shaykh Abdullah al-Faiz Daghestani (Q), Sultan Shaykh Muhammad Nazim al-Haqqani (Q), wa Shaykh Hisham Kabbani (Q), Shaykh Adnan Kabbani (Q), Shaykh Muhammad Adil (Q) wa Abdul Khaliq al-Ghujdawani (Q) bi madadikum wa nazarikum.
"Atiullaha wa atiur Rasula wa Ulil amre minkum."
﴾أَطِيعُواللَّه وَأَطِيعُوٱلرَّسُولَ وَأُوْلِي الْأَمْرِ مِنْكُمْ… ﴿٥٩…
4:59 – "…Atiullaha wa atiur Rasula wa Ulil amre minkum…" (Surat An-Nisa)
"… Obey Allah, Obey the Messenger, and those in authority among you…" (The Women, 4:59)
And always a reminder for myself, ana abdukal 'ajeez, wa dayeef, wa miskin, wa zhalim, wa jahl, and but for the Grace of Allah (AJ) that we are still in existence. And that a reminder always for myself that these things we do is a warfare against shaitan (satan). These are not entertainment although you may be drumming and enjoying it and thinking of the kebab that comes later. But the fiercest attack against shaitan is knowledge – propagating knowledge, seeking knowledge, teaching knowledge. Where Allah (AJ) gives a Qur'anic title, 'To be Rabbaniyoon (Lordly Souls), that they learned the book and they taught the book.'
﴾وَلَـٰكِن كُونُوا رَبَّانِيِّينَ بِمَا كُنتُمْ تُعَلِّمُونَ الْكِتَابَ وَبِمَا كُنتُمْ تَدْرُسُونَ ﴿٧٩…
3:79 – "…wa lakin kono rabbaniyena bima kuntum tu`allimoonal kitaba wabima kuntum tadrusoon." (Surat Ali-Imran)
"…Be Lordly Souls/faithful servants/worshippers of Him, Because (of what) you have taught the Book and you have studied it earnestly." (Family of Imran, 3:79)
قلم تلوار سے زیادہ طاقتور ہے
|Qalam Talwar Se Zayda Taqatwar Hai|
The Pen is Mightier Than the Sword
اس کا مطلب یہ ہے کہ پھر شیطانی سلطنت کے خلاف سخت اور سب سے شدید حملہ علم ہے۔ اور اُنکے پاس یہ محاورہ ہے کہ 'علم طاقت ہے'۔ اور جب اللہ ( عزوجل) بندے پر صفت العلیم نازل کرنا چاہتا ہے ، وہاں قادر بھی ہے—طاقت کا ایک سمندر جو اُس عبد کو سیراب کرے گا۔ اس کا مطلب ہے، علم کی ایک زبردست حقیقت ہے۔ اور ان کا یہ محاورہ ہے کہ 'قلم تلوار سے زیادہ طاقتور ہے'۔ تلوار کے ساتھ، آپ نے کسی کو مارا اور وہ ختم ہو گیا۔ پھر کیا فائدہ؟ جب تم انہیں تلوار سے مار دو گے تو اُس کے بعد تم اُنکے ساتھ آخر کیا کر سکتے ہو؟ کچھ بھی نہیں ، وہ ختم ہو گیا۔ لیکن علم جس کی آپ تبلیغ کرتے ہیں اور پھیلاتے ہیں اور جو آپ پڑھاتے ہیں اور جو آپ سیکھتے ہیں وہ ہمیشہ ہمیشہ کیلئے ہے۔ 'ماردینا' ایک بار تھا ، علم ہمیشہ کیلئے ہے۔ جس نے یہ سیکھا اور اس حقیقت سے سیراب ہوا ( کھایا اور پیا )، اس نے اپنی روح کو ہمیشہ کیلئے آراستہ کرلیا۔
|| Is ka matlab yeh hai ke phir shaytani saltanat ke khilaaf sakht aur sab se shadeed hamla ilm hai. Aur unke paas yeh mohawra hai ke' ilm taaqat hai '. Aur jab Allah (AJ) bande par sifat Al-'Alim nazil karna chahta hai, wahan Qadir bhi hai —taaqat ka aik samandar jo uss abad ko sairaab kere ga. Is ka matlab hai, ilm ki aik zabardast haqeeqat hai. Aur un ka yeh mohawra hai ke' qalam talwar se ziyada taaqatwar hai '. Talwar ke sath, aap neh kisi ko mara aur woh khatam ho gaya. Phir kya faida? Jab tum inhen talwar se maar do ge to uss ke baad tum unke sath aakhir kya kar satke ho? Kuch bhi nahi, woh khatam ho gaya. Lekin ilm jis ki aap tableegh karte hain aur pheilatay hain aur jo aap parhatay hain aur jo aap sikhte hain woh hamesha hamesha ke liye hai.'maar dena' aik baar tha, ilm hamesha ke liye hai. Jis ney yeh seekha aur is haqeeqat se sairaab sun-hwa (khaya aur piya ), us ney apni rooh ko hamesha ke liye aarasta karliya . ||
This means then the fiercest and the greatest attack against satanic kingdom is knowledge. And they have an expression that 'knowledge is power.' And when Allah (AJ) want to bestow upon the servant sifat Al-'Alim (attribute of the All-Knowing), there's also Qadir (The Powerful) – an ocean of power that will be dressing that servant. It means that knowledge has a tremendous reality. And they have an expression that, 'The pen is mightier than the sword.' With a sword, you hit somebody and it's finished. What then the benefit? What are you going to do with them after you hit them with a sword? Nothing, it's gone. But the knowledge that you propagate and send out and that you teach and that you learn is for all of eternity. The 'hit' was once, the knowledge is for all of eternity. The one who learned it and drank and ate from that reality dressed their soul eternally.
اولیاء شیطانی سلطنت کے خلاف علمی مجاہد ہیں
| Awliya Shaytani Saltant Ke Khilaf Ilmi Mujahid Hain|
Awliya are Warriors of Knowledge Against the Satanic Kingdom
ایک بار جب وہ حقیقت جان گئے اور تبلیغ کرنے کی زندگی گزاری؛ اور تبلیغ ایک ٹیم کی طرح کی — ہوسکتا ہے کہ ایک بیان دے رہا ہو اور اسکے پاس پچاس ، بیس ، یا دس اچھے رجال پاس ہوں اور بلڈوزر کی طرح وہ ہر جگہ تشہیر کرنے جائیں۔ اور جب یہ علم پھیلتا ہے، تو یہ شیطانی سلطنت کے خلاف ایک زبردست حملہ ہوتا ہے۔ لہذا جب لوگ شیطانی سلطنت کو نہیں سمجھتے تو ، وہ اُس حقیقت کو نہیں سمجھتے، جو رسول اللہ (ﷺ) نے ان مشائخ کو دی ہے؛ نبی کریم (ﷺ) نے جو عطا کیا ہے، یہ انہیں تفریح فراہم کرنے کا ذریعہ نہیں کہ لوگ اس سے لطف اندوز ہوں، بلکہ ان کے شیاطین سے لڑنا ہے۔ اور وہ لوگوں کے شیاطین سے کیسے لڑتے ہیں؟ علم سے کیونکہ علم آپ کو آزاد کرے گا۔ علم میں طاقت ہے۔
|| Ek baar jab woh haqeeqat jaan gaye aur tableegh karne ki zindagi guzari ؛ aur tableegh aik team ki terhan ki — ho sakta hai ke aik bayan day raha ho aur uskay paas 50, 20, ya 10 achay Rajal paas hon aur bulldozer ki terhan woh har jagah tashheer karne jayen. Aur jab yeh ilm phialta hai, to yeh shaytani saltanat ke khilaaf aik zabardast hamla hota hai. Lehaza jab log shaytani saltanat ko nahi samajte to, woh uss haqeeqat ko nahi samajte, jo Rasul Allah (saws) ne un Mashaikh ko di hai ؛ Nabi Kareem (saws) ne jo ataa kya hai, yeh inhen tafreeh faraham karne ka zareya nahi ke log is nahi ke log is se lutaf andoz hon, balkay un ke shyatin se larna hai. Aur woh logon ke shyatin se kaisay lartay hain? Ilm se kyunkay ilm aap ko azad kere ga. Ilm mein taaqat hai . ||
Once they learned that reality and lived a life of propagating and propagating like a team. There may be one talking and 50 around or 20 around or 10 good rijal around them and like bulldozer, they're going everywhere to propagate. And when that knowledge goes out, it's a fierce attack against the satanic kingdom. So when people don't understand the satanic kingdom, they don't understand the reality of what Prophet ﷺ has given to these shaykhs. That what Prophet ﷺ has given, it's not to entertain them as a source of entertaining people, but fight their devils. And how do they fight the devils of people? By knowledge because knowledge will set you free. Knowledge has power.
لہذا ، اس کا مطلب ہے کہ ہمارےسمجھنے کیلئے، کیونکہ لوگ اسکی (اہمیت ) کم سمجھتے ہیں ، خیال کرتے ہیں کہ یہ چھوٹی بات (سائڈ ایشو) ہے اور ہوسکتا ہے کہ مسجد جانا ایک زیادہ بڑی بات ہو۔ کہتے ہیں: 'اوہ ، میں مسجد چلا جاتا ہوں، میں جمعہ پڑھنے چلا جاتا ہوں، یہ (ذکر) بڑی بات نہیں ہے۔ لیکن آپکو پتہ ہے، آپ کا ذکر جو آپ لو گ کرتے ہیں ، یہ شاید ثانوی (کم درجے کا ) ہے'۔ نہیں ، تم نہیں سمجھے کہ کیا ہو رہا ہے۔ یہ اسلام کے عظیم جنگجو ہیں۔ اور مشائخ اور اس علم کی تبلیغ کر نے والے مجاہد کہلاتے ہیں۔ یہ اللہ( عزوجل) کے مجاہد ہیں اور ان کی جنگ شیاطین کے خلاف ہے۔
|| Lehaza, is ka matlab hai ke hamaray samajhney ke liye, kyunkay log usay kam samajte hain, khayaal karte hain ke yeh chhoti baat ( side issue ) hai aur ho sakta hai ke masjid jana aik ziyada barri baat ho. Kehte hain :' oh, mein masjid chala jata hon, mein Jumma parhnay chala jata hon, yeh ( zikar ) barri baat nahi hai. Lekin aapko pata hai, aap ka zikar jo aap laug karte hain, yeh shayad sanwi ( kam darjay ka ) hai '. Nahi, tum nahi samjhay ke kya ho raha hai. Yeh Islam ke azeem jangju hain. Aur mashaikh aur is ilm ki tableegh kar ny walay mujahid kehlate hain. Yeh Allah (AJ) ke mujahid hain aur un ki jung shayateen ke khilaaf hai . ||
So, it means that for us to understand the equivalent because people may have it in a low understanding, think it's a side issue and maybe going to the masjid is a big deal. Say, 'Oh, I go to the masjid. I go for Friday Jum'ah, it's not a big deal. But you know your zikr (remembrance) you guys you're doing, this is maybe secondary.' No, you don't understand what's happening. These are great warriors of Islam. And the shaykhs and the ones whom are propagating knowledge are called mujahid (ones who struggle in the Way of Allah (AJ)). They are the warriors of Allah (AJ) and their war is against devils.
ان لوگوں سے بچیں جو مذہب کا استعمال کرتے ہیں تاکہ آپ اپنے عقیدے سے ہٹ جائیں
| Un Logo se Bachain Jo Mazhab Ka Istemal Karte Hain Takey Aap Apne Aqeeday Se Hath Jain|
Beware of Those Who Use Religion to Distract You From Your Belief
اور انکے قلم ، جو نبی کریم (ﷺ) نے انہیں دیے ہیں ، وہ سیدنا محمد (ﷺ) کے قلم ہیں۔ ان کی زبان ، انکی روح ، انکے علوم میں ایک بہت عظیم حقیقت ہے جو شیطانی سلطنت کے خلاف ایک اسلحۂ جنگ اور ایک ہتھیار ہے۔ اور ہمارے سمجھنے کیلئے کہ… ہر علاقے ، ہر ماحول ، ہر گھر، جہاں وہ یہ پیغام لیکر پہنچنے کی کوشش کر رہے ہیں، شہر جیسا تصور کریں کہ وہ کسی شہر میں داخل ہوں گے، ۔ یہ شہر شیطانی تعلیمات کے ذریعہ محاصرہ میں ہے ، جن میں سے بیشتر مسلمان ہیں۔ یہ نہ سمجھو کہ عیسائیوں اور یہودیوں اور دوسرے مذاہب کی تعلیمات آپ کیلئے خطرناک ہیں۔ یہ آپ کی اپنی ہی قوم ہے جو آپ کیلئے زیادہ خطرناک ہے۔ یہ منافقت کا سمندر ہے، جسے اللہ (عزوجل) سورۃ المنافقون میں بیان کرتا کہ وہ اپنے کلمہ کا استعمال کرتے ہیں، وہ اپنے دین کا استعمال کرتے ہیں جس کے ذریعہ آپ کو اپنے عقیدے سے ہٹانا ہے۔ '
اتَّخَذُوا أَيْمَانَهُمْ جُنَّةً فَصَدُّوا عَن سَبِيلِ اللَّـهِ ۚ إِنَّهُمْ سَاءَ مَا كَانُوا يَعْمَلُونَ
انہوں نے اپنی قسموں کو ڈھال بنا رکھا ہے اور ان کے ذریعے سے (لوگوں کو) اللہ کی راہ سے روک رہے ہیں۔ کچھ شک نہیں کہ جو کام یہ کرتے ہیں برے ہیں۔ سورۃ المنافقون(63) آیت 2
|| Aur unkay qalam, jo Nabi Kareem (saws) ney inhen diye hain, woh Sayedena Muhammad (saws) ke qalam hain. Un ki zabaan, unki rooh, unkay aloom mein aik bohat azeem haqeeqat hai jo shaytani saltanat ke khilaaf aik asleha jung aur aik hathyaar hai. Aur hamaray samajhney ke liye ke … har ilaqay, har mahol, har ghar, jahan woh yeh pegham leker pounchanay ki koshish kar rahay hain, shehar jaissa tasawwur karen ke woh kisi shehar mein daakhil hon ge ,. Yeh shehar shaytani talemaat ke zareya mahasary mai hai, jin mein se beshtar musalman hain. Yeh nah samjhoo ke esaion aur yahudion aur dosray mazahab ki talemaataap ke liye khatarnaak hain. Yeh aap ki apni hi qom hai jo aap ke liye ziyada khatarnaak hai. Yeh munafqat ka samandar hai, jisay Allah (AJ) Surat al-Munafiqoon mein bayan karta ke woh apne kalma ka istemaal karte hain, woh apne deen ka istemaal karte hain jis ke zareya aap ko apne aqeday se hatana hai. ' Unhon Neh Apni Qasmon Ko Dhaal Bana Rakha Hai Aur Un Ke Zariye Se ( Logon Ko ) Allah Ki Raah Se Rokkk Rahay Hain. Kuch Shak Nahi Ke Jo Kaam Yeh Karte Hay Buray Hain ( 63:2) ||
And their kalam (word) that Prophet ﷺ has given to them, they are the pens of Sayyidina Muhammad ﷺ. Their tongue, their soul, their knowledges have an immense reality that is a lashing and a weapon against the satanic kingdom. And for us to understand like a…every area, every environment, every home, that they're trying to reach with this message, view like a city, that they're going to enter into a city. That city for them is under siege by satanic teachings, most of which are Muslim. Don't think that the teachings of Christians and Jewish and other religions is dangerous for you. It's from your own race that's most dangerous for you. This is from the ocean of hypocrisy where Allah (AJ) describes from Surat al-Munafiqoon, 'They use their kalimah (testimony/word). They use their deen (religion) as means in which to distract you from your belief.'
﴾اتَّخَذُوا أَيْمَانَهُمْ جُنَّةً فَصَدُّوا عَن سَبِيلِ اللَّـهِ ۚ إِنَّهُمْ سَاءَ مَا كَانُوا يَعْمَلُونَ ﴿٢
63:2 – "Ittakhazoo aymaanahum junnatan fasaddoo 'an sabeelil laah; innahum saaa'a maa kaanoo ya'maloon." (Surat Al-Munafiqoon)
"They have made their oaths a screen (for their misdeeds): thus they obstruct (men) from the Path of Allah: truly evil are their deeds." (The Hypocrites, 63:2)
لوگ جھوٹی تعلیمات کے ظلم میں قید ہے
|Log Jhuti Talimat Ke Zulam Mein Qayed Hain|
People Are Oppressed Under False Teachings
ان کی جنگ کافروں سے نہیں ، ان کی جنگ ایمان والوں سے ہے۔ اور تمام ائمہ (مذہبی امام ) اور اساتذہ جنہوں نے جھوٹی دیواریں اور غلط فہمیاں کھڑی کی ہوئی ہیں ، انہوں نے ہر چیز سخت اور خشک کردی ہے تاکہ لوگ دین چھوڑدیں ۔ لیکن چونکہ یہ اللہ (عزوجل)کا دین ہے ، لوگ اب بھی آرہے ہیں۔ ان تعلیمات کی وجہ سے نہیں ، بلکہ اس لئے کہ اللہ (عزوجل) ایسا چاہتا ہے۔ لہذا جب ہم سمجھ گئےکہ ایک شہر ان کی تعلیمات کے محاصرے میں ہے۔
|| Un ki jung kafiroon se nahi, un ki jung imaan walon se hai. Aur tamam aymh ( mazhabi imam ) aur asateza jinhon neh jhooti diivaaren aur ghalat fehmiya khari ki hui hain, unhon neh har cheez sakht aur khushk kar di hai taakay log deen chhorhdin. Lekin chunkay yeh Allah (AJ) ka deen hai, log ab bhi arhay hain. Un talemaat ki wajah se nahi, balkay is liye ke Allah (AJ) aisa chahta hai. Lehaza jab hum samajh gaye ke aik shehar un ki talemaat ke muhasray mein hai . ||
Their battle not with unbelievers, their battle with believers. And all the imams (religious leader) and teachers who have set up false walls and misunderstandings made everything to be hard and dry so that people would leave the deen. But because it's the deen of Allah (AJ), people are still coming. Not as a result of those teachings, but because Allah (AJ) wants it. So when we understand, a city is under siege from their teachings.
وہ کہتے ہیں:'میلاد؟ نہیں۔ سیدنا محمد (ﷺ) کی محبت؟ یہ لفظ محبت کیا ہے ؟ نہیں! 'وہ صرف ایک انسائیکلوپیڈیا سے پڑھنا چاہتے ہیں اور کہتے ہیں 'بس یہی ہے ، آپ صرف جمعہ پڑھنے آئیں' ۔ تو گویا اس شہر میں ایک دیوار ہے اور اس کے اندر کے لوگ مظلوم ہیں۔ وہ اس تعلیم کے جبر میں ہیں۔ جب سیدنا محمد (ﷺ) کی طرف سے ایک حکم آتا ہے کہ ، 'ان کا محاصرہ کرو'۔ لہذا ، جدید دور کی روحانی جنگ کو سمجھنا ہوگا۔ اس کا مطلب ہے کہ وہ اس شہر پر اپنی نظر ڈالیں گے ، اس گھر پر، اس ماحول پر اور وہ اپنی توپیں چلانا شروع کر دیں گے۔
|| Woh kehte hain: 'Meelad? Nahi. Sayedena Muhammad (saws) ki mohabbat? Yeh lafz Muhabbat kia hai? Nahi !' woh sirf aik encyclopedia se parhna chahtay hain aur kehte hain' bas yahi hai, aap sirf Jumma parhnay ayen '. To goya is shehar mein aik deewar hai aur is ke andar ke log mazloom hain. Woh is taleem ke jabar mein hain. Jab Sayedena Muhammad (saws) ki taraf se aik hukum aata hai ke,' un ka muhasra karo '. Lehaza, jadeed daur ki rohani jung ko samjhna hoga. Is ka matlab hai ke woh is shehar par apni nazar dalain ge, is ghar par, is mahol par aur woh apni topain chalana shuru kar den ||
They say, 'Mawlid, no. Love of Sayyidina Muhammad ﷺ, what's this word, love? No!' They only want to read from an encyclopedia and say, 'That's it. Only you come for Friday.' So, as if the city has a wall and the people within it are oppressed. They're under the oppression of that teaching. When a command comes from Sayyidina Muhammad ﷺ that, 'Lay siege to them.' So, modern day spiritual warfare has to be understood. It means they begin to direct their nazar (gaze) on that city, on that home, on that environment, and they begin to launch their cannons.
اصلی گائڈز کی تعلیمات روحانی جنگ کےہتھیار ہیں
|Asli Guides Ki Talemat Ruhani Jung Ke Hathiyar Hain|
Teachings of Real Guides Are Weapons of Spiritual Warfare
اُنکی پہلی توپ – ہمیں سمجھانے کیلئے– ان کا میڈیا ہے۔ جب وہ ویڈیو نشر کرتے ہیں تو ایسا ہے جیسے اس شہر پر ایک بہت بڑی توپ چلائی جارہی ہو۔ بھاری! یہ اللہ (عزوجل) کی تمام مدد کے ساتھ ، سیدنا محمد (ﷺ) کی تمام مددکے ساتھ آ رہی ہے۔ ہر فرشتہ اور ملائکہ اس ہتھیار کو آگے بڑھا رہا ہے۔ وہ ویڈیو باہر جا کر اس شہر کی دیوار سے ٹکرا جاتی ہے، اور دیوار سے ٹکرا جاتی ہے، اور دیوار سے ٹکرا جاتی ہے ، حتی کہ یہ دیکھنے والے لوگوں کے گھروں اور دلوں میں داخل ہونا شروع ہو جاتی ہے ۔
|| Unkee pehli toup – hamein samjhane ke liye – un ka media hai. Jab woh video nashar karte hain to aisa hai jaisay is shehar par aik bohat barri toup chalaye jarahi ho. Bhaari! Yeh Allah (aj) ki tamam madad ke sath, Sayedena Muhammad (saws) ki tamam madad ke sath aa rahi hai. Har farishta aur malaika is hathyaar ko agay barha rahay hain. Woh video bahar ja kar is shehar ki deewar se takra jati hai, aur deewar se takra jati hai, aur deewar se takra jati hai, hatta ke yeh dekhnay walay logon ke gharon aur dilon mein daakhil hona shuru ho jati hai ||
Their first cannon, for us to even understand, is their media. When they shoot out a video, it's as if a huge cannon is being fired at that city. Huge! It's coming out with all support from Allah (AJ), all support of Sayyidina Muhammad ﷺ. Every angel and malaika (angels) are pushing out that weapon. That video goes out and hits the wall of that city and hits the wall, and hits the wall until it begins to enter into the homes and hearts of the people who are watching.
تو یہ کوئی چھوٹی بات نہیں ۔لیکن کیونکہ لوگوں کی عقل چھوٹی ہو گئی ہے اور وہ حوالہ جات (تحقیق) سے دور ہیں، وہ سمجھ نہیں رہے کہ اولیا اللہ اور ان کے طلبہ کیا کام کر رہے ہیں۔ لہذا ، یہ تعلیم ( جس کا نظام ) انہوں نے قائم کر رکھا ہے ، غلط علوم ہیں؛ انہوں نے لوگوں کو جکڑا ہوا ہے اور لوگوں کو ان جھوٹے علوم میں پھنسایا ہوا ہے ۔ جب نبی کریم (ﷺ) کا حکم جاری ہوتا ہے ، 'جاؤ'۔ پہلی صف کی 'ہٹ' پھر ان کی ویڈیوز ہیں۔ وہ محاصرہ کرتا ہیں اور ان ویڈیوز کو ہر اس شے پر نشانہ بناتے ہیں جہاں شیطان نے دیوار کھڑی کر رکھی ہے۔ یعنی پھر مارنے لگتی ہیں، آپ کو بس ایک شخص کی ضرورت ہے ، جو اسے دیکھے اور کہے ، 'اےمیرے خدایا ، میں نے پہلے کبھی اس طرح کا بیان نہیں سُنا۔' آپ نے انکے دل کو نشانہ بنایا۔ آپ گئے : 'بام' ، آپ نے (تیر ) مارا۔
(حصہ اول)
|| To yeh koi chothi baat nahi. Lekin kyunkay logon ki aqal chothee ho gayi hai aur woh hawala jaat ( tahaqeeq ) se daur hain, woh samajh nahi rahay ke Awliya-Allah aur un ke tulba kya kaam kar rahay hain. Haza, yeh taleem ( jis ka nizaam ) unhon nay qaim kar rakha hai, ghalat aloom hain unhon nay logon ko jakra huwa hai aur logon ko un jhutay aloom mein phansaya sun-hwa hai. Jab Nabi Kareem (saws) ka hukum jari hota hai,' jao '. Pehli saff ki 'hit' phir un ki videos hain. Woh muhasra karta hain aur un videos ko har is shai par nishana banatay hain jahan shaytan jahan shaytan ne deewar khari kar rakhi hai. Yani phir maarny lagti hain, aap ko bas 1 shakhs ki zaroorat hai, jo usay dekhe aur kahe,' Ae mere khudaaya, mein ne pehlay kabhi is terhan ka bayan nahi suna.' aap ne unkay dil ko nishana banaya. Aap gaye:' Bam ', aap ne ( teer ) mara . ||
So it's not something small. But because people's understanding has become small and their references are off, they're not understanding what the work of these awliya (saints) and the students of these awliya are doing. So, this knowledge that they have setup to be false knowledges; they have encased and held the people with those false knowledges. When order of Prophet ﷺ comes that, 'Go.' The first line of 'hit' is then their videos. They begin to besiege and hit their videos on everything that shaitan has put a wall up. It means then it starts to hit. All you need is one person to see it and say,' Oh my gosh, I've never heard these type of things before.' You hit their heart. You went, 'Bam,' you hit.
[Part One]
یہ بیان اس لنک پر دیکھا جا سکتا ہے
YouTube Link: https://youtu.be/LJieMvGzjTo
یہ آرٹیکل انگلش میں پڑھنے کیلئے
Read here: https://nurmuhammad.com/dawah-is-a-spiritual-battle/
1/2