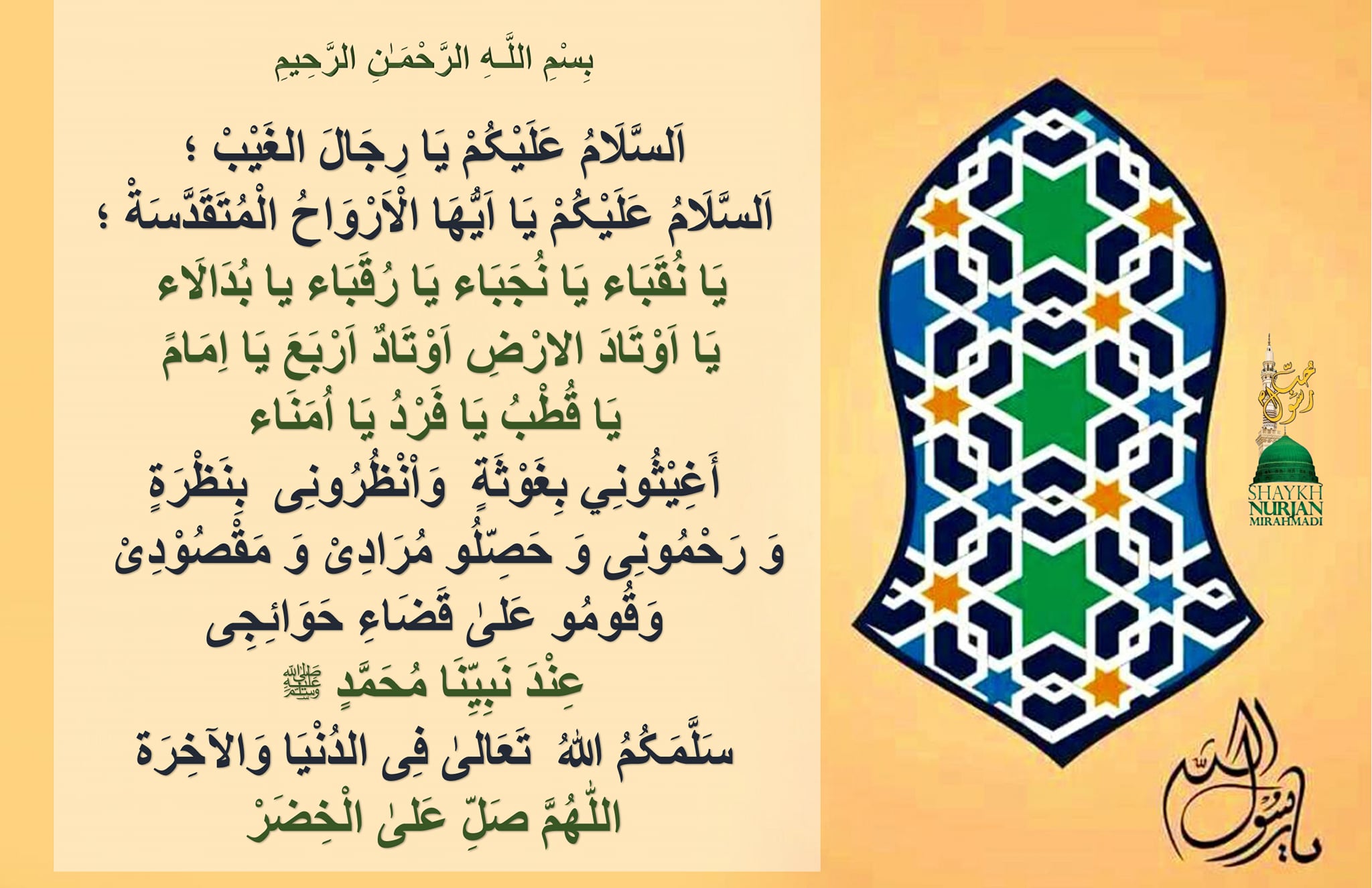 Urdu – Call Upon Rijal Allah رجال اللہ سے مدد کی درخواست کیجئے بِسْمِ اللَّـهِ الرَّح…
Call Upon Rijal Allah
رجال اللہ سے مدد کی درخواست کیجئے
بِسْمِ اللَّـهِ الرَّحْمَـٰنِ الرَّحِيمِ
اللہ کے نام سے جو مہربان ، نہایت رحم کرنے والا ہے۔
Bismillahir-Rahmanir-Rahim.
In the Name of Allah, the All-Merciful, the All-Compassionate
اَلسَّلَامُ عَلَیْکُمْ یَا رِجَالَ الغَیْبْ
اے اہلِ غیب، آپ پر سلام!
? as-salamu 'alaykum ya rijalal-Ghaib
Peace be upon you, O men of the Unseen
اَلسَّلَامُ عَلَیْکُمْ یَا اَیُّهَا الْاَرْوَاحُ الْمُتَقَدَّسَةْ
اے ارواح مقدسہ ، آپ پر سلام
? as-salamu 'alaykum ya ayuhal-arwahul-muta qaddasa.
Peace be upon you, O sanctified spirits
يَا نُقَبَاء يَا نُجَبَاء يَا رُقَبَاء يا بُدَالَاء؛
اے صاحبان منصب ، اے معزز ان ، اے نگرانِ اعلی ، اے ابدال(روحانی نائبین)
?ya nuqaba ya nujaba ya ruqaba ya budala
O presidents, O noblemen, O overseers, O spiritual deputies
يَا اَوْتَادَالارْضِ اَوْتَادٌ اَرْبَعَ یَا اِمَامً؛
اے زمین کے اوتاد ، چار اوتاد ! اے دو امام!
? ya awtadal-ardi awtadun arba'a: ya imaman:
O mainstays of the earth, four mainstays! O two leaders
يَا قُطْبُ یَا فَرْدُ یَا اُمَنَاء ؛
اے قطب عظیم! اے بے مثال فَرَد! اے صاحبانِ امین!
? ya Qutbu ya fardu ya umana':
O Cardinal Pole! O matchless individual! O trustees !
أَغِيْثُونِي بِغَوْثَةٍ وَاْنْظُرُونِی بِنَظْرَةٍ؛
میری مدد فرمایئے ، مجھ پر اپنی نظر کرم فرمایئے ؛
? aghithu-ni bi ghawthatin wa 'nThuruni bi-i nathratin
Provide me with assistance, look on me with favor
وَ رَحْمُونِى وَ حَصِّلُو مُرَادِىْ وَ مَقْصُوْدِىْ؛
مجھ پر رحم دلی فرمایئے ، مجھے اپنے مراد اور مقصد حاصل کرنے میں کامیابی دیجئے
? wa ra hamuni wa hassilu muradi wa maqsudi
treat me with compassion, fulfill my wish and my objective
وَقُومُو عَلىٰ قَضَاءِ حَوَائِجِى ؛
اور میری حاجات روائی فرما دیجئے ،
? wa qumu 'ala qada'i hawa'iji
and attend to the satisfaction of my needs
عِنْدَ نَبِیِّنَا مُحَمَّدٍ(ﷺ)
ہمارے نبی سیدنا محمد (ﷺ) کے حضور،
'? inda Nabiyyi-na Muhammadin (salla 'llahu 'alai-hi wa sallam).
in the presence of our Prophet Muhammad
سَلَّمَکُمُ اللّٰہُ تَعَالیٰ فِی الدُنْیَا وَالآخِرَۃ؛
اللہ سبحانہ وتعالیٰ آپ کو دنیا و آخرت میں سلامتی عطا فرمائے۔
? sallam akum-ullahu (ta'ala) fid-dunya wal-akhira .
May Allah(swt) grant you peace in this world & the Hereafter
اللّٰهُمَّ صَلِّ عَلیٰ الْخِضَرْ
اے اللہ ، سیدنا خضر ؑ پر رحمت نازل فرما!
? Allahumma salli 'alal-Khidr.
O Allah, bestow blessings on al-Khidr!
یو ٹیوب چینل ابھی سبسکرایب کیجئے
Subscribe Now: The Muhammadan Way Sufi Realities
www.youtube.com/channel/UC4E8QX7OgwYDgyuuXTBMrcg
شیخ سید نور جان میر احمدی نقشبندی (ق) کا فیس بک پیج لائک کیجئے
Official Page: Shaykh Nurjan Mirahmadi
Shaykh Nurjan Mirahmadi