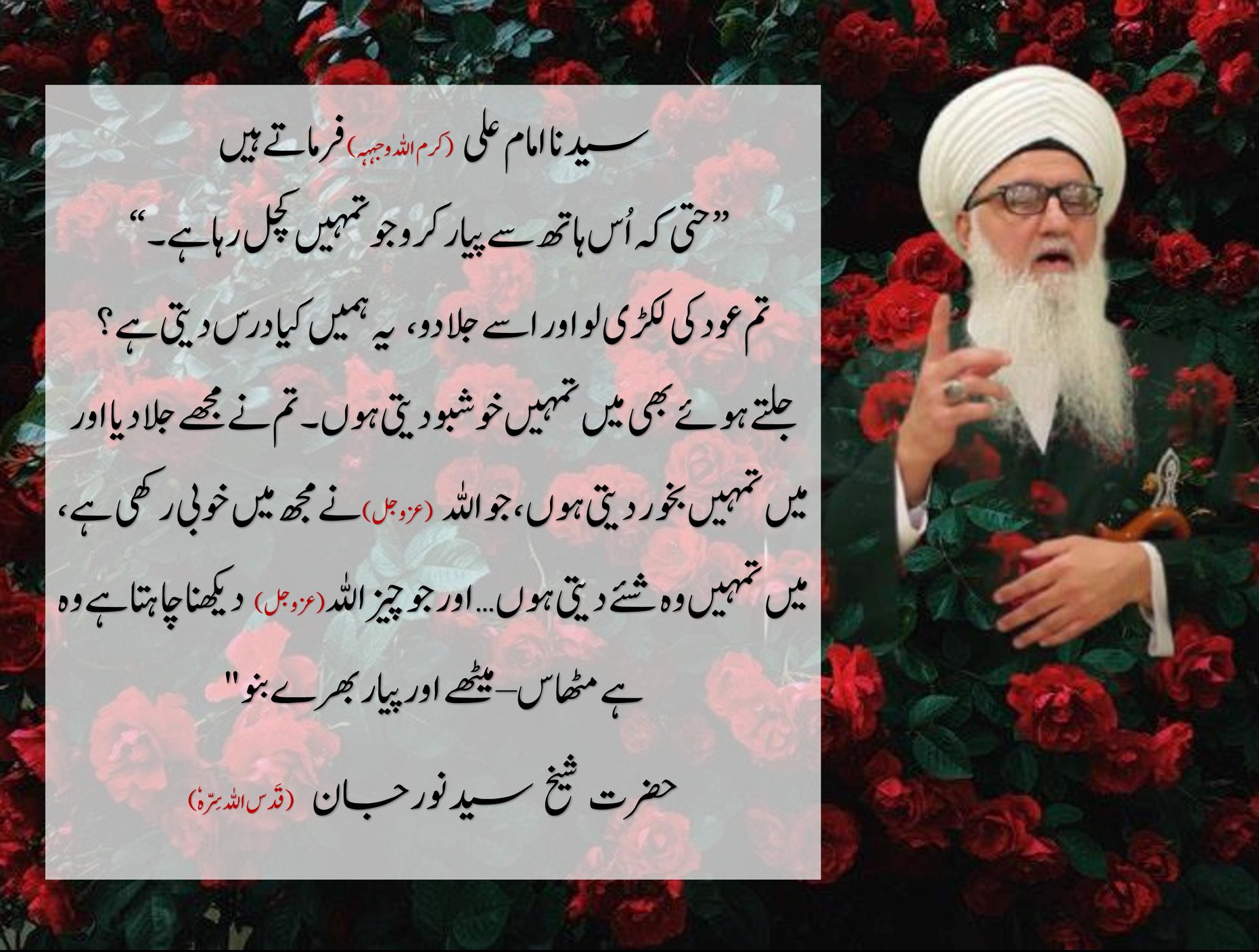 Urdu – Build Love and Compassion that is a Gift from Your Lord. ان شاء اللہ، ختم …
Build Love and Compassion that is a Gift from Your Lord.
❤️🙏🏻
ان شاء اللہ،
ختم خواجگان شروع کرنے سے قبل اپنے لئے ایک تاکید عرض ہے کہ آج رات ( کی مجلس) کا پیغام پیار اور محبت ہے، بعض کمیونٹیز میں ، اسلام میں محبت کے موضوع پر گفتگو نہیں کی جاتی اور اولیاء اللہ ہماری زندگی میں تشریف لاتے ہیں اور یاد دلاتے ہیں کہ: ہو سکتا ہے تمہارے پاس اعمال کا پہاڑ ہو اور اگر اس دل میں محبت نہیں تو ، دنیا کے تمام اعمال تمہیں اللہ (عزوجل) کے حضور نہیں بچا پائیں گے۔ درست؟ آپ ٹیلی ویژن میں دیکھتے ہیں، ان( انتہا پسندوں) کے پاس اعمال کا ڈھیر ہے اور وہ لوگوں کو دائیں، بائیں، ہر طرف سے ذبح کررہے ہیں۔ ان کی قرات بہترین ہے۔ ان کے اعمال ڈھیر سارے ہیں۔ یہ عمل نہیں جو ہمیں بچاتا ہے اور ہمیں بارگاہ الٰہی تک رسائی دیتا ہے –مگر دل میں محبت۔تم کسی سے ملو جس کے اعمال ، تمھاری نظر میں کمزور ہوں ، 'دیکھو ، ایسا لگتا ہے کہ زیادہ عمل نہیں کرتا '، ہوسکتا ہے کہ اس کا اعمال اتنے زیادہ نہ ہوں، لیکن انکے دل میں بے پناہ محبت ہو اور کردار اچھا ہو ، اور اولیااللہ تشریف لاتے ہیں اور یہ فرماتے ہیں کہ محبت اللہ (عزوجل) کی عطا ہے، نہ کہ عمل۔ ہو سکتا ہے تمہارے عمل ،دماغ کے تابع ہوں ، اسی لئے یہاں انتہاپسند اور دہشت گرد ہیں ، وہ بہت سارے اعمال ادا کرتے ہیں، تم انہیں دن بھر دعائیں مانگتے دیکھتے ہو ، وہ سب کچھ پڑھ رہے ہیں ، تلاوت کررہے ہیں ، حفظ کر رہے ہیں ، کیونکہ یہ عمل یہاں (دماغ) سے ہوسکتا ہے(حضرت شیخ نورجان دماغ کی طرف اشارہ کرتے ہیں) لیکن محبت اور پیار صرف یہاں (دل) سے ہوتا ہے، (حضرت شیخ نورجان نے اپنے قلبِ مبارک کی طرف اشارہ کیا) اور اگر کسی کے پاس محبتِ الہی ہے ، تو اُن کی بات (کلام ) میں نرمی ہو گی۔ کیونکہ کسی کے پاس محبت ہے تو یہ اللہ (عزوجل) کی عطا ہے ، اس کا مطلب ہے کہ اللہ (عزوجل) کی رضا اس دل میں ہونی چاہئے کہ اُس نے اس قلب کو محبت عنایت کی ، دل میں شفقت رکھی۔ محبت اور شفقت سے ، یقیناً ، پھر دل ایمان– حقیقی ایمان کی طرف گامزن ہوگا، اللہ (عزوجل) اس بندے سے مطمئن اور خوش ہو گا ۔ یعنی ہماری پوری زندگی محبت کی تعمیر کے بارے میں تھی۔ اور اسی لئے حضرتِ شیخ ہماری زندگیوں میں تشریف لاتے ہیں اور وہ ہمیں مشتعل اور مضطرب کرتے ہیں ۔ اگر آپ ان اولیاء اللہ (عزوجل) کے ہمراہ نہیں چلتے تو ، وہ تمہیں کامل بنانے کیلئے تمہارے کردار کی ڈور نہیں کھینچ سکتے تاکہ تمہارے عمل نیچے لائیں اور تمہاری محبت بلند کر(بڑھا) سکیں ۔ تمہارے دل میں محبت بڑھائیں ، اور تم اعمال پر انحصار نہ کرو ، اسی وجہ سے جب تم ان کے ساتھ ہوتے ہو تو ، ہر چیز مشتعل انگیز اور تکلیف دہ ہوتی ہے، مسلسل امتحان لیا جاتا ہے ، مسلسل توڑ پھوڑ کا عمل جاری رہتا ہے۔ اُن کے حضرتِ شیخ ان کو مسلسل توڑ رہے ہیں ، انھیں توڑتے چلے جا رہے ہیں۔ اور انھیں شکست دی جا رہی ہے تاکہ محبت اور عشق کو سامنے لایا جائے۔
اور اسی وجہ سے سیدنا امام علی (کرم اللہ وجہہہ) فرماتے ہیں "حتی کہ اُس ہاتھ سے پیار کرو جو تمہیں کچل رہا ہے۔" اور اُن کی زندگی گلِ محمدیﷺ جیسی تھی –جسے ہم گلاب کہتے ہیں– یعنی یہ پھولوں کا سلطان ہے۔ اور پھولوں کی اصل خوبصورتی یہ نہیں ہے کہ آپ اس کی طرف ( ظاہری خوبصورتی کو) دیکھیں کیونکہ اب تمام علماء یا مسلمان نوے یا ننانوے فیصد( بناوٹی) گلاب کی طرح ہیں۔ اللہ (عزوجل) یہ نہیں چاہتا ، بلکہ میں تمہارے گلاب کو نچوڑ کر اس کا تیل، عرقِ گلاب چاہتا ہوں، گلاب کا عطر اسے نچوڑے بغیر نہیں آتا ، ورنہ یہ صرف نمائشی طور پر اچھا ہے۔ لہذا ہرشخص اچھا دکھائی دے سکتا ہے لیکن یہ نمائش اللہ (عزوجل) کیلئے کوئی اہم بات نہیں ہے ، کیونکہ کوئی بھی 50 ڈالر کا (مذہبی ) لباس خرید سکتا ہے اور ( جسے پہن کر) وہ اچھے لگیں ، یہاں تک کہ اب وہ کپڑوں کی دکانوں پر بکنے والی نقلی داڑھی جو ربڑ بینڈ سے پہنتے ہیں، وہ داڑھی پہن کر اور (مذہبی) لباس پہن کر یہاں وہاں جاؤ اور لوگوں پر چیخو اور چلاؤ؟
اللہ (عزوجل) فرماتا ہے، نہیں تم گلاب کی طرح دِکھتے ہو لیکن کیا تم گلاب جیسی راہ اختیار کر رہے ہو؟ اور پھر یوں ہوتا ہے …' اور ہم تمہیں زندگی میں مسلسل کچلنے والے ہیں ، ہم تمہیں زندگی میں نچوڑ دیں گے، ہم تمہیں زندگی میں مستقل طور پر مشکلات بھیجیں گے تاکہ یہ دیکھیں کہ تم کس چیز کے بنے ہو؟ اور جو چیز اللہ (عزوجل) دیکھنا چاہتا ہے– وہ ہے مٹھاس–میٹھے اور پیار بھرے بنو۔ اور اس کی مثال ہمیں فطرت میں ملتی ہے، ہر شے ہم سے بہتر سرِ تسلیمِ خم کیے ہوئے ہے، جب ہم فخر کرتے ہیں اور کہتے ہیں کہ ہم مسلمان ہیں، ارے نہیں نہیں! درخت تم سے اور مجھ سے زیادہ مسلمان ہے! درخت اللہ (عزوجل) کے حضور ہمارے سے زیادہ تسلیم کی کیفیت میں ہے۔ ، جاؤ اور درخت کو لات مارو– وہ بدلے میں تمہیں ایک خوبصورت پھل دے گا، وہ شاخ سے تمہیں پھینٹی نہیں لگائے گا کیونکہ یہ تم سے خوش نہیں بلکہ ، اللہ (عزوجل) کی (تخلیق کردہ) فطرت کے ساتھ تم جو بھی کرو، وہ تمہیں بھلائی دیں گے ، یہ تمہیں کبھی تکلیف نہیں دے گی اور اللہ (عزوجل) فرماتا ہے: تم کم از کم میری (تخلیق کردہ) فطرت جیسے ہوجاؤ۔ خود کو شائستہ رکھو ، یہ نہ سوچو کہ تم نے کچھ حاصل کر لیا ہے۔ میری تمام مملکتِ حیوانات ، میرے سارے پھول اور پودے اور درخت ، وہ تم سے کہیں زیادہ بہتر ہیں ، اور میں نے تمہیں سب کچھ دیا ، ولقد کرمنا … میں نے تمہیں ساری عزت دی۔
دیکھو تم عود کی لکڑی جلاتے ہو ، درخت کو جلایا ، وہ زندہ ہے ، وہ تسبیح" يُسَبِّحُ بِحَمْدِهِ " میں مصروف ہے ۔ اللہ (عزوجل) فرماتا ہے، ہر چیز میری ثناء میں مصروف ہے ، یہ مت سمجھو کہ میں گوشت نہیں کھاؤں گا کیونکہ یہ پریشان ہو جائے گا ، ٹماٹر بھی ذکر کرتا ہے۔ اسی وجہ سے وہ (اللہ والے) احترام کرتے ہیں۔ تم جانتے ہو کہ وہ کسی چیز پر کانٹے یا چمچ کا استعمال نہیں کرتے، ان کے ہاں روٹی توڑنے کا ایک خاص طریقہ ہے ، ان کے پاس کھانے پینے کی اشیاء کے آداب ہیں… کیونکہ تمہارے ذمہ اللہ (عزوجل) کی مخلوق کا احترام ہے اور ا س (تمام مخلوق ) کا ایک ذکر ہے–تم عود کی لکڑی لو اور اسے جلا دو اور یہ ہمیں کیا درس دیتی ہے؟ ، جلتے ہوئے بھی میں تمہیں خوشبو دیتی ہوں۔ تم نے مجھے جلا دیا اور میں تمہیں بخور دیتی ہوں، جو اللہ (عزوجل) نے مجھ میں خوبی رکھی ہے، میں تمہیں وہ شئے دیتی ہوں۔
اور یہ اولیاء ہماری زندگیوں میں تشریف لاتے ہیں ، دنیا کی تمام نمازیں، دنیا کے تمام روزے ، کس کام آئیں گے ،اگر تمہارےدل میں محبتِ الہیہ نہیں؟ ان اعمال نے تمہارا وقت ضائع کیا۔ ایک ایسا راستہ چُنیں، جس میں آپ دل میں محبتِ الہیہ بیدار کرنے کی کوشش کریں، دل کے اندر پیار اور شفقت رکھیں۔ ، نیکیاں اور اچھے عمل کریں۔ اور خود پر تفکر کریں: "یا ربی ، کیا میرے میں رحمدلی ہے؟ کیا میرے میں محبت ہے؟ اور پھر یقین رکھو کہ اللہ (عزوجل) تمہاری آزمائش شروع کردے گا اور اس سے پہلے کہ تم کسی پر چیخو اور دھاڑو، یاد رکھو کہ 'اوہ مجھے اللہ (عزوجل) آزما رہا ہے، اللہ (عزوجل) یہ دیکھنا چاہتا ہے کہ کیا میرے کردار میں نیکی ہے؟ ہم دعاگو ہیں کہ اللہ (عزوجل) ان مہینوں میں ہمارے لئے رحمت کے دروازےکھول دے، اب ہم رجب ، شعبان اور رمضان کی طرف گامزن ہیں ، ہمیں ایک ایسی زندگی عطا فرما جس میں یہ مقدس مہینے دیکھنا نصیب ہو اور ہمیں ایک اچھا کردار عطا فرما ، یا ربی اپنی محبت اور عشق کو ہمارے دل میں بسا دیجئے ۔ اور سب سے بڑی محبت سیدنا محمد ﷺ کی محبت ہے۔
ان شاء اللہ ۔
بحرمة محمد المصطفی و بسرِ سورۃ الفاتحہ
حضرتِ شیخ سید نورجان (قَدس اللہ سِرّہٗ)🙏🏻
Urdu Transliteration :
In shaa Allah ,
khatam khwajgan shuru karne se qabal –apne liye aik takeed arz hai ke aaj raat ( ki majlis ) ka pegham pyar aur mohabbat hai, baaz Communities mein, islam mein mohabbat ke mauzo par guftagu nahi ki jati aur aulia Allah RA hamari zindagi mein tashreef laatay hain aur yaad dilatey hain ke : ho sakta hai tumharay paas aamaal ka pahar ho aur agar is dil mein mohabbat nahi to, duniya ke tamam aamaal tumhe Allah ( azzwajal ) ke huzoor nahi bacha payen ge. durust? aap television mein dekhte hain, un (intahaa pasandon ) ke paas aamaal ka dhair hai aur woh logon ko dayen, baen, har taraf se zibah kar rahay hain.un ki qarat behtareen hai.un ke aamaal dhair saaray hain. yeh amal nahi jo hamein bachata hai aur hamein bargaah Ellahi tak rasai deta hai-magar dil mein mohabbat!tum kisi se milo jis ke aamaal, tumhari nazar mein kamzor hon,' dekho(tu), aisa lagta hai ke ziyada amal nahi karta ', ho sakta hai ke is ke aamaal itnay ziyada na hon, lekin unkay dil mein be panah mohabbat ho aur kirdaar aacha ho, aur Awliya Allah tashreef laatay hain aur yeh farmatay hain ke mohabbat Allah ( azzwajal ) ki ataa hai, na ke amal. ho sakta hai tumharay amal, dimagh ke tabay hon, isi liye yahan inteha-psand aur dehshat gard hain, woh bohat saaray aamaal ada karte hain, tum inhen din bhar duayen mangte dekhte ho, woh sab kuch parh rahay hain, talawat kar rahay hain, hifz kar rahay hain, kyunkay yeh amal yahan ( dimagh ) se ho sakta hai ( hazrat Sheikh Nurjan qs dimagh ki taraf ishara karte hain ) lekin mohabbat aur pyar sirf yahan ( dil ) se hota hai, ( hazrat Sheikh Nurjan qs ne –apne qalb-e mubarak ki taraf ishara kya ) aur agar kisi ke paas mohabbat e Elahi hai, to unn ki baat ( kalaam ) mein narmi ho gi. kyun kay kisi ke paas mohabbat hai to yeh Allah ( azzwajal ) ki ataa hai, is ka matlab hai ke Allah ( azzwajal ) ki Raza is dil mein honi chahiye ke uss ne is qalb ko mohabbat inayat ki, dil mein shafqat rakhi. mohabbat aur shafqat se, yaqeenan, phir dil – haqeeqi imaan ki taraf gamzan hoga, Allah ( azzwajal ) is bande se mutmaen aur khush ho ga. yani hamari poori zindagi mohabbat ki taamer ke baray mein thi. aur isi liye Hazrat e Sheikh hamari zindagion mein tashreef laatay hain aur woh hamein mushtael aur muztarib karte hain.agar aap un aulia Allah ( azzwajal ) ke hamrah nahi chaltay to, woh tumhe kaamil bananay ke liye tumharay kirdaar ki dor nahi khench satke taakay tumharay amal neechay layein aur tumharee mohabbat buland kar ( barha ) saken. tumharay dil mein mohabbat barhayain, aur tum aamaal par inhisaar na karo, isi wajah se jab tum un ke sath hotay ho to, har cheez mushtael angaiz aur takleef deh hoti hai, musalsal imtehaan liya jata hai, musalsal tor phor ka amal jari rehta hai. unn ke Hazrat e Sheikh un ko musalsal tor rahay hain, unhein torte chalay ja rahay hain. aur unhein shikast di ja rahi hai taakay mohabbat aur ishq ko samnay laya jaye.
aur isi wajah se sayyedina imam Ali (karam Allah wajhu ) farmatay hain" hatta ke ous haath se pyar karo jo tumhe kuchal raha hai." aur unn ki zindagi gul e Muhammadi ﷺ jaisi thi-jisay hum ghulaab kehte hein– yani yeh phoolon ka Sultan hai. aur phoolon ki asal khoubsurti yeh nahi hai ke aap is ki taraf ( zahiri khoubsurti ko ) dekhen kyunkay ab tamam ulama ya musalman nawway ya ninanway feesad ( banawati ) ghulaab ki terhan hain. Allah ( azzwajal ) yeh nahi chahta, balkay mein tumharay ghulaab ko nichor kar is ka tail,Arq e ghulaab chahta hon, ghulaab ka itar usay nachoray baghair nahi aata, warna yeh sirf numaishi tor par acha hai. lehaza har shakhs acha dikhayi day sakta hai lekin yeh numayesh Allah ( azzwajal ) ke liye koi ehem baat nahi hai, kyunkay koi bhi 50 dollar ka ( mazhabi ) libaas khareed sakta hai aur ( jisay pehan kar ) woh achay lagen, yahan tak ke ab woh kapron ki dukanon par bikny wali naqli daarhi jo rubber baind se pehantay hain, woh daarhi pehan kar aur ( mazhabi ) libaas pehan kar yahan wahan jao aur logon par cheho aur chillao ?
Allah ( azzwajal ) farmata hai, nahi tum ghulaab ki terhan dikhtay ho lekin kya tum ghulaab jaisi raah ikhtiyar kar rahay ho? aur phir yun hota hai. ..' aur hum tumhe zindagi mein musalsal kuchalnay walay hain, hum tumhe zindagi mein nichor den ge, hum tumhe zindagi mein mustaqil tor par mushkilaat bhejen ge taakay yeh dekhen ke tum kis cheez ke banay ho? aur jo cheez Allah ( azzwajal ) dekhna chahta hai – woh hai mithaas-meethay aur pyar bharay bano. aur is ki misaal hamein fitrat mein millti hai, har shai hum se behtar sar-e tasleem kham kiye hue hai, jab hum fakhr karte hain aur kehte hain ke hum musalman hain, arrey nahi nahi! darakht tum se aur mujh se ziyada musalman hai! darakht Allah ( azzwajal ) ke huzoor hamaray se ziyada tasleem ki kefiyat mein hai., jao aur darakht ko laat maaro! woh badlay mein tumhe aik khobsorat phal day ga, woh shaakh se tumhe phainti nahi lagaye ga kyunkay yeh tum se khush nahi balkay, Allah ( azzwajal ) ki ( takhleeq kardah ) fitrat ke sath tum jo bhi karo, woh tumhe bhalai den ge, yeh tumhe kabhi takleef nahi day gi aur Allah ( azzwajal ) farmata hai : tum kam az kam meri ( takhleeq kardah ) fitrat jaisay hojao. khud ko shaista rakho, yeh na socho ke tum naay kuch haasil kar liya hai. meri tamam mumlikat hewanat, mere saaray phool aur pouday aur darakht, woh tum se kahin ziyada behtar hain, aur mein naay tumhe sab kuch diya,WA LA QAD KARRAMNA.. mein naay tumhe saari izzat di.
Dekho tum oood ki lakri jalate hu, Darakht ko jalaya, wo zinda ha, wo tasbih"yussabbihu bi'hamdihi" mein masroof ha. Allah(AJ)farmata ha, har cheez mein sana mein masroof ha, ye mat smjho ke mein hosht nhi khaonga kyun ke ye pareshan hojae ga, tamatar bhi ziker krta ha, issi wajeh se wo(Allah wale) ehtiram krte hain. Ap jante ho ke wo ksi cheez Par kante ya chamach ka istimal nhi krte, onke haan roti torne ka aik khas tariqa ha, onke pass kuch khanay peenay ki ashya ke Adaab hain, kyunke tumhari zimme Allah AJ ki makhlooq ka ehtiraam ha aur onka aik ziker ha-tum ooud ki lakri lu aur ousay jala du aur ye hamein kia dars deti ha?jalte huay bhi mein tumhein khushboo deti hun, tm ne mjhe jala dia aur mein tmhein bakhoor deti hun, jo Allah AJ ne mjh mein khoobi rkhi ha, mein tmhe wo shay deti houn. Aur ye Awliya hmari zindagion m tashrif latay hain, dunia ki tmam namazein, dunia ke tmam rozay, kis kam aaeinge, agr tmaray dil mein muhabbat e Elaahia nhi? In Amaal ne tmhara wqt zaya kia.aik aisa rasta chunein, jismein ap dil mein muhabbat e elaahia baidar krne ki koshish krein, dil ke andar pyar aur shafqat rakhein, naikian aur achay amal krein, aur khud per tafakur krein:"Ya Rabbi!kia mere m reham-dili ha?kia mere m muhabbat ha? Aur phr yaqeen rkho ke Allah AJ tmari azmaish shuru krdega aur iss se pehle tm ksi per cheeho aur dhaaro, yad rkhi ke "oh!mjhe Allah AJ azma rha ha, Allah AJ ye dekhna chahta ha ke kia mere kirdar mein naiki ha?hum dua-gu hain ke Allah AJ in mahinoo mein hmare liye rahmat ke darwaze khol de, ab hum rajab, shaban aur ramzan ki traf gam-zan hain ,hmein aik aisi zindagi ata frma jismein ye muqaddas mahenay dekhna naseeb hu aur hamein aik acha kirdar ata frma, ya Rabbi apni muhabnat aur ishq hmaray dil mein bsa dijye aur sab se bari muhabbat Sayyidina Muhammad ﷺ ki muhabbat ha.In sha Allahh
Bi hurmati Muhammad al-Mustafa wa bi sirri suratil Fatiha
Hazrat Shaykh Sayyid Nurjan (qaddas Allahu sirruh)🙏🏻
Original Transcript:
In sha'Allah a reminder for myself before we start the Khatam-e-Khuwajgan that a reminder for tonight is Muhabat and love that in certain communities, they don't talk about love in Islam and Auwliya-Allah come into our life and remind us that you may have a mountain of amal and if that heart doesn't have love, all the amal in the world will not save you in Allah's Presence. Right, you watching television, they have so much amal and they are slaughtering people, left and right. Their qiraa't is perfect. Their actions are many. It's not the amal that saves us and gives us an access to Divinely Presence but Muhubat in the heart. You may meet somebody who, their amal, in your eyes may be weak, eh, look that's not look like much, may be his amal is not so big, but may have a tremendous love and good character in their heart, and Auwliya come and says that love is grant from Allah (Azzawajal), not the amal, the amal you can be doing from your maghz and that's why there is extremists and terrorist, they are doing lots of amal, you watch them all day long they are praying, they are reading, reciting, memorizing, everything, because that amal can be from here (Hazrat Shaykh Nurjan Q pointing towards head) but Muhubat and love only comes from here (Hazrat Shaykh Nuran Q pointing toward his Heart )and if somebody has Muhubat means they have a softness in their speech. Because somebody has a Muhubat, it's a grant from Allah (Azzawajal), means Allah's rida must be in that heart that he gave that heart love, gave the heart compassion.
Love and compassion, of course, then the heart will move towards faith, real faith, which Allah (Azzawajal) be satisfied and happy with that servant, means that our whole life was about building the Muhubat. and that's why the Shaykh come in to our lives and they agitate and aggravate that if you don't accompanying these Auwliya-Allah, they cannot pull at the strings of your character to perfect, bring your action down, bring your Muhubat up, increase the love in your heart, don't rely upon the actions, that's why then when you accompany them, everything is about agitating and aggravating continuously testing and continuously smashing as they progress, their Shaykh are continuously smashing them, smashing them, smashing them to bring out love and Ishq. And that's why Imam Ali ʿalayhi s-salām (says) "be loving even to the hand that's crushing you." And their life was to be like Gul-e-Muhammadi , what we call the rose, means it's the sultan of flowers and the true beauty of the flower is not that you look at it cause that's now 90. or 99% of all Ulema or Muslims, they are like a rose but that's not what Allah (Azzawajal) wants, is that let me squeeze your rose to bring it oil out, the ittar of the rose doesn't come without squeezing, otherwise it just looks good. so everybody can look good but that's not important for Allah (Azzawajal) , cause anybody can buy a 50 dollar outfit and they look good, they can even wear like you know in the costume stores , they sell the beard with the rubber band, they put a beard on , put on a nice clothes on and go around and yell and smack people, when Allah (Azzawajal) says, no you look like the rose, are you going to take the path of a rose? here we go… and we are going to crush you in life, we are going to squeeze you in life, we are going to continuously put a difficulty upon you in life to see what you are made from? And what Allah (Azzawajal) wants to see is the sweetness, be sweet and loving and the example is everything in nature is submitting better than us, when we are proud and say we are Muslim, no no the tree is more Muslim than me and you, the tree submits to Allah (Azzawajal), more than me and you , go kick the tree tomorrow, it gives you a beautiful fruit, it doesn't take the branch and smack you because it's not happy with you, anything from Allah (Azzawajal)'s nature, whatever you do to it, it gives you goodness back, it never harms you and Allah (Azzawajal) says, then be at least like my nature. Humble yourself, don't think that you have achieved anything. All my animal kingdom, all my flowers and plants and trees, they are much better than you, and I gave you everything, 'Wa Laqad karmna'…I gave you all your honour.Look you burn the Audh, you burn the tree, it is alive, it makes Tasbeeh yusabbiHu biHamdihi. Allah (Azzawajal) says, everything is praising me, don't think oh i don't eat meat because it's going to be upset, the tomato also making zikar. That's why they have Ihtram, you know they don't use a fork or spoon on anything, they have a certain way to break bread, they have certain foods on how to…because you have a Ihtram for Allah's creation and it had a zikar, you take the audh and you burn it and what it shows us, in my burning I give you a fragrance . You burn me and I give you Bakhoor, I give you the goodness of what Allah (Azzawajal) made from me
And this Auwliya come into our lives, all the praying all in the world, all the zakat in the world, all the fasting in the world, if your heart doesn't have love what did it do it for? it wasted your time, take a path in which you try to build Muhubat in the heart, love and compassion within the heart , do good deeds and good actions and think of myself, " Ya Rabbi, do I have a kindness? Do I have a lovingness?" and then believe that Allah (Azzawajal) would begin to test you and before you scream and yell at somebody, remember that oh I am being tested by Allah (Azzawajal) that Allah (Azzawajal) wants to see if I have goodness in my character ,we pray that Allah(Azzawajal) opens in these months now we are heading towards Rajab, Shaban and Ramadan, that give us a life in which to see those Holy months and gives us a good character Ya Rabbi grant Your Muhubat and love into our heart and the greatest love is love for Sayedena Muhammad saws in sha Allah.
Bi hurmati Muhammad al Mustafa wa bi siri surat al Fatiha
Watch here:
https://web.facebook.com/shaykhnurjanmirahmadi/videos/202212480913051/