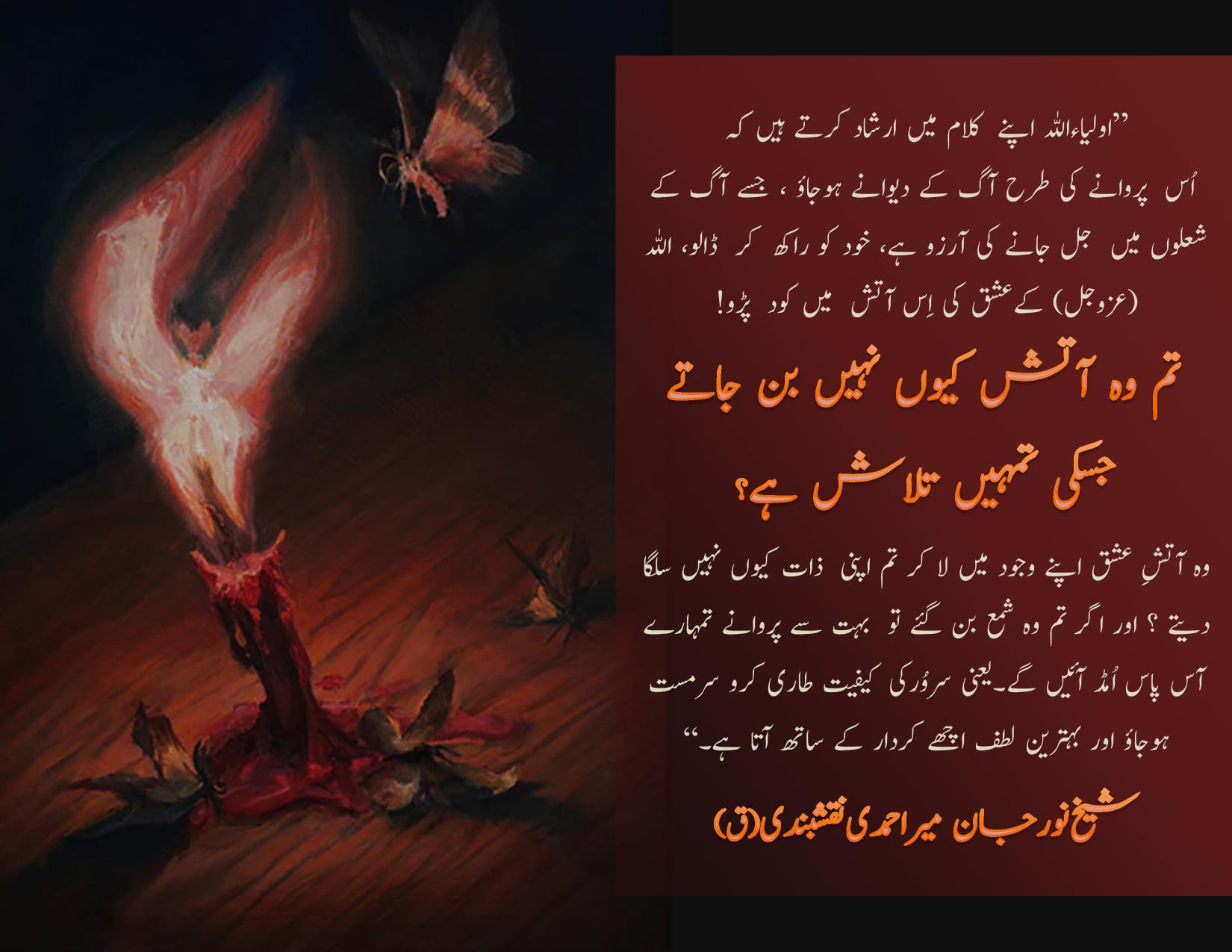 Urdu – Be like a moth to the fire: اپنی آگ میں خود جل جائے تُو ایسا پروانہ بن جا۔۔ ج…
🔥 Be like a moth to the fire:
اپنی آگ میں خود جل جائے تُو ایسا پروانہ بن جا۔۔
جب بھی آپ ان اولیااللہ کا کلام سنتے ہیں اور وہ میخانہ(لفظ ) کہیں تو اس سے مراد شراب خانہ نہیں ہے،اتنی تنگ نظر اور سادی( سوچ) نہ رکھو۔(اولیااللہ کے کلام میں عشق حقیقی میں) سرشار ہونے کے کیفیت 'مہ' ہے ، اس دنیا میں غم میں مبتلا لوگوں سے (شیاطین ) کھیل رہے ہیں ، وہ اپنے تمام غم ،اپنے تمام آلام اور تمام دکھوں کے مداوے کیلئے شراب خانے کی طرف بھاگتے ہیں۔ اگر وہ خوش ہوتے ، تو یہ کام نہ کررہے ہوتے۔
اولیاءاللہ الفاظ کے ساتھ کھیلتے اور ارشاد فرماتے ہیں کہ ہمارے پاس آپ کیلئے ایک بہتر شراب (نشہ) ہے۔ ہمارے پاس روحانی سرور ہے۔ اگر ہم اچھا کردار دکھائیں اورہم ان(سچے عاشقین) کی مجلس میں بیٹھیں اور ہم (اس سرشاری کی کیفیت میں ) غوروفکر کریں تو یہ میخانہ، آشیاں سب ارواح کا آشیاں جو عشقِ حقیقی میں مدہوش ہیں، وہ پروانے اللہ(عزوجل ) کے جنتی چشمے سے، امرت سے پی رہے ہیں۔وہ اپنا آپ(جان و روح و قلب) فدا کر دیتے ہیں ، ان کا سارا وجود اللہ کی محبت میں سرشار/فنا ہوجاتا ہے اور وہ لوگ اس میخانے سے جانا نہیں چاہتے اور وہ اس امرت کو زیادہ سے زیادہ پی کر گھنٹوں بیٹھے رہنا چاہتے ہیں۔
اولیاءاللہ اپنے کلام میں ارشاد کرتے ہیں کہ اُس پروانے کی طرح آگ کے دیوانے بن جاؤ ، جسے آگ کے شعلوں میں جل جانے کی آرزو ہے، خود کو راکھ کر ڈالو اللہ ( عزوجل) کے(عشق کی) اِس آتش میں کود پڑو۔جس سے تم یہ سوچ کر ڈر جاتے ہو کہ اگر (رسولؐ کی محبت میں ) داڑھی رکھو گے، اگر تم نے دستار باندھ لی تو تم اپنا پیسہ کھو بیٹھو گے، اگر اِن (عاشقین) کے ساتھ بیٹھ گیا تو اپنی آمدن کھو دونگا ۔ اللہ( عزوجل) کا فرمان ہے کہ ان سب کے بارے فکر مت کرو! اور عشق کی لَوکی طرف لپکو، شعلے کی طرف بھاگو ، دل میں ایسی محبت بھر لو، جو تمھیں عشق کی آگ میں ڈوب جانے پر مجبور کر دے اور پھر تم ان شعلوں کی لپیٹ میں ایسے آجاؤ گے کہ راکھ ہو جاؤ گے یعنی تم عاشقوں میں شامل ہوگئے ہو اور اس محبت کے نشے میں اس قدر مبتلا ہو کہ ہمیشہ اُن کی صحبت میں رہنے کی کوشش کرتے ہو ،تو تم خود ہی آگ کیوں نہیں بن جاتے؟
نہ صرف تمہیں انکے ساتھ بیٹھنا چاہیے بلکہ اپنی حقیقت کو پروان چڑھانے کی کوشش کیوں نہیں کرتے ؟ تاکہ تم بھی اس حقیقت کے محرم بن جاؤ۔ لہذا ، پہلے تم محبت کے ساتھ(اولیااللہ کی محفل میں) آتے ہو اور کہتے ہو کہ میں ان ہی کے ساتھ بیٹھنا چاہتا ہوں کیونکہ ان میں بہت طاقت ہے، شدید پیار محسوس ہوتا ہے ، تب یہ حمدوثناء کرتے ہیں اور یہ تمھیں خوبصورت لگتی ہے پھر تم میں ایسی آگ کی لگن لگتی ہے جس کے نزدیک جانا چاہتے ہو لیکن –
تم وہ آگ خود کیوں نہیں بن جاتے جس کی تمہیں تلاش ہے۔تم ان کے ساتھ بیٹھتے ہو ، تم ان کے ساتھ بیٹھے رہتے ہو لیکن اللہ (عزوجل) ہم سے یہ چاہتا ہے کہ تم وہی کیوں نہیں بن جاتے؟ وہ آتشِ عشق اپنے وجود میں لا کر تم اپنی ذات کیوں نہیں سلگا دیتے ؟ اور اگر تم وہ شمع بن گئے تو بہت سے پروانے تمہارے آس پاس اُمڈ آئیں گے۔ یعنی سرور کی کیفیت طاری کرو ، سرمست ہوجاؤ اور بہترین کیفیت اچھے کردار کے ساتھ ہی آتی ہے، اپنے نفس کیلئے میرا پیغام یہ ہے کہ یہ راہ صرف اچھے کردار کا راستہ ہے اور ہم دعاگو ہیں کہ اللہ (عزوجل) ہمیں اچھے کردار کی چادر سے نوازے ، اچھے کردار کے نتیجے میں بارگاہ الہی سےبے پناہ محبت ہونی چاہئے۔
ان شاء اللہ
شیخ نورجان میراحمدی نقشبندی (ق)
Roman Urdu Mein:
Jab bhi aap in Auliya-Allah ka kalaam suntay hain aur woh mekhana ( lafz ) kahin to is se morad sharaab khanah nahi hai, itni tang nazar aur saadi ( soch ) nah rakho. Auliya-Allah ke kalaam mein Ishhq Haqeeqi mein ) sarshar honay ke kefiyat ' Meh ' hai, is duniya mein gham mein mubtala logon se ( shyatin ) khail rahay hain, woh –apne tamam gham, apne tamam alaam aur tamam dukhoon ke madaway ke liye sharaab khanaay ki taraf bhagtay hain.
Agar woh khush hotay, to yeh kaam nah kar rahay hotay. Auliya-Allah alfaaz ke sath khailtay aur irshad farmatay hain ke hamaray paas aap ke liye aik behtar sharaab (nasha ) hai. hamaray paas Rohani suroor hai. Agar hum acha kirdaar deikhein aur hum un ( sachey Ashqeen ) ki majlis mein bathain aur hum ( is sarshari ki kefiyat mein ) ghor-o-fikar karen to yeh mekhana, aashyaan sab arwah ka aashyaan jo ashqey haqeeqi mein Madhosh hain, woh parwanay Allah ( Azwajal ) ke janati chashmay se, amrat se pi rahay hain. woh apna aap ( jaan o rooh o qalb ) fida kar dete hain, un ka sara wujood Allah ki mohabbat mein sarshar / fanaa hojata hai aur woh log is mikhane se jana nahi chahtay aur woh is amrat ko ziyada se ziyada pi kar ghanton baithy rehna chahtay hain .
Aulia Allah apne kalaam mein irshad karte hain ke uss parwanay ki terhan aag ke deewany ban jao, jisay aag ke shulon mein jal jaane ki arzoo hai, khud ko raakh kar daalo Allah ( Azwajal ) ke ( ishhq ki ) iss aatish mein kood parro, jis se tum yeh soch kar dar jatay ho ke agar [ Rasool (saw) ki mohabbat mein ] daarhi rakho ge, agar tum neh dastaar bandh li to tum apna paisa kho betho ge, agar inn ( Ashqeen ) ke sath baith gaya to apni amdan kho doonga. Allah ( Azwajal ) ka farmaan hai ke un sab ke baray fikar mat karo! Aur ishhq ki Loh ki taraf lapko, sholay ki taraf bhago, dil mein aisi mohabbat bhar lau, jo tumhen ishhq ki aag mein doob jaane par majaboor kar day aur phir tum un shulon ki lapait mein aisay ajao ge ke raakh ho jao ge yani tum aashiqon mein shaamil hogaye ho aur is mohabbat ke nashay mein is qader mubtala ho ke hamesha unn ki sohbat mein rehne ki koshish karte ho, to tum khud hi aag kyun nahi ban jatay? Nah sirf tumhe unkay sath baithna chahiye balkay apni haqeeqat ko parwan charhanay ki koshish kyun nahi karte?
Taakay tum bhi is haqeeqat ke Mehram ban jao. Lehaza, pehlay tum mohabbat ke sath ( Aulia Allah ki mahfhil mein ) atay ho aur kehte ho ke mein un hi ke sath baithna chahta hon kyunkay un mein bohat taaqat hai, shadeed pyar mehsoos hota hai, tab yeh Hamd o Sanaa karte hain aur yeh tumhen khobsorat lagti hai phir tum mein aisi aag ki lagan lagti hai jis ke nazdeek jana chahtay ho lakin tum woh aag khud kyun nahi ban jatay jis ki tumhe talaash hai.
Tum un ke sath baithtay ho, tum un ke sath baithy rehtay ho lekin Allah ( Azwajal ) hum se yeh chahta hai ke tum wohi kyun nahi ban jatay? woh aatish ishhq –apne wujood mein laa kar tum apni zaat kyun nahi sulga dete? Aur agar tum woh shama ban gey to bohat se parwanay tumahray aas paas umadd ayen ge. Yani suroor ki kefiyat taari karo, sarmast hojao aur behtareen kefiyat achay kirdaar ke sath hi aati hai –apne nafs ke liye mera pegham yeh hai ke yeh raah sirf achay kirdaar ka rasta hai aur hum dua'go hain ke Allah ( Azwajal ) hamein achay kirdaar ki chadar se nawazay, achay kirdaar ke nateejay mein Bargaah Illahi se be panah mohabbat honi chahiye .
Insha'Allah
Our Translation of :🌹🌹Be in love like a moth 🌹🌹
Anytime you listen to these Awliyyah kalam and they say Mai-khana. It's not a bar, don't be so primitive and narrow minded. Mai is a state of intoxication. They're playing on the people of suffering in this world, they run to the bars to medicate themselves from all their Gham, all their sadness and all their suffering. If they were happy, they would not be doing those things. So, Awliyyah come and play with the word and said that we have a better Mai for you.
We have a state of spiritual drunkenness where if we have good character and we sit in their associations and we meditate، their khana, their home is the home of all the drunken souls of divine love, they're continuously drinking from the nectar of Allah (AJ)'s fountains in paradise they leave their entire soul, their entire being to be intoxicated with Allah's love and the people don't want to leave and they want to sit for hours drinking more and more of that nectar.
They say be like a moth to the fire that have the desire to go into the flame burn yourself, run to Allah (AJ) that fire that you're scared of thinking that you're going to lose your money if you have a beard, you're going to lose your money if you have a hat, you're to lose your money if I sit with them. Allah (AJ) saying don't worry about all of that run to the flame, run to the flame, have such a love in your heart, that pushes you to go into the love and later you're going so much into the flame, so much into the flame means you became from ashiqan and you're so intoxicated with their love, always trying to be in their association, why don't you become yourself a fire, not only you have to sit with them, why don't you try to escalate your reality. So, that you be from that reality. So, first you come with love and say I want to just sit with them because they have so much power, so much love coming then these Nasheeds are singing to you that that's beautiful that you keep finding a fire that you want to go around.
But why you don't just become the fire that you're seeking, you sit with them, you sit with them but what Allah (AJ) want from us is that why don't you become them, why don't you bring that fire into your own being and ignite and if you become that flame then many moths will be around you. Means take the state, enter into that state and the best of states is with good character, reminder for myself that this way is only good character and we pray that Allah (AJ) dress us, bless us with good character, the result of that character should be immense love for the divinely presence. Insha'Allah.
🦋 Sh. Nurjan Mirahmadi Naqshbandi (Q) 🔥
Watch this lecture here: https://www.youtube.com/watch?v=H9BWVT7zZ-A