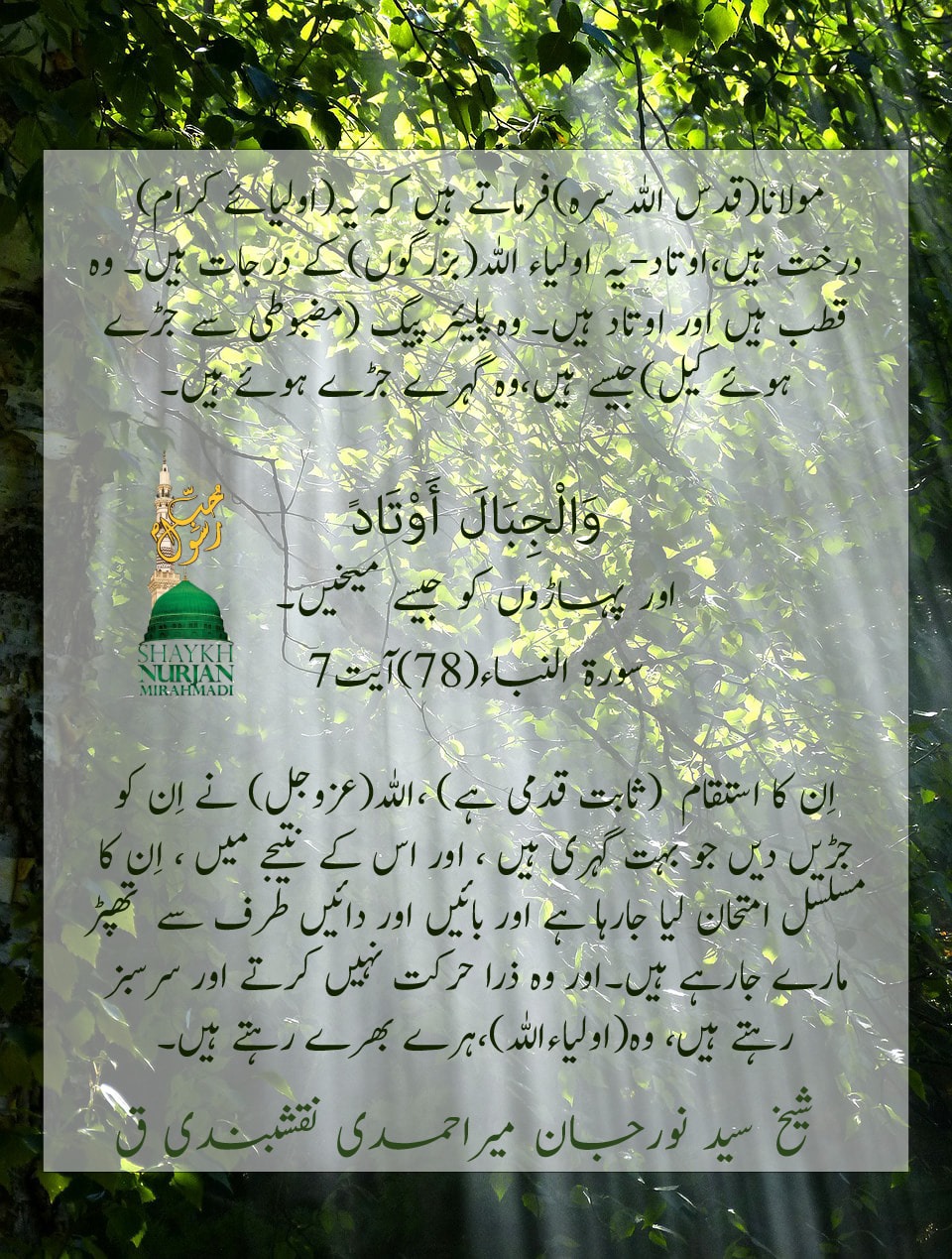 Urdu – Awliya Are Like Trees and Mountains With Deep Roots اولیاء کرام درختوں اور پہا…
Awliya Are Like Trees and Mountains With Deep Roots 🌳⛰️
اولیاء کرام درختوں اور پہاڑوں کی مانند گہری جڑیں رکھتےہیں۔🌳⛰️
اور اِن کے ساتھ رہو جو درختوں کی مانند ہیں،چٹان پر پھول کی طرح نہیں۔ وہ سدا بہار ہیں۔ مولانا(ق)فرماتے ہیں کہ یہ(اولیائے کرام) درخت ہیں،اوتاد-یہ اولیاء اللہ(بزرگوں)کے درجات ہیں۔ وہ قطب ہیں اور وہ اوتاد ہیں۔ وہ پلیئر پیگ (مضبوطی سے جڑے ہوئے کیل)جیسے ہیں،وہ گہرے جڑے ہوئے ہیں۔
﷽
وَالْجِبَالَ أَوْتَادًا۞
اور پہاڑوں کو جیسے میخیں۔ سورۃ النباء(78) آیت 7
لیکن درختوں کی مشابہت کی دنیا میں ، اِن کی جڑیں بہت گہری ہیں۔اِن کا استقام (ثابت قدمی ہے) ،اللہ(عزوجل) نے اِن کو جڑیں دیں جو بہت گہری ہیں ، اور اس کے نتیجے میں ، اِن کا مسلسل امتحان لیا جارہا ہے اور بائیں اور دائیں طرف سے تھپڑ مارے جارہے ہیں۔اور وہ ذرا حرکت نہیں کرتے اور سرسبز رہتے ہیں، وہ(اولیاءاللہ)،ہرے بھرے رہتے ہیں۔ایسی دنیا میں جو ہمیشہ دم توڑ رہی ہے ، اور پودے آتے ہیں اور چلے جاتے ہیں اور درخت آتے اور چلے جاتے ہیں (لیکن اولیاء ) وہ ایک مستقل حالتِ "حَیّْ" میں رہتے ہیں۔ سبز رنگ حیات (دائمی زندگی ) کی علامت ہے۔ ان کی جڑیں گہرائیوں میں قائم کی گئی ہیں اور اللہ ( عزوجل ) فرماتا ہے اِن کے ساتھ رہو!!
يَا أَيُّهَا الَّذِينَ آمَنُوا اتَّقُوا اللّهَ وَكُونُوا مَعَ الصَّادِقِينَ۞
اے ایمان والو! اللہ تعالیٰ سے ڈرو اور سچوں کے ساتھ رہو۔
سورہ التوبہ (9) آیت 119
شیخ سید نورجان میراحمدی نقشبندی ق 🌷
Awliya Are Like Trees and Mountains With Deep Roots
And accompany those whom they're like trees, not like a flower on a rock. They're evergreen. Mawlana would describe they're trees, the Awtad – these are category of awliyaullah (saints). They're Qutubs and they're Awtad. The Awtads are like player, pegs, they dig deep.
﴾وَالْجِبَالَ أَوْتَادًا ﴿٧
78:7 – "Wal jibala awtadan." (Surat An-Naba)
"And Mountains like Pegs." (The Tidings, 78:7)
But in the world of analogy of trees, their roots are very deep. Their istiqam (firmness), Allah (AJ) gave them roots that go very deep, and as a result, they're continuously being tested and slapped left and right, and they barely move. And they remain green, they remain green. In a world that is ever dying, and plants they come and go and trees that come and go, they're in a continuous state of Hay (ever-living). The green signifies the hayat (ever-living). Their roots deeply planted and Allah (AJ) says accompany them.
﴾يَا أَيُّهَا الَّذِينَ آمَنُوا اتَّقُوا اللّهَ وَكُونُوا مَعَ الصَّادِقِينَ ﴿١١٩
9:119 – "Ya ayyuhal ladheena amanoo ittaqollaha wa kono ma'as sadiqeen." (Surat At-Tawba)
"O you who have believed, have consciousness of Allah and be with those who are truthful/ Pious /sincere (in words and deed)." (The Repentance, 9:119)
Sayyed Shaykh Nurjan Mirahmadi Naqdhbandi Q
#Awliya #EverGreen #EverLiving #DeeplyPlanted #MawlanaYaMawlana