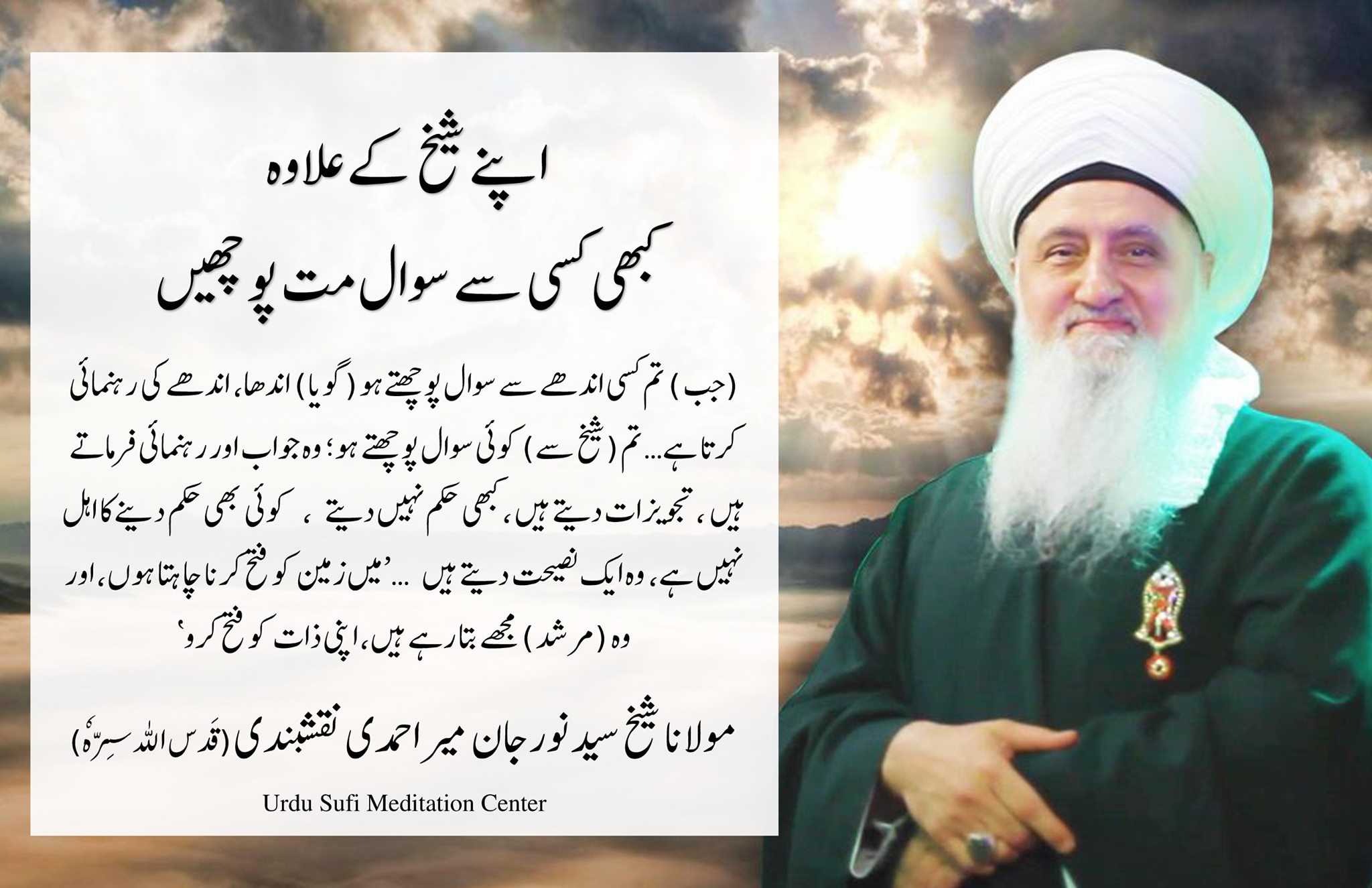 Urdu – Ask Your Pir Not Your Peers For Life Advice زندگی میں نصیحت اپنےپیر (مرشد ) س…
Ask Your Pir Not Your Peers For Life Advice
زندگی میں نصیحت اپنےپیر (مرشد ) سے لیجئے — ساتھی دوستوں سے نہیں
|Zindagi Mein Nasiyaat –Apne Peer (Murshid) Se Lijiye — Saathiyon Se Nahi|
مولانا شیخ سید نورجان میراحمدی نقشبندی (قدس اللہ سرہٗ) کی تعلیمات مولانا (ق) کے حقائق سے
اَعُوْذُ بِاللہ مِنَ الشَّیْطٰنِ الرَّجِیْمِ ۞ بِسْمِ اللہ الرَّحْمٰنِ الرَّحِیْمِ ۞
اللہ (عزوجل) کی پناہ مانگتا ہوں شیطان مردود سے۔اللہ (عزوجل) کے نام سے شروع کرتا ہوں جو نہایت مہربان رحم کرنے والا ہے۔
سوال: خوف کیسے دور کیا جائے ؟
مولانا شیخ سید نورجان میر احمدی نقشبندی ق: یہ ہمارا سب سے بڑا خطرہ ہے۔ جو کچھ ابھی ہو رہا ہے وہ یہی ہے کہ شیطان خوف کے ذریعہ حکمرانی کر رہا ہے اور ہم نے (پہلے بھی ) اس بارے میں بات کی ہے اور نورمحمد (ﷺ) —Nurmuhammad.com ویب سائٹ پر موجودہے سب (موضوع ) ٹیگ ہیں ۔ اگر تم نورمحمد (ﷺ) پر جاتے ہو اور لفظ "خوف" ٹائپ کرتے ہیں تو ، یہ سرچ میں تمام ویڈیوز اور مضامین نکال دے گا۔ لہذا ، کوئی بھی موضوع جس کے بارے میں تمہیں گہری تشویش ہے ویب سائٹ پر جائیں ، لفظ لکھیں۔ زیادہ تر مضامین — یہاں تک کہ پہلی ویڈیوز سے لیکر ہزار ویڈیوز بھی —میرے خیال میں سب دوبارہ ٹیگ کر دی گئی ہیں۔ لیکن یہ خوف ہی ہے، جسکے زریعے شیطان آخری زمانے میں کام کررہا ہے کیونکہ خوف ایمان کی ضد (مخالف )ہے۔
|| Maulana Shaykh Sayed Shaykh Nurjan Mirahmadi (Q) ki taleemat Maulana ke Haqaiq Se. A'udhu Billahi Minash Shaitanir Rajeem. Bismillahir Rahmanir Raheem
Sawal: Khauf kaisay daur kya jaye?
Yeh hamara sab se bara khatrah hai. Jo kuch abhi ho raha hai woh yahi hai ke shetan khauf ke zareya hukmarani kar raha hai aur hum naay ( pehlay bhi ) is baray mein baat ki hai aur Nurmuhammad website par mojod hain sab ( mauzo) tag hain. Agar tum Nurmuhammad par jatay ho aur lafz " khauf" type karte hain to, yeh search mein tamam videos aur mazameen nikaal day ga. Lehaza, koi bhi mauzo jis ke baray mein tumhe gehri tashweesh hai web par jayen, lafz likhain. Ziyada tar mazameen — yahan taq ke pehli videos se leker hazaar videos bhi —mere khayaal mein sab dobarah tag kar di gayi hain. Lekin yeh khauf hi hai, jisske zariye shetan aakhri zamane mein kaam kar raha hai kyunkay khauf imaan ki zid ( mukhalif ) hai ||
From the Realities of Mawlana (Q) as taught by Shaykh Nurjan Mirahmadi.
I seek refuge in Allah from Satan, the rejected one
In the Name of Allah, the Most Beneficent, the Most Merciful
Question: How to remove fear?
Mawlana Shaykh Nurjan Mirahmadi (Q): This is our greatest danger. What's happening right now is shaitan (satan) ruling by fear and we talked and the website has and the Nurmuhammad, everything is tagged. If you go in Nurmuhammad and type the word 'fear', it will pull all the videos and articles in the search. So, any subject that you have deeper concern, go to the website, put the word. Most articles – even from the thousand videos from the first ones – I think have been retagged. But fear is how shaitan is operating now in last days because fear is the opposite of faith.
خوف ایمان سے متضاد ہے اور ایمان ایک روشنی اورایک ہدایت ہے جو دل میں اُترتی ہے۔ وہ روشنی جو دل میں آجاتی ہے جب ہم مراقبہ کی تعلیم دینا شروع کرتے ہیں، تفکر ( غوروفکر کرنا ) سکھاتے ہیں؛ یہ غصہ ہے اور لاعلمی (جہالت) ہے جو لوگوں کے دلوں میں آگ پیدا کرتی ہے۔ اس کا مطلب ہے کہ اگر لوگوں کے دل میں غصہ ہے تو ، اُن کے وجود میں لاعلمی (جہالت ) ہے ، پھر ان کے زیر اثر ہر چیز آگ ہے۔ طروق( روحانی راستہ) ، اسلام ، سیدنا محمد(ﷺ) جاہلیت دور کرنے آئے تھے۔ لہذا ، اس کا مطلب دین کی حقیقت ، جہالت کو فتح کرنا اور ہدایت لانا ہے ۔ جیسے ہی دل کو ہدایت ملنے لگے ، تعلیمات ، طریقۃ دل میں آنے لگے ؛ دل میں نور داخل ہونے لگے گا ۔ وہ ہدایت اُس قہر اور غضب (غصے) کو جو دل میں داخل ہوتا ہے ، اُسے ختم کرنا شروع کردیتی ہے۔
|| Khauf imaan se mutazaad hai aur imaan aik roshni aur aik Hadayat hai jo dil mein utartee hai. Woh roshni jo dil mein ajati hai jab hum muraqba ki taleem dena shuru karte hain, taffakur ( ghor-o-fikar karna ) sikhate hain yeh gussa hai aur la ilmi ( jahalat ) hai jo logon ke dilon mein aag peda karti hai. Is ka matlab hai ke agar logon ke dil mein gussa hai to, unn ke wujood mein la ilmi ( jahalat ) hai, phir un ke zair asar har cheez aag hai. Taruq (Rohani rasta), islam, Sayedena Muhammad (saws) jahliat daur karne aeye they. Lehaza, is ka matlab deen ki haqeeqat, jahalat ko fatah karna aur hadaayat lana hai. Jaisay hi dil ko hadaayat milnay lagey, talemaat, tareeqa dil mein anay lagey ؛ dil mein Nur daakhil honay lagey ga. Woh hadaayat uss qehar aur ghadab ( ghusse ) ko jo dil mein daakhil hota hai, ussay khatam karna shuru kardeti hai. ||
Fear is the opposite of faith and faith is a light and a guidance that comes into the heart. That light that comes into the heart when we begin to teach the meditation, teach the tafakkur (contemplation); it's the anger and the ignorance makes a fire within people's hearts. It means if people have anger in their heart, they have a ignorance on their being. Then everything ruled by them is fire. The tariq (path), Islam, Sayyidina Muhammad ﷺ came to take away ignorance. So, it means the reality of deen (religion) is to conquer ignorance and bring guidance. As soon as guidance begins to come into the heart, the teachings, the way comes into the heart, a light will begin to enter into the heart. That guidance begins to take down that anger and the ghadab (anger) that entering into the heart.
ہم نے کئی بار بیان کیا کہ یہ کسی بھیڑ (ہجوم) والے کمرے میں چلنے کے مترادف ہے، لیکن آنکھیں بند کیے ہوئے (چلنا) ہے ۔ اگر تم میز سے دو مرتبہ ٹکرا گئے ، تو تم غصے سے چلاؤگے ، کیونکہ تم ہر چیز سے ٹکرا رہے ہو اور تکلیف ہو رہی ہے۔ ہدایت ، دین ، تعلیم ایک ایسا راستہ ہے جس میں پردے اُٹھتے ہیں۔ اور ایک رہنما ضروری ہے کیونکہ تم دیکھ نہیں سکتے، لیکن وہ دیکھتا ہے۔ یہی وجہ ہے کہ مرشدوں کے دل بیدار ہونا چاہئے ، ایسا نہ ہو کہ نابینا اندھوں کی رہنمائی کرے۔
|| Hum ny kayi baar bayan kya ke yeh kisi bheer ( hajhoom ) walay kamray mein chalne ke mutradif hai, lekin ankhen band kiye hue ( chalna ) hai. Agar tum maiz se do martaba takra gaye, to tum ghusse se chilao gey, kyunkay tum har cheez se takra rahay ho aur takleef ho rahi hai. Hadaayat, deen, taleem aik aisa rasta hai jis mein parday uthatey hain. Aur aik rehnuma zurori hai kyunkay tum dekh nahi satke, lekin woh daikhta hai. Yahi wajah hai ke Murshadon ke dil beedar hona chahiye, aisa nah ho ke nabina andhon ki rahnumai kere ||
We described many times it's like walking in a crowded room but with your eyes closed. If you hit the table two times, you're gonna be screaming angry because you're bumping into everything and hurting. The guidance, the religion, the teaching is a way in which to take the veils off. And a guide is essential because you can't see, but he sees. That's why guides should be open-hearted, not the blind leading the blind.
اور اپنے شیخ کے علاوہ کبھی کسی سے سوال نہ پوچھیں۔ تم کھل گئے اور اپنی " اَعُوْذُ " توڑ دی ۔ تم کسی اندھے سے سوال پوچھتےہو ( گویا) اندھا، اندھے کی رہنمائی کرتا ہے۔ اور اب بچے اور نوعمر نوجوان،بس یہی کرتے ہیں۔ وہ ساتھی پاگل لوگوں سے ( مشورہ ) مانگتے ہیں ، مجھے کیا کرنا چاہئے؟ میں کیا کروں؟ مجھے اس بارے میں کیا کرنا چاہئے؟ مجھے اُس بارے میں کیا کرنا چاہئے؟ مجھے ایسا کیسے کرنا چاہئے؟ مجھے اُس طرح کیسے کرنا چاہئے؟ 'تم یہ سب چیزیں پوچھنے کیلئے اپنی ذات کیوں کھولو گے؟ تمہارے زیادہ تر دوست تم سے زیادہ پاگل ہیں اور تم چاہتےہو کہ وہ تمہاری رہنمائی کریں ؟ پھر ذرا تصور کریں کہ لوگ کس طرح کا کوڑا جمع کررہے ہیں۔ وہ بیٹھے ، وہ سمجھتے ہیں کہ یہ ایک اچھی چیز ہے، میں اپنے دوست سے پوچھوں گا : اب مجھے کیا کرنا چاہئے؟ میں کیا کروں؟ میں کیا کروں؟ مجھے کیا کرنا چاہئے؟ ایک ، تم نے خود کو نیچے گرایا، اپنی ذات کو کمزور دکھایا، اور اب کسی اور کو اپنا شیخ بننے کا کردار سونپ دیا۔ تم نےاپنا رشتہ بدل دیا۔ اب دوستی کا رشتہ نہیں رہا۔ یہ ایسے شخص کا رشتہ ہے جو ہمیشہ تمہیں دیکھنا چاہتا ہے اور تمہیں بتانا چاہتا ہے کہ تم کیا کرو۔ لہذا ، طریقت ( روحانی سلسلہ ) آتا ہے اور درس دیتا ہے: کبھی ایسا مت کرو، اپنے شیخ کے علاوہ کسی سے مت پوچھو، تاکہ تم کمزور ہونے کا تاثر یا اشارہ نہ دو۔
|| Aur apne Shaykh ke ilawa kabhi kisi se sawal nah poucheen. Tum khil gay aur apn a'udhu toar di. Tum kisi andhay se sawal puchhte ho, andha, andhay ki rahnumai karta hai. Aur ab bachay aur no umar nojawan, bas yahi karte hain. Woh saathi pagal logon se ( mahswara ) mangte hain, mujhe kya karna chahiye? Mein kya karoon? Mujhe is baray mein kya karna chahiye? Mujhe uss baray mein kya karna chahiye? Mujhe aisa kaisay karna chahiye? Mujhe uss terhan kaisay karna chahiye ?' tum yeh sab cheeze poochnay ke liye apni zaat kyun kholo ge? Tumharay ziyada tar dost tum se ziyada pagal hain aur tum chahtay ho ke woh tumhari rahnumai karen? Phir zara tasawwur karen ke log kis terhan ka kora jama kar rahay hain. Woh baithy, woh samaghtay hain ke yeh aik achi cheez hai, mein –apne dost se pouchon ga : ab mujhe kya karna chahiye? Mein kya karoon? Mein kya karoon? Mujhe kya karna chahiye? Aik, tum ney khud ko neechay giraya, apni zaat ko kamzor dekhaya, aur ab kisi aur ko apna Shaykh ban'nay ka kirdaar saump diya. Tum ney apna rishta badal diya. Ab dosti ka rishta nahi raha. Yeh aisay shakhs ka rishta hai jo hamesha tumhe dekhnaa . Yeh aisay shakhs ka rishta hai jo hamesha tumhe dekhna chahta hai aur tumhe batana chahta hai ke tum kya karo. Lehaza, Tariqah (Rohani silsila ) aata hai aur dars deta hai : kabhi aisa mat karo, apne Shaykh ke ilawa kisi se mat pucho, taakay tum kamzor honay ka ta-assur ya ishara nah do ||
And don't ever ask anyone a question other than your shaykh. You've opened and broken your a'udhu. That you ask somebody blind a question is the blind leading the blind. And now the children and teenagers, that's all they do. They ask fellow crazy people, 'What should I do? What should I do? What should I do with this? What should I do with that? How should I do like that? How should I do like that?' Why would you open yourself to ask all of those things? Most of your friends are crazier than you and you want them to give you guidance? Imagine then what type of garbage people are collecting. They sit, they think that's a good thing. I'll ask my friend, 'Now what should I do? What should I do? What should I do? What should I do?' One, you've lowered yourself, showed yourself as weak and put upon somebody else now the role of being a shaykh for you. You change your relationship. That's no longer a relationship of friendship. That's a relationship of somebody always wanting to see you and tell you what to do. So, tariqah comes and teaches, 'Don't ever do that. Don't ask anyone anything other than your shaykh,' so that you don't give the perspective or the point of being weak.
اور تم یہ نہیں چاہو گے کہ تمہارے ذہن کو 15 رائے ملیں اور شیزوفرینیک بن جاو۔ ذرا تصور کریں کہ شیزوفرینیا وسوسےہیں۔ کچھ لوگوں کی متعدد شخصیات ہوتی ہیں جیسے، پانچ مختلف وسوسے ایک ہی باری میں ان سے گفتگو کرتے ہیں ۔ ذرا تصور کریں تم نے اُنہیں اصل انسانوں میں بنالیا۔ دس گنا بدتر ، ہزار گنا بدتر ہے ۔ کہ پانچ افراد تمہیں ہر وقت بتاتے رہیں کہ کیا کرنا ہے؟ اور ہر کوئی ، ایک مختلف سمت کورڈینیٹ کرے گا ، یہاں تک کے تمہارا دماغ الجھ جائے اور یہ کہے کہ' میں نہیں جانتا ۔ میں بے چین ، افسردہ اور ہر طرح کی بیماریوں کا شکار ہوجاتا ہوں'۔
||Aur tum yeh nahi chaho ge ke tumahray zehan ko 15 raye milein aur schizophrenia ban jao. Zara tasawwur karen ke was wasay hain. Kuch logon ki mutadid shaksiaat hoti hain jaisay, paanch mukhtalif was wasay aik hi baari mein un se guftagu karte hain. Zara tasawwur karen tum ney unhen asal insanon mein bnalya. Das gunna badter, hazaar gunna badter hai. Ke paanch afraad tumhe har waqt batatay rahen ke kya karna hai? Aur har koi, aik mukhtalif simt coordinate kere ga, yahan taq ke tumhara dimagh ulajh jaye aur yeh kahe ke' mein nahi jaanta. Mein bey-chain, afsurdah har tarah ki bemariyon ka shikar ho jata hon. ||
And that you don't want to have 15 opinions coming into your mind and becoming schizophrenic. Imagine schizophrenia is waswases (whisperings). Some people have multiple personalities like five different waswases at a time talking to them. Imagine if you made that into actual insans (human beings). Ten times worse, thousand times worse. That five people are continuously telling you all the time what to do? And each coordinates, a different direction until your mind just splits and says, 'I don't know.' I become anxious, depressed and all sorts of sicknesses.
طریقت احسن کردار کے ساتھ آتا ہے۔ نہیں ، تمہیں پوچھنا ہی کیوں ہے؟ تم اپنے رب سے دعا مانگتے ہو ، تم سیدنا محمد (ﷺ) پر صلوات (درود شریف ) پڑھتے ہو ، اپنی رہنمائی کیلئے قرآن مجید پڑھیں اور اگر اللہ (عزوجل) تمہیں مرشد کی طرف انسپائر کرے ، تو مرشد سے پوچھیں۔میری زندگی کیلئے میرے کورڈینیٹ کیا ہیں؟ مجھے روزانہ کی بنیاد پر کیا کرنا چاہئے؟ اور ہم نے پہلے بھی بیان کیا ہے ، جو رہنمائی وہ کرتے ہیں ، تمہیں اس سےاپنے طریقت کا پتہ چل جائےگا، یہ ہدایت اس راستے پر ہے اور تمہاری رائے دوسری طرف ( اُلٹا) ہے۔ تو ، تمہارا طریقہ کیا ہے؟ یہ صرف اتنا ہی فاصلہ ہے کہ جو تم سوچ رہے ہو ، وہ بدل کر اُس سمت جاناہے، جو وہ تعلیم دے رہے ہیں ۔ جب تمہیں اس بات کی سمجھ آرہی ہے جو مرشد تمہیں سکھاتا ہے تو، وہ مرشد جو نقطے(کورڈینیٹ) تمہارے لیئے تجویز کررہا ہے اور تم اس تسلیم کے پاس آگئے کہ ' آپ جانتے ہیں،میں نہیں جانتا' اور اگر اللہ (عزوجل) آپکے اندر میرے لئے کورڈینیٹ انسپائر کرتا ہے ، کیونکہ اصل رہنما جو "أَطِيعُواللَّه وَأَطِيعُوٱلرَّسُولَ وَأُوْلِي الْأَمْرِ مِنْكُمْ" ان کے پاس ایک فائل ہے کہ تم کون ہو۔
…أَطِيعُواللَّه وَأَطِيعُوٱلرَّسُولَ وَأُوْلِي الْأَمْرِ مِنْكُمْ…۞
…اللہ (عزوجل) کی اطاعت کرو اور رسول (ﷺ) کی اطاعت کرو اوراپنے میں سے (اہلِ حق) صاحبانِ اَمر کی
(سورۃ النساء 4:59)
|| Tareqat Ahsen kirdaar ke sath aata hai. Nahi, tumhe poochna hi kyun hai? Tum –apne rab se dua mangte ho, tum Sayedena Muhammad (saws) par salawat ( Durud shareef ) parhte ho, apni rahnumai ke liye Quran Majeed parheen aur agar Allah ( azzwajal) tumhe murshid ki taraf inspire kere, to murshid se poucheen. Meri zindagi ke liye mere coordinates kya hain? Mujhe rozana ki bunyaad par kya karna chahiye? Aur hum ne pehlay bhi bayan kya hai, jo rahnumai woh karte hain, tumhe is se –apne tareqat ka pata chal jaye ga, yeh hadaayat is rastay par hai aur tumhari raye doosri taraf ulta ) hai. Toh, tumhara tareeqa kya hai? Yeh sirf itna hi faasla hai ke jo tum soch rahay ho, woh badal kar uss simt janahe, jo woh taleem day rahay hain. Jab tumhe is baat ki samajh aa rahi hai jo murshid tumhe sakata hai to, woh murshid jo nuqtay/coordinates tumahray liye tajweez kar raha hai aur tum is tasleem ke paas aagaye ke' aap jantay hain, mein nahi jaanta' aur agar Allah ( azzwajal ) apke andar mere liye coordinates inspire karta hai, kyunkay asal rehnuma jo Atiullaha wa atiur Rasula wa Ulil amre minkum un ke paas aik file hai k tum kon ho.||
Tariqah comes with the perfection of character. No, why you have to ask? You pray to your Lord, you make salawats upon Sayyidina Muhammad ﷺ, read Qur'an for your guidance and if Allah (AJ) inspire you to a guide, then ask the guide. 'What is my coordinates for my life? What should I do on a daily basis?' And we said before the guidance they give, you'll know your tariq by this guidance is this way and your opinion is that way. So, your tariqah is what? It's just this distance on how to shift what you think into what they're teaching. When you're meeting the understanding of what the guide is teaching you, the coordinates that the guide is suggesting for you and you've come to the taslim (submission) that, 'You know, I don't know' and if Allah (AJ) inspiring within you the coordinates for me because the real guides who Atiullaha wa atiur Rasula wa Ulil amre minkum, they have a file on who you are.
أَطِيعُواللَّه وَأَطِيعُوٱلرَّسُولَ وَأُوْلِي الْأَمْرِ مِنْكُمْ… ﴿٥٩…
4:59 – "…Atiullaha wa atiur Rasula wa Ulil amre minkum…" (Surat An-Nisa)
"… Obey Allah, Obey the Messenger, and those in authority among you…" (The Women, 4:59)
کسی ڈاکٹر کے کلینک کی طرح ہے۔ اب یہ سب (ریکارڈ) الیکٹرانک ہے۔ یہاں تک کہ تمہیں … پرانے وقتوں میں ڈاکٹر کے پاس تمہاری اصل فائل رکھنی پڑتی تھی ۔ اسے در حقیقت اُس (فائل) کو کسی اور جگہ فیکس کرنا پڑتا تھا ۔ اب یہ سب الیکٹرانک ہے۔ تم ڈاکٹر کے پاس جاؤ ، وہ تمہاری انشورینس کمپنی سے تمہارے لیئے وقف ہے۔ تم اندر جاتے ہو – وہ جانتا ہے ، 'ہیلو ، آپ کیسے ہیں؟ بس مجھے اپنی تاریخ پیدائش بتائیں اور اوہ ، یہ وہ تمام دوائیں ہیں جو تم لے رہے ہو۔ اس کے پاس پہلے ہی سب کچھ موجود ہے۔ تم سوچتے ہو کہ اگر اللہ (عزوجل) نے دنیا میں یہ کام رکھا ہے تو ، اس کے پاس آخرۃ کیلئے ایسا (نظام ) نہیں ہے؟ تمہاری الیکٹرانک فائل پہلے ہی چل رہی ہے۔ وہ محض کنکشن لیتے ہیں ،اُس فائل میں اسکی رہنمائی ڈاؤن لوڈ ہو جاتی ہے، یہ کورڈینیٹ پہلے ہی موجود ہے۔ وہ جو بھی رہنمائی دے رہے ہیں وہ اسی فائل پر مبنی ہے جو تمہیں اس منزل تک لے جانے کیلئے ہے۔
|| Kisi dr ke cilinic ki terhan hai. Ab yeh sab ( record ) electronic hai. Yahan taq ke tumhe … puranay waqton mein dr ke paas tumhaarii asal file rakhni padtee thi. Usay dur haqeeqat uss ( file ) ko kisi aur jagah fax karna parta tha. Ab yeh sab electronic hai. Tum dr ke paas jao, woh tumhaarii insurance company se tumahray liye waqf hai. Tum andar jatay ho – woh jaanta hai, 'hello, aap kaisay hain? Bas mujhe apni tareekh paidaiesh batayen aur oh, yeh woh tamam duwaein hain jo tum le rahay ho'. Is ke paas pehlay hi sab kuch mojood hai. Tum sochate ho ke agar allah ( azzwajal ) ny duniya mein yeh kaam rakha hai to, is ke paas akhirat ke liye aisa ( nizaam ) nahi hai? Tumhari electronic file pehlay hi chal rahi hai. Woh mehez conection letay hain, uss file mein uski rahnumai down load ho jati hai, yeh coordinance pehlay hi mojood hai. Woh jo bhi rahnumai day rahay hain woh isi file par mabni hai jo tumhe is manzil taq le janay ke liye hai .||
Like a doctor's clinic. Now it's all electronic. You don't even have to… in old times the doctor had to have your actual file. He had to actually fax it to somebody else. Now it's all electronic. You go to the doctor, he's been dedicated to you from your insurance company. You walk in – he knows, 'Hello, how are you. Just tell me your date of birth and oh, these are all the medications you're on.' He already has everything there. You think if Allah (AJ) did that for dunya (material world), He doesn't have that for akhirah (hereafter)? Your electronic file is already flowing. He merely make the connection that file is downloaded it's guidance. It's coordinance is already there. Every guidance they're giving is based on that file that's there to take you to that destination.
اور تسلیم ؛ اس سے پہلے کہ تم سر تسلیم خم کرو، کورڈینٹس سنتے ہو اور کہتے ہو ، 'جی ، میں آپ سے اتفاق نہیں کرتا۔' پھر تمہاری ساری زندگی اسے (راہ پر ) واپس لانے ، واپس لانے ، واپس لانے کے بارے میں ہے جب تک تم یہ محسوس نہ کرو کہ جو تم محسوس کرتے ہو اور تم سوچتے ہو اور تم سمجھتے ہو ویسا ہی ہے جیسے وہ ( مرشد)سمجھتا ہے۔ اور یہ سب سیدنا محمد (ﷺ) کی محبت پر مبنی ہے۔ اس شخص (مرشد) کی محبت پر مبنی نہیں۔ ہم کسی شخص کا کوئی بت نہیں بنا رہے ۔ وہ محض زندگی کے کوچ (اُستاد ) جیسے ہیں۔ اُنہیں تمہاری زندگی میں ایک پوشیدہ کردار ادا کرنا چاہئے۔ کہ تم کوئی سوال پوچھتے ہیں، وہ جواب اور رہنمائی فرماتے ہیں ، تجویزات دیتا ہے —کبھی حکم نہیں دیتے ۔ کوئی بھی حکم دینےکا اہل نہیں ہے۔ وہ ایک نصیحت دیتے ہیں : 'میرے خیال میں اس طرح'۔ اور تمہاری پوری (کوشش) یہ ہے کہ اس پر غور کروں اور اپنے دل میں یہ سوچوں کہ، 'مجھے شاید اس (نصیحت )کے نزدیک تر (کام ) کرنے کی کوشش کرنی چاہئے۔' میں زمین کو فتح کرنا چاہتا ہوں اور وہ مجھے بتا رہے ہیں ، اپنی ذات کو فتح کرو۔ اور یہ تمام راستہ اور وہ تمام حقیقت بن جاتی ہے۔ بس یہی ہے۔ تو ، اس کا مطلب یہ ہے کہ یہ روشنی آتی ہے۔ یہ ہدایت دل میں اُترتی ہے۔ جب ہدایت آئے گی تو ، تمہاری آنکھیں دیکھ پاتی ہیں۔' میں نے اپنے رب کی شان دیکھی ہے۔ یہ نازل ہو رہی ہے ، نازل ہو رہی ہے'۔کیونکہ تم ابھی دیکھ نہیں سکتے ۔ جب تم دیکھ پاتے ہو ، تم غصہ نہیں ہوتے۔ غصہ ہونے کی کیا بات ہے؟
|| Aur tasleem ؛ is se pehlay ke tum sir tasleem khham karo, coordinates suntay ho aur kehte ho,' jee, mein aap se ittafaq nahi karta.' Phir tumhaarii saari zindagi usay ( raah par ) wapas laane, wapas laane, wapas laane ke baray mein hai jab taq tum yeh mehsoos nah karo ke jo tum mehsoos karte ho aur tum sochate ho aur tum samajte ho waisa hi hai jaisay woh ( murshid ) samjhta hai. Aur yeh sab Sayedena Muhammad (saws) ki mohabbat par mabni hai. Is shakhs ( murshid ) ki mohabbat par mabni nahi. Hum kisi shakhs ka koi buut nahi bana rahay. Woh mehez zindagi ke coach ( ustad ) jaisay hain. Unhay tumhaarii zindagi mein aik posheeda kirdaar ada karna chahiye. Ke tum koi sawal puchhte hain, woh jawab aur rahnumai farmatay hain, tajweezat deta hai —kabhi hukum nahi dete. Koi bhi hukum dainay ka ahal nahi hai. Woh aik nasiyaat dete hain :' mere khayaal mein is terhan '. Aur tumhaarii poori ( koshish ) yeh hai ke is par ghhor karoon aur –apne dil mein yeh sochon ke,' mujhe shayad is ( nasiyaat ) ke nazdeek tar ( kaam ) karne ki koshish karni chahiye.' mein zameen ko fatah karna chahta hon aur woh mujhe bta rahay hain , apni zaat ko fatah karo. Aur yeh tamam rasta aur woh tamam haqeeqat ban jati hai. Bas yahi hai. To, is ka matlab yeh hai ke yeh roshni aati hai. Yeh hadayat dil mein utartee hai. Jab hadayat aaye gi to, tumhari ankhen dekh paati hain. ' Mein naay –apne rab ki shaan dekhi hai. Yeh nazil ho rahi hai, nazil ho rahi hai '. Kyunkay tum abhi dekh nahi satke. Jab tum dekh paate ho, tum gussa nahi hotay. Ghussa honay ki kya baat hai ? ||
And taslim; before you can submit, is tend to hear the coordinates and say, 'Yeah, I don't agree with you.' Then your whole life is about how to bring it back, bring it back, bring it back until you feel that you feel and you think and you understand like he understands. And it's all based on the love of Sayyidina Muhammad ﷺ. Not based on the love of that person. We're not making an idol out of a person. He's merely like a life coach. He should play an invisible role in your life. That you ask a question, he gives an answer and guidance, suggestions to you, never command. Nobody's capable of carrying any command. He gives a suggestion, 'I think like this.' And your whole is to chew on that and think that in my heart, 'I should be trying to accomplish maybe closer to that.' I want to conquer the earth and he's telling me to conquer myself. And that becomes the whole path and that whole reality. That's it. So, it means this light comes in. This guidance comes into the heart. When the guidance comes, your eyes can see. I've seen the Glory of my Lord. 'It's coming down, it's coming down.' Because you can see now. When you see, you're not angry. What's there to be angry about?
تم جانتے ہو، سڑک پر نکلے لوگ، وہ غصہ ہیں۔ کیوں؟ کیونکہ وہ نہیں دیکھ پاتے اگر وہ دیکھ پاتے کہ یہ وہ زمانہ ہے جسکے بارے میں اللہ (عزوجل) نے فرمایا : یہ دنیا ختم ہورہی ہے اور بہت ہی مقدس ہستیاں تشریف لا رہی ہیں۔پھر تم سڑکوں پر کیوں چیخ رہے ہو؟ تمہیں اپنے گھر میں ہونا چاہئے ،' واہ ، سبحان اللہ، یا ربی ، مجھے ان عظیم ارواح کا دیدار عطا کیجئے ۔ انہیں ایسا لگتا ہے جیسے وہ واقعی جلد تشریف لانے والے ہیں'۔لیکن جب وہ لاعلم)جاہل ) ہیں تو وہ باہر جاکر اینٹیں پھینکنا چاہتے ہیں اور غصے (میں ہیں)۔ کیا تمہیں آخر زمان سمجھ نہیں آ رہا، جب زمین پر انصاف نہیں ہوگا اور تمہیں حیرت ہے کہ وہ لوگوں کو قتل کر رہے ہیں کیونکہ یہاں ایک آدمی ، وہ سانس نہیں لے سکا ۔
||Tum jantay ho, sarrak par niklay log, woh gussa hain. Kyun? Kyunkay woh nahi dekh paate agar woh dekh paate ke yeh woh zamana hai jisske barey mein Allah (azzwajal) ney farmaya: Yeh duniya khatam horahee hai aur bohat hi muqaddas hastiyan tashreef laa rahi hain. Phir tum sarkon par kyun cheekh rahay ho? Tumhe –apne ghar mein hona chahiye, 'wah, subhanAllah, ya Rabbi, mujhe un azeem arwah ka deedar ataa kijiyej. Inhen aisa lagta hai jaisay woh waqai jald tashreef laane walay hain '. Lekin jab woh la ilm (jaahil) hain to woh bahar jaakar ayntin phenkna chahtay hain aur ghusse ( mein hain ). Kya tumhe aakhir zaman samajh nahi aa raha, jab zameen par insaaf nahi hoga aur tumhe herat hai ke woh logon ko qatal kar rahay hain kyunkay yahan aik aadmi, woh saans nahi le saka ||
You know the people on the street, they're angry. Why? Because they don't see. If they could see that this is a time in which Allah (AJ) said, 'This world is coming to an end and very holy people are coming.' Why are you on the streets screaming then? You should be in your house, 'Wow, subhanAllah, ya Rabbi, let me to see these magnificent souls. They look like they're going to be arriving really soon.' But when they're ignorant, they want to go out and throw bricks and anger. Did you not understand last days where there would be no justice on earth and you're surprised that they're killing people because one man here, he can't breathe?
اُنہوں نے 600،000 افراد کو قتل کیا–جب وہ مر رہے تھے تو ان میں سے کوئی بھی سانس نہیں لے سکتا تھا۔ اور انہوں نے دوسری جگہ جاکر مزید ایک ملین لوگوں کو قتل کیا اور وہ بھی سانس نہیں لے پائے ۔کیا تم نہیں دیکھ رہے کہ یہ کیا زمانہ ہے؟ تمہیں حیرت ہوئی ہے کہ اب یہ یہاں بھی ہورہا ہے۔ مسلم دنیا پچھلے 12 سالوں سے اس کا شکار ہے —عصمت دری کی گئی ہے ، قتل کیا گیا ہے ، قتل عام ہوا ہے ۔ اگر تم زمانے کا علم نہیں رکھتے ، تو تم غصہ ہوجاتے ہو۔
||Unhon naay 600, 000 afraad ko qatal kia- jab woh mar rahay they to un mein se koi bhi saans nahi le sakta tha. Aur unhon naay doosri jagah jaakar mazeed aik million logon ko qatal kya aur woh bhi saans nahi le paye. Kya tum nahi dekh rahay ke yeh kya zamana hai? Tumhe herat hui hai ke ab yeh yahan bhi ho raha hai. Muslim duniya pichlle 12 saloon se is ka shikaar hai —asmat-darri ki gayi hai, qatal kya gaya hai, qatal-aam kia hwa hai. Agar tum zamane ka ilm nahi rakhtay, to tum gussa ho jatay ho||
They killed 600,000 people – none of them could breathe when they were dying either. And they went another place and killed another million people and they didn't breathe either. You don't see what time this is? You're just surprised it's here now. Muslim world has been suffering for the last 12 years like that – been raped, killed, massacred. If you don't know the time, then you become angered.
اگر تم زمانے کو جانتے ہو اور تم مراقبہ اور غور و فکر کرتے ہو اور کہتے ہو کہ یہ بالکل ایسے ہی جیسے میرے رب کا حکم ہے۔ یہ کالا بادل چھا رہا ہے، میرا کام— اس سے دور رہنا ہے۔ یہ دعا کیجئے کہ ان مقدس ارواح کو دیکھنے کیلئے میرے پاس اچھا کردار ہو۔ اس لیئے ، مراقبہتفریح نہیں بلکہ زندگی بچانے کی ایک صلاحیت ہے۔ مراقبہ اور تفکر (غورو فکر ) کرنا — تاکہ تم غلط وقت پر غلط جگہ پر ہونے کی غلطی کبھی نہ کرو اور اچانک خود کو بے حد غم و مشکل میں مبتلا کر لو جس سے تم خود کو نکال نہ پاؤ ۔
سُبْحَانَ رَبِّکَ رَبِّ الْعِزَّۃِ اَمَّا یَصِفُونْ وَسَلَامٌ عَلیٰ الْمُرْسَلِیْنْ وَاَلْحَمْدُ لِلّٰهِ رَبِّ الْعَالَمِیْنِ وَ بِحُرْمَةِ مُحَمَّدٍ الْمُصْطَفیٰ وَ بِسِرِّ سُوْرَۃِ اْلْفَاتِحَہ
اس بیان کو تحریری شکل دینے کیلئے خدمتگاروں کا شکریہ
بیان کی اصل تاریخ : 13 جون ، 2020
||Agar tum zamane ko jantay ho aur tum muraqba aur ghhor o fikar karte ho aur kehte ho ke yeh bilkul aisay hi jaisay mere rab ka hukum hai. Yeh kala baadal chhaa raha hai, mera kaam— is se daur rehna hai. Yeh dua kijiyej ke un muqaddas arwah ko dekhnay ke liye mere paas acha kirdaar ho. Is liye muraqaba tafreeh nahi balkay zindagi bachanay ki aik salahiyat hai. Muraqba aur tafakar (ghor-o-fikar ) karna — taakay tum ghalat waqt par ghalat jagah par honay ki ghalti kabhi nah karo aur achanak khud ko be had gham o mushkil mein mubtala kar lau jis se tum khud ko nikaal nah pao. ||
If you know the time and you meditate and contemplate and say, 'This is exactly what my Lord has decreed. This black cloud is moving. My job – stay out. Pray that I have good character to see these blessed souls.' That's why meditation is not an entertainment but is a life saving ability. To meditate and contemplate, so that you never make the wrong choice to be at the wrong place at the wrong time and all of a sudden find yourself in immense grief and difficulty that you can't take yourself out of.
Subhana rabbika rabbal 'izzati 'amma yasifoon, wa salaamun 'alal mursaleen, walhamdulillahi rabbil 'aalameen. Bi hurmati Muhammad al-Mustafa wa bi siri Surat al-Fatiha.
Special thanks to our transcribers for their help with transcribing this suhbah.
Original Date of Suhbah: June 13, 2020
یہ بیان اس لنک پر دیکھا جا سکتا ہے
Youtube Link to Watch This Suhbah:
https://youtu.be/jg_623F_FzE
یہ آرٹیکل انگلش میں پڑھنے کیلئے
Read this Article (English)
https://nurmuhammad.com/ask-your-pir-not-your-peers-fo…/
یو ٹیوب چینل ابھی سبسکرایب کیجئے
Subscribe Now: The Muhammadan Way Sufi Realities
www.youtube.com/channel/UC4E8QX7OgwYDgyuuXTBMrcg
شیخ سید نور جان میر احمدی نقشبندی (ق) کا آفشیل فیس بک پیج لائک کیجئے
Official Page: Shaykh Nurjan Mirahmadi
facebook.com/shaykhnurjanmirahmadi/