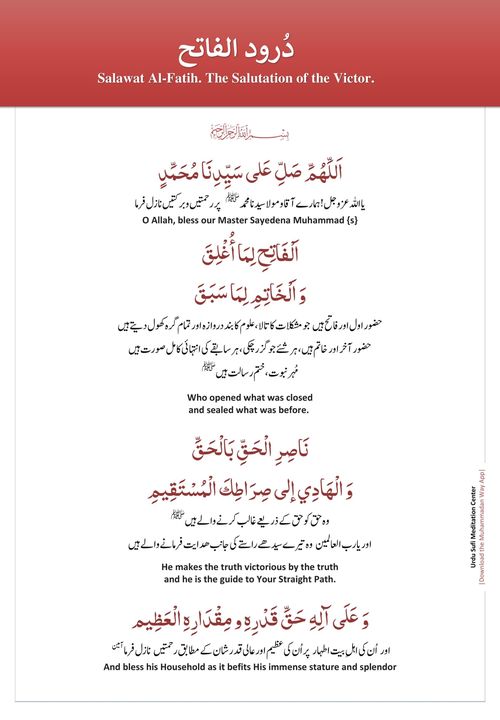 Urdu – 𝐓𝐡𝐞 𝐌𝐮𝐡𝐚𝐦𝐦𝐚𝐝𝐚𝐧 𝐖𝐚𝐲 𝐀𝐩𝐩 – 𝐒𝐚𝐥𝐚𝐰𝐚𝐚𝐭𝐬 (𝐒𝐚𝐥𝐚𝐰𝐚𝐚𝐭:5) محمدن وے ایپ – صلٰوٰاة نمبر 5 …

𝐓𝐡𝐞 𝐌𝐮𝐡𝐚𝐦𝐦𝐚𝐝𝐚𝐧 𝐖𝐚𝐲 𝐀𝐩𝐩 – 𝐒𝐚𝐥𝐚𝐰𝐚𝐚𝐭𝐬 (𝐒𝐚𝐥𝐚𝐰𝐚𝐚𝐭:5)
محمدن وے ایپ – صلٰوٰاة نمبر 5
صلٰوٰاةُ الفاتح
Salawat Al-Fatih/The Salutation of the Victor
‎بِسْمِ اللَّـهِ الرَّحْمَـٰنِ الرَّحِيمِ.
اللَّهُمَّ صَلِّ عَلى سَيِّدِنَا مُحَمَّدٍ الفاتِحِ لِمَا أُغْلِقَ و الخاتِمِ لِمَا سَبَقَ نَاصِرِ الحَقِّ بَالحَقَّ و الهَادِي إلى.صِرَاطِكَ المُسْتَقِيمِ و عَلَى آلِهِ حَقَّ قَدْرِهِ و مِقْدَارِهِ العَظِيم
URDU TRANSLATION:
جب سیدنا محمد التلمیسانی (ق) نے دلائل الخیرات کو ایک لاکھ مرتبہ پڑھ لیا تو انہوں نے خواب میں نبی کریم صلی اللہ علیہ وآلہٖ وسلم کو دیکھا کہ آپ صلی اللہ علیہ وآلہٖ وسلم فرما رہے ہیں: "اے محمد التلمیسانی (ق)! اگر آپ احمد البدوی (ق) کی صلٰوٰاةِ نورانیة کو ایک بار پڑھیں تو یہ ایسا ہو گا کہ آپ نے دلائل الخیرات آٹھ لاکھ مرتبہ پڑھی ہو۔ "
" یا اللہ عزوجل! ہمارے آقا و مولا سیدنا محمد ﷺ پر رحمتیں و برکتیں نازل فرما۔ حضور اول اور فاتح ہیں جو مشکلات کا تالا ، علوم کا بنددروازہ اور تمام گرہ کھول دیتے ہیں۔ ﷺ حضور آخر اور خاتم ہیں، ہر شئے جو گزر چکی ، ہر سابقے کی انتہائی کامل صورت ہیں۔ مُہر نبوت ، ختم رسالت ہیں۔ﷺ وہ حق کو حق کے ذریعے غالب کرنے والے ہیں اور یا رب العالمین وہ تیرے سیدھے راستے کی جانب ھدایت فرمانے والے ہیں۔ اور اُن کی اہلِ بیت اطہار پر اُن کی عظیم اور عالی قدر شان کے مطابق رحمتیں نازل فرما ۔ آمین"
URDU TRANSLITERATION:
Ya Allah azzwajal! hamaray aaqa o maula Sayyidna Mohammad (s) par rahmaten o barkaten nazil farma. Hazoor awwal aur fatih hain jo mushkilaat ka tala, aloom ka bnd darwaza aur tamam girah khol dete hain. Huzoor aakhir aur Khatim hain, har shye jo guzar chuki, har saibqay ki intehai kaamil soorat hain. Mohar e Nabuwat, khatam e risalat hain. Woh haq ko haq ke zariye ghalib karne walay hain aur ya Rabbul Alameen woh tairay seedhay rastay ki janib hadaiyat farmanay walay hain. Aur unn ki ahlul Bayt athaar par unn ki azeem aur alii qader shaan ke mutabiq rahmaten nazil farma. Ameen.
ARABIC TRANSLITERATION:
Bismillah ar-Rahman ar-Raheem
Allahumma salli `alaa sayyidinaa Muhammadini 'l-faatihi limaa ughliq, wa 'l-khaatimi limaa sabaq, naasiri 'l-haqqi bi 'l-haqq, wa 'l-haadi ilaa siraatika 'l-mustaqeem, wa `alaa aalihi haqqa qadrihi wa miqdaarihi 'l-`azheem.
ENGLISH TRANSLATION:
It is mentioned by scholars that if you recite it one time, it is as if you recited the Dala`il al-Khayrat 600,000 times! Another says that if you recite salawaat on the number of human beings from the time of Sayyidina Adam until Judgment Day, that is the value of that salawaat!
O Allah, bless our liege-lord Muhammad who opened what was closed and who sealed what had gone before; he makes the Truth Victorious by the Truth and he is the guide to Thy Straight Path; and bless his household as it befits his immense stature and splendor.
———————————————————-
یو ٹیوب چینل ابھی سبسکرایب کیجئے
Subscribe Now: The Muhammadan Way Sufi Realities
Www.youtube.com/channel/UC4E8QX7OgwYDgyuuXTBMrcg
شیخ سید نور جان میر احمدی نقشبندی (ق) کا آفشیل فیس بک پیج لائک کیجئے
Official Page: Shaykh Nurjan Mirahmadi
Https://www.facebook.com/shaykhnurjanmirahmadi/
►𝐀𝐧𝐝𝐫𝐨𝐢𝐝 𝐀𝐩𝐩: https://play.google.com/store/apps/details?id=com.nurmuhammad.muhammadanway
► 𝐢𝐏𝐡𝐨𝐧𝐞 𝐀𝐩𝐩: https://itunes.apple.com/us/app/muhammadan-way/id1244297852?mt=8
► 𝐒𝐨𝐮𝐧𝐝𝐂𝐥𝐨𝐮𝐝: https://soundcloud.com/muhammadanway
► 𝐃𝐨𝐧𝐚𝐭𝐞 (𝐏𝐀𝐊𝐈𝐒𝐓𝐀𝐍 𝐚𝐧𝐝 𝐖𝐎𝐋𝐑𝐃𝐖𝐈𝐃𝐄) : https://nurmuhammad.com/donate
Please Subscribe and Share