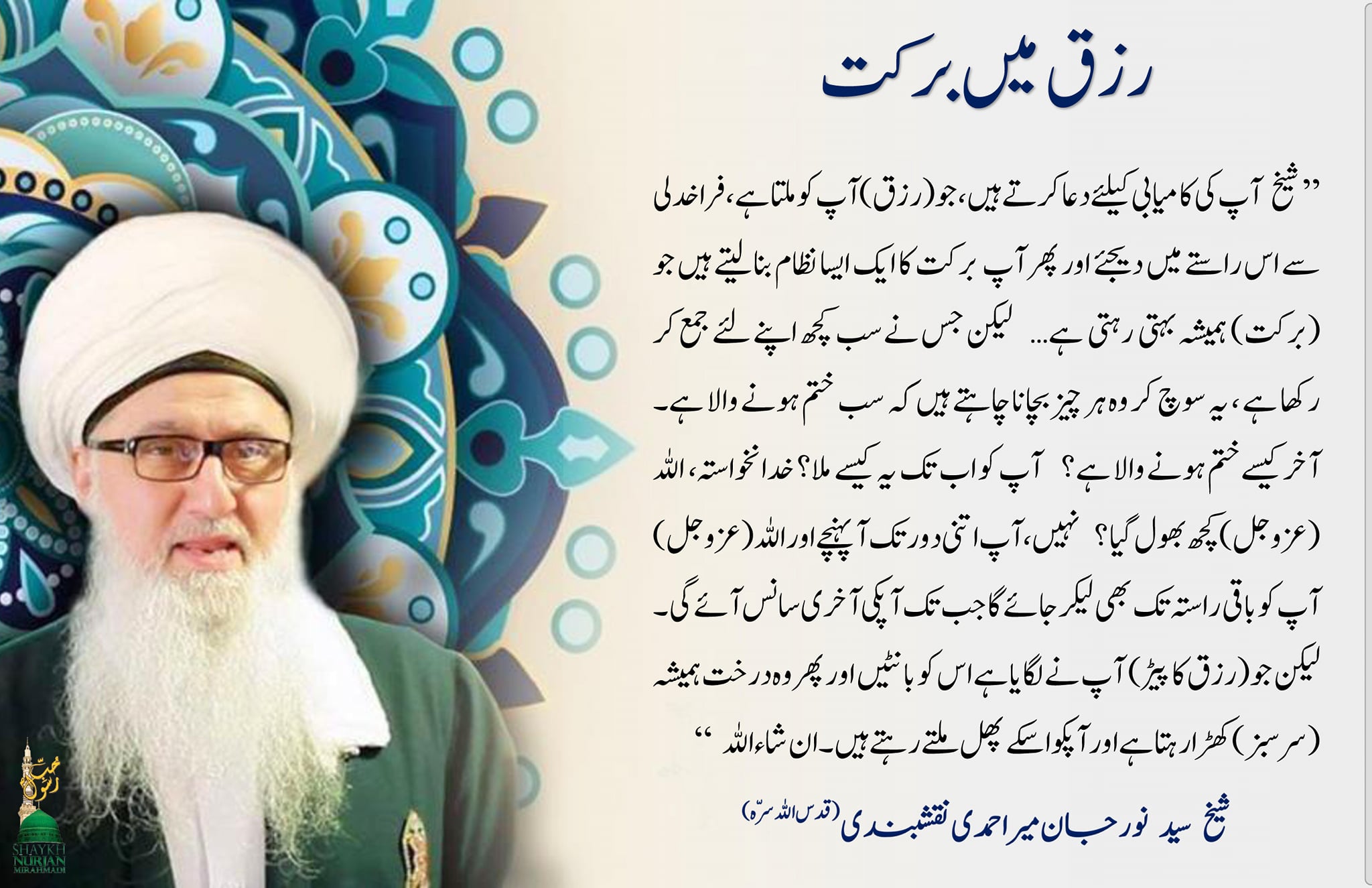 Urdu – 𝐐&𝐀| 𝐐𝐮𝐞𝐬𝐭𝐢𝐨𝐧: 𝐒𝐚𝐲𝐲𝐢𝐝𝐢, 𝐰𝐡𝐚𝐭 𝐢𝐬 𝐲𝐨𝐮𝐫 𝐚𝐝𝐯𝐢𝐜𝐞 𝐟𝐨𝐫 𝐩𝐞𝐨𝐩𝐥𝐞 𝐰𝐡𝐨 𝐥𝐨𝐬𝐭 𝐭𝐡𝐞𝐢𝐫 𝐣𝐨𝐛𝐬 𝐛𝐞𝐜𝐚𝐮…
𝐐&𝐀| 𝐐𝐮𝐞𝐬𝐭𝐢𝐨𝐧: 𝐒𝐚𝐲𝐲𝐢𝐝𝐢, 𝐰𝐡𝐚𝐭 𝐢𝐬 𝐲𝐨𝐮𝐫 𝐚𝐝𝐯𝐢𝐜𝐞 𝐟𝐨𝐫 𝐩𝐞𝐨𝐩𝐥𝐞 𝐰𝐡𝐨 𝐥𝐨𝐬𝐭 𝐭𝐡𝐞𝐢𝐫 𝐣𝐨𝐛𝐬 𝐛𝐞𝐜𝐚𝐮𝐬𝐞 𝐨𝐟 𝐭𝐡𝐢𝐬 𝐜𝐮𝐫𝐫𝐞𝐧𝐭 𝐬𝐢𝐭𝐮𝐚𝐭𝐢𝐨𝐧 (𝐂𝐨𝐯𝐢𝐝-𝟏𝟗) . 𝐇𝐨𝐰 𝐜𝐚𝐧 𝐰𝐞 𝐟𝐨𝐜𝐮𝐬 𝐦𝐨𝐫𝐞 𝐨𝐧 𝐩𝐫𝐚𝐜𝐭𝐢𝐜𝐞𝐬 𝐰𝐡𝐞𝐧 𝐭𝐡𝐞 𝐦𝐢𝐧𝐝 𝐢𝐬 𝐝𝐫𝐢𝐟𝐭𝐢𝐧𝐠 𝐚𝐰𝐚𝐲 𝐰𝐨𝐫𝐫𝐲𝐢𝐧𝐠 𝐚𝐛𝐨𝐮𝐭 𝐡𝐨𝐮𝐬𝐞 𝐫𝐞𝐧𝐭, 𝐛𝐢𝐥𝐥𝐬, 𝐞𝐭𝐜?
سوال: سیدی ، آپ ان لوگوں کو کیا نصیحت دیں گے جو موجودہ صورتحال ( کرونا وائرس) کی وجہ سے اپنی ملازمت سے محروم ہوگئےہیں ؟ جب ہمیں گھروں کے کرایے ، بلوں وغیرہ کی فکر لاحق ہو تو ایسے میں ہم ان مشقوں ( روحانی آداب و وظائف )پر زیادہ توجہ کیسے مرکوز کرسکتے ہیں؟
شیخ نورجان میر احمدی نقشبندی (ق) : مشکل۔ یہ دُنیا اس وقت اِس مشکل کا شکارہے۔ یہ سیکھنے کی کوشش کریں کہ تفکر (مراقبہ، غوروفکر) کیسے کیا جائے، کیونکہ وقت زیادہ مشکل ہوتا جارہا ہے۔ ذرا سوچئے کہآج کا دن آنے والا کل سے زیادہ آسان ہے۔ اگر آپ کو لگتا تھا کہ آج کا دن مشکل تھا اور گزشتہ کل زیادہ آسان تھا۔ اچھا؟ اگر آپ نے ایک سال پہلے یہ ویڈیو دیکھی ہوتی ، آپ نے یہ سنتے، 'ارے مراقبہ کرو ، اس سے پہلے کہ اورمشکل ہوجائے!' اور اب جب واقعی یہ مشکل پیدا ہوچکی ہے ، ذرا سوچئے کہ (آگے) بہت مشکل آنے والی ہے۔
|| Sawal : Sayeddi, aap un logon ko kya nasiyaat den ge jo mojuda sorat e haal (Corona Virus) ki wajah se apni mulazmat se mahroom hogaye hain? Jab hamein gharon ke karaye, bilon waghera ki fikar lahaq ho to aisay mein hum un mashqon ( rohani aadaab o vzayf ) par ziyada tavajja kaisay markooz kar saktay hain ?
Shaykh Nurjan Mirahmadi Naqshbandi (Q) : Mushkil. Yeh duniya is waqt iss mushkil ka shikar he. Yeh seekhnay ki koshish karen ke tafakkur ( muraqba, ghor-o-fikar ) kaisay kya jaye, kyunkay waqt ziyada mushkil hota ja raha hai. Zara sochye ka din anay wala kal se ziyada asaan hai. Agar aap ko lagta tha ke aaj ka din mushkil tha aur guzashta kal ziyada asaan tha. Acha? Agar aap naay aik saal pehlay yeh video dekhi hoti, aap naay yeh suntay,' arrey muraqba karo, is se pehlay ke avrmshkl hojaye !' Aur ab jab waqai yeh mushkil peda hochuki hai, zara sochye ke ( agay ) bohat mushkil anay wali hai. ||
𝑺𝒉𝒂𝒚𝒌𝒉 𝑵𝒖𝒓𝒋𝒂𝒏 𝑴𝒊𝒓𝒂𝒉𝒎𝒂𝒅𝒊 (Q) : Difficult. That's the difficulty of this dunya (material world) right now that to try to learn to make tafakkur (contemplation), as times are becoming more difficult. Just think today is going to be easier than tomorrow. If you thought today was difficult, yesterday was easier. Alright. If you were to watch this video a year ago, you would've heard that, 'Hey meditate, before it gets hard!' And now that it really got hard, yeah, I can imagine it's going to be very difficult.
لیکن، ان شاء اللہ جہاں تک رزق اور روزی کی بات ہے ، زیادہ کام ، نیا کام تلاش کرنے کی کوشش کریں۔ صنعتیں بدل جاتی ہے۔ آپ جانتے ہیں ، اگر آپ کچھ بیچ رہے تھے، تو انڈسٹری بدل جاتی ہے۔ بجائے ریستوراں کے آپ ایسے لوگوں کے لئے کام کریں جو ماسک بناتے ہیں۔ مجھے نہیں لگتا کہ ریستوراں زیادہ لمبے عرصے تک کھلیں گے ، اس طرح کے نظام میں نہیں، جہاں ڈائینگ ہو اور 50 افراد ایک ریستوراں میں بیٹھے ہوں۔ لہذا ، آپ ماسک تیار کرنے والے کے ساتھ کام کریں۔ ایک مختلف صنعت تلاش کریں جو اس زمین کی صورت حال کے مطابق ہو اور پھر ان شاء اللہ، اللہ (عزوجل) مدد بھیجیں گے اور رحمتیں بھیجیں گے ۔
|| Lekin, inshaAllah, jahan taq rizaq aur rozi ki baat hai, ziyada kaam, naya kaam talaash karne ki koshish karen. Sanaten badal jati hai. Aap jantay hain, agar aap kuch beech rahay they, to industry badal jati hai. Bajaye restaurant ke aap aisay logon ke liye kaam karen jo mask banatay hain. Mujhe nahi lagta ke restaurants ziyada lambay arsay taq khulein ge, is terhan ke nizaam mein nahi, jahan dying ho aur 50 afraad aik restaurant mein baithy hon. Lehaza, aap mask tayyar karne walay ke sath kaam karen. Aik mukhtalif sanat talaash karen jo is zameen ki soorat-e-haal ke mutabiq ho ||
But inshaAllah, as far as rizq and sustenance, try to find more work, new work. Industries change. You know, if you were selling something then the industry changes. You work for people who make masks instead of restaurants. I don't think restaurants are going to be open much longer, not in the system of, you know, dining and 50 people sitting in a restaurant. So, you work for a mask manufacturer. Find a different industry related to what condition this Earth is in now and then inshaAllah, Allah (AJ) send support and send blessings.
سب سے اہم بات یہ ہے، کہ جو کچھ آپ کماتے ہیں ، دیجئے! آپ جانتے ہیں کہ شیخ کا ایک نظام ہے جو نبی کریم (ﷺ) نے انہیں دیا ہے۔ رسول اللہ (ﷺ) نے انہیں جو دعائیں اور برکات دی ہیں، وہ انکے مشن کی تشہیر کرنے کیلئے ہیں، یہ نہیں کہ آپ جادو کے بیج لے کر بھاگ جائیں۔ اگر ہر شخص دعا لینے کیلئے آئے اور بھاگ جائے، تو طریقت کا کیا فائدہ ہوگا؟ طریقت آگے کیسے بڑھے گی ؟ تو ، وہ طلباء کو تربیت دیتے ہیں کہ اگر آپ یہ برکات چاہتے ہیں ، تو اللہ (عزوجل)نے آپ کو جو کچھ عطا کیا ہے ، اس میں سے دیجئے! اور یہی وجہ ہے کہ طریقت اتنے مضبوط ہیں، بہت مضبوط ہیں ، جسے کمیونٹی والے دیکھتے ہیں اور کہتے ہیں ، 'ہم کچھ نہیں کر پاتے – یہ طریقت کا گروہ ، وہ یہ کام کیسے کر جاتے ہیں؟' کیونکہ وہ نظام لاتے ہیں جس میں نبی کریم (ﷺ) نے ان سے فرمایا ہے کہ اگر آپ کے لوگ خوشحال ہونا چاہتے ہیں تو ان کو مضبوط نظام بنانا ہو گا کہ جو کچھ بھی وہ کمائیں، وہ شیخ کو واپس دیں۔
|| Sab se ahem baat yeh hai, ke jo kuch aap kamate hain, dijiye! Aap jantay hain ke shaykh ka aik nizaam hai jo Nabi Kareem (s) nay inhen diya hai. Rasul Allah (s) nay inhen jo duayen aur barkaat di hain, woh unkay mission ki tashheer karne ke liye hain, yeh nahi ke aap jadu ke beej le kar bhaag jayen. Agar har shakhs dua lainay ke liye aaye aur bhaag jaye, to tareqat ka kya faida hoga? Tareqat agay kaisay barhay gi? To, woh talba ko tarbiyat dete hain ke agar aap yeh barkaat chahtay hain, to Allah ( Azzwajal ) nay aap ko jo kuch ataa kya hai, is mein se dijiye! Aur yahi wajah hai ke ke tareqat itnay mazboot hain, bohat mazboot hain, jisay community walay dekhte hain aur kehte hain,' hum kuch nahi kar paate – yeh tareqat ka giroh, woh yeh kaam kaisay kar jatay hain ?' kyunkay woh nizaam laatay hain jis mein Nabi Kareem (s) ne un se farmaya hai ke agar aap ke log khushaal hona chahtay hain to un ko mazboot nizaam banana ho ga ke jo kuch bhi woh kamaain, woh sheikh ko wapas den .||
Most important is whatever you make, give! You know the shaykh has a system that Prophet (s) has given to them. That the du'as and the barakah that Prophet (s) has given to them was to propagate their mission, not that you take the magic seeds and run away. If everyone come just to take the du'a and run, then what would be the benefit of the tariqah? How would the tariqah ever grow? So, they train the students that if you want this barakah, then from what Allah (AJ) give to you, give! And that's why the tariqas are so strong, so strong, where communities look and say, 'We can't do anything – how this group of tariqahs, they can do these things?' Because they enable the system of what Prophet (s) has told to them that if your people want to be prosperous, they have to have a strong system of whatever they earn, they're giving back to the Shaykh.
کیونکہ یہ شیخ ہیں جو ان کیلئے دعا کرتے ہیں اور پھر انکی مسلسل کامیابی کیلئے دعا کرتے ہیں۔ کیوں؟ کیونکہ وہ مستقل تعاون کر رہے ہیں۔ اس تعاون سے،(حضرت) شیخ ، اللہ (عزوجل) کے ساتھ اپنے عہد کو پورا کرسکتے ہیں۔ اس حمایت سے ، وہ اپنی دعوت ، اپنی مشقیں، اپنے شوز – وہ سب کام کرتے ہیں جو ان کو اپنے دعوۃ کامیاب کرنے کیلئے کرنے ہوتے ہیں اور جو اللہ (عزوجل) ان لوگوں کیلئے چاہتا ہے کہ (وہ ) اس حقیقت کی طرف آئیں ۔
|| Kyunkay yeh Shaykh hain jo un ke liye dua karte hain aur phir unki musalsal kamyabi ke liye dua karte hain. Kyun? Kyunkay woh mustaqil taawun kar rahay hain. Is taawun se, ( hazrat ) Sheikh , Allah ( azzwajal ) ke sath apne ehad ko poora kar saktay hain. Is himayat se, woh apni dawah , apni mashqen, apne shows – woh sab kaam karte hain jo un ko apne dawah kamyaab karne ke liye karne hotay hain aur jo Allah ( azzwajal ) un logon ke liye chahta hai ke ( who ) is haqeeqat ki taraf ayen .||
Because that Shaykh is the one who's praying for them and then praying for their continuous success. Why? Because they're continuously supporting. With that support, the Shaykh can fulfill his covenant with Allah (AJ). From that support, they do their dawah, their practices, their shows – everything that they have to do to be successful for their dawah and what Allah (AJ) want for them for people to come towards that reality.
جب وہ اس نظام کو سمجھ گئے تو پھر کوئی مسئلہ نہیں۔ شیخ دعا مانگ رہے ہیں کہ آپ کامیاب ہوں۔ جو آپ کو ملتا ہے، فراخدلیسے اس راستے میں دیجئے اور پھر آپ برکت کا ایک ایسا نظام بنالیتے ہیں جو ہمیشہ بہتا رہتا ہے۔ ہم کہتے ہیں:' مرکزی پیداوار نہ کھائیں بلکہ اضافی پھل لیں!' کیونکہ اگر آپ نے یہ درخت کھالیا تو ، آپ کیلئے اس پر مزید پھل نہیں لگیں گے۔ لہذا ، زیادہ تر لوگ ایسے اپنی زندگی گزارتے ہیں کہ جب انہیں یہ ایک اچھی نعمت ملی اور پھر وہ کھانا شروع کردیتے ہیں، وہ تمام پھل کھا جاتے ہیں۔ وہ درخت کاٹ ڈالتے ہیں اور آخر میں ان کے پاس ایک شاخ ، زمین سے باہر ایک تنا بھی نہیں رہتا۔ آپ نے زندگی میں ایسا نہیں کرنا ۔
|| Jab woh is nizaam ko samajh gaye to phir koi masla nahi. shaykh dua maang rahay hain ke aap kamyaab hon. Jo aap ko milta hai, faragh-dili se is rastay mein dijiye aur phir aap barket ka aik aisa nizaam bnalite hain jo hamesha behta rehta hai. Hum kehte hain : markazi pedawar nah khayen balkay izafi phal len !' kyunkay agar aap naay yeh darakht khalya to, aap ke liye is par mazeed phal nahi lagen ge. Lehaza, ziyada tar log aisay apni zindagi guzartay hain ke jab inhen yeh aik achi nemat mili aur phir woh khana shuru kardete hain, woh tamam phal kha jatay hain. Woh darakht kaat daal hain aur aakhir mein un ke paas aik shaakh, zameen se bahar aik tana bhi nahi rehta. Aap nay zindagi mein aisa nahi karna .||
When they understood that system, then no problem. The shaykh is praying for you to be successful. That from what you get then give generously in that way and then you create a system of barakah that always flowing. We say, 'Don't eat the principle but take the extra fruit!' For if you should eat the tree, you won't even have fruit on it anymore. So, most people live their lives where they got this one good blessing and then they start eating, they eat all the fruit. They cut down the tree and at the end they have not even a shaakh, a stick out of the ground. You weren't supposed to do that in life.
آپ کو چاہیے تھا کہ درخت کو پھلنے پھولنے دیں اور جایئے پھلوں میں سے پانچ لے کر شیخ کو دے دیں۔ تب وہ ان بیجوں کو لے کر آپ کیلئے زیادہ پودے لگاتا تاکہ آپ کا درخت کبھی خالی نہ ہو۔ کیونکہ آپ (فکر سے) کہتے ہیں، وہ آپ سے فرمائیں گے ، 'نہیں ، نہیں ، ایک اور درخت ہے ، انہوں نے آپ کیلئے لگایا ہے۔ دیکھو ہم نے آپ کے لئے بیج لگایا ہے! 'اور آپ ہمیشہ ان درختوں سے فائدہ اٹھاتے رہتے ہیں۔ وہ لوگ جو زیادہ سخی ہیں ، ان کے پاس بہت سارے درخت ہیں ، بہت ساری برکت بہہ رہی ہے ، کیونکہ پھل ہمیشہ اُگتا رہتا ہے۔
|| Aap ko chahiye tha ke darakht ko phalnay phoolnay den aur jayye phalon mein se paanch le kar Shaykh ko day den. Tab woh un beejon ko le kar aap ke liye ziyada pouday lagaata taakay aap ka darakht kabhi khaali nah ho. Kyunkay aap ( fikar se ) kehte hain, woh aap se farmaen ge,' nahi, nahi, aik aur darakht hai, unhon ne aap ke liye lagaya hai. Dekho hum ne aap ke liye beej lagaya hai !' aur aap hamesha un darakhton se faida uthatay rehtay hain. Woh log jo ziyada sakhi hain, un ke paas bohat saaray darakht hain, bohat saari barket beh rahi hai, kyunkay phal hamesha aُgta rehta hai .||
You were supposed to let the tree flourish and go take five of the fruits and give them to the Shaykh. Then he would take those seeds and plant more for you so that your tree was never empty. Because you say he would tell you, 'No, no, there's another tree they grew for you. Look we planted the seed for you!' And you're always taking from these trees. Those whom are more generous, they have lots of trees, lots of barakah flowing, because always the fruit is growing.
لیکن جس نے سب کچھ اپنے لئے جمع کر رکھا ہے ، یہ سوچ کر وہ ہر چیز بچانا چاہتے ہیں کہ سب ختم ہونے والا ہے۔ آخر کیسےختم ہونے والا ہے؟ آپ کو اب تک یہ کیسے ملا؟ خدا نخواستہ، اللہ (عزوجل) کچھ بھول گیا ؟ نہیں ، آپ اتنی دور تک آ پہنچے اور اللہ (عزوجل) آپ کو باقی راستہ تک بھی لیکرجائے گا جب تک آپکی آخری سانس آئےگی۔ لیکن جو (رزق کا پیڑ) آپ نے لگایا ہے اس کو بانٹیں اور پھر وہ درخت ہمیشہ (سرسبز) کھڑا رہتا ہے اور آپکو اسکے پھل ملتے رہتے ہیں ۔ ان شاء اللہ
|| Lekin jis neh sab kuch apne liye jama kar rakha hai, yeh soch kar woh har cheez bachana chahtay hain ke sab khatam honay wala hai. Aakhir kaisay khatam honay wala hai? Aap ko ab taq yeh kaisay mila? Kkhuda nkhwast_h, Allah ( azzwajal ) kuch bhool gaya? Nahi, aap itni daur taq aa puhanche aur Allah ( azzwajal ) aap ko baqi rasta taq bhi ley kar jaiga jab taq appki aakhri saans aaye gi. Lekin jo ( rizaq ka pairr ) aap neh lagaya hai is ko bantin aur phir woh darakht hamesha ( sirsabz ) khara rehta hai aur aapko uskay phal mlitay rehtay hain, inshaallah.||
But the one whom hoards everything for themselves, they want to save everything thinking it's all going to end. How is going to end? How you got this far? Allah (AJ) forgot something, God forbid? No, you got this far and Allah's (AJ) going to take you the rest of the way until you take your last breath. But from what you planted then share in it and then that tree is always standing and you're just taking from its fruits, inshaAllah.
یہ بیان یوٹیوب پر دیکھنے کیلئے @ (37:27)
💐Watch this Bayan on YouTube:
https://youtu.be/WD7Yny6Fmb4
اس آرٹیکل کو پڑھنے کیلئے
💐Read this Article: World is Changing and Not Going Back Q&A:
https://www.youtube.com/watch…
یو ٹیوب چینل ابھی سبسکرایب کیجئے
💐Subscribe Now: The Muhammadan Way Sufi Realities
www.youtube.com/channel/UC4E8QX7OgwYDgyuuXTBMrcg
شیخ سید نور جان میر احمدی نقشبندی (ق) کا آفشیل فیس بک پیج لائک کیجئے
💐Official Page: Shaykh Nurjan Mirahmadi
facebook.com/shaykhnurjanmirahmadi/