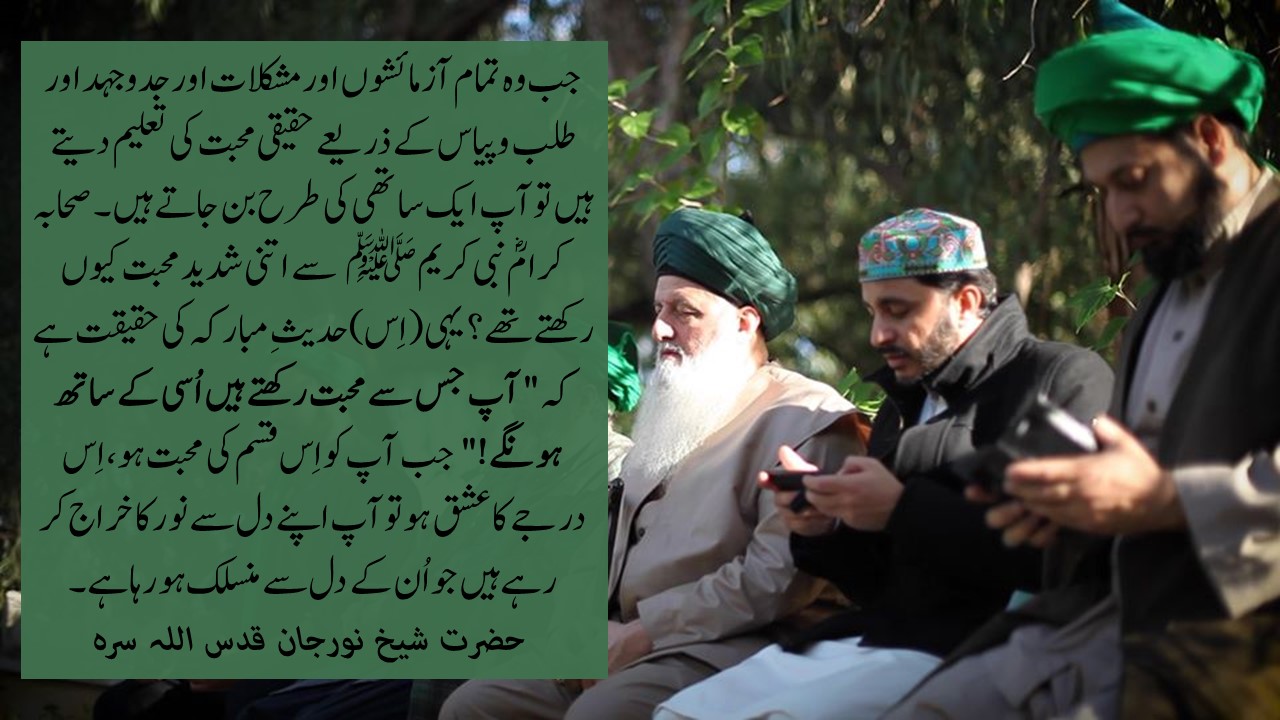 Urdu – یانِ شیخ#48-اولیائے کرام کی معیت (ہماری خطاؤں) کے بوجھ کا تصفیہ کرتی ہے! آپ جن…
یانِ شیخ#48-اولیائے کرام کی معیت (ہماری خطاؤں) کے بوجھ کا تصفیہ کرتی ہے!
آپ جن کی معیت (ساتھ)اختیار کررہے ہیں آپ اُن کی حضوری میں داخل ہوجائیں گے آپ اپنی (خطاؤں کے)تمام بوجھ ، اپنی ساری خصوصیات لے کر آئیں گے۔کون اِنکا تصفیہ کررہا ہے؟ اگر یہ اُن ایک لاکھ چوبیس ہزار میں سے ایک ہیں تو وہ تزکیہ کر رہے ہیں یا وہ تزکیہ کر رہی ہیں۔ اور اگر وہ(شَیْخْ) تزکیہ فرما رہے ہیں تو ، انہوں نے حتی المقدور آپکا تزکیہِ (نفس)فرمایا اور پھر اُنھوں نے(مُزَّکِّیْ کو) اولوالامر کے حوالے کیا۔ اور اسی وجہ سے آپ کو ان سے پیار ہونا شروع ہوجاتا ہے آپ جانتے ہیں کہ وہ آپ سے (خطاؤں کا) بوجھ لے رہے ہیں اور آس پاس کے لوگ آپ کو بہت ہی ستھرا، روشن اور نورانی دیکھنا شروع کردیتے ہیں۔یہ آپ کی اپنی وجہ سے نہیں ہے!۔ کیا ہماری زندگی بدلے میں اُنکی مقروض نہیں ہے؟؟ پھر یہ محبت کے حقائق ہیں کہ جب آپ محبت کے ذریعے سوچتے ہیں اور بری خصوصیت سے نہیں سوچتے،جب آپ بری خصوصیت کے ذریعے سوچتے ہیں تو( سب گننے لگتے ہیں کہ)میں اِس طرح دیتا ہوں ، اِس طرح اُس طرح ، یہ محبت نہیں ہے! اور (ہوسکتا ہے کہ)آپ اِن کے ساتھ 25 سال تک بیٹھے ہوں لیکن یہ محبت نہیں ہے!!!
جب وہ تمام آزمائشوں اور مشکلات اور جدوجہد اور طلب و پیاس کے ذریعے حقیقی محبت کی تعلیم دیتے ہیں تو آپ ایک ساتھی کی طرح بن جاتے ہیں۔
صحابہ کرامؓ نبی کریم ﷺ سے اتنی شدید محبت کیوں رکھتے تھے؟ یہی (اِس)حدیثِ مبارکہ کی حقیقت ہے کہ "آپ جس سے محبت رکھتے ہیں اُسی کے ساتھ ہونگے!"
جب آپ کو اِس قسم کی محبت ہو، اِس درجے کا عشق ہو تو آپ اپنے دل سے نور کا خراج کر رہے ہیں جو اُن کے دل سے منسلک ہورہا ہے۔
حضرت شیخ نورجان قدس اللہ سرہ
Urdu Transliteration:
App jinki Ma'iyat (sath) ikhtiar kar rahe hain Ap onki huzoori mein daakhil hojaeinge Ap apni(khataon) ke tmam bhoj, apni saari hasoosiyat Le kr aaeinge. Kon inka tasfiya kar raha ha?? Agr ye on 1,24,000 mein se aik hain tu wo tazkia kr rahe hain ya wo tazkia kr rahi hain. Aur agar wo(Shaykh) tazkia farma rahe hain tu onhu ne hatti'al maqdoor apka tazkia(e-Nafs) farmaya aur phr onhu ne (muzzakki ko) oo'lul Amr ke hawalay kia aur issi wajah se apko onsay payar hona shuru hojata ha ap jante hain ke wo apsay (hataon ka) bhoj Le rahe hain aur aas paaas ke log apko bht hi suthra, roshan aur noorani dekhna shuru kr dete hain ye apki apni wajah se nahi ha!! Kia hmari zindagi badlay mein onki makrooz nhi ha?? Phir ye muhabbat ke haqaiq hain ke jab Ap Muhabbat ke zariye sochte hain aur buri hasoosiyat se nhi sochte, jab App buri hasoosiyat ke zariye sochte hain tu (sb gin'nay lagte hain ke) mein iss trah deta hun, iss trah, ous trah, ye muhabbat nahi ha! Aur (ho sakta ha ke) ap inkay sath 25 saal tk bethain hun lekin ye muhabbat nahi ha!jab wo tmam aazmaishoon aur mushkilaat aur jado'juhad aur talab o pyas ke zariye haqeeqi muhabbat ki taleem detay hain tu aik sathii ki trah ban jate hain.sahaba e karaam radiAllahu anhu Nabi kareem sallallahu Alayhi wasallam se itni shadeed muhabbat kyun rakhte the? Yehi (iss) hadees e mubarika ki haqeeqat ha ke"ap jis se muhabbat rakhte hain ousi ke sath honge".jb apko is qisam ki muhabbat Hu, iss darjay ka ishq Hu tu ap apnay dil se noor ka hiraj kr rahe hein jo onkay dil se munsaliq ho raha ha.
Original Lecture:
The one that you are accompanying you will enter into his huzoor you will come with all your burdens ,all your characteristics. Who is washing it? If it's one of those hundred and twenty four he is washing or she is washing. And if he is washing ,he washed to the ability he can and he gives to the ulul Amr above. And that's why you begin to have that love for them you know that they are taking burdens from you and people around begin to see you very white, bright and Noorani.it's not from you we don't owe all our life back??these are then the realities of Muhabbat when you think through muhabbat and not think through through the bad characteristic when you think through bad characteristic everything's all I give like this, this like this,this like this, that's not love! And you could sit 25 years with them but that's not love when they teach the real love through all the testing and difficulty and struggling and striving you become like a companion .why were the companions so in love with Prophet Sallallahu Alayhi wasallam ? That's the reality of the Hadith, "You will be with whom you love!"When you have that type of love, that type of ishq you are releasing a light from your heart.From your heart it's bonding with their heart.