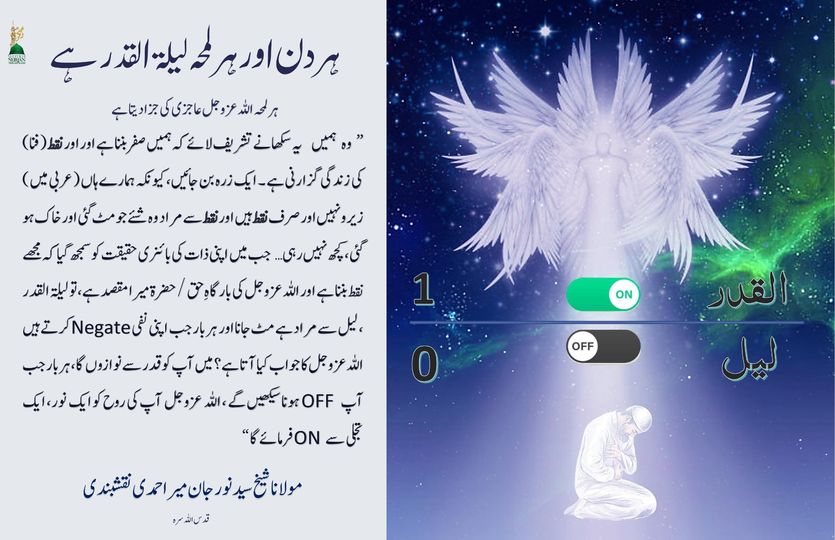 Urdu – ہر دن اور ہر لمحہ لیلۃ القدر ہے، ہر لمحہ اللہ عزوجل عاجزی پر جزا دیتا ہے ۔ لیل …

ہر دن اور ہر لمحہ لیلۃ القدر ہے، ہر لمحہ اللہ عزوجل عاجزی پر جزا دیتا ہے ۔
لیل سے مراد ہے مٹ جانا ( آف ہو جانا ) اور ہر بار جب آپ اپنی نفی کرتے ہیں تواللہ عزوجل کا جواب کیا آتا ہے؟ میں آپ کو قادرعطا کروں گا، آپ کی روح ایک روشنی سے منور ہو جائے گی ( آن ہو جائے گی)
|Har din aur har Lamha Laylatul Qadr hai, Har Lamha Allah (AJ) aajzi par jaza deta hai. Layl se morad hai mit jana (OFF ho jana ) aur har baar jab aap apni Nafi karte hain to Allah (AJ) ka jawab kya aata hai? mein aap ko Qadir ataa karoon ga, aap ki ruh aik roshni se Munawar ho jaye gi (ON ho jaye gi) |
𝗟𝗮𝘆𝗹𝗮𝘁𝘂𝗹-𝗤𝗮𝗱𝗿 𝗶𝘀 𝗲𝘃𝗲𝗿𝘆 𝗱𝗮𝘆 𝗮𝗻𝗱 𝗲𝘃𝗲𝗿𝘆 𝗺𝗼𝗺𝗲𝗻𝘁 – 𝗘𝘃𝗲𝗿𝘆 𝗺𝗼𝗺𝗲𝗻𝘁 𝗔𝗹𝗹𝗮𝗵 (𝗔𝗝) 𝗶𝘀 𝗿𝗲𝘄𝗮𝗿𝗱𝗶𝗻𝗴 𝗵𝘂𝗺𝗶𝗹𝗶𝘁𝘆. 𝗟𝗮𝘆𝗹 𝗶𝘀 𝘁𝗼 𝗲𝗳𝗳𝗮𝗰𝗲 𝗢𝗙𝗙 𝗮𝗻𝗱 𝘄𝗵𝗮𝘁 𝗶𝘀 𝗔𝗹𝗹𝗮𝗵 (𝗔𝗝)'𝘀 𝗿𝗲𝘀𝗽𝗼𝗻𝘀𝗲 𝗲𝘃𝗲𝗿𝘆 𝘁𝗶𝗺𝗲 𝘆𝗼𝘂 𝗻𝗲𝗴𝗮𝘁𝗲? '𝗜 𝘄𝗶𝗹𝗹 𝗱𝗿𝗲𝘀𝘀 𝘆𝗼𝘂 𝘄𝗶𝘁𝗵 𝗤𝗮𝗱𝗶𝗿, 𝘆𝗼𝘂𝗿 𝘀𝗼𝘂𝗹 𝘁𝗼 𝗯𝗲 𝗢𝗡 𝘄𝗶𝘁𝗵 𝗮 𝗹𝗶𝗴𝗵𝘁'
مولانا شیخ سید نورجان میراحمدی نقشبندی (قدس اللہ سرہ) کی سُنہری تعلیمات سے اقتباس – 12 شوال 1443
An excerpt from Mawalana Shaykh Nurjan Mirahmadi Naqshbandi's teachings (12 Shawal, 1443.)
اَعُوْذُ بِاللہ مِنَ الشَّیْطٰنِ الرَّجِیْمِ ۞ بِسْمِ اللہ الرَّحْمٰنِ الرَّحِیْمِ ۞
أَطِيعُواللَّه وَأَطِيعُوٱلرَّسُولَ وَأُوْلِي الْأَمْرِ مِنْكُمْ …۞
اللہ کی پناہ مانگتا ہوں شیطان مردود سے۔ اللہ کے نام سے شروع کرتا ہوں جو نہایت مہربان رحم کرنے والا ہے ۔
… اللہ عزوجل کی اطاعت کرو اور رسول ﷺ کی اطاعت کرو اور اُن کی جو تم میں سے اولی الامر ( صاحبانِ امر اولیا) ہیں۔
( سورۃ النساء 4: 59 )
اور اپنے نفس کیلئے ہمیشہ یاد رہے کہ یا ربی میں ایک بندہ عاجز ہوں ، ضیعف ہوں، مسکین ہوں، ظالم اور جاہل ہوں اور بس اللہ عزوجل کا فضل ہے کہ ہمارا وجود ابھی تک قائم ہے۔ الحمد للہ ، اللہ عزوجل نے ہمیں شوال کا یہ مبارک مہینہ عطا فرمایا۔ سُبْحَانَ مَنْ ذُوالْعَرْشِ عَمَا يَصِفُونْ ۔ 10 دسواں قمری مہینہ ۔ اور ہم نے پہلے بھی بیان کیا کہ قمری کیلنڈر ھدایت کا راز ہے۔ اور جو لوگ قمری کیلنڈر چھوڑ دیتے ہیں وہ ھدایت کی حقیقت چھوڑ دیتے ہیں اور وہ اپنے آپ کو خود کفیل سمجھتے ہیں۔ اللہ عزوجل نے سورج ، چاند اور زمین کو ہماری حقیقت کیلئے تخلیق فرمایا اور اللہ عزوجل سکھاتا ہے ۔ " میں آپ کو آپ کی ذات کے اندر اور اُفق پر (موجود نشانیوں کے زریعے ) تعلیم دیتا ہوں" (سورۃ فصلت41:53 ) افق سمجھنا زیادہ آسان ہے بجائے کہ کوئی اپنے اندر کوئی ( نشانی) سمجھنے کی کوشش کرے ( خاص طور پہ ) اگر کوئی غور و تفکر اور مراقبہ نہیں کرتا ۔اور الحمدللہ ، ان قمری مہینوں کی تعلیمات سے ، ہر مہینے کی ایک تجلی ہے۔
𝐓𝐫𝐚𝐧𝐬𝐥𝐢𝐭𝐞𝐫𝐚𝐭𝐢𝐨𝐧
|Aur apne nafs ke liye hamesha yaad rahay ke ya Rabbi mein aik bandah-aajiz hon, Daeef hon, Maskeen hon, Zalim aur Jaahil hon aur bas Allah (azzwajal) ka fazl hai ke hamara wujood abhi tak qaim hai. Alhamdulilah, Allah (azzwajal) ne hamein Shawaal ka yeh mubarak maheena ataa farmaya. Subhana Man Dhul'arshi Amma yasifun. 10 daswaan qamri maheena. Aur hum ne pehlay bhi bayan kya ke qamri calendar hadaiyat ka raaz hai. Aur jo log qamri calendar chore dete hain woh hadaiyat ki haqeeqat chore dete hain aur woh apne aap ko khud-kafeel samajte hain. Allah (azzwajal) ne sooraj , chaand aur zameen ko hamari haqeeqat ke liye takhleeq farmaya aur Allah (azzwajal) sikjata hai." mein aap ko aap ki zaat ke andar aur ufq par ( mojood nishanion ke zariye ) taleem deta hon. (Surah Al-Fussilat 41:53) Ufaq samjhna ziyada aasaan hai bajaye ke koi apne andar koi ( nishani ) samajhney ki koshish kere ( khaas tor pay ) agar koi ghhor o tafakar aur muraqba nahi karta. Aur Alhamdulilah, un qamri mahino ki talemaat se, har mahinay ki aik tajallii hai.|
𝐎𝐫𝐢𝐠𝐢𝐧𝐚𝐥
Faudhbillahi Min Shaytanir Rajeem. Bismillahir Rahmanir Raheeem.
Ati-Ullah, Atiur-Rasul, Wa Ulul-Amri Minkum
And always a reminder for myself: ana abduka ajeezu daeefu, miskeen, zalim wa jahal and but for the grace of Allah (AJ) that we are still in existence. Alhamdulilah that Allah (AJ) granted for us this holy month of Shawwal. "Subhana Man Dhul'arshi Amma yasifun". The 10th Lunar month and we described before that the lunar calendar is the secret of guidance. And those who leave the lunar calendar, they leave the reality of guidance and they think themselves to be self-sufficient. Allah (AJ) created the sun, the moon, the earth for our reality and Allah (AJ) teaches. I teach you within yourself and upon the horizon. And upon the horizon is easier then someone trying to understand something within themselves (Surah Al-Fussilat 41:53) if they are not making meditation and contemplation. And Alhamdulilah, from these understandings of the lunar month and each month has a Tajjali.
سورج ابدیت ظاہر کرتا ہے – ہماری مادی دُنیا میں ابدیت کی نشانی ہے۔ لوگ جاننا چاہتے ہیں ' مجھے سمجھ نہیں آتی کہ ابد کیا ہے؟'۔ اللہ عزوجل نے ہمیں یہ چراغ عطا فرمایا ہے ، یہ آگ ہے۔ اور سورج کہتا ہے ، اس کو دیکھو! یہ تمارے لئے ابد ہے۔ یہ ہمیشہ سے یہاں موجود تھا۔ آپ کے سارے انبیاء ٫ گزرے ،آپ کے سارے ادوار – زندگیاں اور اموات گزرے ، یہ سورج ابھی تک قائم ہے اور روشن ہے۔ اور یہ ایک آگ ہے جسے آپ ( ایندھن ) سپلائی نہیں کرتے اور نہ ہی آپ اسکی مدد کرتے ہیں ۔ یہ اللہ عزوجل کی طاقت سے غنی ہے ۔ تو یہ ہمارے لئے ابد کی نشانی ہے ۔اور چاند ہدایت کی علامت ہے، جس میں یہ سورج نہیں ہو سکتا۔ اور سورج بہت منفرد ہے اور ہر کوئی سورج نہیں ہو سکتا- ایک روشنی کا اصل مرکز۔ آپ جو بن سکتے ہیں وہ چاند ہے، اپنے آپ کو کامل بنائیں اور روشنی پھیلائیں ( ریفلکٹ کریں)۔
𝐓𝐫𝐚𝐧𝐬𝐥𝐢𝐭𝐞𝐫𝐚𝐭𝐢𝐨𝐧
|Sooraj abdiyat zahir karta hai – hamari maadi duniya mein abdiyat ki nishani hai. Log janna chahtay hain' mujhe samajh nahi aati ke abad (eternity) kya hai? '. Allah (azzwajal) ne hamein yeh chiragh ataa farmaya hai, yeh aag hai. aur Sooraj kehta hai, is ko dekho! yeh tumary liye abad hai. yeh hamesha se yahan mojood tha. Aap ke saaray anbiya guzray, aap ke saaray daur – zindagiya aur amwaat guzray, yeh Sooraj abhi tak qaim hai aur roshan hai. Aur yeh aik aag hai jisay aap ( eendhan ) supply nahi karte aur nah hi aap uski madad karte hain. yeh Allah (azzwajal) ki taaqat se ghanni hai. To yeh hamaray liye abad (eternity) ki nishani hai. Aur chaand hadaayat ki alamat hai, jis mein yeh Sooraj nahi ho sakta. aur Sooraj bohat munfarid hai aur har koi Sooraj nahi ho skta- aik roshni ka asal markaz. Aap jo ban satke hain woh chaand hai, apne aap ko kaamil banayen aur roshni philayin/reflect karen.|
𝐎𝐫𝐢𝐠𝐢𝐧𝐚𝐥
The Sun represent eternity – a symbol of eternity in our physical world. People want to know 'I don't understand what eternity is'? Allah (AJ) granted us this lamp, it is fire. And the sun says, look to that. That's eternity for you. It has always been there. Through all your prophets, through all your lives and deaths, that sun is still standing and shinning. And it is a fire that you don't supply and you don't support it. And that it is self-sufficient powered by Allah (AJ). So it represent eternity for us and the moon is symbol of guidance. In which it can't be the sun. And the sun is very unique and not everybody can be sun- a source of light. But what you can be is the moon, perfect yourself and reflect the light.
تو اللہ عزوجل نے ہمیں یہ حقیقت عطا فرمائی کہ میری خدائی ابدیت(دوام) ہمیشہ اس زمین پر چمک رہی ہے۔ اور ایسی ارواح ہیں جو کامل درجے ( پرفیکشن) پر پہنچ جاتی ہیں، جو قمرون کہلاتی ہیں، وہ چاند کے جیسی نشانیاں ہیں جو روشنی پھیلاتی ہیں ( سورج کی روشنی ریفلیکٹ کرتی ہیں)۔ وہ روشنی کا اصل مرکز نہیں ہیں، محض روشنی کا عکس ہیں اور یہ زمین کیلئے ھدایت کی علامت بن جاتے ہیں۔ اور اس زمین پہ موجود ہر شئے اس حقیقت سے پرورش پاتی ہے۔ ہم نے پہلے بیان فرمایا، ہر سبزہ اصل میں چاندنی سے نشوونما حاصل کرتا ہے، سورج کی روشنی سے نہیں۔دھوپ آخر میں آتی ہے اور اسے میٹھا بناتی ہے۔ لیکن اسکی ذمہ داری ہے کہ چاند کی روشنی سے نشونما پائے ۔ اور جنون اور پاگل پن اور ہر شئے جس کی ذمہ داری چاند پر ہے، ان روشنیوں ( انوار) اور اینرجی کو لوگوں پر بھیجتا ہے اور اس کا اُن لوگوں پر ، ان کے جسم میں موجود پانی پر اثر پڑتا ہے ۔ اگر چاند زمین کے پانی کی لہر کو بڑھا سکتا ہے ۔ ذرا تصور کریں ، انسان میں موجود پانی اور ان کی حقیقت پر اس کا کیا اثر پڑتا ہو گا ۔ یعنی بہت سے حقائق ہیں اور ھدایت کی اہمیت ، اور حقیقت ہے جو اللہ عزوجل نے ہمیں عطا فرمائی ہے۔
𝐓𝐫𝐚𝐧𝐬𝐥𝐢𝐭𝐞𝐫𝐚𝐭𝐢𝐨𝐧
|Toh Allah (azzwajal) ne hamein yeh haqeeqat ataa farmai ke meri khudai dwwam / abdiyat hamesha is zameen par chamak rahi hai. Aur aisi arwah hain jo kaamil darjay ( perfection ) par pahonch jati hain, jo Qamroon kehlati hain, woh chaand ke jaisi nishanain hain jo roshni phailaati hain ( Sooraj ki roshni reflect karti hain ). Woh roshni ka asal markaz nahi hain, mehez roshni ka aks hain aur yeh zameen ke liye hadaiyat ki alamat ban jatay hain. Aur is zameen pay mojood har shye is haqeeqat se parwarish paati hai. Hum ne pehlay bayan farmaya, har sabza asal mein chandni se nashonuma haasil karta hai, Sooraj ki roshni se nahi. Dhoop aakhir mein aati hai aur usay meetha banati hai. lekin uski zimma daari hai ke chaand ki roshni se nash-o-numa paye. Aur junoon aur pagal pan aur har shye jis ki zimma daari chaand par hai, un roshiniyon ( anwaar ) aur energy ko logon par bhejta hai aur is ka unn logon par, un ke jism mein mojood pani par assar parta hai. Agar chaand zameen ke pani ki lehar ko barha sakta hai. zara tasawwur karen, insaan mein mojood pani aur un ki haqeeqat par is ka kya assar parta ho ga. yani bohat se haqayiq hain aur hadaiyat ki ahmiyat, aur haqeeqat hai jo Allah (azzwajal) ne hamein ataa farmai hai .|
𝐎𝐫𝐢𝐠𝐢𝐧𝐚𝐥
So Allah (AJ) gives us that reality that my divine eternity is always shining upon this earth. And there are souls that reach the level of perfection in which they are 'Qamaroon'. They are the moon like symbols which they reflect light. They are not a source of light, merely a reflection of the light and that becomes the symbol of guidance for the earth and everything on the earth is developed by that reality. We said that every vegetation is actually raised by the moonlight, not sunlight. Sunlight only comes at the end and sweetens it. But its responsibility is to be raised by the light from the moon. And lunation and lunatics and everything that this moon is responsible for ,the lights and energy it sends upon the people and the effect that it has upon those people, the water in their body, if the moon can raise the tide of water of the earth. Imagine it's effect within the water of Insaan and their reality. Means so many of these realities and importance of guidance and the reality that Allah (AJ) has given to us.
تو اس 10 دسویں قمری مہینے میں ، 1 اور 0 کی حقیت ہے۔ ھدایت کے اس راز میں ایک اور صفر بائنری کوڈ ہے ، جس میں اللہ عزوجل اور معبودیت سے جڑی ہر شئے 1 ہے۔ اور اللہ عزوجل کی منفرد توحید کہ کوئی شئے اُس کے مثل نہیں۔ اور اللہ عزوجل نے اس 1 کی جھلک میں رسالت کی حقیقت بنائی ہے ۔ وہ زمین پر اللہ عزوجل کی ذات ِ واحد کی جھلک ہیں ۔ وہ ہمیں یہ سکھانے تشریف لائے کہ ہمیں صفر بننا ہے اور نقط ( فنا ) کی زندگی گزارنی ہے ۔ ایک زرہ بن جائیں۔ کیونکہ ہمارے ہاں ( عربی میں ) زیرو نہیں اور صرف نقط ہیں۔ اور نقط سے مراد وہ شئے جو مٹ گئی اور خاک ہو گئی ، کچھ نہیں رہی۔ اور اللہ عزوجل ہمیں یاد دلاتا ہے کہ میرے پاس فنا کی صورت آیا جائے تاکہ میری توحید تم میں جھلک سکے۔ اگر آپ 1 کی صورت (انا کے ساتھ ) آئے ، یہاں کچھ نہیں ہے، آپ پیچھے دھکیل دیے جائیں گے۔ کیونکہ یہ بائنری کوڈ مقناطیست کا راز بھی ہے۔ جہاں کہا جاتا ہے کہ متضاد مخالف میں کشش ہوتی ہے۔ اللہ عزوجل ہمارے لئے سبق دیتا ہے کہ زندگی میں 1 بننے کی کوشش نہ کرو۔ تم میری بارگاہ الہی سے پیچھے ہٹا دیئے جاؤ گے ۔ اور شیطان ہماری زندگی میں بس یہی چاہتا ہے ─ 1 بنو، تاکہ تم اللہ عزوجل سے دور ہو جاؤ۔ یہ شیطان کی ذمہ داری ہے اور شیطان کا کھیل ہے کہ لوگوں کو بتائے وہ 1 ہیں، محسوس کریں وہ 1 ہیں اور 1 بننا چاہیں اور اللہ عزوجل ہم سے چاہتا ہے کہ تم کوئی نہیں۔ کوئی نہیں ۔
𝐓𝐫𝐚𝐧𝐬𝐥𝐢𝐭𝐞𝐫𝐚𝐭𝐢𝐨𝐧
|Toh is 10 qamri mahinay mein, 1 aur 0 ki haqeeqat hai. hadaiyat ke is raaz mein aik aur sifar binary code hai, jis mein Allah (azzwajal) aur mabodiyat se jari har shye 1 hai. Aur Allah (azzwajal) ki munfarid toheed ke koi shye uss ke misl nahi. Aur Allah (azzwajal) ne is 1 ki jhalak mein risalat ki haqeeqat banai hai. Woh zameen par Allah (azzwajal) ki zaat-e-wahid ki jhalak hain. woh hamein yeh sikahnay tashreef laaye ke hamein sifar ban-na hai aur aur Nuqt ( fanaa ) ki zindagi guzaarni hai. Aik zarah ban jayen. kyunkay hamaray haan ( arabi mein ) zero nahi aur sirf Nuqt hain. Aur Nuqt se morad woh shye jo mit gayi aur khaak ho gayi, kuch nahi rahi. aur Allah (azzwajal) hamein yaad dilaata hai ke mere paas fanaa ki soorat aaya jaye taakay meri toheed aap mein jhalak sakay. agar aap 1 ki soorat ( anaa ke sath ) aaye, yahan kuch nahi hai, aap peechay dakhel diye jayen ge. kyunkay yeh binary code maqnatesyat ka raaz bhi hai. Jahan kaha jata hai ke mutazaad mukhalif mein kashish hoti hai. Allah (azzwajal) hamaray liye sabaq deta hai ke zindagi mein 1 ban'nay ki koshish nah karo. Tum meri bargaah ellahi se peechay hata diye jao ge. aur Shaytan hamari zindagi mein bas yahi chahta hai? 1 bano, taakay tum Allah (azzwajal) se daur ho jao. yeh Shaytan ki zimma daari hai aur Shaytan ka khail hai ke logon ko betaye woh 1 hain, mehsoos karen woh 1 hain aur 1 ban-na chahain aur Allah (azzwajal) hum se chahta hai ke tum koi nahi. koi nahi .|
𝐎𝐫𝐢𝐠𝐢𝐧𝐚𝐥
So in this 10th lunar month, is the reality of 1 and 0. In this secret of guidance 1 and zero is a binary code in which Allah (AJ) and anything of divinity is 1 and Allah (AJ)'s unique oneness, nothing is like unto Him. And Allah (AJ) has created the prophetic reality as a shadow of this 1 and they represent upon earth the reflection of Allah (AJ)'s divine oneness. And they come to teach us that we are to be and live a life of being a Nuqt. Be a dot. Because we don't have zero and have just a dot. And dot is something that has been effaced and dust, in which its nothing. And Allah (AJ) reminds for us that come to me as nothing. So that my oneness can reflect into you. If you come as 1, there is nothing, you srepel. Because this binary code is also the secret of magnetism. Where they say opposite attract. Allah (AJ) is teaching for us, don't be a 1 in your life. You will repel from my divine presence. And all that Shaytan wants in our life – be a 1. So that you will be distant from Allah (AJ). This is the responsibility and the game for Shaytan is to tell people they are 1, to feel like a 1, to want to be the 1 and Allah (AJ) wants from us to be no-one. No-one.
اس بات کی سمجھ میں مہارت حاصل کرنے کے صلے میں ، آپ حضرۃ الہی ( بارگاہِ حق) میں کھنچے چلے جائیں گے۔اگر آپ آف ہیں اور زندگی میں آف ہونے کا طریقہ سیکھتے ہیں ، آپ کی روح آپ کو اللہ عزوجل کے حضور میں لے جائے گی ، حضرۃ الہی / بارگاہِ حق میں لے جائے گی۔ روح ایک کشتی ہے جسے اپنا راستہ معلوم ہے ۔ مادیت اور انا پرستی کی وجہ سے وہ شیطان کی پارٹنر بن جاتی ہے ، وہ 1 بننا چاہتی ہے ۔لوگوں کے اندر دوغلے پن کا زرا تصور کیجئے ۔ اُن کی مادیت 1 بننے میں اس قدر مگن ہے، ٹھیک ؟ کہ وہ فیس بُک بناتے ہیں ، وہ انِسٹاگرام بناتے ہیں ، وہ ٹِک ٹاک بناتے ہیں ─ یہ سب کچھ اس لئے کہ اُن کے مادی وجود کو کوئی پہچان ملے ، اُن کو پہچانا جائے اور اُن کا مادی وجود 1 بننے میں بھر پور کوشش کر رہا ہے کہ اُن کی روح کا فنا تک پہنچنے کا کوئی امکان نہیں۔ طروق تشریف لاتے ہیں اور تعلیم دیتے ہیں اپنے مادی وجود کو چھپائیں، اپنے مادی وجود کا انکار کریں، اپنے مادی وجود کی تذلیل کریں۔ اپنی شناخت نہ ہونے دیں۔ خاموشی کا راستہ اختیار کریں۔ چھپنے کا راستہ اختیار کریں۔ خلوت کا راستہ اختیار کریں─ ہم جسے خلوۃ در انجمن کہتے ہیں─لوگوں کے درمیان اوجھل رہنا۔
𝐓𝐫𝐚𝐧𝐬𝐥𝐢𝐭𝐞𝐫𝐚𝐭𝐢𝐨𝐧
|Is baat ki samajh mein mahaarat haasil karne ke siilay mein, aap Hadra ellahi ( bargaah haq ) mein khnche chalay jayen ge. agar aap OFF hain aur zindagi mein OFF honay ka tareeqa seekhnay hain, aap ki rooh aap ko Allah (azzwajal) ke huzoor mein le jaye gi, Hadra ellahi / bargaah haq mein le jaye gi. Rooh aik kashti hai jisay apna rasta maloom hai. Madiyat aur anaa parasti ki wajah se woh Shaytan ki partners ban jati hai, woh 1 ban-na chahti hai. Logon ke andar doghlay pan ka zara tasawwur kijiyej. Unn ki madiyat 1 ban'nay mein is qader magan hai, theek? ke woh facebook banatay hain, woh instagram banatay hain, woh tik-tok banatay hain? yeh sab kuch is liye ke unn ke maadi wujood ko koi pehchan miley, unn ko pehchana jaye aur unn ka maadi wujood 1 ban'nay mein bhar poor koshish kar raha hai ke unn ki rooh ka fanaa tak pounchanay ka koi imkaan nahi. Tareeqa tashreef laatay hain aur taleem dete hain apne maadi wujood ko chupayen, apne maadi wujood ka inkaar karen, apne maadi wujood ki tazleel karen. apni shanakht nah honay den. khamoshi ka rasta ikhtiyar karen. chupnay ka rasta ikhtiyar karen. khalwat ka rasta ikhtiyar Karen ─ hum jisay Khalwah Dar Anjuman kehte hain – logon ke darmiyan oojhal rehna .|
𝐎𝐫𝐢𝐠𝐢𝐧𝐚𝐥
As a result of mastering that understanding, you will be drawn into the divinely presence. For if you are off and learn how to be off in life. Your soul will direct you into Allah (AJ)'s presence, the Divinely Presence. It is a ship that knows its co-ordinance. Because of the physicality and egoism that partners with Shaytan, it wants to be a 1. So imagine then the duality within people that their physicality is so big into 1, right, they make a facebook, they make a instagram, they make a ticktok, all about their physicality to be identified, to be recognized and their physicality is trying so hard to be a 1. Their soul stands no chance in reaching nothingness. Tariqas are coming and teaching is to hide your physicality. Efface your physicality. Bring down your physicality. That don't let yourself to be identified. Take a way of silence. Take a way of hiddenness. Take a way of seclusion. And what we have Khalwa-dar-anjman- be secluded amongst people.
یعنی ایسی زندگی جس میں ہم اپنی پوری کوشش کریں کہ تنہائی میں رہیں اور تنہائی میں رہیں، اور میں لوگوں کے درمیان ہوں لیکن میں اپنی ذات کو خاص دکھانے کی کوشش نہیں کرتا۔ اور جب بھی دُنیا آئے اور کہے تم کچھ خاص ہو، میں اپنی تذلیل کرتا ہوں میں کچھ نہیں، میں کچھ نہیں، یقیناً اللہ عزوجل کے مقابل کچھ نہیں،انبیاکے مقابل خاک(برابر بھی) نہیں۔ تو اپنی ذات میں صداقت /سچائی آسان ہو جاتی ہے۔ لَّا إِلَٰهَ إِلَّا أَنتَ سُبْحَانَكَ إِنِّي كُنتُ مِنَ الظَّالِمِينَ کہ یا ربی تیری ذات سبحان ہے اور میں یقیناً اپنی جان کیلئے ظالم ہوں (سورۃ الانبیا 21:87) ۔ اُس وقت اللہ عزوجل نجات عطا فرمائے گا۔ یعنی یہ طریقت کا دروازہ ہے، ۔ سیدنا یونس ؑ کی دعا ہے کہ تیری ذات سبحان ہے اور میں اپنی ذات پر ظلم کرنے والوں میں سے ہوں، یہ فنا کا راز ہے۔ کیونکہ پھر اللہ عزوجل کا جواب ملتا ہے : ہم تمہیں نجات دیتے ہیں۔ اور وہ جو ایمان لائے اور واقعی مان گئے کہ وہی اپنی ذات کیلئے ظالم تھے۔ اللہ ( عزوجل) آپ کو ایک نجات عطا فرمائے گا۔ یعنی آپ کی روح میرے حضرۃ / بارگاہِ حق میں کھنچی چلی آئے گی۔
𝐓𝐫𝐚𝐧𝐬𝐥𝐢𝐭𝐞𝐫𝐚𝐭𝐢𝐨𝐧
|Yani aisi zindagi jis mein hum apni poori koshish karen ke tanhai mein rahen aur tanhai mein rahen, aur mein logon ke darmiyan hon lekin mein apni zaat ko khaas dikhane ki koshish nahi karta. Aur jab bhi duniya aaye aur kahe tum kuch khaas ho, mein apni tazleel karta hon mein kuch nahi, mein kuch nahi, yaqeenan Allah (azzwajal) ke maqabil kuch nahi, Anbiya Karaam ke maqabil khaak nahi. To apni zaat mein sadaqat / sachaai aasaan ho jati hai. a-ilaha Ila Anta Subhanka Inni Kuntu Minaz – ke ya rabbi teri zaat subhan hai aur mein yaqeenan apni jaan ke liye zalim hon (Surah al-Anbiya 21 : 87 ). Uss waqt Allah (azzwajal) nijaat ataa farmaiye ga. Yani yeh tareqat ka darwaaza hai, Sayedena Yunus (as) ki dua hai ke teri zaat subhan hai aur mein apni zaat par zulm karne walon mein se hon, yeh fanaa ka raaz hai. kyunkay phir Allah (azzwajal) ka jawab milta hai : hum tumhe nijaat dete hain. Aur woh jo imaan laaye aur waqai maan gaye ke wohi apni zaat ke liye zalim thay. Allah ( azzwajal ) aap ko aik nijaat ataa farmaiye ga. Yani aap ki rooh mere Hadrah/Bargaah Haq mein khinchi chali aaye gi |
𝐎𝐫𝐢𝐠𝐢𝐧𝐚𝐥
Means take a life in which we try our best to seclude and seclude and I am nothing, I am all amongst people but I really don't want to show myself as anything and every time the world comes to say I am something. I efface myself, I am nothing, nothing definitely compare to Allah (AJ), nothing compare to the Prophets of Allah (AJ). So it is easy for us to be true to ourselves. La-ilaha Ila Anta Subhanka Inni Kuntu Minaz Zalimeen – That glory be to you Ya Rabbi and I am definitely an oppressor to myself. At that time, Allah (AJ) will grant a Nejat. Means that's the door to Tariqas, is the dua of Sayedena Jonah that glory to be God and I am an oppressor to myself and that is the secret of negation. Because Allah (AJ)'s reply then 'we grant you a Nejaat'. That those who believe and truly believe that they are oppressors to themselves, Allah (AJ) will grant you a salvation. Means that your soul will be drawn into my divinely presence.
ہماری زندگی کا مقصد فنا ہونا ہے۔ اس مقناطیسیت اور بائنری کوڈ کی ایک عظیم حقیقت ہے۔ تو ہم دہراتے ہیں کیونکہ اس طرح ہم ایک موضوع کی گہرائی میں جاتے ہیں کہ جب میں اپنی ذات کی بائنری حقیقت کو سمجھ گیا کہ مجھے نقط بننا ہے اور اللہ عزوجل کی بارگاہِ حق / حضرۃ میرا مقصد ہے۔ لیلۃالقدر – لیل سے مراد ہے مٹ جانا اور ہر بار جب اپنی نفی کرتے ہیں اللہ عزوجل کا جواب کیا آتا ہے؟ میں آپ کو قدر سے نوازوں گا
لیل – قدر
لیل- قدر
آن-آف
آن-آف
𝐓𝐫𝐚𝐧𝐬𝐥𝐢𝐭𝐞𝐫𝐚𝐭𝐢𝐨𝐧
|Hamari zindagi ka maqsad fanaa hona hai. Is maqnateesiat aur Binary code ki aik azeem haqeeqat hai. Toh hum dohratay hain kyunkay is terhan hum aik mauzo ki geherai mein jatay hain ke jab mein apni zaat ki binary haqeeqat ko samajh gaya ke mujhe Nuqt ban'na hai aur Allah (azzwajal) ki Hadrah/ Bargah-e-Haq mera maqsad hai. Laylatul Qadr – Layl se morad hai mit jana aur har baar jab apni nafi karte hain Allah (azzwajal) ka jawab kya aata hai? Mein aapko Qadar se nwazon ga. Layl- Qadr. Layl-Qadr. On-Off. On-Off.|
𝐎𝐫𝐢𝐠𝐢𝐧𝐚𝐥
Our life is then to negate! That magnetism and binary-code than has an immense reality. So we repeat because this is how we go deeper into a subject is that when we understood my binary reality that I am to be a nuqt and Allah (AJ)'s Divinely Presence is my goal. Laylatul Qadr. Layl is to efface and what's Allah (AJ)'s response every time you negate? I will dress you with Qadir.
Layl- Qadir
Layl-Qadir
On-Off
On-Off
ہر بار جب آپ آف ہونا سیکھیں گے ، اللہ عزوجل آپ کی روح کو ایک نور، ایک تجلی سے آن فرمائے گا۔ اب یہ کشف ، یہ اینرجی بہت لطیف بھی ہو سکتی ہے یا پھر بہت بھرپور، یہ آپ کی لطافت اور تربیت کے لحاظ سے ہے۔ آپ نے اپنی پہچان بنانے اور اپنا دل نرم کرنے کیلئے اپنی کس قدر تربیت کی ہے، اور اپنا دل کتنا نرم رکھاہے۔ اور اس کی نرمی ، یہ بہت حساس آلہ ہے ، جب اللہ عزوجل کوئی بھی فریکونسی بھیجتا ہے، دل/ قلب ساری وایبریشن محسوس کرتا ہے۔ اور وہ عبد لیلۃ القدر کی حقیقت تک پہنچ رہا ہے۔ لیلۃ القدر ہر دن اور ہر لمحہ ہے ۔ سَلامٌ هِیَ حَتَّى مَطْلَعِ الْفَجْرِ (سورۃ القدر 97:5) کہ ہر لمحہ اللہ عزوجل عاجزی کو جزا دیتا ہے۔ تو ایک ایسا راستے پر چلیں کہ میں کچھ نہیں، میں ناچیز ہوں۔ مقناطیسیت کے جیسے ہی آپ فنا تک پہنچے اور مسلسل خود کو نیچے گرانے کی کوشش میں لگے رہے ، ہر حالات میں ، بحث میں ، جھگڑے میں ، غصے میں ، آپ کے پاس کچھ آئے ، اُس وقت اللہ عزوجل ہمارے لئے سبق دیتا ہے اپنی نفی کریں، اپنی صفائی مت دیں اپنے لئے جواب نہ دیں ، اپنے آپ کو ثابت مت کریں ، اگر آپ مجھ سے اپنا انعام چاہتے ہیں ۔ اگر آپ اپنا بدلہ اپنی زبان سے لینا چاہتے ہیں ، جایئے جس سے مرضی جا کر لڑیئے ، اور آپ اپنا بدلہ اپنے ہاتھ سے لے لیں گے۔ لیکن اگر آپ کا انعام معبود کیلئے ہے – کچھ مت بنیے ، ناچیز بنیے، اس حد تک کہ آپ کی عاجزی نیچے آجائے۔
𝐓𝐫𝐚𝐧𝐬𝐥𝐢𝐭𝐞𝐫𝐚𝐭𝐢𝐨𝐧
|Har baar jab aap OFF hona sekhen ge, Allah (azzwajal) aap ki rooh ko aik noor, aik tajallii se ON farmaiye ga. Ab yeh kashaf, yeh energy bohat lateef bhi ho sakti hai ya phir bohat bharpoor, yeh aap ki Latafat aur tarbiyat ke lehaaz se hai. Aap ne apni pehchan bananay aur apna dil naram karne ke liye apni kis qader tarbiyat ki hai, aur apna dil kitna naram rkha hai. Aur is ki narmi, yeh bohat hassas aala hai, jab Allah (azzwajal) koi bhi frequency bhejta hai, dil / qalb saari vibrations mehsoos karta hai. Aur woh abad Laylatul Qadr ki haqeeqat tak pahonch raha hai. Laylatul Qadr har din aur har lamha hai. Salamun Hiya Hatta Matlail Fajar" (Surah Qadr 97:5) ke har lamha Allah (azzwajal) aajzi ko jaza deta hai. Toh aik aisa rastay par chalein ke mein kuch nahi, mein nacheez hon. Maqnateesiat ke jaisay hi aap fanaa tak puhanche aur musalsal khud ko neechay giranay ki koshish mein lagey rahay, har halaat mein, behas mein, jhagray mein, ghusse mein, aap ke paas kuch aaye, uss waqt Allah (azzwajal) hamaray liye sabaq deta hai apni nafi karen, apni safai mat den apne liye jawab nah den, apne aap ko saabit mat karen, agar aap mujh se apna inaam chahtay hain. Agar aap apna badla apni zabaan se lena chahtay hain, jayye jis se marzi ja kar lariye, aur aap apna badla apne haath se le len ge. Lekin agar aap ka inaam mabood ke liye hai – kuch mat baniye, nacheez baniye, is had tak ke aap ki aajzi neechay aajay .|
𝐎𝐫𝐢𝐠𝐢𝐧𝐚𝐥
Every time you learn to go off, Allah (AJ) will turn your soul to be on with a light, with a tajjali. Now that Kashaf that energy can be very subtle or it can be very significant depending upon your subtlety and your training. How much you have trained yourself to recognized and to make your heart to be soft and its softness, it is like a finely tuned instrument that whatever Allah (AJ) sends of a frequency, the heart is picking up all of its vibrations. And that's servant is reaching the reality of Laylatul Qadr . Laylatul Qadr is every day and every moment. Salamun Hiya Hatta Matlail Fajar (Surah Qadr 97:5). That every moment Allah (AJ) is rewarding humility. So that to take a path that I am nothing, I am nothing. Magnetism that as soon as I reach nothingness and continuously push myself down in every circumstances, an argument, a fight, an anger, something comes to you , that's the time, Allah (AJ) is teaching for us negate yourself. Do not vindicate yourself. Don't answer for yourself. Don't justify yourself if you want your reward from me. If you want your reward from your tongue then go fight who you want. And you will get your reward through your own hand. But if your reward is for the divine – be nothing, be nothing, to the extent that you can bring the humility down.
یہ بیان اس لنک پہ دیکھا جا سکتا ہے
YouTube Link: https://youtu.be/HzdkGP3cqHA
@1:27:00
اپنے سوالات اور دعا کی درخواست ای میل کیجئے
Ask Your Questions or Need Prayers
Email: [email protected]