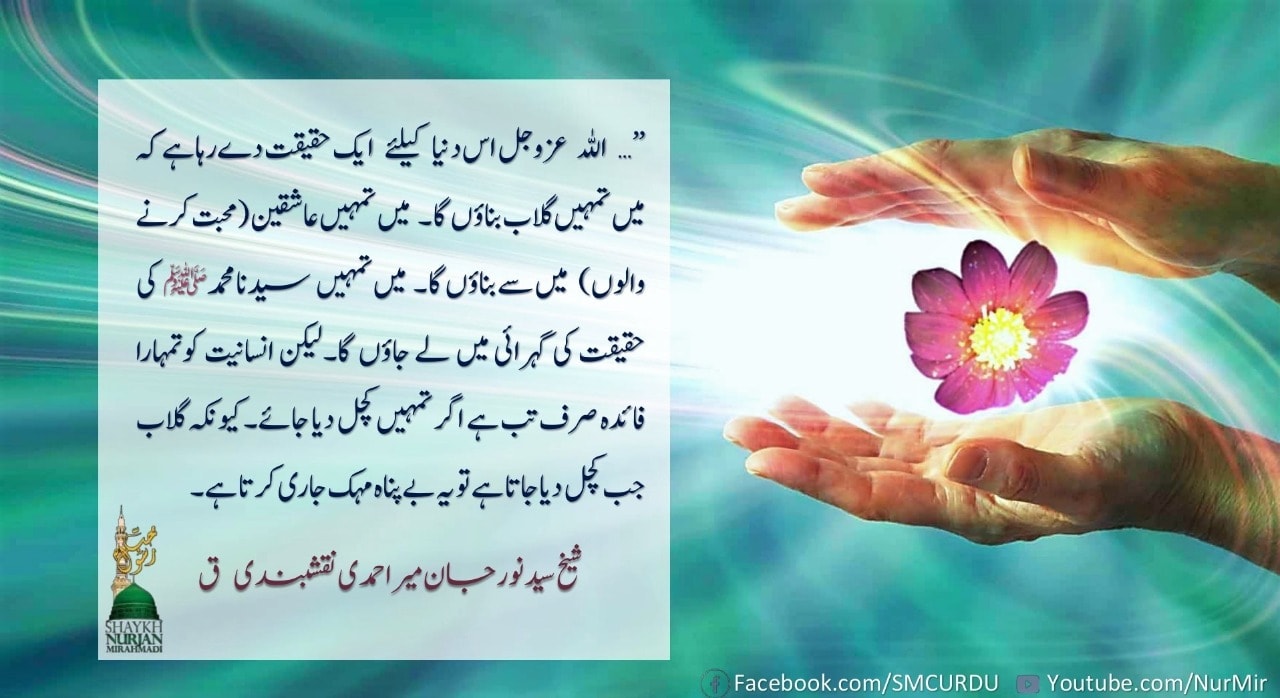 Urdu – گُلاب کا عطر صرف تب حاصل ہوتا ہے، جب اسے کُچلا جاتا ہے "پھر اللہ (عزوجل) …
🌹گُلاب کا عطر صرف تب حاصل ہوتا ہے، جب اسے کُچلا جاتا ہے🌹
"پھر اللہ (عزوجل) نے فرمایا کہ حسنِ گلاب، آپ کی زندگی کانٹوں کی ایک بیل ہے۔ اور آپ خود کو ایک خوبصورت گلاب بنا رہے ہیں ، لیکن تمہیں ، کوئی بھی تمہارے گلاب کی حقیقتاً تعریف نہیں کرسکتا جب تک کہ میں تمہیں نچوڑ نہ دوں۔ایسے گلاب کا کیا فائدہ جسے آپ سونگھ نہیں سکتے؟ کیا یہ رنگ ہے؟ یا نہیں ، ہم اہل عطر(خوشبو)ہیں۔ ہم وہ لوگ ہیں جو گلاب اور گلاب کی مہک سے محبت کرتے ہیں۔ جی، آپ کو خوشبو اور مہک صرف اسلئے ملی ہے کیونکہ گلاب کو کچلا گیا۔ لہذا اللہ (عزوجل) اس دنیا (مادی دنیا) کیلئےحقیقت دےرہا ہے۔ کہ میں تمہیں گلاب بناؤں گا۔ میں تمہیں عاشقین (محبت کرنے والوں) سے بنانا چاہتا ہوں۔ میں تمہیں سیدنا محمدﷺ کی حقیقت کی گہرائی میں لے جانے والا ہوں۔ لیکن انسانیت کو تمہارا واحد فائدہ تب ہے اگر تمہیں کچل دیا جائے۔کیونکہ گلاب ، جب یہ کچل جاتا ہے ، تو یہ بےپناہ مہک جاری کرتا ہے۔"
شیخ سید نورجان میر احمدی نقشبندی ق
The Essence of the Rose Only Comes Out When It's Crushed🌹
Then Allah (AJ) said that the beauty of the rose, your life is a stem with thorns. And you're making yourself now a beautiful rose, but you, nobody really can appreciate your rose until I squeeze you. What's a benefit of a rose that you can't smell? Is it the color? Or no, we are the people of atter (perfume). We're the people who love the scent of rose and gulab. Well, you only got the scent and the fragrance because the rose got crushed. So Allah (AJ) is giving a reality for this dunya (material world). That I'm going to make you into a rose. I'm going to make you be from ashiqeen (lovers). I'm going to make you deep into the reality of Sayyidina Muhammad ﷺ. But your only benefit for humanity is if you be crushed. Because the rose, when it gets crushed, it releases a immense fragrance.
Shaykh Sayyid Nurjan Mirahmadi Naqshbandi Q 🌹
#Gulab #Rose #RumiRoseGarden #SMC #Madina #Lefke #Vancouver #ImamAliع #SayyidinaMuhammad #SallallahuAlayhiwasallam #Allah #Huuu #Mawlana