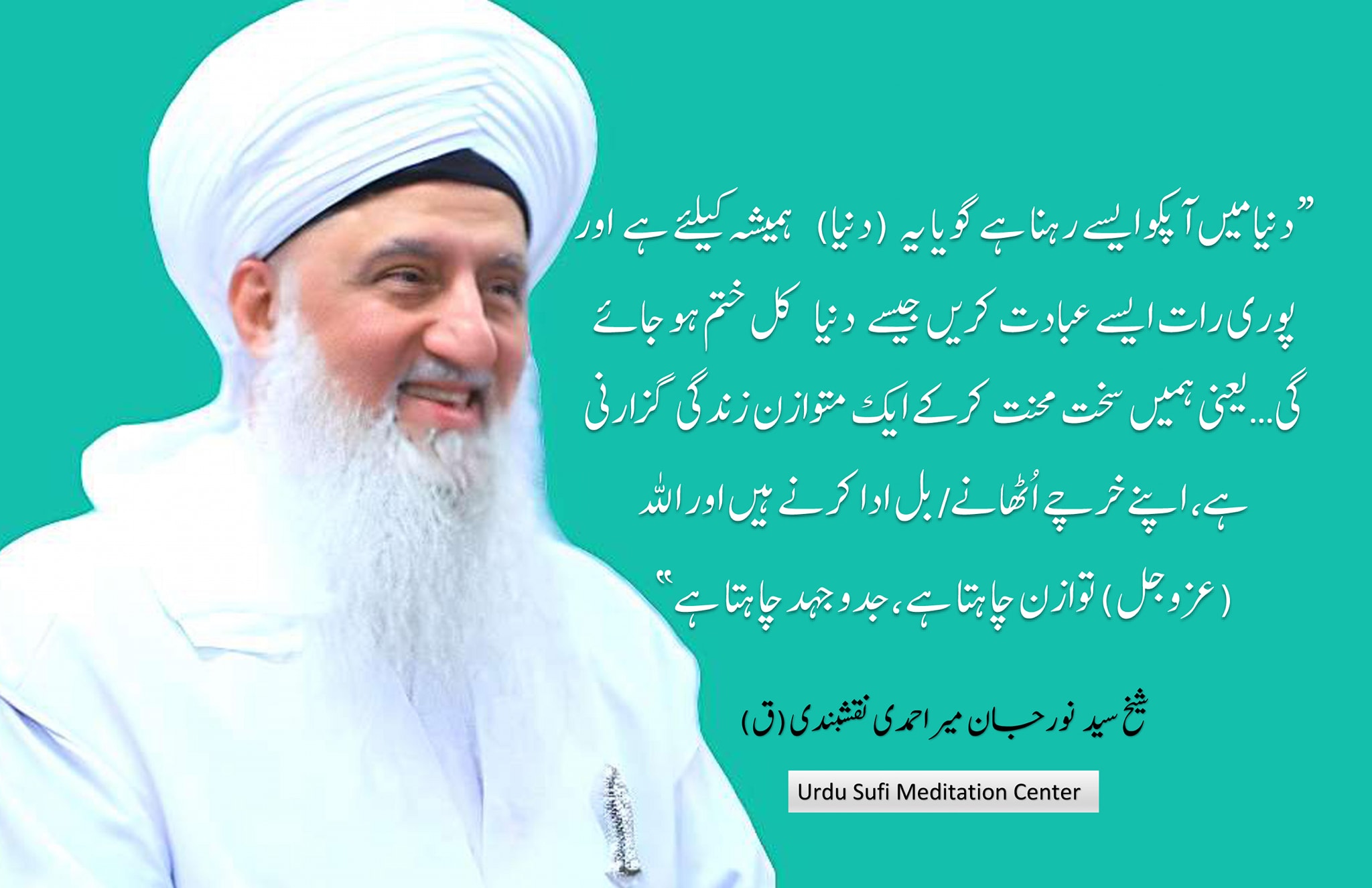 Urdu – گناہ شیاطین کو آپ میں داخل ہونے اور قابض ہونے کی اجازت دیتے ہیں|ذکر کے حلقے آپ ک…
گناہ شیاطین کو آپ میں داخل ہونے اور قابض ہونے کی اجازت دیتے ہیں|ذکر کے حلقے آپ کی نیگیٹیوٹی کو صاف کرتے ہیں| مردِ مومن کی نگاہیں(مثلِ) آتش ہیں جو شیاطین کو جلا دیتی ہیں| مراقبہ سوال و جواب ⚡️
پارٹ 1/2
Gunah shayateen ko aap mein daakhil honay aur qaabiz honay ki ijazat dete hain | zikar ke halqay aap ki negativity ko saaf karte hain | mard e momin ki nigehain ( misl-e ) aatish hain jo shayateen ko jala deti hain | muraqba sawal o jawab ⚡️
PART 1/2
Sins Allows Devils To Enter And Overtake You | Circles of Zikr Clean Your Negativity | The Eyes of The Believer Are Fire That Burn Devils | Meditation Q&A ⚡️
PART 1/2
شیخ سید نورجان میراحمدی نقشبندی(ق) کی سنہری تعلیمات سے
Shaykh Sayyed Nurjan Mirahmadi Naqshbandi ( qs ) ki sunehri talemaat se
From the Golden Teachings of Shaykh Nurjan Mirahmadi (ق)
جب آپ ان شاء اللہ سوالات پوچھنا چاہتے ہیں تو ہمیشہ یاد دہانی کہ helpme@nurmuhammad.com
جو مضامین پہلے ہی پڑھائے جاچکے ہیں ان سے مزید معلومات کے لیے ہم سوالات اور ای میلز کی لائنیں کھول دیتے ہیں۔ سوالات کا ادب یہ ہے کہ نہ چیلنج کریں، نہ بحث کریں- بحث ہے ہی نہیں ! ،لیکن ہماری زندگی کی پریشانیوں یا پہلے سے سکھائے جانے والے مضامین کے بارے میں مزید سمجھ بوجھ کے لیے سوالات پوچھیں۔عوامی اجتماع میں پھر سے (یاد دہانی)کہ تعلیمات سے متعلق سوالات کریں اور دوسرے لوگوں کو یہ متاثر کرنے کے لئے نہیں کہ آپ کے پاس بہت پیچیدہ سوالات ہیں جنہیں کوئی سمجھ بھی نہیں سکتا۔ ہر چیز کو براہ کرم عاجزی میں رکھیں تاکہ عام سامعین ہر چیز کو سمجھ سکیں۔ ان شاء اللہ۔
jab aap in shaa Allah sawalaat poochna chahtay hain to hamesha yaad dehani ke helpme@nurmuhammad.com
jo mazameen pehlay hi prhhaye ja chukay hain un se mazeed maloomat ke liye hum sawalaat aur e-mails ki linein khol dete hain. sawalaat ka adab yeh hai ke na challenge karen, na behas krein – behas hai hi nahi !, lekin hamari zindagi ki pareshaniyon ya pehlay se sikhayiye janay walay mazameen ke baaray mein mazeed samajh boojh ke liye sawalaat poucheen.awaami ijtima mein phir se ( yaad dehani ) ke talemaat se mutaliq sawalaat karen aur dosray logon ko yeh mutasir karne ke liye nahi ke aap ke pass bohat paicheeda sawalaat hain jinhein koi samajh bhi nahi sakta. har cheez ko barah karam aajzi mein rakhen taakay aam samaeen har cheez ko samajh saken. In shaa Allah
When you want to ask questions inshAllah, reminder always that helpme@nurmuhammad.com. We open up the lines for questions and emails to learn more from the subjects that have already been taught. That adab (manners) of questions is not to challenge, to debate- there is no debate. But to ask questions on subjects that have been taught, for further understandings or issues within our lives.In the open forum again the questions related to the teachings and not to impress the other people that you have very complicated questions that nobody can even understand. Keep everything please down to earth so that the general audience understands everything. InshAllah
س: اس سال قربان کتنا ہے اور کیا فاطمہ زہرا (صوفی میڈیٹیچن سنٹر کی آرگنائزیشن)کو دینا بہترین ہے؟
شیخ سید نورجان (ق): یہ ان شاء اللہ ویب سائٹ پر ہے۔ تو ان کے پاس قربانی کے لیے تمام لسٹنگ ہے اور آپ جہاں قربان دینا چاہیں،وہیں دیں۔ ان شاءاللہ ، جہاں بھی آپ کا دل چاہتا ہے ان شاء اللہ۔ لیکن یہ قربانی کا موسم ہے اور یہی قربان کی حقیقت ہے۔ان شاء اللہ
Sawal : is saal qurbaan kitna hai aur kya Fatima Zahra ( sufi Meditation center ki organization ) ko dena behtareen hai ?
Shaykh Sayyed Nurjan ( qs ) : yeh in shaa Allah website par hai. tou un ke paas qurbani ke liye tamam listing hai aur aap jahan qurbaan dena chahain, wahein den.in shaa Allah , jahan bhi aap ka dil chahta hai in shaa Allah. lekin yeh qurbani ka mausam hai aur yahi qurbaan ki haqeeqat hai.in shaa Allah
Q: How much is the Qurban this year and is it best to give to Fatima Zahra?
Shaykh Sayyed Nurjan (Q): It's on the website inshAllah. So they have all the listings for the qurban (sacrifice), and give to the qurban wherever you want to give it. InshAllah, wherever your heart wants to give it inshAllah. But this is the season for the qurban and that's the reality of the qurban inshAllah.
س: ہم اپنے مرشد پاک سے محبت کیسے بڑھا سکتے ہیں؟
شیخ سید نورجان (ق): ان شاء اللہ اپنے صلوات(درودشریف) کو مدنظر رکھیں ، ان تمام وظائف کو ان شاء اللہ(عمل میں) رکھیں، یہ تمام تعلیمات جو وہ دے رہے ہیں یہ سیدنا محمد ﷺ کی وہ محبت بڑھانے کیلئے ہے۔ اور احترام کہ ان کے لئے جو اِس محبت کی تعلیم دیتے ہیں۔ لہذا ان کے علم ، ان کے فیض ، ان کے ذکر ، یہ سب اس رشتے کو مضبوط کرتے ہیں۔ اور جب یہ تعلق دل میں داخل ہونا شروع ہوجاتا ہے ، تب مرید اس دلکشی کو محسوس کرنے لگتا ہے اور اس فیض کو محسوس کرتا ہے۔ ہم نے متعدد بار پہلے کہا کہ ادھر ادھر چھلانگیں نہ لگائیں۔ یہ وفاداری پر مبنی ایک راستہ ہے۔ اگر آپ سو مختلف لوگوں کے ارد گرد کلک کر رہے ہیں ، سو مختلف بیانات سن رہے ہیں تو کوئی آپ کو نہیں جانتا۔ اور آپ کے خیال میں آپ پچاس شیوخ کو جانتے ہیں لیکن آپ کو ایک ہی شیخ کے ساتھ رشتہ قائم کرنا ہوگا۔ اس شیخ کو تلاش کریں جس سے آپ کا دل مانوس ہو اور اس رشتے کو فروغ دیں۔ ان شاء اللہ
Sawal :Hum apne murshid pak se mohabbat kaisay barha satke hain ?
Shaykh sayyed Nurjan ( qs ) : In shaa Allah –apne salawat ( darood sharef) ko mad e nazar rakhen, un tamam wazaif ko un in sha Allah ( amal mein ) rakhen, yeh tamam talemaat jo woh de rahay hain yeh sayyedna Muhammad Sallallahu Alayhi wasallam ki woh mohabbat barhaane ke liye hai. aur ehtram ke un ke liye jo iss mohabbat ki taleem dete hain. lehaza un ke ilm, un ke Faiz , un ke zikar, yeh sab is rishte ko mazboot karte hain. aur jab yeh talluq dil mein daakhil hona shuru hojata hai, tab mureed is dilkashii ko mehsoos karne lagta hai aur is Faiz ko mehsoos karta hai. hum nay mutadid baar pehlay kaha ke idhar udhar chlangain na lagayen. yeh wafadaari par mabni aik rasta hai. agar aap 100 mukhtalif logon ke ird gird click kar rahay hain, 100 mukhtalif bayanaat sun rahay hain to koi aap ko nahi jaanta. aur aap ke khayaal mein aap 50 shayookh ko jantay hain lekin aap ko aik hi Shaykh ke sath rishta qaim karna hoga. is Shaykh ko talaash karen jis se aap ka dil manoos ho aur is rishtay ko farogh den.in shaa Allah
Q:How can we increase love for our murshid (Authorized spiritual guide)?
Shaykh Sayyed Nurjan (Q): InshAllah keep your salawats (praisings), keep the practices inshAllah all of these energy practices, all of these teachings they're giving is to increase that love for Sayyidina Muhammad ﷺ. And the ihtiram (respect) that they have for those whom teaching that love. So their knowledges, their faiz (outpouring blessings), their zikrs (remembrance, chanting), all of that builds that relationship. And when the relationship begins to enter into the heart, then the student begins to feel that attraction and feel that faiz (downpouring blessings). Try not to bounce around, we said before many times. This is a path based on loyalty. If you're clicking around to a hundred different people, listening to a hundred different talks then nobody knows you. And you think you know fifty shaykhs but you have to develop a relationship with one shaykh. Find the shaykh that your heart resonates with and develop that relationship inshAllah.
س: (سیدی)ہمیں ان مشکل اوقات میں خود کو تیار رکھنے کیلئے کیا کرنا چاہئے؟ کیا ہمیں اپنی صلاحیتوں میں ،جو ہمارے پاس ہیں اضافہ کرنا چاہئے؟ یا ہر چیز کو روک کر اور صرف ذکر اور روزانہ کے اوراد و وظائف پر عمل کرنا چاہئے؟
شیخ سید نورجان (ق): نہیں ، آپ کو ان شاء اللہ دنیا میں آپکو ایسے رہنا ہے گویا یہ (دنیا)ہمیشہ کیلئے ہے اور پوری رات ایسے عبادت کریں جیسے کل دنیا ختم ہو جائے گی۔ تو ، یعنی ہمیں سخت محنت کر کے ایک متوازن زندگی گزارنی ہے، اپنے خرچے اُٹھانے/ بل ادا کرنے ہیں ، اور اللہ (عزوجل) توازن چاہتا ہے ، جدوجہد چاہتا ہے۔ ایسا نہیں ہے کہ آسان طریقہ تلاش کرنے کی کوشش کرنی ہے۔ یہ وہ مشکل راستہ ہے جہاں لوگ کام کرتے ہیں ، دن بھر جدوجہد کرتے ہیں اور رات کو وہ توازن تلاش کرنے کی کوشش کرتے ہیں ، غوروفکر کرنے کا ایک وقت ، اپنے بچوں کے ساتھ رہنے کا ایک وقت ، اپنے خاندان کے ساتھ رہنے کی کوشش کرتے ہیں۔ اور اس توازن کو برقرار رکھیں ،وقت نکالیں، روزانہ کے اوراد و وظائف کیلئے ایک وقت۔ سب کچھ نظم و ضبط ہے۔ جب لوگ یہ کہتے ہیں کہ ان کے پاس ذکر اور اپنے اوراد کرنے کا وقت نہیں ہے۔ نہیں !! اُنکی ٹائم مینجمنٹ اچھی نہیں ہے۔ ہر ایک کے پاس وہ وقت ہوتا ہے جس میں وہ بس پر سوار ہوتے ہیں کہ وہ اس موقع پر اپنا ذکر تقسیم کرسکتے ہیں اور پھر (بقیہ) ذکر (کی پڑھائی)، گھر کی طرف ڈرائیونگ کرتے یا گھر جانے والی بس میں تقسیم کرسکتے ہیں۔ تو ، یہ اپنے وقت کو مینج کرنے کے بارے میں ہے۔ اگر یہ ایسی کوئی چیز ہے جس کی آپ واقعی قدر کرتے ہیں اور واقعتاً آپ اس سے محبت کرتے ہیں۔ اور پھر آپ خود کو منظم کرتے ہیں۔'جب سب سو جائیں گے، میں تھوڑا سا وقت مراقبہ میں گزاروں گا ، اور اس طرح میں وہ حاصل کرسکتا ہوں جو مجھے حاصل کرنا ہے۔' ان شاء اللہ۔
Sawal : ( Sayyedi ) hamein inn mushkil auqaat mein khud ko tayyar rakhnay ke liye kya karna chahiye? kya hamein apni salahiyaton mein, jo hamaray paas hain izafah karna chahiye? ya har cheez ko rokkk kar aur sirf zikar aur rozana ke Adrad o wazaif par amal karna chahiye ?
Shaykh Sayyed Nurjan ( qs ) : nahi, aap ko in shaa Allah duniya mein aapko aisay rehna hai goya yeh ( duniya ) hamesha ke liye hai aur poori raat aisay ibadat karen jaisay kal duniya khatam ho jaye gi. tou, yani hamein sakht mehnat kar ke aik mutawazan zindagi guzaarni hai, –apne kharchay uthane / bil ada karne hain, aur Allah ( azzwajal ) tawazun chahta ha,jadujehd chahta ha. Aisa nhi ha ke asaan tariqa talash krne ki koshish krni ha. Ye who mushkil raasta ha jahan log kaam krte hain, din bhar jadujehd krte hain aur raat ko wo tawazan talash krne ki koshish krte hain, gor o fiker krne ka aik waqt, apne bachon ke sath rehne ka aik waqt, apne khandaan ke sath rehne ki koshish krte hain. Aur iss tawazan ko barqarar rakhein, waqt nikaalein, rozana ke awrad o wazaif ke liye aik waqt. Sab kuch nazm o zabt ha.jab log kehte hain ke onke pass ziker aur apne awrad krne ka waqt nhi ha. NAHI! onki time management achi nahi ha. Har aik ke pass wo waqt hota ha jis mein wo bus par sawar hote hain ke wo ous moqay par apna ziker taqseem kr skte hain aur phir (baqiya) ziker (ki parhai) ,ghar ki traf driving krte ya ghar Jane wali bus mein taqseem kr skte hain. Tu, ye apnay waqt ko manage karne ke bare mein ha. Agr ye aisi koi cheez ha jiski ap waqai qadr krte hain aur waqayatan app iss se muhabbat krte hain, aur phir ap khudko munazzam krte hai. Jab sab sou jaeinge, mein thora sa waqt muraqba mein guzaaron ga, aur iss trah mein wo haasil kr skta hun jo mjhe haasil karna ha, in sha Allah.
Q:What should we do to get ourselves prepared in these difficult times. Should we increase our skills which we have or stop everything and practice only zikr and daily practices?
Shaykh Sayyed Nurjan (Q) : No, you have to live in the world inshAllah as if it's going forever, and pray all night as if the world is ending tomorrow. So means that we have to keep a balanced life of working hard, paying our bills, and Allah (AJ) wants the balance, wants the struggle. It's not about trying to find the easy way. It's the hard way in which people work, struggle throughout the day and at night they come to try to find a balance, a time to meditate, a time to be with their children, trying to be with their family. And keep that balance, make a time, time management to do your awrad (daily practices). Everything is a discipline. When people say they don't have time to do their zikr (remembrance, chanting) and their awrad, no they just don't have good time management. Everybody has a time in which they're driving on a bus that they can split their zikr at one point and then split the zikr driving home or on the bus going home. So, it's about managing your time. If it's something that your truly care and truly you love. And then you discipline yourself when everyone goes to sleep, 'I'm going to spend a little bit of time meditating, and that way I can achieve what I have to achieve.' InshAllah.
1/2
یہ مضمون انگلش میں پڑھنے کیلئے:
Read English Transcript:
https://www.facebook.com/1621830444573407/posts/3283519601737808/
یوٹیوب چینل سبسکرایب کیجئے۔
Subscribe Now: The Muhammadan Way Sufi Realities
https://www.youtube.com/channel/UC4E8QX7OgwYDgyuuXTBMrcg
شیخ سید نور جان میر احمدی نقشبندی (ق)کا آفشیل فیس بک پیج لائک کیجئے:
Official Page: Shaykh Nurjan Mirahmadi
Please Like and Share
https://facebook.com/shaykhnurjanmirahmadi/
مضامین کے اُردو تراجم پڑھنے کیلیئے:
Read Other Articles Translated in Urdu