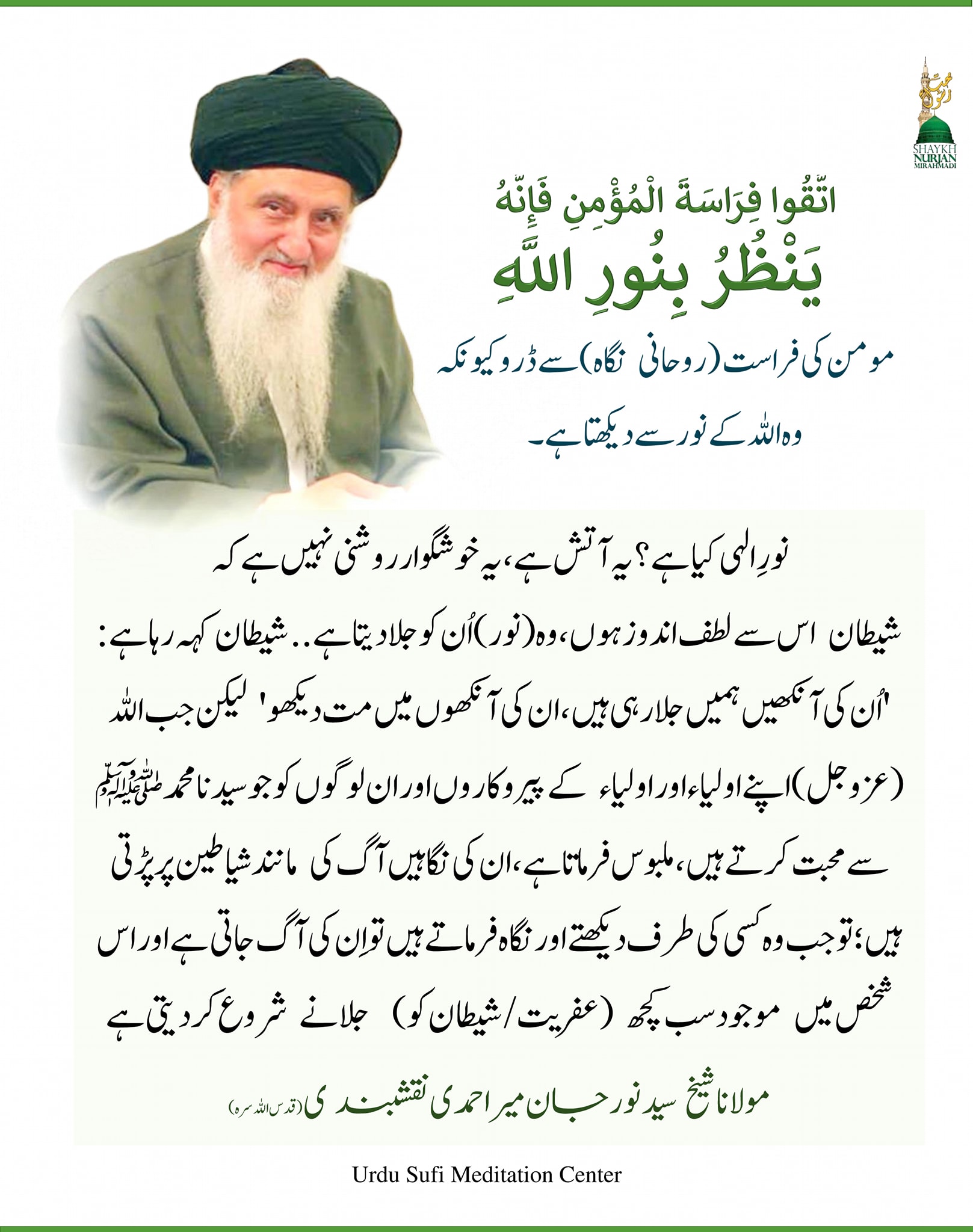 Urdu – گناہوں کے سبب شیاطین آپ میں داخل ہو جاتے ہیں۔ سوالات و جوابات [حصہ سوم] 𝐆𝐮𝐧𝐚𝐡𝐨 …
گناہوں کے سبب شیاطین آپ میں داخل ہو جاتے ہیں۔ سوالات و جوابات [حصہ سوم]
𝐆𝐮𝐧𝐚𝐡𝐨 𝐊 𝐒𝐚𝐛𝐚𝐛 𝐒𝐡𝐚𝐲𝐚𝐭𝐞𝐞𝐧 𝐀𝐚𝐩 𝐌𝐚𝐲 𝐃𝐚𝐤𝐡𝐢𝐥 𝐉𝐨 𝐉𝐚𝐭𝐚𝐲 𝐇𝐚𝐢𝐧, 𝐒𝐚𝐰𝐚𝐥𝐚𝐚𝐭-𝐨-𝐉𝐚𝐯𝐚𝐛𝐚𝐚𝐭 [𝐏𝐀𝐑𝐓 -3]
𝐒𝐢𝐧𝐬 𝐂𝐚𝐮𝐬𝐞 𝐃𝐞𝐦𝐨𝐧𝐬 𝐭𝐨 𝐄𝐧𝐭𝐞𝐫 𝐈𝐧𝐭𝐨 𝐘𝐨𝐮 𝐐&𝐀. [𝐏𝐀𝐑𝐓 -3]
——————————————–
——————————————–
شیخ سید نورجان میراحمدی نقشبندی (ق) کی سنہری تعلیمات سے اقتباس۔
بِسْمِ اللَّـهِ الرَّحْمَـٰنِ الرَّحِيمِ
اَلَّھُمَّ صَلِّ عَلَی سَیَّدِنَا محَمَّدٍ ﷺ وَعَلَی آلِ سَیَّدِنَا محَمَّدٍ ﷺ
س:(سیدی) نماز میں یکسوئی حاصل کرنے اور غیر ضروری خیالات پر توجہ نہ دینے کیلئے اپنے خیالات سے کیسے لڑا جا سکتا ہے؟
سید شیخ نورجان میراحمدی نقشبندی(ق): جی یہ سب اینرجی سے متعلق باتیں ہیں۔ ہم نے گزشتہ رات ( اس پر ) بات کی تھی اور خیال ہے کہ لوگوں کیلئے اینرجی کی گہرائی کو سمجھنا تھوڑا سا آسان ہے۔ خاص طور پر وہ مسلمان جو یہ سوچتے ہیں ، '' اوہ ، ہم نماز پڑھتے ہیں ، شیخ آپ صرف نماز کی بات کیوں نہیں کرتے۔ آپ صرف اس پر بات کیوں نہیں کرتے ، یا اسلامی اصطلاحات کے بارے میں بات کیوں نہیں کرتے' ۔
لیکن حقیقت میں یہ ہے کہ ، اگر ہم اینرجی کو نہیں سمجھتے ، اور اسی وجہ سے پھر یہ اولیاء اور وہ جو اولیاء اللہ سے تعلیم یافتہ ہیں،(سکھاتے ہیں کہ) سب کچھ ایک قدرۃ (طاقت) پر مبنی ہے۔ کیونکہ یہ ہمارے ہر مسئلے اور ہر پریشانی کا مشترکہ حرف ہے۔ اگر کوئی رابطہ کرے اور کہے کہ وہ نماز نہیں پڑھ سکتے تو ان کے پاس اب نماز پڑھنے کی ہمت نہیں ہے ، وہ اُن کا نماز پڑھنے کا دل نہیں کرتا ۔ اور یہ( حالت) اس حد تک بری ہوسکتی ہے کہ اگر وہ سجدہ کرنے کی کوشش کریں تو سجدے کرنے سے انہیں کسی چیز سے جلن ہو گی۔
اس کا مطلب یہ ہے کہ کیا آپ ان کو نماز کی تفصیل بیان کرسکتے ہیں اور اس شخص کو مجبور کرسکتے ہیں کہ جاؤ وضو کرو اور اب نماز پڑھو؟ وہ کہیں گے ۔'وہ (نماز ادا ) نہیں کر سکتے'۔ اگر آپ کو لگتا ہے کہ آپ کی نماز آپ کو بچائے گی ، اور آپ کے برے اعمال(سیآت)کو مٹائے گی، اور آپ کے گناہوں کو دور کردے گی،تو آپ سمجھ نہیں رہے کہ کیا ہو رہا ہے۔ تو اس کا مطلب یہ ہے کہ ، جب آپ اپنے عمل کے ذریعے گناہ کرتے ہیں تو جو اللہ عزوجل نے ( آپ کو) تحفظ دیا ہے آپ وہ کھو بیٹھے ، اس کے نتیجے میں دس عفریت (طاقتور شیطان) آپ پر کود پڑے۔ وہ ہمارے آس پاس ہیں ، اربوں اور کھربوں عفریت ہمارے چاروں طرف ہیں۔ جیسے ہی آپ گناہ کرتے ہیں آپ کی حفاظت کی ڈھال نیچے آ جاتی ہے۔ مثال کے طور پر ، ان میں سے دس آپ کے وجود میں داخل ہوتے ہیں۔ یہ دس جب وہ آپ کے وجود میں داخل ہوتے ہیں تو وہ آپ کی بھوک کو تبدیل کرنا ، آپ کی خواہشات کو تبدیل کرنا ، آپ کی خصوصیات تبدیل کرنا شروع کردیتے ہیں۔ کیونکہ وہ آپ نہیں ہیں ،اور وہ شیاطین سے ہیں۔ وہ مختلف (حرام)چیزیں دیکھنا چاہتے ہیں ،وہ مختلف(حرام) چیزوں کو دیکھنا چاہتے ہیں ، وہ مختلف(ممنوع) باتیں کرنا چاہتے ہیں ، وہ مختلف(حرام) چیزیں سننا چاہتے ہیں کیونکہ وہ آپ پر قابض ہیں۔ اور جو آخری کام وہ چاہیں گے ، آپ کا وضو! ، آپ کی نماز! ، آپ کا ذکر! اور آپ کا کوئی بھی نیک عمل! ۔ لہذا وہ آپ کے اندر بیٹھتے ہیں اور آپ کے کنٹرول پینلز پر دباؤ ڈالتے رہتے ہیں ، 'ابھی نماز نہ پڑھو ، کان بند کرلو' ، وہ کانوں کو ڈھانپتے ہیں ، وہ ہر چیز سے توجہ ہٹا دیتے ہیں ، 'اپنے فون کو دیکھو!'۔آپ نے ایک نماز قضا کی ، اب دس مزید(شیاطین آپ میں)آ سکتے ہیں۔ کیونکہ اب آپ سَیِّاٰتِ اَعْمَالِنَا (اعمال کے گناہ کر رہے) ہیں ۔'وووووہ' ( مولاناشیخ نے دروازہ کھلنے کی آواز بنائی) ، دروازہ کھل رہا ہے۔ اب کھولنا بھی نہیں پڑتا، کچھ لوگوں کے پاس (شیطان کے اندر داخل ہونے کیلئے ) گھومنے والا دروازہ ہے ، جو کبھی بند ہی نہیں ہوتا ، پھر کیا ہوتا ہے؟ وہ اس طاقت سے اندر آرہے ہیں کہ وہ اس انسان پر قابض ہوجائیں گے اور اگر وہ قابض ہوگئے تو وہ(انسان) نماز نہیں پڑھے گا۔ اور اگر آپ ان بے گھر لوگوں کو دیکھتے ہیں اگر آپ انہیں دھونے کی کوشش کرتے ہیں تو ، وہ جل کر چیخیں گے ، کیوں؟ کیونکہ ان میں (موجود) عفریت(شیطان)پانی نہیں چاہتا۔ وہ پانی سے موت جتنا خوفزدہ ہیں کیونکہ وہ جل جائیں گے تو اس کا مطلب ہے ، یہ بہت حقیقی ہے۔اینرجی انسان میں آتی ہے اور ان کو جکڑ لیتی ہے۔ اگر آپ سمجھتے ہیں کہ یہ اینرجی ، اور اس اینرجی نے کسی پر قابو پالیا ہے تو پھر آپ ان کی رہنمائی کیوں کریں گے ، کہ '' جاؤ اپنی نماز پڑھو '' اور اب اس شخص کو مجبور کرو کہ وہ نماز پڑھے، یہ کام نہیں آئے گی ان میں ایسا کرنے (نماز پڑھنے ) کی صلاحیت کی اینرجی نہیں ہے۔ جو کچھ اب ان کے اندر ہے وہ ان پر قابو پا چکا ہے۔ تو پھر کیا مدد کرتا ہے؟ پھر اللہ عزوجل کیوں فرماتا ہے ،"اتَّقُوا اللّهَ وَكُونُوا مَعَ الصَّادِقِينَ"
يَا أَيُّهَا الَّذِينَ آمَنُوا اِتَّقُوا اللَّهَ وَكُونُوا مَعَ الصَّادِقِينَ ﴿١١٩﴾
اے ایمان والو! ﷲ سے ڈرو( شعور رکھو ) اور اُن کے ساتھ رہو جو اہلِ صدق / نیک / مخلص ہیں ۔
سورۃ التوبہ (۹) آیت ۱۱۹
جب اللہ(عزوجل) اینرجی کی حقیقت جانتا ہے ، فرماتا ہے کہ تقویٰ اختیار کرو (شعور رکھو) اور اِن اہلِ صدق کی صحبت رکھو۔ ان کی صحبت کیوں رکھی جائے؟ کیونکہ اللہ (عزوجل) جانتا ہے کہ یہ لوگ اہلِ ذکر ہیں۔ ان لوگوں کو اللہ (عزوجل) نے اینرجیز سے ملبوس فرمایا ہے۔ یہ لوگ ، اِن کی اینرجیز اتنی طاقتور ہیں کہ اللہ (عزوجل) آپ سے چاہتا ہے ، 'جاؤ اور ان کے ساتھ رہو۔' چونکہ آئینہ اِن کی موجودگی کی طرف بڑھتا ہے ، لہذا ان کی اینرجی اس شخص کے اندر ہر چیز کو جلانا شروع کردے گی۔ کیونکہ یہ اِن کے نظروں(نگاہوں) سے نہیں بچ سکتا۔ اِن کی اینرجی جسمانی اینرجی نہیں ہے ، اِن کی اینرجی روح سے ہے۔ جب اِن کی روح کی اینرجی آپ کا رخ کرتی ہے تو یہ کسی لیزر کی طرح ہے ، یہ آپ کے وجود کی ہر چیز کے اندر چلی جاتی ہے ، اور آپ کے اندر کی ہر شے کی مرمت کرتی ہے۔ ان کا نور آپ کے ظاہر تک نہیں رہے گا۔ ان کا نور کہ اللہ (عزوجل) ، جب اللہ (عزوجل) فرماتا ہے ، 'مومن کی فراست سے ڈرو ، کیونکہ وہ اللہ کے نور سے دیکھتے ہیں۔'
اِتَّقُو فِرَاسَةَ الْمُؤمِنْ فَإنَّهُ يَنْظُرُ بِنُوْرِ اللّٰهْ
"مومن کی فراست سے ڈرو ، کیونکہ وہ اللہ کے نور سے دیکھتا ہے ،"
سرکارِ دوعالم سیدنا محمدﷺ (ترمذی)
نورِ الہی کیا ہے؟ یہ آتش ہے، یہ خوشگوار روشنی نہیں ہے، جہاں شیطان اِس سے لطف اندوز ہوں، وہ(نور) اُن کو جلا دیتا ہے۔اور یہی وجہ ہے کہ شیطان لوگوں کی آنکھیں باہر نکالنے کی کوشش کرتے ہیں۔ وہ لوگوں کی نگاہ میں نہیں دیکھنا چاہتے۔یہی وجہ ہے کہ آپ برے گردونواح میں جاتے ہیں،(تو) آپ کیا دیکھ رہے ہیں؟،کون آپ کو یہ کہہ رہا ہے؟ یہ وہاں(موجود) شیطان ہے۔ شیطان کہہ رہا ہے کہ ، 'ان کی آنکھیں ہمیں جلا رہی ہیں'، 'ان کی آنکھوں میں مت دیکھو۔' لیکن جب اللہ (عزوجل) اپنے اولیاء اور اولیاء کی پیروی کرنے والوں اور ان لوگوں کو جو سیدنا محمدﷺ سے محبت کرتے ہیں،(نور سے) ملبوس فرماتا ہے،اِن کی نگاہیں آگ کی طرح شیاطین پر پڑ رہی ہیں۔ تو جب وہ کسی کی طرف دیکھتے اور نگاہ فرماتے ہیں تو اِن کی آگ جاتی ہے اور اس شخص میں سب کچھ(شیطان) جلانا شروع کردیتی ہے۔ تو یہی وجہ ہے کہ اُن کے شیطان اور جن وہ باہر ہی رہتے ہیں،بہت دور۔ اور اسی وجہ سے ہر شخص ذکر میں پُرسکون آتا ہے،جب چیزیں انہیں چھوڑنے کی کوشش کر رہی ہیں تو کچھ تھوڑا سا پاگل ہوجاتے ہیں۔ جب تک آپ اپنی کار میں نہ جائیں وہ پرامن رہیں گے۔ جب آپ اپنی گاڑی میں جاتے اور اس بلاک سے نیچے جاتے ہیں، جہاں وہ(شیطان) آپ کا انتظار کر رہا ہوتا ہے ، تب آپ کے تمام وسوسے آتے ہیں ، 'اوہ وہ ایسا کیوں کرتے ہیں؟،انھوں نے ہمیں کھانا دیر سے کیوں پیش کیا؟، ایسا کیوں تھا ؟ ، کیا تم جانتے ہو؟انہوں نے میری چائے مجھ سے چھین لی۔ 'چونکہ وہ(عفریت/شیطان) وہاں انتظار کر رہا تھا ، اس لئے اُس نے آپ کو پکڑ لیا، جب آپ راستے سے باہر آرہے تھے ، اس نے یہاں(سنٹر میں) انتظار نہیں کیا اور ایسا نہیں کیا۔ تو اسکا مطلب ہے اب اینرجی بہت حقیقی ہے. لہذا جب اُن کی نگاہیں اور ان کی صحبت ، ہم نے اس سے پہلے کہا تھا کہ ذرا تصور کریں کہ وہ شیخ بھی ایسے ہی ہیں ، یا اُن کے طلباء اُن کی نظر سے ملبوس ہیں۔ اور مرکز اور مقامِ ذکر کی مدد ، ان کی ساری امداد نازل ہو رہی ہے۔ جب ان کی مدد نازل ہوتی ہے تو وہ نور کی تلوار کی مانند ہوتے ہیں ،پاک صاف ہوئے بغیر، اس کمرے سے کچھ بھی نہیں بچ سکتا۔ اور ہم نے اس سے پہلے بیان کیا ہے کہ جب آپ براہ راست(ذکر کی نشریات) دیکھتے ہیں تو ، آواز کو آن کریں کیونکہ اِن کا نور اور اِن کی مدد گھروں میں آجائے گی۔ذکر گھر میں داخل ہوگا۔بُدَلا، نُجَابَه، نُقَابَه ، اَوتَادْ وَالاَخْیَارْ ، جِنّ و ملائکہ(فرشتوں) سے ، روحانی مخلوق کی سات اقسام گھر میں داخل ہوں گی۔ کیا کرنے کو؟ اب اس گھر میں صفائی ستھرائی کرنے کو اور وہ تمام ذکر جو وہ کر رہے ہیں،آنے والی کسی بھی چیز پر دوبارہ حملہ کرنے کیلئے۔جس بھی قسم کی اینرجیز آرہی ہیں ، وہ صفائی کر رہی ہیں۔ اور جو وہ کر رہے ہیں وہ کیوں کر رہے ہیں ،کا یہی مقصد ہے۔ تو اس کا مطلب ہے نہیں !، اللہ (عزوجل) کے پاس بے شمار علاج ہیں ، اور اسی وجہ سے نبی اکرم ﷺ نے بیان فرمایا کہ ، 'جب آپ جنت کا باغ دیکھیں، تو اسے مت چھوڑیں'.
حَديثُ اِبْنِ عُمَرِقَالَ: قَالَ رَسُولُ اللهِ صَلَّى اللهُ عَلَيْهِ وَسَلَّمَ:
إِذَا مَرَّرَتْهُمْ بِرِيَاضِ الْجَنَّةِ فَاِرْتَعُوْا .
قَالُوا: وَمَارِيَاضِ الْجَنَّةِ يَارَسُولِ اللهِ ؟
قَالَ:حَلْقُ الذِّكْرِ, فَإِنَّ لِلَّهِ تَعَالَى سَيَّارَاتٌ مِنَ الْمَلَاَئِكَةِ يُطَلِّبُوْنَ حَلْقَ الذِّكْرِ، فَإِذَا أَتَوْا عَلَيْهُمْ حَفُّوْابِهُمْ
رَوَاهُ التِّرْمِذِيُّ
سیدنا عبداللہ ابن عمر رضی اللہ عنہ سے روایت ہے کہ رسول اللہ (صلی اللہ علیہ وسلم )نے فرمایا:
"جب تم جنت کے باغات سے گزرو تو اِن سے خوب فائدہ اٹھاؤ۔"
صحابہ اکرام رضوان اللہ علیہم اجمعین نے عرض کی:
"یا رسول اللہ (صلی اللہ علیہ وسلم) جنت کے باغات کیا ہیں؟"
آپ (ﷺ) نے ارشاد فرمایا :
"ذکر کے حلقے۔ اللہ (عزوجل ) کے محرک(سَيَّارَاتٌ) فرشتے ہیں جو ذکر کے حلقے ڈھونڈتے ہیں اور جب انھیں پا لیتے ہیں تو اِن کو قریب سے گھیر لیتے ہیں۔ [امام ترمذی سے روایت ہے]
اب سارے جنتی کہاں ہیں؟ انہوں نے کہا یہاں ایک ہزار مساجد اور تقریباً دس ہزار ، پچاس ہزار نمازی ہیں، کیا وہ جنت نہیں چاہتے؟ ذکر کے حلقوں میں دس افراد ہیں تو کچھ گڑبڑ ہے۔اُن لوگوں کا کیا ہوا جو جنت چاہتے تھے؟ اور پھر جنت میں آگ اور شیطان کے خلاف طاقت ہے۔ چنانچہ جب اللہ (عزوجل) فرما رہا ہے کہ ، 'یہ جنت کا دائرہ ہے ، اور میرے ملائکہ عرشِ رحمان تک اس کو ہر طرف سے گھیرے ہوئے ہیں۔ آپ ، کیا آپ کو نہیں لگتا کہ اِن کے پاس بارگاہ حق سے ،مثال کے طور پر ایک آگ(نور) ہے، جو ہر اس شے کو جو خراب ہے پاک صاف کر رہی ہے، جلا اور تباہ کر رہی ہے۔ جنت کے فرشتے، وہ کسی بھی باطل کو قبول نہیں کرتے ، وہ برائی کو قبول نہیں کرتے۔ وہ آتے ہیں اور وہ صاف کرتے ہیں اور دھوتے ہیں ، اور ہر چیز کو پاک کرتے ہیں۔
ہماری دعا ہے کہ اللہ (عزوجل) ہمیں ان شاء اللہ زیادہ سے زیادہ فہم و فراست عطا فرمائے۔
سُبْحَانَ رَبِّکَ رَبِّ الْعِزَّۃِ اَمَّا یَصِفُونْ وَسَلَامٌ عَلیٰ الْمُرْسَلِیْنْ وَاَلْحَمْدُ لِلّٰهِ رَبِّ الْعَالَمِیْنِ وَ بِحُرْمَةِ مُحَمَّدٍ الْمُصْطَفیٰ وَ بِسِرِّ سُوْرَۃِ اْلْفَاتِحَہ.
Sawal : ( sayyidi ) namaz mein yaksoi haasil karne aur ghair zurori khayalat par tavajja na dainay ke liye –apne khayalat se kaisay lara ja sakta hai ?
Shaykh Nurjan Mirahmadi Naqshbndi ( q ) : jee yeh sab energy se mutaliq battein hain. hum nay guzashta raat ( is par ) baat ki thi aur khayaal hai ke logon ke liye energy ki geherai ko samjhna thora sa aasaan hai. khaas tor par woh musalman jo yeh sochte hain,' ' oh, hum namaz parhte hain, Shaykh aap sirf namaz ki baat kyun nahi karte. aap sirf is par baat kyun nahi karte, ya islami eslehaath ke baray mein baat kyun nahi karte' .
lekin haqeeqat mein yeh hai ke, agar hum energy ko nahi samajte, aur isi wajah se phir yeh aulia aur woh jo aulia Allah se taleem Yafta hain, ( sikhate hain ke ) sab kuch aik qudrat ( taaqat ) par mabni hai. kyunkay yeh hamaray har maslay aur har pareshani ka mushtarqa harf hai. agar koi rabita kere aur kahe ke woh namaz nahi parh satke to un ke paas ab namaz parhnay ki himmat nahi hai, woh unn ka namaz parhnay ka dil nahi karta. aur yeh ( haalat ) is hadd taq buri hosakti hai ke agar woh sajda karne ki koshish karen to sjday karne se inhen kisi cheez se jalan ho gi .
isska matlab yeh hai ke kya aap un ko namaz ki tafseel bayan kar saktay hain aur is shakhs ko majaboor kar saktay hain ke jao wudu karo aur ab namaz parho? woh kahin ge.' woh ( namaz ada ) nahi kar satke '. agar aap ko lagta hai ke aap ki namaz aap ko bachaaye gi, aur apke buray aamaal ( sayyeaat) ko mitaye gi, aur apke gunaaho ko daur kardey gi, to aap samajh nahi rahay ke kya ho raha hai. tou is ka matlab yeh hai ke, jab aap –apne amal ke zariye gunah karte hain tou jo Allah azzwajal ne ( aapko ) tahaffuz diya hai aap woh kho baithy, is ke nateejay mein das ifrit ( taaqatwar shetan ) aap par kood paray.woh hamaray aas paas hain, arbon aur khrbon ifrit hamaray charon taraf hain. jaisay hi aap gunah karte hain aap ki hifazat ki dhaal neechay aa jati hai. misaal ke tor par, un mein se das aap ke wujood mein daakhil hotay hain. yeh das jab woh aap ke wujood mein daakhil hotay hain to woh apkee bhook ko tabdeel karna, apkee khwahisaat ko tabdeel karna, apkee khususiyaat tabdeel karna shuru kardete hain. kyunkay woh aap nahi hain, aur woh shetan se hain. woh mukhtalif ( haraam ) cheezain dekhnaa chahtay hain, woh mukhtalif ( haraam ) cheezon ko dekhnaa chahtay hain, woh mukhtalif ( mamnoo ) batiyaa karna chahtay hain,woh mukhtalif ( haraam ) cheezein sunna chahtay hain kyunkay woh aap par qaabiz hain. aur jo aakhri kaam woh chahain ge, aap ka wudu, aap ki namaz, aap ka zikar aur aap ka koi bhi naik amal. lehaza woh aap ke andar baithtay hain aur aap ke control panel par dabao daaltay rehtay hain,' abhi namaz nah parho, kaan band karlo ', woh kaanon ko dhanpte hain, woh har cheez se tavajja hata dete hain,' –apne phone ko dekho! '. aap ny aik namaz qaza ki, ab das mazeed ( shyatin aap mein ) aa satke hain. kyunkay ab aap sayyi'aati a'malina ( aamaal ke gunah ) hain. WOO(Mawlana Shaykh ne darwaaza khulnay ki aawaz banai ), darwaaza khul raha hai. ab kholna bhi nahi parta, kuch logon ke paas ( shetan andar daakhil honay ke liye ) ghoomnay walay darwaaza hai, jo kabhi band hi nahi hota, phir kya hota hai? woh is taaqat se andar arhay hain ke woh is ensaan par qaabiz ho jaien ge aur agar woh qaabiz hogaye to woh ( ensaan ) namaz nahi parhay ga. aur agar aap un be ghar logon ko dekhte hain agar aap inhen dhonay ki koshish karte hain to, woh jal kar cheekhain ge, kyun? kyunkay un mein ( mojood ) ifrit ( shetan ) pani nahi chahta.woh pani se mout jitna khaufzadah hain kyunkay woh jal jayen ge to is ka. matlab hai, yeh bohat haqeeqi hai.Energy ensaan mein aati hai aur un ko jakar layte hai. agar aap samajte hain ke yeh energy, aur iss energy ne kisi par qaboo pa liya hai to phir aap un ki rahnumai kyun karen ge, ke' ' jao apni namaz parho' ' aur ab is shakhs ko majaboor karo ke woh namaz parhay, yeh kaam nahi aeye gi un mein aisa karne ( namaz parhnay ) ki salahiyat ki energy hi nahi hai. jo kuch ab un ke andar hai woh un par qaboo pa chuka hai. to phir kya madad karta hai? phir Allah azzwajal kyun farmata ha Ittaqollaha wa kono ma'as sadiqeen."
يَا أَيُّهَا الَّذِينَ آمَنُوا اتَّقُوا اللّهَ وَكُونُوا مَعَ الصَّادِقِينَ ﴿١١٩﴾
Ya ayyuhal ladheena amanoo ittaqollaha wa kono ma'as sadiqeen." (Surat At-Tawba)
ae imaan walo! Allah se daro ( shaoor rakho ) aur onke sath raho jo ehley Siddq/ naik / mukhlis hain.
jab Allah ( azzwajal ) energy ki haqeeqat jaanta hai, farmata hai ke taqwa ikhtiyar karo ( shaoor rakho ) aur inn ehley Siddq ki sohbat rakho. un ki sohbat kyun rakhi jaye? kyunkay Allah ( azzwajal ) jaanta hai ke yeh log ehl e zikar hain. un logon ko Allah ( azzwajal ) ny energies se malbos farmaya hai. yeh log, inn ki energies itni taaqatwar hain ke Allah ( azzwajal ) aap se chahta hai,' jao aur un ke sath raho.' chunkay aaina inn ki mojoodgi ki taraf barhta hai, lehaza un ki energy is shakhs ke andar har cheez ko jalana shuru karde gi. kyunkay yeh inn ke nazron ( nigahon ) se nahi bach sakta.inn ki energy jismani energy nahi hai, inn ki energy rooh se hai. jab inn ki rooh ki energy aap ka rukh karti hai to yeh kisi laser ki terhan hai, yeh aap ke wujood ki har cheez ke andar chali jati hai, aur aapke andar ki har shai ki murammat karti hai. un ka noor aap ke zahir tak nahi rahay ga. un ka noor ke Allah ( azzwajal ), jab Allah ( azzwajal ) farmata hai,' momin ki firasat se daro, kyunkay ke woh Allah ke noor se dekhte hain.
اِتَّقُو فِرَاسَةَ الْمُؤمِنْ فَإنَّهُ يَنْظُرُ بِنُوْرِ اللّٰهْ
" momin ki firasat se daro, kyunkay woh Allah ke noor se daikhta hai".
Noore ellahi kya hai? yeh aatish hai, yeh Khushgawar roshni nahi hai, jahan shetan iss se lutaf andoz hon, woh ( noor ) unn ko jala deta hai. aur yahi wajah hai ke shetan logon ki ankhin bahar nikaalne ki koshish karte hain. woh logon ki nigah mein nahi dekhna chahtay. yahi wajah hai ke aap buray grdonwah mein jatay hain, ( tou ) aap kya dekh rahay hain ?, kon aap ko yeh keh raha hai? yeh wahan ( mojood ) shetan hai. shetan keh raha hai ke,' is ki ankhen hamein jala rahi hain ',' is ki aankhon mein mat dekho.' lekin jab Allah ( azzwajal ) –apne aulia aur aulia ki pairwi karne walon aur un logon ko jo Sayedna Muhammad ﷺse mohabbat karte hain, malbos farmata hai, inn ki nigehain aag ki terhan shyatin par par rahi hain. tou jab woh kisi ki taraf dekhte aur nigah farmatay hain to inn ki aag jati hai aur is shakhs mein sab kuch jalana shuru kardeti hai. to yahi wajah hai ke unn ke shetan aur jin woh bahar hi rehtay hain, bohat daur. aur isi wajah se har shakhs zikar mein pursakon aata hai, jab cheeze inhen chorney ki koshish kar rahi hain to kuch thora sa pagal ho jatay hain. jab taq aap apni car mein nah jayen woh puraman rahen ge. jab aap apni gaari mein jatay aur is block se neechay jatay hain, jahan woh ( shetan ) aap ka intzaar kar raha hota hai, tab aap ke tamam waswasay atay hain,' oh woh aisa kyun karte hain ?, unhon ny hamein khana der se kyun paish kya ?, aisa kyun tha ?, kya tum jantay ho? unhon ny meri chaaye mujh se cheen li.' chunkay woh ( ifrit / shetan ) wahan intzaar kar raha tha, is liye uss ny aap ko pakar liya, jab aap rastay se bahar arhay thy, is ny yahan ( center mein ) intzaar nahi kya aur aisa nahi kya. tou iska matlab hai ab energy bohat haqeeqi hai .lehaza jab unn ki nigehain aur un ki sohbat, hum ne is se pehlay kaha tha ke zara tasawwur karen ke woh Sheikh bhi aisay hi hain, ya unn ke tulba unn ki nazar se malbos hain. aur markaz aur maqam e zikar ki madad, un ki saari imdaad nazil ho rahi hai. jab un ki madad nazil hoti hai to woh noor ki talwar ki manind hotay hain, pak saaf hue baghair, is kamray se kuch bhi nahi bach sakta. aur hum ne is se pehlay bayan kya hai ke jab aap barah e raast ( zikar ki nashriyat ) dekhte hain tou, aawaz ko on karen kyunkay inn ka noor aur inn ki madad gharon mein aajay gi.zikar ghar mein daakhil hoga.Budala, Nujaba, Nuqaba, Awtad wal Akhyar, jinn wa malaika ( firshton ) se, Rohani makhlooq ki saat aqsam ghar mein daakhil hon gi. kya karne ko? ab is ghar mein safai suthrayi karne ko aur woh tamam zikar jo woh kar rahay hain, anay wali kisi bhi cheez par dobarah hamla karne kaileeay. jis bhi qisam ki energies aa rahi hain, woh safai kar rahi hain. aur jo woh kar rahay hain woh kyun kar rahay hain, ka yahi maqsad hai. tou is ka matlab hai nahi !, Allah ( azzwajal ) ke paas be shumaar ilaaj hain, aur isi wajah se Nabi e Akram ﷺ ne bayan farmaya ke,' jab aap jannat ka baagh dekhain,issay mat chorain'.
Sayedna abdullah Ibn Umar RA se rivayet hai ke Rasool Allah (ﷺ ) ne farmaya :
" jab tum jannat ke baagaat se guzro to inn se khoob faida uthao."
Sahaba Ikram (rizwan Allah allaihim ajmaaeen) ne arz ki :
" ya Rasool Allah ( ﷺ) jannat ke baagaat kya hain? "
Appp (ﷺ ) ne irshad farmaya :
" zikar ke halqay. Allah ( azzwajal ) ke muharrak ( Sayyaraat ) farishtay hain jo zikar ke halqay dhoondtay hain aur jab unhein pa letay hain tou inn ko qareeb se ghair letay hain. [ imam tirmizi se rivayet hai ].
ab saaray jannati kahan hain? unhon naay kaha yahan aik hazaar msaaajid aur taqreeban das hazaar, pachaas hazaar namazi hain, kya woh jannat nahi chahtay? zikar ke halqon mein das afraad hain tou kuch garbar hai. unn logon ka kya hua jo jannat chahtay thy? aur phir jannat mein aag aur shetan ke khilaaf taaqat hai. chunancha jab Allah ( azzwajal ) farma raha hai ke,' yeh jannat ka daira hai, aur mere mulaika Arsh e Rahman taq is ko har taraf se ghairay hue hain. aap, kya aap ko nahi lagta ke inn ke paas bargaah e haq se, misaal ke tor par aik aag ( noor ) hai, jo har is shay ko jo kharab hai pak saaf rahi hai, jala aur tabah kar rahi hai. jannat ke farishtay, woh kisi bhi baatil ko qubool nahi karte, woh buraiee ko qubool nahi karte. woh atay hain aur woh saaf karte hain aur dhotay hain, aur har cheez ko pak karte hain .
Hamari dua hai ke Allah ( azzwajal ) hameiin in shaa Allah ziyada se ziyada samajh ataa farmaiye .
Subhana rabbika rabbal 'izzati 'amma yasifoon, wa salaamun 'alal mursaleen, walhamdulillahi rabbil 'aalameen. Bi hurmati Muhammad al-Mustafa wa bi siri Surat al-Fatiha.
Question: How can one battle with his thoughts to keep his focus on the prayer and not focus on irrelevant thoughts?
Shaykh Nurjan Mirahmadi: Yeah, all of these is the energy talk. We talked the other night and think that the depth of energy understanding is a little bit simplified to people. Especially Muslims they think, 'Oh, we make salah (prayer), Shaykh why don't you just talk about the salah? Why don't you just talk about this, or talk about Islamic terminology?'
But in reality, that if we don't understand energy – and that's why then these awliya (saints) and those whom taught by awliyaullah – everything is based on a qudra (power). Because this is the common denominator of every issue and every problem we have. If somebody calls and says that they can't pray, they don't have the ability to pray anymore, that they don't feel like praying. And it can go so bad that if they try to make sujood (prostration), something will burn them from making the sujood.
It means that, can you describe them by salah and force the person, 'Go make wudu (ablution) and now pray!' Say, 'They can't.' If you think your salah is going to save you, and take away sayyiati amalina, and take away your sayyiat (sins), you don't understand what's happening. So, it means that when you sin through your action, you lost the protection that Allah (AJ) has given. As a result, ten ifrit (powerful demon) have jumped into you. They're around, billions and billions of ifrit are all around us. As soon as you sin your shield of protection is down. For example, ten of them enter into your being.
This ten, when they enter into your being, they begin to change your appetite, change your desires, change your characteristics. Because they are not you, and they are from shaitan (satan). They want to watch different things, they want to look at different things, they want to talk different, they want to hear different things because they're occupying you. And the last thing they want is your wudu, your salah, your zikr, and any of your practices.
So, they sit within you and keep pushing all of your control panels, 'Don't pray now, close the ears.' They cover the ears, they make everything distracted, 'Look at your phone!' You missed your salah, ten more now can come. Because now your sayyiati amalina, the sins of actions, 'Wooo,' is opening up the door. Now they're not even open; some people have like revolving door, it's never closed – what happens then? They're coming in at such a force they overtake that insan (human being).
And if they overtake, they will not pray. And if you see these homeless people, if you try to wash them, they'll burn and scream, why? Because the ifrit in them don't want water. They're scared to death of water because they're going to burn. So, it means it's very real. The energy comes into insan and overtakes them. If you understood that energy, and that energy has overtaken somebody then why would you guide them that, 'Go make your salah!' And now force the person, 'Go make your salah!' That's not going to help. They don't have the energy ability to do that. What's now inside them has overtaken them. So then what helps? Why Allah (AJ) then says, "Ittaqollaha wa kono ma'as sadiqeen."
﴾يَا أَيُّهَا الَّذِينَ آمَنُوا اتَّقُوا اللّهَ وَكُونُوا مَعَ الصَّادِقِينَ ﴿١١٩
9:119 – "Ya ayyuhal ladheena amanoo ittaqollaha wa kono ma'as sadiqeen." (Surat At-Tawba)
"O you who have believed, have consciousness of Allah and be with those who are truthful/ Pious /sincere (in words and deed)." (The Repentance, 9:119)
If Allah (AJ) knows that the energy reality and says, 'Have a consciousness and keep the company of these truthful servants.' Why keep their company? Because Allah (AJ) knows that these people are ahle zikr (people of Divinely remembrance). These people, Allah (AJ) has dressed them with energies. These people, the energies are so powerful that Allah (AJ) want you, 'Go and be with them!' Because the mirror moving towards their presence, their energy will begin to burn away everything inside that person. Because it can't escape their nazar (gaze). Their energy's not a physical energy, their energy is from the soul. When their soul energy begins to direct to you it's like a laser; it goes inside everything of your being, and dressing everything inside of you. Their light is not sticking on the outside of you. Their light that Allah (AJ), where Allah (AJ) says, 'Be conscious of the firasah (spiritual vision) of the believer.' Why? Because they look with the light of Allah (AJ).
قَالَ رَسُولُ اللَّهِ صلى الله عليه وسلم ‏"‏ اتَّقُوا فِرَاسَةَ الْمُؤْمِنِ فَإِنَّهُ يَنْظُرُ بِنُورِ اللَّهِ‏
"Ittaqo firasatal Mumine, fa innahu yanzuru be Noorillahi."
"Beware [be conscious] of the firasah of the believer, for he sees with the light of Allah," Prophet Muhammad (pbuh) (Tirmidhi)
What's the light of Allah (AJ)? It's a fire, it's not a pleasant light where devils enjoy it, it burns them. And that's why devils try to pull the eyes of people out. They don't want to see in the eyes of people. That's why you go to bad neighborhoods, 'What are you looking at?' Who's saying that to you? It's their devil. The devil is saying that, 'His eyes are burning us, don't look at his eyes!' But when Allah (AJ) dress his awliya and those whom follow awliya, and those whom love Sayyidina Muhammad ﷺ, their eyes are like fire coming out onto these devils. So, when they look at and gaze at somebody, their fire goes and begins to burn everything in that person. So, that's why their devils and their jinn (unseen beings) they stay outside. Very far outside.
And that's why everyone comes peaceful to the zikr, some go a little bit crazy when things are trying to leave them. They stay peaceful until you get in your car. When you get in your car and go down the block where he's waiting for you, then all your waswas (whispering) come, 'Oh, why he do like that, why they serve our dinner late, why was it like this, do you know they took my tea away from me?' Because he was waiting there, he caught you when you were coming out the way, he didn't wait here and do that. So, it means now energy is very real. So when their gaze and their association, we said before that imagine if that Shaykh is like that, or his students are dressed by his nazar, and the madad (support) of the Centre and the zikr location, all their madad is coming down.
When their madad comes down they're like swords of light, nothing's going to escape this room without being cleaned. And we described before that when you watch live, turn the sound on because their light and their madad will come into the homes; the zikr will enter the homes. From Budala, Nujaba, Nuqaba, Awtad wal Akhyar, jinn wa malaika (angels), seven categories of spiritual beings enter into the home. To do what? To begin now the cleansing within that home and all the zikr that they're playing to again attack anything that's coming. Any type of energies that are coming, they're cleansing. And that's the purpose of why they're doing what they're doing. So it means no, Allah (AJ) has many remedies, and that's why Prophet ﷺ described that, 'When you see a circle of paradise, don't leave it!'
حَديثُ اِبْنِ عُمَرِقَالَ: قَالَ رَسُولُ اللهِ صَلَّى اللهُ عَلَيْهِ وَسَلَّمَ:« إِذَا مَرَّرَتْهُمْ بِرِيَاضِ الْجَنَّةِ فَاِرْتَعُوْا .قَالُوا: وَمَارِيَاضِ الْجَنَّةِ يَارَسُولِ اللهِ ؟
قَالَ:حَلْقُ الذِّكْرِ, فَإِنَّ لِلَّهِ تَعَالَى سَيَّارَاتٌ مِنَ الْمَلَاَئِكَةِ يُطَلِّبُوْنَ حَلْقَ الذِّكْرِ، فَإِذَا أَتَوْا عَلَيْهُمْ حَفُّوْابِهُمْ " رَوَاهُ التِّرْمِذِيُّ
Ibn 'Umar (Radi Allahu Anhu) qala, qala Rasulullahi (saws):
"iza marra rathum beriyadil jannati, fa irta'o. Qalu: wa ma riyadil jannati ya Rasulillah?
Qala: Halaquz Zikri, fa inna lillahi ta'ala sayyaratun minal malayikati yutallibona halqaz zikre, fa iza ataw 'alayhum haffubihim." [Rawahu Tirmidhi]
The son of `Umar (May Allah be pleased with him) reported that the Prophet (Peace be upon him) said: "When you pass by the gardens of Paradise, avail yourselves of them." The Companions asked: "What are the gardens of Paradise, O Messenger of Allah?"
He replied: "The circles of dhikr. There are roaming angels of Allah who go about looking for the circles of dhikr, and when they find them they surround them closely." [Narrated by Imam Tirmidhi]
Now where are all the paradise people? They said there's like a thousand mosques and ten-thousand, fifty-thousand worshippers; didn't they want paradise? Circles of zikr have ten people in them. Something's off. What happened to the people who wanted paradise? And then paradise has a fire and a power against shaitan. So when Allah (AJ) is saying, 'This is a circle of paradise, and my malaika (angels) are all around all the way to 'Arsh ar-Rahman (Throne of The Most Merciful), don't you think they have like a fire from Divinely Presence, cleansing and burning, and destroying everything that's wrong? The malaika of paradise, they don't accept any falsehood, they don't accept the badness. They come and they cleanse and wash and clean everything. We pray that Allah (AJ) give us more and more understanding, inshaAllah.
Subhana rabbika rabbal 'izzati 'amma yasifoon, wa salaamun 'alal mursaleen, walhamdulillahi rabbil 'aalameen. Bi hurmati Muhammad al-Mustafa wa bi siri Surat al-Fatiha.
————————————————————————–
اِس بیان کا حصہ اوّل پڑھنے کیلئے:
Read Part-1 here:
https://www.facebook.com/…/a.1306689683242…/431806214877191/
اِس بیان کا حصہ دوم پڑھنے کیلئے:
Read Part-2 here
https://m.facebook.com/story.php?story_fbid=432590671465412&id=103516737706142
یہ بیان یوٹیوب پر دیکھنے کیلئے
Watch this Bayan on youtube:
https://www.youtube.com/watch?v=vdo-gbX5Qas&feature=youtu.be
اس آرٹیکل کو انگلش میں پڑھنے کیلئے
Read this Article in English: Sins Cause Demons to Enter Into You Q&A
https://nurmuhammad.com/sins-cause-demons-to-enter-int…/
یو ٹیوب چینل ابھی سبسکرایب کیجئے
Subscribe Now: The Muhammadan Way Sufi Realities
Www.youtube.com/channel/UC4E8QX7OgwYDgyuuXTBMrcg
شیخ سید نور جان میر احمدی نقشبندی (ق) کا آفشیل فیس بک پیج لائک کیجئے
Official Page: Shaykh Nurjan Mirahmadi
Https://www.facebook.com/shaykhnurjanmirahmadi/
مزید خاص وظائف اور اسلامی معلومات کیلئے ڈاؤن لوڈ کیجئے
Download: 𝐓𝐡𝐞 𝐌𝐮𝐡𝐚𝐦𝐦𝐚𝐝𝐚𝐧 𝐖𝐚𝐲 𝐀𝐩𝐩
► 𝐀𝐧𝐝𝐫𝐨𝐢𝐝 𝐀𝐩𝐩: https://play.google.com/store/apps/details…
► 𝐢𝐏𝐡𝐨𝐧𝐞 𝐀𝐩𝐩: https://apps.apple.com/us/app/muhammadan-way/id1244297852
► 𝐒𝐨𝐮𝐧𝐝𝐂𝐥𝐨𝐮𝐝: https://soundcloud.com/muhammadanway
► 𝐃𝐨𝐧𝐚𝐭𝐞 (𝐏𝐀𝐊𝐈𝐒𝐓𝐀𝐍 𝐚𝐧𝐝 𝐖𝐎𝐋𝐑𝐃𝐖𝐈𝐃𝐄) : https://nurmuhammad.com/donate
Please Subscribe and Share