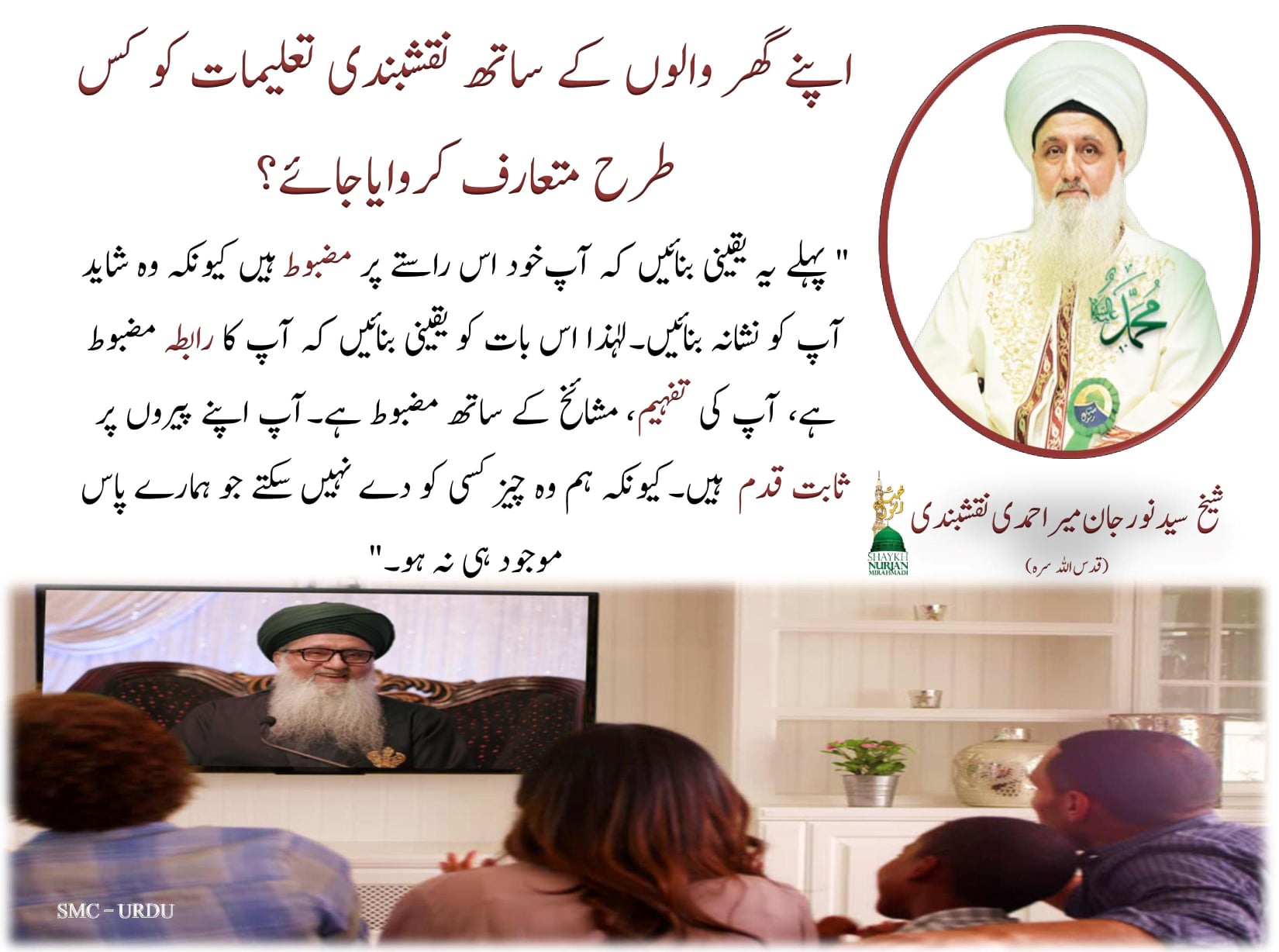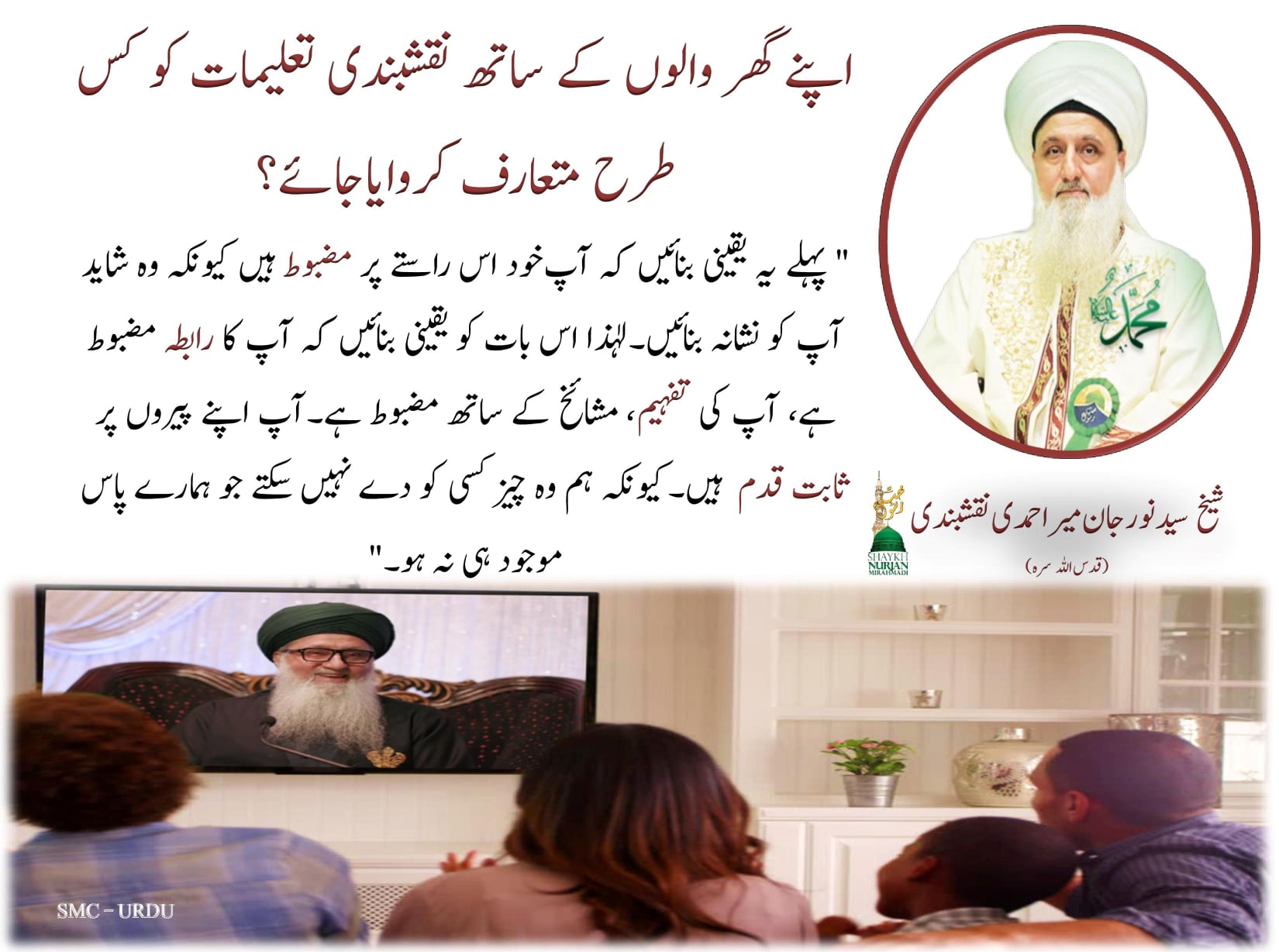 Urdu – نماز میں کیا تصور کریں؟ نبی پاک کی ﷺ موجودگی کو محسوس کریں۔ [چوتھا حصہ] 𝐍𝐚𝐦𝐚𝐳 …
نماز میں کیا تصور کریں؟ نبی پاک کی ﷺ موجودگی کو محسوس کریں۔ [چوتھا حصہ]
𝐍𝐚𝐦𝐚𝐳 𝐌𝐞𝐢𝐧 𝐊𝐢𝐲𝐚 𝐓𝐚𝐬𝐚𝐰𝐰𝐮𝐫 𝐊𝐚𝐫𝐚𝐢𝐧? 𝐍𝐚𝐛𝐢 𝐏𝐚𝐤 ﷺ 𝐊𝐞𝐲 𝐌𝐨𝐣𝐨𝐮𝐝𝐠𝐢 𝐊𝐨 𝐌𝐞𝐡𝐬𝐨𝐨𝐬 𝐊𝐚𝐫𝐚𝐢𝐧 – 𝗦𝗮𝘄𝗮𝗹𝗮𝘁-𝗼-𝗝𝗮𝘄𝗮𝗯𝗮𝘁 [𝐇𝐢𝐬𝐬𝐚 Chaharum]
𝐖𝐡𝐚𝐭 𝐭𝐨 𝐕𝐢𝐬𝐮𝐚𝐥𝐢𝐳𝐞 𝐢𝐧 𝐒𝐚𝐥𝐚𝐡? 𝐅𝐞𝐞𝐥 𝐭𝐡𝐞 𝐏𝐫𝐞𝐬𝐞𝐧𝐜𝐞 𝐨𝐟 𝐏𝐫𝐨𝐩𝐡𝐞𝐭 𝐌𝐮𝐡𝐚𝐦𝐦𝐚𝐝 ﷺ 𝐐& 𝐀 [𝐏𝐀𝐑𝐓 – 4]
——————————————–
——————————————–
شیخ سید نورجان میراحمدی نقشبندی (ق) کی سنہری تعلیمات سے اقتباس۔
بِسْمِ اللَّـهِ الرَّحْمَـٰنِ الرَّحِيمِ
اَلَّھُمَّ صَلِّ عَلَی سَیَّدِنَا محَمَّدٍ ﷺ وَعَلَی آلِ سَیَّدِنَا محَمَّدٍ ﷺ
سوال: اسلام علیکم سیدی، ہم اپنے گھر والوں اور سسرال والوں کے ساتھ نقشبندی تعلیمات کو کس طرح متعارف کروا سکتے ہیں؟
𝐐𝐔𝐄𝐒𝐓𝐈𝐎𝐍: 𝐀𝐬 𝐬𝐚𝐥𝐚𝐚𝐦 𝐚𝐥𝐚𝐲𝐤𝐮𝐦 𝐒𝐚𝐲𝐲𝐢𝐝𝐢, 𝐡𝐨𝐰 𝐜𝐚𝐧 𝐰𝐞 𝐢𝐧𝐭𝐫𝐨𝐝𝐮𝐜𝐞 𝐭𝐡𝐞 𝐍𝐚𝐪𝐬𝐡𝐛𝐚𝐧𝐝𝐢 𝐭𝐞𝐚𝐜𝐡𝐢𝐧𝐠𝐬 𝐭𝐨 𝐭𝐡𝐞 𝐟𝐚𝐦𝐢𝐥𝐲 𝐚𝐧𝐝 𝐢𝐧-𝐥𝐚𝐰𝐬?
شیخ سید نورجان مِیراَحمَدِی نَقشبَندِی (ق): انشاءاللہ، نمک کے ایک دانے کے ساتھ۔ پہلے یہ یقینی بنائیں کہ آپ خود اس (راستے) پر مضبوط ہیں کیونکہ وہ شاید آپ پر حملہ کر دیں۔ لہٰذا جیسے ہی آپ کچھ سیکھتے ہیں، اس بات کو یقینی بنائیں کہ آپ کا رابطہ مضبوط ہے، آپ کی تفہیم مشائخ کے ساتھ مضبوط ہے۔ آپ اپنے پیروں پر ثابت قدم ہیں کیونکہ ہم وہ چیز (کسی کو) دے نہیں سکتے جو ہمارے پاس موجود ہی نہ ہو۔ تو ہم پہلے اسے خود حاصل کرنے کی کوشش کرتے ہیں۔ رابطہ، تفہیم (سمجھ) حاصل کریں، مرشد کے ساتھ محبت حاصل کریں تاکہ جب آپ ثابت قدم رہیں، پہلے وہ کردار کا مشاہدہ کرتے ہیں۔ جب وہ دیکھتے ہیں کہ آپ کا کردار صحیح ہے، آپ ثابت قدم ہیں، آپ غصے پر قابو رکھتے ہیں، آپ ان تمام (خراب) خصوصیات پر قابو رکھتے ہیں، پھر آپ آہستہ آہستہ اس کی ابتدا کرسکتے ہیں کہ، 'آپ جانتے ہیں میں یوٹیوب پر ان شیخ کو دیکھ رہا ہوں' اور چینل شیئر کر دیں۔
𝐔𝐫𝐝𝐮 𝐓𝐫𝐚𝐧𝐬𝐥𝐢𝐭𝐞𝐫𝐚𝐫𝐭𝐢𝐨𝐧:
Shaykh Syed Nurjan Mirahmadi Naqshbandi ( q ) : Insha Allah , namak ke aik danay ke sath. Pehlay yeh yakeeni banayen ke aap khud is ( rastay ) par mazboot hain kyunkay woh shayad aap par hamla kar den. Lehaza jaisay hi aap kuch seekhnay hain, is baat ko yakeeni banayen ke aap ka rabita mazboot hai, aap ki Tafheem mashaiykh ke sath mazboot hai. Aap apne peeron par saabit qadam hain kyunkay hum woh cheez ( kisi ko ) day nahi satke jo hamaray paas mojood hi nah ho. To hum pehlay usay khud haasil karne ki koshish karte hain. Rabita, Tafheem ( samajh ) haasil karen, murshid ke sath mohabbat haasil karen taakay jab aap saabit qadam rahen, pehlay woh kirdaar ka mushahida karte hain. Jab woh dekhte hain ke aap ka kirdaar sahih hai, aap saabit qadam hain, aap ghusse par qaboo rakhtay hain, aap un tamam ( kharab ) khususiyaat par qaboo rakhtay hain, phir aap aahista aahista is ki ibtida kar saktay hain ke,' aap jantay hain mein youtube par un Sheikh ko dekh raha hon' aur channel share kar den .
𝐄𝐧𝐠𝐥𝐢𝐬𝐡 𝐓𝐫𝐚𝐧𝐬𝐜𝐫𝐢𝐩𝐭:
Shaykh Nurjan Mirahmadi: inshaallah, with a grain of salt. First make sure that you're strong onto it because they're probably going to attack you. So soon as you learn something, make sure your connection is strong, your understanding is strong with the shaykhs. You're firm on your feet because you can't give what we don't have. So we tried to gain it first. Gain the connection, the understanding, the love for the shaykh so that when you were firm. First they begin to observe the character. When they see your character's right, you're upright, you're controlling anger, you control all of these characteristics, then you can slowly start to that, 'You know, I'm watching this Shaykh on youtube and share the channel.
'یہ (ان کی) ویب سائٹ ہے۔ یہ وہ مضامین ہیں جو ان کے پاس ہیں'۔ اور آپ بنیادی طور پر علم پھیلا دیتے ہیں، یا فیس بک پر علم کو پھیلائیں اور اپنے دوستوں تک لِنک شیئر کر دیں۔ آپ کو اپنے حقائق پوسٹ کرنے کی ضرورت نہیں ہے۔ صرف ان کے (حقائق) بانٹیں کیونکہ جب لوگ چیزوں کو کاپی اور پیسٹ کرتے ہیں اور اسے پھیلاتے ہیں اور وہ حقیقت میں اس کو بالکل نہیں سمجھتے اور (پھر یہ) بالکل مختلف ہو جاتا ہے۔ لیکن جو مضامین پہلے سے شائع ہو چکے ہیں ان کو لیں اور پھیلا دیں۔ اور یہ ایک بہت بڑی خدمت ہے کیونکہ تصور کریں کہ اگر وہ دس لوگوں تک پھیلا رہے ہیں اور وہ دس لوگ مزید دس لوگوں تک پھیلا رہے ہیں تو یہ (پوسٹ) پہلے ہی ایک ہی بار میں ایک سو افراد تک پہنچ چکی ہے۔ اور اس میں ایک بے پناہ حقیقت موجود ہے، کہ اگر ہر شخص نے اسے دس لوگوں تک پھیلا دیا ہے تو یہ مضمون کتنی تیزی سے (سب لوگوں تک) پھیل جائے گا۔
𝐔𝐫𝐝𝐮 𝐓𝐫𝐚𝐧𝐬𝐥𝐢𝐭𝐞𝐫𝐚𝐫𝐭𝐢𝐨𝐧:
'Yeh ( un ki ) Website hai. Yeh woh mazameen hain jo un ke paas hain'. Aur aap bunyadi tor par ilm phela dete hain, ya Facebook par ilm ko philayin aur apne doston tak lِnk share kar den. Aap ko apne haqayiq post karne ki zaroorat nahi hai. Sirf un ke ( haqayiq ) baanten kyunkay jab log cheezon ko copy aur paste karte hain aur usay pheilatay hain aur woh haqeeqat mein is ko bilkul nahi samajte aur ( phir yeh ) bilkul mukhtalif ho jata hai. Lekin jo mazameen pehlay se shaya ho chuke hain un ko len aur phela den. Aur yeh aik bohat barri khidmat hai kyunkay tasawwur karen ke agar woh das logon tak phela rahay hain aur woh das log mazeed das logon tak phela rahay hain to yeh ( post ) pehlay hi aik hi baar mein aik so afraad tak pahonch chuki hai. Aur is mein aik be panah haqeeqat mojood hai, ke agar har shakhs ne usay das logon tak phela diya hai to yeh mazmoon kitni taizi se ( sab logon tak ) phail jaye ga .
𝐄𝐧𝐠𝐥𝐢𝐬𝐡 𝐓𝐫𝐚𝐧𝐬𝐜𝐫𝐢𝐩𝐭:
Here's the website. Here's the articles that they have.' And you basically share the knowledge or on Facebook, share the knowledge and share the links to your friends. You don't have to post your own haqqaiq (realities). Just share theirs because once people copy and paste things and spread it and they don't really truly understand it and becomes something different. But take the articles that are already being posted and share them. And that's a big khidmat (service) because is that imagine if they're sharing to 10 people and 10 people sharing to 10 people already went to 100 people in one shot. And that has an immense amount of reality, that if everybody shared it to 10 people how fast that article would go out.
لیکن اگر آپ صرف اپنے ہی دو یا تین الفاظ کاپی اور پیسٹ کرنا چاہتے ہیں جو حقیقت میں کوئی معنی نہیں رکھتے اور اس کو ایسے باہر (دوسروں تک) پھیلاتے ہیں جیسے یہ اب آپ کا کوئی مضمون ہو، تو آپ پوری صلاحیت کو دھوکہ دے رہے ہیں۔ اگر آپ مرشد کا اصل مضمون لیتے ہیں اور اسے پھیلاتے ہیں تو ہاں، اس میں بے حد نعمت ہے، بے حد برکت ہے۔
𝐔𝐫𝐝𝐮 𝐓𝐫𝐚𝐧𝐬𝐥𝐢𝐭𝐞𝐫𝐚𝐫𝐭𝐢𝐨𝐧:
Lekin agar aap sirf apne hi do ya teen alfaaz copy aur paste karna chahtay hain jo haqeeqat mein koi maienay nahi rakhtay aur is ko aisay bahar ( doosron tak ) pheilatay hain jaisay yeh ab aap ka koi mazmoon ho, to aap poori salahiyat ko dhoka day rahay hain. Agar aap murshid ka asal mazmoon letay hain aur usay pheilatay hain to haan, is mein be had Nemat hai, be had barket hai.
𝐄𝐧𝐠𝐥𝐢𝐬𝐡 𝐓𝐫𝐚𝐧𝐬𝐜𝐫𝐢𝐩𝐭:
But if you want to just copy and paste your own 2-3 words that really don't make any sense and put that out as if you have an article now, you're deluding the whole ability. If you take the actual article of the shaykh and spread that then yeah, that has an immense blessing, immense blessing.
————————————————————————–
بیان کا حصہ اوّل پڑھنے کیلئے:
Read the Part-1 of the Bayan:
Https://www.facebook.com/…/a.130668968324252/406841817373631
اس بیان کا دوسرا حصہ پڑھنے کیلئے:
Read the Part-2 of the Biyan:
Https://www.facebook.com/…/a.1306689683…/408245417233271
بیان کا تیسرا حصہ پڑھنے کیلئے:
Read the Part-3:
Https://www.facebook.com/…/a.130668968324252/413706156687197
یہ بیان یوٹیوب پر دیکھنے کیلئے
Watch this Bayan on youtube:
Https://youtu.be/yuuquues0nq
اس آرٹیکل کو انگلش میں پڑھنے کیلئے
Read this Article in English: What to Visualize in Salah? Feel the Presence of Prophet Muhammad ﷺ Q&A:
Https://www.nurmuhammad.com/what-to-visualize-salah-feel-p…/
یو ٹیوب چینل ابھی سبسکرایب کیجئے
Subscribe Now: The Muhammadan Way Sufi Realities
Www.youtube.com/channel/UC4E8QX7OgwYDgyuuXTBMrcg
شیخ سید نور جان میر احمدی نقشبندی (ق) کا آفشیل فیس بک پیج لائک کیجئے
Official Page: Shaykh Nurjan Mirahmadi
Https://www.facebook.com/shaykhnurjanmirahmadi/
► 𝐀𝐧𝐝𝐫𝐨𝐢𝐝 𝐀𝐩𝐩: https://play.google.com/store/apps/details…
► 𝐢𝐏𝐡𝐨𝐧𝐞 𝐀𝐩𝐩: https://apps.apple.com/us/app/muhammadan-way/id1244297852
► 𝐒𝐨𝐮𝐧𝐝𝐂𝐥𝐨𝐮𝐝: https://soundcloud.com/muhammadanway
► 𝐃𝐨𝐧𝐚𝐭𝐞 (𝐏𝐀𝐊𝐈𝐒𝐓𝐀𝐍 𝐚𝐧𝐝 𝐖𝐎𝐋𝐑𝐃𝐖𝐈𝐃𝐄) : https://nurmuhammad.com/donate
Please Subscribe and Share