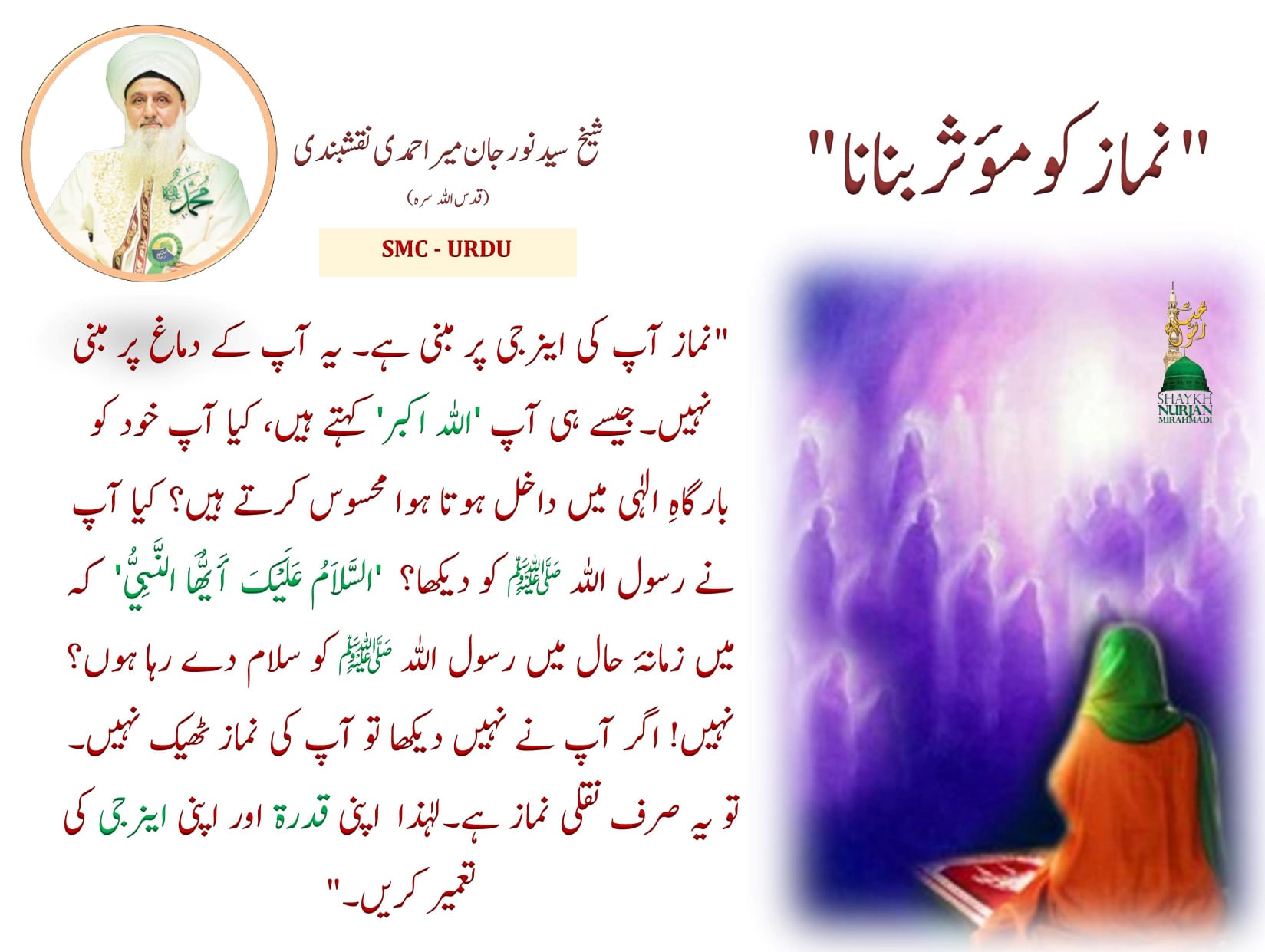 Urdu – نماز میں کیا تصور کریں؟ نبی پاک کی ﷺ موجودگی کو محسوس کریں۔ [پانچواں حصہ] 𝐍𝐚𝐦𝐚𝐳…
نماز میں کیا تصور کریں؟ نبی پاک کی ﷺ موجودگی کو محسوس کریں۔ [پانچواں حصہ]
𝐍𝐚𝐦𝐚𝐳 𝐌𝐞𝐢𝐧 𝐊𝐢𝐲𝐚 𝐓𝐚𝐬𝐚𝐰𝐰𝐮𝐫 𝐊𝐚𝐫𝐚𝐢𝐧? 𝐍𝐚𝐛𝐢 𝐏𝐚𝐤 ﷺ 𝐊𝐞𝐲 𝐌𝐨𝐣𝐨𝐮𝐝𝐠𝐢 𝐊𝐨 𝐌𝐞𝐡𝐬𝐨𝐨𝐬 𝐊𝐚𝐫𝐚𝐢𝐧 – 𝗦𝗮𝘄𝗮𝗹𝗮𝘁-𝗼-𝗝𝗮𝘄𝗮𝗯𝗮𝘁 [𝐇𝐢𝐬𝐬𝐚 Panjum]
𝐖𝐡𝐚𝐭 𝐭𝐨 𝐕𝐢𝐬𝐮𝐚𝐥𝐢𝐳𝐞 𝐢𝐧 𝐒𝐚𝐥𝐚𝐡? 𝐅𝐞𝐞𝐥 𝐭𝐡𝐞 𝐏𝐫𝐞𝐬𝐞𝐧𝐜𝐞 𝐨𝐟 𝐏𝐫𝐨𝐩𝐡𝐞𝐭 𝐌𝐮𝐡𝐚𝐦𝐦𝐚𝐝 ﷺ 𝐐& 𝐀 [𝐏𝐀𝐑𝐓 – 5]
——————————————–
——————————————–
شیخ سید نورجان میراحمدی نقشبندی (ق) کی سنہری تعلیمات سے اقتباس۔
بِسْمِ اللَّـهِ الرَّحْمَـٰنِ الرَّحِيمِ
اَلَّھُمَّ صَلِّ عَلَی سَیَّدِنَا محَمَّدٍ ﷺ وَعَلَی آلِ سَیَّدِنَا محَمَّدٍ ﷺ
سوال: اسلام علیکم سیدی، ہم اپنی نماز کو مزید مؤثر کیسے بنا سکتے ہیں؟ میں گھانا (افریقہ) سے ہوں۔
𝐐𝐔𝐄𝐒𝐓𝐈𝐎𝐍: 𝐀𝐬 𝐬𝐚𝐥𝐚𝐚𝐦 𝐚𝐥𝐚𝐲𝐤𝐮𝐦 𝐒𝐚𝐲𝐲𝐢𝐝𝐢, 𝐡𝐨𝐰 𝐜𝐚𝐧 𝐰𝐞 𝐦𝐚𝐤𝐞 𝐨𝐮𝐫 𝐬𝐚𝐥𝐚𝐡 𝐦𝐨𝐫𝐞 𝐞𝐟𝐟𝐞𝐜𝐭𝐢𝐯𝐞? 𝐈'𝐦 𝐟𝐫𝐨𝐦 𝐆𝐡𝐚𝐧𝐚.
شیخ سید نورجان میراحمدی نقشبندی (ق): ہیلو، اسلام علیکم گھانا، آپ کیسے ہیں؟ انشاء اللہ، پھر سے، یہی تمام تعلیمات ہیں۔ ہر چیز اینرجی پر مبنی ہے۔ ہم کیسے نماز ادا کر سکتے ہیں اگر ہمارے پاس کوئی اینرجی نہیں ہے؟ صلاۃ (نماز) پوری آپ کی اینرجی پر مبنی ہے۔ یہ آپ کے دماغ پر مبنی نہیں ہے۔ یہ آپ کے پاس جو قابلیت اور اینرجی ہے، اس پر مبنی ہے۔ کہ جیسے ہی آپ "اللہ اکبر" کہتے ہیں، کیا آپ خود کو بارگاہِ الٰہی میں داخل ہوتا ہوا محسوس کرتے ہیں؟ اگر آپ کچھ بھی محسوس نہیں کر رہے اور آپ کی نماز صرف ایسے ہے کہ، 'میں اپنے ذہن میں نماز پڑھنے جا رہا ہوں'، (تو) یہ کوئی حقیقی نماز نہیں ہے۔ یہ بس ایک نقلی نماز ہے۔ یہی وجہ ہے کہ آپ کے التحیات میں (نماز کے دوران گھٹنوں کے بل بیٹھے ہوئے) اللہ عزوجل نے آپ سے یہ پڑھنے کے لیے فرمایا، "السَّلاَمُ عَلَيْكَ أَيُّهَا النَّبِيُّ۔"
"التَّحِيَّاتُ لِلَّهِ وَالصَّلَوَاتُ وَالطَّيِّبَاتُ، السَّلاَمُ عَلَيْكَ أَيُّهَا النَّبِيُّ وَرَحْمَةُ اللَّهِ وَبَرَكَاتُهُ، السَّلاَمُ عَلَيْنَا وَعَلَى عِبَادِ اللَّهِ الصَّالِحِينَ، أَشْهَدُ أَنْ لاَ إِلَهَ إِلاَّ اللَّهُ وَأَشْهَدُ أَنَّ مُحَمَّدًا عَبْدُهُ وَرَسُولُهُ"۔
(تشہد)
ترجمہ:
"تمام تر بہترین تعریفیں اور عبادتیں اور تمام تر اچھی چیزیں اللہ عزوجل ہی کے لیے ہیں۔ سلام ہو آپ پر اے نبی ﷺ، اور اللہ عزوجل کی رحمت اور اس کی برکتیں، سلام ہو ہم پر اور اللہ عزوجل کے نیک بندوں پر، میں گواہی دیتا ہوں کہ اللہ عزوجل کے سوا کوئی معبود نہیں ہے اور میں گواہی دیتا ہوں کہ حضرت محمد مصطفٰی ﷺ اللہ عزوجل کے بندے اور اس کے رسول ہیں"۔
𝐔𝐫𝐝𝐮 𝐓𝐫𝐚𝐧𝐬𝐥𝐢𝐭𝐞𝐫𝐚𝐭𝐢𝐨𝐧:
Shaykh Syed Nurjan Mirahmadi Naqshbandi (Q ) : Hey, as salaam alaykum Ghana, aap kaisay hain? Insha Allah , phir se, yahi tamam talemaat hain. Har cheez energy par mabni hai. Hum kaisay namaz ada kar satke hain agar hamaray paas koi energy nahi hai? Salah ( namaz ) poori aap ki energy par mabni hai. Yeh aap ke dimagh par mabni nahi hai. Yeh aap ke paas jo qabliyat aur energy hai, is par mabni hai. Ke jaisay hi aap "Allahu akbar" kehte hain, kya aap khud ko bargaah Ellahi mein daakhil hota hwa mehsoos karte hain? Agar aap kuch bhi mehsoos nahi kar rahay aur aap ki namaz sirf aisay hai ke,' mein apne zehen mein namaz padhany ja raha hon ', ( to ) yeh koi haqeeqi namaz nahi hai. Yeh bas aik naqli namaz hai. Yahi wajah hai ke aap ke attahiyaat mein ( namaz ke douran ghutnon ke bil baithy hue ) Allah azzwajal ne aap se yeh padhany ke liye farmaya , , "As salamu alaika ayyuhan Nabi."
" Tamam tar behtareen tareefen aur ibaadaten aur tamam tar achi cheeze Allah azzwajal hi ke liye hain. Salam ho aap par ae Nabi (S), aur Allah azzwajal ki rehmat aur is ki barkaten, salam ho hum par aur Allah azzwajal ke naik bundon par, mein gawahi deta hon ke Allah azzwajal ke siwa koi mabood nahi hai aur mein gawahi deta hon ke hazrat Mohammad mustafa (S) Allah azzwajal ke bande aur is ke rasool hain" .
𝐄𝐧𝐠𝐥𝐢𝐬𝐡 𝐓𝐫𝐚𝐧𝐬𝐜𝐫𝐢𝐩𝐭:
Shaykh Nurjan Mirahmadi: Hey, as salaam alaykum Ghana, how are you? Inshaallah, that's again all the teaching. Everything is based on energy. How can we pray if we have no energy? Salah (prayer) is all based on your energy. It's not based on your mind. It's based on the ability and the energy you have. That as soon as you say, "Allahu Akbar," do you feel yourself moving into the Divinely Presence? If you're not feeling anything and your salah is just, 'I'm in my mind making salah,' that's not a real salah. That's just the imitated salah. That's why in your 'attahiyat (sitting on knees during prayer) Allah (AJ), asked you to say, "As salamu alaika ayyuhan Nabi."
"At-tahiyyatu Lillahi wa-salawatu wa't-tayyibat, as-salamu 'alayka ayyuha'n-Nabiyyu wa rahmat-Allahi wa barakatuhu. As-salamu 'alayna wa 'alaa 'ibad-Illah is-saliheen. Ashhadu alla ilaha illallah wa ashhadu anna muhammadan 'abduhu wa rasuluhu".
Translation:
"All the best compliments and the prayers and the good things are for Allah. Peace and Allah's Mercy and Blessings be on you, O Prophet! Peace be on us and on the pious slaves of Allah, I testify that none has the right to be worshipped but Allah, and I also testify that Muhammad is Allah's slave and His Apostle."
کیا آپ نے رسول اللہ ﷺ کو دیکھا؟ "السَّلاَمُ عَلَيْكَ أَيُّهَا النَّبِيُّ"، کہ میں زمانۂ حال میں رسول اللہ ﷺ کو سلام دے رہا ہوں؟ نہیں، اگر آپ نے نہیں دیکھا، تو آپ کی نماز ٹھیک نہیں تھی۔ تو یہ صرف نقلی نماز ہے۔ لہٰذا، جب تک آپ اپنی اینرجی کی تعمیر نہیں کرتے، اور اسی وجہ سے وہ اینرجی کے ساتھ بات کرتے ہیں کہ آپ یہ کیسے کہہ سکتے ہیں کہ، 'اپنی نماز قائم کریں، اپنی نماز قائم کریں'۔ بلکہ (یہ کہیں کہ) اپنی قدرة (طاقت) اور اپنی اینرجی کی تعمیر کریں۔ کہ اپنا مراقبہ کریں، اپنی روحانی مشقیں کریں، اپنا رابطہ بنائیں۔ اس وقت تک رابطہ بنائیں جب تک کہ آپ کو اینرجی کا بھاری (بے حد) بہاؤ محسوس نہ ہو کہ جب آپ یہ پڑھیں، "اللہ اکبر"، اور آپ نے مراقبہ کِیا اور روحانی مشقیں کیں، اور ہر وقت اپنے مراقبے میں پھر آپ خود کو کعبہ شریف میں تصور کریں اور یہ آپ کے بالکل سامنے موجود ہوتا ہے۔
𝐔𝐫𝐝𝐮 𝐓𝐫𝐚𝐧𝐬𝐥𝐢𝐭𝐞𝐫𝐚𝐭𝐢𝐨𝐧:
Kya aap ne rasool Allah ? Ko dekha ? "As salam alayka ayyuhan Nabi," ke mein zamana haal mein rasool Allah (S) ko salam day raha hon? Nahi, agar aap ne nahi dekha, to aap ki namaz theek nahi thi. To yeh sirf naqli namaz hai. Lehaza, jab tak aap apni energy ki taamer nahi karte, aur isi wajah se woh energy ke sath baat karte hain ke aap yeh kaisay keh satke hain ke,' apni namaz qaim karen, apni namaz qaim karen '. Balkay ( yeh kahin ke ) apni qudrah ( taaqat ) aur apni energy ki taamer karen. Ke apna muraqba karen, apni Rohani mashqen karen, apna rabita banayen. Is waqt tak rabita banayen jab tak ke aap ko energy ka bhaari ( be had ) bahao mehsoos nah ho ke jab aap yeh parheen," Allahu akbar ", aur aap ne muraqba kiya aur Rohani mashqen kee, aur har waqt apne mraqbe mein phir aap khud ko kaaba shareef mein tasawwur karen aur yeh aap ke bilkul samnay mojood hota hai .
𝐄𝐧𝐠𝐥𝐢𝐬𝐡 𝐓𝐫𝐚𝐧𝐬𝐜𝐫𝐢𝐩𝐭:
Did you see Prophet ﷺ? "As salam alayka ayyuhan Nabi," that in present tense I'm giving salaams (last part of prayer) to Prophet ﷺ? No. If you didn't see, then your salah didn't work. So it's just imitated salah (prayer). So, until you build your energy and that's why they talk with energy is how are you going to say, 'Build your salah, build your salah.' But build your qudra (power) and your energy. That do your meditation, do your practices, make the connection. Make the connection until you feel an overwhelming flow of energy that when you say, "Allahu Akbar," and you meditated and practiced, all the time your meditation so then you visualize yourself at Ka'bah and it's right there in front of you.
آپ اصل میں کعبہ کی موجودگی میں حج پر ہوتے ہیں۔ کیا آپ کو لگتا ہے کہ آپ اسے اپنے ذہنی تصور سے دیکھ رہے ہیں؟ نہیں، آپ کا ذہنی تصور اللہ عزوجل کے اختیار کے تحت ہے۔ آپ صرف ڈِزنِی لینڈ ہی دیکھ سکتے ہیں۔ یہی آپ کے بنیادی پیکیج میں آیا ہے۔ یہاں تک کہ گھانا میں بھی، ان کے پاس ایک پیکیج موجود ہے جہاں آپ صرف مکی ماؤس اور ڈزنی لینڈ ہی دیکھ سکتے ہیں۔ بلکہ کعبہ شریف کو دیکھیں اور اچھا خاصا اور صاف دیکھیں۔ اپنے آپ کو مدینہ منورہ میں نماز پڑھتے ہوئے دیکھیں، کہ آپ مدینہ منورہ میں رسول اللہ ﷺ کے پیچھے نماز پڑھنا چاہتے ہیں۔ اپنی اینرجی اور اپنی تفکر کے لیے روحانی مشقوں میں مشائخ سے درخواست کریں کہ وہ آپ کے پاس موجود ہوں، 'مجھے اپنی بارگاہ سے عطا کیجیے، مجھے اپنے نور سے آراستہ کیجیے، کہ میں سیدنا محمد ﷺ کی بارگاہ میں رہنا چاہتا ہوں اللہ اکبر'۔ جیسے ہی وہ اندر داخل ہوتے ہیں، انہوں نے اپنی ساری زندگی مشق کی ہوتی ہے۔ وہ اہل البصیرہ بن جاتے ہیں۔
𝐔𝐫𝐝𝐮 𝐓𝐫𝐚𝐧𝐬𝐥𝐢𝐭𝐞𝐫𝐚𝐭𝐢𝐨𝐧:
Aap asal mein kaaba ki mojoodgi mein hajj par hotay hain. Kya aap ko lagta hai ke aap usay apne zehni tasawwur se dekh rahay hain? Nahi, aap ka zehni tasawwur Allah azzwajal ke ikhtiyar ke tehat hai. Aap sirf dzni land hi dekh satke hain. Yahi aap ke bunyadi package mein aaya hai. Yahan tak ke ghanaa mein bhi, un ke paas aik package mojood hai jahan aap sirf mickey- mouse aur Disney Land hi dekh satke hain. Balkay kaaba shareef ko dekhen aur acha khasa aur saaf dekhen. Apne aap ko madinah Munawwara mein namaz parhte hue dekhen, ke aap madinah Munawwara mein rasool Allah ? Ke peechay namaz parhna chahtay hain. Apni energy aur apni tafakar ke liye Rohani mashqon mein mashaiykh se darkhwast karen ke woh aap ke paas mojood hon,' mujhe apni bargaah se ataa kiijiye, mujhe apne noor se aarasta kiijiye, ke mein syedna Mohammad (S) ki bargaah mein rehna chahta hon Allah akbar '. Jaisay hi woh andar daakhil hotay hain, unhon ne apni saari zindagi mashq ki hoti hai. Woh ahalul baseerah ban jatay hain .
𝐄𝐧𝐠𝐥𝐢𝐬𝐡 𝐓𝐫𝐚𝐧𝐬𝐜𝐫𝐢𝐩𝐭:
You're actually on hajj (pilgrimage) in the presence of the Ka'bah. You think you're seeing it by your imagination? No, your imagination is under Allah's (AJ) Authority. You can only see Disneyland. That came in your basic package. Even in Ghana, they have a package where you can only see Mickey Mouse and Disneyland. But to see the Ka'bah and nice and crisp and clear. See yourself in Madina praying, that you want to pray behind Prophet ﷺ in Madinatul Munawwara. When your energy and your practices for tafakkur and ask the shaykhs to be present with you, 'Dress me from your presence. Dress me from your light. That I want to be in the presence of Sayyidina Muhammad ﷺ Allahu Akbar.' As soon as they enter in, they practiced all their life. They become ahlul basirah (the people whose hearts are opened).
جب وہ اپنے دل کو اُس رُخ میں کرتے ہیں، تو وہ دیکھ لیتے ہیں۔ اب اگر وہ اسے دیکھ رہے ہوتے ہیں، تو یہ نماز اس کے مقابلے میں سو گنا زیادہ طاقتور ہوتی ہے جو صرف اپنے ذہن میں پڑھ رہا تھا۔ وہ حقیقی نماز کی حالت تک پہنچنا شروع کر دیتے ہیں جس میں وہ روشنی کے سمندروں میں اپنی روح کے ساتھ نماز پڑھ رہے ہوتے ہیں۔ اور جب وہ روشنی کے سمندر میں اپنی روح کے ساتھ نماز پڑھتے ہیں تو، وہ روشنی کی اینرجی کو محسوس کرتے ہیں۔ جیسے ہی وہ اپنے (سلام) دیتے ہیں اور جب آپ کہتے ہیں، "اللہ اکبر"، کہ اللہ عزوجل سب سے اعلٰی ہے اور آپ کے "اللہ اکبر" کہنے کی وجہ یہ ہے کہ آپ اللہ عزوجل سے اپنے کانوں کی حقیقت کو کھولنے کے لیے درخواست کر رہے ہوتے ہیں۔ کیونکہ آپ کی روح کانوں کے ذریعے (باہر) نکلتی ہے۔ یہ (روح) آواز سنتی ہے اور کان کے ذریعے سفر کرنے لگتی ہے۔ جیسے ہی آپ 'اللہ اکبر' کہتے ہیں، آپ نے کان سے ایک پردہ ہٹا دیا اور روح سوچ کی رفتار سے بھی زیادہ تیزی سے بارگاہِ الٰہی میں پرواز کر جاتی ہے۔ خیال کی رفتار سے بھی زیادہ تیز، روح اس سمندر میں موجود ہوتی ہے۔
𝐔𝐫𝐝𝐮 𝐓𝐫𝐚𝐧𝐬𝐥𝐢𝐭𝐞𝐫𝐚𝐭𝐢𝐨𝐧:
Jab woh apne dil ko uss rukh mein karte hain, to woh dekh letay hain. Ab agar woh usay dekh rahay hotay hain, to yeh namaz is ke muqablay mein so gina ziyada taaqatwar hoti hai jo sirf apne zehen mein parh raha tha. Woh haqeeqi namaz ki haalat tak pohanchna shuru kar dete hain jis mein woh roshni ke samndron mein apni rooh ke sath namaz parh rahay hotay hain. Aur jab woh roshni ke samandar mein apni rooh ke sath namaz parhte hain to, woh roshni ki energy ko mehsoos karte hain. Jaisay hi woh apne ( salam ) dete hain aur jab aap kehte hain," Allahu akbar ", ke Allah azzwajal sab se aala hai aur aap ke" Allahu akbar" kehnay ki wajah yeh hai ke aap Allah azzwajal se apne kaanon ki haqeeqat ko kholnay ke liye darkhwast kar rahay hotay hain. Kyunkay aap ki rooh kaanon ke zariye ( bahar ) nikalti hai. Yeh ( rooh ) aawaz sunthee hai aur kaan ke zariye safar karne lagti hai. Jaisay hi aap' Allahu akbar' kehte hain, aap ne kaan se aik parda hata diya aur rooh soch ki raftaar se bhi ziyada taizi se bargaah Ellahi mein parwaaz kar jati hai. Khayaal ki raftaar se bhi ziyada taiz, rooh is samandar mein mojood hoti hai .
𝐄𝐧𝐠𝐥𝐢𝐬𝐡 𝐓𝐫𝐚𝐧𝐬𝐜𝐫𝐢𝐩𝐭:
Where they direct their heart, they see. Now if they're seeing it, that prayer is 100 times more powerful than the one that was just thinking it. They begin to reach a state of real salah (prayer) in which they're praying with their soul into the oceans of light. And when they pray with their soul in the ocean of light, they feel the energy of lights. As soon as they give their…when you say, "Allahu Akbar," is that Allah (AJ) is Supreme and the reason you say "Allahu Akbar" is that you're asking Allah (AJ) to open the reality of your ears because your soul leaves through the ears. It hears the sound and travels from the ear. As soon as you say, "Allahu Akbar," you opened a veil from the ear and the soul went into the Divinely Presence faster than the speed of thought. Faster than the speed of thought, the soul is in that ocean.
اگر یہ مکہ میں اپنے آپ کو تصور کر سکتی ہے، اگر یہ خود کو مدینہ منورہ میں تصور کرسکتی ہے، تو بعد میں، اللہ عزوجل روشنی کی دنیا میں افق میں کھول دے گا جس میں وہ روشنی کی دنیا میں خود کو دیکھنے لگتی ہے، روشنی کے اس سمندر میں نماز پڑھتی ہے۔ یہ سب کچھ تفکر اور غور و فکر، مراقبہ، اور عظیم رابطہ بنانے پر مبنی ہوتا ہے۔ اینرجی کے بغیر، ہم کچھ بھی نہیں کر رہے۔ ہر چیز بس نقلی ہے۔
𝐔𝐫𝐝𝐮 𝐓𝐫𝐚𝐧𝐬𝐥𝐢𝐭𝐞𝐫𝐚𝐭𝐢𝐨𝐧:
Agar yeh mecca mein apne aap ko tasawwur kar sakti hai, agar yeh khud ko madinah Munawwara mein tasawwur kar sakti hai, to baad mein, Allah azzwajal roshni ki duniya mein ufaq mein khol day ga jis mein woh roshni ki duniya mein khud ko dekhnay lagti hai, roshni ke is samandar mein namaz padti hai. Yeh sab kuch tafakar aur ghhor o fikar, muraqba, aur azeem rabita bananay par mabni hota hai. Energy ke baghair, hum kuch bhi nahi kar rahay. Har cheez bas naqli hai .
𝐄𝐧𝐠𝐥𝐢𝐬𝐡 𝐓𝐫𝐚𝐧𝐬𝐜𝐫𝐢𝐩𝐭:
If it can visualize itself in Mecca, if it can visualize itself in Madina – later on, Allah (AJ) will open into horizons in the world of light in which it sees itself in the world of light, praying in that ocean of light. That becomes based all on tafakkur and contemplation, meditation, making the noble connection. Without the energy, we're doing nothing. Everything is just imitated.
————————————————————————–
بیان کا حصہ اوّل پڑھنے کیلئے:
Read the Part-1 of the Bayan:
Https://www.facebook.com/…/a.130668968324252/406841817373631
اس بیان کا دوسرا حصہ پڑھنے کیلئے:
Read the Part-2 of the Biyan:
Https://www.facebook.com/…/a.1306689683…/408245417233271
بیان کا تیسرا حصہ پڑھنے کیلئے:
Read the Part-3:
Https://www.facebook.com/…/a.130668968324252/413706156687197
بیان کا چوتھا حصہ:
Read Part-4 of Bayan:
https://www.facebook.com/…/a.1306689683242…/417715652952914/
یہ بیان یوٹیوب پر دیکھنے کیلئے
Watch this Bayan on youtube:
Https://youtu.be/yuuquues0nq
اس آرٹیکل کو انگلش میں پڑھنے کیلئے
Read this Article in English: What to Visualize in Salah? Feel the Presence of Prophet Muhammad ﷺ Q&A:
Https://www.nurmuhammad.com/what-to-visualize-salah-feel-p…/
یو ٹیوب چینل ابھی سبسکرایب کیجئے
Subscribe Now: The Muhammadan Way Sufi Realities
Www.youtube.com/channel/UC4E8QX7OgwYDgyuuXTBMrcg
شیخ سید نور جان میر احمدی نقشبندی (ق) کا آفشیل فیس بک پیج لائک کیجئے
Official Page: Shaykh Nurjan Mirahmadi
Https://www.facebook.com/shaykhnurjanmirahmadi/
► 𝐀𝐧𝐝𝐫𝐨𝐢𝐝 𝐀𝐩𝐩: https://play.google.com/store/apps/details…
► 𝐢𝐏𝐡𝐨𝐧𝐞 𝐀𝐩𝐩: https://apps.apple.com/us/app/muhammadan-way/id1244297852
► 𝐒𝐨𝐮𝐧𝐝𝐂𝐥𝐨𝐮𝐝: https://soundcloud.com/muhammadanway
► 𝐃𝐨𝐧𝐚𝐭𝐞 (𝐏𝐀𝐊𝐈𝐒𝐓𝐀𝐍 𝐚𝐧𝐝 𝐖𝐎𝐋𝐑𝐃𝐖𝐈𝐃𝐄) : https://nurmuhammad.com/donate
Please Subscribe and Share