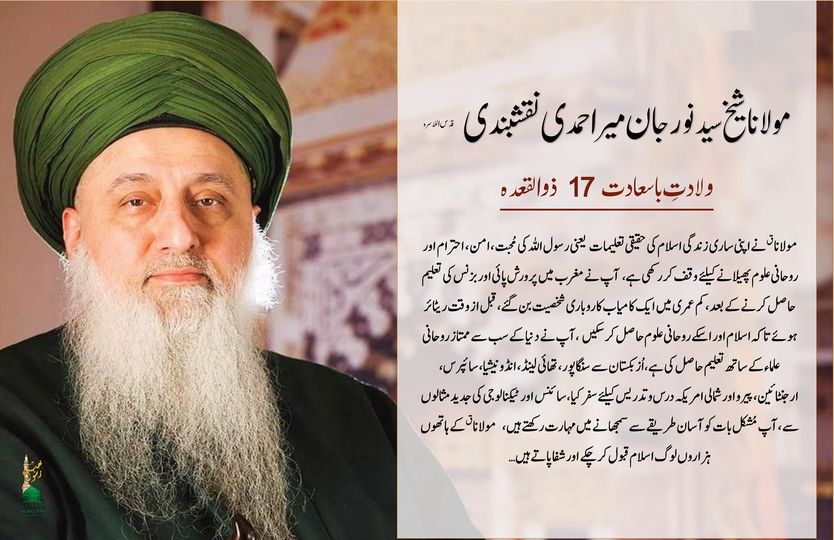 Urdu – مولانا شیخ سید نورجان میراحمدی نقشبندی قدس اللہ سرہ ولادتِ باسعادت 17 ذوالقعدہ…

مولانا شیخ سید نورجان میراحمدی نقشبندی قدس اللہ سرہ
ولادتِ باسعادت 17 ذوالقعدہ
مولاناشیخ نورجان میر احمدی نقشبندی قدس اللہ سرہ نے اپنی ساری زندگی اسلام کی حقیقی تعلیمات— حُب رسول ، محبت ، امن و احترام اور روحانی علوم پھیلانے کیلئے وقف کر رکھی ہے۔ آپ نے مغرب میں پرورش پائی اور بزنس کی تعلیم حاصل کرنے کے بعد کم عمری میں ایک کامیاب کاروباری شخصیت بن گئے۔ قبل از وقت ریٹائر ہوئے تاکہ وہ اسلام اور اسکے روحانی علوم حاصل کر سکیں ۔ آپ نے دنیا کے سب سے ممتاز روحانی علما٫ کے ساتھ تعلیم حاصل کی۔ اُزبکستان سے سنگاپور، تھائی لینڈ، انڈونیشیا، سائپرس، ارجنٹائین،پیرو اور شمالی امریکہ درس وتدریس کیلئے سفر کیا ۔سائنس اور ٹیکنالوجی کی جدید مثالوں سے ، آپ مُشکل بات کو آسان طریقے سے سمجھانے میں مہارت رکھتے ہیں، انکے ہاتھوں ہزاروں لوگ اسلام قبول کر چکے اور شفا پاتے ہیں۔شیخ نورجان (ق) متعدد تعلیمی اور فلاحی تنظیمیں قائم کر چکے ہیں۔اللہ کریم ہم. سب کو مرشد پاک کے قدمین شریفین میں قبول فرمائے آمین ثم آمین 🤲🏻⚡
Mawlana Shaykh Nurjan Mirahmadi Q
For over 25 years, Shaykh Nurjan has dedicated his life to spreading the true Islamic teachings of love, acceptance, respect and peace. Being raised in the west at a very young age, he pursued an education in Business and became a very successful entrepreneur. He decided to retire early to pursue his love for Islam and its spiritual sciences and increase his knowledge by studying with some of the world's leading Islamic scholars. Shaykh Nurjan has founded numerous educational and charitable organizations. He has travelled extensively throughout the world learning and teaching the traditional way of Ahle Sunnah Wa'l Jama'a and the spiritual realities. Shaykh Nurjan specializes in taking complex ideas and explaining them in an easy to understand manner that resonates well with the audience, especially youth. Using modern day examples of science and technology, he can effectively convey Islamic concepts to a diverse audience. Thousands have accepted Islam and have found healing in their lives by seeking his counsel.