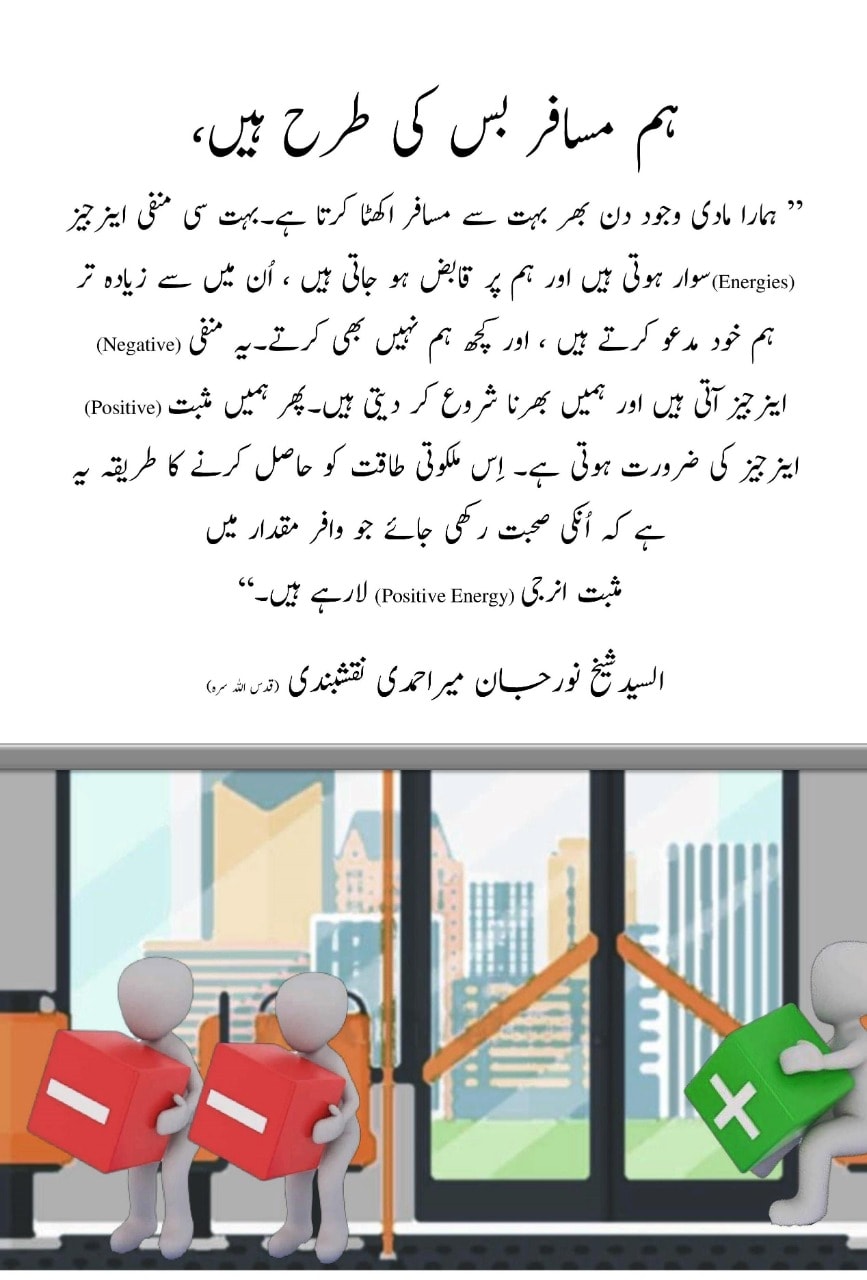 Urdu – |مسافر بس کی طرح ، ہم بہت سی منفی اینرجیز کو اکھٹا کر لیتے ہیں| ہم مسافر بس کی …
|مسافر بس کی طرح ، ہم بہت سی منفی اینرجیز کو اکھٹا کر لیتے ہیں|
ہم مسافر بس کی طرح ہیں؛ ہمارا مادی وجود دن بھر بہت سے مسافر اکھٹا کرتا ہے۔ بہت سی منفی اینرجیز سوار ہوتی ہیں اور ہم پر قابض ہو جاتی ہیں ، اُن میں سے زیادہ تر ہم خود مدعو کرتے ہیں ، اور کچھ ہم نہیں بھی کرتے۔ یہ منفی اینرجیز آتی ہیں اور ہمیں بھرنا شروع کر دیتی ہیں۔ پھر ہمیں مثبت اینرجیز کی ضرورت ہوتی ہے۔اِس ملکوتی طاقت کو حاصل کرنے کا طریقہ یہ ہے کہ اُن کی صحبت رکھی جائے جو وافر مقدار میں مثبت اینرجی لا رہے ہیں ، پیدا کر رہے ہیں۔
یعنی اِن ذکر کی مجلسوں میں آنے سے ، اِن محافلِ اذکار میں آنے سے اور جیسے مشائخ نے ہمیں اِن اذکار کو کرنے کی تعلیم دی ہے، یہ ایک ملکوتی طاقت لے کر آتے ہیں اور ملکوتی اینرجی لے کر آتے ہیں۔ جب یہ اینرجی صادر ہونا شروع ہوتی ہے تو یہ قلب میں داخل ہونا شروع ہوجاتی ہے ۔
السید شیخ نورجان میراحمدی نقشبندی قدس اللہ سرہ
_______________________
Urdu Transliteration:
|MUSAAFIR BUS KI TRAH, HUM BHUT SI MANFI ENERGIES KO IKATHA KR LETAY HAIN|
Hum Musaafir Bus ki trah hain.Hmara Maadi wojood din bhar bht se musaafir ikatha krta ha.Bht si Manfi energies sawar hoti hain aur hum Par qaabiz hojaati hain.On main se zyada tar hum khud Mad'oo karte hain aur kuch hum nahi bhi karte.ye manfi energies aati hain aur hamein bharna shuru kr deti hain.Phir hamein Masbat energies ki zaroorat hoti ha.Iss Malaqooti Taqat ko haasil krne ka tariqa ye ha ke on ki sohbat rakhi jae jo waafir miqdaar mein masbat energy laa rahe hain,paida kar rahe hain.Yani ziker ki majlisoo mein anay se, Inn Mahafil e azkaar mein anay se aur jesay Mashaikh ne hamein inn azkaar ko karne ki Taaleem di ha, ye aik malaqooti Taqat Le kr aate hain aur Malaqooti energy le kar aate hain.jab ye energy Saadir hona shuru hoti ha tu ye qalb mein daakhil hona shuru hojaati ha.
____________________________
Original Text:
|Like a Bus, We Pick Up Many Negative Energies|
We are like a bus; our physical being picks up many passengers along the day. Many negative energies come on board and occupy us, most of which we invite, some of which we don't. These negative energies come and they begin to fill us. Then we are in need of positive energy.
The way to get this angelic force is by keeping the company of those that are producing and bringing excessive amounts of that positive energy.It means that by coming into the associations of remembrance, by coming into the associations of zikr and chanting and what the guides have been taught of these chants, they bring an angelic force and bring an angelic energy. When that energy begins to emanate, it begins to move into the heart.
As-Sayyed Shaykh Nurjan Mirahmadi Naqshbandi Qs