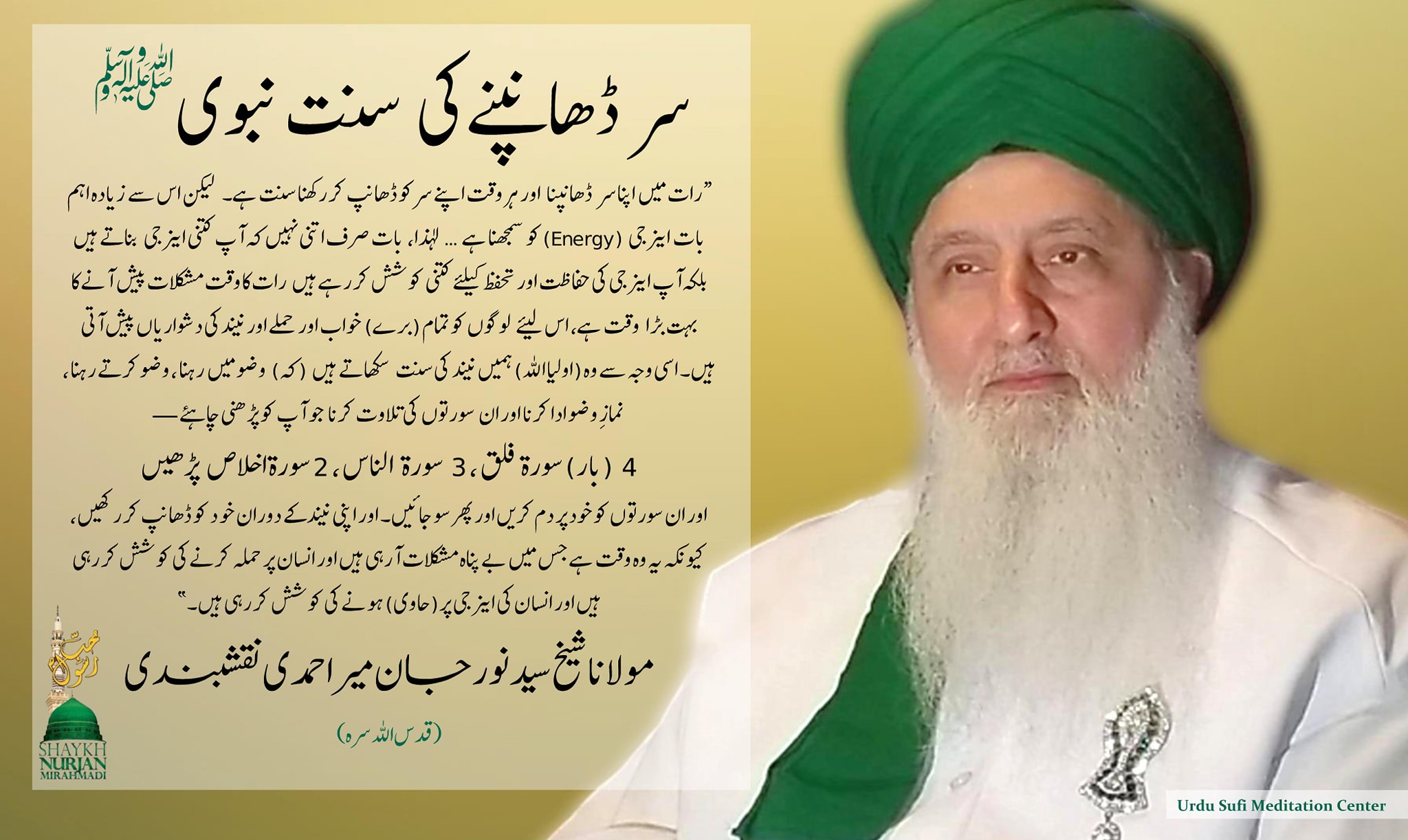 Urdu – قرآن پاک میں مچھلی کا معنی اور علمِ حروف "ن" — سوالات و جوابات (حصہ سوئم) Qur…
قرآن پاک میں مچھلی کا معنی اور علمِ حروف "ن" — سوالات و جوابات (حصہ سوئم)
Quran e Paak mein machli ka ma'ani aur ilm e huroof "Noon" — sawalaat o jawabaat ( Hissa soyam )
Symbolic Meaning of Fish in the Qu'ran & Ilm Huroof "Noon " —
Q&A — [PART-3]
سوال: سیدی کیا ہر وقت سر ڈھانپ کر رکھنا سنت ہے؟ حتیٰ کہ رات کے وقت بھی؟ اس کے پوشیدہ حقائق کیا ہیں؟
مولانا شیخ سیدنورجان میراحمدی نقشبندی (ق):جی رات میں اپنے سر کو ڈھانپنا اور ، ہر وقت اپنے سر کو ڈھانپ کہ رکھنا سنت ہے۔ لیکن اس سے زیادہ اہم بات اینرجی کو سمجھنا ہے۔ کہ اگر آپ ایک اینرجی سے بنا وجود رکھتے ہیں اور آپ کی (مثبت)اینرجی لگاتار کم ہورہی ہو تو نیگیٹو(منفی) اینرجی آپ کی طرف بڑھنے کی کوشش کرتی ہے۔آپ کے سر پر ،آپ کی پشت پر ، آپ کی اینرجی سے فائدہ اٹھانے آرہی ہے۔
Sawaal :Sayyidi kya har waqt sir dhaanp kar rakhna sunnat hai? hatta ke raat ke waqt bhi? is ke posheeda haqayiq kya hain ?
Mawlana Shaykh Sayyid Nurjan Mirahmadi Naqshbndi ( qs ): Jee raat mein –apne sir ko dhanpna aur, har waqt –apne sir ko dhaanp ke rakhna sunnat hai. lekin is se ziyada ehem baat energy ko samjhna hai. ke agar aap aik energy se bana wujood rakhtay hain aur aap ki ( masbet ) energy lagataar kam hou rahee ho to negative ( manfi ) energy aap ki taraf bherne ki koshish karti hai.apke sir par, apki pusht par, apki energy se faida ithaane aa rahi ha.
_______________________________
Question: Sayyidi is head covering all the time a sunnah, at night also? What are its hidden realities?
Shaykh Sayyid Nurjan Mirahmadi Naqshbandi Q: Yeah the covering of your head at night and, is the sunnah (way of Prophet ﷺ) to keep your head covered at all times is a sunnah but more important in its understanding of energy. That if you're an energy being and your energy is continuously escaping then negative energy is trying to come towards you come onto your head come onto your back to take from your energy.
لہذا، بات صرف اتنی نہیں کہ آپ کتنی اینرجی بناتے ہیں بلکہ آپ اینرجی کی حفاظت اور تحفظ کیلئے کتنی کوشش کر رہے ہیں۔ رات کا وقت مشکلات پیش آنے کا بہت بڑا وقت ہے، اسی وجہ سے تمام خواب اور حملے اور نیند کی دشواریاں لوگوں کو پیش آتی ہیں۔ اسی وجہ سے وہ (اولیاء اللہ) ہمیں سکھاتے ہیں اور سونے کی سنت ، وضو میں رہنے ، وضو کرتے رہنے ، نمازِ وضو ادا کرنے؛ ان سورتوں کی تلاوت جو آپ کو پڑھنی چاہئے—چار(بار سورۃ) فلق ، تین (بار سورۃ) الناس ، دو(بار سورۃ) اخلاص ، پڑھیں اور ان سورتوں کو خود پر دم کریں اور پھر سو جائیں۔ اور اپنی نیند کے دوران خود کو ڈھانپ کر رکھیں، کیونکہ یہ وہ وقت ہے جس میں بے پناہ مشکلات آرہی ہیں اور انسان پر حملہ کرنے کی کوشش کر رہی ہیں اور انسان کی اینرجی پر(حاوی) ہونے کی کوشش کر رہی ہیں۔
lehaza, baat sirf itni nahi ke aap kitni energy banatay hain balkay aap energy ki hifazat aur tahaffuz ke liye kitni koshish kar rahay hain. raat ka waqt mushkilaat paish anay ka bohat bara waqt hai, isi wajah se tamam khawab aur hamlay aur neend ki dushwariyan logon ko paish aati hain. isi wajah se woh (Awliya Allah ) hamein sikhate hain aur sonay ki sunnat, wudu mein rehne, wudu karte rehne, namaz-e wudu ada karne ؛ un suraton ki talawat jo aap ko parhni chahiye —Chaar ( baar surah ) falaq, teen ( baar surah ) al naas, Dou ( baar surah ) ikhlaas, parheen aur un suraton ko khud par dam karen aur aur phir so jayen. aur apni neend ke douran khud ko dhaanp kar rakhen, kyunkay yeh woh waqt hai jis mein be panah mushkilaat aa rahi hain aur insaan par hamla karne ki koshish kar rahi hain aur ensaan ki energy par ( haawi ) honay ki koshish kar rahi hain .
_______________________________
So it's not only the energy you build but how much energy are you trying to protect and safeguard. Night time is a big time of difficulty that's why all of the dreams and attacks and sleep difficulties that come for people. So that's why they teach us and the sunnah of sleeping and keeping washing, making your wudu, praying your Salatul Wudu (Prayer of ablution), read the surahs (verses) that you're supposed to read – four falak, three nas, two ikhlas, and make and blow upon yourself from those surahs and then sleeping. And keeping yourself covered during your sleep because that's a time in which immense amount of difficulties are coming and trying to attack insan and trying to come onto the energy of insan.
لہذا ہمارے پاس یہ (تعلیمات ) اینرجی کے بیانات اور سنت کی ویڈیوز میں موجود ہیں اور مقدس سنتِ نبوی (ﷺ) — جو نبی کریم (ﷺ) ہمارے لیے سنت کی اینرجی سمجھنے کیلئے لائے ، ان شاءاللہ، اور اس کی بے مثال اہمیت ہے۔ اللہ (عزوجل) آپ کو سلامت رکھے ، آپ کو فضل و کرم سے سجائے اور مجھے بخشش عطا فرمائے۔ اور ان شاء اللہ ہم کل اور ہفتہ کی رات یہاں موجود رہنے کی کوشش کریں گے اور پھر براہ کرم سنٹر(Sufi Meditation Center) کی مدد کیجیے اور اس مہینے میں جب ہم میلاد النبی (ﷺ) کے لئے تیار ہیں کہ اللہ (عزوجل) ہمیں تحفظ فراہم کرے۔ اور تحفظ حاصل ہوتا ہے؛ نیک اعمال سے، متحرک (ایکٹوو) ہونے سے، اور جتنی زیادہ سے زیادہ کوشش ہم کر سکتے ہیں کہ محبتِ سیدنا محمدﷺ کا علم (پیغام) پھیلائیں ( اور) ان شاء اللہ ،خدمت کی زندگی گزارنے سے (حاصل ہو گا) ۔ان شاء اللہ
سُبْحَانَ رَبِّکَ رَبِّ الْعِزَّۃِ اَمَّا یَصِفُونْ وَسَلَامٌ عَلیٰ الْمُرْسَلِیْنْ وَاَلْحَمْدُ لِلّٰهِ رَبِّ الْعَالَمِیْنِ وَ بِحُرْمَةِ مُحَمَّدٍ الْمُصْطَفیٰ وَ بِسِرِّ سُوْرَۃِ اْلْفَاتِحَہ.
lehaza hamaray paas yeh ( talemaat ) energy ke bayanaat aur sunnat ki videos mein mojood hain aur muqaddas sunnat e nabvi (ﷺ) — jo Nabi kareem (ﷺ ) hamaray liye sunnat ki energy samajhney ke liye laaye, in shaa Allah , aur iss ki be misaal ehmiyat hai. Allah ( azzwajal ) aap ko salamat rakhay, aap ko fazl o karam se sajaye aur mujhe bakhshish ataa farmaiye. aur in shaa Allah hum kal aur haftay ki raat yahan mojood rehne ki koshish karen ge aur phir barah e karam center ( sufi meditation center ) ki madad kijiye aur is mahinay mein jab hum milaad un Nabi (ﷺ ) ke liye tayyar hain ke Allah ( azzwajal ) hamein tahaffuz faraham karay. aur tahaffuz haasil hota hai ؛ naik aamaal se, mutharrak ( active ) honay se, aur jitni ziyada se ziyada koshish hum kar satke hain ke mohabbat e Sayyedina Muhammad (ﷺ) ka ilm ( pegham ) philayein ( aur ) in shaa Allah , khidmat ki zindagi guzaarne se ( haasil ho ga ). In shaa Allah
Subhana rabbika rabbal 'izzati 'yasifoon, wa salaamun 'alal mursaleen, walhamdulillahi rabbil 'aalameen. Bi hurmati Muhammad al-Mustafa wa bi siri Surat al-Fatiha.
_____________________
So we have that in the discussions of energy and in the videos for the sunnah and the holy sunnah what Prophet ﷺ brought for us of energy understandings of the sunnah inshAllah and the immense importance of it. May Allah (AJ) bless you and dress you and forgive me. And inshaAllah we will try to be there for tomorrow night and Saturday night and then please support the centre and in this month as we get ready for mawlid e Nabi ﷺ that Allah (AJ) give us a protection. And protection comes through the good deeds being active, trying to do the most that we can propagate whatever we can spread the knowledge of the love of Sayyidina Muhammad ﷺ, inshaAllah to live a life of service inshaAllah.
Subhana rabbika rabbal 'izzati 'yasifoon, wa salaamun 'alal mursaleen, walhamdulillahi rabbil 'aalameen. Bi hurmati Muhammad al-Mustafa wa bi siri Surat al-Fatiha.
اس بیان کا دوسرا حصہ پڑھنے کے لیے یہاں کلک کیجیے:
Click here to read Part 2 of this Link:
https://www.facebook.com/103516737706142/posts/374561477268332/
یہ بیان یوٹیوب پر دیکھنے کیلئے
Watch this Bayan on YouTube:
@07:37 How can we dive deeper into realities to discover our God given gifts?
https://youtu.be/RIp7qfDfzPs
یہ بیان انگلش میں پڑھنے کیلئے
To read in English:
https://www.facebook.com/…/a.169335144408…/3417689488320818/
یوٹیوب چینل سبسکرائب کیجئے
Subscribe Now: The Muhammadan Way Sufi Realities
www.youtube.com/channel/UC4E8QX7OgwYDgyuuXTBMrcg
شیخ سید نور جان میر احمدی نقشبندی (ق) کا آفشیل فیس بک پیج لائک کیجئے
Official Page: Shaykh Nurjan MirahmadiShaykh Nurjan Mirahmadi