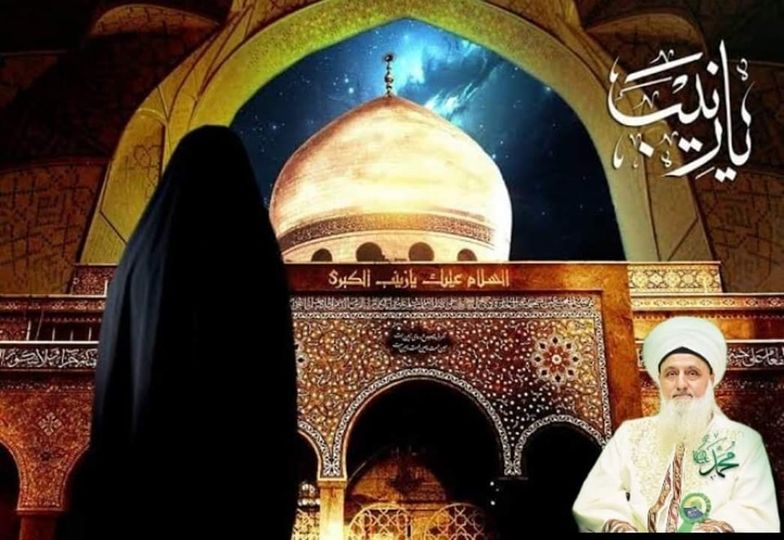 Urdu – عرس مبارک|دمشق میں مقامِ سیدتنا زینب [علیہ السلام] عرس مبارک ۱۵ رجب مسلمانوں…

عرس مبارک|دمشق میں مقامِ سیدتنا زینب [علیہ السلام] 👑💚🙏🏻
عرس مبارک ۱۵ رجب❤
مسلمانوں کو آنخضرت محمد ﷺ اور آپﷺ کے اہلِ بیتؑ کے ہمراہ ہجرتِ مدینہ منورہ کیے ہوئے پانچ برس ہوچکے تھے، جب آنحضورﷺ کی صاحبزادی حضرت فاطمہ [علیہ السلام] نے ایک چھوٹی شہزادیؑ کو جنم دیا۔ جب اُن کے والد ، امام علیؑ [ع] ، نے پہلی بار اپنی صاحبزادیؑ کو دیکھا تو پیارے امام حسینؑ [ع] ، جو اُس وقت تقریباً تین برس کے تھے ،آپؑ[ع]کے ساتھ تھے۔
پسر[حضرت امام حسینؑ] نے خوشی سے فرمایا ، "باباؑ ، اللہ عزوجل نے مجھے ایک بہنؑ عطا فرمائی ہے۔" اِن الفاظ پر امام علیؑ [ع] آبدیدہ ہوگئے ، اور جب حضرت حسینؑ[ع] نے پوچھا کہ وہ کیوں رو رہے ہیں تو اُن کے والدؑ نے جواب دیا کہ آپ جلد ہی جان لیں گے۔سیدتنا فاطمہؑ اور امام علیؑ [ع] نے پیدائش کے کچھ دن بعد تک اپنی بچیؑ کا نام نہیں رکھا تھا، کیونکہ وہ نبی اکرمﷺ کی سفر سے واپسی کے منتظر تھے تاکہ آپ ﷺ نام تجویز فرمائیں۔
جب شہزادیؑ کو آپﷺ کے سامنے پیش کیا گیا تو آپﷺ نے انھیں اپنی گودِ مبارک میں تھام لیا اور بوسہ دیا۔ سردار الملائکہ جبرائیل (علیہ السلام) آپﷺ کے پاس تشریف لائے اور اُنؑ کا اسمِ گرامی عرض کیا، اور پھر وہ رونے لگے۔
نبی اکرمﷺ نے پوچھا کہ جبرائیلؑ!کیوں روئے؟اور آپؑ نے جواب عرض کیا ، "اے اللہ کے نبیﷺ ،زندگی کے ابتدائی ایام سے ہی یہ شہزادیؑ اس دنیا میں مصائب اور آزمائشوں کا سامنا فرمائیں گیں۔ پہلے وہ(اس عالم میں)آپﷺ کی جدائی پر اشکبار ہونگیں؛ اس کے بعد وہ اپنی والدہؑ [سیدۃ النساء]،اپنے والد[امام علیؑ] اور اس کے بعد اپنے بھائی سیدنا حسنؑ کی شہادت پر اشکبار ہونگیں۔اس سب کے بعد انھیںؑ سرزمینِ کربلا کی آزمائشوں اور اِس تنہا صحرا کے فتنے کا سامنا کرنا پڑے گا۔ جس سے اُنؑ کے بال سرمئی ہو جائیں گے اور اُنؑ کی کمر جھک جائے گی۔ "
جب اہلِ بیتؑ نے یہ پیشگوئی سنی تو وہ سب آبدیدہ ہوگئے۔ امام حسینؑ [ع] اب سمجھ گئے کہ اس سے قبل اُن کے والدؑ بزرگوار کیوں رو پڑے تھے۔ پھر پیغمبر اکرمﷺ نے اُنؑ کا اسمِ گرامی (نام) سیدتنا زینبؑ رکھا۔
URS MUBARAK Maqam Saydatina Zeinab [as] in Damascus👑
URS Mubarak 15th of Rajab ❤️🌹
It was five years after the Muslims had accompanied the Prophet [s.a.w.] and his family in the migration (hijrah) to Medina, when the Holy Prophet's daughter, Hadrat Fatima [a.s.], gave birth to a little girl. When her father, Imam Ali [a.s.], saw his daughter for the first time Imam Husayn [a.s.], who was then almost three years old, was with him.
The boy exclaimed in delight, "O father, Allah has given me a sister." At those words Imam Ali [a.s.] began to weep, and when Husayn [a.s.] asked why he was crying so, his father answered that he would soon come to know. Fatima [a.s.] and Ali [a.s.] did not name their child until a few days after her birth, for they awaited the Prophet's return from a journey so that he could propose the name.
When finally the baby girl was brought before him he held her in his lap and kissed her. The Angel Jibra'il came to him and conveyed the name that was to be hers, and then he began to weep.
The Prophet [s.a.w.] asked why Jibra'il wept and he answered, "O Prophet of Allah, from early on in life this girl will remain entangled in tribulations and trials in this world.- First she will weep over your separation (from this world); thereafter she will bemoan the loss of her mother, then her father, and then her brother Hasan. After all this she will be confronted with the trials of the land of Karbala and the tribulations of that lonely desert, as a result of which her hair will turn grey and her back will be bent."
When the members of the family heard this prophecy they all broke down in tears. Imam Husayn [a.s.] now understood why earlier his father had also wept. Then the Prophet [s.a.w.] named her Zaynab [a.s.].
#AhlulBait #Rajab #MuhammadanWay #ShaykhNurjan #SMC #ImamAliAS