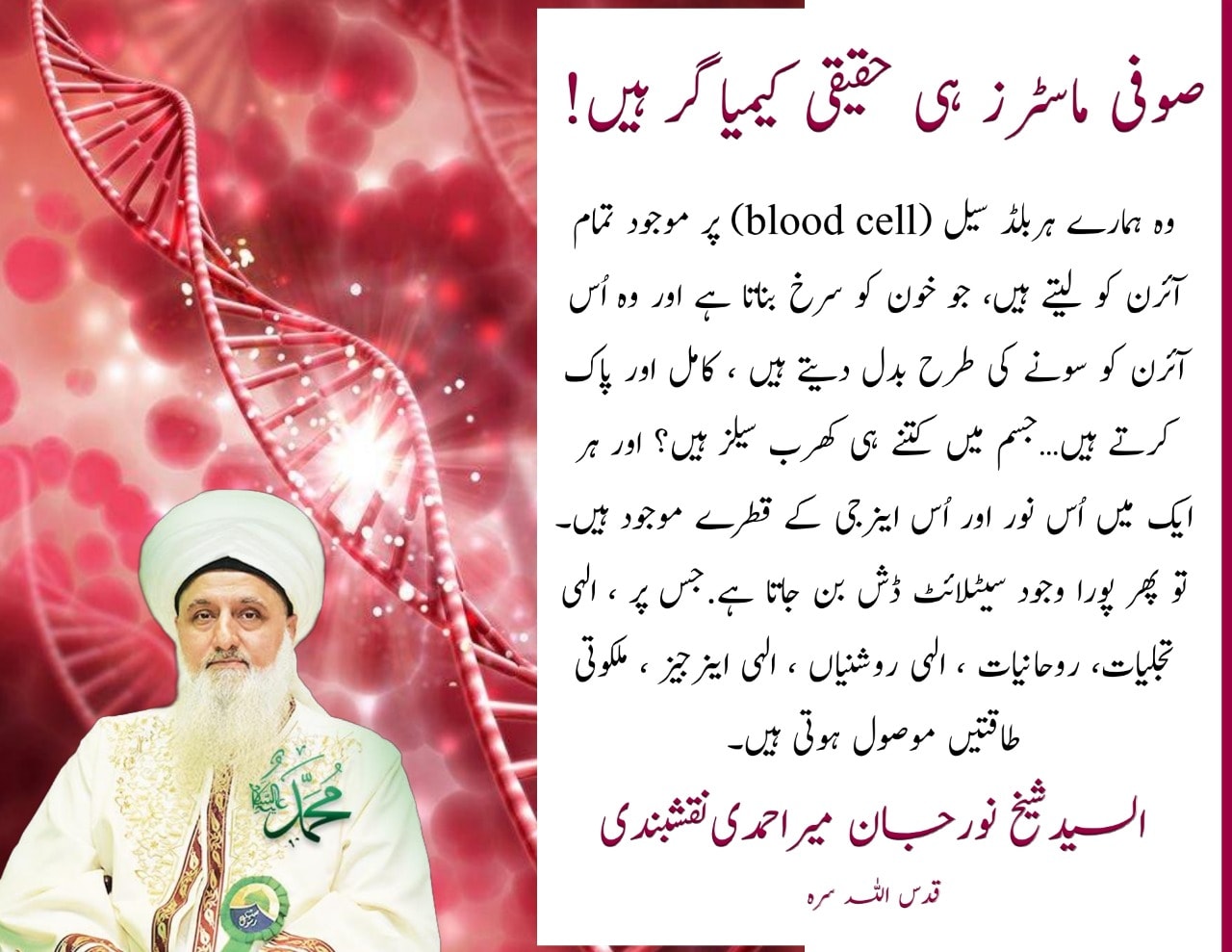 Urdu – |صوفی ماسٹرز ہی حقیقی کیمیا گر ہیں| وہ ہمارے وجود میں موجود دھات کو لیتے ہیں۔ ہ…
|صوفی ماسٹرز ہی حقیقی کیمیا گر ہیں|
وہ ہمارے وجود میں موجود دھات کو لیتے ہیں۔ ہمارے ہربلڈ سیل (blood cell) پر موجود تمام آئرن کو لیتے ہیں، جو خون کو سرخ بناتا ہے اور وہ اُس آئرن کو سونے کی طرح بدل دیتے ہیں ، کامل اور پاک کرتے ہیں ، اینرجی اور نور کا کامل موصل بنا دیتے ہیں تاکہ جسم میں موجود ہر سیل(cell) ، جسم میں موجود ہر آئرن کا ٹکڑا ، سونے کی طرح، کامل ہو۔ اُن کی تکمیل کی جاتی ہے اور وہ الہی اینرجیز سے مکمل طور پر منسلک کئے جاتے ہیں۔ جسم میں موجود ہر بال سیٹلائٹ رسیور کی طرح ہے۔ جسم میں کتنے ہی کھرب سیلز ہیں؟ اور ہر ایک میں اُس نور اور اُس اینرجی کے قطرے موجود ہیں۔ تو پھر پورا وجود سیٹلائٹ ڈش بن جاتا ہے.جس پر ، الہی تجلیات، روحانیات ، الہی روشنیاں ، الہی اینرجیز ، ملکوتی طاقتیں موصول ہوتی ہیں۔
السید شیخ نورجان میراحمدی قدس اللہ سرہ
URDU TRANSLITERATION:
|SUFI MASTERS HI HAQEEQI KEEMYA GAR HAIN|
Wo hmaray wajood mein mo'jood har dhaat ko letay hain aur hmaray har blood cell Par mojood tmam iron ko letay hain, jo khoon(blood)ko surkh(red) bnaata ha aur wo ous iron ko sonay ki trah badal detay hain, kaamil aur paak krtay hain, energy aur nur ka kaamil mo'sal (receiver) bana detay hain takay jism mein mojood bar cell, jism mein mojood har iron ka tukra, sonay ki trah kaamil ho, onki takmeel ki jaati ha aur wo ilaahi energies se mukammal tor per munsalik kiye jaate hain. Jism mein mojood har baal sattelite receiver ki trah ha. Jism mein kitnay he khaa-rab (trillions) cells hain?? Aur har aik mein ous nur aur ous energy ky qatray mojood hain. Tu phir poora wojood sattelite dish ban jata ha jis Par ilaahi tajjalliyaat , roohaaniyaat, ilaahi roshniyaaa, ilaahi energies, malakooti taaqtein mo'sool hoti hain.
As sayyed Shaykh Nurjan Mirahmadi Naqshbandi Q
TRANSCRIBED LECTURE:
|Sufi Masters Know the Real Alchemy|
They take the metal within our entire being. They take all the iron that is on every cell of the blood, making it to be red and they begin to turn that iron like gold, perfect and purified. The perfect conductors of energy and light so that every cell of the body, every piece of iron within the body, is almost like gold, perfected. It is perfected and connecting perfectly with Divine energies. And every hair on the body is like a satellite receiver. How many trillions of cells are in the body? And each has a drop of that light and that energy. Then the entire being becomes a satellite dish, receiving these Divine emanations, the ruhaniyat, Divine lights, Divine energies, angelic forces.
As-Sayyed Shaykh Nurjan Mirahmadi Qs