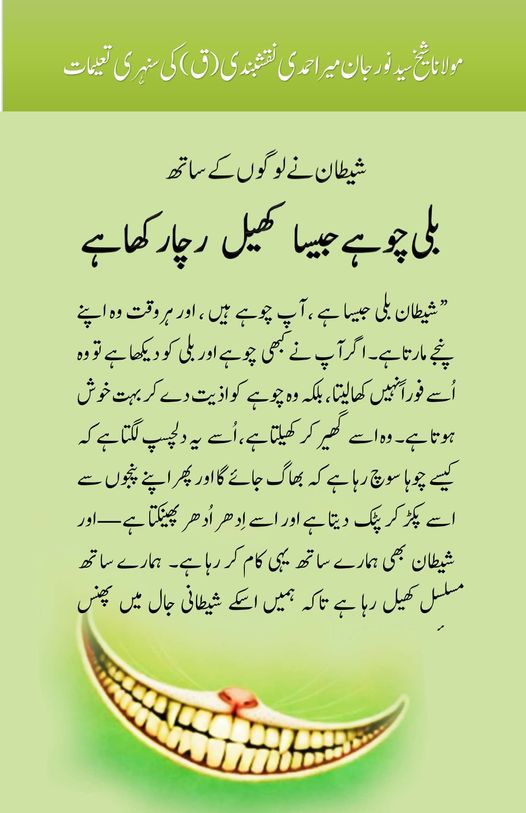 Urdu – شیطان نے لوگوں کے ساتھ بلی چوہے جیسا کھیل رَچا رکھا ہے— ہو سکتا ہے آپ اپنے بار…

شیطان نے لوگوں کے ساتھ بلی چوہے جیسا کھیل رَچا رکھا ہے— ہو سکتا ہے آپ اپنے بارے میں تصور کریں کہ آپ کئی درجات حاصل کر چکے، لیکن آپ کا اخلاق واحد ثبوت ہے، اگر اخلاق بُرا ہے تو کچھ حاصل نہیں ہوا
|shaytan nay logon ke sath billi choohay jaisa khail racha rakha hai — ho sakta hai aap apne baray mein tasawwur karen ke aap kayi darjaat haasil kar chuke, lekin aap ka ikhlaq wahid saboot hai, agar ikhlaq bُra hai to kuch haasil nahi sun-hwa|
????? ?? ??????? ???? ??????, ???? ? ??? ??? ?????, ??? ??? ??????? ???? ?????? ??? ???????? ??? ???? ???????? ??? ???? ????????? ?? ??? ???? ????? ?????????. ?? ??? ????????? ?? ??? ???? ??????? ??? ???? ????????.
مولانا شیخ سید نورجان میراحمدی نقشبندی (ق) کے بیان کا اُردو ترجمعہ
اَعُوْذُ بِاللہ مِنَ الشَّیْطٰنِ الرَّجِیْمِ ۞ بِسْمِ اللہ الرَّحْمٰنِ الرَّحِیْمِ ۞
…أَطیعُوا اللّهَ وَأَطیعُوا الرَّسُول وَأُولی الأمرِ مِنْکُمْ ۞
اور ہمیشہ اپنے نفس کیلئے یاد دہانی : اَنَا عَبْدُكَ الْعَاجِزُ، ضَعِیْفُ، مِسْکِینُ وَ ظَالِمْ وَ جَھَلْ( یا رب، میں آپ کا بندہِ عاجز، ضعیف، مسکین اور ظالم اور جاہل ہوں) لیکن اللہ (عزوجل) کے فضل سے ہمارا وجود ابھی تک قائم ہے۔ اور الحمد للہ، رمضان کا بابرکت مہینہ عبادت اور بندگی کا مہینہ ہے۔ اور الحمد للہ، حسبِ روایت ، ماہِ رمضان میں پروگرام طویل ہیں اور تمام ذکر جاری ہیں اور اس مہینے میں بہترین عبادت، یہ میلاد ہیں ، یہ ذکر ہیں ، یہ مجالس ہیں ۔ لہذا ، الحمدللہ ان مجالس اور ان انجمنوں کے علاوہ اور کوئی بہتر جگہ نہیں ۔ ہم دعاگو ہیں کہ اللہ (عزوجل) ہمیں ذکراللہ سے بھری ہوئی اور سیدنا محمد (ﷺ) کی محبت سے بھری ہوئی زندگی عطا فرمائے ۔ الحمد اللہ ، ہم نے بہت سے موضوعات کا احاطہ کیا اور اس سے پہلے ، کہ ہم دیگر موضوعات میں جائیں، کیا گزشتہ مجالس میں دیئے گئے بیانات پہ کوئی سوالات ہیں؟
???????????????: Aur hamesha apne nafs ke liye yaad dehani : ana abdukal 'ajeezu, dayeefu, miskinu, wa zhalim, wa jahl (ya rab, mein aap ka bandah aajiz, zaeef, maskeen aur zalim aur jaahil hon ) lekin Allah (AJ) ke fazl se hamara wujood abhi taq qaim hai. aur alhamdulillah, ramadaan ka babarkat maheena ibadat aur bay aur bandagi ka maheena hai. aur alhamdulillah, hasbe rivayet, Mah-e-Ramadaan mein programme taweel hain aur tamam zikar jari hain aur is mahinay mein behtareen ibadat, yeh milaad hain, yeh zikar hain, yeh majalis hain. lehaza, alhamdulillah un majalis aur un anjmnon ke ilawa aur koi behtar jagah nahi. Hum dua'go hain ke Allah (AJ) hamein zikrAllah se bhari hui aur Sayedena Muhammad (saws) ki mohabbat se bhari hui zindagi ataa farmaiye. Alhamdulillah, hum nay bohat se mozuaat ka ihata kya aur is se pehlay, ke hum deegar mozuaat mein jayen, kya guzashta majalis mein diye gaye bayanaat pay koi sawalaat hain ?|
From the Golden Teachings of Mawlana Shaykh Nurjan Mirahmadi (Q)
"Bismillahir Rahmanir Raheem,
Atiullah wa atiur Rasul wa Ulil amre minkum."
And always a reminder for myself ana abdukal 'ajeezu, dayeefu, miskinu, wa zhalim, wa jahl, and but for the grace of Allah (AJ) that we are still in existence. And alhamdulillah that the blessed month of Ramadan is a month of 'ibadah and worshipness. And alhamdulillah as it happens the programs are longer in the month of Ramadan and all the zikrs (Divine Remembrance) going on and the best form of worshipness for this time of month is these mawlids (celebration of the birthday of Prophet saws), the zikrs (association of divine remembrance), these associations. So, alhamdulillah there's no better place to be than in these majlis and these associations. We pray that Allah (AJ) always give us a life filled with the zikr of Allah (AJ), filled with the love of Sayyidina Muhammad (saws). Alhamdulillah that we covered a lot of subjects and so, before we go on and keep going into different things do people have questions from the.. the talks that we've had and the associations that have taken place.
اپنے نفس کو پہچاننا ، اپنے رب کو جاننے کے مترادف ہے۔ اور ہمارے سارے راستے کی بنیاد اپنے نفس کی پہچان ہے ۔ وہ لوگ جو خود کو نہیں جانتے وہ اپنے رب کی پہچان سے دور ہوتے جاتے ہیں۔ یعنی ہم' ربی الاعلی' کو کیسے جان سکتے ہیں – رب ذولجلال کو، اللہ (عزوجل) کی اعلی حاکمیت کو ، اُس ذات کے نشان اور اعلی حقائق کو (کیسے جان سکتے ہیں) جبکہ ہم خود کو نہیں جانتے؟ اور اسی وجہ سے نبی کریم (ﷺ)تشریف لائے اور فرمایا : جو اپنے آپ کو جانتا ہے وہ اپنے رب کو جانتا ہے۔ اور اس کے برعکس یہ بھی سچ ہے کہ جو اپنے آپ کو نہیں جانتا ، اپنے رب کو نہیں جانتا۔
|حدیث مبارکہ|
مَنْ عَرَفَ نَفْسَهْ فَقَدْ عَرَفَ رَبَّهُ
"جس نے اپنے نفس کو پہچان لیا اُس نے اپنے رب کو پہچان لیا"
سیدنا محمد المصطفیٰ(ﷺ)
???????????????: Apne nafs ko pehchanana, apne rab ko jan'nay ke mutradif hai. Aur hamaray saaray rastay ki bunyaad apne nafs ki pehchan hai. Woh log jo khud ko nahi jantay woh apne rab ki pehchan se daur hotay jatay hain. yani hum Rabbiul a'ala ko kaisay jaan satke hain – Rab-e-Zuljalal ko, Allah (AJ) ki Alla'hakmiyat ko, uss zaat ke nishaan aur Alla haqayiq ko ( kaisay jaan satke hain ) jabkay hum khud ko nahi jantay? aur isi wajah se Nabi Kareem (saws) tashreef laaye aur farmaya : jo apne aap ko jaanta hai woh apne rab ko jaanta hai. Aur is ke bar aks yeh bhi sach hai ke jo apne aap ko nahi jaanta, apne rab ko nahi jaanta .[Hadith Mubarikah: " jis nay apne nafs ko pehchan liya uss nay apne rab ko pehchan liya "Sayedena Muhammad al Mustapha (saws)|
That to know ourself is to know our lord, and our whole way is based on knowing ourself. That people who don't know themselves they distance themselves from knowing their Lord. Means that how can we know Rabbiul a'ala – the Lord Most High, Allah (AJ) Supremacy, His Signs and Majestic Realities, when we don't know ourself? And that's why Prophet (saws)came and says, 'Who knows himself will know his Lord,' and the reverse is also true that who doesn't know himself, doesn't know his Lord.
مَنْ عَرَفَ نَفْسَهْ فَقَدْ عَرَفَ رَبَّهُ
"Man 'arafa nafsahu faqad 'arafa Rabbahu"
"Who knows himself, knows his Lord."
Prophet Muhammad (pbuh)
اگرچہ اُن کا خیال ہے کہ وہ اپنے رب کو جانتے ہیں۔ طریقت (روحانی سلسلہ) کا سارا راز یہی ہے کہ ہر ایک سوچتا ہے کہ وہ اللہ (عزوجل) کو جانتا ہے ، وہ اسلام کے بارے میں سب کچھ جانتے ہیں ، وہ حقائق کے بارے میں سب کچھ جانتے ہیں، وہ (سب) جانتے ہیں جو اُنہیں پتہ ہو نا چاہئے۔ اور نبی کریم (ﷺ) تشریف لائے اور ہمیں ایک بہت آسان چیز عطا فرمائی کہ ، 'جو اپنے نفس کو جانتا ہے اپنے رب کو جانتا ہے۔' اور اگر وہ شخص اُس راستہ پہ نہیں چل رہا جس پہ (چل کہ )وہ خو د کو جان سکتا ہے ، جو (راستہ ) اُس لڑکے یا لڑکی کے بالکل سامنے ہے ، تو وہ کچھ اور کیسے جان سکتے ہیں؟
???????????????: Agarchay unn ka khayaal hai ke woh apne rab ko jantay hain. tareqat ( Rohani Silsila ) ka sara raaz yahi hai ke har aik sochta hai ke woh Allah (AJ) ko jaanta hai, woh islam ke baare mein sab kuch jantay hain, woh haqayiq ke baare mein sab kuch jantay hain, woh ( sab ) jantay hain jo unhen pata ho na chahiye. aur Nabi Kareem (saws) tashreef laaye aur hamein aik bohat aasaan cheez ataa farmai ke,' jo apne nafs ko jaanta hai apne rab ko jaanta hai.' aur agar woh shakhs uss rasta pay nahi chal raha jis pay ( chal ke ) woh khudko ko jaan sakta hai, jo ( rasta ) uss larke ya larki ke bilkul samnay hai, to woh kuch aur kaisay jaan satke hain ?|
Although they may think they know their Lord. That's the whole secret of the tariqah (spiritual path) is that everybody thinking they know Allah (AJ), they know all about the Islam, they know all about the realities, they know what they need to know. And Prophet (saws) came and gave us something very easy that, 'Who knows himself will know his Lord.' And if the person is not taking a path in which to know himself which is right in front of him or her, how they could know anything else?
تو ، پھر طریقت کی ساری حقیقت صرف اِسی ایک حدیث میں ہے۔ بس ہم نے کئی بار بیان کیا: کسی کو اپنی حقیقت تک پہنچنے کیلئے ایک حدیث کافی ہے۔ اگر آپ کا ارادہ ہے ، آپکو لگتا ہے کہ آپ ایک ہزار ( حدیث) حفظ کریں گے لیکن آپ کسی ایک پر بھی عمل نہیں کرتے تو پھر کیا ، کیا (فائدہ؟)… کیسٹ ریکارڈر یا ریکارڈنگ کی ڈیوائس ، اس سے بہتر کام آئے گی ۔
???????????????: To, phir tareqat ki saari haqeeqat sirf isi aik Hadith mein hai. Bas hum nay kayi baar bayan kya : kisi ko apni haqeeqat taq pounchanay ke liye aik Hadith kaafi hai. Agar aap ka iradah hai, aapko lagta hai ke aap aik hazaar ( Hadith ) hifz karen ge lekin aap kisi aik par bhi amal nahi karte to phir kya, kya ( faida? ) … cassette recorder ya recording device, is se behtar kaam aeye gi .|
So, then the whole reality of tariqah is in just this one hadith. Just we said many times: one hadith is enough for somebody to reach their reality. If you plan that you think you have to memorize a thousand but you don't implement just one then what, what… the cassette recorder or the recording device serves a better purpose than that.
ہماری زندگی (کا مقصد )یہ تھا کہ وہ حدیث پاک لیں ، اسے اپنی زندگی کے اندر نافذ کریں اور اس کے حقائق تک پہنچیں اور ان خزانوں کو کھولیں جو اللہ (عزوجل) نے ہمارے دل اور ہمارے وجود میں رکھے ہیں۔ لہذا ، پھر جب ہم صرف (یہ حدیث) لیتے ہیں کہ اپنے نفس کو جاننا ہے ، مجھے واقعتا خود کو جاننا ہوگا۔ اگر میں خود کو نہیں جانتا ، تو میں ہر اُس پنجے کا شکار ہو جاوں گا جو شیطان وار کرے گا۔ کیونکہ اس سے پہلے کہ آپکو 'ربی الا علی' کا علم ہو ، ہمیں زمین کی سطح پہ واپس آ نا ہے اور کہنا ہے کہ شیطان ہر وقت آپکے ساتھ کیا کھیل کھیل رہا ہے؟
|???????????????: Hamari zindagi ( ka maqsad ) yeh tha ke woh Hadith pak len, usay apni zindagi ke andar nafiz karen aur is ke haqayiq taq pohnchain aur un khazanon ko kholeen jo Allah (AJ) ney hamaray dil aur hamaray wujood mein rakhay hain. Lehaza, phir jab hum sirf ( yeh Hadith ) letay hain ke apne nafs ko janna hai, mujhe waqeitan khud ko janna hoga. Agar mein khud ko nahi jaanta, to mein har uss punjay ka shikaar ho jaun ga jo shaytan waar kere ga. kyunkay is se pehlay ke aapko Rabbiul a'ala ka ilm ho, hamein zameen ki satah pay wapas aa na'hai aur kehna hai ke shaytan har waqt apke sath kya khail khail raha hai ?|
Our life was to take the holy hadith, implement it within our life and reach to its realities and unlock the treasures that Allah (AJ) has placed within our heart and our being. So, then when we take just to know myself, I have to really know myself. If I don't know myself, I fall into every trigger that shaitan (satan) is sending. Because before you can know Rabbiul a'ala we have to come back down to the level of earth and say, what is shaitan playing with you at every moment?
شیطان بلی جیسا ہے ، آپ چوہے ہیں ، اور ہروقت وہ اپنے پنجے مارتاہے۔ اگر آپ نے کبھی چوہے اور بلی کو دیکھا ہے تو وہ اُسے فوراً نہیں کھالیتا ، بلکہ وہ چوہے کو اذیت دے کر بہت خوش ہوتا ہے۔ وہ اسے گھیر کر کھیلتا ہے، اُسے یہ دلچسپ لگتا ہے کہ کیسے چوہا سوچ رہا ہے کہ بھاگ جائے گا اور پھر اپنے پنجوں سے اسے پکڑ کر پٹک دیتا ہے اور اسے اِدھر اُدھر پھینکتا ہے— اور شیطان بھی ہمارے ساتھ یہی کام کر رہا ہے۔ ہمارے ساتھ مسلسل کھیل رہا ہے تاکہ ہمیں اسکے شیطانی جال میں پھنس جائیں۔
|???????????????: Shaytan billi jaissa hai, aap choohay hain, aur harwakt woh apne punjay marta hai. Agar aap ne kabhi chohay aur billi ko dekha hai to woh ussay foran nahi kha leta, balkay woh chohay ko aziat day kar bohat khush hota hai. Woh usay ghair kar kheltaa hai, ussay yeh dilchasp lagta hai ke kaisay choha soch raha hai ke bhaag jaye ga aur phir apne panjoo se usay pakar kar patak deta hai aur usay idher udhar phenketa hai — aur shaytan bhi hamaray sath yahi kaam kar raha hai. Hamaray sath musalsal khail raha hai taakay hamein uskay shaytani jaal mein phas jayen .|
Shaitan is like the cat, you are the mouse, and every minute he's sticking his paws. If you've ever watched a.. the cat with a mouse he doesn't eat it right away, he actually takes great pleasure in tormenting the mouse. He just poke it around and he's fascinated how the mouse think it's going to run away and then with his nail again he grabs it and throws it and move it around. And shaitan is doing the same thing with us. That continuously playing with us making us to fall into his satanic trap.
لہذا ، طریقہ (روحانی راستہ) چھوٹی باتوں میں ہے ناکہ بڑی چیزوں میں، جہاں آپکو لگتا ہے کہ 'میں اللہ (عزوجل) تک پہنچنے کیلئے بڑے حقائق پر عبور حاصل کروں گا'۔ یہ اپنے نفس کو اچھی طرح پہچان لینا ہے اور کب شیطان میرے ساتھ کھیل رہا ہے ، وہ کون سی چالیں ہیں جو شیطان مجھے گرانے کیلئے ہر بار استعمال کرتا ہے ، اور اگر میں یہ پاس نہیں کرتا تو رب قادر مطلق کی طرف سفر میں کوئی حقیقی کامیابی نہ ہوئی۔ اگرچہ فریب ہوسکتا ہے ، ہو سکتا ہے مجھے اپنی خیال اور تخیلات کی دنیا میں بہت سے وہم ہو جائیں۔
|???????????????: Lehaza, tariqah ( Rohani rasta ) choti baton mein hai naka barri cheezon mein, jahan aapko lagta hai ke' mein Allah (AJ) taq pounchanay ke liye barray haqayiq par uboor haasil karoon ga '. yeh apne nafs ko achi terhan pehchan lena hai aur kab shaytan mere sath khail raha hai, woh kon si chaalein hain jo shaytan mujhe giranay ke liye har baar istemaal karta hai, aur agar mein yeh paas nahi karta to Rab Qadiro Mutlaq ki taraf safar mein koi haqeeqi kamyabi nah hui. Agarchay fraib ho sakta hai, ho sakta hai mujhe apni khayaal aur takhiyulaat ki duniya mein bohat se vahm ho jayen .|
So, tariqah's the small is not the large where you think: 'I'm going to master the large realities to reach to Allah (AJ).' It's the fine understanding of myself and where shaitan is playing with me, what are the triggers that shaitan uses each time to make me fall, and if I'm not passing that there's no real accomplishment in my journey to the Lord of Power. Although the illusion maybe there, I may have many illusions in my world of khairat and imagination.
لہذا، یہی وجہ ہے کہ بہت سے اولیااللہ نے خیالات کی دنیا کے بارے تحریرکیا ہے ، آپ کچھ بھی تصور کرسکتے ہیں — آپ اپنی قربت کا تصور کرسکتے ہیں ، آپ اپنے لئے فضل تصور کرسکتے ہیں ، آپ تصور کر سکتے ہیں کہ آپ پر تجلیات نازل ہو رہی ہیں، آپ دل میں کشف نازل ہونے کاتصور کرسکتے ہیں ، شیطان یہ بھیج سکتا ہے۔ لیکن ثبوت خُلق (کردار) میں ہے۔ جب اللہ (عزوجل) ہمیں سمجھانے کیلئے سیدنا محمد (ﷺ) کی حقیقت پر مہر ثبت کرتا ہے: وخُلق العظیم ۔
وَاِنَّكَ لَعَلٰى خُلُقٍ عَظِـيْمٍ ۞
اور بے شک آپ (ﷺ) عظیم الشان خلق پر قائم ہیں
سورۃ القلم (68) آیت 4
|???????????????: Lehaza, yahi wajah hai ke bohat se AwliyaAllah naay khayalat ki duniya ke barey tehreer kya hai, aap kuch bhi tasawwur kar saktay hain — aap apni qurbat ka tasawwur kar saktay hain, aap apne liye fazl tasawwur kar saktay hain, aap tasawwur kar satke hain ke aap par tajliyat nazil ho rahi hain, aap dil mein kashaf nazil honay ka taswur kar saktay hain, shaytan yeh bhaij sakta hai. Lekin saboot khalq ( kirdaar ) mein hai. jab Allah (AJ) hamein samjhane ke liye Sayedena Muhammad (saws) ki haqeeqat par mohar sabt karta hai : Wa khuluqal 'azheem.|
So, that's why many awliyaullah (saints) have writings on imaginal world. You can imagine anything – you can imagine your closeness, you can imagine your grace, you can imagine tajjalis (manifestations) coming to you, you can imagine visions that coming into your heart, shaitan can send those. But the proof is in the khuluq (character). When Allah (AJ) wants to stamp the reality for Sayyidina Muhammad (saws)for us to understand: "Wa khuluqal 'azheem"
وَإِنَّكَ لَعَلَىٰ خُلُقٍ عَظِيمٍ ﴿٤﴾
68:4 – "Wa innaka la'ala khuluqin 'azheem." (Surat Al-Qalam)
"Truly, You (O Muhammad!) are of a magnificent character." (The Pen, 68:4)
اللہ (عزوجل) قرآن مجید کی بے مثال حقیقت سامنے لایا ہے اور تمام مخلوق کیلئے اس پر مہر لگا دی ہے کہ آپ (ﷺ) 'خلق العظیم' ہیں — آپ ایک بہترین اخلاق کے مالک ہیں ۔ یہ کوئی معمولی بات نہیں ، یہ اتنی بڑی بات ہے کہ اسے سمجھا نہیں جاسکتا۔ لیکن اس حقیقت کے نتیجے میں ، یہ اللہ (عزوجل) کی ابدی محبت اور قبولیت ہے ، تحفہ اور فضل کی مہر ہے کہ 'آپکا خُلق (کردار) شاندار خوش اخلاقی پہ مبنی ہے کہ ہم آپکا سامناکسی بھی شئے سے کریں ، آپکا خُلق اس بات کا ثبوت ہے کہ آپ کون ہیں' ۔ آپکی باتیں نہیں ، آپکے کشف نہیں ، آپکے اپنے بارے میں تصور نہیں کہ آپ کون ہیں —لیکن خُلق (خوش اخلاقی )مٹھاس کا ثبوت ہے۔
|???????????????: Allah (AJ) Quran Majeed ki be misaal haqeeqat samnay laya hai aur tamam makhlooq ke liye is par mohar laga di hai ke aap (saws)' khuluqal 'azheem ' hain — aap aik behtareen ikhlaq ke maalik hain. Yeh koi mamooli baat nahi, yeh itni barri baat hai ke usay samjha nahi ja sakta. Lekin is haqeeqat ke nateejay mein, yeh Allah (AJ) ki abdi mohabbat aur qabuliat hai, tohfa aur fazl ki mohar hai ke' aapka khalq ( kirdaar ) shandaar khush ikhlaqi pay mabni hai ke hum aapka samna kisi bhi shye se karen, aapka khalq is baat ka saboot hai ke aap kon hain '. appki batain nahi, apke kashaf naahi, apkay apne bare mein tasswar nahi k aap kon hain-lakin Khulq (Khush Iklaqi) mithas ka sabot hai|
That Allah (AJ) Used the immense reality of Holy Qur'an and sealed it for all of existence, for all of time that 'You are khuluqal 'azheem – you are of a magnificent character.' That's not something small, it's so large it can't even be understood. But as a result of that reality, it's the seal of Allah's (AJ) eternal love and acceptance and gift and bounty. That 'Your khuluq is of a magnificent character that whatever We put you with your khuluq is the proof of who you are.' Not your talks, not your vision, not your thinking of who you are but the khuluq is the proof of the pudding.
لہذا ، ہماری زندگیوں میں— جبکہ ہم سیدنا محمد (ﷺ) کی حقیقت کی قدموں کی دھول تک نہیں — لیکن ہمیں اُسی تعلیم اور اُسی ادراک کا وارث ہونا چاہئے۔ ہمیں باقی سب سے کیا شئے ممتاز کرتی ہے— آدب اور خُلق ، خوش اخلاقی کا اسکول ہے – کہ میرا خلاق کیسا ہے ؟ یہی وجہ ہے کہ نبی کریم (ﷺ) نے بیان فرمایا: آپکو اپنے نفس کو پہچاننا ہو گا، آپ کو اپنی زندگی غوروفکر میں بسر کرنی ہوگی۔
|???????????????: lehaza, hamari zindagion mein— jabkay hum Sayedena Muhammad (saws) ki haqeeqat ki qadmon ki dhool taq nahi — lekin hamein usi taleem aur usi idraak ka waris hona chahiye. hamein baqi sab se kya shye mumtaz karti hai — aadab aur khalq, khush ikhlaqi ka school hai – ke mera Khalaq kaisa hai? yahi wajah hai ke Nabi Kareem (saws) neh bayan farmaya : aapko apne nafs ko pehchanana ho ga, aap ko apni zindagi ghor-o-fikar mein busr karni hogi .|
So, in our lives, we're not even a dust under the feet of the reality of Sayyidina Muhammad (saws)but we should be inheriting that teaching and that understanding. What sets us apart from everything else is the school of adab (manners) and khuluq – of character. That what is my character? And that's why Prophet (saws) described: 'You have to know yourself; you have to spend your life in contemplation.'
جیسے ہی آپکو غصہ آئے ، آپکو اپنے کانٹے (محرکات) پہچاننے ہونگے، کیونکہ شیطان پھر سے اپنے پنجے آپ میں گھاڑے گا تاکہ کوئی (ردعمل) آئے؟ کیا آپ ہمیشہ اُسکے جال میں (پھنسے ہوئے ایک )چوہے جیسا رہیں گے ؟ پھر آپ اللہ (عزوجل) کے بندے نہیں ، آپ شیطان کیلئے کھیل کےمیدان میں چوہے جیسے ہیں ۔ وہ اپنا پنجہ گاڑھتا ہے، تم چیخ و پکار کر رہے ہو؛ اُس نے اپنا پنجہ تم میں گاڑھا ، تم غصہ ہوگئے؛ اُس نے اپنا پنجہ تم میں گاڑھا ، تم اپنا ایمان کھو بیٹھے اور تم ہر چیز سے پریشان ہو گئے۔ ہر کانٹے کی چُبن سے آپکا کردار باہر نکل کے سامنے آ رہا ہے' – میں سب کچھ چھوڑنا چاہتا ہوں، میں سب کچھ روک دینا چاہتا ہوں، میں ہر چیز پہ غصہ ہوں… 'لوگوں کے جو کچھ بھی کردار ہیں ، ہر ایک کو اپنے کردار کا تجزیہ کرنے کیلئے واپس غور کرنا ہوگا اور یہ سمجھنا ہوگا کہ شیطان کیا کررہا ہے۔
|???????????????: Jaisay hi apko gussa aeye, apko apne kantay (muharkat) pehchanney hunge, kyunkay shaytan phir se apne punjay aap mein gharaay ga taakay koi ( rad-e-amal ) aeye? kya aap hamesha uske jaal mein ( phansay hue aik ) chohay jaissa rahen ge? phir aap Allah (AJ) ke bande nahi, aap shaytan ke liye khail ke maidan mein chohay jaisay hain. Woh apna panja garhta hai, tum cheekh o pukaar kar rahay ho; uss ny apna panja tum mein gaarha , tum gussa hogaye; uss ney apna panja tum mein gaarha, tum apna imaan kho baithy aur tum har cheez se pareshan ho gaye. har kantay ki chuban se apka kirdaar bahar nikal ke samnay aa raha hai' – mein sab kuch chorna chahta hon, mein sab kuch rok dena chahta hon, mein har cheez pay gussa hon …' logon ke jo kuch bhi kirdaar hain, har aik ko apne kirdaar ka tajzia karne ke liye wapas ghhor karna hoga aur yeh samjhna hoga ke shaytan kya kar raha hai|
As soon as you're about to get angry you have to know your triggers, because is shaitan again putting his nail into you for something to come? You're just going to always be a mouse in his trap? Then you are not the servant of Allah (AJ), you are a mouse in shaitan's playing field. He stick his nail into you, you screaming and yelling. He stick his nail into you, you getting angry. He stick his nail into you, you lose your faith and you're upset about everything. Every prick he hits your character is coming out – 'I want to quit everything; I want to stop everything. I'm angry about everything…' whatever people's character, everyone has to go back to look at their characters and understand what is it that shaitan's doing.
یہ بیان اس لنک پر دیکھا جا سکتا ہے:
Watch this Bayan on Youtube

مضامین کے اُردو ترجمہ پڑھنے کیلئے
Read Urdu Translations:
Nurmuhammad.com/category/urdu/
شیخ سید نور جان میر احمدی نقشبندی (ق) کا فیس بک پیج لائک کیجئے
Official Page: Shaykh Nurjan Mirahmadi
facebook.com/shaykhnurjanmirahmadi/
فاطمہ زہراء ہیلپنگ ہینڈ— یتیم بچوں کی کفالت ،صدقات وعطیات کیلئے:
Fatima Zahra Helping Hand
fzhh.org
½