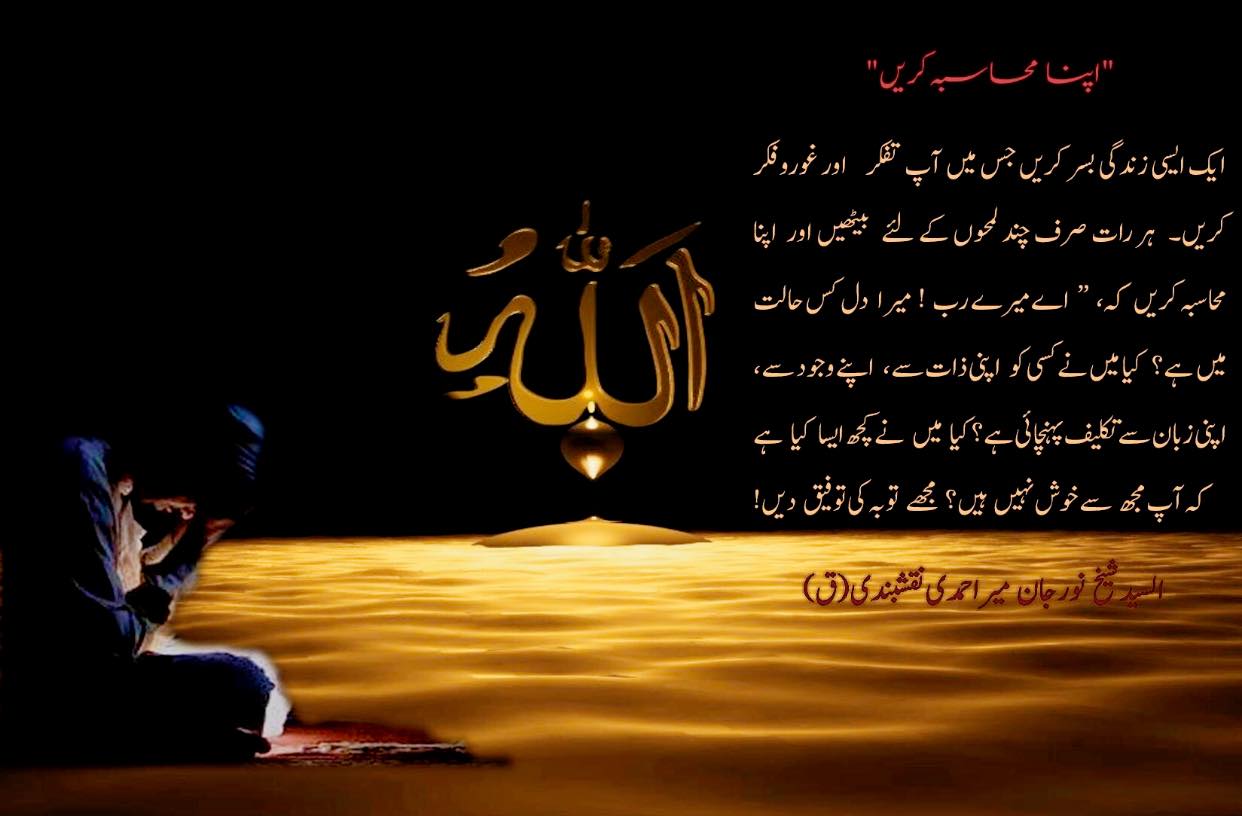 Urdu – شیخ نور جان میر احمدی نقشبندی (ق) کے 23 نومبر، 2019 کے خطاب سے اقتباس۔ بِسْمِ ا…
شیخ نور جان میر احمدی نقشبندی (ق) کے 23 نومبر، 2019 کے خطاب سے اقتباس۔
بِسْمِ اللَّـهِ الرَّحْمَـٰنِ الرَّحِيمِ
الّھمَّ صَلِّ عَلَی سیدِنَا محَمَّدٍ ﷺ وَعَلَی آلِ سیَّدِنا محَمَّد ﷺ ۔
دل کے بارے میں حدیث پاک:
[…] ایک ایسی زندگی بسر کریں جس میں آپ تفکر اور غوروفکر، (اور) اپنا محاسبہ کریں۔ کہ ہر رات صرف چند لمحوں کے لئے (بیٹھیں اور محاسبہ کریں) کہ،" اے میرے رب میرا دل کس حالت میں ہے؟ میرے دل کی کیا حالت ہے؟ کیا میں نے کسی کو اپنے آپ سے، اپنی ذات سے، اپنے وجود سے، اپنی زبان سے تکلیف پہنچائی ہے؟ کیا میں نے کچھ ایسا غلط کیا ہے کہ آپ مجھ سے خوش نہیں ہیں؟ مجھے اپنی توبہ کی توفیق دیں! یہ (نشید) "یا رب" یہ اولیاء کی گریہ گزاری ہے۔ کہ تمام وقت میں اللہ (عزوجل) سے پوچھتا رہتا ہوں کہ کیا آپ مجھ پر غصہ ہیں؟ کیا آپ مجھ سے ناخوش ہیں؟ کیا مجھ سے کچھ غلطی ہوئی ہے؟ کیا میں نے توبہ نہیں کی؟ اور ان کی تمام زندگی ہمیشہ اللہ (عزوجل) کی سمت میں ہوتی ہے۔ جو آنا چاہتا ہی آئے، جو نہیں آنا چاہتا نہ آئے، ان کو پرواہ نہیں! وہ یہاں لوگوں کو خوش کرنے کےلئے نہیں بیٹھے وہ یہاں اللہ (عزوجل) خوش کرنے کےلئے موجود ہیں۔ […]
————————————————-
URDU TRANSLITERATION:
Shaykh Nurjan Mirahmadi Naqshbandi (Q) k 23 November, 2019 k khitaab say iqtibaas
DILL K BARAY ME HADEES PAK:
aik aisi zindagi busr karen jis mein aap tfkr aur ghor-o-fikar, apna muhasba karen. ke har raat sirf chand lamhoon ke liye ( bathain aur muhasba karen ) ke, " ae mere rab mera dil kis haalat mein hai? mere dil ki kya haalat hai? kya mein ne kisi ko –apne aap se, apni zaat se, –apne wujood se, apni zabaan se takleef pohanchai hai? kya mein ne kuch aisa ghalat kya hai ke aap mujh se khush nahi hain? mujhe apni tauba ki tofeq den! yeh ( Nasheed ) "Ya Rabb" yeh Awliya Allah ki giryaa guzari hai. Ke tamam waqt mein Allah ( azzwajal ) se puchta rehta hon ke kya aap mujh par gussa hain? kya aap mujh se nakhush hain? kya mujh se kuch ghalti hui hai? kya mein ne tauba nahi ki? aur un ki tamam zindagi hamesha Allah ( azzwajal ) ki simt mein hoti hai. jo aana chahta hi aaye, jo nahi aana chahta nah aaye, un ko parwah nahi! woh yahan logon ko khush karne ke liye nahi baithy woh yahan Allah ( azzwajal ) ko khush karne ke liye mojood hain. […]
————————————————-
TRANSCRIBED LECTURE:
An excerpt from the Holy teachings of Shaykh Nurjan Mirahmadi Naqshbandi (Q) on 23 ,November 2019:
HADITH OF HEART:
Live a life in which to tafakkur and contemplate, muhasabah, make an accounting of oneself that every night just a few minutes, "O my lord what condition is my heart? What is the condition of my heart? Have I hurt anybody with myself, with my person with my being with my tongue? Have I done anything wrong that you are not pleased with? Let me make my Tobah." This "Ya Rabb" (nasheed) these are the cryings of Awliyah. That all my long I ask Allah (AJ) that are you angered with me? Are you upset with me? Have I done something wrong? Did I not make Tobah? And their whole life is always in direction of Allah (AJ). Who wants to come, come! Who doesn't want to come, they don't care! They're not here to please people; they're here to please Allah (AJ).
Watch here FULL LECTURE: https://www.facebook.com/shaykhnurjanmirahmadi/videos/2451628931622095?vh=e&d=n&sfns=mo