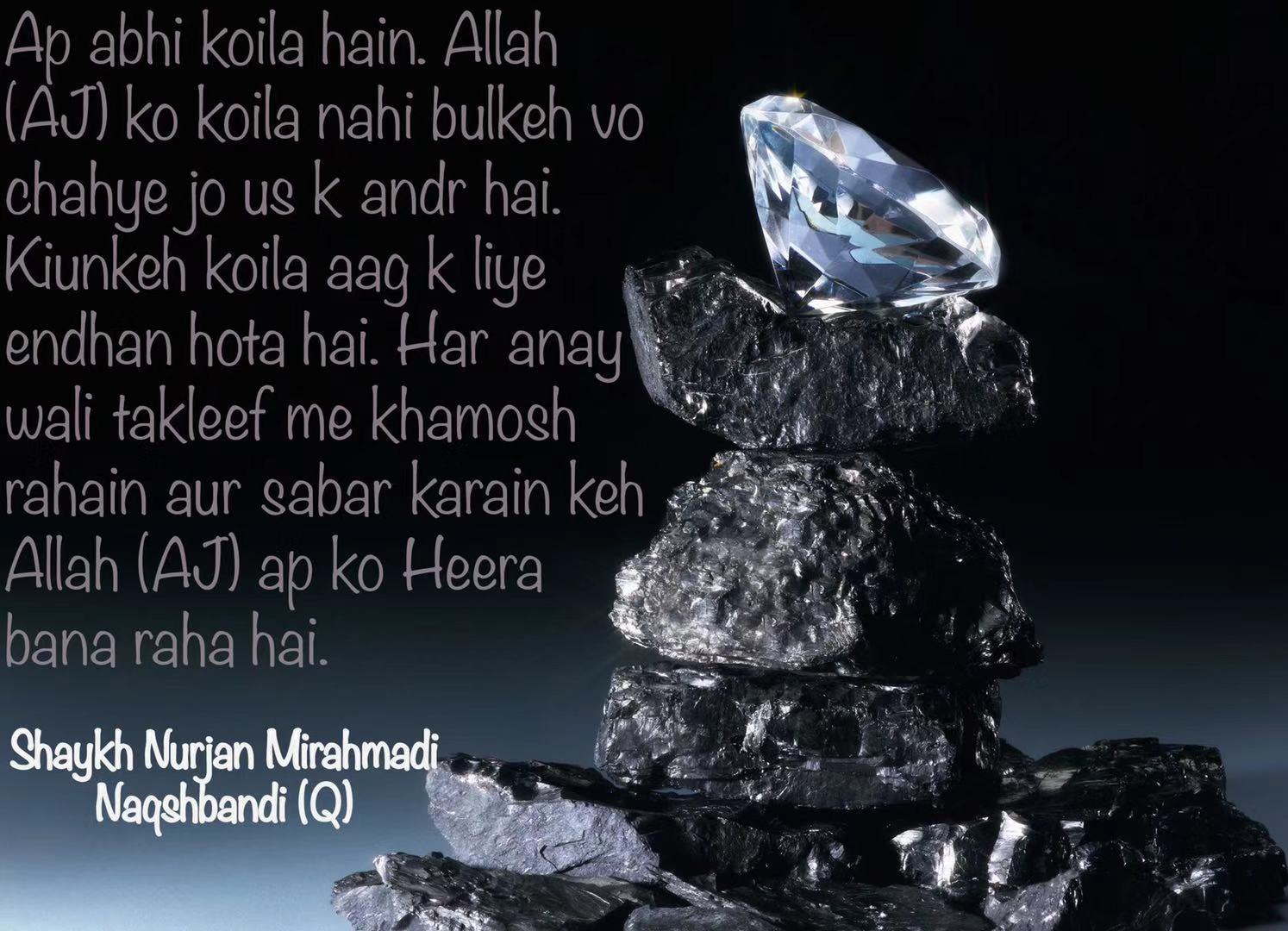 Urdu – شیخ نور جان میر احمدی نقشبندی (ق) کے 23 نومبر، 2019 کے خطاب سے اقتباس۔ بِسْمِ ا…
شیخ نور جان میر احمدی نقشبندی (ق) کے 23 نومبر، 2019 کے خطاب سے اقتباس۔
بِسْمِ اللَّـهِ الرَّحْمَـٰنِ الرَّحِيمِ-
الّھمَّ صَلِّ عَلَی سیدِنَا محَمَّدٍ ﷺ وَعَلَی آلِ سیَّدِنا محَمَّد ﷺ ۔
اللہ(عزوجل) ہمیں ہیرا بنانا چاہتا ہے، کوئلہ نہیں:
[…] اللہ (عزوجل) فرماتا ہے کہ "میں تم پر مشکلات اس لئے ڈال رہا ہوں کیونکہ مجھے تم سے کچھ چاہئے۔ تم ابھی کوئلہ ہو۔" لیکن اللہ (عزوجل) کیا چاہتا ہے؟ وہ کوئلہ نہیں چاہتا۔ کوئلے کو تو آپ جلا دیتے ہیں۔ کوئلہ تو آگ کا ایندھن ہے۔ اللہ (عزوجل) کیا چاہتا ہے؟ اللہ (عزوجل) کہتا ہے کہ "مجھے وہ چاہئے جو کوئلے کے اندر ہے۔ " کوئلے کے ساتھ کیا ہوتا ہے؟ یہاں آجکل سائینسدان موجود ہیں جو انتہائی گرم درجہ حرارت کے زیرِاثر نقلی ہیرے بنا لیتے ہیں۔ ٹھیک! انھوں نے یہ معلوم کرلیا کہ اگر آپ ایک (خاص طرح کا) ماحول تیار کرلیں اور اس میں کوئلے کو انتہائی شدید پریشر اور انتہائی شدید گرم درجہ حرارت میں رکھ دیں تو وہ ہیروں میں تبدیل ہوجائیں گے۔ اس سارے علم کو اولیاءاللہ بہت عرصے سے جانتے تھے۔ یہ اللہ (عزوجل) کی جانب سے ایک راہنمائی تھی۔ (اللہ عزوجل کہتا ہے کہ) یہ تمام لوگ میرے لئے پتھر ہیں اور یہ سب کوئلے ہیں۔ مگر آپ (اولیاءاللہ) کو انہیں ہیروں میں بدلنا ہوگا۔ لہذا ہماری زندگی میں مشکل آتی ہے، ہماری زندگی میں ایک پریشر آتا ہے اور شدید تکلیف (میں مبتلا کردیتا ہے)۔ اور (پھر) تمام ٹھوکریں تمام توڑ پھوڑ۔ اور تب وہ (اولیاء اللہ) تعلیم فرماتے ہیں کہ صبر کریں اور برداشت کریں، صبر کریں اور برداشت کریں۔
نبی پاک ﷺ محبت کے بارے میں بیان کی گئی ایک حدیث کے ذریعے تعلیم فرما رہے ہیں، جو ان لوگوں نے محبت کے بارے میں بیان کی گئی سیدنا محمد ﷺ کی چالیس احادیث اکٹھی کی ہیں (اُن میں سے ایک)، کہ حضرت انَس ابنِ مالک (ر) نے بیان کیا کہ نبی پاک ﷺ نے فرمایا "اپ کو اچھا کردار اپنانا چاہئے اور بہت لمبے عرصے کی خاموشی اختیار کرنی چاہئے۔ اور اس کے قسم جس کے ہاتھوں میں میری (سیدنا محمد ﷺ کی) روح ہے، ان دو کاموں سے بڑھ کر کوئی بھی کام جو لوگ کرتے ہیں اللہ (عزوجل) کو عزیز نہیں۔ " وہ جو اچھا کردار، اچھا خُلُق، خُلُق الحسنہ اپناتے ہیں اور وہ جو خاموشی کا راستہ اختیار کرتے ہیں۔ اس کا مطلب صرف یہی حدیث آج کی رات میری لئے ایک یاددہانی کی طرح ہے کہ اس محبت اور پیار کے سمندر سے اللہ (عزوجل) تعلیم دے رہا ہے کہ خاموشی کا راستہ اختیار کریں۔ ہر مشکل جو آپ کی طرف آرہی ہے اس کے ساتھ خاموش رہیں اس کے ساتھ صبر سے رہیں اور کسی کو واپس جواب دینے کےلئے اپنا منہ نہ کھولیں۔ کہ اللہ (عزوجل) آپ کی روح کو پاک کرنا چاہتا ہے ہماری روحوں کو پاک کرنا چاہتا ہے۔ اور اس صبر کے ذریعے دراصل اچھا کردار تعمیر ہورہا ہے۔ اس خاموشی کے ساتھ اچھا کردار تعمیر ہو رہا ہے۔ […]
————————————————-
URDU TRANSLITERATION:
Shaykh Nurjan Mirahmadi Naqshbandi (Q) k 23 November, 2019 k khitaab say iqtibaas:
ALLAH (AJ) HAMAIN HEERA BANANA CHAHTA HAI, KOILA NAHI:
[…] Allah (AJ) fermata hai k "main tum par muskilaat is liye daal raha hun Kiunkeh mujhay tum say kuch chahye. Tum abhi koila ho." Lekin Allah (AJ) kiya chahta hai? Vo koila nahi chahta koilay ko toe ap jala detay hain. Koila toe aag ka endhan hota hai. Allah (AJ) kiya chahta hai? Allah (AJ) kehta hai k " mujhay vo chahye jo koilay k ander hai." Koilay k sath kiya hota hai? Yahan ajkal scientists mojud hain jo intehai garam darja hararat k zer-e-asr naqli heeray bana letay hain. Theek! Unhon nay yeh maloom krliya k agar ap aik khaas trha ka mahol tayyaar krlain Aur is me koilay ko intehai shaded pressure aur intehai shaded darjahararat me rakh dain teo vo heeron me tabdeel hojaen gay. Is saray ilm ko Awliyah Allah buhat arsay say jantay thay. Yeh Allah (AJ) ki janib say Aik rahnumai the. (Allah AJ kehta hai k) yeh sub log Mairay liye pathar hain Aur yeh sub koilay hain. Magar ap (Awliyah Allah) ko inhain heeron me badalna hoga. Lihaza hamari zindagi me mushkil ati hai hamari zindagi me aik pressure ata hai Aur shaded takleef me mubtala krdyta hai. Aur Phir tmam thokrain aur tamam tod phod. Aur tab vo (Awliyah Allah) taleem detay hain k sabar karain Aur bardasht karain. Sabar karain Aur bardasht karain.
Nabi Pak (s) muhabbat k baray me biyan ki gai aik hadees k zariye taleem farma rahay hain, jo in logo nay muhabbat k baray me biyan ki gai Sayyidina Muhammad (s) ki 40 ahadees ikathi key hain (un me say aik), k Hazrat Ans ibn-e-Malik (r ) nay biyan kiya k Nabi Pak (s) nay farmaya "Ap ko Acha kirdaar apnana chahye Aur buhat lambay arsay ki khamoshi ikhtiyaar krni chahye. Aur us ki kasam jis k hatho me mairi (Sayyidina Muhammad s) ki rooh hai, in do kamo say barh kar koi b kam jo log kartay hain Allah (AJ) ko azeez nahi." Vo jo Acha kirdaar, acha khuluq, khuluq alHassana apnatay hain Aur ho jo khamoshi ka rasta ikhtiyar krtay hain. Is ka matlab sirf yehe hadees ajki rat Mairay liye aik yad dihaani ki trha hai k is muhabbat Aur piyar k sumandar say Allah (AJ) taleem day raha hai k khamoshi ka rasta ikhtiyar karain. Her mushkil jo Ap ki taraf arahi hai is k sath khamosh rahain is k sath sabar say rahain Aur kisi ko wapis Javab denay k liye apna munh na kholain. K Allah (AJ) Ap ki rooh ko pak krna chahta hai hamari roohon ko pak krna chahta hai. Aur is sabar k zariye dar-asal Acha kirdaar tamer horaha hai. Is khamoshi k sath acha kirdaar tamer horaha hai. […]
————————————————-
TRANSCRIBED LECTURE:
An excerpt from the Holy teachings of Shaykh Nurjan Mirahmadi Naqshbandi (Q) on 23,November 2019:
ALLAH (AJ) WANTS US TO BE DIAMONDS, NOT CHARCOAL:
Allah says,"I'm giving you difficulties to polish you because I want something from you. You're charcoal right now." But what does Allah (AJ) want? He doesn't want charcoal. Charcoal, you burn. Charcoal is the fuel of fire. What Allah (AJ) wants? Allah (AJ) says, "I want from within charcoal." What happens to charcoal? There're scientists, under extreme heat they make now fake diamonds. Right! They figured it out that if you can put an environment and put that charcoal in it and (provide) an immense pressure and immense heat to it, they can flip it into diamonds. All this Awliyah Allah knew long ago. This was the guidance from Allah (AJ).
(Allah AJ says) they're all stones to me and they are all charcoal. But you (Awliyah Allah) should be making them into diamonds. So the difficulty in our life comes, a pressure comes into our life and pangs. And all the banging and all the smashing. And then they (Awliyah Allah) teach that be patient and endure, be patient and endure.
Prophet(s) was teaching from this Hadith of love, that they gathered forty Hadiths of love from Sayyidina Muhammad (s). That Ans ibn-e-Malik reported that Prophet (s) said,"you must have good character and observe long periods of silence. And by the one whose hands hold my (Sayyidina Muhammad s) soul, no one can behave with deeds more beloved to Allah (AJ) than these two." Those whom have good character, good khuluq, khuluq alHassana and those whom observe a path of silence. Means then just of that Hadith for us tonight as a reminder for myself is that through this ocean of muhabbat and love Allah (AJ) is teaching then take a path of silence. Every difficulty that's coming to you try to keep silent with it try to be patient with it try not to open your mouth to give an answer back to somebody. That Allah (AJ) want to purify your soul, purify our souls. And with that patience it's actually building the good character. With that silence it's building the good character.
Watch here FULL LECTURE:https://www.youtube.com/watch?v=I5-axdbPy3c