Urdu – شیخ سیّد نورجان میر احمدی نقشبندی (ق) کی سنہری تعلیمات سے اقتباس۔ بِسْمِ اللَّ…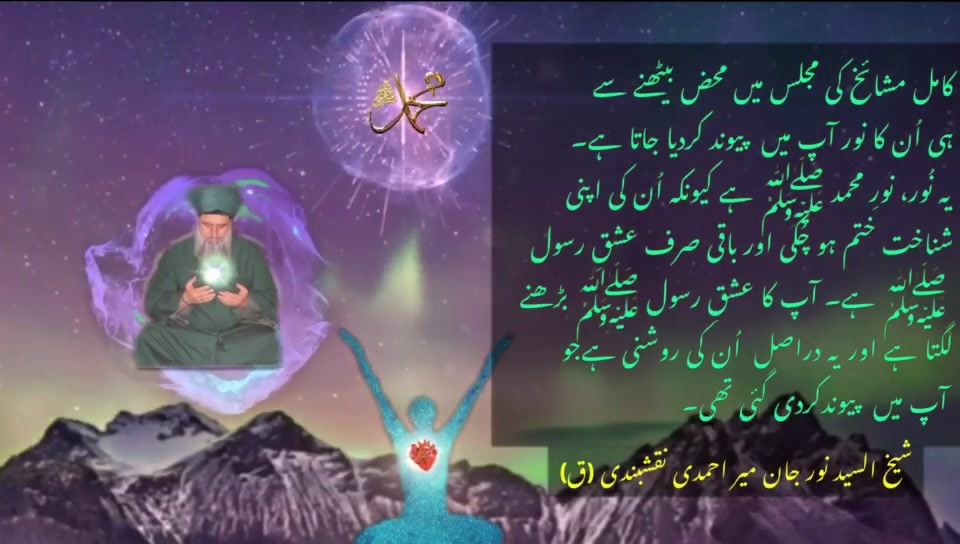 شیخ سیّد نورجان میر احمدی نقشبندی (ق) کی سنہری تعلیمات سے اقتباس۔
بِسْمِ اللَّـهِ الرَّحْمَـٰنِ الرَّحِيمِ-
الّھمَّ صَلِّ عَلَی سیدِنَا محَمَّدٍ ﷺ وَعَلَی آلِ سیَّدِنا محَمَّد ﷺ
روشنی کے مشائخ آپ کو اپنی روح سے آراستہ فرماتے ہیں:
[..] اِسکا مطلب، جیسے ہی وہ ہمیں ملبوس کرتے ہیں ، رحمت نازل کرتے ہیں، وہ ہمیں سبق دینا شروع کر دیتے ہیں کہ "روشنی کی دنیا کی طرف سے سوچو" اور، "اپنے ظاہر کو ختم کر دو، اپنے ظاہرکو فنا کردو۔ یہ سمجھ لوکہ کوئی بھی انجمن روشنی کی انجمنوں کے مقابل نہیں۔" آپ ہزار سال کسی اور جگہ بیٹھ سکتے ہیں، اُسکا کوئی مقصد نہیں ہوگا۔ یہ کافی ہے کہ ہر بارجب آپ اُنکی محفل میں بیٹھتے ہیں، اُنکی روشنی آپکی روشنی میں نصب ہو جا تی ہے اور آپکی روشنی اُنکی روشنی میں۔ وہ اُس ایٹمی حقیقت کوجو آپ تک پہنچنے والی ہے، ملبوس کرتے ہیں اور اُس پر رحمت نازل کرتے ہیں۔
آپ اُس اینرجی کو محسوس کرتے ہیں،اور سیدنا محمد ﷺ کے لیۓ آپکی محبت بڑھ جاتی ہے۔ کیونکہ اُس روشنی کی شناخت آپﷺ کا عشق ہے، یہ اُن کی ذاتی شناخت نہیں ہے۔ اُنکی شناخت تو ظاہر کے ساتھ مرجاتی ہے،جو بچتا ہے، وہ تو سیدنا محمدﷺ کا عشق ہے۔ جس روشنی کی ہم بات کر رہے ہیں وہ مُحَمَّداً نور (نورِ محمدی ﷺ) ہے جو کہ باہر کی طرف جاتا ہے۔ جب آپ اُسے اپنی روح میں محسوس کرنا شروع کر دیتے ہیں،"حضور ﷺ کے لئے میرا عشق بڑھ رہا ہے"۔ یہ آپکی وجہ سے نہیں ہے۔ یہ اُنکی روشنی میں سے ہے جسے آپکی روشنی میں نصب کردیا گیا ہے۔ ہو سکتا ہے کہ آپ، نبی پاک ﷺ کو محسوس کرنا شروع کر دیں، نبی پاک ﷺ کی خوشبو سونگھنا شروع کر دیں اور اپنی دل کی آنکھ، اور روشنی سے نبی پاک ﷺ کو دیکھنا شروع کر دیں، لیکن ایسا کیوں ہے؟ کیونکہ روشنی کے شیخ ، اپنا نور آپکی ذات میں بھیج رہے ہیں۔ آپ اِس راستے میں جتنا زیادہ اپنے آپ کو فنا کریں گے اُتنا زیادہ محمداً نور کی حقیقت آپ کے اندر سرایت کرتی جائے گی۔ […]
———————————————
URDU TRANSLITERATION:
ROSHNI K MASHAAIKH AP KO APNI ROOH SAY ARAASTA FARMATAY HAIN:
[…] is ka matlab, jaisay hi woh hamein malbos karte hain, rehmat nazil karte hain, woh hamein sabaq dena shuru kar dete hain ke "roshni ki duniya ki taraf se socho " aur, "apne zahir ko khatam kar do, –apne zahir ko fanaa kardo. yeh samajh lo keh koi bhi anjuman roshni ki anjmnon ke maqabil nahi." aap hazaar saal kisi aur jagah baith satke hain, usakaa koi maqsad nahi hoga. yeh kaafi hai ke har bar jab aap unkee mahfil mein baithtay hain, unkee roshni apkee roshni mein nasb ho jati hai aur apkee roshni unkee roshni mein. woh uss atomic haqeeqat ko jo aap tak pounchanay wali hai, malboos karte hain aur uss par rehmat nazil karte hain .
aap uss energy ko mehsoos karte hain, aur syedna Mohammad (s) ke liye apkee mohabbat barh jati hai. kyunkay uss roshni ki shanakht Nabi pak (s) ka ishhq hai, yeh unn ki zaati shanakht nahi hai. unkee shanakht to zahir ke sath mar jati hai, jo bchta hai, woh to syedna Muhammad (s) ka ishhq hai. jis roshni ki hum baat kar rahay hain woh Muhammadan noor ( noore Muhammadi s) hai jo ke bahar ki taraf jata hai. jab aap ussay apni rooh mein mehsoos karna shuru kar dete hain keh," Nabi pak (s) ke liye mera ishhq barh raha hai ". yeh apkee wajah se nahi hai. yeh unkee roshni mein se hai jisay apkee roshni mein nasab kardiya gaya hai. ho sakta hai ke aap, Nabi Pak (s) ko mehsoos karna shuru kar den, Nabi Pak (s) ki khusbhoo songhna shuru kar den aur apni dil ki aankhh, aur roshni se Nabi Pak (s) ko daykhna shuru kar den, lekin aisa kyun hai? kyunkay roshni ke Sheikh, apna noor apkee zaat mein bhaij rahay hain. aap iss rastay mein jitna ziyada apne aap ko fanaa karo ge utna ziyada Muhammadan noor (s) ki haqeeqat aap ke andar sarayat kar jaye gi. […]
………………………………………………………………….
TRANSCRIBED LECTURE:
GUIDES OF LIGHT DRESS YOU FROM THEIR SOUL:
[…] It means, as they begin to dress us and bless us, they begin to teach us, 'Think from the world of light' and, 'Destroy your form, annihilate your form. Understand that the associations of light are not comparable to any other association.' You can sit a thousand years somewhere else, it doesn't mean anything. It's enough that every time you sit in that association, their light is grafting through your light, and your light is grafting through their light. They are able to dress and bless that atomic reality that will reach to you.You begin to sense that energy, your love for Sayyidina Muhammadﷺ increases. Because the identity of that light is the love of Prophetﷺ , it's not their individual identity. Their identity died with the form; all there is, is the love of Sayyidina Muhammad ﷺ. The light we are talking about is the Muhammadan light that is moving out. When you begin to sense that in your soul, 'My love for Prophet ﷺ is increasing.' It's not from you. It's from their light that they have transplanted onto your light. You may begin to sense Prophet ﷺ, feel Prophet ﷺ, smell Prophet ﷺ and begin to see Prophet ﷺ, through your heart, through your light, but why? It's because the guides of light, they are moving their light into your being. As much as you annihilate yourself out of the way, is as much as the Muhammadan reality can begin to move in. […]
Watch here FULL LECTURE: https://youtu.be/VAWDXHDXtKE
Source