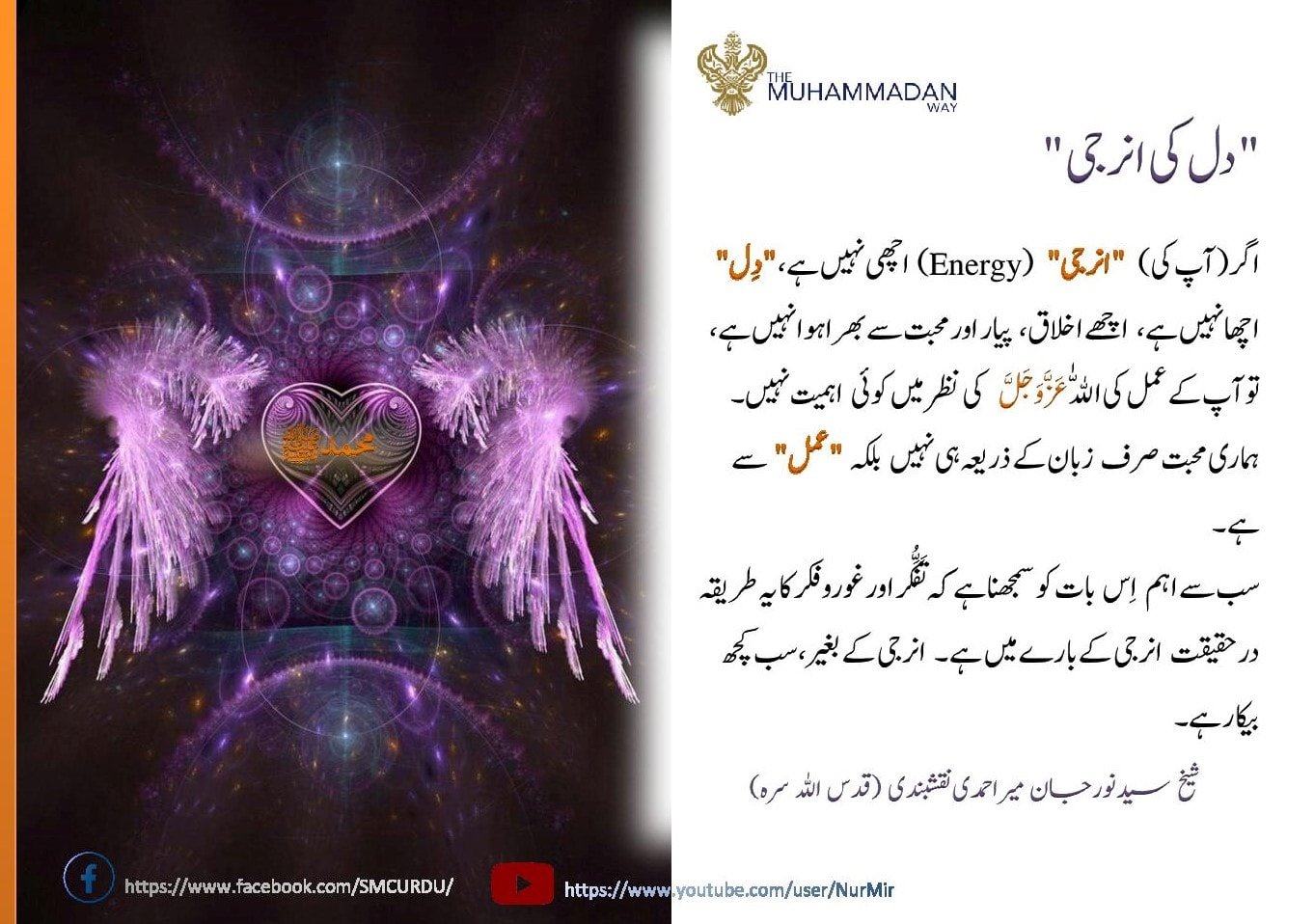 Urdu – شیخ سَیَّد نورجان مِیراَحمَدِی نَقشبَندِی (ق) کی سنہری تعلیمات سے اقتباس! بِسْ…
شیخ سَیَّد نورجان مِیراَحمَدِی نَقشبَندِی (ق) کی سنہری تعلیمات سے اقتباس!
بِسْمِ اللَّـهِ الرَّحْمَـٰنِ الرَّحِيمِ
اَلَّھُمَّ صَلِّ عَلَی سَیَّدِنَا محَمَّدٍ ﷺ وَعَلَی آلِ سَیَّدِنَا محَمَّدٍ ﷺ
🌹 💝 🌹 اگر (آپ کی) انرجی اچھی نہیں ہے، دِل اچھا نہیں ہے، اچھے اخلاق اور پیار اور محبت سے بھرا ہوا نہیں ہے، (تو آپ کے) عَمَل کی اللّٰه عَزَّوَجَلَّ کی نظر میں کوئی اہمیت نہیں! 🌹 💝 🌹
یہ وہ دن ہیں جن (دنوں) میں (ہمیں) اپنی فریکوئنسی کو تعمیر کرنے، اپنے (وجود کے گرد) انرجی (کے میدان) کو تعمیر کرنے، (اور) اپنی فریکوئنسی کی سطح کو بڑھانے کی ضرورت ہے تاکہ ہر طرح کی منفی (انرجی) کو ختم کِیا جاسکے، انشاء اللّٰه۔ مدد اور یہ تلاوتیں بے پناہ انرجی لاتی ہیں، جو ان عظیم حقائق (اولیاء اَللّٰه) کی روح کے اندر موجود ہے۔ جیسے ہی آپ تلاوت کرتے ہیں اور ان کو پکارتے ہیں، ان کی حمد و ثنا کرتے ہیں، ان سے محبت کرتے ہیں، اَللّٰه (عَزَّوَجَلَّ) نے ہم سے جو (کرنے کے لیے) کہا ہے اُس کی اطاعت کرتے ہوئے، (تو) ان (اولیاء اَللّٰه) کی روح انرجی کے پاور ہاؤسز (بجلی گھروں) کی طرح (فوراً) آجاتی ہے۔ اور وہ ان لوگوں کو صحبت میں رکھتے ہیں جو ان سے پیار کرتے ہیں، اور یہ کہ آپ جن سے محبت کرتے ہیں آپ اُنہی کے ساتھ رہیں گے۔ پہلے سے زیادہ اب 'یہ' وقت ہے یہ سمجھنے کا کہ یہ محبت کیا ہے، کہ ہماری محبت صرف زبان کے ذریعہ ہی نہیں (بلکہ) عمل سے ہے، (ہمیں) ان سے محبت کرنی چاہیے اور انہیں مستقل طور پر یاد رکھنا چاہیے، اپنی اِس زندگی اور اس حقیقت کے لیے اَللّٰه (عَزَّوَجَلَّ) کا شکریہ ادا کرتے ہوئے جس سے اَللّٰه (عَزَّوَجَلَّ) نے ہمیں نوازا ہے۔ آج کی رات سوالات کے لیے ایک رابطہ (بات چیت) والی جمعرات (Interactive Thursday) ہے اور یہ سب سے اہم، سب سے اہم ہے اِس بات کو سمجھنا کہ تَفَکُّر اور غوروفکر کا یہ طریقہ (درحقیقت) 'انرجی' کے بارے میں ہے۔ یہ انرجی کے بارے میں ہے، (کہ) کیسے انرجی کو تعمیر کِیا جائے۔ کہ انرجی کے بغیر، سب کچھ بیکار ہے۔ کہ اگر وہ نماز پڑھنا چاہتے ہیں، وہ روزہ رکھنا چاہتے ہیں، وہ (زکوٰۃ) دینا چاہتے ہیں، وہ حج کے لیے جانا چاہتے ہیں، (تو) ان تمام چیزوں کی مثبت انرجی، اچھی انرجی کے بغیر، اَللّٰه (عَزَّوَجَلَّ) کی نظر میں قطعاً کوئی اہمیت نہیں ہے۔ کیونکہ بہت ساری حدیثیں آئیں ان کے اعمال کے لیے اور وہ ضائع کر دیے گئے۔ اگر انرجی اچھی نہیں ہے، دل اچھا نہیں ہے، اچھے اخلاق اور پیار اور محبت سے بھرا ہوا نہیں ہے، تو اس کی اللّٰه عَزَّوَجَلَّ کی نظر میں کوئی اہمیت نہیں ہے۔ لیکن وہ آپ کے لیے قیامت میں سمجھنے کے لیے ہے، لیکن 'ابھی' کے لیے، اس دنیا میں جو کچھ ابھی ہورہا ہے اس (کو سمجھنے) کے لیے، (یہ ہے کہ) اگر آپ کی انرجی ٹھیک نہیں ہے تو یہ آپ کے لیے کوئی فائدہ نہیں رکھتی، آپ کی نماز آپ کی حفاظت نہیں کرے گی، آپ کی زکوٰۃ آپ کی حفاظت نہیں کرے گی، آپ کا روزہ آپ کی حفاظت نہیں کرے گا، لیکن آپ کا 'دل' کرسکتا ہے۔ اگر (آپ کا) دل اچھا ہے، (آپ کی) محبت مخلص ہے اور (آپ) دل کی انرجی کو پروان چڑھانے اور اس انرجی کو (باہر) لانے کے بارے میں سیکھنا شروع کردیتے ہیں، (تو یہی) انرجی وہ مدد اور سہارا ہے جو ہر طرح کی منفی انرجی کو دور کرنا شروع کر سکتی ہے جو اب انسان کی طرف آرہی ہے، انشاء اَللّٰه۔ انشاء اَللّٰه، اَللّٰه (عَزَّوَجَلَّ) ہمیں برکت عطا فرمائے اور ہمیں نوازے، اور ہمیں شب البرأت، لیلة البرأت، شبِ نصفِ شعبان کو دیکھنے کی نِیَّت عطا فرمائے۔ یہ ایک روحانی نیا سال ہے جسے اَللّٰه (عَزَّوَجَلَّ) پاک روح پر لکھتا ہے، (کہ) کون زندہ رہے گا اور کون مرے گا، سال کے لیے ان کا رزق کیا ہوگا، ان کی حالت کیا ہوگی، ان کی صحت، خوشحالی، اس سال کے لیے سب کچھ روح پر لکھا جائے گا۔ کہ ہم نیت کرتے ہیں اے پروردگار! ہمیں عطا فرما، اسی وجہ سے اس کو شبِ برأت، (یعنی) بخشش کی رات کہا جاتا ہے۔ کہ اَللّٰه (عَزَّوَجَلَّ) فجر کے وقت تک یہ پوچھتا رہتا ہے، (کہ) "کیا کوئی ہے جو مجھ سے معافی چاہتا ہے؟"، اور اب سے ہم یہ دعا کر رہے ہیں کہ اے پروردگار،
اِلَهِى اَنْتَ مَقْصُوْدِيْ وَرِضَاكَ مَطْلُوْبِيْ
"اے میرے رَبّ، تو ہی میرا مقصد ہے اور میں تیری رضا کا طلبگار ہوں"۔
ہم تجھ سے معافی مانگ رہے ہیں اور تیری رضا اور خوشی کے طلب گار ہیں۔ کہ ہمیں اس رات کو دیکھنے (کی سعادت) عطا کر، (ہمیں) اس رات کی برکتوں سے آراستہ ہونے دے، اور اس رات کی برکات اور عطاؤں اور راز اور حقائق جن کے بارے میں ہمیں کچھ بھی نہیں معلوم، ان (کے وسیلے) سے ہماری ہر مشکل کو دور فرما دے۔ اور اے پروردگار، ہمیں اسکی تفہیم (سمجھ) کے سمندروں سے عطا کر، انشاء اَللّٰه۔
URDU TRANSLITERATION:
🌹 💝 🌹 Agar (aap ki) energy achi nahi hai, dil acha nahi hai, achay ikhlaq aur pyar aur mohabbat se bhara hwa nahi hai, to aap kay Amal ki ALLAH Azzawajal ki nazar mein koi ahmiyat nahi! 🌹 💝 🌹
Yeh woh din hain jin (dinon) mein (hamein) apni frequency ko taameer karne, apne (wujood ke gird) energy (kay maidaan) ko taameer karne, (aur) apni frequency ki satah ko barhaanay ki zaroorat hai taakay har terhan ki manfi (energy) ko khatam kiya ja sakay, Insha ALLAH. Madad aur yeh tilawatain baypanaah energy laati hain, jo un azeem haqaaiq (Awliya ALLAH) ki rooh kay andar mojood hai.
Jaisay hi aap tilawat karte hain aur un ko pukaartay hain, un ki hamd o sana karte hain, un se mohabbat karte hain, ALLAH (Azzawajal) nay hum se jo (karne ke liye) kaha hai uss ki Ataa'at karte huway, (tou) un (Awliya ALLAH) ki rooh energy ke power houses (bijli gharon) ki terhan (foran) ajati hai. Aur woh un logon ko sohbat mein rakhtay hain jo un se pyar karte hain, aur yeh ke aap jin se mohabbat karte hain aap unhi ke sath rahen gay. Pehlay say ziyada ab 'yeh' waqt hai yeh samajhney ka kay yeh mohabbat kya hai, kay hamari mohabbat sirf zabaan kay zariya hi nahi (balkay) amal say hai, (hamein) un se mohabbat karni chahiye aur unhen mustaqil tor par yaad rakhna chahiye, apni iss zindagi aur is haqeeqat kay liye ALLAH (Azzawajal) ka shukriya ada karte huway jis se ALLAH (Azzawajal) ney hamein nawaza Hai. Aaj ki raat sawalaat kay liye aik rabita (baat cheet) wali Jummaraat hai aur yeh sab say ahem, sab se ahem hai iss baat ko samjhna kay tafakkur aur ghor-o-fikar ka yeh tareeqa (dar haqeeqat) 'energy' kay baarey mein hai. Yeh energy kay baarey mein hai, (kay) kaisay energy ko taameer kiya jaye. Kay energy kay baghair, sab kuch bekaar Hai. Kay agar woh namaz parhna chahtay hain, woh roza rakhna chahtay hain, woh (zakaat) dena chahtay hain, woh hajj ke liye jana chahtay hain, (tou) un tamaam cheezon ki masbat energy, achi energy kay baghair, ALLAH (Azzawajal) ki nazar mein qat'an koi ahmiyat nahi hai. Kyunkay bohat saari ahadees ayeen un kay aamaal kay liye aur woh zaya kar diye gaye. Agar energy achi nahi hai, dil acha nahi hai, achay ikhlaq aur pyar aur mohabbat se bhara hwa nahi hai, tou is ki ALLAH Azzawajal ki nazar mein koi ahmiyat nahi Hai. Lekin woh aap Kay liye qayamat mein samajhney kay liye hai, lekin 'abhi' kay liye, is duniya mein jo kuch abhi ho raha hai is (ko samajhney) Kay liye, (yeh hai kay) agar aap ki energy theek nahi hai to yeh aap kay liye koi faida nahi rakhti, aap ki namaz aap ki hifazat nahi karay gi, aap ki zakaat aap ki hifazat nahi karay gi, aap ka roza aap ki hifazat nahi karay ga, lekin aap ka 'dil' Kar sakta Hai. Agar (aap ka) dil acha hai, (aap ki) mohabbat mukhlis hai aur (aap) dil ki energy ko parwaan charhaanay aur is energy ko (bahar) laanay kay baaray mein seekhna shuru kardete hain, (tou yahi) energy woh madad aur sahara hai jo har terhan ki manfi energy ko door karna shuru kar sakti hai jo ab insaan ki taraf aa rahi hai, Insha ALLAH. Insha ALLAH, ALLAH (Azzawajal) hamein barkat ataa farmaaye aur hamein nawaazay, aur hamein Shab baraat, lailatul baraat, Shab_e_ Nisf shabaan ko dekhnay ki niyyat ataa farmaaye. Yeh aik Rohani naya saal hai jisay ALLAH (Azzawajal) paak rooh pr likhta hai, (kay) kon zinda rahay ga aur kon maray ga, saal kay liye un ka rizq kya hoga, un ki haalat kya hogi, un ki sehat, khush'haali, is saal kay liye sab kuch rooh par likha jaye ga. Kay hum niyyat kartay hain Ay Pawardigaar! Hamein ataa farma, isi wajah se is ko shab e braat, (yani) bakhshish ki raat kaha jaata hai. Kay ALLAH (Azzawajal) Fajar Kay waqt tak yeh puchta rehta hai, (Kay) "kya koi hai jo mujh se maafi chahta hai?", aur ab se hum yeh dua kar rahay hain kay Ay Pawardigaar,
الهى انْت مقْصوْدیْ ورضاك مطْلوْبیْ
"Ay mere Rab, tu hi mera maqsad hai aur mein teri Raza ka talabgaar hun".
Hum tujh say maafi maang rahay hain aur teri Raza aur khushi kay talabgaar hain. Kay hamein is raat ko dekhnay (ki Sa'adat) ataa kar, (hamein) is raat ki barkaton se aaraasta honay day, aur is raat ki Barkaat aur ataaon aur raaz aur Haqaaiq jin kay baaray mein hamein kuch bhi nahi maloom, un (kay waseelay) say hamari har mushkil ko door farma day. Aur Ay Pawardigaar, hamein iski Tafheem (samajh) kay samndron say ataa kar, Insha ALLAH.
ORIGINAL LECTURE:
🌹💝🌹 If The Energy Is Not Good, The Heart Not Good, Not Filled From Good Manners And Love And Muhabbat, The Amal, It Has No Value For Allah (AJ)🌹💝🌹
These are the days in which to build our frequency, build our energy, raise the level of the frequency to fight off every type of negativity, Insha Allah. The Madad and these recitations bring an immense amount of energy that are contained within the soul of these noble realities. As soon as you recite and call upon them, praise them, love them, obeying what Allah (AJ) has asked of us, their soul comes like power houses of energy. And they keep the company of those whom love them, and that you'll be with whom you Love. Now is the time more than ever to understand what this love is, that our love is not only by tongue but by action, to love them and to continuously remember them, thanking Allah (AJ) for this life of ours and this reality that we've been dressed with. Tonight is an interactive Thursday for questions and it's most important, most important to understand (that) this way of Tafakkur and contemplation is about 'Energy'. It's about energy, how to build the energy. That without the energy, everything is worthless. That if they want to pray, they want to fast, they want to give (Zakah), they want to go for Hajj, all of that without a positive energy, good energy, has absolutely no value for Allah (AJ). Because many Hadith came across their amal and threw it. If the energy is not good, the heart's not good, not filled from good manners and love and muhabbat, it has no value for Allah (AJ). But that (is) for you to understand in Qiyamah, but for 'now', in this dunya with what's happening now, it's of no value for you if your energy is no good, your Salah will not defend you, your Zakah will not defend you, your Sawm (Fast) will not defend you, but your heart can. If the heart is good, the love is sincere and (you) begin to learn on how to nourish the energy of the heart and to bring that energy, that energy is the madad and support that can begin to push away every type of negativity that (is) coming towards Insaan now, Insha Allah. Insha Allah, Allah (AJ) dress us, bless us and give us intention to see Shab Al Bara'at, Laylatul Bara'ah, Shab e Nisf e Sha'ban. That is a spiritual new year whom Allah (AJ) writes on the holy soul, who will live and who will die, what will be their sustenance for the year, what will be their condition, their health, their prosperity, everything will be written upon the soul for that year. That we make intention Ya Rabbi grant us, this is why it's called the night of Bara'ah, the night of forgiveness. That Allah (AJ) (is) all the way till Fajar time asking, "Is anyone asking my forgiveness?", and from now we're asking Ya Rabbi ilahi anta maqsoodi wa ridhaaka matloob, (My Lord, You are my purpose and your satisfaction is what I require), begging your forgiveness and seeking your Razaa and satisfaction. That let us to see that night, be dressed by that night, and every difficulty to be taken by the barakah and the blessings of that night and it's secret and it's realities, of which we know nothing. But Ya Rabbi grant us from it's oceans of understanding, Insha Allah. 🌹💝 🌹
Shaykh Syed Nurjan Mirahmadi Naqshbandi (Q)
FOR ENGLISH:
https://www.facebook.com/1621830444573407/posts/2983615995061505/
WATCH HERE:
https://www.facebook.com/shaykhnurjanmirahmadi/videos/167758534347398/