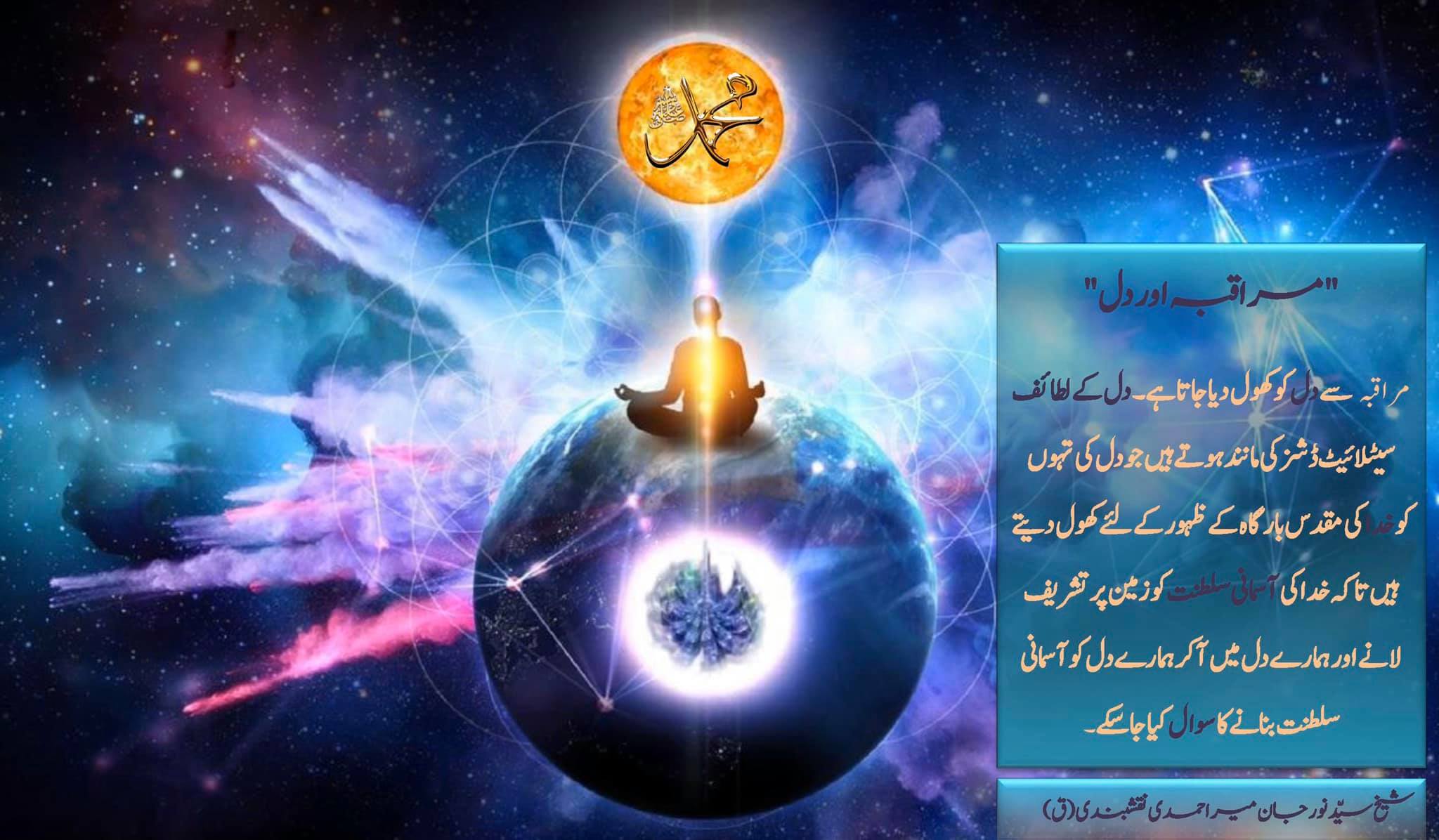 Urdu – شیخ سَیَّد نورجان مِیراَحمَدِی نَقشبَندِی (ق) کی سنہری تعلیمات سے اقتباس بِسْمِ…
شیخ سَیَّد نورجان مِیراَحمَدِی نَقشبَندِی (ق) کی سنہری تعلیمات سے اقتباس
بِسْمِ اللَّـهِ الرَّحْمَـٰنِ الرَّحِيمِ
الّھمَّ صَلِّ عَلَی سیدِنَا محَمَّدٍ ﷺ وَعَلَی آلِ سیَّدِنا محَمَّد ﷺ
مراقبہ
(روحانی رابطہ)
الحمد اللہ ، طریقہ (روحانی راہ) میں بہت سی مختلف حقیقتیں ہیں اور یہ اللہ کی خدائی بارگاہ کی طرف سے سیدنا محمد کی بارگاہ کی جانب اور سیدنا محمد ﷺ سے اولیا اللہ (اولیاء کرام) کی جانب تحائف ہیں۔ اولیاء اللہ اور مشائخ اور کامل لوگوں کی تعلیمات سے ، یہ ایک یاد دہانی ہے کہ حقیقت کے جن بہت سے سمندروں کے بارے میں ہم نے بات کی ہےاُن میں سے ایک مراقبہ ہے۔
اس کا مطلب یہ ہے کہ یہ سب اس بات پر مبنی ہے کہ دل کو کیسے کھولا جائے۔ دل کی اپنی لطیف اوپننگز (openings ) ہوتی ہیں، جنہیں لطائف کہا جاتا ہے، جیسے انرجی کی سیٹلائٹ ڈشز (satellite dishes ) جو مقدس دل کی تہوں کو مقدس بارگاہ اور آسمانی سلطنت کے خدائی نور کے ظہور کے لئے کھول دیتی ہیں۔ اس کا مطلب ہے کہ ہم اللہ کی آسمانی سلطنت کو زمین پر تشریف لانے اور ہمارے دلوں میں آنے اور ہمارے دل کو آسمانی سلطنت بنانے کا سوال کررہے ہیں۔
سب سے پہلے سر کو جُھکنا ہوگا ، پھر دل کھلتا ہے:
سر کی 7 مقدس اوپننگز (openings ) کو تابع کر دیں:
دل کھولنے کے لئے ، مقدس سر کو تابع ہونا ہوگا۔ اس کا مطلب یہ ہے کہ جب کان اطاعت میں ہوں ، آنکھیں اطاعت میں ہوں اور سانس تابع ہو جائے، پھر آخری اور سب سے مشکل مقدس زبان (کو مطیع کرنا) ہے۔ کہ یہ سب لازمی اطاعت میں ہونے چاہئیں۔ لہذا طریقہ کی تمام تر تربیت ہمیں یہ سکھانے کے لئے آتی ہے کہ جب ہم مشائخ کے ساتھ ہوں ، اپنے کامل ماسٹرز (masters) کے ساتھ ہوں، تو وہ ہمیں یہ سکھاتے ہیں کہ ہمارا سَمِعْنَاوَأَطَعْنَا کس طرح کامل بنانا ہے ، "ہم سنتے ہیں اور ہم اطاعت کرتے ہیں-"
کانوں کا پَیروں سے براہ راست رابطہ ہے – آپ کو متوازن رکھتے ہیں:
"… اور وہ (خدا سے) عرض کرتے ہیں کہ ہم نے (تیرا حکم) سنا اور قبول کیا۔ اے پروردگار ہم تیری بخشش مانگتے ہیں اور تیری ہی طرف لوٹ کر جانا ہے۔ " (سورت البقرہ ۲:۲۸۵)
لہذا اللہ براہ راست تعلیم فرما رہا ہے ، آپ کے کان آپ کے پَیروں کے پابند ہیں۔ لہذا اگر آپ کو ور ٹیگو (vertigo ) ہے تو آپ چل نہیں سکتے۔ کانوں کی دو سطحیں ہیں۔ ہمارے پاس ایک بیرونی کان اور ایک اندرونی روحانی کان ہے۔ اللہ بیان فرماتا ہے کہ ان کے پاس کان ہیں لیکن وہ اسے استعمال نہیں کرتے ، وہ اسے حیوانی سلطنت (جانوروں) کی طرح استعمال کرتے ہیں لیکن ہم حقیقتاً دل کو اندر سے نہیں سنتے ہیں۔
نظر کو اپنے پیروں پر رکھئیے – نظر بر قدم:
اپنا وژن (مشاہدہ) اپنے پیروں پر رکھئیے ، نظر بر قدم ، کیوں؟ کیونکہ آپ کی نظر میں آپ کی ہوَّا (خواہش) موجود ہے۔ آپ (ایسا کبھی) نہیں دیکھتے کہ اندھے لوگوں کو مادی دنیا کی خواہشات ہوں۔ کوئی ایسا نابینا شخص نہیں جو زمین کو فتح کرنے اور فراری گاڑی خریدنے کی کوشش کر رہا ہو ، وہ اسے دیکھ نہیں سکتا ، وہ اسے استعمال نہیں کرسکتا۔ کوئی ایسے اندھے لوگ نہیں ہیں جو مادی خواہشات رکھتے ہوں۔
پھر دیکھنا براہ راست آپ کی خواہشات سے جڑا ہوا ہے۔ اپنی خواہش کو بند رکھئیے اور اپنے پاؤں پر نظر رکھیں۔ اس کا مطلب یہ ہے کہ دھیان رکھئیے کہ آپ کے پیر آپ کو زندگی میں کہاں لے جارہے ہیں۔ اگر یہ پیر ناچنے کے لئے جائیں تو (سمجھ جائیں کہ) ہم مشکل میں پڑ گئے۔ اگر یہ پیر مسجد کی جانب عبادت کے لئے اور نماز پڑھنے کے لئے جاتے ہیں تو الحمد للہ ہم تقویٰ کی راہ پر اور سیدنا محمد ﷺ "قدم الحق و قدم الصدیق (سچے لوگوں کے نقشِ قدم)" کے نقشِ قدم پر ہیں۔ اور جو لوگ صحابہ کرام اور اہل بیت النبی کے واث ہیں ، وہ نبی کے نقش قدم کی وراثت پاتے ہیں۔
تفکر(غوروفکر/مراقبہ)
تفکر (مراقبہ) میں اپنے امام کو سامنے دیکھئیے:
گزشتہ تعلیمات سے (بیان کرتے ہوئے) کہ، اگر سر کی ساری اوپننگز کا شعور مل جائے اور وہ اپنی حیوانی فطرت کو تابع کرکے اپنی آسمانی حقیقت کی طرف آ جائیں ، تو فوراً اسی وقت وہ (اولیاء اللہ) ہمیں مراقبہ اور تفکر (غور و فکر) میں تعلیم دینا شروع کردیتے ہیں کہ جب آپ تفکر اور غور و فکر کر رہے ہوں تو آپ کو ہمیشہ اہلِ نور کے ساتھ رہنا چاہئے۔ آپ کو ہمیشہ اپنے امام کے ساتھ رہنا چاہئے۔ اس کا مطلب یہ ہے کہ ایسا کوئی وقت نہیں ہے کہ جب ہم ظاہری طور پر شیخ کے ساتھ ہوں اور روحانی طور پر ہم اُن کے ساتھ نہ ہوں۔
اس کا مطلب یہ ہے کہ ہماری زندگی کا ہر تصور اسی نوعیت کا ہے کہ ، یا ربی ، سب سے بڑے امام (روحانی پیشوا) ، سب سے عظیم امام سیدنا محمد ہیں۔ جب ہم اپنے آپ کو تعلیم دیں کہ – یا پھر سیدنا عیسیٰ، یا نبی موسی، یا جس بھی قوم سے آپ تعلق رکھتے ہوں اور جس نبی کی بھی پیروی کر رہے ہوں – ہماری زندگی اس بات پر مبنی ہے کہ ، 'نبی ہمیشہ میرے سامنے ہوتے ہیں۔' کہ میری زندگی ہمیشہ ان کے پیچھے ہے (ہمیشہ ان کی پیروی کرتے ہوئے) ، میری دعا ہے کہ خدا مجھے قبول فرمائے کہ میں ان کے پیروں تلے خاک بن جاؤں۔
لیکن چونکہ ہم (اس وقت کے لوگ) نہیں ہیں تو اللہ نے ہمیں (ہدایت کے لئے) اولیاءاللہ سے نوازا ہے۔ لہذا ہمارے مقدس شیخ ہمیشہ میرے امام ہیں، خواہ میں ان کے ساتھ ہوں اور ان کے پیچھے نماز پڑھ رہا ہوں، اور (یا پھر) اپنے دل کی آنکھ کے مشاہدہ سے (اُن کو) یاد کر رہا ہوں۔ اس کا مطلب ہے کہ میں کوشش کرتا ہوں کہ کبھی بھی اُن کی بارگاہ کو نہ چھوڑوں۔ اس کا مطلب یہ ہے کہ آپ شیخ کی محبت کو برقرار رکھے ہوئے ہیں۔ اور شیخ کی یہ محبت ، کیوں کہ ہمارا ساتھ محبت پر مبنی ہے، زبردستی کے ساتھ نہیں ہے۔ کوئی بھی ہمیں یہاں روحانی محافل میں بیٹھنے پر مجبور نہیں کرسکتا ہے۔ زبردستی کے ذریعہ (بیٹھنے سے) کچھ نہیں کھلے گا۔
محبت شیخ کا حضور (موجودگی) کھولتی ہے:
ہم محبت کے ساتھ (شیخ کی بارگاہ میں) رہتے ہیں اور وہ اُس محبت کے ذریعے سکھانا شروع کردیتے ہیں (جس سے) آپ کو "حضور" ملنا شروع ہوجاتا ہے ، اور آپ کو (ان کی) موجودگی محسوس ہونے لگتی ہے۔ اس موجودگی کا مطلب ہے کہ آپ محض اُن پر نظر ڈالیں اور جب آپ آنکھیں بند کریں تو آپ انہیں روح کی آنکھ سے ، دل کی آنکھ سے (اپنے پاس موجود) دیکھ سکیں۔ کہ آپ انہیں دیکھیں اور آپ ان کے ساتھ ظاہری طور پر اور روحانی طور پر تعلق تعمیر کرلیں۔ کہ ہمیشہ ان کی صحبت میں رہنا ، اس حقیقت کے لئے وہ محبت اور پیار (رکھنا) ، "حضور" اور شیخ کی موجودگی کو فروغ دینے لگتا ہے۔ اس کا مطلب یہ ہے کہ (پہلے پہل) ان اولیاء اللہ کے ساتھ ان کی ظاہری بارگاہ میں (رہا جائے) اور (پھر ظاہری بارگاہ کے ذریعے) ان کی روحانی بارگاہ میں (داخل ہوا جائے) ، کیونکہ اللہ کا فرمان ہے، ہر گھر سے صحیح دروازے سے داخل ہوا کیجئے۔
۔۔۔۔۔
اور نیکی اس بات میں نہیں کہ گھروں میں ان کے پچھواڑے کی طرف سے آؤ۔ بلکہ نیکوکار وہ ہے جو پرہیز گار ہو اور گھروں میں ان کے دروازوں سے آیا کرو اور خدا سے ڈرتے رہو تاکہ نجات پاؤ۔ " (سورت البقرہ ۲:۱۸۹)
مراقبہ (روحانی رابطہ)
روح کی سطح پر شیخ کے ساتھ مربوط ہوں:
اللہ کا گھر "قلب المومن بیت اللہ" ہے جس کا مطلب ہے کہ سر کے ذریعے نہیں دل کے ذریعے داخل ہوں۔ اس کا مطلب روح کو کھولئے اور روح کی سطح سے ان (اولیاء اللہ) سے رابطہ قائم کیجئے۔
"مومن کا دل خدا کا گھر ہے۔" (حدیث قدسی)
ایسے لوگ (بھی) ہیں جو شیخ کے ساتھ پچاس سال ، چالیس سال ، دس سال ظاہری طور پر رہتے ہیں لیکن انہوں نے کبھی روحانی طور پر رابطہ بنانے کی کوشش نہیں کی۔ اور یہ ایک بہت بڑی غلطی ہے، یہ بہت بڑی مشکل ہے کیونکہ آپ جو کچھ بھی حاصل کر رہے ہیں وہ اُن (شیخ) کی ظاہری بارگاہ سے ہے اور یہ شیخ کی روحانیت کے مقابلے میں ایک انتہائی چھوٹی سی حقیقت ہے۔ یہی (روحانیت) شیخ کا نور اور (اُن کی) ابدی بارگاہ ہے ، وہ سیدنا محمد ﷺ کا عکس ہیں اور سیدنا محمد ﷺ زمین پر خدائی عکس ہیں۔
جس چیز کا کمال اللہ چاہتا ہے وہ تمام انبیاء کے ذریعہ معلوم ہوتی ہے۔ خدا کی تمام صفات نبوی حقیقت (prophetic reality ) کے ذریعہ منعکس ہوتی ہیں اور نبوی حقیقت سے نیک بندوں (اولیاء اللہ) پر (منعکس ہوتی ہیں)۔
"اے ایمان والو! اللہ کی اطاعت کرو ، رسول کی اطاعت کرو ، اور جو آپ میں اختیار رکھتے ہیں"۔ (سورت النساء ۴:۵۹)
اولی الامر (آسمانی اختیار کے حامل) اس عکس کے وارث ہوتے ہیں۔ لہٰذا اُن کی موجودگی کو قائم رکھنے سے ، مراقبہ کرنے سے اور غوروفکر کرنے سے وہ تعلیم دینا شروع کرتے ہیں کہ میرے پروردگار میں کبھی بھی ان کے بغیر نہیں رہنا چاہتا ، کہ میں ہمیشہ ان کے ساتھ ہوں۔
دل کی سلطنت روحانی ہوتی ہے اور روحانی رابطہ کا تقاضا کرتی ہے:
جیسے ہی آپ سیکھنا شروع کرتے ہیں کہ کیسے تفکر (غور و فکر) کرنا ہے ، تو ہم ذہن کی سطح اور جسمانی سطح کو چھوڑ رہے ہوتے ہیں۔ ابتدائی مرحلے میں سر کے ذریعے جسم کو نظم و ضبط سکھانا (مقصود) تھا۔
اب جب ہم دل کی سلطنت میں داخل ہوجاتے ہیں تو یہ ایمان کی سلطنت ہوتی ہے۔ یہ اب مزید جسمانی نوعیت کی نہیں رہی ، یہ روحانی فطرت کی ہے ، اور ہمیں اپنے مرشد کے ساتھ روحانی تعلق بنانا ہوگا۔ سلطان الاولیاء مولانا شیخ ناظم (ق) ، اس سلسلے (رابطے) میں حتمی ہیں لیکن ، الحمد للہ ، اللہ پاک نے ہمارے لئے اس عکس کی ایک کامل مثال کے طور پر مولانا شیخ (ق) عطا فرمائے ہیں کہ (ان کے ذریعے) اس (عکس) سے رابطہ پیدا کیا جائے اور ہمیشہ ان کی بارگاہ میں حاضر رہنے کے لئے سوال کیا جائے۔ ہمارے لئےاس خطے میں ہم اُن کی مثال کی پیروی کرتے ہیں ، ہم اُن کے سفر کی پیروی کرتے ہیں ، ہم ان کے خطبات سنتے ہیں ، ہم (اُن کی) ساری تعلیمات سنتے ہیں۔
پہلے مرحلے میں ہم کوشش کرتے ہیں کہ شیخ سے رابطہ بنائیں:
اس مثال کے ذریعہ ہم سوال کرتے ہیں کہ، یا ربی ، مجھے اس شخص کی خدمت کرنے (کا موقع) دیجئے جو سلطان کی خدمت کر رہا ہے جو نبی کی خدمت کر رہا ہے۔ مجھے اُن تک رسائی دیجئے اور میں اُن سے ملنے ، اُن کے ساتھ بیعت کرنے ، ان کا ساتھ دینے ، ان کی خدمت کے لئے سفر کرنے کے قابل ہو جاؤں۔ اس سے یہ تصور کھلنا شروع ہوتا ہے کہ جیسے ہی ہم مراقبہ اور غور و فکر کرتے ہیں کہ ، یا ربی ، مجھے ہمیشہ اُن کے ساتھ رکھئیے، تو وہ کے قرآن پاک سے (یہ آیت ہمیں درس دینا شروع کرتی ہے کہ)۔۔۔
"اے اہل ایمان! خدا سے ڈرتے رہو اور راست بازوں کے ساتھ رہو۔" (سورت التوبہ ۹-۱۱۹)
میں ہمیشہ آپ کے نیک بندوں کے ساتھ رہنے کا سوال کر رہا ہوں۔ جیسے ہی اپ مراقبہ کرتے ہیں اور تفکر کرتے ہوئے سوال کرتے ہیں کہ، "یا ربی ، میں روح اور اس کی حقیقت کے ساتھ رہنا چاہتا ہوں" تو آپ تصور کرنا شروع کردیتے ہیں کہ جیسے آپ ان کے ساتھ ظاہری طور پر موجود ہیں۔ ان کی روح باکل وہاں موجود ہے ان کی روح ہمارے سامنے ہے، اور آپ سوال کرتے ہیں کہ، یا ربی ، مجھے اپنا دل کھولنے اور اپنے مرشد کے ساتھ روح سے روح تک کا اپنا رابطہ قائم کرنے دیں۔
پہلے مرحلے میں یہ مَیں ہوتا ہوں جو رابطہ قائم کرنے کی کوشش کر رہا ہے۔ اُن کو سننے کا کوئی راستہ نہیں ہے جب تک کہ وہ خود اجازت نہیں دے دیتے کہ رابطہ درست ہے۔ میں محض لائن بھیجتا ہوں ، درخواست کرتا ہوں ، یہ ان کی طرف سے ہے کہ وہ قبولیت بخشتے ہیں (یا نہیں)۔ اگر وہ قبول کرتے ہیں ، وہ اسے مخلص محسوس کرتے ہیں ، وہ اسے درست سمجھتے ہیں ، تو پھر وہ اپنی نظر بھیجنا شروع کردیتے ہیں۔ نظر کا مطلب روح پر ان کی روحانی توجہ ہے۔
جیسے ہی وہ اپنی روحانی توجہ بھیجتے ہیں تو اس کا مطلب یہ ہوتا کہ (اُن کا) یہ سب علم دل پر مبنی ہوتا
لہے روحانی تعلق پر مبنی ہے، ہم یہ سیکھنا شروع کرتے ہیں کہ جسے ہم اپنے کانوں کے ذریعہ سن رہے ہیں وہ ظاہری ہے ، لیکن یہ مشائخ کا روحانی تعلق کھول رہا ہے۔
کعبہ اور دل:
کعبہ کے چار کونے چار اقسام کی نمائندگی کرتے ہیں
نبیّین ، صدیقین ، شہداء اور صالحین:
وہ ہمیں تعلیم دے رہے ہیں ، اس (روحانی تعلق کی) حقیقت کے کھولنے کے لئے اللہ فرماتا ہے ، اگر آپ میرے ساتھ رہنا چاہتے ہیں تو آپ کو چار اقسام (کے لوگوں) کے ساتھ رہنا ہوگا۔ نبییّن ، صدقین ، شھداء اورصالحین (انبیاء ، سچے ، گواہ / شہداء اور نیک)۔
"اور جو لوگ خدا اور اس کے رسول کی اطاعت کرتے ہیں وہ (قیامت کے روز) ان لوگوں کے ساتھ ہوں گے جن پر خدا نے بڑا فضل کیا یعنی انبیاء اور صدیق اور شہید اور نیک لوگ اور ان لوگوں کی رفاقت بہت ہی خوب ہے۔ " (سورت النِسا ۴:۶۹)
یہی وجہ ہے کہ کعبہ ان کی طرف سے ایک علامت ہے۔ اگر آپ اللہ کے ساتھ رہنا چاہتے ہیں تو آپ کو نبیین (انبیاء) کے ساتھ رہنا ہو گا جو حجر الاسود ہے (کعبہ میں کالا پتھر) ، صدیقیین (سچے بندے) ، وہ کونہ جو نبی پاک کے قریب ترین ہے۔ شہداء، کیونکہ وہ دیکھتے ہیں اور وہ شہدا صالحین (نیک لوگ) کو جنم دیتے ہیں۔
1- نبیّین (انبیاء) – حجر الاسود کا گوشہ۔ (تمام نبیین 124،000 ہیں۔)
2- صدیقین (سچے لوگ) – نبی کریم کے قریب کا کونہ۔ صدیقین نبی پاک کے جلیل القدر صحابہ ہیں۔
3- شہداء (وہ لوگ جو گواہ ہیں) – نہ صرف وہ لوگ جو جنگ میں شہید ہوئے ، بلکہ وہ لوگ جو اپنی ظاہری دنیا میں وفات پا چکے ہوتے ہیں (موت قبل الموت)۔ یعنی حقیقت کے بڑے بڑے عالم (اسکالرز)، جو اپنی خصوصیت کو ختم کرنے کے قابل ہوئے۔ وہ اس دنیا میں زیادہ زندہ نہیں تصور کئے جاتے کیونکہ وہ خدائی بارگاہ میں زندہ ہیں۔
شہداء گواہ ہیں۔ اگر کوئی شہدا میں سے نہیں اور اُن لوگوں میں سے نہیں ہے جو مجلس میں دیکھتے ہوں ، تو وہ کبھی بھی صالحین نہیں بن پائیں گے۔ یہ صرف وہ فارمولا ہے جس سے اللہ (وہ) حقیقت پیدا کررہا ہے۔
4- صالحین (نیک لوگ ) – لہذا ان میں داخل ہونے اور صالحین کے گروہوں کو ڈھونڈنے سے (کہ) اُن میں لازماً اہل البصیرة (روحانی مشاہدات رکھنے والے لوگ) موجود ہونے چاہئیں جو تربیت یافتہ ہوتے ہیں اور ان کی خواہشات ختم ہو چکی ہوتی ہیں، (اور) اُن کی خواہشات کے خاتمے کے نتیجے میں اللہ فرماتا ہے "ہم نے ان کے کانوں کا تالا ختم کر ڈالا ہم نے ان کی آنکھوں کا، جو دل کا عین (مشاہدہ) ہیں، تالا اتار دیا اور ہم نے کسوہ، وہ پردے جو روکاوٹ بن رہے تھے، ہٹا دئے۔
اس کا مطلب ہے کہ ان کے ساتھ کو قائم رکھنے سے ان کا تمام مقصد ظاہری وابستگی نہیں ہے بلکہ ظاہری (وابستگی) کے ذریعہ وہ لوگوں کی روحوں کو کھینچنے میں کامیاب ہوتے ہیں۔ چنانچہ 'ملَکُوت کلِّ شی' سے اس کا مطلب ہے کہ ہم ظاہری رفاقت میں آتے ہیں اور ہم ظاہری ساتھ کو تلاش کرتے ہیں لیکن یہ اہل بصیرة نورانی لوگوں میں سے ہیں۔ کہ ان کی روح کمرے میں موجود ہر شخص کی روح کو فوری طور پر اپنی گرفت میں لے جانے کے قابل ہوتی ہے ، اور جو معاہدے کی تکمیل سے اللہ چاہتا ہے اُس کے مطابق انھیں لے جاتی ہے۔
"وہ (ذات) پاک ہے جس کے ہاتھ میں ہر چیز کی بادشاہت ہے اور اسی کی طرف تم کو لوٹ کر جانا ہے۔" (سورت یٰسین ۳۶:۷۳)
قرآن پاک میں بھی یہی بیان ہے اور اللہ فرما رہا ہے کہ، اگر آپ میرے ساتھ رہنا چاہتے ہیں تو آپ کو لازمی طور پر نبیّین (پیغمبروں) ، صدیقین (سچے) ، شہدا (شہادت پانے والے/گواہ) اور صالحین (نیک لوگ) کے ساتھ رہنا ہوگا۔
تو شہداء گواہ ہیں۔ گواہ بننے کا ایک طریقہ یہ ہے کہ آپ کی وفات ہو جائے اور اب آپ اس روشنی کا مشاہدہ کریں جو اللہ نے دکھانا چاہی۔ یا پھر آپ کی خواہشات مر جائیں اور آپ کا دل کھلنا شروع ہو جائے؛ آپ کی روح وہ دیکھنا شروع کردے جو اللہ اسے دیکھانا چاہتا ہے ، اور اب آپ شہدا اور اہل بصیرہ (روحانی مشاہدہ رکھنے والے لوگ) میں سے ہیں، وہ لوگ جن کے دل کھلے ہوئے ہیں۔
اللہ کہتا ہے کہ آپ کو ان چاروں حقائق میں سے ہونا چاہئے ، صالحین میں سے ، شہدا میں سے، صدیقیین میں سے اور وہ سب سیدنا محمدﷺ ، نبیّین سے جڑے ہوئے ہیں۔
مقدس کعبہ اور لطائف القلب کے چار اندرونی اور بیرونی مقامات:
پھر اس کا مطلب ہوا کہ دل کی سطحیں ہیں۔ اس سے پہلے کہ ہم لطائف القلب کی سمجھ میں جائیں ، آپ دیکھیں گے کہ دل کے گرد حقیقت کے دائرے کا احاطہ کئے ہوئے ایک مربع موجود ہے جس کا ہر ایک کونہ ہر لطائف القلب کے بیرونی نقطے کی نشاندہی کرتا ہے، (یہ سارے کونے مل کر) ایک چوکور بناتے ہیں۔ وہ چوکور کعبہ ہے
"مومن کا دل خدا کا گھر ہے۔" (حدیث قدسی)
ایک بیرونی چوکور اور ایک اندرونی چوکور ہے۔ بیرونی چوکور ظاہری کعبہ ہے۔ اندرونی چوکور انتہائی اندرونی حقیقت ہے ، بیت المامور ، روشنی کے سمندروں میں خدائی گھر۔
وہ (اولیاء اللہ) ہمیں تعلیم فرماتے ہیں کہ مشائخ کے ساتھ رہیں ، اپنی أرواح کو ان کی بارگاہ میں کھونے کےلئے ان سے تربیت اور شعور حاصل کریں۔ پھر اللہ روح کی حقیقت اور روح کا حقیقی تعلق کھولنا شروع کردیتا ہے۔ اور صرف اس وقت ہی یہ ترسیل (conveyance ) کھلنا شروع ہوسکتی ہے۔
……………………………………………………………
URDU TRANSLITERATION:
Bismillah hir rahman nir raheem
Allah huma sale ala sayyidina muhammadin wa ala aali sayyidina muhammad
Shaykh Sayed Nurjan Mirahmidi Naqshbandi (Q) ki sunehri talemaat se iqtabas
MURAQBA
( ROHANI RABITA )
Alhamdullilah, tareeqa ( Rohani raah ) mein bohat si mukhtalif haqeeqatien hain aur yeh Allah ki khudai bargaah ki taraf se Sayedna Mohammad Sallallahu Alaehi Wassalam ki bargaah ki janib aur syedna Mohammad Sallallahu Alaehi Wassalam se Awliya Allah ( awliya karaam ) ki janib tahaif hain. Awliya Allah aur mashaiykh aur kaamil logon ki talemaat se, yeh aik yaad dehani hai ke haqeeqat kay jin bohat se samundaron ke barey mein hum ney baat ki hai unn mein se aik muraqba hai .
Is ka matlab yeh hai ke yeh sab is baat par mabni hai ke dil ko kaisay khoola jaye. dil ki apni lateef ) openings ) hoti hain, jinhein lataif kaha jata hai, jaisay energy ki satellite dishes jo muqaddas dil ki tahoon ko muqaddas bargaah aur aasmani saltanat ke khudai noor ke zahuur ke liye khol deti hain. is ka matlab hai ke hum Allah ki aasmani saltanat ko zameen par tashreef laane aur hamaray dilon mein anay aur hamaray dil ko aasmani saltanat bananay ka sawal kar rahay hain .
Sabb se pehlay sir ko jhukna hoga, phir dil khilta hai :
sir ki 7 muqaddas ا openings ko ta'bay kar den :
dil kholnay ke liye, muqaddas sir ko ta'bay hona hoga. is ka matlab yeh hai ke jab kaan ita'at mein hon, ankhen ita'at mein hon aur saans ta'bay ho jaye, phir aakhri aur sab se mushkil muqaddas zabaan ( ko Mutee karna ) hai. ke yeh sab laazmi ita'at mein honay chahiye. lehaza tareeqa ki tamam tar tarbiyat hamein yeh sikahnay ke liye aati hai ke jab hum mashaiykh ke sath hon, –apne kaamil masters ke sath hon, to woh hamein yeh sikhate hain ke hamara Sami'na wa Ata'na kis tarhan kaamil banana hai," hum suntay hain aur hum ita'at karte.
kaanon ka peeron se barah e raast rabita hai. aap ko mutawazan rakhtay hain :
". .. aur woh ( Khuda se ) arz karte hain ke hum ne ( tera hukum ) suna aur qubool kiya. ae parvar-digaar hum teri bakhshish mangte hain aur teri hi taraf lout kar jana hai. " ( Surrah al-baqrah 2:2285)
lehaza Allah barah e raast taleem farma raha hai, aap ke kaan aap ke peeron ke paband hain. lehaza agar aap ko vertigo hai to aap chal nahi satke. kaanon ki do sathien hain. Hamary paas aik bairooni kaan aur aik androoni Rohani kaan hai. Allah bayan farmata hai ke un ke paas kaan hain lekin woh usay istemaal nahi karte, woh usay hewani saltanat ( janwaron ) ki terhan istemaal karte hain lekin hum haqeeqatan dil ko andar se nahi suntay hain .
nazar ko –apne pairon par rkhyie – nazar Bar qadam :
apna vision ( mushahida ) –apne pairon par rkhyie, nazar Bar qadam, kyun? Kyun kay aap ki nazar mein aap ki hawa ( khwahish ) mojood hai. aap ( aisa kabhi ) nahi dekhte ke andhay logon ko maadi duniya ki khwahisaat hon. koi aisa nabina shakhs nahi jo zameen ko fatah karne aur Ferrari gaari kharidne ki koshish kar raha ho, woh usay dekh nahi sakta, woh usay istemaal nahi kar sakta. koi aisay andhay log nahi hain jo maadi khwahisaat rakhtay hon .
phir dekhna barah e raast aap ki khwahisaat se jura hwa hai. apni khwahish ko band rkhyie aur –apne paon par nazar rakhen. is ka matlab yeh hai ke dheyaan rkhyie ke aap ke pair aap ko zindagi mein kahan le jarahay hain. agar yeh pair nachnay ke liye jayen to ( samajh jayen ke ) hum mushkil mein par gaye. agar yeh paiir masjid ki janib ibadat ke liye aur namaz parhnay ke liye jatay hain to Alhamdulillah hum taqwa ki raah par aur Sayedna Mohammad Sallallahu Alaehi Wassalam "Qadam Al Haq wa qadam Al sidiq ( sachey logon ke naqsh e qadam ) " ke nqshِ qadam par hain. aur jo log sahaba karaam aur ahal bait Al nabi Sallallahu Alaehi Wassalam ke waris hain, woh nabi Sallallahu Alaehi Wassalam ke naqsh qadam ki waarsat paate hain .
tafakkar ( ghor-o-fikar / muraqba )
tafakkar ( muraqba ) mein –apne imam ko samnay dakhiye :
guzashta talemaat se ( bayan karte hue ) ke, agar sir ki saari openings ka shaoor mil jaye aur woh apni hewani fitrat ko ta'bay karkay apni aasmani haqeeqat ki taraf aa jayen, to foran isi waqt woh ( Awliya Allah ) hamein muraqba aur tafakkar ( ghor o fikar ) mein taleem dena shuru kardete hain ke jab aap tafakkar aur ghhor o fikar kar rahay hon to aap ko hamesha Ahl e noor ke sath rehna chahiye. aap ko hamesha –apne imam ke sath rehna chahiye. is ka matlab yeh hai ke aisa koi waqt nahi hai ke jab hum zahiri tor par Sheikh ke sath hon aur Rohani tor par hum unn ke sath nah hon .
is ka matlab yeh hai ke hamari zindagi ka har tasawwur isi noyat ka hai ke, ya rabbi, sab se barray imam ( Rohani peshwa ), sab se azeem imam Sayedna Mohammad Sallallahu Alaehi Wassalam hain. jab hum –apne aap ko ta'leem den ke – ya phir syedna Esa, ya nabi Mosa, ya jis bhi qoum se aap ta'aluq rakhtay hon aur jis nabi ki bhi pairwi kar rahay hon- hamari zindagi is baat par mabni hai ke,' nabi hamesha mere samnay hotay hain.' ke meri zindagi hamesha un ke peechay hai ( hamesha un ki pairwi karte hue ), meri dua hai ke Khuda mujhe qubool farmaiye ke mein un ke pairon taley khaak ban jaoon .
lekin chunkay hum ( os waqt ke log ) nahi hain to Allah nay hamein ( hadaayat ke liye ) awliya Allah se nawaza hai. lehaza hamaray muqaddas Sheikh hamesha mere imam hain, khuwa mein un ke sath hon aur un ke peechay namaz parh raha hon, aur ( ya phir ) –apne dil ki aankhh kay mushahida se ( unn ko ) yaad kar raha hon. is ka matlab hai ke mein koshish karta hon ke kabhi bhi unn ki bargaah ko nah choroon. is ka matlab yeh hai ke aap Sheikh ki mohabbat ko barqarar rakhay hue hain. aur Sheikh ki yeh mohabbat, kyun ke hamara sath mohabbat par mabni hai, zabardasti ke sath nahi hai. koi bhi hamein yahan Rohani Mahafil mein bhaithne par majaboor nahi kar sakta hai. zabardasti ke zarye ( bhaithne se ) kuch nahi khulay ga .
mohabbat Sheikh ka huzoor ( mojoodgi ) kholti hai :
hum mohabbat ke sath ( Sheikh ki bargaah mein ) rehtay hain aur woh uss mohabbat ke zariye sikhana shuru kardete hain ( jis se ) aap ko "Hazoor" milna shuru hojata hai, aur aap ko ( un ki ) mojoodgi mehsoos honay lagti hai. is mojoodgi ka matlab hai ke aap mehez unn par nazar dalain aur jab aap ankhen band karen to aap inhen rooh ki aankhh se, dil ki aankhh se ( –apne paas mojood ) dekh saken. Kay aap inhen dekhen aur aap un ke sath zahiri tor par aur Rohani tor par ta'aluq taamer karlen. ke hamesha un ki sohbat mein rehna, is haqeeqat ke liye woh mohabbat aur pyar ( rakhna ), "Hazoor" aur Sheikh ki mojoodgi ko farogh dainay lagta hai. Is ka matlab yeh hai ke ( pehlay pehal ) un Awliya Allah ke sath un ki zahiri bargaah mein ( raha jaye ) aur ( phir zahiri bargaah ke zariye ) un ki Rohani bargaah mein ( daakhil huwa jaye ), kyunkay Allah ka farmaan hai, har ghar se sahih darwazay se daakhil huwa kijye .
.. .. .
Aur neki is baat mein nahi ke gharon mein un ke pichwaray ki taraf se aao. balkay nekokaar woh hai jo parhaiz gaar hun aur gharon mein un ke darwazon se aaya karo aur Khuda se dartay raho taakay nijat pao. " ( Surah al Bakrah 2:189)
muraqba ( Rohani rabita )
rooh ki satah par Sheikh ke sath marboot hon :
Allah ka ghar "Qalb Momin Bait Allah" hai jis ka matlab hai ke sir ke zariye nahi dil ke zariye daakhil hon. is ka matlab rooh ko kholny aur rooh ki satah se un ( Awliya Allah ) se rabita qaim kijye. .
.. .. .
" Momin ka dil kkhuda ka ghar hai." ( Hadees Qudse )
Aisy log ( bhi ) hain jo Sheikh ke sath pachaas saal, chalees saal, das saal zahiri tor par rehtay hain lekin unhon ny kabhi Rohani tor par rabita bananay ki koshish nahi ki. aur yeh aik bohat barri ghalti hai, yeh bohat barri mushkil hai kyunkay aap jo kuch bhi haasil kar rahay hain woh unn ( Sheikh ) ki zahiri bargaah se hai aur yeh Sheikh ki rohaniyat ke muqablay mein aik intahai choti si haqeeqat hai. yahi ( rohaniyat ) Sheikh ka noor aur ( unn ki ) abdi bargaah hai, woh Sayedna Mohammad Sallallahu Alaehi Wassalam ka aks hain aur Sayedna Mohammad Sallallahu Alaehi Wassalam zameen par khudai aqs hain .
Jis cheez ka kamaal Allah chahta hai woh tamam anbia ke zareya maloom hoti hai. Khuda ki tamam sifaat nabwi haqeeqat ( prophetic reality ) ke zareya munakis hoti hain aur nabwi haqeeqat se naik bandon ( Awliya Allah ) par ( munakis hoti hain ) .
.. . .
" ae imaan walo! Allah ki ita'at karo, rasool ki ita'at kru, aur jo aap mein ikhtiyar rakhtay hain ". (Surah Al nisa 4:59)
Aulul Amr ( aasmani ikhtiyar ke haamil ) is aks ke waris hotay hain. lehaza unn ki mojoodgi ko qaim rakhnay se, muraqba karne se aur ghor-o-fikar karne se woh taleem dena shuru karte hain ke mere parvar-digaar mein kabhi bhi un ke baghair nahi rehna chahta, ke mein hamesha un ke sath hon.
Dil ki saltanat Rohani hoti hai aur Rohani rabita ka taqaza karti hai :
jaisay hi aap seekhna shuru karte hain ke kaisay taffakur ( ghhor o fikar ) karna hai, to hum zehan ki satah aur jismani satah ko chor rahay hotay hain. Ibtadae marhalay mein sir kay zariye jism ko nazam o zabt sikhana ( maqsood ) tha .
Ab jab hum dil ki saltanat mein daakhil ho jatay hain to yeh imaan ki saltanat hoti hai. yeh ab mazeed jismani noyat ki nahi rahi, yeh Rohani fitrat ki hai, aur hamein –apne murshid ke sath Rohani ta'aluq banana hoga. Sultan Al Awliya Mawlana Sheikh Nazim ( Q ), is silsilay ( raabtey ) mein hatmi hain lekin, Alhamdullilah Allah pak ny hamaray liye is aks ki aik kaamil misaal ke tor par Mawlana Sheikh (Q) ataa farmaiye hain ke ( un ke zariye ) is ( aks ) se rabita peda kya jaye aur hamesha un ki bargaah mein haazir rehne ke liye sawal kya jaye. hamaray liye is khittay mein hum unn ki misaal ki pairwi karte hain, hum unn ke safar ki pairwi karte hain, hum un ke khutbaat suntay hain, hum ( unn ki ) saari talemaat suntay hain .
pehlay marhaly mein hum koshish karte hain ke Sheikh se rabita banayen :
is misaal ke zarye hum sawal karte hain ke, ya rabbi, mujhe is shakhs ki khidmat karne ( ka mauqa ) dijiye jo Sultan ki khidmat kar raha hai jo nabi ki khidmat kar raha hai. mujhe unn taq rasai dijiye aur mein unn se milnay, unn ke sath ba'it karne, un ka sath dainay, un ki khidmat ke liye safar karne ke qabil ho jaon. is se yeh tasawwur khilna shuru hota hai ke jaisay hi hum muraqba aur ghor o fikar karte hain ke, ya rabbi, mujhe hamesha unn ke sath rakhye, to woh ke quran pak se ( yeh aayat hamein dars dena shuru karti hai ke ). . .
.. . .
"Ae Ahl imaan! Khuda se drtay raho aur raast bazoon ke sath raho." (Surah Tauba 9:119)
Mien hamesha aap ke naik bandon ke sath rehne ka sawal kar raha hon. Jaisay hi aap muraqba karte hain aur tafakar karte hue sawal karte hain ke, "ya rabbi, mein rooh aur is ki haqeeqat ke sath rehna chahta hun" to aap tasawwur karna shuru kardete hain ke jaisay aap un ke sath zahiri tor par mojood hain. un ki rooh bilkul wahan mojood hai un ki rooh hamaray samnay hai, aur aap sawal karte hain ke, ya rabbi, mujhe apna dil kholnay aur –apne murshid ke sath rooh se rooh taq ka apna rabita qaim karne dien .
Pehlay marhaly may yeh mein hota hon jo rabita qaim karne ki koshish kar raha hai. unn ko suneney ka koi rasta nahi hai jab taq ke woh khud ijazat nahi day dete ke rabita durust hai. mein mehez line bhejta hon, darkhwast karta hon, yeh un ki taraf se hai ke woh qabooliat bakhshtay hain ( ya nahi ). Agar woh qubool karte hain, woh usay mukhlis mehsoos karte hain, woh usay durust samjhtae hain, to phir woh apni nazar bhejna shuru kardete hain. nazar ka matlab rooh par un ki Rohani tawajah hai .
Jaisy hi woh apni Rohani tawajah bhaijtay hain to is ka matlab yeh hota ke ( unn ka ) yeh sab ilm dil par mabni hota
h Rohani ta'aluq par mabni hai, hum yeh seekhna shuru karte hain ke jisay hum –apne kaanon ke zarye sun rahay hain woh zahiri hai, lekin yeh mashaiykh ka Rohani ta'aluq khol raha hai .
kaaba aur dil :
kaaba ke chaar konay chaar aqsam ki numaindagi karte hain
Nabieen, Sidiqeen, Shuhda aur Saliheen
woh hamein taleem day rahay hain, is ( Rohani ta'aluq ki ) haqeeqat ke kholnay ke liye Allah farmata hai, agar aap mere sath rehna chahtay hain to aap ko chaar aqsam ( ke logon ) ke sath rehna hoga. Nabieen, Sidiqeen, Shuhda aur Saliheen
) anbia, sachey, gawah / sho-hada aur naik ) .
.. .. .. .
" aur jo log Khuda aur is ke rasool ki ita'at karte hain woh ( qayamat ke roz ) un logon ke sath hon ge jin par khuda naay bara fazl kya yani anbia aur Seddiq aur shaheed aur naik log aur un logon ki rafaqat bohat hi khoob hai. " ( surah al nisa 4:69)
yahi wajah hai ke kaaba un ki taraf se aik alamat hai. agar aap Allah ke sath rehna chahtay hain to aap ko Nabieen( anbia ) ke sath rehna ho ga jo hijre Aswad hai ( kaaba mein kala pathar ), sidiqeen ) sachey bande ), woh kona jo nabi pak ke qareeb tareen hai. Shuhda, (kyunkay woh dekhte hain aur woh Shuhda Saliheen( naik log ) ko janam dete hain .
) 1Nabieen anbia ) – hijr e Aswad ka gosha. (Tamam Nabieen 124,000 hain.)
2Sidiqeen (sachey log ) – nabi kareem ke qareeb ka kona. Sidiqeen nabi pak ke jalil al-qadar sahaba hain .
3Shuhda (woh log jo gawah hain ) – nah sirf woh log jo jung mein shaheed hue, balkay woh log jo apni zahiri duniya mein wafaat pa chuke hotay hain ( mout qabal ulmaut ). yani haqeeqat ke barray barray Alim ( scholars ), jo apni khasusiyat ko khatam karne ke qabil hue. Woh is duniya mein ziyada zindah nahi tasawwur kiye jatay kyunkay woh khudai bargaah mein zindah hain .
Shuhda gawah hain. agar koi Shuhda mein se nahi aur unn logon mein se nahi hai jo majlis mein dekhte hon, to woh kabhi bhi saliheen nahi ban payen ge. yeh sirf woh formula hai jis se Allah ( woh ) haqeeqat peda kar raha hai .
4Saliheen ) naik log ) – lehaza un mein daakhil honay aur saliheen ke garohoon ko dhondhney se ( ke ) unn mein laziman (Ahl Al Basirat Rohani mushahadat rakhnay walay log ) mojood honay chahiye jo tarbiyat yafta hotay hain aur un ki khwahisaat khatam ho chuki hoti hain, ( aur ) unn ki khwahisaat ke khatmay ke nateejay mein Allah farmata hai "hm ne un ke kaanon ka tala khatam kar dala hum ne un ki aankhon ka, jo dil ka ain ( mushahida ) hain, tala utaar diya aur hum ney, woh parday jo rokavt ban rahay they, hata diye .
Is ka matlab hai ke un ke sath ko qaim rakhnay se un ka tamam maqsad zahiri wabastagi nahi hai balkay zahiri ( wabastagi ) ke zareya woh logon ki roohon ko khenchnay mein kamyaab hotay hain. chunancha' malakot kula Shaien' se is ka matlab hai ke hum zahiri rafaqat mein atay hain aur hum zahiri sath ko talaash karte hain lekin yeh ahl Al Basarat noorani logon mein se hain. ke un ki rooh kamray mein mojood har shakhs ki rooh ko fori tor par apni girift mein le jaaney ke qabil hoti hai, aur jo muahiday ki takmeel se Allah chahta hai uss ke mutabiq unhein le jati hai .
.. .. . .
"wo( zaat ) pak hai jis ke haath mein har cheez ki badshahat hai aur isi ki taraf tum ko lout kar jana hai. " ( Surah yaseen 36 : 73)
Quran pak mein bhi yahi bayan hai aur Allah farma raha hai ke, agar aap mere sath rehna chahtay hain to aap ko laazmi tor par Nabieen ) payghambaroon ), Sidiqeen ) sachey ), shohada ( shahadat panay walay / gawah ) aur saliheen ) naik log ) ke sath rehna hoga .
To Shuhda gawah hain. Gawah ban'nay ka aik tareeqa yeh hai ke aap ki wafaat ho jaye aur ab aap is roshni ka mushahida karen jo Allah ne dikhnana chahi. Ya phir aap ki khwahisaat mar jayen aur aap ka dil khilna shuru ho jaye ؛ aap ki rooh woh dekhna shuru karde jo Allah usay dekhana chahta hai, aur ab aap shohada aur ahl Al Basirat ( Rohani mushahida rakhnay walay log ) mein se hain, woh log jin ke dil khulay hue hain .
Allah kehta hai ke aap ko un charon Haqaiq mein se hona chahiye, saliheen mein se, shohada mein se, sidiqeen mein se aur woh sab syedna Muhammad Sallallahu Alaehi Wassalam ,Nabieen se jurey hue hain .
muqaddas kaaba aur Lataf al qalb ke chaar androoni aur bairooni maqamat :
phir is ka matlab hwa ke dil ki sat'hien hain. Is se pehlay ke hum lataif al qalb ki samajh mein jayen, aap dekhen ge ke dil ke gird haqeeqat ke dairay ka ihata kiye hue aik murabba mojood hai jis ka har aik kona har lataif al qalb ke bairooni nuqtay ki nishandahi karta hai, ( yeh saaray konay mil kar ) aik chokor banatay hain. woh chokor kaaba hai. Qalb Al momin Ba'it Al rab .
.. .. .. .
" momin ka dil Khuda ka ghar hai." ( hadees qudse )
aik bairooni chokor aur aik androoni chokor hai. bairooni chokor zahiri kaaba hai. androoni chokor intahi androoni haqeeqat hai, ba'it Almamor, roshni ke samndron mein khudai ghar .
woh ( Awliya Allah ) hamein taleem farmatay hain ke mashaiykh ke sath rahen, apni arwah ko un ki bargaah mein khonay ke liye un se tarbiyat aur shaoor haasil karen. phir Allah rooh ki haqeeqat aur rooh ka haqeeqi ta'aluq kholna shuru kardaita hai. aur sirf is waqt hi yeh tarseel ( conveyance ) khilna shuru hosakti hai .
……………………………………………………………………………………
TRANSCRIBED LECTURE:
MURAQABAH
(SPIRITUAL CONNECTION)
Alhamdulillah, there are many different realities in tariqa (spiritual path) and these are gifts from Allah's Divinely Presence to the presence of Sayyidina Muhammad Sallallahu Alaehi Wassalam and from Sayyidina Muhammad Sallallahu Alaehi Wassalam to Awliyaullah(saints). From the teachings of the saints and guides and perfected ones, it is a reminder that out of the many oceans of realities that we have talked about is the meditation and muraqabah.
It means all of it is based on how to open the heart. The heart has its subtle openings, what they call lataif, like satellite dishes of energy that open the layers of the holy heart to the holy presence and the Divinely lights of the Heavenly Kingdom to come. It means we are asking from Allah's Heavenly Kingdom to come onto Earth and come into our hearts and to make our heart be a Heavenly Kingdom.
The Head Must Submit First, Then the Heart Opens
Submit the 7 Holy Openings of the Head
For the heart to open, the holy head has to be in submission. It means that when the ears are in submission, the eyes are in submission, and the breath is in submission. Then the last and most difficult is the holy tongue; that all of it must be in submission. So all of the tariqa training comes to teach us that when we accompany the Shaykhs, accompany our perfected masters, they teach us how to perfect our samina wa atana, "we hear and we obey."
The Ears Have Direct Connection to the Feet – Keep You Balanced:
2:285 – "…Sam'ina wa ata'na, ghufranaka Rabbana wa ilaykal masir."
(Surah Al-Baqarah)
"…We hear, and we obey: (We seek) Thy forgiveness, our Lord, and to Thee is the end of all journeys." (The Cow, 2:285)
So Allah is teaching directly, your ears are locked to your feet. So if you have vertigo you can't walk. There are two levels of ears. We have an outer ear and an inner spiritual ear. Allah describes they have ears but they don't use it, they use it like the animal kingdom but we don't really hear into the heart.
Keep Your Vision Upon Your Feet – Nazar Bar Qadam:
Keep your vision upon your feet, nazar bar qadam, why? Because your nazar has your hawa, your desires. You don't see blind people have dunya (material world) desires. There is no blind person out there trying to conquer the Earth and buy a Ferrari, he can't see, he can't use it. There are no blind people with material desires.
Then seeing is directly connected to your desires. Keep your desire closed and keep your vision on your feet. It means watch where your feet are taking you in life. If these feet go dancing we have got trouble. If these feet go to masjid to worship and do prayers, alhamdulillah, we are on the footsteps of piety and on the footsteps of Sayyidina Muhammad Sallallahu Alaehi Wassalam qadam al Haqq, wa qadam as Siddiq (The Footstep of the Truthful). And those who are inheriting from holy Companions and Ahl al-Bayt an-Nabi Sallallahu Alaehi Wassalam, inherit the footsteps of Prophet Sallallahu Alaehi Wassalam.
Tafakkur (Contemplation/Meditation)
In Tafakkur (Meditation) See Your Imam In Front
From the previous teachings, if all of the head openings are understood and are submitting from its animal nature, and coming down towards its heavenly reality, immediately at that time they begin to teach us in the meditation and in the tafakkur (contemplation). That when you are making tafakkur and contemplation, you have to always be with the people of light. You always have to be with your imam. It means there is never a time that we accompany physically the Shaykh and that spiritually we are not with him.
It means every concept of our life is of that nature, that, ya Rabbi, the biggest imam (spiritual leader), the greatest imam is Sayyidina Muhammad Sallallahu Alaehi Wassalam. When we teach ourselves – or Sayyidina Isa or Nabi Musa or whatever nation they are from, and whichever prophet they are following – our life is based on, 'The Prophet is always in front of me.' That my life is always behind them, I pray that God accepts me to be dust under their feet.
But because we are not at that time then Allah gives to us guides. So our holy Shaykh is always my imam, whether I am accompanying him and praying behind him, and memorizing in the vision of my eye in my heart. It means I try never to leave that presence. It means that you are keeping the love of the Shaykh. And that love of the Shaykh, because we accompany based on love, not by force. Nobody can force us to sit here at spiritual associations; nothing will open by force.
Love Opens The Hudur (Presence) of the Shaykh
We accompany by love and they begin to teach with that love you begin to have a hudur, you feel a presence. That presence means you merely look at them and when you close your eyes you can see them with the eye of the soul, with the eye of the heart. That you see them and you build the relationship physically with them, and spiritually with them. That to always be in their company, that muhabbat and love for that reality, begins to develop the hudur and the presence of the Shaykh. It means the physical presence of accompanying these masters and their spiritual presence, because Allah says; go through every house through the correct door.
…
2:189 – "… wa laysal birru bi-an tatol buyoota min zuhooriha wa lakinnal birra manit taqa, wa' tol buyoota min abwabiha, wat taqollaha la'allakum tuflihoon." (Surah Al-Baqarah)
"… And it is not righteousness to enter houses from the back, but righteousness is [in] one who fears Allah. And enter houses from their doors. And be Conscious of Allah that you may succeed." (The Cow, 2:189)
Muraqabah (Spiritual Connection)
Connect With the Shaykh at the Level of Soul
The house of Allah is qalbun mu'min baytullah which means come through the heart not through the head. It means open the soul and make a connection with them through the level of the soul.
"Qalb al mu'min baytur rabb."
"The heart of the believer is the House of the Lord." (Hadith Qudsi)
There are people who accompany the Shaykh fifty years, forty years, ten years physically but they never attempted to connect spiritually. And that is the great error that is the great difficulty because all you are taking is from his physicality and it is such a small reality compared to the spirituality of the Shaykh. That is the light and the eternal presence of the Shaykh, he is the reflection of Sayyidina Muhammad Sallallahu Alaehi Wassalam and Sayyidina Muhammad Sallallahu Alaehi Wassalam is the Divinely reflection upon Earth.
The perfection of what Allah wants is known through all the prophets. All the attributes of the Divine reflect through the prophetic reality and from the prophetic reality to the pious servants. Atiullah wa ati ar rasula wa Ulul amri minkum.
4:59 – "Ya ayyu hal ladheena amanoo Atiullaha, wa atiur Rasola, wa Ulil amre minkum…" (Surah An-Nisa)
"O You who have believed, Obey Allah, Obey the Messenger, and those in authority among you…" (The Women, 4:59)
The Ulul amr (those with heavenly authority) inherit that reflection. So they begin to teach by keeping their presence, by meditating and contemplating that my Lord I never want to be without them, that I am always with them.
Realm of the Heart is Spiritual and Requires Spiritual Connection
As soon as you begin to learn to make tafakkur (contemplation), we are now leaving the level of the mind and the level of the physicality. Through the head at the initial stage, it was to discipline the physicality.
Now when we enter into the realm of the heart it is the realm of faith. This is no longer of a physical nature, this is of a spiritual nature, and we have to make a spiritual connection with our guide. Sultanul Awliya Mawlana Shaykh Nazim ق, is the ultimate in that connection but, alhamdulillah, Allah gave for us a perfect example of that reflection and making connection with that and asking always to be in the presence of Mawlana Shaykh. For us in this region we seek his example, we seek his travelling, we hear his suhbahs, we hear all the teachings.
At First Stage We Try to Connect With the Shaykh
By that example we are asking, ya Rabbi, let me to serve the one who is serving the sultan who is serving Prophet Sallallahu Alaehi Wassalam. Let me have access to that one and be able to travel to see him, to take bayah (allegiance) with him, to accompany them, to serve them. That begins to open the concept that as soon as we are meditating and contemplating, ya Rabbi, let me always be with him, from Your Holy Qur'an, ittaqullah wa konu ma as-sadiqeen.
9:119 – "…ittaqollaha wa kono ma'as sadiqeen." (Surah At-Tawba)
"…have conscious of Allah and be with those who are truthful/pious/sincere (in words and deed)." (The Repentance, 9:119)
I am asking to always accompany Your pious servants. As soon as I am meditating and contemplating, asking, ya Rabbi, I want to be with the soul and its reality, and you begin to visualize as if you are there physically with them. Their soul is right there in the presence, their soul is right in front of us and asking, ya Rabbi, let me open my heart and build my connection from soul to soul with my guide.
At the first stages it is me trying to connect. There is no way to hear him until he has given permission that the connection is correct. I merely send out the line, send out the request, it is for them to find acceptance. If they accept, they feel it to be sincere, they deem it to be correct, then they begin to send their nazar. Nazar means their spiritual attention upon the soul.
As soon as they send their spiritual attention it means all of this knowledge is based on the heart, based on the spiritual connection. We begin to learn the physical is what we are hearing through our ears, but it is opening a spiritual connection of the Shaykhs.
KA'BAH AND THE HEART
Four Corners of Ka'bah Represent Four Categories
Nabiyeen, Siddiqeen, Shuhada and Saliheen:
They are teaching us, for that (spiritual connection) reality to open up Allah says, if you want to be with Me, you have to be with four categories; the Nabiyeen, Siddiqeen, Shuhada and Saliheen (Prophets, Truthful, Witness/Martyrs, and Righteous).
وَمَنيُطِعِاللّهَوَالرَّسُولَفَأُوْلَـئِكَمَعَالَّذِينَأَنْعَمَاللّهُعَلَيْهِممِّنَالنَّبِيِّينَوَالصِّدِّيقِينَوَالشُّهَدَاءوَالصَّالِحِينَوَحَسُنَأُولَـئِكَرَفِيقًا﴿٦٩﴾
4:69 – "Wa man yuti' Allaha war Rasola faolayeka ma'al ladheena an'ama Allahu 'alayhim minan Nabiyeena, was Siddiqeena, wash Shuhadai, was Saliheena wa hasuna olayeka rafeeqan." (Surah An-Nisa)
"And whoever obeys Allah and the messenger, then those are with the ones on whom Allah bestowed his softness amongst the prophets, the highly Righteous [Truthful], the Witnesses to the truth, and the Righteous. And excellent are those as companions." (The Women, 4:69)
That is why the Ka'bah is a symbol from them. If you want to be with Allah , you have to be with the Nabiyeen (Prophets) which is the Hajar al-Aswad (Black stone in Ka'bah), with the Siddiqeen (Truthful), the corner that is closest to Prophet Sallallahu Alaehi Wassalam. The Shuhada (Martyrs) because they see and those Shuhada produce the Saliheen (Pious People).
1. Nabiyeen (Prophets) – Corner of Hajar al Aswad. (Nabiyeen are all the 124,000 prophets).
2. Siddiqeen (Truthful Ones) – Corner close to Prophet. Siddiqs are the big Companions of Prophet Sallallahu Alaehi Wassalam.
3. Shuhada (Those Who Witness) – The martyrs. Not only the people who died in battle, but those who die in their physical world. It means the big alims (scholars) of reality, who were able to destroy their characteristic. They are deemed not to be very much alive in this dunya because they are alive in the Divinely Presence.
The Shuhada are witnessing. If not a Shuhada and not from one who sees in their association, they are never going to reach to be the Saliheen. It is just the formula which Allah is creating that reality.
4. Saliheen (Righteous Ones) – So by entering in and finding the groups of Saliheen, they must have from amongst them Ahlul Basirah (People of Spiritual Vision), whom they have trained and their desires have dropped. As a result of the desires dropping Allah describes, We took the lock of their ears, We took the lock of their eyes which is the ayn (vision) of the heart, and We removed the Kiswah, the veils that are blocking them.
It means by keeping their company their whole purpose is not the physical association but by means of the physical they are able to pull the souls of people. So from 'Malakut kulli shay' it means we come into a physical association and we seek out a physical association but these Ahlul Basirah are from the people of light. That immediately their soul in the room is able to grab all the souls of everyone present, and takes them to what Allah wants from the fulfilling of the Contract.
36:83 – "Fasubhanal ladhee biyadihi Malakutu kulli shay in wa ilayhi turja'oon." (Surah Yaseen)
"Therefore Glory be to Him in Whose hand is the [heavenly] dominion/ kingdom of all things, and to Him you will be returned." (Yaseen, 36:83)
It is the same from Holy Qur'an and Allah is saying, if you want to be with Me you must be with Nabiyeen (Prophets), Siddiqeen (Truthful Ones), Shuhada (Martyrs/Those Who Witness), wa Saliheen (Righteous).
So Shuhada are witnessing. One way of becoming a witness is you die and now you witness the light Allah wanted to show. Or your desires drop and your heart begins to open; your soul begins to see what Allah wants it to see, and now you are from the Shuhada and Ahlul Basirah (People of Spiritual Vision), those whose hearts are open.
Allah says you have to be from these four realities, from the Saliheen, from the Shuhada, the Siddiqeen and they are all connected to Sayyidina Muhammad Sallallahu Alaehi Wassalam, Nabiyeen.
Holy Ka'bah and the Four Inner and Outer Points of
Lataif al Qalb
It means then there are the levels of the heart. Before we go into the understanding of the Lataif al Qalb, you will see that around the heart encompassing the circle of reality is a square which each points to, the outermost point of each lataif, makes four. That four is the Ka'bah, qalbun mu'min baytullah.
"Qalb al mu'min baytur rabb."
"The heart of the believer is the House of the Lord." (Hadith Qudsi)
There is an outer four and an inner four. The outer four is the Ka'bah of the physicality. The inner four is the innermost reality, the Baytul Mamur, the Divinely House in the oceans of light.
They teach us to accompany the guides, to learn and understand from them, to open our souls into their presence. Then Allah begins to open the reality of the soul, and the true connection of the soul. And only at that time can this conveyance begin to open.
Subhana rabbika rabbal 'izzati 'amma yasifoon, wa salaamun 'alal mursaleen, walhamdulillahi rabbil 'aalameen. Bi hurmati Muhammad al-Mustafa wa bi siri Surat al-Fatiha.
…………………………………………………………………………………………………………………………………..
WATCH HERE:https://www.youtube.com/playlist…