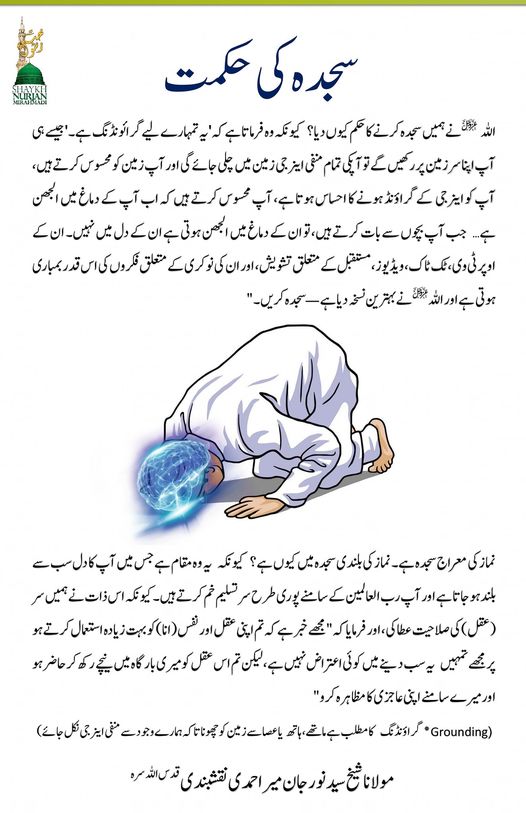 Urdu – سوال1: مراقبہ میں فرش پر ہاتھ رکھنے کا کیا مطلب ہے؟ |Q1 Muraqba mein farsh par…

سوال1: مراقبہ میں فرش پر ہاتھ رکھنے کا کیا مطلب ہے؟
|Q1 Muraqba mein farsh par haath rakhnay ka kya matlab hai?|
𝐈𝐧 𝐦𝐞𝐝𝐢𝐭𝐚𝐭𝐢𝐨𝐧 𝐰𝐡𝐚𝐭 𝐝𝐨𝐞𝐬 𝐢𝐭 𝐦𝐞𝐚𝐧 𝐭𝐨 𝐩𝐮𝐭 𝐲𝐨𝐮𝐫 𝐡𝐚𝐧𝐝 𝐨𝐧 𝐭𝐡𝐞 𝐟𝐥𝐨𝐨𝐫?
السلام علیکم سیدی،
وعلیکم السلام ورحمۃ اللہ۔
سوال 1: مراقبہ میں فرش پر ہاتھ رکھنے کا کیا مطلب ہے؟
جی ہاں مراقبے میں اور پھر مراقبے کی تعلیمات کے بارے میں، ہماری کتاب 'ایک لازمان حقیقت' ان شاء اللہ جلد ہی منظرِ عام پر آنے والی ہے، جس میں دو سال کے سوالات و جوابات ہیں۔اس لیے اس میں تفکر کا ایک مکمل انسائیکلوپیڈیا ہے — روئے زمین میں ہر شے تفکر کے لیے ہے ، ان شاء اللہ۔
اور اسکی اہمیت یہ ہے کہ جو کچھ سکھایا جا رہا ہے وہ اینرجی پر مبنی ہے اور یہ کہ اینرجی کو کیسے اندر لایا جائے اور اپنی منفی اینرجی کو کیسے باہر نکالا جائے؟ کیونکہ ہم ایک بس کی مانند ہیں، ہم اس زمین پر منفی اینرجی سے بھر جاتے ہیں لیکن ہم منفی اینرجی کو کیسے باہر نکالیں گے؟
اسکو سمجھنے کے لیے پھر آپ ایک کپ لیں اور آپ اس میں کچھ ایسا شامل کریں جو اسے رنگین بنا دے اور پھر آپ صرف پانی ہی ڈالتے جائیں جب تک وہ تمام رنگین پانی کو باہر نہ دھکیل دے کیونکہ یہ بھر جانے کے بعد بہتا جائے گا ، بہتا جائے گا، جب تک کہ یہ پانی بالکل صاف نہ ہو جائے ۔ جب تک کہ تمام گندگی دور نہ ہو جائے ، اور جو پیچھے بچے گا وہ صاف اور پاکیزہ ہوگا۔
اسی طرح ہماری اینرجی کے ساتھ بھی ہوتا ہے، سارا دن ہم ادھر ادھر گھومتے رہتے ہیں اور منفی اینرجی ، بری اینرجی ، یہ سب مختلف چیزیں جمع کرتے رہتے ہیں۔اگر ہم مراقبہ نہیں کرتے ہیں اور ہم سانس کی مشق نہیں کرتے ہیں، تو ہم مثبت اینرجیاں اندر نہیں لاتے، تو سانس لیں اور مثبت اینرجی سے بھرپور سانس لیں۔ اللہ (عزوجل) سے دعا کریں کہ 'میں اس مثبت اینرجی سے مزین سانس لینا چاہتا ہوں، یا ربی مجھے ان اینرجیوں سے سجا دیں'۔
𝐓𝐫𝐚𝐧𝐬𝐥𝐢𝐭𝐞𝐫𝐚𝐭𝐢𝐨𝐧
Asalam-o-Alikum Sayedi. Wa Alikum Salam Warahmatullah.
Q: Muraqba mein farsh par haath rakhnay ka kya matlab hai? Jee haan Muraqba mein aur phir Muraqba ki talemaat ke baray mein, hamari kitaab 'A Timeless Reality' (aik Lazman haqeeqat) Insha'Allah jald hi manzar aam par anay wali hai, jis mein do saal ke sawalaat aur jawabaat hain. Is liye is mein Taffakur ka aik mukammal encyclopedia hai — roye zameen mein har shai Taffakur ke liye hai, Insha'Allah. Aur uski ahmiyat yeh hai ke jo kuch sikhaya ja raha hai woh energy par mabni hai aur yeh ke (+ve) energy ko kaisay andar laya jaye aur apni Manfi (-ve) energy ko kaisay bahar nikala jaye? kyunkay hum aik bas ki manind hain, hum is zameen par Manfi (-ve) energy se bhar jatay hain lekin hum Manfi (-ve) energy ko kaisay bahar nikalen ge? Usko samajhney ke liye phir aap aik cup len aur aap is mein kuch aisa shaamil karen jo usay rangeen bana day aur phir aap sirf pani hi daaltay jayen jab tak woh tamam rangeen pani ko bahar nah dhakel day kyunkay yeh bhar jane ke baad behta jaye ga, behta jaye ga, jab tak ke yeh pani bilkul saaf nah ho jaye. jab tak ke tamam gandagi daur nah ho jaye, aur jo peechay bachay ga woh saaf aur pakeeza hoga. Isi terhan hamari energy ke sath bhi hota hai, sara din hum idhar idhar ghumte rehtay hain aur Manfi (-ve) energy, buri energy, yeh sab mukhtalif cheeze jama karte rehtay hain. Agar hum Muraqba nahi karte hain aur hum saans ki werzish nahi karte hain, to hum Masbat (+ve) energiya andar nahi laatay, to saans len aur Masbat (+ve) energy se bharpoor saans len. Allah (azz-wa-jal) se dua karen ke' mein is Masbat (+ve) energy se muzayyan saans lena chahta hon, ya Rabbi mujhe un energies se saja den'.
𝐎𝐫𝐢𝐠𝐢𝐧𝐚𝐥 𝐀𝐫𝐭𝐢𝐜𝐥𝐞
In meditation what does it mean to put your hand on the floor? Yeah in the meditation and then in the teachings of the meditation, we have our meditation book coming out soon inshaAllah 'A Timeless Reality' that has two years of question and answers, so it has like a complete encyclopedia of tafakkur (Contemplation), everything is… under the sun is in there for the tafakkur inshaAllah. And the importance is that all that is being taught is based on energy and how to bring in energy and how to push out our negative energy. Because we're like a bus, we go on this earth filling with negativity but how are we going to push out the negativity? So then you get a cup and you put in like… I don't know something that would colour it and then you just keep pouring water and water and water until it pushes out all of the coloured water because it overflows and just keeps flowing out flowing out and flowing out until it becomes clearer, clearer, clearer until you put out all of the dirtiness and all that's left is the cleanliness and the pureness. Well that has to happen also with our energy, all day long we're going around and collecting negative energy, bad energy, all these different things.
اور ذکر (الٰہی) کی وسعتیں ہیں ، اور ہم "یا حلیم، یا حلیم "یا پھر "استغفر اللہ، استغفر اللہ، استغفر اللہ " کا ورد کر رہے ہوتے ہیں، تو روح کی اینرجی کی حقیقت کے کیا حقائق ہیں؟ اس کی غذا اور اس کی طاقتیں تلاوت ( ورد) میں ہیں۔ اس کا مطلب ہے کہ آپ اینرجی حاصل کر رہے ہیں اور جیسے جیسے آپ اینرجی حاصل کر رہے ہوتے ہیں؛ جو کہ ایک مثبت نور ہے، ایک خالص اور الہیاتی نور ہے، نتیجتاً آپ کو منفی روشنی کو باہر دھکیلنا پڑتا ہے، اس لیے یہ منفی اینرجی جو ہم ہر مثبت سانس لینے سے باہر نکالتے ہیں، ایسے گراونڈنگ ہوتی ہے(گراونڈنگ سے مراد ماتھے، ہاتھ پاؤں یا عصا سے زمین کو چھونا)۔
اسی لیے ہم نے عرض کیا کہ سنت ( سیدنا محمد ﷺ کے اسوہ حسنہ) کا راز یہی ہے کہ جب ہم روحانی نوعیت کا کوئی عمل کرتے ہیں تو یہ ہماری گراونڈنگ ہے(شیخ اپنا عصا دکھاتے ہیں) اگر آپ کے پاس گراؤنڈنگ ڈیوائس ہے تو آپ کو زمین چھونے کی ضرورت نہیں ہے۔
لیکن اگر آپ زمین پر مراقبہ کر رہے ہیں تو آپ ایک ہاتھ زمین پر رکھیں۔ اور دوسرا ہاتھ رابطہ قائم کرنے کے لیے جوڑے رکھیں (انگوٹھا اور شہادت کی انگلی جوڑیں)، کیونکہ مثبت اینرجی آ رہی ہے اور یہ صرف بہہ نہیں رہی ہے بلکہ آپ اسکو منفی اینرجی کے لیے ایک ذریعہ بنا رہے ہیں تاکہ یہ اس کو باہر دھکیل دے، کیونکہ گراؤنڈنگ کی نوعیت یوں ہے کہ مثبت اینرجی اتنی قوت کے ساتھ آتی ہے کہ یہ منفی اینرجی کو باہر دھکیل دیتی ہے اور اس کو زمین پر واپس جانے والے کی اہلیت فراہم کرتی ہے۔
𝐓𝐫𝐚𝐧𝐬𝐥𝐢𝐭𝐞𝐫𝐚𝐭𝐢𝐨𝐧
Aur zikar (illahi ) ki vusaten hain, aur hum" ya Haleem , ya Haleem " ya phir "Astaghfirullah, Astaghfirullah, Astaghfirullah" ka vird kar rahay hotay hain, to Ruh ki energy ki haqeeqat ke kya haqayiq hain? is ki ghiza aur is ki taqaten tilawat ( vird ) mein hain. is ka matlab hai ke aap energy haasil kar rahay hain aur jaisay jaisay aap energy haasil kar rahay hotay hain jo ke aik Masbat (+ve) noor hai, aik khalis aur Ilahti noor hai, nateejatan aap ko Manfi (-ve) roshni ko bahar dhakelna parta hai, is liye yeh Manfi (-ve) energy jo hum har Masbat (+ve) saans lainay se bahar nikaltay hain, aisay grounding hoti hai ( grounding se morad maathey, haath paon ya asa se zameen ko chouna ). isi liye hum ne arz kya ke sunnat ( Sayedena Muhammad saws ke Uswah-husna ) ka raaz yahi hai ke jab hum Rohani noiyat ka koi amal kar te hain to yeh hamari grounding hai (Mawlana Shaykh apna asa daikhatay hain ) agar aap ke paas grounding device hai to aap ko zameen chone ki zaroorat nahi hai. lekin agar aap zameen par Muraqba kar rahay hain to aap aik haath zameen par rakhen. Aur dosra haath rabita qaim karne ke liye jore rakhen ( anghutha aur shahadat ki ungli jorhin ), kyunkay Masbat (+ve) energy aa rahi hai aur yeh sirf beh nahi rahi hai balkay aap usko Manfi (-ve) energy ke liye aik zareya bana rahay hain taakay yeh is ko bahar dhakel day, kyunkay grounding ki noiyat yun hai ke Masbat (+ve) energy itni qowat ke sath aati hai ke yeh Manfi (-ve) energy ko bahar dhakel deti hai aur is ko zameen par wapas jane walay ki ahliat faraham karti hai .
𝐎𝐫𝐢𝐠𝐢𝐧𝐚𝐥 𝐀𝐫𝐭𝐢𝐜𝐥𝐞
If we don't meditate and we don't breathe, we don't bring in positive energies, and breathe and breathe the positive energy. Ask Allah (AJ) that 'I want to breathe in this positive energy, Ya Rabbi dress me from these energies,' and the immensities of doing zikr (Divine remembrance), and we're doing 'Ya Halim, Ya Halim or astaghfirullah, astaghfirullah, astaghfirullah,' what happens with the energy reality of the soul, it's food and its powers in the recitation, means you're energizing and as you're energizing it's a positive light, a pure light, Divine light, as a result you have to push out the negative light. So that negative is by the breath coming out every time we inhale positive and exhale all the negativity and the grounding, so that's why we said in the sunnah (traditions of Prophet Muhammad saws) and the secret of the sunnah is that when everything we're doing of a spiritual nature, this is our grounding [shaykh shows his cane]. You don't have to touch the ground if you have a grounding device but if you're meditating on the ground then you keep one hand on the ground and one hand connected to make your connection, why? So that the positive is coming and it's not just flowing but you're creating a source for the energy that's negative to be pushed out, because the nature of grounding is that the positive will come with such a force that it pushes out negativity and you provide an ability for the negativity to be grounded back onto the earth and to leave.
اللہ (عزوجل) نے پہلے ہی آپ کو نماز کے ذریعے حکم دیا ہے، لہذا اب اپنی زندگیوں میں دیکھیں کہ ہم کتنی بار گراؤنڈ کر رہے ہیں؟ اللہ (عزوجل) نے ہمارے لیے نماز کا حکم کیوں دیا اور نماز کی معراج سجدہ ہے۔ نماز کی بلندی سجدہ میں کیوں ہے؟
کیونکہ یہ وہ مقام ہے جس میں آپ کا دل سب سے بلند ہو جاتا ہے اور آپ رب العالمین کے سامنے پوری طرح سر تسلیم خم کرتے ہیں۔ کیونکہ اس ذات نے ہمیں سر (عقل) کی صلاحیت عطا کی،اور فرمایا کہ "مجھے خبر ہے کہ تم اپنی عقل اور نفس (انا) کو بہت زیادہ استعمال کرتے ہو پر مجھے تمہیں یہ سب دینے میں کوئی اعتراض نہیں ہے، لیکن تم اس عقل کو میری بارگاہ میں نیچے رکھ کرحاضر ہو اور میرے سامنے اپنی عاجزی کا مظاہرہ کرو"-
𝐓𝐫𝐚𝐧𝐬𝐥𝐢𝐭𝐞𝐫𝐚𝐭𝐢𝐨𝐧
Allah (azz-wa-jal) ne pehlay hi aap ko namaz ke zareya hukum diya hai, lehaza ab apni zindagion mein dekhen ke hum kitni baar ground kar rahay hain? Allah (azz-wa-jal) ne hamaray liye namaz ka hukum kyun diya aur namaz ki mairaaj sajda hai. Namaz ki bulandi sajda mein kyun hai? kyunkay yeh woh maqam hai jis mein aap ka dil sab se buland ho jata hai aur aap Rab al-almeen ke samnay poori terhan sir tasleem khham karte hain. kyunkay is zaat ne hamein sir ( aqal ) ki salahiyat ataa ki, aur farmaya ke" mujhe khabar hai ke tum apni aqal aur nafs ( anaa ) ko bohat ziyada istemaal karte ho par mujhe tumhe yeh sab dainay mein koi aitraaz nahi hai, lekin tum is aqal ko meri bargaah mein neechay rakh kar hazir ho aur mere samnay apni aajzi ka muzahira karo" –
𝐎𝐫𝐢𝐠𝐢𝐧𝐚𝐥 𝐀𝐫𝐭𝐢𝐜𝐥𝐞
Allah (AJ) ordered that already through your salah (daily prayer) so now look in our lives how many times are we grounding? Why Allah (AJ) ordered for us salah and the pinnacle of salah is sujood (prostration). The height of salah is sujood, why? Because it's the point in which your heart is the highest and that you are in complete submission to the Lord Most High. Because He gave us the faculty of our head, He Said 'The head and your nafs (ego) I know that you're using it too much but for Me I don't mind giving you but you put that head down in My Divinely Presence and show to Me your humbleness of being nothing.'
ہم وہ قوم ہیں کہ ہمارا سر اپنے رب کی بارگاہ میں زمین پر جھکا ہوا ہے۔ ایک اور قوم ہے کہ وہ اٹھ کھڑے ہوئےاور وہ کبھی اپنا سر نیچے نہیں جھکاتے اور اگرچہ وہ گمراہ ہو گئے ہیں۔ ایک اور قوم ہے جس نے زمین سے ایک ڈبیا ( ٹیفلن ) اپنے سر پر رکھ لیا کیونکہ وہ سجدہ نہیں کرنا چاہتے اور یہ وہ قوم ہے جس نے اللہ (عزوجل) کو ناراض کیا۔
اور صحیح قوم، آسمانی قوم، خدا کی سلطنت جو آئے گی ، کون سی سلطنت آنے والی ہے؟ کیا وہ سلطنت، جو سجدہ کرتی ہے، ہم نیچے جھکتے ہیں جب رب فرماتا ہے،نیچے جھکو تو ہم نیچے جھک جاتے ہیں اور یہ عاجزی اور بے انتہا گرائونڈنگ کی علامت ہے۔ آپ جانتے ہیں کہ انہوں نے اس ڈبیا ( ٹیفلین ) کو دنیا سے لیا ہے، کیونکہ یہ پورا فلسفہ ہمیشہ سے ہی محض کچھ قانونی مسائل تلاش کرنے کیلئے تھا ، جس سے آپ (خدا کے حکم میں) ہیرا پھیری کر سکیں ۔
لہذا، وہ کہتے ہیں ہمیں زمین پر کیوں جھکنا پڑے، اگر خدا کو محض مٹی چاہئے تو ہم یہاں(پیشانی پر) مٹی رکھ دیں گے، اور انہوں نے یہاں ( پیشانی پر)زمین باندھ دی اور اب (سمجھتے ہیں کہ ) انہیں سجود کرنے کی ضرورت نہیں ۔ یہ خدا کے ساتھ مکر کرنے کے متعلق نہیں ، بلکہ سجدے میں ایک حقیقت ہے۔
𝐓𝐫𝐚𝐧𝐬𝐥𝐢𝐭𝐞𝐫𝐚𝐭𝐢𝐨𝐧
Hum woh qoum hain ke hamara sir apne rab ki bargaah mein zameen par jhuka hwa hai. Aik aur qoum hai ke woh uth kharray hue aur woh kabhi apna sir neechay nahi jhukate aur agarchay woh gumraah ho gaye hain. Aik aur qoum hai jis ne zameen se aik dibya (tefilin) apne sir par rakh liya kyunkay woh sajda nahi karna chahtay aur yeh woh qoum hai jis ne Allah (azz-wa-jal) ko naraaz kya. Aur sahih qoum, aasmani qoum, kkhuda ki Saltanat jo aaye gi, kon si Saltanat anay wali hai? kya woh Saltanat, jo sajda karti hai, hum neechay jhukatey hain jab rab farmata hai, neechay jhuko to hum neechay jhuk jatay hain aur yeh aajzi aur be intahaa grounding ki alamat hai. Aap jantay hain ke unhon ne is dibya (tefilin) ko duniya se liya hai, kyunkay yeh poora falsafah hamesha se hi mehez kuch qanooni masail talaash karne ke liye tha, jis se aap (Khuda ke hukum mein ) heera pheri kar saken. Lehaza, woh kehte hain hamein zameen par kyun jhukna parre, agar kkhuda ko mehez matti chahiye to hum yahan ( peshani par ) matti rakh den ge, aur unhon ne yahan ( peshani par ) zameen bandh di aur ab ( samajte hain ke ) inhen sajud karne ki zaroorat nahi. Yeh khuda ke sath makr karne ke mutaliq nahi, balkay sjday mein aik haqeeqat hai.
𝐎𝐫𝐢𝐠𝐢𝐧𝐚𝐥 𝐀𝐫𝐭𝐢𝐜𝐥𝐞
We are a nation in which our head is on the ground in the presence of our Lord. There's another nation they stand up and they will never put their head down and though they have gone astray there's another nation that put a box from the ground onto their head because they didn't want to make sujood and those are the nation that angered Allah (AJ). And the correct nation, the heavenly nation, God's kingdom coming, what kingdom coming? Is the kingdom that makes sujood, we go down when the Lord Says 'Go down' we go down and it's a sign of humility and immense grounding. You know they put that box from the dunya (material world), because you know the whole philosophy was always to find some legal issues that you could manipulate so they say 'Why we have to go on the ground, if it's the ground God really wants we'll put the ground here [on the forehead]' and they tied the ground to here [on the forehead] and they don't need to make sujood. It's not about finding tricks with God but there's a reality.
تو اللہ (عزوجل) نے ہمیں سجود کرنے کا حکم کیوں دیا کیونکہ وہ فرماتا ہے کہ 'یہ تمہارے لیے گراونڈنگ ہے۔'جیسے ہی آپ اپنا سر زمین پر رکھیں گے تو آپکی تمام منفی اینرجی زمین میں چلی جائے گی اور آپ زمین کو محسوس کرتے ہیں، آپ کو اینرجی کے گراؤنڈ ہونے کا احساس ہوتا ہے، آپ محسوس کرتے ہیں کہ اب آپ کے دماغ میں الجھن ہے…
جب آپ بچوں سے بات کرتے ہیں، تو ان کے دماغ میں الجھن ہوتی ہے ان کے دل میں نہیں۔ ان کے اوپر ٹی وی، ٹک ٹاک، ویڈیوز ، مستقبل کے متعلق تشویش، اور ان کی نوکری کے متعلق فکروں کی اس قدر بمباری ہوتی ہے اور اللہ (عزوجل) نے بہترین نسخہ دیا ہے — سجدہ کریں۔
𝐓𝐫𝐚𝐧𝐬𝐥𝐢𝐭𝐞𝐫𝐚𝐭𝐢𝐨𝐧
Toh Allah (azz-wa-jal) ne hamein sajud karne ka hukum kyun diya kyunkay woh farmata hai ke' yeh tumahray liye grounding hai.' jaisay hi aap apna sir zameen par rakhen ge to apkee tamam Manfi (-ve) energy zameen mein chali jaye gi aur aap zameen ko mehsoos karte hain, aap ko energy ke ground honay ka ehsas hota hai, aap mehsoos karte hain ke ab aap ke dimagh mein uljan hai … jab aap bachon se baat karte hain, to un ke dimagh mein uljan hoti hai un ke dil mein nahi. un ke oopar TV, Tik Tok, videos, mustaqbil ke mutaliq tashweesh, aur un ki nokari ke mutaliq fikron ki is qader bombari hoti hai aur Allah (azz-wa-jal) ne behtareen nuskha diya hai — sajda karen .
𝐎𝐫𝐢𝐠𝐢𝐧𝐚𝐥 𝐀𝐫𝐭𝐢𝐜𝐥𝐞
So why Allah (AJ) ordered us to make sujood because He Says 'It's a grounding for you.' As soon as you put your head to the ground all your negativity will go into the earth and you feel the earth, you feel the energy being grounded, you feel now the confusion is in your head… When you talk to children they have a confusion in their head not in their heart, they're so bombarded with T.V, with tiktok, with videos, with thinking what their future going to be, what their work is going to be and Allah (AJ) gave the best prescription – make sujood.
اپنے بچوں کو بتائیں، چاہے وہ ہر وقت نماز نہ بھی پڑھنا چاھیں، وہ اپنی نماز میں پوری طرح سے نظم و ضبط نہیں رکھتے ،پھر بھی انہیں بتائیں کہ 'کم از کم سجدہ کریں تاکہ آپکے سر میں داخل ہونے والی الجھنیں دور ہوں۔' آپ کے اندر یہ تمام فکریں ہیں، تو سجدے میں جا کر اپنے رب سے مانگیں 'یا ربی! میں آپ کے سب سے زیادہ قریب ہوں'۔
اور بہت سے اولیاء اللہ کو تمام حقائق کے نظارے سجدے کی حالت میں ہوتے ہیں۔ جیسے ہی وہ سجدہ کرتے ہیں، اُن کی حقیقت، اُس آئینے کے عکس میں نمودار ہو جاتی ہے۔ تو اس سجدے کی ایک بہت بڑی حقیقت ہے۔ وہ اسے اس طرح نہیں دیکھتے (آمنے سامنے کھڑے ہوکر) بلکہ حقیقت یوں ظاہر ہوتی ہے کہ، جب اللہ (عزوجل) انہیں ایک نور سے مزین کرنا چاہتا ہے تو ان کے دل میں الہام اترتا ہے 'ابھی سجدہ کرو' اور وہ سجدے میں چلے جاتے ہیں، سجدے میں اُن کی حقیقت ان کے سامنے ایسی نظر آتی ہے جیسے آئینے میں دیکھ رہے ہوں۔
کیونکہ آپ اس مقام (حالتِ سجدہ) پہ اپنی اس حقیقت کے قریب تر ہوتے ہیں جو آپ کی اس مجلس میں ہے۔ تو ایک بہت بڑی حقیقت ہے۔ جب آپ سجدہ کرتے ہیں تو یہ زمین نہیں ہوتی جس پر آپ ہوتے ہیں، بلکہ دوسری طرف آپکی حقیقت کی عکاسی ہوتی ہے ۔ تو ایک بہت بڑی حقیقت ہے کہ اللہ (عزوجل ) نے ہمارے لیے سجدہ کرنا، بنایا ہے۔ تو یہ ساری اینرجی ہے۔ تو اپنی روزمرہ کی زندگی میں عصا کو دیکھیں – یہ تمام اینرجی ہے، کہ اپنے آپ سے تمام منفی اینرجی کو کیسے گراؤنڈ کریں۔ ان شاء اللہ، اللہ (عزوجل) ہمیں زیادہ سے زیادہ سمجھ اور اس کی اہمیت کا ادراک عطا فرمائیں۔
𝐓𝐫𝐚𝐧𝐬𝐥𝐢𝐭𝐞𝐫𝐚𝐭𝐢𝐨𝐧
Apne bachon ko bitayen, chahay woh har waqt namaz nah bhi parhna chahin, woh apni namaz mein poori terhan se nazam o zabt nahi rakhtay, phir bhi inhen bitayen ke' kam az kam sajda karen taakay apke sir mein daakhil honay wali uljhanein daur hon.' Aap ke andar yeh tamam fikrein hain, to sjday mein ja kar apne rab se mangeen' ya Rabbi! mein aap ke sab se ziyada qareeb hon' aur bohat se Awliya-Allah ko tamam haqayiq ke nazare sjday ki haalat mein hotay hain. Jaisay hi woh sajda karte hain, unn ki haqeeqat, uss aaiine ke aks mein namodaar ho jati hai. Toh is sjday ki aik bohat barri haqeeqat hai. woh usay is terhan nahi dekhte ( aamnay samnay kharray hokar ) balkay haqeeqat yun zahir hoti hai ke, jab Allah (azz-wa-jal) inhen aik noor se muzayyan karna chahta hai to un ke dil mein ilham utartaa hai' abhi sajda karo' aur woh sajday mein chalay jatay hain, sajday mein unn ki haqeeqat un ke samnay aisi nazar aati hai jaisay aaiine mein dekh rahay hon kyunkay aap is maqam ( haalat sajda ) pay apni is haqeeqat ke qareeb tar hotay hain jo aap ki is majlis mein hai. Toh aik bohat barri haqeeqat hai. jab aap sajda karte hain to yeh zameen nahi hoti jis par aap hotay hain, balkay doosri taraf apkee haqeeqat ki akkaasi hoti hai. To aik bohat barri haqeeqat hai ke Allah (azz-wa-jal) ne hamaray liye sajda karna, banaya hai. Toh yeh saari energy hai. to apni roz marrah ki zindagi mein asa ko dekhen – yeh tamam energy hai, ke apne aap se tamam Manfi (-ve) energies ko kaisay ground karen. Insha Allah , Allah (azz-wa-jal) hamein ziyada se ziyada samajh aur is ki ahmiyat ka idraak ataa farmaen. .
𝐎𝐫𝐢𝐠𝐢𝐧𝐚𝐥 𝐀𝐫𝐭𝐢𝐜𝐥𝐞
Tell your kids even they don't want to pray all the time, they're not fully all disciplined in their salah, say 'At least make sujood to take away the confusion now entering your head.' All these waswas (whispering) you have, all these concerns you have, go into prostration and ask your lord that 'Ya Rabbi I'm closest to You.' And many awliyaullah (saints) all their visions are in prostration, as soon as they make their sujood their reality appears to them in the mirror in that reflection. So it has an immense reality. They don't see it like this [standing straight up face to face] and the reality appearing, when Allah (AJ) want to dress them with an energy and inspiration come into their heart 'Makes sujood now' and they go into sujood, in the sujood their reality appears to them like a… looking into a mirror because you're closest to who your reality is in that association at that reality [in sujood]. So has an immense reality. When you're making prostration your reality is the reflection right there on the other side, it's not the earth that you're on. So there's an immense reality that Allah (AJ) made for us to make the prostration. So this is all energy. So look in our daily life with our cane – is all energy, how to ground oneself of all the negativities. InshaAllah Allah (AJ) give us more and more understanding and its importance inshaAllah
یہ بیان اس لنک پہ دیکھا جاسکتا ہے
Watch here: Balance Neurotransmitters | Absorb Positive Energy
https://www.youtube.com/watch?v=Urodcyy0zDk