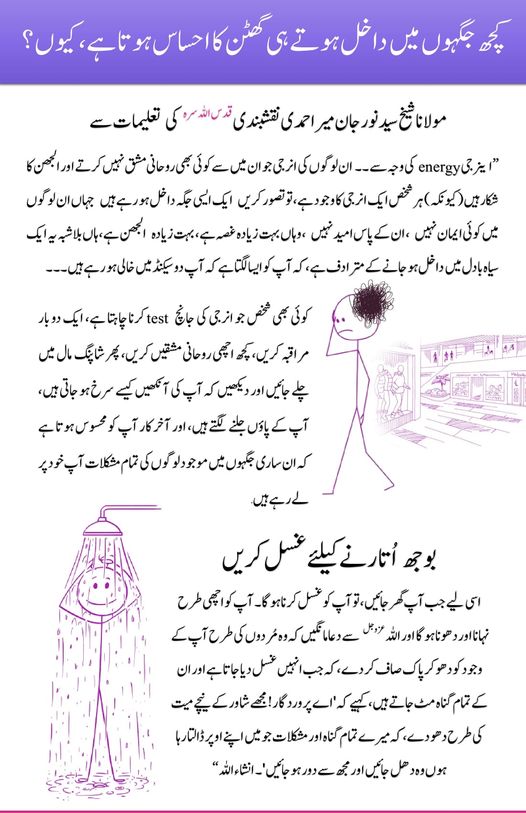 Urdu – سوال 3: کیا ہم اللہ (عزوجل) کی عطا کردہ نعمتوں کی انرجی محسوس کرتے ہیں، جیسے رزق…

سوال 3: کیا ہم اللہ (عزوجل) کی عطا کردہ نعمتوں کی انرجی محسوس کرتے ہیں، جیسے رزق صرف دولت ہی نہیں بلکہ اس سے بھی بڑھ کر کچھ ہے؟ اسی طرح گھروں میں بھی ایک انرجی ہوتی ہے، کچھ گھروں میں داخل ہوتے ہی گھٹن کا احساس ہوتا ہے، کیوں؟
(Kya hm Allah Azzawajal ki ataa karda naimaton ki energy mehsoos krty hen, jesy Rizq sirf doulat he nahin balkay is say bhi Barh kr kuch hai? Isi trha gharon may bhi aik energy hoti hai, kuch gharon may daakhil hotay he ghutan ka ehsaas hota hai, kyun? )
𝐐𝟑: 𝐃𝐨 𝐰𝐞 𝐟𝐞𝐞𝐥 𝐭𝐡𝐞 𝐞𝐧𝐞𝐫𝐠𝐲 𝐨𝐟 𝐭𝐡𝐞 𝐛𝐥𝐞𝐬𝐬𝐢𝐧𝐠𝐬 𝐀𝐥𝐥𝐚𝐡 (𝐀𝐉) 𝐛𝐞𝐬𝐭𝐨𝐰𝐬, 𝐥𝐢𝐤𝐞 𝐫𝐢𝐳𝐪 𝐢𝐬 𝐧𝐨𝐭 𝐣𝐮𝐬𝐭 𝐰𝐞𝐚𝐥𝐭𝐡 𝐛𝐮𝐭 𝐦𝐮𝐜𝐡 𝐦𝐨𝐫𝐞 𝐭𝐡𝐚𝐧 𝐭𝐡𝐚𝐭? 𝐒𝐢𝐦𝐢𝐥𝐚𝐫𝐥𝐲 𝐡𝐨𝐦𝐞𝐬 𝐜𝐚𝐫𝐫𝐲 𝐚𝐧 𝐞𝐧𝐞𝐫𝐠𝐲 𝐭𝐨𝐨, 𝐬𝐨𝐦𝐞 𝐡𝐨𝐮𝐬𝐞𝐬 𝐠𝐢𝐯𝐞 𝐨𝐟𝐟 𝐚 𝐬𝐮𝐟𝐟𝐨𝐜𝐚𝐭𝐢𝐨𝐧 𝐟𝐞𝐞𝐥𝐢𝐧𝐠 𝐨𝐧 𝐞𝐧𝐭𝐫𝐲, 𝐰𝐡𝐲?
السلام علیکم سیدی۔
وعلیکم السلام ورحمۃ اللہ۔
کیا ہم اللہ (عزوجل) کی عطا کردہ نعمتوں کی انرجی محسوس کرتے ہیں، جیسے رزق صرف دولت ہی نہیں بلکہ اس سے بھی بڑھ کر کچھ ہے؟ اسی طرح گھروں میں بھی ایک انرجی ہوتی ہے، کچھ گھروں میں داخل ہوتے ہی گھٹن کا احساس ہوتا ہے، کیوں؟
انرجی (کی وجہ سے)۔ کہ ہر چیز میں بے پناہ برکتیں ہیں۔ ہم نے پہلے بھی کہا کہ رزق کے لیے بھی، یہی بات ہے۔ کہ تمام برکتیں روح پر نازل ہوتی ہیں جب اللہ (عزوجل) روح کو آراستہ کرنا چاہتا ہے، تو روح کا رزق اس رزق سے زیادہ اہم ہوتا ہے جو آپ کے بٹوے میں ہے۔ اللہ (عزوجل) جب روح کو آراستہ فرماتا ہے کہ کون سی تجلیات نازل ہوں گی، کون سے انوار ظاہر ہوں گے، وہ روح اب کون سے حقائق تک پہنچے گی، یہی روح کا رزق ہے۔
(Energy (ki waja say). K Har cheez may baypanaah barkaten hen. Hm ny pehly bhi kaha kay Rizq kay liye bhi, yehi baat hai. Kay tamaam barkaten Rooh pr naazil hoti hen jab Allah Azzawajal Rooh ko araasta krna Chahta hai, tou Rooh ka Rizq us Rizq say zyada ehem hota hai jo ap k batway may hai. Allah Azzawajal jab Rooh ko araasta farmaata hai kay kon si tajalliyaat naazil hon gi, kon say anwaar zaahir hon gay, wo Rooh ab konsy haqaaiq tk pohnchy gi, yehi Rooh ka Rizq hai.)
The energy. That everything has an immense blessings. We said that like for the rizq (sustenance), same thing. That every dress is coming upon the soul when Allah (AJ) want to dress the soul, the rizq of the soul is more important than the rizq of what's in your wallet. Allah (AJ) when He dresses the soul of what tajallis (manifestations) will come, what emanations will appear, what realities that soul will now reach – that's the rizq of the soul.
تو اسی لیے تمام روحانی مشقیں روح کے رزق کو حاصل کرنے پر مبنی ہیں۔ ہم نے پہلے بھی عرض کیا، کہ لکھنے سے بھی آپ اپنے رزق کی حقیقت کو مکمل طور پر بدل دیتے ہیں کیونکہ اب آپ محمدی حقائق کے محافظ ہیں۔
(Tou isi liye tamaam Rohani mashqain Rooh kay rizq ko haasil krny pr mabni hen. Hm ny pehly bhi kaha, kay likhny say bhi ap apny rizq ki haqeeqat ko mukammal tor pr badal dety hen kyun kay ab aap Muhammadi Haqaaiq kay muhafiz hen.)
So that's why all the practices are based on achieving the rizq of the soul. We said – even by writing you change completely the reality of your rizq because now you're a custodian of the Muhammadan Haqqaiqs (realities).
کہ آپ کی کتاب محمدی حقائق لکھنے سے بھری ہوئی ہے، اللہ (عزوجل) پھر آپ کی حفاظت کرنے والے تمام فرشتوں کو بدل دیتا ہے کیونکہ اب آپ ایک معزز محمدی سلطنت سے ہیں، یہ آپ کی تمام کتابوں میں ہے، اور آپ کی کتاب صرف اس سے نہیں بھری ہوئی ہے کہ 'وہ یہاں گیا اس نے یہ کِیا، اس نے یہ اچھا کِیا، اس نے یہ برا کِیا۔'
(Kay aap ki kitaab Muhammadi Haqaaiq likhny say bhari hui hai, Allah Azzawajal phir aap ki hifaazat krny walay tamaam farishton ko badal deta hai kyun kay ab aap aik moazziz Muhammadi Saltanat say hen, ye ap ki tamaam kitaabon may hai, aur aap ki kitaab sirf is say nahin bhari hui hai kay 'Wo yahan gya us ny ye kiya, us ny ye Acha kiya, us ny ye bura kiya'.)
That your kitab (book) is filled with writing Muhammadan Haqqaiqs, Allah (AJ) then change all the angels that are guarding you because now you are of a honoured Muhammadan kingdom is upon all your books, is not your book only filled with 'He went here he did that, he did this good, he did that bad.'
لیکن سب کچھ لکھ دیا جاتا ہے، یہ تمام محمدی حقائق، کہ وہ روح اب ایک بہت ہی اعلٰی درجہ کی ہے، محمدی حقائق کی مصنف (کاتب)، اس لیے سب کچھ بدل جاتا ہے۔
(Lekin sb kuch likh diya jata hai, ye tamaam Muhammadi Haqaaiq, kay wo Rooh ab aik bohat hee Aalaa darjay ki hai, Muhammadi Haqaaiq ki musannif, is liye sab kuch badal jata hai.)
But everything becomes written all these Muhammadan Haqqaiqs, that soul is now of a very noble status – a scribe of the Muhammadan Realities, so everything changes.
اور پھر ان لوگوں کی انرجی جو ان میں سے کوئی بھی روحانی مشق نہیں کرتے اور الجھن کا شکار ہیں، ہر شخص ایک انرجی کا وجود ہے، تو ایک ایسی جگہ میں داخل ہونے کا تصور کریں جہاں ان کا کوئی ایمان نہیں ہے، ان کے پاس امید نہیں ہے، وہاں بہت زیادہ غصہ ہے، بہت زیادہ الجھن ہے، ہاں بلاشبہ یہ ایک سیاہ بادل میں داخل ہو جانے کے مترادف ہے، کہ آپ کو ایسا لگتا ہے کہ آپ دو سیکنڈ میں خالی ہو رہے ہیں۔
(Aur phir un logon ki energy Jo in May say koi bhi Rohani Mashq nahin krty aur uljhan ka shikaar hen, Har shakhs aik energy ka wajood hai, tou aik aesi jaga may daakhil honay ka tasawwur kren jahan un ka koi aqeeda nahin hai, un k pas umeed nahin hai, wahan boht zyada ghussa hai, boht zyada uljhan hai, haan bilashuba ye aik syaah baadal may daakhil ho janay k mutaradif hai, kay ap ko aesa lagta hai kay ap dou seconds may khaali ho rahay hen.)
And then the energy of people who don't do any of these practices and have confusion, everybody is an energy being, so imagine entering into a place where they don't have a belief, they don't have a hope, there's a lot of anger, a lot of confusion, yes of course it's like walking into a black cloud, that you feel like you're being emptied in two seconds.
آپ کو کچھ لوگوں کے گھر جانے کی بھی ضرورت نہیں ، آپ کسی مال میں چلے جائیں۔ کوئی بھی شخص جو انرجی کی جانچ کرنا چاہتا ہے، ایک دو بار مراقبہ کریں، کچھ اچھی روحانی مشقیں کریں، پھر مال میں چلے جائیں اور دیکھیں کہ آپ کی آنکھیں کیسے سرخ ہو جاتی ہیں، آپ کے پاؤں جلنے لگتے ہیں، اور آخر کار آپ کو محسوس ہوتا ہے کہ ان ساری جگہوں کے لوگوں کی تمام مشکلات آپ خود پر لے رہے ہیں۔
(Ap ko kuch logon kay ghar janay ki bhi zarurat nahin hai, ap kisi mall may chalay jaayn. Koi bhi shakhs Jo energy ki jaanch krna Chahta hai, aik dou baar muraqaba kren, kuch achi Rohani mashqain kren, phir mall may chalay jaayn aur Dekhen kay ap ki ankhen kesy surkh ho jati hen, ap kay paon jalnay lagtay hen, aur akhirkaar ap ko mehsoos hota hai kay un sari jaghon kay logon ki tamaam mushkilaat aap Khud pr lay rahay hen.)
You don't even have to go to some people's homes, go to the mall. Anyone who wants to test energy – meditate a couple of times, do some good practices, walk to the mall and see how your eyes become red, your feet become burning, and eventually you feel that all the difficulty of the people in these areas you're picking it up.
اسی لیے جب آپ گھر جائیں، تو آپ کو غسل کرنا ہوگا۔ آپ کو اچھی طرح نہانا اور دھونا ہو گا اور اللہ (عزوجل) سے دعا مانگیں کہ وہ مُردوں کی طرح آپ کے وجود کو دھو کر پاک صاف کر دے، کہ جب انہیں غسل دیا جاتا ہے اور ان کے تمام گناہ مٹ جاتے ہیں، کہیے کہ 'اے پروردگار! مجھے شاور کے نیچے میت کی طرح دھو دے، کہ میرے تمام گناہ اور مشکلات جو میں اپنے اوپر ڈالتا رہا ہوں وہ دھل جائیں اور مجھ سے دور ہو جائیں،' انشاء اللہ۔
(Isi liye jab ap ghar jaayn, tou ap ko ghusal krna ho ga. Ap ko achi trha nahana aur dhona ho ga aur Allah Azzawajal say Dua mangen kay wo murdon ki tarah ap kay wajood ko dho kr paak Saaf kr day, kay jab unhen ghusal diya jata hai aur un kay tamaam gunah mit jatay hen, kahiye kay 'Ay Parwardigaar! Mujhy shower kay neechay mayyat ki trha dho day, kay mere tamaam gunah aur mushkilaat Jo may apny uper daalta raha hun wo dhul jaayn aur mujh say door ho jaayn,' Insha Allah.)
That's why you have to go home, you have to shower. You have to shower and rinse and ask Allah (AJ) to wash like the dead when they get washed and all their sins go away, 'Ya Rabbi wash me like a dead body under the shower, that all the sins and difficulties of what I've been cast upon me to be washed away,' inshaAllah.
یہ بیان اس لنک پہ دیکھا جاسکتا ہے
Watch here: Balance Neurotransmitters | Absorb Positive Energy
https://www.youtube.com/watch?v=Urodcyy0zDk