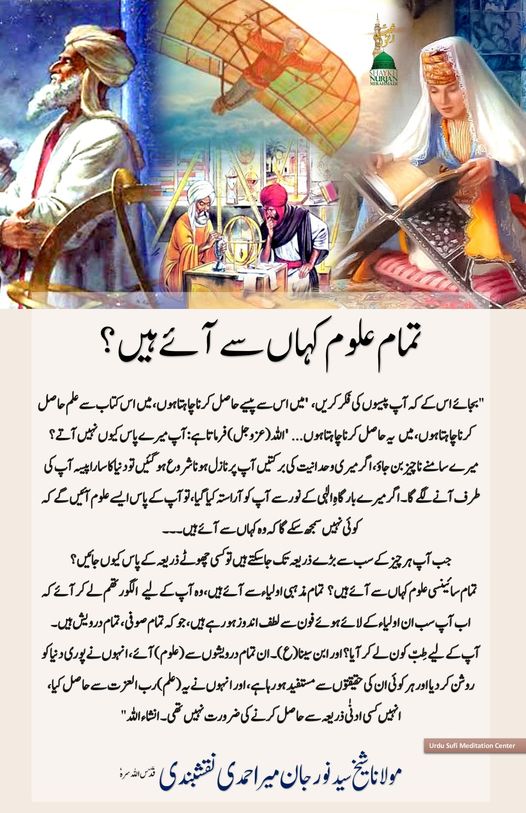 Urdu – سوال 2: اپنے وجود کے ساتھ بے اطمینانی سے کیسے نمٹا جائے؟ |Apny Wajood kay sath…

سوال 2: اپنے وجود کے ساتھ بے اطمینانی سے کیسے نمٹا جائے؟
|Apny Wajood kay sath bay'itmenani say kesy nimta jaye|
𝐐𝟐: 𝐇𝐨𝐰 𝐭𝐨 𝐜𝐨𝐩𝐞 𝐰𝐢𝐭𝐡 𝐝𝐢𝐬𝐬𝐚𝐭𝐢𝐬𝐟𝐚𝐜𝐭𝐢𝐨𝐧 𝐰𝐢𝐭𝐡 𝐨𝐧𝐞𝐬𝐞𝐥𝐟?
السلام علیکم سیدی۔
وعلیکم السلام ورحمۃ اللہ۔
'اپنی بے اطمینانی سے کیسے نمٹا جائے'، انشاء اللہ، بارگاہِ الٰہی کی محبت سے مطمئین ہونے کی کوشش کریں، اس کا مطلب یہ ہے کہ ان تمام تعلیمات کا مقصد کسی کو افسردہ شخص بنانا نہیں ہے، (بلکہ) مقصد بُری صفات کو ختم کرنا ہے۔
'Apni bay'itmenani say kesy nimta jaye', Insha Allah, Bargah e Elaahi ki Mohabbat say mutmaeen honay ki koshish kren, is ka matlab ye hai kay in tamaam taalimaat ka maqsad kisi ko afsurda shakhs bnana nahin hai, (balkay) maqsad buri sifaat ko khatam krna hai.
As salaamu alaykum Sayyidi.
Walaykum as salaam wa rahmatullah.
'How to cope with dissatisfaction of oneself' inshaAllah try to be satisfied with the love of the Divinely Presence, means that from all these teachings this is not to make somebody to become a depressed individual, this is to deflate the bad characteristics.
ہم نے دوسری تعلیمات میں بتایا ہے کہ 'آپ نے لاٹری جیتی ہے'، کہ آپ 500 ملین حاجیوں میں سے، آپ اپنی ماں کے رحم کے انڈے میں آئے، آپ کو لاٹری دی گئی، آپ کو تحفہ دیا گیا۔ تقریباً 9999999 سو ملین لوگوں میں سے، جو کہ تمام حاجی ہیں، صرف آپ کو پیدا ہونے کا عظیم شرف حاصل ہوا۔
Hm ny dusri taalimaat may btaya hai kay 'aap ny lottery jeeti hai', kay aap 500 million haajion may say, aap apni maa kay rehem kay anday may aaye, aap ko lottery Di gai, aap ko tohfa diya gya. Taqreeban 9999999 sou million logon may say, Jo kay tamaam haaji hen, sirf aap ko paida honay ka Azeem sharf haasil hua.
We've given in other talks 'You're the lottery winner,' that you out of 500 million hajjis, you came into the egg of your mom's womb, you were given the lottery, you were given the gift, you were given the supreme honor of an ability to come into existence out of I don't know the 9999999 hundred-million people all hajjis, you came through.
تو کیا اللہ (عزوجل) نے ہمیں پہلے ہی عزت نہیں دی ہے، کہ آپ کو اس عظیم اعزاز کا علم ہے کہ آپ کو وجود میں آنے کی صلاحیت دی گئی ہے، تو اس کا مطلب ہے کہ اللہ (عزوجل) اپنی مخلوق سے محبت کرتا ہے اور آپ کو ایک عظیم مقصد کے لیے پیدا کیا گیا ہے۔ کیا آپ اس (مقصد) تک پہنچ رہے ہیں؟
Tou agar Allah (Azzawajal) ny hamen pehly he izzat nahin di hai, kay aap ko is Azeem aizaaz ka ilm hai kay aap ko wajood may anay ki salaahiyat Di gai hai, tou is ka matlab hai kay Allah (Azzawajal) apni makhlooq say Mohabbat krta hai aur aap ko aik Azeem maqsad kay liye paida kiya gya hai. Kya aap is (maqsad) tak pohnch rahay hen?
So if Allah (AJ) didn't honor us already, that you know this immense honor of being given the ability to come into existence, so it mean Allah (AJ) loves His creation and you were created for an immense purpose. Are you reaching it?
تو یہ تعلیم ہمیں اس طرف لے جانے کے لیے ہے – خدا ہم سے محبت کرتا ہے، (ہمیں) ایک عظیم راز کے ساتھ تخلیق کیا گیا ہے، کیا آپ اس تک پہنچ رہے ہیں یا آپ اس زمین پر 'ایک' ہونے کی وجہ سے ایک طرح سے مشغول ہیں اور آپ الٰہی کی طرف دیکھتے ہیں اور وہاں کچھ نظر نہیں آتا؟ لیکن یہ سکھانے کے لیے – آپ کو ایک تحفہ دیا گیا ہے، آپ تحفہ تک پہنچنا چاہتے ہیں؟ تو اپنے آپ کو ڈیفلیٹ ( عاجز ، حقیر یا خالی) ہونے کا طریقہ سیکھیں۔
Tou ye taleem hamen us taraf lay janay kay liye hai, Khuda hm say Mohabbat krta hai, (hamen) aik Azeem raaz kay sath takhleeq kiya gya hai, kya aap us tk pohnch rahay hen ya aap is Zameen pr 'aik' honay ki wja say aik tarah say mashghool hen aur aap Elaahi ki taraf dekhty hen aur wahan kuch nazar nahin aata? Lekin ye sikhanay kay liye, ap ko aik tohfa diya gya hai, ap tohfay tk pohnchna Chahtay hen? Tou apny ap ko deflate (tabaah ya khaali) krny ka tareeqa seekhen.
So that's this teaching is to take us to – God loves us, created with an immense secret, are you reaching it or you're just sort of distracted by being 'one' on this earth and you look to the Divine and there's nothing there? But to teach that – you've been given with a gift, you want to reach the gift? Learn how to deflate yourself.
اور موت بہت بڑی ڈیفلیٹر ہے (مادی زندگی کو بے وقعت بنا دیتی ہے) ، اسی لیے اللہ (عزوجل) نے موت کو پیدا فرمایا کیونکہ وہ چاہتا ہے کہ ہر کوئی اس حقیقت تک پہنچ جائے، لیکن قبر میں ڈیفلیٹ ہونا زمین پر خود کو ڈیفلیٹ کرنے سے کہیں زیادہ مشکل ہے، 'اے پروردگار، میں تیری عظیم طاقت کے مقابلے میں کچھ بھی نہیں ہوں، بے شک میں کچھ بھی نہیں، میں کچھ بھی نہیں، میں نہیں… میں کچھ بھی نہیں بننا چاہتا، میں کچھ بھی نہیں ہونے پر مطمئین ہوں، میرے برے کردار کو ختم فرما دے' اور پھر اللہ (عزوجل) کی وسعت، آج رات ہم نے جس چیز سے آغاز کیا، اللہ عزوجل کی قدرت کی وسعت بندے پر کھلنا شروع ہو جاتی ہے۔
Aur Maut boht bari tabaah kr deny waali cheez hai, isi liye Allah (Azzawajal) ny Maut ko paida farmaya kyun kay wo chahta hai kay hr koi is haqeeqat tk pohnch jaye, lekin qabar may tabaah Hona Zameen pr Khud Ko tabaah krny say kahin zyada mushkil hai, 'Ay Parwardigaar, may Teri Azeem Taaqat kay muqaablay may kuch bhi nahin hun, beshak may kuch bhi nahin, may kuch bhi nahin, may nahin… May kuch bhi nahin bn'na chahta, may kuch bhi nahin honay pr mutmaeen hun, mere buray kirdaar ko khatam kr day', aur phir Allah (Azzawajal) ki wus'at, Aaj raat hm ny jis cheez say aaghaaz kiya, Allah Azzawajal ki Qudrat ki wus'at bndy pr khulna shuru ho jaati hai.
And death is the great deflator, that's why Allah (AJ) created death because He wants everybody to reach this reality, but to be deflated in the grave is significantly more difficult than just deflating ourselves on earth, 'I'm nothing Ya Rabbi compared to whatever Your Supreme Power of course I'm nothing, I'm nothing, I don't… I want to be nothing I'm satisfied with being nothing, my bad character to put it down' and then Allah's (AJ) immensity, what we started tonight with, the immensity of Allah's (AJ) power opens upon the servant.
بجائے اس کے کہ آپ پیسوں کی فکر کریں، 'میں اس سے پیسے حاصل کرنا چاہتا ہوں۔ میں اس کتاب سے علم حاصل کرنا چاہتا ہوں۔ میں یہ حاصل کرنا چاہتا ہوں…' اللہ (عزوجل) فرماتا ہے 'آپ میرے پاس کیوں نہیں آتے؟ میرے سامنے ناچیز بن جاؤ، اگر میری وحدانیت کی برکتیں آپ پر نازل ہونا شروع ہو گئیں تو دنیا کا سارا پیسہ آپ کی طرف آنے لگے گا۔ اگر میرے بارگاہِ الٰہی کے نور سے آپ کو آراستہ کیا گیا، تو آپ کے پاس ایسے علوم آئیں گے کہ کوئی نہیں سمجھ سکے گا کہ وہ کہاں سے آئے ہیں۔'
Bajaye is kay k ap paison ki fikr kren, 'May is say paisy hasil krna chahta hun. May is kitaab say ilm haasil krna chahta hun. May ye hasil krna chahta hun…' Allah (Azzawajal) farmata hai 'ap mere pas kyun nahin atay? Mere samny nacheez bn jao, agar meri wahdaaniyat ki barkaten ap pr naazil Hona shuru ho gaeen tou duniya ka Sara paisa aap ki taraf aanay lagay ga. Agar mere Bargah e Elaahi kay Noor say ap ko aaraasta kiya gya, tou ap k pas aesy uloom aayn gay kay koi nahin samajh sakay ga kay wo kahan say aaye hen'.
Instead of you worrying about money, 'I want to get money from this. I want to get knowledge from this book. I want to get this…' Allah (AJ) Say 'Why you don't come to Me? Be nothing in front of Me, if My dress of Oneness comes unto you all the money in the world will flow to you. If My dress of Divinely lights dressed to you knowledges will come to you that nobody can understand where they came from.'
اس کا مطلب یہ ہے کہ جب آپ ہر چیز کے سب سے بڑے ذریعہ تک جا سکتے ہیں تو کسی چھوٹے ذریعہ کے پاس کیوں جائیں، لیکن یہ ہے… لوگ اس طرح نہیں سوچ رہے ہیں، وہ سوچتے ہیں کہ 'اوہ نہیں، جانا اور مذہبی بن جانا، اس سے آپ کو کچھ حاصل نہیں ہوگا، آپ کچھ نہیں کر سکیں گے۔' یہ بالکل غلط ہے۔ کہیے کہ، 'تمام سائینسی علوم کہاں سے آئے ہیں؟'
Is ka matlab ye hai kay jab aap Har cheez kay sab say baray zariyay tak jaa skty hen tou kisi chotay zariyay kay pas kyun jaayn, lekin ye hai… Log is tarah nahin soch rahay hen, wo sochty hen kay 'Oh nahin, jana aur mazhabi ho jana, is say aap ko kuch haasil nahin ho ga, ap kuch nahin kr saken gay'. Ye bilkul ghalat hai. Kahiye kay 'tamaam sciencee uloom kahan say aaye hen?'
Means why go to the lower source when you can go to the Supreme Source of everything, but that's… people are not thinking like that they think 'Oh no going and becoming religious is you're not going to get anything, you're not going to do anything,' it's completely incorrect. Say, "Where all the sciences came from?
تمام مذہبی اولیاء سے آئے ہیں، وہ آپ کے لیے الگورتھم لے کر آئے کہ اب آپ سب ان اولیاء کے لائے ہوئے فون سے لطف اندوز ہو رہے ہیں، جو کہ تمام صوفی، تمام درویش ہیں۔ آپ کے لیے طِبّ کون لے کر آیا؟ اور ابن سینا (ع)۔ ان تمام درویشوں سے آئے، انہوں نے پوری دنیا کو روشن کر دیا اور ہر کوئی ان کی حقیقتوں سے مستفید ہو رہا ہے، اور انہوں نے یہ (علم) رب العزت سے حاصل کیا، انہیں کسی ادنٰی ذریعہ سے حاصل کرنے کی ضرورت نہیں تھی۔ انشاء اللہ.
Tamaam mazhabi Awliya say aaye hen, wo aap kay liye algorithm lay kr aaye kay ab aap un sab Awliya kay laaye huy phone say lutf andoz ho rahay hen, Jo kay tamaam Sufi, tamaam darwaish hen. Aap kay liye Tibb kon lay kr aya? Aur Ibn e Sina (as). Un tamaam darweshon say aaye, Unhon ny poori duniya ko roshan kr diya aur hr koi unki haqeeqaton say mustafeed ho raha hai, aur Unho ny ye (ilm) Rabb ul Izzat say haasil kiya, Unhen kisi adnaa zariyay say haasil krny ki zarurat nahin thi. Insha Allah..
Came from all the religious awliya (saints), they brought you algorithm that now you're all enjoying your phones from these awliya who are all Sufi all Darwish (Sufi ascetic). Who brought you medicine? And, Ibn Sina (as). Came from all of these Darwishs, they enlightened the whole earth and everybody benefiting from their realities and they got it from the Supreme One, they didn't have to get it from any lower source. InshaAllah.
یہ بیان اس لنک پہ دیکھا جاسکتا ہے
Watch here: Balance Neurotransmitters | Absorb Positive Energy
https://www.youtube.com/watch?v=Urodcyy0zDk