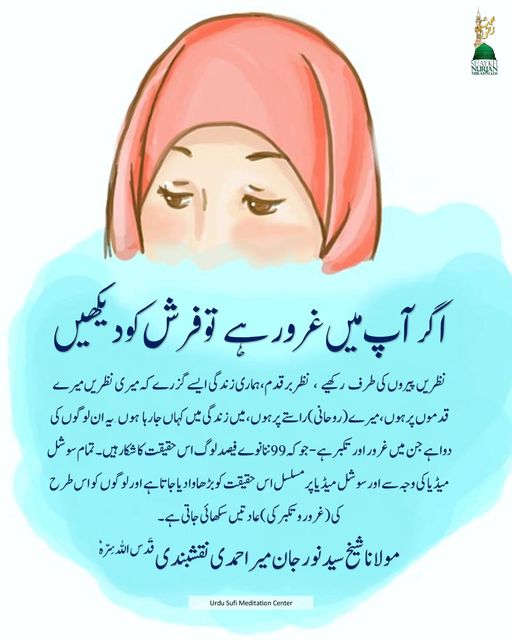 Urdu – سوال 1: لوگوں کے سامنے اور اُنکے درمیان اپنا غرور اور تکبر کم کرنے کیلئے …

سوال 1: لوگوں کے سامنے اور اُنکے درمیان اپنا غرور اور تکبر کم کرنے کیلئے کیا کوئی جسمانی طرزِعمل ہے ؟
|Logon ke samnay aur unke darmiyan apna ghuroor aur taqqabur kam karne ke liye kya koi jismani trzِe-amal hai ?|
??: ?? ????? ??? ???????? ??? ???? ?? ?????? ?? ?? ???? ??? ????????????? ?? ????? ?? ?????? ??? ?????? ???????
اسلام علیکم یا حضرت شیخ
وعلیکم السلام ورحمۃ اللہ
سوال 1: لوگوں کے سامنے اور اُنکے درمیان اپنا غرور اور تکبر کم کرنے کیلئے کیا کوئی جسمانی طرزِعمل ہے ؟
مولانا شیخ سید نور جان میر احمدی نقشبندی (قَدس اللہ سِرّہٗ)
تمام طریقت یہی توسکھاتا ہے۔ عاجزی اختیار کریں، فاصلہ رکھیں، اور خود کو عاجزی کی حالت میں رکھیں۔ فرش کی طرف دیکھیں۔ یہ کوشش کریں کہ متکبر نہ بنیں ۔ اگر آپ متکبر انسان ہیں تو فرش کی طرف دیکھو،اپنے پیروں کی طرف دیکھو – نظر بر قدم – ہماری زندگی ایسے گزرے کہ میری نظریں میرے قدموں پر ہوں ، میرے (روحانی ) راستے پر ہوں ۔ میں زندگی میں کہاں جا رہا ہوں۔ تکبر اور بد اخلاقی اور غرور کی تعلیمات پر عمل نہ کرنے کی کوشش کریں۔اور سب کیلئے مختلف (تعلیم )ہے۔ اگر آپ پہلے سے ہی انتہائی شائستہ، عاجز ہیں اور آپ انتہائی خاموش اور شرمیلے ہیں – یہ آپ کیلئے نہیں ، یہ اُن لوگوں کیلئے ہے جن میں تکبر ہے۔ وہ لوگ جو بہت شرمیلے، خاموش اور خوفزدہ ہوتے ہیں، انہیں ہمت اور جوش کی ضرورت ہوتی ہے – اس لیے ہر دوائی مختلف ہوتی ہے۔ یہ ان لوگوں کی دوا ہے جن میں غرور اور تکبر ہے – جو کہ 99 ننانوے فیصد لوگ اس حقیقت کا شکار ہیں۔ تمام سوشل میڈیا کی وجہ سے اور سوشل میڈیا پر مسلسل اس حقیقت کو بڑھاوا دیا جاتا ہے اور لوگوں کو اس طرح کی ( غرور و تکبر کی ) عادتیں سکھائی جاتی ہے۔ ان شاء اللہ۔
???????????????
Tamam tareqat yahi toh sikhata hai. Aajzi ikhtiyar karen, faasla rakhen, aur khud ko aajzi ki haalat mein rakhen. Farsh ki taraf dekhen. yeh koshish karen ke mutaqabbir nah banin. Agar aap mutaqabbir insaan hain to farsh ki taraf dekho, apne peeron ki taraf dekho – Nazar Bar Qadam – hamari zindagi aisay guzray ke meri nazrain mere qadmon par hon, mere ( Ruhani ) rastay par hon. Mein zindagi mein kahan ja raha hon. Taqqabur aur bad-ikhlaqi aur ghuroor ki talemaat par amal nah karne ki koshish karen. Aur sab ke liye mukhtalif ( taleem ) hai. Agar aap pehlay se hi intehai shaista, aajiz hain aur aap intehai khamosh hain – yeh aap ke liye nahi, yeh unn logon ke liye hai jin mein taqqabur hai. woh log jo bohat sharmeelay, khamosh aur khaufzadah hotay hain, inhen himmat aur josh ki zaroorat hoti hai – is liye har dawai mukhtalif hoti hai. Yeh un logon ki dawa hai jin mein ghuroor aur taqqabur hai – jo ke 99 ninanway feesad log is haqeeqat ka shikaar hain. Tamam social media ki wajah se aur social media par musalsal is haqeeqat ko brhhawa diya jata hai aur logon ko is terhan ki ( ghuroor o taqqabur ki ) adaten sikhayi jati hai. Insha'Allah.
???????? ????:
All of Tariqa teaches that. Be humble, keep your distance and keep yourself in a state of humility. Look to the floor. Try to practice not being arrogant. If you are a proud person, look to the floor, look to your feet – Nazar Bar Qadam – that our life is about just keeping my eyes on my feet, on my path. Where I am going in life. Try not to follow the teachings of arrogance and bad character and pride. And everything is for different. If you are already extremely humble and you are extremely quiet and shy – this is not for you. This is for the people whom have arrogance. Those people whom are very shy, quiet and intimidated, they need a himmah and zeal – so every medicine is different. This is the dressing of people whom have pride and arrogance – which is 99% of the people suffering from that reality. Because all of social media and push on the social media to continuously push that reality and push that characteristics upon people, in'shaAllah.
YouTube Link
@ 2:51:45 Live Q&A
#Nothingness #BinaryCode #Shawal