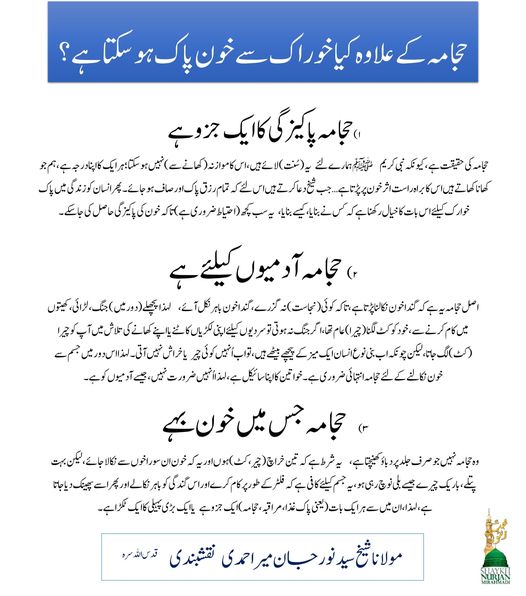 Urdu – سوال ۵: حجامہ اور کپینگ کے علاوہ، کیا کوئی خاص کھانے کی چیزیں ہیں، جو جسم کے ان…

سوال ۵: حجامہ اور کپینگ کے علاوہ، کیا کوئی خاص کھانے کی چیزیں ہیں، جو جسم کے اندر خون اور آئرن پاک کرنے میں مددکرسکتی ہیں ؟
اَعُوْذُ بِاللہ مِنَ الشَّیْطٰنِ الرَّجِیْمِ ۞بِسْمِ اللہ الرَّحْمٰنِ الرَّحِیْمِ ۞
اللَّهُمّ صَلِّ عَلَى سَیِّدِنَا مُحَمَّدٍ النَّبِّيِّ الأُمِّيِّ وَعَلَى آلِهِ وَصَحْبِهِ وَ بَارِکْ وَسَلِّمْ
|مولانا شیخ سید نورجان میر احمدی نقشبندی ق|
حجامہ اور کپینگ کے علاوہ کیا کوئی غذا ہے جو خون پاک کر سکیں؟ حجامہ کی حقیقت ہے ، کیونکہ نبی کریم (ﷺ) ہمارے لئے یہ (سُنت) لائے ہیں… … اس کا موازنہ ( کھانے سے )نہیں ہو سکتا؛ ہر ایک کا اپنا درجہ ہے ۔ ہم جو کھانا کھاتے ہیں اس کا براہ راست اثر خون پر پڑتا ہے۔ لہذا اگر خون کی پاکیزگی پر توجہ دینی ہے ، تو جو ہم کھاتے ہیں اس کا اثر براہ راست خون پر پڑتا ہے ،ہمارے کھانے کی پاکیزگی ، دعا کے قبول ہونے کی صلاحیت ( کا اثر خون پہ پڑتا ہے) ۔ جب شیخ دعا کرتے ہیں اس لئے کہ تمام رزق پاک اورصاف ہو جائے۔ پھر عبد کو زندگی میں پاک خوارک کیلئے اس بات کا خیال رکھنا ہے کہ کس نے بنایا ، کیسے بنایا ، یہ سب کچھ ( احتیاط ضروری ہے ) تاکہ خون کی پاکیزگی حاصل کی جاسکے۔ وہ جو کچھ پیتے ہیں، اُسکی خون کیلئے اہمیت ہے ۔ اور پھر خون کی اپنی (حقیقت ہے ) کہ ان کا خون کیسے فعال ہے، اُنکے ذکر کے ساتھ ، اُنکی سانسوں کے ساتھ ، اُنکے مراقبے کے ساتھ— ان سب کا خون پر براہ راست اثر پڑتا ہے، ٹھیک؟ تو پھر جب وہ سانس لیتے ہیں اوراُن کی مراقبے کی مشقیں ہیں، جہاں وہ صرف سانس لینے کی مشق کیلئے الگ بیٹھ جاتے ہیں —جہاں وہ (مُرشد سے) اپنا رابطہ بناتے ہیں اور پھر وہ سانس لینے لگتے ہیں اور اینرجی محسوس کرتے ہیں کہ اینرجی آ رہی ہے ، اور اُنکے سینے کوگرما رہی ہے ، وہ اینرجی جو پھیپھڑوں میں آتی ہیں، اور طاقت،جس سے پھیپھڑے ایکٹو ہو جاتے ہیں اور (طاقت ) خون کے خلیات میں ڈال دی جاتی ہے اور خون کے خلیات، رسول کریم (ﷺ) کی گہری محبت کے ساتھ، اولیااللہ کی گہری محبت کے ساتھ—انکے دل، آگ جیسے ( مثل ِ آتش ) ہیں ، ٹھیک ہے، تو یہ ایک انسینریٹر ( کچرا جلانے والے فیکٹری) جیسا ہے ۔ جو کچھ بھی اس دل میں آتا ہے، اس (دل ) کا ذکر تمام نجاستیں جلا دیتا ہے اور ان کو کامل بناتا ہے۔ وہ بندے بہت جوش میں آجاتے ہیں ۔ جیسے ہی وہ سانس لینے کی مشق کریں یا کچھ لوگوں کے پاس آ ئیں ، وہ فوری طور پر ایکٹیو ہوجاتے ہیں۔ تو یہ ایک پورا حصہ ہے، اُن کے کھانے پینے ، اُن کی سانسوں اور مراقبے کا؛ یہ سب اُنکو متحرک کرنے اور اُنکے خون کی صفائی شروع کرنے کیلئے ہے۔ پھر اصل حجامہ یہ ہے کہ گندا خون نکالنا پڑتا ہے۔ تاکہ کوئی ( نجاست ) نہ گُزرے، گندا خون باہر نکل آئے ۔
لہذا پچھلے(دور میں ) جنگ ، لڑائی ، کھیتوں میں کام کرنا، خود کو کٹ لگنا (چیرا ) عام تھا۔ اگر جنگ نہ ہوتی تو سردیوں کیلئے اپنی لکڑیاں کاٹنے یا اپنے کھانے کی تلاش میں آ پ کو چیرا (کٹ) لگ جاتا ، لیکن چونکہ اب بنی نوع انسان ایک میز کے پیچھے بیٹھے ہیں، تو اب اُنہیں کوئی چیر یا خراش نہیں آتی۔ لہذا اس دور میں جسم سے خون نکالنے کے لئے حجامہ انتہائی ضروری ہے۔ خواتین کا اپنا سائیکل ہے، لہذا اُنہیں ضرورت نہیں ، جتنی آدمیوں کوہے۔ اور اسی وجہ سے اس دور میں مردوں میں اس قدر بُر ائیاں دیکھائی دیتی ہیں کیونکہ وہ جسم سے گندے خون کا سائیکل باہر نہیں نکال رہے اور پھر اس قسم کی نیگیٹیوٹی پریشان کرتی ہے اور بس پھیل رہی ہے۔ لیکن اللہ (عزوجل) نے خواتین کو اپنا ایک ذریعہ دیا ہے، اُس ذریعہ سے گندا خون نکالا جاتا ہے اور اُن کا نظام پاک ہو جاتا ہے، اُنہیں حجامہ ڈھونڈنے کی ضرورت نہیں ۔ یہ آدمی ہیں جن کو حجامہ درکار ہوتا ہے جس میں خون نکلے، وہ حجامہ نہیں جو صرف جلد پر دباؤ کھینچتا ہے ۔ یہ شرط ہے کہ تین خراچ (چیرے، کٹ )ہوں اور یہ کہ خون ان سوراخوں سے نکالا جائے ، لیکن بہت پتلے، باریک چیرے جیسے بلی نوچ رہی ہو ، یہ جسم کیلئے کافی ہے کہ فلٹر کے طور پر کام کرے اور اس گندگی کو باہر نکالے اور پھر اسے پھینک دیا جاتا ہے۔
لہذا ، ان میں سے ہر ایک بات ( یعنی پاک غذا، مراقبہ، حجامہ ) ایک جزو ہے یا ایک بڑی پہیلی کا ایک ٹکڑا ہے۔ تو، یہ ایسا نہیں ہے جیسے اوراد ( میں کچھ چھوڑ دینا) … کسی نے کال کی اور پوچھا: کیا میں سورۃ الاخلاص نکال سکتا ہوں، کیونکہ مثال کے طور پر مجھے حفظ نہیں ہے ، اور ( اس کی بجائے ) یہ تلاوت کر لوں؟ … ایسا نہیں کہ آپ چیزوں کا تبادلہ کر سکتے ہیں۔ جو بھی نبی کریم (ﷺ) لائے ، وہ اعلی ترین حقیقت ہے ۔اولیااللہ ، سیدنا محمد (ﷺ) کے دل سےجو بھی لائے— وہ ختم ہے، ہمیں اسے پورا کرنا ہے۔ ہم یہ کرنے کی کوشش نہیں کرتے سکتے کہ جو وہ لائے تھے، اس میں سے کچھ ٹکڑے لیں، اور ایک ٹکڑا نکال دیں ۔ ذرا تصور کریں کہ تمام اولیا کے سلطان نے پانچ سال خلوت میں گزارے، مزید پانچ سال، مزید پانچ سال ، مزید پانچ سال خلوت میں گزارے؛ یہ ساری حکمت و دانش اُنہیں عطا کی گئی۔ اور (کوئی شخص پوچھے ) کیا میں فلاں چیز نکال کر، فلاں ڈال سکتا ہوں؟ یہ ناممکن ہے، جو کچھ بھی وہ لائے ہیں، وہ اس اعلی درجے کی حقیقت ہے کہ یہ ہمارا فرض ہے مکمل طور پر اس کی پیروی کریں اس میں ترمیم یا اسے تبدیل نہ کریں ۔ لہذا اس میں بے پناہ حکمت ہے ، جب تک کہ یہ حکمت کسی کو معلوم نہ ہوجائے ،اُن کیلئے بہترین ہے کہ اپنی پوری صلاحیت سے، اس کو پورا کریں، انشاء اللہ۔ یہی وجہ ہے، جو تعویز وہ لائے ہیں بے پناہ، بے انتہا برکتیں ہیں۔
تو تمام ای میلز آ رہی ہیں کہ میرے بچے ایسے ہیں، ، میرا بچہ ایسا ہے ، ہمارے گھر میں ایسا ہے ، یہ اس طرح ہے…' پھر پہلی چیز جس کی نقشبندیہ کو ضرورت ہے وہ تعویز ہے ، اُن کے پاس تعویز ہونے چاہئے ، ان کی شخصیت پر (جسم پر)ہوں، وہ ان کے کمرے میں ہوں، وہ ان کے گھروں میں ہوں، وہ ان کی گاڑی پر ہوں—ہر جگہ۔ کیونکہ مومن کیلئے ہر چیز حملہ ہو رہی ہے۔ ظلمت اور ظلم ہر سمت سے آتا ہے — تب بھی جب اس کا نشانہ آپ نہ ہوں ، تو یہ ایک ریکوشیٹ (اُچھلتی ہوئی گولی ) جیسے ہو سکتی ہے اور کسی کو لگ سکتی ہے ، یہ کسی اور کیلئےتھی اور یہ آپکو لگ گئی۔ لہذا ہماری زندگی، لگاتار، اپنی حفاظت کے بارے میں ہے ، اور اپنی ڈھال قائم رکھنے اور اس حقیقت کو برقرار رکھنے کے بارے میں ہے ، انشاء اللہ ۔
𝐓𝐫𝐚𝐧𝐬𝐥𝐢𝐭𝐞𝐫𝐚𝐭𝐢𝐨𝐧:
𝐒𝐚𝐰𝐚𝐥 𝟓 |Hijamah aur cupping ke ilawa, kya koi khaas khanay ki cheeze hain, jo jism ke andar khoon aur iron pak karne mein madad kar sakti hain ?
𝐌𝐚𝐰𝐥𝐚𝐧𝐚 𝐒𝐡𝐚𝐲𝐤𝐡 𝐍𝐮𝐫𝐣𝐚𝐧 𝐌𝐢𝐫𝐚𝐡𝐦𝐚𝐝𝐢 (𝐐) Hijamah aur cupping ke ilawa kya koi ghiza hai jo khoon pak kar saken? Hijamah ki haqeeqat hai, kyunkay Nabi Kareem (saws) hamaray liye yeh ( sunnat ) laaye hain….. is ka mawazna ( khanay se ) nahi ho skta, har aik ka apna darja hai. Hum jo khana khatay hain is ka barah-e-raast assar khoon par parta hai. Lehaza agar khoon ki pakizgee par tawajah deeni hai, to jo hum khatay hain is ka assar barah-e-raast khoon par parta hai, hamaray khanay ki pakizgee, dua ke qubool honay ki salahiyat ( ka assar khoon pay parta hai ). Jab Shaykh dua karte hain is liye ke tamam rizaq pak aur saaf ho jaye. Phir Abad ko zindagi mein pak khwark ke liye is baat ka khayaal rakhna hai ke kis ne banaya, kaisay banaya, yeh sab kuch ( ahthyat zaroori hai ) taakay khoon ki pakizgee haasil ki jasakay. Woh jo kuch peetay hain, usakee khoon ke liye ahmiyat hai. Aur phir khoon ki apni ( haqeeqat hai ) ke un ka khoon kaisay fa-aal hai, unke zikr ke sath, unkee saanson ke sath, unke Muraqbay ke sath— un sab ka khoon par Barah-e-raast assar parta hai, theek? to phir jab woh saans letay hain Aur inki muraqbey ki mashqen hain, jahan woh sirf saans lainay ki mashq ke liye allag baith jatay hain —jahan woh ( murshid se ) apna rabita banatay hain aur phir woh saans lainay lagtay hain aur energy mehsoos karte hain ke energy aa rahi hai, aur unke seenay ko garma rahi hai, woh energy jo pehphron (lungs) mein aati hain, aur taaqat, jis se phephray (lungs) active ho jatay hain aur ( taaqat ) khoon ke khuliyaat (cells) mein daal di jati hai aur khoon ke khuliyaat (cells) , Rasool Kareem (saws) ki gehri mohabbat ke sath, Awliya-Allah ki gehri mohabbat ke sath, unke dil, aag jaisay ( misle Aatish ) hain, theek hai, to yeh aik incinerator ( kachra jalanay walay factory ) jaisa hai. Jo kuch bhi is dil mein aata hai, is ( dil ) ka zikar tamam najastain jala deta hai aur un ko kaamil banata hai. Woh bande bohat josh mein aajate hain. Jaisay hi woh saans lainay ki mashq karen ya kuch logon ke paas aayen, woh fori tor par active ho jatay hain. Toh yeh aik poora hissa hai, unn ke khanay peenay, unn ki saanson aur mraqbay ka; yeh sab unko mutharrak karne aur unke khoon ki safai shuru karne ke liye hai. Phir asal Hijamah yeh hai ke ganda khoon nikalna parta hai. Taakay koi ( najasat ) nah guzray, ganda khoon bahar nikal aaye. Lehaza pichley ( daur mein ) jung, larai, khaiton mein kaam karna, khud ko cut lagna ( cheera ) aam tha. Agar jung nah hoti to sardiyoon ke liye apni lakriyan katnay ya apne khanay ki talaash mein apko cheera (cut) lag jata, lekin chunkay ab bani noo insaan aik maiz ke peechay baithy hain, to ab unhen koi cheer ya kharaash nahi aati. Lehaza is daur mein jism se khoon nikaalne ke liye Hijamah intehai zaroori hai. Khawateen ka apna cycle hai, lehaza unhen zaroorat nahi, jitni admion kohe. Aur isi wajah se is daur mein mardon mein is qader buraya'n deekhaee deti hain kyunkay woh jism se ganday khoon ka cycle bahar nahi nikaal rahay aur phir is qisam ki negativity pareshan karti hai aur bas phail rahi hai. Lekin Allah (AJ) ne khawateen ko apna aik zareya diya hai, uss zareya se ganda khoon nikala jata hai aur unka nizaam pak ho jata hai, unhen Hijamah dhoandne ki zaroorat nahi. Yeh aadmi hain jin ko Hijamah darkaar hota hai jis mein khoon niklay, woh Hijamah nahi jo sirf jild par dabao khinchtaa hai. Yeh shart hai ke teen kharaach ( cheerey ) hon aur yeh ke khoon un sorakhon se nikala jaye, lekin bohat patlaay, bareek cut cheerey jaisay billi noch rahi ho, yeh jism ke liye kaafi hai ke filter ke tor par kaam kere aur is gandagi ko bahar nikalay aur phir usay pheink diya jata hai . Lehaza, un mein se har aik baat ( yani pak ghiza, muraqba, Hijamah ) aik juz hai ya aik barri paheli ka aik tukda hai. Toh, yeh aisa nahi hai jaisay Awraad ( mein kuch chore dena ). .. kisi ne call ki aur poocha : kya mein Surah Al-Ikhlas nikaal sakta hon, kyunkay misaal ke tor par mujhe hifz nahi hai, aur ( is ki bajaye ) yeh tilawat kar lon ?. .. Aisa nahi ke aap cheezon ka tabadlah kar satke hain. Jo bhi Nabi Kareem (saws) laaye, woh aala tareen haqeeqat hai. Awlia-Allah, Sayedena Muhammad (saws) ke dil se jo bhi laaye — woh khatam hai, hamein usay poora karna hai. Hum yeh karne ki koshish nahi karte satke ke jo woh laaye thay, is mein se kuch tukre len, aur aik tukda nikaal den. Zara tasawwur karen ke tamam Awliya ke Sultan ne 5 saal khalwat mein guzaray, mazeed 5 saal, mazeed 5 saal, mazeed 5 saal khalwat mein guzaray; yeh saari hikmat-o-danish unhen ataa ki gayi. Aur ( koi shakhs pouchye ) kya mein falan cheez nikaal kar, falan daal sakta hon? Yeh namumkin hai, jo kuch bhi woh laaye hain, woh is aala-darjay ki haqeeqat hai ke yeh hamara farz hai mukammal tor par is ki pairwi Karen, is mein tarmeem ya usay tabdeel nah karen. Lehaza is mein be-panah hikmat hai, jab tak ke yeh hikmat kisi ko maloom nah hojaye, unn ke liye behtareen hai ke apni poori salahiyat se, is ko poora karen, Insha'Allah. Yahi wajah hai, jo taweez woh laaye hain be-panah, be-intahaa barkaten hain .Toh tamam e-mails aa rahi hain ke mere bachay aisay hain, mera bacha aisa hai, hamaray ghar mein aisa hai, yeh is terhan hai. ..' phir pehli cheez jis ki Naqshbandiyah ko zaroorat hai woh taweez hai, unn ke paas taweez honay chahiye, un ki shakhsiyat par ( jism par ) hon, woh un ke kamray mein hon, woh un ke gharon mein hon, woh un ki gaari par hon—har jagah. Kyunkay momin ke liye har cheez hamla ho rahi hai. Zulmat aur zulm har simt se aata hai — tab bhi jab is ka nishana aap nah hon, to yeh aik ricochet ( uchhalti hui goli ) jaisay ho sakti hai aur kisi ko lag sakti hai, yeh kisi aur ke liye thi aur yeh aapko lag gayi. Lehaza hamari zindagi, lagataar, apni hifazat ke baray mein hai, aur apni dhaal qaim rakhnay aur is haqeeqat ko barqarar rakhnay ke baray mein hai, Insha'Allah .
𝐎𝐫𝐢𝐠𝐢𝐧𝐚𝐥 𝐀𝐫𝐭𝐢𝐜𝐥𝐞
𝐐𝐮𝐞𝐬𝐭𝐢𝐨𝐧 𝟓: Apart from hijamah or cupping are there certain foods that can help purify the blood and iron within the body?
𝐌𝐚𝐰𝐥𝐚𝐧𝐚 𝐒𝐡𝐚𝐲𝐤𝐡 𝐍𝐮𝐫𝐣𝐚𝐧 𝐌𝐢𝐫𝐚𝐡𝐦𝐚𝐝𝐢 (𝐐) 'Aside from hijamah and cupping are there foods that can purify the blood?' The reality of hijamah, because Prophet (saws) brought that for us… [connection lost] …comparable to it. Each to its level, that the food we eat has a direct effect on the blood so if the focus of the purity of the blood then what we eat has a direct effect onto the blood, the cleanliness of what we eat, the ability of the du'a (supplication) to be accepted so that when the shaykh is making du'a all the sustenance is to be cleaned and to be purified, then for the servant to eat a life of purity to make sure – who made it, how it was made, all of that because to gain the purity of their blood. What they drink is the importance towards their blood and then the blood itself on how their blood is functioning with their zikr, with their breath, with their meditation – all of those have a direct effect on the blood, right. So then when they breathe and they have their meditation practices where they set aside just for breathing – where they're making their connection and then they begin to breathe and feel the energy coming and heating their chest, well those energies that are coming onto the lungs and the power that the lungs become activated and put onto the blood cell and the blood cell is going into a heart that is now deep with zikr, deep with love of Prophet (saws), deep with love of awliyaullah, their heart is like a fire right so it's like an incinerator – anything coming into that heart the zikr of that heart is burning away all impurities and perfecting them. Those servants become very heated, as soon as they practice breathe or come around certain people they're immediately activated. So that's a whole part of their eating, drinking their breathing and meditation is all to activate and begin to purify all their blood. Then the actual hijamah itself is that the dirty blood has to be taken out so there's no bypassing the dirty blood taken out.
So before – warfare, fighting, working in the field cutting yourself was prevalent, if you didn't have battle you cut yourself trying to cut your wood for winter or hunt for your food, but because now mankind is sitting behind a desk they're not even getting cut anymore so the hijamah is most necessary in these times to take blood out of the body. For the female she has her cycle so she's not in that necessity as a man is and that's why the bad characteristic of men becomes so prevalent in these days because they're not taking the dirty blood cycle out of the body and then all of this sort of negativity is exasperating and just sort of multiplying. But Allah (AJ) gave for women their cycle as a means in which to pull the dirty blood out and to purify their system so they're not in need to go around looking for hijamah, it's the men whom require the hijamah with the blood to come out not the hijamah that just pulls the pressure up onto the skin, it is the requirement that the three scratches and that the blood to be extracted from those pores, but very very thin scratches like a cat scratching, it's enough for the body to act as a filter that pulls this dirtiness out and then that is thrown away. So each of them is a portion or a piece of a bigger puzzle, it's not that… again like the awrad somebody called and say 'Can I take out Surat al-Ikhlas because I don't have it memorized for example or… and then recite this.' It's not you can exchange things, whatever Prophet (saws) brought it's at its highest reality. Whatever awliyaullah brought from the heart of Sayyidina Muhammad (saws), is finished – we have to accomplish that. We don't try to find you know some piece and take one piece out that they brought. Imagine the sultan (king) of all awliya (saints) spent five years seclusion another five… 5 years, another 5 years seclusion, all these hikmah and wisdoms that given to them and 'Can I take this one thing out and put this in' [person asks]. It's impossible, that whatever they brought is of such a calibre of reality it's our duty to completely follow it not to modify it or change it. So it has an immense wisdom, until that wisdom becomes known to somebody it's their best deal is to fulfill it to the best of their ability inshaAllah. That's why said the s that they brought these are immense immense barakahs – immense blessings, so all these emails that are coming 'My kids like this, my child is like this, the house like this, this like this…' then the first thing that Naqshbandiya needs are the s. So that they have the , they have them on their personality, they have them in the room, they have them in the houses, they have them on the car – everywhere. Because everything is coming under attack for the believer, the zulumat and oppression comes from every direction – even when it's not meant for you it can become like a ricochet and hit somebody, it was meant for somebody else and it came to you. So our life is continuous about our protection and keeping our protection and keeping this reality, inshaAllah.
سوال ۶: کوئی کیسے جان سکتا ہے کہ اُس کا دل بیدار ہورہا ہے؟ اگر کوئی مولانا شیخ ناظم (ق) کو اپنے گھر میں روحانی حالت میں دیکھے تو کیا یہ خیالی ہے یا حقیقت ہو سکتی ہے؟
|مولانا شیخ سید نورجان میر احمدی نقشبندی ق|
'کوئی کیسے جانے کہ اُن کا دل بیدار ہو رہا ہے اور اگر وہ اپنے گھر میں شیخ ناظم (ق) کو دیکھتے ہیں، تو کیا یہ خیالی ہے یا حقیقت ہے۔' دوبارہ ( دُہرا دیتے ہیں) یہ راستہ فلسفہ نہیں ہے۔ یہ واقعی حقیقت ہے ، جیسے ہی وہ اپنے مشقیں شروع کرتے ہیں ، اپنا مراقبہ کرتے ہیں ، یہ تمام مشقیں کرتے ہیں، اُنہیں یہ معلوم ہونا چاہیے کہ یہ واقعی حقیقت ہے، اور جب آپ کلاس میں قدم رکھتے ہیں، اُس وقت ہی دل بیدار ہو جاتا ہے۔ لہذا، دل وہاں ہے ، یہ ذکر میں شرکت کر رہا ہے ، اسے سیدنامحمد (ﷺ) سے محبت ہے – یہ فتح ہے ۔ اگر آپ بیٹھ کر مراقبہ کرتے ہیں، تفکر کرتے ہیں، اوراد پڑھتے ہیں، شرکت کرتے ہیں اور اس طریقت میں فعال ہیں– آپ کا دل بیدار ہے۔ تو یہ صرف استقامت اور ثابت قدمی کی بات ہےکہ آپ جاری رکھیں ۔ اور آپ اپنے راستہ پہ چلتے رہیں ، کسی چیز کا تجربہ کرنے کی خواہش نہ کریں، اپنے ذہن میں کوئی توقع (شرط) نہ رکھیں کہ میں چاہتا ہوں ایسا ہو جائے، کیونکہ اب آپ کو اللہ (عزوجل) کے ساتھ مسئلہ ہو جائے گا۔ جیسے ہی آپ توقع (شرط) رکھتے ہیں، اللہ (عزوجل) آپ کو اس توقع سے بہت دور رکھے گا۔ آپ کو اللہ (عزوجل) کے اطاعت کرنی ہے اور اللہ (عزوجل) نے آپ کی اطاعت نہیں کرنی ، استغفراللہ ۔ وہ شخص جس نے سوال پوچھا تو آپ سے ( مخاطب نہیں) لیکن یہ ہماری زندگیوں کیلئے (نصیحت ) ہے۔ ہمیں اسی طرح سکھایا گیا ہے۔ جیسے ہی میں نے ایک شرط رکھی کہ میں چاہتا ہوں ، ایسا ہو جائے تو یہ ایسے ہے جیسے ، اُن (اولیااللہ) کو یہ اشارہ دینا کہ ایسا نہ ہو نے دیں، مجھے صبر میں آزمائیں اور اسکے نتیجے میں پھر میں بہت مایوس ہو جاتا ہوں کہ ایسا کیوں نہیں ہو رہا ، یہ کیوں نہیں ہو رہا ۔اور میں اس تجربے کا پیچھا کر رہا ہوں یا جو میں درخواست کر رہا ہوں۔ وہ (اولیااللہ ) چاہتے ہیں ، ہم یہ بات سمجھیں —کوئی درخواست نہ کریں ، کچھ توقع نہ رکھیں اور سب کچھ کریں۔اور اللہ (عزوجل) کی سخاوت کا عظیم سرپرائز ، جب کچھ واقع ہوتا ہے ، الحمدللہ، یہ اللہ (عزوجل) کی طرف سے ایک تحفہ تھا۔ لہذا جب آپ شیخ کا وژن دیکھتے ہیں اور شیخ کا خواب دیکھتے ہیں اور تجربہ دیکھتے ہیں تو بہت اچھا ہے ۔ اسے اپنے تک محدود رکھیں ، آپ صحیح راستے پر ہیں، کیونکہ مشائخ آپ کو تصدیق کر رہے ہیں: 'جی ہاں ہم آپ کو دیکھتے ہیں ، جی ہاں میں آپکے آس پاس ہوں ، جی ہاں آپ جو کچھ کر رہے ہیں وہ ہمارے ساتھ ہے۔' تو یہ توثیق ہے لیکن آپ کو یہ بات کسی سے شیئر کرنے کی ضرورت نہیں ، آپکو کسی کو بھی بتانے کی ضرورت نہیں، صرف راستے پر استقامت رکھیں اور انشاء اللہ ، اپنی مشقیں جاری رکھیں ۔
𝐓𝐫𝐚𝐧𝐬𝐥𝐢𝐭𝐞𝐫𝐚𝐭𝐢𝐨𝐧
𝐒𝐚𝐰𝐚𝐥 𝟔 | koi kaisay jaan sakta hai ke uss ka dil bedaar ho raha hai? Agar koi Mawlana Shaykh Nazim (Q) ko apne ghar mein ruhani haalat mein dekhe to kya yeh khayaali hai ya haqeeqat ho sakti hai ?
𝐌𝐚𝐰𝐥𝐚𝐧𝐚 𝐒𝐡𝐚𝐲𝐤𝐡 𝐍𝐮𝐫𝐣𝐚𝐧 𝐌𝐢𝐫𝐚𝐡𝐦𝐚𝐝𝐢 (𝐐) ' Koi kaisay jane ke unn ka dil bedaar ho raha hai aur agar woh apne ghar mein Shaykh Nazim (Q) ko dekhte hain, to kya yeh khayaali hai ya haqeeqat hai.' Dobarah ( dohra dete hain ) yeh rasta falsafah nahi hai. Yeh waqai haqeeqat hai, jaisay hi woh apne mashqen shuru karte hain, apna muraqba karte hain, yeh tamam mashqen karte hain, unhen yeh maloom hona chahiye ke yeh waqai haqeeqat hai, aur jab aap class mein qadam rakhtay hain, uss waqt hi dil bedaar ho jata hai. Lehaza, dil wahan hai, yeh zikar mein shirkat kar raha hai, usay Sayedena Muhammad (saws) se mohabbat hai – yeh fatah hai. Agar aap baith kar muraqba karte hain, tafakar karte hain, awraad parhte hain, shirkat karte hain aur is tareqat mein fa'aal hain – Aap ka dil bedaar hai. Toh yeh sirf istiqamat aur saabit qadmi ki baat hai ke aap jari rakhen. Aur aap apne rasta pay chaltay rahen, kisi cheez ka tajurbah karne ki khwahish nah karen, apne zehen mein koi tawaqqa ( shart ) nah rakhen ke mein chahta hon aisa ho jaye, kyunkay ab aap ko Allah (AJ) ke sath masla ho jaye ga. Jaisay hi aap tawaquh ( shart ) rakhtay hain, Allah (AJ) aap ko is tawaquh se bohat daur rakhay ga. Aap ko Allah (AJ) ke itaat karni hai aur Allah (AJ) ne aap ki itaat nahi karni, Astaghfirullah. Woh shakhs jis ne sawal poocha to aap se ( mukhatib nahi ) lekin yeh hamari zindagion ke liye ( naseehat ) hai. Hamein issi terhan sikhaya gaya hai. Jaisay hi mein ne aik shart rakhi ke mein chahta hon, aisa ho jaye to yeh aisay hai jaisay, unn (Awlia-Allah) ko yeh ishara dena ke aisa nah hone den, mujhe sabr mein aazmayen aur uskay nateejay mein phir mein bohat mayoos ho jata hon, ke aisa kyun nahi ho raha, yeh kyun nahi ho raha. Aur mein is tajarbay ka peecha kar raha hon ya jo mein darkhwast kar raha hon. Woh (Awliya-Allah) chahtay hain, hum yeh baat samjhain — koi darkhwast nah karen, kuch tawaquh nah rakhen aur sab kuch karen. Aur Allah (AJ) ki sakhavat ka azeem surprize, jab kuch waqay hota hai, Alhamdulilah, yeh Allah (AJ) ki taraf se aik tohfa tha. Lehaza jab aap Shaykh ka vision dekhte hain, aur Shaykh ka khawab dekhte hain aur tajurbah dekhte hain to bohat acha hai. Usay apne tak mehdood rakhen, aap sahih rastay par hain, kyunkay mashaiykh aap ko tasdeeq kar rahay hain: 'Jee haan hum aap ko dekhte hain, jee haan mein apke aas-paas hon, jee haan aap jo kuch kar rahay hain woh hamaray sath hai.' Toh yeh toseeq hai lekin aap ko yeh baat kisi se share karne ki zaroorat nahi, aapko kisi ko bhi bitanay ki zaroorat nahi, sirf rastay par istiqamat rakhen aur Insha'Allah, apni mashqen jari rakhen.
𝐎𝐫𝐢𝐠𝐢𝐧𝐚𝐥 𝐀𝐫𝐭𝐢𝐜𝐥𝐞
𝐐𝐮𝐞𝐬𝐭𝐢𝐨𝐧 𝟔: How does one know their heart is opening? What if someone sees Shaykh Nazim (Q) in a spiritual state in their home, can this be imagination or real?
𝐌𝐚𝐰𝐥𝐚𝐧𝐚 𝐒𝐡𝐚𝐲𝐤𝐡 𝐍𝐮𝐫𝐣𝐚𝐧 𝐌𝐢𝐫𝐚𝐡𝐦𝐚𝐝𝐢 (𝐐) 'How does somebody know that their heart is opening and if they see Shaykh Nazim (Q) in their home is this imaginary or is this real.' Again this way is not a philosophy so it's very real, as soon as they begin their practices, do their meditation, do all of these practices they have to know that it's very real and the heart opens from the minute you stepped into the class. So the heart is there, it's attending the zikrs, it has the love for Sayyidina Muhammad (saws) – that is the opening. If you sit and do the meditation, do the tafakkur, do the awrads, participate and be active with the tariqah – your heart is open. So it's just a matter of istiqam and firmness – that you continue and you continue your path not asking to experience anything, don't set up something in your mind of wanting to 'I want this to happen' because now you're going to cause a problem with Allah (AJ). As soon as you make a condition Allah's (AJ) going to keep you very far away from that condition, this is about you submitting to Allah (AJ) and Allah (AJ) not submitting to you, astaghfirullah (seek forgiveness from Allah (AJ). So not to you the person who asked the question but this to our lives this is how we were taught – as soon as I put a condition that I want this to happen then it's putting a signal for them not to make it happen to test me in patience and as a result then I become very frustrated why it's not happening why it's not happening and I'm chasing that experience or what I'm requesting. What they want us to understand is – request nothing, expect nothing and do everything, and the great surprise of Allah's (AJ) generosity when something happens alhamdulillah that was a gift from Allah (AJ). So when you see the vision of the shaykh and a dream of the shaykh and experience, is very good keep it to yourself know that you are on the right path because the shaykhs are giving you confirmation 'Yes we see you, yes I'm around you, yes whatever you're doing is with us.' So it's a confirmation but you don't have to share it with anyone, you don't have to say it to anyone, just keep firm on the path and continue with your practices inshaAllah.
سوال۷: ہمارے باغ میں بہت سے کبوتر آتے ہیں اور ہمارے کمرے کے اوپر چھت پر بیٹھتے ہیں جہاں ہم ذکر کرتے ہیں ، پرندوں کی حقیقت کیا ہے ، کیا وہ تحفظ کیلئے ہیں؟ اور کیا پرندوں کو کھانا کھلانے کے پیچھے کوئی حقیقت ہے؟
|مولانا شیخ سید نورجان میر احمدی نقشبندی ق|
ہم بہت سے کبوتر دیکھتے ہیں، اُس جگہ جہاں ہم مشقیں کر رہے ہوتے ہیں، تو کیا کوئی حقیقت ہے کیونکہ ہم پرندے دیکھ رہے ہیں، کیا حفاظت کیلئے ہیں، کیونکہ ہم پرندے دیکھ رہے ہیں؟ پرندے برکت والے ہیں کیونکہ وہ فرشتے اور اولیا کی حقیقت کی نمائندگی کرتے ہیں ۔ کہ وہ کسی ایسی مخلوق کی نمائندگی کرتے ہیں جس کا دل اتنا مضبوط اور اتنا بڑا ہے کہ وہ اپنا سر استعمال نہیں کرتے اور اپنے مضبوط دل کے نتیجے میں وہ اڑ سکتے ہیں ۔
۱) وہ علامت ہیں ، وہ ہمارے راستے کی علامت ہیں کہ ہمارا دل پرندوں کی طرح اور سر کو پرندے کی طرح ہونا چاہیے، کیونکہ پرندوں کا دماغ چھوٹے سے مٹر کے دانے جتنا ہوتا ہے لہذا وہ اپنا سر استعمال نہیں کرتے اور اس سوچ میں نہیں پڑتے کہ 'میں کیسے اُڑان بھروں گا؟' وہ اپنے دل کا استعمال کرتے ہیں ، وہ اس بارے میں سوچتے تک نہیں کہ انہیں اللہ (عزوجل) سے اتنی محبت ہے کہ وہ اڑتے ہیں اور وہ یہ بھی نہیں سوچتے 'یہ کیسے ممکن ہے میں اتنا بلند ہوں' ورنہ وہ گر جائیں گے ۔ لہذا وہ ایک حیرت انگیز ایمان اور محبت اور بھروسہ کی نمائندگی کرتے ہیں اور اس کی علامت بنتے ہیں کہ وہ اللہ (عزوجل)کی محبت پر بھروسہ کرتے ہیں ۔
۲) علامتی طور پر وہ تقویٰ اور پرہیزگار روحوں کی نمائندگی کرتے ہیں اور جب ہمیں ارد گرد پرندے دیکھائی دیں تو یہ ایک اچھی علامت ہے کہ ایک پرامن اور خوشگوار اینرجی ہے اور پرندے اس اینرجی کی علامت کے طور پر جمع ہو رہے ہیں ، اور دوسرے مخصوص اوقات میں وہ اولیاء اللہ کی موجودگی کی نمائندگی کرتے ہیں ، لیکن ایک بار پھر یہ ایسی باتیں ہیں جنکی فکر کرنے کی ضرورت نہیں ۔ لیکن اچھی بات ہے ، اگر آپ کے پاس پرندے آتے ہیں اور آپ ان کو کھانا کھلانا چاہتے ہیں تو الحمدللہ، اُن کیلئے کچھ کھانا ڈال دیں، بس آپ چوہے اور چوہوں کو اپنی طرف متوجہ نہیں کر رہے ۔ کیونکہ ، دوسری ناپاک مخلوق کھانا کھانے آتی ہے اور اس وجہ سے آپ کے گھر کے ارد گرد مختلف مسئلہ ہیں۔ ، انشاء اللہ ۔ ٹھیک ، ان شاء اللہ ۔
سُبْحٰنَ رَبِّكَ رَبِّ الْعِزَّةِ عَمَّا یَصِفُوْنَۚ ۞ وَ سَلٰمٌ عَلَى الْمُرْسَلِیْنَۚ ۞
وَالْحَمْدُ لِلّٰهِ رَبِّ الْعٰلَمِیْنَ۠ ۞ بِحُرْمَةِ (سیدنا) مُحَمَّدِ الْمُصْطَفیٰ وَبِسِرِّ سُورَۃِ الْفَاتِحَه
𝐓𝐫𝐚𝐧𝐬𝐥𝐢𝐭𝐞𝐫𝐚𝐭𝐢𝐨𝐧
𝐒𝐚𝐰𝐚𝐥 𝟕 | Hamaray baagh mein bohat se kabutar atay hain aur hamaray kamray ke upar chhat par baithtay hain jahan hum zikr karte hain, parindon ki haqeeqat kya hai, kya woh tahaffuz ke liye hain? Aur kya parindon ko khana khilanay ke peechay koi haqeeqat hai ?
𝐌𝐚𝐰𝐥𝐚𝐧𝐚 𝐒𝐡𝐚𝐲𝐤𝐡 𝐍𝐮𝐫𝐣𝐚𝐧 𝐌𝐢𝐫𝐚𝐡𝐦𝐚𝐝𝐢 (𝐐) Hum bohat se kabootarr dekhte hain, uss jagah jahan hum mashqen kar rahay hotay hain, to kya koi haqeeqat hai kyunkay hum parinday dekh rahay hain, kya hifazat ke liye hain, kyunkay hum parinday dekh rahay hain? Parinday barket walay hote hain kyunkay woh farishtay aur Awlia ki haqeeqat ki numaindagi karte hain. Kay woh kisi aisi makhlooq ki numaindagi karte hain jis ka dil itna mazbut aur itna bara hai ke woh apna sir istemaal nahi karte aur apne mazbut dil ke nateejay mein woh urr satke hain. (1) Woh alamat hain, woh hamaray rastay ki alamat hain ke hamara dil parindon ki terhan aur sir ko parinday ki terhan hona chahiye, kyunkay parindon ka dimagh chhotey se mutter ke danay jitna hota hai, lehaza woh apna sir istemaal nahi karte aur is soch mein nahi parte ke' mein kaisay urraan bharoon ga ?' Woh apne dil ka istemaal karte hain, woh is baray mein sochte tak nahi ke inhen Allah (AJ) se itni mohabbat hai ke woh urrtay hain aur woh yeh bhi nahi sochte' yeh kaisay mumkin hai mein itna buland hon' warna woh gir jayen ge. Lehaza woh aik herat angaiz Imaan aur Muhabbat aur Bharosa ki numaindagi karte hain aur is ki alamat bantay hain ke woh Allah (AJ) ki Muhabbat par bharosa karte hain. (2) Allamti tor par woh taqwa aur parhaizgaar roohon ki numaindagi karte hain aur jab hamein ird-gird parinday deekhaee den to yeh aik achi alamat hai ke aik pur-aman aur Khushgawar energy hai aur parinday is energy ki alamat ke tor par jama ho rahay hain. Aur dosray makhsoos auqaat mein woh Awliya-Allah ki mojudgi ki numaindagi karte hain, lekin aik baar phir yeh aisi baatein hain jinki fikar karne ki zaroorat nahi. Lekin achi baat hai, agar aap ke paas parinday atay hain aur aap un ko khana khilana chahtay hain to Alhamdulilah, unn ke liye kuch khana daal den, bas aap chohay aur chohon ko apni taraf matwajjah nahi kar rahay. kyunkay, doosri napak makhlooq khana khanay aati hai aur is wajah se aap ke ghar ke ird gird mukhtalif maslay hain, insha'Allah, theek, insha'Allah.
𝐎𝐫𝐢𝐠𝐢𝐧𝐚𝐥 𝐀𝐫𝐭𝐢𝐜𝐥𝐞
𝐐𝐮𝐞𝐬𝐭𝐢𝐨𝐧 𝟕: We've been noticing a lot of pigeons visiting our garden and sitting on top of our room on the roof where we do zikr, what is the reality of birds, are they a protection? And is there a reality behind feeding birds?
𝐌𝐚𝐰𝐥𝐚𝐧𝐚 𝐒𝐡𝐚𝐲𝐤𝐡 𝐍𝐮𝐫𝐣𝐚𝐧 𝐌𝐢𝐫𝐚𝐡𝐦𝐚𝐝𝐢 (𝐐) Yeah, 'We see a lot of pigeons in the area where we do our practices and is there a reality of… because we're seeing the birds or is there a protection because we're seeing birds.' Birds are something blessed, that they represent an angelic and a reality of awliya. That they represent a creature in which the heart is so strong and so big and that they don't use their head and as a result of their strong heart they can fly, so one – they're symbolic, they're symbolic of our path that we have to have a heart like a bird and a head like a bird because the mind of the bird like a little pea so they're not using their head and thinking 'How am I going to fly?' They use their heart – that they don't even think about it they have so much love for Allah (AJ) that they fly and they don't even think like 'How is this even possible how am I up so high' otherwise they would fall. So they represent and symbolize an amazing faith and love and reliance, that they rely upon the love of Allah (AJ). Symbolically they represent piety and pious souls and when we see birds around it is a good symbol that there's a peaceful and pleasant energy and that the birds are gathering as a symbol of that energy, and at other specific times they represent the presence of awliyaullah, but again these are things not to worry about. But to be good if you have the birds and you want to feed them then alhamdulillah you put out some food for them as long as you're not attracting rats and mice because other more nefarious creatures come to eat their food and that can cause a different problem around your house, inshaAllah. Good, inshaAllah.
Subhana rabbika rabbal 'izzati 'amma yasifoon, wa salaamun 'alal mursaleen, walhamdulillahi rabbil 'aalameen. Bi hurmati Muhammad al-Mustafa wa bi siri Surat al-Fatiha.
یہ بیان اس لنک پر دیکھا جا سکتا ہے
Watch this Bayan on YouTube
Q5 @21:21
Q6 @28:06
Q7 @30:53
youtu.be/7EqhQ4DTqxc