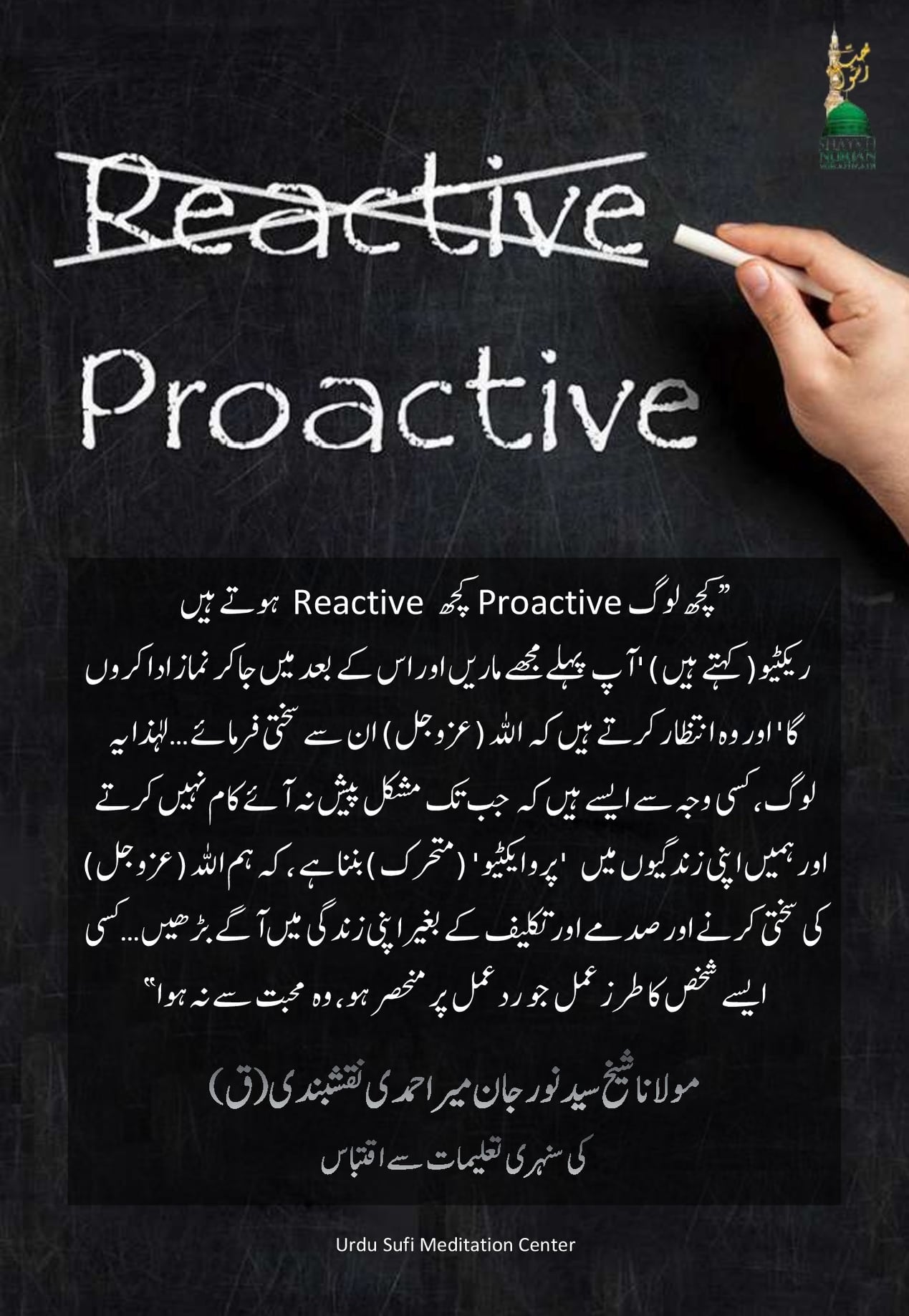 Urdu – سوال و جواب| 'پرو ایکٹیو' (متحرک ) وہ لوگ ہیں ، جو محبت کی وجہ سے کام …
سوال و جواب| 'پرو ایکٹیو' (متحرک ) وہ لوگ ہیں ، جو محبت کی وجہ سے کام کرتے ہیں۔ 'ریکٹیو' وہ خوف اور سزا کی وجہ سے کام کرتے ہیں۔ محبت کا راستہ 'پرو ایکٹیو' کردار والوں کا راستہ ہے جو حدیث قدسی ہے| بری عادتوں ،نشے سے چھٹکارا حاصل کرنا|
|Sawal-o-jawab |ProActive ( mutharrak ) woh log hain, jo mohabbat ki wajah se kaam karte hain. ReActive, woh khauf aur saza ki wajah se kaam karte hain. Mohabbat ka rasta ProActive kirdaar walon ka rasta hai jo Hadith Qudsi hai | Buri aadato, Nashay se chhutkara haasil karna |
𝐐&𝐀 𝐏𝐫𝐨𝐀𝐜𝐭𝐢𝐯𝐞 𝐚𝐫𝐞 𝐏𝐞𝐨𝐩𝐥𝐞 𝐭𝐨 𝐃𝐨 𝐅𝐨𝐫 𝐋𝐨𝐯𝐞. 𝐑𝐞𝐀𝐜𝐭𝐢𝐯𝐞 𝐭𝐡𝐞𝐲 𝐎𝐩𝐞𝐫𝐚𝐭𝐞 𝐟𝐫𝐨𝐦 𝐅𝐞𝐚𝐫 𝐚𝐧𝐝 𝐏𝐮𝐧𝐢𝐬𝐡𝐦𝐞𝐧𝐭. 𝐓𝐡𝐞 𝐏𝐚𝐭𝐡 𝐨𝐟 𝐋𝐨𝐯𝐞 𝐢𝐬 𝐏𝐫𝐨𝐀𝐜𝐭𝐢𝐯𝐞 𝐂𝐡𝐚𝐫𝐚𝐜𝐭𝐞𝐫 𝐭𝐡𝐚𝐭 𝐢𝐬 𝐭𝐡𝐞 𝐇𝐚𝐝𝐢𝐭𝐡 𝐐𝐮𝐝𝐬𝐢 | 𝐁𝐫𝐞𝐚𝐤𝐢𝐧𝐠 𝐁𝐚𝐝 𝐇𝐚𝐛𝐢𝐭𝐬/ 𝐀𝐝𝐝𝐢𝐜𝐭𝐢𝐨𝐧𝐬 |
Part-1
اَعُوْذُ بِاللہ مِنَ الشَّیْطٰنِ الرَّجِیْمِ ۞
بِسْمِ اللہ الرَّحْمٰنِ الرَّحِیْمِ ۞
اَلَّھُمَّ صَلِّ عَلَی سَیَّدِنَا محَمَّدٍ ﷺ وَعَلَی آلِ سَیَّدِنَا محَمَّدٍ ﷺ
سوال: اگر کسی کو بیماری یا مشکل کا سامنا ہو اور اُس کا حل نظر نہیں آرہا تو کیا کوئی ایسی دعا یا تسبیح ہےجو پڑھی جائے ( اور سب دور ہو جائے)؟ سیدی میں تکلیف میں ہوں پلیز میری مدد کیجئے۔
مولانا شیخ سید نورجان میر احمدی نقشبندی (قَدّس سرہٗ)
جی ، میرے خیال میں آپ کے سوال کرنے سے پہلے آج رات کا بیان اسی بارے میں تھا۔ لہذا تمام حکمت یہ تھی کہ دُعا جو ہم تلاوت کرتے ہیں وہ ہر چیز کیلئے کافی ہیں ۔ ہر قسم کی مشکل کیلئے آیت الکرسی ، صلوٰۃ اور تمام مختلف اقسام کے صلوٰۃ (درود وسلام ) یہ سب عظیم ، یہ سب نعمتیں ہیں۔ مراقبہ—ان اولیا اللہ کے ساتھ اپنا دل جوڑنا اور پھر جو سب اعمال ہم کر تے ہیں اُس میں استقامت رکھنا۔ کیا ہم دھو رہے(وضو قائم رکھتے) ہیں؟ ہم کیا کھا رہے ہیں ؟ کیا ہم (سنت کے مطابق) ڈھانپ رہے ہیں ؟ وہ سب کچھ کر رہے ہیں جس کی ہمیں ضرورت ہے اپنی اینرجی کی حفاظت کیلئے ، اپنی اینرجی سِیل کرنے کیلئے ؟ اگر ہم یہ سب کام کر رہے ہیں اور اب بھی مشکل کا سامنا ہے تو صبر کریں۔ پھریہی اللہ (عزوجل) چاہتا ہے اور ذات باری کا فرمان ہے : 'میں تمہیں، تمہاری برداشت سے بڑھ کہ نہیں آزماتا ' اور یہی ہماری صلاحیت ہے ، شاید ہمیں معلوم نہیں کہ ہم کتنا برداشت کرسکتے ہیں اگر اللہ (عزوجل) ہمیں صبر عطا فرمائے۔
لَا يُكَلِّفُ اللَّـهُ نَفْسًا إِلَّا وُسْعَهَا… ۞
اللہ کسی جان کو اس کی طاقت سے بڑھ کر تکلیف نہیں دیتا
سورۃ البقرۃ (2) آیت 286
|Sawal : agar kisi ko bemari ya mushkil ka saamna ho aur uss ka hal nazar nahi araha to kya koi aisi dua ya tasbeeh hai jo parhi jaye ( aur sab daur ho jaye )? Sayede mein takleef mein hon please meri madad kijiye.
Mawlana Shaykh Sayed Nurjan Mirahmadi Naqshbandi (Q ( Jee, mere khayaal mein aap ke sawal karne se pehlay aaj raat ka bayan isi baray mein tha. Lehaza tamam hikmat yeh thi ke duas jo hum tilawat karte hain woh har cheez ke liye kaafi hain. Har qisam ki mushkil ke liye Ayatul Kursi, salawat aur tamam mukhtalif iqsam ke salawat ( darud o salaam) yeh sab azeem, yeh sab naematain hain.—Muraqaba- Awliya Allah ke sath apna dil jorna aur phir jo sab aamaal hum karte hain uss mein istiqamat rakhna. Kya hum dho rahay ( wudu qaim rakhtay ) hain? Hum kya kha rahay hain? Kya hum ( sunnat ke mutabiq ) dhaanp rahay hain? Woh sab kuch kar rahay hain jis ki hamein zaroorat hai apni energy ki hifazat ke liye, apni energy sِeal karne ke liye? Agar hum yeh sab kaam kar rahay hain aur ab bhi mushkil ka saamna hai to sabr karen. Phir yehi Allah (AJ) chahta hai aur zaat baari ka farmaan hai :' Mein tumhe, tumhari bardasht se barh ke nahi aazmaata' aur yahi hamari salahiyat hai, shayad hamein maloom nahi ke hum kitna bardasht kar saktay hain agar Allah (AJ) hamein sabr ataa farmaiye . [Surat Al-Baqarah 2:286: "Allah kisi jaan ko is ki taaqat se barh kar takleef nahi deta]|
𝐐𝐮𝐞𝐬𝐭𝐢𝐨𝐧 : Is there any dua or tasbih recommended if one is facing disease or difficulty for which the solution is not appearing? Sayyidi I'm in pain please help.
𝐒𝐡𝐚𝐲𝐤𝐡 𝐍𝐮𝐫𝐣𝐚𝐧 𝐌𝐢𝐫𝐚𝐡𝐦𝐚𝐝𝐢 : Yeah I think that was the talk tonight before you asked this question, so that was the whole understanding is that the dua's (supplication) that we recite they're enough for everything. Ayatul Kursi for every type of difficulty, the salawat (praises upon Prophet Muhammad (saws)) and all the different types of salawat, all of them immense, all these blessings. The muraqabah (spiritual connection) to connect your heart with these awliyaullah (saints) and then to keep the firmness of everything that we're doing. Whether we are washing, what are we eating, are we covering and doing all that's required for us to protect our energy, to seal our energy. If we did all of those and still there's difficulty, then sabr (patience). This is then what Allah (AJ) want and He says, 'I don't test you beyond your ability,' and that's just what our ability is, probably not known to us of what we can endure if Allah (AJ) give us sabr.
لَا يُكَلِّفُ اللَّـهُ نَفْسًا إِلَّا وُسْعَهَا… ﴿٢٨٦﴾
2:286 – "La yukallifullahu nafsan illa wus'aha…" (Surat Al-Baqarah)
"Allah does not place a burden on a soul, more than it can bear/beyond its capacity…"
(The Cow, 2:286)
لیکن اگر آپ وضو میں نہیں رہتے، کیونکہ بعض اوقات وہ ای میل کرتے ہیں ، وہ کہتے ہیں ، 'اوہ جی مجھے افسوس ہے میں وضو میں نہیں رہتا' ۔تو پھر آپ کیا پوچھ رہے ہیں؟ یقینا آپ پر حملہ ہوگا۔ پھر ، 'میں اپنی نماز نہیں پڑھتا ، میں اینرجی کے عمل نہیں کرتا ، میں مراقبہ کرنے کی کوشش تک نہیں کرتا' ۔یہی وجہ ہے ان کا ایک پورا نظام موجود ہے۔ تو کیا اب آپ کچھ پڑھیں اور جادوئی طور پر سب کچھ دور ہو جائے؟ نہیں ، ایسا نہیں ہو سکتااور نہ ہی کسی کو ڈھونڈنے کی کوشش کریں، جو یہ کہے کہ ایسا ہوسکتا ہے کیونکہ پھر آپ خود کو خانہ بدوشوں ، عقیدے کے خانہ بدوشوں کے حوالے کردیں گے، جو مایوسی کا قافلہ ہے۔ وہ آپ کو برباد کر دیں گے، کیونکہ آپ ایک فوری حل تلاش کررہے ہیں اورمشائخ ایسا حل نہیں دیتے۔ اُن کا کام آپ کو یہ سیکھانا ہے کہ خود کو (روحانی طور پہ ) کیسے پختہ کیا جائے۔
|Lekin agar aap wudu mein nahi rehtay, kyunkay baaz auqaat woh e-mail karte hain, woh kehte hain,' oh jee mujhe afsos hai mein wudu mein nahi rehta '. Toh phir aap kya pooch rahay hain? yaqeenan aap par hamla hoga. Phir,' mein apni namaz nahi parhta, mein energy ke amal nahi karta, mein muraqba karne ki koshish tak nahi karta '. Yahi wajah hai un ka aik poora nizaam mojood hai. Toh kya ab aap kuch parheen aur jaadoyi tor par sab kuch daur ho jaye? nahi, aisa nahi ho skta nah hi kisi ko dhoandne ki koshish karen, jo yeh kahe ke aisa ho sakta hai kyunkay phir aap khud ko khanah bdoshon, aqeday ke khanah bdoshon ke hawalay kar dein ge, jo mayoosi ka qaafla hai. Woh aap ko barbaad kar den ge, kyunkay aap aik fori hal talaash kar rahay hain aur mashaykh aisa hal nahi dete. Unn ka kaam aap ko yeh sekhana hai ke khud ko ( rohani tor pay ) kaisay pukhta kya jaye.|
But if you're not keeping wudu (ablution), because sometimes they email then they say, 'Oh yeah I'm sorry I don't keep wudu.' So then what are you asking for? Of course you're going to be attacked. Then, 'I don't keep my namaz (prayers), I don't keep the energy practices, I don't try to even do the muraqabah.' That's why they have that whole system there, now can you recite something and magically everything goes away? No, It's not supposed to and don't try to find somebody who says it can because then you're going to hand yourself to the gypsies, the gypsies of faith in which the caravan of despair. They're going to ravage you because you're looking for a quick solution and the shaykhs are not supposed to give a solution they're supposed to teach you on how to build yourself.
اللہ (عزوجل) کسی تکلیف کی اجازت کیوں دے رہا ہے ، کیونکہ وہ چاہتا ہے کہ آپ پختہ ہوں۔ وہ (عزوجل) یہ نہیں چاہتا کہ آپ کسی شخص کے پاس جائیں جو اس(تکلیف کو) دور کر دے ۔اللہ (عزوجل) ہی اس (مشکل ) کو دور فرمائے گا۔ کیوں ، کیا اللہ (عزوجل) اس ( مشکل کو حل) کرنے کا طریقہ نہیں جانتا؟ وہ فرماتا ہے 'وہ (شخص )جانتا ہے کہ یہ کیسے کرنا ہے اور میں نہیں جانتا؟' میں نے اس عبد کو یہ مشکل دی ہے، تاکہ وہ آپ کی (اولیااللہ کی ) تلاش کریں اور آپ (اولیااللہ ) ان کو پختہ کریں کہ وہ اچھے عبد بنیں اور وہ اپنے تمام آداب قائم رکھیں۔
|Allah (AJ) kisi takleef ki ijazat kyun day raha hai, kyunkay woh chahta hai ke aap pukhta hon. woh (AJ) yeh nahi chahta ke aap kisi shakhs ke paas jayen jo is ( takleef ko ) daur kar day. Allah (AJ) hi is ( mushkil ) ko daur farmaiye ga. kyun, kya Allah (AJ) is ( mushkil ko hal ) karne ka tareeqa nahi jaanta? woh farmata hai' woh ( shakhs ) jaanta hai ke yeh kaisay karna hai aur mein nahi jaanta ?' mein ne is Abd ko yeh mushkil di hai, taakay woh aap ki ( AwliyaAllah ki ) talaash karen aur aap ( Awliya Allah ) un ko pukhta karen ke woh achay abd banin aur woh apne tamam aadaab qaim rakhen .|
Why Allah (AJ) allowing a difficulty, because He wants you to be built up. He doesn't want you to go to somebody to take it away, Allah (AJ) will take it away. Why, Allah (AJ) doesn't know how to do that? He says 'He knows how to do it and I don't?' I gave that servant this difficulty so they would seek you out and that you would build them up to be good servants and keep all their practices.'
کچھ لوگ 'پرو ایکٹیو' (متحرک عمل والے ) کچھ' ریکٹیو' (ردعمل والے) ہوتے ہیں ۔ ہم نے گزشتہ رات بیان کیا تھا ، کچھ لوگ وہ صرف اچھا رہنا چاہتے ہیں کیونکہ وہ اچھے ہونے سے لطف اندوز ہوتے ہیں اور یہی وہ لوگ ہیں جو کامیاب ہوتے ہیں اور وہ بہت پختگی سے کامیاب ہوتے ہیں۔ رد عمل والے( کہتے ہیں) 'آپ پہلےمجھے ماریں اور اس کے بعد میں جاکر نماز ادا کروں گا' اور وہ انتظار کرتے ہیں کہ اللہ (عزوجل) ان سے سختی فرمائے 'اوہ اب میں نماز ادا کروں گا' پھر اسے ایک اور مشکل پیش آتی ہے: 'ٹھیک ہے میں اپنے گناہوں سے باز آوں گا۔' پھر اسے ایک اور مشکل آ پڑتی ہے: 'ٹھیک ہے اب میں اپنی زکوٰۃ (صدقہ) دوں گا'۔ لہذا یہ لوگ، کسی وجہ سے ایسے ہیں کہ جب تک مشکل پیش نہ آئے کام نہیں کرتے اور ہمیں اپنی زندگیوں میں'پرو ایکٹیو' (متحرک ) بننا ہے ، کہ ہم اللہ (عزوجل) کی سختی کرنے اور صدمے اور تکلیف کے بغیر اپنی زندگی میں آگے بڑھیں۔ ہمیں اس بات کے ثبوت کی ضرورت نہیں کہ اللہ (عزوجل) ہمارے لئے مشکلات پیدا فرمائے۔ لہذا ہم اچھا بننے اور نیک بندے بننے کی پوری کوشش کرتے ہیں کیونکہ ہم محبت کے سمندر میں داخل ہو رہےہیں۔ کسی ایسے شخص کا طرز عمل جو رد عمل پر منحصر ہو، وہ محبت سے نہیں اور ان کیلئے کچھ بھی بدلا نہیں جائے گا کیونکہ وہ محبت سے نہیں ہیں۔ وہ اللہ (عزوجل) کے منتظر ہیں کہ وہ انہیں سزا دے ، نتیجے میں وہ اپنا کردار بدلیں گے ، لیکن یہ محبت نہ ہوئی ۔ وہ جو آپ سے محبت کرتا ہے وہ جو بھی عمل کرتا ہے ، بے حد محبت میں ڈوبے ہو ئے کرتاہے اور وہ اپنی محبت دیکھانے کیلئے مزید کام کرنا چاہتا ہے ، اور یہی ضروری ہے۔ جب ، یہ اخلاص ہو .. اس وقت، اللہ (عزوجل) فرماتا ہے کہ تم نے اپنا واجب ادا کیا اور اب تم میری طرف رضاکارانہ بڑھ رہے ہیں ، یعنی ، تم محبت سے میرے طرف بڑھ رہے ہو۔ آپ نے وہ ادا کیا جو فرض تھا ، میں آپ کی سما عت بنوں گا، جس سے آپ سنتے ہیں، اور آنکھیں .. '
حضرت ابوھریرہ (رضی اللہ عنہ) سے روایت ہے: رسول اللہ (ﷺ) نے ارشاد فرمایا کہ اللہ (عزوجل) کا فرمان ہے: ۔۔۔میرا بندہ نفلی عبادت / خدمت سے میرا قرب حاصل کرتا رہتا ہے یہاں تک کہ میں اس سے محبت کرنے لگتا ہوں، جب میں اس سے محبت کرتا ہوں ، اور جب میں اس سے محبت کرنے لگتا ہوں تو پھر (اس کے نتیجے میں) میں اس کی سماعت بن جاتا ہوں جس سے وہ سنتا ہے، اس کی آنکھ بن جاتا ہوں جس سے وہ دیکھتا ہے۔ حوالہ :صحیح بخاری 6502
| Kuch log practive ( mutharrak amal walay ) kuch reactive ( rad-e-amal walay ) hotay hain. Hum ne guzashta raat bayan kya tha, kuch log woh sirf acha rehna chahtay hain kyunkay woh achay honay se lutaf andoz hotay hain aur yahi woh log hain jo kamyaab hotay hain aur woh bohat pukhtagi se kamyaab hotay hain. Rad-e amal walay, jo ( kehte hain )' aap pehlay mujhe marain aur is ke baad mein jaakar namaz ada karoon ga' aur woh intzaar karte hain ke Allah (AJ) un se sakhti farmaiye' oh ab mein namaz ada karoon ga' phir usay aik aur mushkil paish aati hai :' theek hai mein apne gunaaho se baz aaon ga.' phir usay aik aur mushkil aa padtee hai :' theek hai ab mein apni zakat ( sadqa ) dun ga '. Lehaza yeh log, kisi wajah se aisay hain ke jab tak mushkil paish nah aaye kaam nahi karte aur hamein apni zindagion mein proactive ( mutharrak ) ban'na hai, ke hum Allah (AJ) ki sakhti karne aur sadme aur takleef ke baghair apni zindagi mein agay barheen. hamein is baat ke saboot ki zaroorat nahi ke Allah (AJ) hamaray liye mushkilaat peda farmaiye. lehaza hum acha ban'nay aur naik bande ban'nay ki poori koshish karte hain kyunkay hum mohabbat ke samandar mein daakhil ho rahay hain. Kisi aisay shakhs ka tarz amal jo radday amal par munhasir ho, woh mohabbat se nahi aur un ke liye kuch bhi badla nahi jaye ga kyunkay woh mohabbat se nahi hain. Woh Allah (AJ) ke muntazir hain ke woh inhen saza day, nateejay mein woh apna kirdaar badleen ge, lekin yeh mohabbat nah hui. Woh jo aap se mohabbat karta hai woh jo bhi amal karta hai, be had mohabbat mein doobe ho ye karta hai aur woh apni mohabbat dikhane ke liye mazeed kaam karna chahta hai, aur yahi zaroori hai. jab, yeh ikhlaas ho. . is waqt, Allah (AJ) farmata hai ke tum ne apna wajib ada kya aur ab tum meri taraf razakarana barh rahay hain, yani, tum mohabbat se mere taraf barh rahay ho. Aap ne woh ada kya jo farz tha, mein aap ki sama'aat banon ga, jis se aap suntay hain, aur ankhen.[Hazrat Abu Hurairah (ra) se riwayat hai : Rasul Allah (saws) ne irshad farmaya ke Allah (AJ) ka farmaan hai :. .. mera bandah nafli ibadat / khidmat se mera qurb haasil karta rehta hai yahan tak ke mein is se mohabbat karne lagta hon, jab mein is se mohabbat karta hon, aur jab mein is se mohabbat karne lagta hon to phir ( is ke nateejay mein ) mein is ki samaat ban jata hon jis se woh santa hai, is ki aankh ban jata hon jis se woh daikhta hai. hawala : Sahih al-Bukhari 6502|
Some people are proactive, reactive. We described that the other night, some people they just want to be good because they enjoy being good and those are the ones whom succeed and they succeed very strong. The reactive, is that 'I want you to hit me and then I'm going to go and pray,' and they wait for Allah (AJ) to hit them with the difficulty ' Oh now I'll pray.' Then hit him with another difficulty 'Okay I'll stop my sinning.' Then hit him with another difficulty, 'Okay now I'll give my zakat (charity).' So those people for some reason they don't operate without a difficulty hitting them and we have to become in our lives proactive, that we go over and above without Allah (AJ) hitting and giving trauma and difficulty into our lives. We don't need proof that Allah (AJ) will make difficulty for us so we try our best to be good and to be good servants because we're entering the ocean of love. The character of somebody who's reactive is not from muhabbat (love) and that nothing will change for them because they're not from muhabbat, they're waiting for Allah (AJ) to punish them as a result they'll change their character, but that's not love. The one who loves you he does what he does out of immense love and he wants to do even more to show their love, and that's what's important. When, that's sincerity.. that's when Allah (AJ) says 'You did your wajib (obligatory) and now you're approaching Me with voluntary, means you're coming to Me with love. You did what was mandatory, I'm going to be the hearing in which you hear and the eyes..'
عَنْ أَبِيِ هُرَيْرَةِ رَضِّيَّ اللهُ عَنْهُ قَالَ، قَالَ رَسُولُ اللهِ (ﷺ) : إِنَّ اللهَ تَعَالَىٰ قَالَ:"…وَلَا يَزَالُ عَبْدِي يَتَقَرَّبُ إلَيَّ بِالنَّوَافِلِ حَتَّى أُحِبَّهُ، فَإِذَا أَحْبَبْتُهُ كُنْت سَمْعَهُ الَّذِي يَسْمَعُ بِهِ، وَبَصَرَهُ الَّذِي يُبْصِرُ بِهِ،…"
[اَلمَصْدَرْ: صَحِيحْ الْبُخَارِيُّ – رقم:6502]
'An Abi Hurairah (ra) qala, Qala Rasulullahi (saws) : InnAllaha ta'ala qala: " …, wa la yazaalu 'Abdi yataqarrabu ilayya bin nawafile hatta ahebahu, fa idha ahbabtuhu kunta Sam'ahul ladhi yasma'u behi, wa Basarahul ladhi yubsiru behi, …" (Hadith Qudsi, Sahih al Bukhari, Raqam: 6502)
Narrated by Abu Hurairah (ra) that: the Messenger of Allah (saws) said that: Allah the Almighty said: "…My servant continues to draw near to Me with voluntary acts of worship so that I shall love him. When I love him, I am his hearing with which he hears, his seeing with which he sees…"
[Holy Hadith, Sahih by al-Bukhari, 6502]
جو اللہ (عزوجل) اس آدمی کو بطور تحفہ دے رہا ہے جو محبت کے ساتھ آیا ہے وہ نہیں جس سے سختی کرنی پڑی ، کیونکہ اس نے دعا نہیں مانگی ،ملازمت کھو دی کیونکہ وہ برا کام کررہا تھا ، یہ رد عمل والا ہے۔' پرو ایکٹو ' (متحرک ) بارگاہِ الہی سےبے حد محبت اور بے انتہا محبت کا اظہار کرتا ہے اور یہی وہ کردار ہے جس کی ہم دعا کرتے ہیں کہ اللہ (عزوجل) ہم سب کو عنایت فرمائے انشاء اللہ ۔
|Jo Allah (AJ) is aadmi ko bator tohfa day raha hai jo mohabbat ke sath aaya hai woh nahi jis se sakhti karni pari, kyunkay is ne dua nahi mangi, mulazmat kho di kyunkay woh bura kaam kar raha tha, yeh raday-amal wala hai. Proactive ( mutharrak ) bargaah Illahi se be-had mohabbat aur be-intahaa mohabbat ka izhaar karta hai aur yahi woh kirdaar hai jis ki hum dua karte hain ke Allah (AJ) hum sab ko inayat farmaiye InshaAllah .|
Which Allah (AJ) is giving a gift for the one who came with love not the one who had to get the hit because he didn't pray or lost his job because he was doing bad things, this is reactive. The proactive shows an immense, immense love for the Divinely Presence and this is the character we pray that Allah (AJ) give us all inshaAllah.
یہ بیان اس لنک پر دیکھا جا سکتا ہے
Watch this Bayan on YouTube
https://www.youtube.com/watch?v=AfOsy5tVAYU
اپنے سوالات اور دعا کی درخواست ای میل کیجئے
Ask Your Questions or Need Prayers
Email: helpme@nurmuhammad.com
1/3