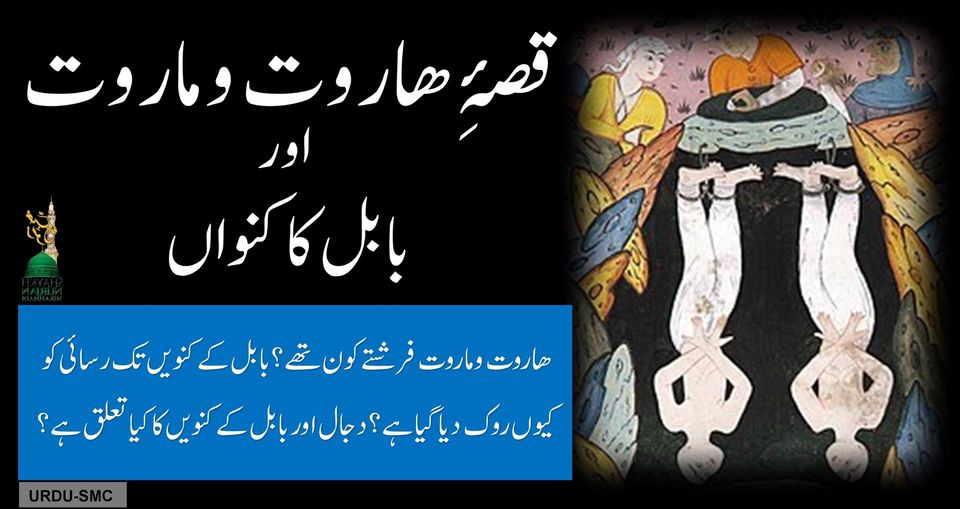 Urdu – سوالات و جوابات: فنا کی حالتیں – ٹھوس، مائع، گیس۔ جنت سے نکالے گئے فرشتے ہاروت …

سوالات و جوابات: فنا کی حالتیں – ٹھوس، مائع، گیس۔ جنت سے نکالے گئے فرشتے ہاروت اور ماروت اور بابل کا کنواں۔ چاند اور اسکے مراحل کے حقائق – سفید اور کالی راتیں۔ خیالوں کی دنیا میں نہ داخل ہوں، اپنے رابطے پر توجہ مرکوز کریں۔ چِلی کے اُن ۳۳ کان کنوں کے ساتھ حقیقت میں کیا ہوا تھا۔ (چھٹا حصہ)
سوال نمبر6: یا سیدی مجھے حقیقت میں ہاروت اور ماروت فرشتوں کی کہانی پوری طرح سے نہیں سمجھ آئی، ان فرشتوں نے انسانوں کے لیے جادو بنایا یا صرف جنات اسے بناتے ہیں؟
𝐒𝐚𝐰𝐚𝐥𝐚𝐭 𝐨 𝐉𝐚𝐯𝐚𝐛𝐚𝐚𝐭: 𝐅𝐚𝐧𝐚𝐚 𝐊𝐢 𝐇𝐚𝐥𝐚𝐭𝐚𝐢𝐧 – 𝐓𝐡𝐨𝐬, 𝐌𝐚𝐲𝐚, 𝐆𝐚𝐬. 𝐉𝐚𝐧𝐧𝐚𝐭 𝐒𝐚𝐲 𝐍𝐢𝐤𝐚𝐥𝐚𝐲 𝐆𝐚𝐲𝐞 𝐅𝐚𝐫𝐢𝐬𝐡𝐭𝐚𝐲 𝐇𝐚𝐫𝐮𝐭 𝐀𝐮𝐫 𝐌𝐚𝐫𝐮𝐭 𝐀𝐮𝐫 𝐁𝐚𝐛𝐮𝐥 𝐊𝐚 𝐊𝐮𝐧𝐰𝐚𝐧. 𝐂𝐡𝐚𝐚𝐧𝐝 𝐀𝐮𝐫 𝐔𝐬𝐤𝐚𝐲 𝐌𝐚𝐫𝐚𝐡𝐢𝐥 𝐊𝐚𝐲 𝐇𝐚𝐪𝐚𝐢𝐪 – 𝐒𝐮𝐟𝐚𝐢𝐝 𝐀𝐮𝐫 𝐊𝐚𝐚𝐥𝐢 𝐑𝐚𝐚𝐭𝐚𝐢𝐧. 𝐊𝐡𝐚𝐲𝐚𝐥𝐨𝐧 𝐊𝐢 𝐃𝐮𝐧𝐢𝐲𝐚 𝐌𝐞𝐢𝐧 𝐍𝐚𝐡 𝐃𝐚𝐚𝐤𝐡𝐢𝐥 𝐇𝐨𝐧, 𝐀𝐩𝐧𝐞 𝐑𝐚𝐚𝐛𝐭𝐞𝐲 𝐏𝐚𝐫 𝐓𝐚𝐰𝐚𝐣𝐚𝐡 𝐌𝐚𝐫𝐤𝐨𝐨𝐳 𝐊𝐚𝐫𝐞𝐧. 𝐂𝐡𝐢𝐥𝐢 𝐊𝐞 𝐔𝐧𝐧 𝟑𝟑 𝐊𝐚𝐚𝐧 𝐊𝐚𝐧𝐨 𝐊𝐚𝐲 𝐒𝐚𝐭𝐡 𝐇𝐚𝐪𝐞𝐞𝐪𝐚𝐭 𝐌𝐞𝐢𝐧 𝐊𝐲𝐚 𝐇𝐮𝐚 𝐓𝐡𝐚. [𝐏𝐀𝐑𝐓-6]
Sawaal: Ya Sayyidi Mujhe Haqeeqat Mein Harut Aur Marut Firshton Ki Kahani Poori Terhan Se Nahi Samajh Aayi, Un Firshton Ne Insanon Ke Liye Jadu Banaya Ya Sirf Jinnat Usay Banatay Hain ?
𝐐&𝐀 𝐒𝐭𝐚𝐠𝐞𝐬 𝐨𝐟 𝐀𝐧𝐧𝐢𝐡𝐢𝐥𝐚𝐭𝐢𝐨𝐧 – 𝐒𝐨𝐥𝐢𝐝, 𝐋𝐢𝐪𝐮𝐢𝐝, 𝐄𝐭𝐡𝐞𝐫𝐞𝐚𝐥. 𝐅𝐚𝐥𝐥𝐞𝐧 𝐀𝐧𝐠𝐞𝐥𝐬 𝐇𝐚𝐫𝐮𝐭 𝐚𝐧𝐝 𝐌𝐚𝐫𝐮𝐭 𝐚𝐧𝐝 𝐭𝐡𝐞 𝐖𝐞𝐥𝐥 𝐨𝐟 𝐁𝐚𝐛𝐞𝐥. 𝐑𝐞𝐚𝐥𝐢𝐭𝐢𝐞𝐬 𝐨𝐟 𝐭𝐡𝐞 𝐦𝐨𝐨𝐧 𝐚𝐧𝐝 𝐢𝐭𝐬 𝐩𝐡𝐚𝐬𝐞𝐬 – 𝐰𝐡𝐢𝐭𝐞 𝐚𝐧𝐝 𝐝𝐚𝐫𝐤 𝐧𝐢𝐠𝐡𝐭𝐬. 𝐃𝐨𝐧'𝐭 𝐞𝐧𝐭𝐞𝐫 𝐰𝐨𝐫𝐥𝐝 𝐨𝐟 𝐢𝐦𝐚𝐠𝐢𝐧𝐚𝐭𝐢𝐨𝐧, 𝐟𝐨𝐜𝐮𝐬 𝐨𝐧 𝐲𝐨𝐮𝐫 𝐜𝐨𝐧𝐧𝐞𝐜𝐭𝐢𝐨𝐧. 𝐖𝐡𝐚𝐭 𝐫𝐞𝐚𝐥𝐥𝐲 𝐡𝐚𝐩𝐩𝐞𝐧𝐞𝐝 𝐰𝐢𝐭𝐡 𝐭𝐡𝐞 𝟑𝟑 𝐂𝐡𝐢𝐥𝐞𝐚𝐧 𝐌𝐢𝐧𝐞𝐫𝐬. [𝐏𝐀𝐑𝐓-6]
𝐐𝐮𝐞𝐬𝐭𝐢𝐨𝐧 : Sayyidi, didn't really fully understand the story of the angels Harut and Marut, those angels created magic for people or just jinns (unseen beings) make it?
——————————————–
——————————————–
شیخ سید نورجان میراحمدی نقشبندی (ق) کی سنہری تعلیمات سے اقتباس۔
بِسْمِ اللَّـهِ الرَّحْمَـٰنِ الرَّحِيمِ
اَلَّھُمَّ صَلِّ عَلَی سَیَّدِنَا محَمَّدٍ ﷺ وَعَلَی آلِ سَیَّدِنَا محَمَّدٍ ﷺ
سوال نمبر6: یا سیدی مجھے حقیقت میں ہاروت اور ماروت فرشتوں کی کہانی پوری طرح سے نہیں سمجھ آئی، ان فرشتوں نے انسانوں کے لیے جادو بنایا یا صرف جنات اسے بناتے ہیں؟
شیخ سید نورجان میراحمدی نقشبندی (ق) : ہاروت اور ماروت؟ حاجی کامران ہالی ووڈ میں بابل کے حقیقت پر مبنی ایک فلم بنانے جا رہے ہیں۔ تواس کی ایک بہت بڑی حقیقت ہے، یہ وہ جگہ ہے جہاں دونوں دریا ملتے ہیں۔ چنانچہ بابل کا یہ کنواں اور ہاروت و ماروت کی حقیقت فرشتوں کی انسانی زندگی کا احترام نہ کرنے کی کہانی تھی جہاں تک اس کی آزمائش کی مشکل ہے۔ کہ عزازیل کی تعلیم کے باقیات نے فرشتوں کے اندر تکبر ڈال دیا، کیونکہ فرشتے پانی اور ٹھوس ہوتے ہیں… اور 'تسک' مستحکم ہوتے ہیں۔ جب انہیں عزازیل نے برے کردار کی تعلیم دی تو ان میں شکوک و شبہات پیدا ہونے لگے جو ان کا کردار نہیں تھا بلکہ انہوں نے استاد کے کردار کو اپنا لیا تھا۔ اسی لیے ہم نے کہا کہ علم… جو کوئی قرآن کی تلاوت کرتا ہے ہاں قرآن خوبصورت ہے، لیکن آپ اس کو (شیخ اُس گلاس کی جانب اشارہ فرماتے ہیں جس میں پانی موجود ہے) اپنانے جا رہے ہوتے ہیں… وہ استاد جو آپ کو اس کی تعلیم دیتا ہے آپ اس کی توانائی اور اس کے کردار کو اپنانے جا رہے ہوتے ہیں۔ اگر اس کا کردار خراب ہے تو یہ خوبصورت قرآن [شیخ نے پیالی میں موجود پانی کی طرف اشارہ کیا] آپ کے منہ سے انتہائی برا نکلے گا کیونکہ آپ استاد کے کردار کو ان کی توانائی سے، ان کے جذبات کے ذریعے پھر وہ جیسے بات کرتے اور سکھاتے ہیں اس کواپنا لیں گے۔ تو فرشتے، عزازیل کے جو شیطان بن گیا اس کے برے کردار کو اپنا رہے تھے۔اور پھر اس بقیہ شک سے جو آسمانوں کے اندر انسانی زندگی کی پیچیدگیوں کو نہ سمجھتے ہوئے پیدا کیا گیا تھا، وہ یہ شکوہ کر رہے تھے کہ "اوہ، یہ انسان گناہ کرتے رہتے ہیں، یہ سب کچھ کرتے ہیں…" اور اللہ (عزوجل) فرماتا ہے کہ کون ہے جو ان کی (انسانوں کی) اپنی زندگی آزمانا چاہتا ہے اور زمین پر جا کر واپس آنا چاہتا ہے؟ میں آپ کو ایک نام عطا کروں گا – اسم اللہ الاعظم (اللہ عزوجل کا سب سے بڑا نام)، آپ اس نام کی تلاوت کریں گے اور آپ اپنی فرشتہ شکل میں واپس آجائیں گےاور آپ اپنی انسانی شکل میں واپس جاسکیں گے۔"
URDU TRANSLITERATION:
Sawal No:6. Ya Sayyidi mujhe haqeeqat mein Harut aur Marut firshton ki kahani poori terhan se nahi samajh aayi, un firshton ne insanon ke liye jadu banaya ya sirf jinnat usay banatay hain ?
Shaykh Syed Nurjan Mirahmadi Naqshbandi ( Q ) :
Harut aur Marut ? Haaji Kamraan hollywood mein babul ke haqeeqat par mabni aik film bananay ja rahay hain. To is ki aik bohat barri haqeeqat hai, yeh woh jagah hai jahan dono darya mlitay hain. Chunancha babul ka yeh kunwan aur Harut o Marut ki haqeeqat firshton ki insani zindagi ka ehtram nah karne ki kahani thi jahan tak is ki azmaish ki mushkil hai. Ke azazeel ki taleem ke baqiyat ne firshton ke andar taqqabur daal diya, kyunkay farishtay pani aur thos hotay hain … aur 'tsk' mustahkam hotay hain. Jab inhen azazeel ne buray kirdaar ki taleem di to un mein shukook o shubhat peda honay lagey jo un ka kirdaar nahi tha balkay unhon ne ustaad ke kirdaar ko apna liya tha. Isi liye hum ne kaha ke ilm … jo koi quran ki tilawat karta hai haan quran khobsorat hai, lekin aap is ko ( Shaykh uss glass ki janib ishara farmatay hain jis mein pani mojood hai ) apnane ja rahay hotay hain … woh ustaad jo aap ko is ki taleem deta hai aap is ki tawanai aur is ke kirdaar ko apnane ja rahay hotay hain. Agar is ka kirdaar kharab hai to yeh khobsorat quran [ Shaykh ne piyali mein mojood pani ki taraf ishara kya ] aap ke mun se intehai bura niklay ga kyunkay aap ustaad ke kirdaar ko un ki tawanai se, un ke jazbaat ke zariye phir woh jaisay baat karte aur sikhate hain is kwapna len ge. To farishtay, azazeel ke jo shetan ban gaya is ke buray kirdaar ko apna rahay thay. Aur phir is baqiya shak se jo asmano ke andar insani zindagi ki pechidgion ko nah samajte hue peda kya gaya tha, woh yeh shikwah kar rahay thay ke "oh, yeh insaan gunah karte rehtay hain, yeh sab kuch karte hain. .. " aur Allah ( azzwajal ) farmata hai ke kon hai jo un ki ( insanon ki ) apni zindagi aazmana chahta hai aur zameen par ja kar wapas aana chahta hai? Mein aap ko aik naam ataa karoon ga – ism Allah alaazm ( Allah azzwajal ka sab se bara naam ), aap is naam ki tilawat karen ge aur aap apni farishta shakal mein wapas ajayeen ge aur aap apni insani shakal mein wapas ja sakain ge. "
ENGLISH TRANSCRIPT:
𝐐𝐮𝐞𝐬𝐭𝐢𝐨𝐧 : Sayyidi, didn't really fully understand the story of the angels Harut and Marut, those angels created magic for people or just jinns (unseen beings) make it?
𝐒𝐡𝐚𝐲𝐤𝐡 𝐍𝐮𝐫𝐣𝐚𝐧 𝐌𝐢𝐫𝐚𝐡𝐦𝐚𝐝𝐢 : The 'Harut and Marut?' We have Hajji Kamran going to be making a movie in Hollywood on the reality of Babylon. So that has an immense reality, that's where the two rivers meet. So this Well of Babel and the reality of Harut and Marut was a story of angels not respecting human life as far as the difficulty that… of its testing. That the remnant of Azazil's teaching put an arrogance within the angels, because the angels are water and solid… and 'Tsk' stable. When they were taught by Azazil in bad character they began to have doubt and question, which wasn't their character but they took on the character of the teacher. That's why we said that the knowledge… anyone reciting Qur'an yes Qur'an is beatific, but you're going to pick up the… [Shaykh taps glass holding water] …the teacher who's teaching it to you, you're going to pick up his energy and his character. If his character is bad this beatific Qur'an [Shaykh points to water in cup] is going to come out really bad through your mouth because you'll pick up the character of the teacher through their energy, through their emotions then through how they talk and they teach. So the angels were picking up the bad character of Azazil who became shaitan (satan). And from this remnant of doubt that was created within the heavens not understanding the complexity of human life, they were doubting that, 'Oh these humans they keep making sins, they make all these things…' and Allah (AJ) say, 'Which one want to try their life and go down to earth and come back. I'll give you a name – Ismullah Al-Azam (The Greatest Name of Allah AJ)), you'll recite that name and you'll come back up into your angelic form and you can go back down into your human form.'
چنانچہ ہاروت اور ماروت نے چیلنج قبول کیا اور وہ زمین پر اترے اور فوراً ہی انہیں اس سے پیار ہو گیا، انہوں نے سوچا کہ یہ حیرت انگیز ہے، انہیں بنی آدم کی عورتوں سے پیار ہوگیا، انہوں نے سوچا کہ یہ حیرت انگیز ہے۔ وہ ایک بار میں گئے اور بار میں انہوں نے ایک خوبصورت عورت کو دیکھا اور کہنے لگے کہ "یہ تو بہت زبردست ہے، یہ تو…'' ہوَّا اور خواہشات نے انہیں اس قدر متاثر کیا، کیونکہ جیسے ہی وہ انسانی شکل میں داخل ہوئے انہوں نے تمام تر انسانی خصوصیات کو اختیار کرلیا، ان کا نفس، ان کی خواہش، وہ سب کچھ جو ان میں نہیں تھا۔ اور یوں وہ سمجھ نہیں پائے۔ جیسے ہی وہ اندر داخل ہوئے وہ خواہشات سے مغلوب ہو گئے جن سے وہ آشنا نہیں تھے اور جن کی انہیں کوئی سمجھ نہیں تھی۔ اور اس طرح انہوں نے ایک خوبصورت عورت کو دیکھا اور وہ عورت ان سے باتیں کرنے لگی اور کہنے لگی، 'آپ میرے ساتھ کیوں نہیں چلتے؟' اور پھر بولے، 'نہیں، نہیں، ہم ایسا نہیں کر سکتے ہمارا تعلق ایک الگ چیز سے ہے۔ ہم ایسا نہیں کرنا چاہتے۔'' ''نہیں، نہیں آؤ'' اور اس کے ساتھ بیٹھ کر پینے لگے اور جیسے ہی وہ شراب کے نشے میں دھت ہوئے اور بات چیت کرنے لگے اور اب اس عورت کے ساتھ چھیڑ چھاڑ کرنا چاہتے تھے تو اس عورت نے کہا "میں چاہتی ہوں کہ تم میرے ساتھ رہو اور میں تمہارے ساتھ رہوں۔ لیکن مجھے تم سے کچھ چاہئے کہ میرا کوئی ہے – ایک شریک حیات – ایک شوہر ہے جسے میں چاہتی ہوں کہ تم اسے مار دو اور اگر تم اسے ماردو گے تو میں تمہارے ساتھ تعلق قائم کروں گی۔" اور وہ اس کی خوبصورتی کے نشے میں اس قدر مست تھے کہ انہوں نے وہی کیا جو اس نے اُن کو کرنے کو کہا – شوہر کو مار ڈالا، عورت کے ساتھ زنا کیا اور فوراً ہی اسم اللہ الاعظم ادا کرنے اور واپس جانے کی کوشش کی [شیخ ہنستے ہیں]، یہ ایک لمبی کہانی کی طرح ہے۔ اور ان کے لئے حیرت انگیز بات یہ تھی کہ اسم اللہ الاعظم نے اس قسم کے گناہ کرنے کے بعد کام نہیں کیا۔ اور اس کے نتیجے میں آسمانوں کے فرشتے کانپ رہے تھے، کہ وہ سمجھ گئے کہ انسانی زندگی مختلف خصوصیات کی حامل ہے جن کو سمجھنے سے فرشتوں کی سمجھ قاصر ہے – ان کو اس قسم کے مسائل کا سامنا نہیں۔
URDU TRANSLITERATION:
Chunancha Harut aur Marut ne challenge qubool kya aur woh zameen par utre aur foran hi inhen is se pyar ho gaya, unhon ne socha ke yeh herat angaiz hai, inhen bani aadam ki aurton se pyar hogaya, unhon ne socha ke yeh herat angaiz hai. Woh aik baar mein gaye aur baar mein unhon ne aik khobsorat aurat ko dekha aur kehnay lagey ke "ih to bohat zabardast hai, yeh to …' ' hawwa aur khwahisaat ne inhen is qader mutasir kya, kyunkay jaisay hi woh insani shakal mein daakhil hue unhon ne tamam tar insani khususiyaat ko ikhtiyar karliya, un ka nafs, un ki khwahish, woh sab kuch jo un mein nahi tha. Aur yun woh samajh nahi paye. Jaisay hi woh andar daakhil hue woh khwahisaat se maghloob ho gaye jin se woh aashna nahi thay aur jin ki inhen koi samajh nahi thi. Aur is terhan unhon ne aik khobsorat aurat ko dekha aur woh aurat un se baatein karne lagi aur kehnay lagi,' aap mere sath kyun nahi chaltay ?' aur phir bolay,' nahi, nahi, hum aisa nahi kar satke hamara talluq aik allag cheez se hai. Hum aisa nahi karna chahtay.' " ' nahi, nahi aao' ' aur is ke sath baith kar peenay lagey aur jaisay hi woh sharaab ke nashay mein dhut hue aur baat cheet karne lagey aur ab is aurat ke sath chairr chhar karna chahtay thay to is aurat ne kaha "main chahti hon ke tum mere sath raho aur mein tumahray sath rahon. Lekin mujhe tum se kuch chahiye ke mera koi hai – aik shareek hayaat – aik shohar hai jisay mein chahti hon ke tum usay maar do aur agar tum usay mardo ge to mein tumahray sath talluq qaim karoon gi. " aur woh is ki khoubsurti ke nashay mein is qader mast thay ke unhon ne wohi kya jo is ne unn ko karne ko kaha – shohar ko maar dala, aurat ke sath zina kya aur foran hi ism Allah alaazm ada karne aur wapas jane ki koshish ki [ Shaykh hanstay hain ], yeh aik lambi kahani ki terhan hai. Aur un ke liye herat angaiz baat yeh thi ke ism Allah alaazm ne is qisam ke gunah karne ke baad kaam nahi kya. Aur is ke nateejay mein asmano ke farishtay kanp rahay thay, ke woh samajh gaye ke insani zindagi mukhtalif khususiyaat ki haamil hai jin ko samajhney se firshton ki samajh qassar hai – un ko is qisam ke masail ka saamna nahi.
ENGLISH TRANSCRIPT:
So Harut and Marut took the challenge and they went down to earth and immediately they loved it, they thought it's amazing, they loved the women of Bani Adam (Children of Adam), they thought, 'This is amazing.' They went to a bar and in the bar they saw a beautiful woman and they say, 'This is so amazing, this…' they were so attracted with the hawa and their desires because as soon as they entered into human form they took on all the human characteristics of their nafs (ego), their desire, everything that they didn't have. And so they didn't understand. As soon as they came in they were overwhelmed with desires they were not familiar with and had no understanding of. And so they saw a beautiful woman and the woman started to talk to them and say, 'Why don't you come and be with me?' And then say, 'No, no we can't we're from a different thing, we don't we don't want to do that.' 'No, no come,' and began to sit and drink with her and as soon as they became intoxicated in alcohol and communicating and wanting now to flirt with this female, she said 'I want you to be with me and I'll be with you but I have one thing from you is I have somebody – a spouse – a husband that I want you to kill and if you kill him then I'll be with you.' And they were so intoxicated, overwhelmed by her beauty that they did what she asked – killed the husband, fornicated with the lady and immediately they tried to make their… the Ismullah Al-Azam and to go back [Shaykh laughs], this is like a long story short. And much to their surprise Ismullah Al-Azam didn't work after you made those types of sins. And as a result the angels within the heavens were trembling, that they understood that the human life is possessed with different qualities that angelic understanding has no understanding about – they don't have those issues.
اور یہ فرشتے زمین پر آئے لیکن ایک دن نہیں گزرا اور انہوں سب کچھ کھو دیا، اور اس کے نتیجے میں وہ زمین پر ہی رہ گئے لیکن آسمانی علم کے ساتھ، اور پھر اللہ عزوجل نے انہیں 'بابل کے کنویں' میں ڈال دیا اور فرمایا کہ 'تمہارا راج اب دنیا میں مزید نہیں چلے گا، تمہیں اب آسمانوں میں داخل ہونے کی مزید اجازت نہیں ہوگی، تم اب زمیں پر ہی قید رہو گے۔'' اور بابل میں ان دو دریاؤں کے قریب جہاں لوگ عراقی جنگ میں گئے تھے، بابل میں ایک کنواں ہے اور اس کنویں میں ان دونوں کو فرشتوں نے الٹا لٹکا رکھا ہے اور انہیں ایک ذریعہ بنا دیا گیا ہے کیونکہ ان کے پاس جو علم تھا وہ ان سے مٹایا نہیں گیا تھا۔ چنانچہ اس کے نتیجے میں وہ اس کنویں میں کالے جادو کا تمام علوم دیتے ہیں اور وہاں جانے والے 'کزنز' میں سے اکثریت اُن لوگوں کی ہے جو اس علم کو حاصل کرکے زمین پر فتنہ پیدا کرتے، رشتوں کو توڑتے اور ہر وہ چیز کرتے ہیں جو گستاخانہ اور اللہ عزوجل کے خلاف ہے۔
URDU TRANSLITERATION:
Aur yeh farishtay zameen par aaye lekin aik din nahi guzra aur unhon sab kuch kho diya, aur is ke nateejay mein woh zameen par hi reh gaye lekin aasmani ilm ke sath, aur phir Allah azzwajal ne inhen' babul ke kunvey' mein daal diya aur farmaya ke' tumhara raaj ab duniya mein mazeed nahi chalay ga, tumhe ab asmano mein daakhil honay ki mazeed ijazat nahi hogi, tum ab zamee par hi qaid raho ge.' ' aur babul mein un do daryaaon ke qareeb jahan log iraqi jung mein gaye thay, babul mein aik kunwan hai aur is kunvey mein un dono ko firshton ne ulta latka rakha hai aur inhen aik zareya bana diya gaya hai kyunkay un ke paas jo ilm tha woh un se mitaya nahi gaya tha. Chunancha is ke nateejay mein woh is kunvey mein kalay jadu ka tamam aloom dete hain aur wahan jane walay 'cousins' mein se aksariyat unn logon ki hai jo is ilm ko haasil karkay zameen par fitnah peda karte, rishton ko torte aur har woh cheez karte hain jo gustakhana aur Allah azzwajal ke khilaaf hai.
ENGLISH TRANSCRIPT:
And these angels came to earth but not a day and lost everything, and as a result they remained on earth but with angelic knowledges, and then Allah (AJ) gave them to the 'Well of Babel' and said that, 'Your dominion will no longer be on earth, you'll be no longer allowed to enter into the heavens, you'll be sanctioned to earth.' And in Babylon near the two rivers where they went into the Iraqi war there's a well in Babylon and in that well these two are been put by angels upside down and they were made a source because the knowledge they have wasn't wiped from them. So as a result they give all black magic knowledges in that well and majority of people who go there from 'Cousins' they go to take that knowledge to do fitna (confusion) on earth, breaking relationships and everything that is blasphemous and against Allah (AJ).
وَاتَّبَعُوا مَا تَتْلُو الشَّيَاطِينُ عَلَىٰ مُلْكِ سُلَيْمَانَ ۖ وَمَا كَفَرَ سُلَيْمَانُ وَلَـٰكِنَّ الشَّيَاطِينَ كَفَرُوا يُعَلِّمُونَ النَّاسَ السِّحْرَ وَمَا أُنزِلَ عَلَى الْمَلَكَيْنِ بِبَابِلَ هَارُوتَ وَمَارُوتَ ۚ وَمَا يُعَلِّمَانِ مِنْ أَحَدٍ حَتَّىٰ يَقُولَا إِنَّمَا نَحْنُ فِتْنَةٌ فَلَا تَكْفُرْ ۖ فَيَتَعَلَّمُونَ مِنْهُمَا مَا يُفَرِّقُونَ بِهِ بَيْنَ الْمَرْءِ وَزَوْجِهِ ۚ ﴿١٠٢﴾
"اور انہوں نے [اس کے بجائے] اس کی پیروی کی جو سلیمان علیہ السلام کے دور میں شیاطین نے پڑھی تھی۔ یہ سلیمان علیہ السلام نہیں تھے جنہوں نے کفر کیا تھا بلکہ شیاطین نے کفر کیا تھا، جو لوگوں کو جادو اور وہ جو دو فرشتوں ہاروت اور ماروت پر بابل میں نازل ہوا تھا سکھاتے تھے۔ لیکن دونوں فرشتے کسی کو اس وقت تک نہیں سکھاتے جب تک یہ نہ کہیں کہ ہم ایک آزمائش ہیں، لہٰذا تم (جادو کرکے) کفر نہ کرو۔ اور وہ ان سے وہ کچھ سیکھتے ہیں جس سے وہ مرد اور اس کی بیوی کے درمیان جدائی کا باعث بنتے ہیں…" (البقرہ، 2:102)
تو یہ ان کے لیے ایک اہم اقدام تھا، اس لیے جب وہ اس حقیقت میں جانا چاہتے تھے اور ان کی عراقی جنگیں بابل کے کنویں کو محفوظ کرنے اور اس کے کالے جادو کو حاصل کرنے کے لئے تھیں۔ تو درحقیقت اگر آپ اس پر تحقیق کریں تو آپ کو پتہ چلے گا کہ وہ فوراً اندر آئے اور اس پورے خطے کو بند کر دیا اور کسی کو بھی اس علاقے میں داخل ہونے کی اجازت نہیں۔ اور کالے جادو کے حصول کیلئے اور اپنے "تعلیم یافتہ لوگوں" کیلئے کہ جو اُس کالے جادو کی سمجھ چاہتے ہیں جو اس کنویں سے آج تک حاصل کیا جا رہا ہے، وہاں خصوصی پروازیں اس کنویں کی جانب آتی جاتی ہیں۔ یہ اُن حالیہ واقعات میں سے ہے جو دنیا میں رونما ہو رہے ہیں – تاکہ اس کنویں کو محفوظ کیا جاسکے اور اپنے "تعلیم یافتہ لوگوں" کو دجال کی آمد کے لیے یہ جادو سکھایا جا سکے۔
انشاء اللہ.
URDU TRANSLITERATION:
"Aur unhon ne [ is ke bajaye ] is ki pairwi ki jo Sulaiman (as) ke daur mein shayateen ne parhi thi. Yeh Sulaiman (as) nahi thay jinhon ne kufar kya tha balkay shayateen ne kufar kya tha, jo logon ko jadu aur woh jo do firshton Harut aur Marut par babul mein nazil hwa tha sikhate thay. Lekin dono farishtay kisi ko is waqt tak nahi sikhate jab tak yeh nah kahin ke hum aik azmaish hain, lehaza tum ( jadu karkay ) kufar nah karo. Aur woh un se woh kuch seekhnay hain jis se woh mard aur is ki biwi ke darmiyan judai ka baais bantay hain. .." ( al-baqrah, 2 : 102 )
To yeh un ke liye aik ahem iqdaam tha, is liye jab woh is haqeeqat mein jana chahtay thay aur un ki iraqi jaanghein babul ke kunvey ko mehfooz karne aur is ke kalay jadu ko haasil karne ke liye theen. To dar haqeeqat agar aap is par tehqeeq karen to aap ko pata chalay ga ke woh foran andar aaye aur is poooray khittay ko band kar diya aur kisi ko bhi is ilaqay mein daakhil honay ki ijazat nahi. Aur kalay jadu ke husool ke liye aur apne "taleem yafta logo" ke liye ke jo uss kalay jadu ki samajh chahtay hain jo is kunvey se aaj tak haasil kya ja raha hai, wahan khusoosi parwazein is kunvey ki janib aati jati hain. Yeh unn haliya waqeat mein se hai jo duniya mein runuma ho rahay hain – taakay is kunvey ko mehfooz kya jasakay aur apne "taleem yafta logo" ko Dajjal ki aamad ke liye yeh jadu sikhaya ja sakay. InshAllah.
ENGLISH TRANSCRIPT:
وَاتَّبَعُوا مَا تَتْلُو الشَّيَاطِينُ عَلَىٰ مُلْكِ سُلَيْمَانَ ۖ وَمَا كَفَرَ سُلَيْمَانُ وَلَـٰكِنَّ الشَّيَاطِينَ كَفَرُوا يُعَلِّمُونَ النَّاسَ السِّحْرَ وَمَا أُنزِلَ عَلَى الْمَلَكَيْنِ بِبَابِلَ هَارُوتَ وَمَارُوتَ ۚ وَمَا يُعَلِّمَانِ مِنْ أَحَدٍ حَتَّىٰ يَقُولَا إِنَّمَا نَحْنُ فِتْنَةٌ فَلَا تَكْفُرْ ۖ فَيَتَعَلَّمُونَ مِنْهُمَا مَا يُفَرِّقُونَ بِهِ بَيْنَ الْمَرْءِ وَزَوْجِهِ ۚ ﴿١٠٢﴾
2:102 – "Wattaba'oo maa tatlush Shayaateenu 'alaa mulki Sulaimaana, wa maa kafara Sulaimaanu wa laakinnash Shayatteena kafaroo, yu'al limoonan naasas sihra wa maaa unzila 'alal malakayni bi Baabila Haaroota wa Maaroot; wa maa yu'allimaani min ahadin hattaa yaqoolaa, innamaa nahnu fitnatun falaa takfur; fayata'al lamoona minhumaa maa yufarriqoona bihee baynal maryi wa zawjih…" (Surat Al-Baqarah)
"And they followed [instead] what the devils had recited during the reign of Solomon. It was not Solomon who disbelieved, but the devils disbelieved, teaching people magic and that which was revealed/came down to the two angels Harut and Marut, at Babylon. But the two angels do not teach anyone unless they say, "We are a trial, so do not disbelieve [by practicing magic]." And [yet] they learn from them that by which they cause separation between a man and his wife…" (The Cow, 2:102)
So that was an important move for them, so when they wanted to go into that reality and their Iraqi wars was about securing the Well of Babel and to take its black magic out. So as a matter of fact if you research it – they immediately came in and closed off that whole region and nobody was allowed to enter in that region and there were special flights going back and forth into that well to achieve and to give their people and their 'learned ones' who wanted understanding of black magic they were receiving that from that well till… till now. This is the most recent events that have been happening in the world – was to secure that well and to teach their 'learned ones' these magic for the arrival of dajjal (man of deceit). InshaAllah.
———————————–
حصہ اول:
Part-1
https://www.facebook.com/…/a.130668968…/763882658336210/
حصہ دوم:
Part-2
حصہ سوم:
Part-3:
حصہ چہارم:
Part-4:
حصہ پنجم:
Part-5:
https://web.facebook.com/SMCURDU/photos/783716143019528
یہ بیان یوٹیوب پر دیکھنے کیلئے
Watch this Bayan on youtube:
https://youtu.be/wAca7jPSJj4.
اس آرٹیکل کو انگلش میں پڑھنے کیلئے
𝐐&𝐀 𝐒𝐭𝐚𝐠𝐞𝐬 𝐨𝐟 𝐀𝐧𝐧𝐢𝐡𝐢𝐥𝐚𝐭𝐢𝐨𝐧 – 𝐒𝐨𝐥𝐢𝐝, 𝐋𝐢𝐪𝐮𝐢𝐝, 𝐄𝐭𝐡𝐞𝐫𝐞𝐚𝐥. 𝐅𝐚𝐥𝐥𝐞𝐧 𝐀𝐧𝐠𝐞𝐥𝐬 𝐇𝐚𝐫𝐮𝐭 𝐚𝐧𝐝 𝐌𝐚𝐫𝐮𝐭 𝐚𝐧𝐝 𝐭𝐡𝐞 𝐖𝐞𝐥𝐥 𝐨𝐟 𝐁𝐚𝐛𝐞𝐥. 𝐑𝐞𝐚𝐥𝐢𝐭𝐢𝐞𝐬 𝐨𝐟 𝐭𝐡𝐞 𝐦𝐨𝐨𝐧 𝐚𝐧𝐝 𝐢𝐭𝐬 𝐩𝐡𝐚𝐬𝐞𝐬 – 𝐰𝐡𝐢𝐭𝐞 𝐚𝐧𝐝 𝐝𝐚𝐫𝐤 𝐧𝐢𝐠𝐡𝐭𝐬. 𝐃𝐨𝐧'𝐭 𝐞𝐧𝐭𝐞𝐫 𝐰𝐨𝐫𝐥𝐝 𝐨𝐟 𝐢𝐦𝐚𝐠𝐢𝐧𝐚𝐭𝐢𝐨𝐧, 𝐟𝐨𝐜𝐮𝐬 𝐨𝐧 𝐲𝐨𝐮𝐫 𝐜𝐨𝐧𝐧𝐞𝐜𝐭𝐢𝐨𝐧. 𝐖𝐡𝐚𝐭 𝐫𝐞𝐚𝐥𝐥𝐲 𝐡𝐚𝐩𝐩𝐞𝐧𝐞𝐝 𝐰𝐢𝐭𝐡 𝐭𝐡𝐞 𝟑𝟑 𝐂𝐡𝐢𝐥𝐞𝐚𝐧 𝐌𝐢𝐧𝐞𝐫𝐬.
https://www.facebook.com/…/a.16933514…/4932661430156942/
یو ٹیوب چینل ابھی سبسکرایب کیجئے
Subscribe Now: The Muhammadan Way Sufi Realities
Www.youtube.com/channel/UC4E8QX7OgwYDgyuuXTBMrcg
شیخ سید نور جان میر احمدی نقشبندی (ق) کا آفشیل فیس بک پیج لائک کیجئے
Official Page: Shaykh Nurjan Mirahmadi
Https://www.facebook.com/shaykhnurjanmirahmadi/
►𝐀𝐧𝐝𝐫𝐨𝐢𝐝 𝐀𝐩𝐩: https://play.google.com/store/apps/details…
► 𝐢𝐏𝐡𝐨𝐧𝐞 𝐀𝐩𝐩: https://apps.apple.com/us/app/muhammadan-way/id1244297852
► 𝐒𝐨𝐮𝐧𝐝𝐂𝐥𝐨𝐮𝐝: https://soundcloud.com/muhammadanway
► 𝐃𝐨𝐧𝐚𝐭𝐞 (𝐏𝐀𝐊𝐈𝐒𝐓𝐀𝐍 𝐚𝐧𝐝 𝐖𝐎𝐋𝐑𝐃𝐖𝐈𝐃𝐄) : https://nurmuhammad.com/donate
Please Subscribe and Share