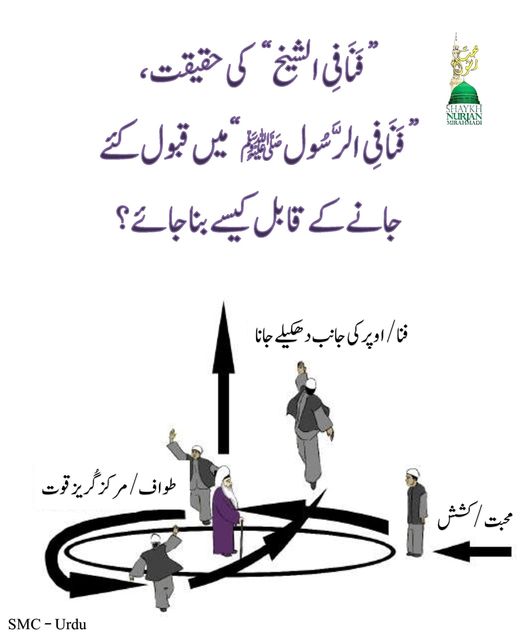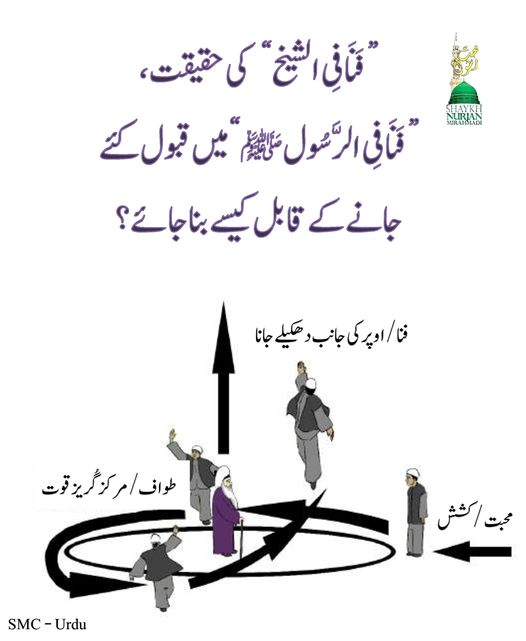 Urdu – سوالات و جوابات : فنا کی حالتیں – ٹھوس، مائع، گیس۔ جنت سے نکالے گئے فرشتے ہاروت …

سوالات و جوابات : فنا کی حالتیں – ٹھوس، مائع، گیس۔ جنت سے نکالے گئے فرشتے ہاروت اور ماروت اور بابل کا کنواں۔ چاند اور اسکے مراحل کے حقائق – سفید اور کالی راتیں۔ خیالوں کی دنیا میں نہ داخل ہوں، اپنے رابطے پر توجہ مرکوز کریں۔ چِلی کے اُن ۳۳ کان کنوں کے ساتھ حقیقت میں کیا ہوا تھا۔ (حصہ پنجم)
سوال نمبر 5 : برائے مہربانی کیا آپ فنافی الشیخ کی حقیقت کی وضاحت فرما سکتے ہیں اور یہ کہ فنافی الرسول اللہ صلی اللہ علیہ وسلم میں قبول کئے جانے کے کیسے قابل بنا جائے؟
𝐒𝐚𝐰𝐚𝐥𝐚𝐭 𝐨 𝐉𝐚𝐯𝐚𝐛𝐚𝐚𝐭: 𝐅𝐚𝐧𝐚𝐚 𝐊𝐢 𝐇𝐚𝐥𝐚𝐭𝐚𝐢𝐧 – 𝐓𝐡𝐨𝐬, 𝐌𝐚𝐲𝐚, 𝐆𝐚𝐬. 𝐉𝐚𝐧𝐧𝐚𝐭 𝐒𝐚𝐲 𝐍𝐢𝐤𝐚𝐥𝐚𝐲 𝐆𝐚𝐲𝐞 𝐅𝐚𝐫𝐢𝐬𝐡𝐭𝐚𝐲 𝐇𝐚𝐫𝐮𝐭 𝐀𝐮𝐫 𝐌𝐚𝐫𝐮𝐭 𝐀𝐮𝐫 𝐁𝐚𝐛𝐮𝐥 𝐊𝐚 𝐊𝐮𝐧𝐰𝐚𝐧. 𝐂𝐡𝐚𝐚𝐧𝐝 𝐀𝐮𝐫 𝐔𝐬𝐤𝐚𝐲 𝐌𝐚𝐫𝐚𝐡𝐢𝐥 𝐊𝐚𝐲 𝐇𝐚𝐪𝐚𝐢𝐪 – 𝐒𝐮𝐟𝐚𝐢𝐝 𝐀𝐮𝐫 𝐊𝐚𝐚𝐥𝐢 𝐑𝐚𝐚𝐭𝐚𝐢𝐧. 𝐊𝐡𝐚𝐲𝐚𝐥𝐨𝐧 𝐊𝐢 𝐃𝐮𝐧𝐢𝐲𝐚 𝐌𝐞𝐢𝐧 𝐍𝐚𝐡 𝐃𝐚𝐚𝐤𝐡𝐢𝐥 𝐇𝐨𝐧, 𝐀𝐩𝐧𝐞 𝐑𝐚𝐚𝐛𝐭𝐞𝐲 𝐏𝐚𝐫 𝐓𝐚𝐰𝐚𝐣𝐚𝐡 𝐌𝐚𝐫𝐤𝐨𝐨𝐳 𝐊𝐚𝐫𝐞𝐧. 𝐂𝐡𝐢𝐥𝐢 𝐊𝐞 𝐔𝐧𝐧 𝟑𝟑 𝐊𝐚𝐚𝐧 𝐊𝐚𝐧𝐨 𝐊𝐚𝐲 𝐒𝐚𝐭𝐡 𝐇𝐚𝐪𝐞𝐞𝐪𝐚𝐭 𝐌𝐞𝐢𝐧 𝐊𝐲𝐚 𝐇𝐮𝐚 𝐓𝐡𝐚. [𝐏𝐀𝐑𝐓-5]
𝑆𝑎𝑤𝑎𝑙 𝑁𝑜: 5 – Meharbani Farma Kar Aap Fana Fis-Shaykh Ki Haqeeqat Bayan Kar Satke Hain Aur Yeh Ke Fana Fir-Rasool (S) Me Qubool Kiye Janay K Qabil Kesay Bana Jaye?
𝐐&𝐀 𝐒𝐭𝐚𝐠𝐞𝐬 𝐨𝐟 𝐀𝐧𝐧𝐢𝐡𝐢𝐥𝐚𝐭𝐢𝐨𝐧 – 𝐒𝐨𝐥𝐢𝐝, 𝐋𝐢𝐪𝐮𝐢𝐝, 𝐄𝐭𝐡𝐞𝐫𝐞𝐚𝐥. 𝐅𝐚𝐥𝐥𝐞𝐧 𝐀𝐧𝐠𝐞𝐥𝐬 𝐇𝐚𝐫𝐮𝐭 𝐚𝐧𝐝 𝐌𝐚𝐫𝐮𝐭 𝐚𝐧𝐝 𝐭𝐡𝐞 𝐖𝐞𝐥𝐥 𝐨𝐟 𝐁𝐚𝐛𝐞𝐥. 𝐑𝐞𝐚𝐥𝐢𝐭𝐢𝐞𝐬 𝐨𝐟 𝐭𝐡𝐞 𝐦𝐨𝐨𝐧 𝐚𝐧𝐝 𝐢𝐭𝐬 𝐩𝐡𝐚𝐬𝐞𝐬 – 𝐰𝐡𝐢𝐭𝐞 𝐚𝐧𝐝 𝐝𝐚𝐫𝐤 𝐧𝐢𝐠𝐡𝐭𝐬. 𝐃𝐨𝐧'𝐭 𝐞𝐧𝐭𝐞𝐫 𝐰𝐨𝐫𝐥𝐝 𝐨𝐟 𝐢𝐦𝐚𝐠𝐢𝐧𝐚𝐭𝐢𝐨𝐧, 𝐟𝐨𝐜𝐮𝐬 𝐨𝐧 𝐲𝐨𝐮𝐫 𝐜𝐨𝐧𝐧𝐞𝐜𝐭𝐢𝐨𝐧. 𝐖𝐡𝐚𝐭 𝐫𝐞𝐚𝐥𝐥𝐲 𝐡𝐚𝐩𝐩𝐞𝐧𝐞𝐝 𝐰𝐢𝐭𝐡 𝐭𝐡𝐞 𝟑𝟑 𝐂𝐡𝐢𝐥𝐞𝐚𝐧 𝐌𝐢𝐧𝐞𝐫𝐬. [𝐏𝐀𝐑𝐓-5]
𝑄𝑢𝑒𝑠𝑡𝑖𝑜𝑛 𝑁𝑜: 5- Can you please expand on the reality behind annihilation of oneself for the shaykh and how to be accepted into the annihilation of the Prophet ﷺ?
——————————————–
——————————————–
شیخ سید نورجان میراحمدی نقشبندی (ق) کی سنہری تعلیمات سے اقتباس۔
بِسْمِ اللَّـهِ الرَّحْمَـٰنِ الرَّحِيمِ
اَلَّھُمَّ صَلِّ عَلَی سَیَّدِنَا محَمَّدٍ ﷺ وَعَلَی آلِ سَیَّدِنَا محَمَّدٍ ﷺ
سوال نمبر 5 : برائے مہربانی کیا آپ فنافی الشیخ کی حقیقت کی وضاحت فرما سکتے ہیں اور یہ کہ فنافی الرسول اللہ صلی اللہ علیہ وسلم میں قبول کئے جانے کے کیسے قابل بنا جائے؟
شیخ سید نورجان میراحمدی نقشبندی (ق) :
ہاں فنا کا مقام یہ ہے کہ مِٹ جایا جائے۔ تو یہ تینوں مراحل ہمیشہ جاری رہتے ہیں – ہم میں ایک محبت موجود ہو، ہمیں حضوری حاصل ہو اور پھر فنا۔ لہذا ہر چیز میں محبت اور عشق کی ضرورت ہوتی ہے کیونکہ آپ شیخ کے ساتھ اپنے سر کے ذریعے رشتہ نہیں بنا سکتے۔ ٹھیک ہے؟ آپ محض یہ نہیں کہہ سکتے، 'میں آپ سے پیار کرتا ہوں' لیکن اس کا۔۔۔ اس کا کوئی مقصد نہیں۔ چنانچہ وہ جانتے ہیں کہ ہمارے رابطے کا راز محبت ہونا چاہئے، نہ کہ آپ کے سر سے کہ جس میں مَیں صرف یہ کہتا ہوں، 'میں آپ سے پیار کرتا ہوں، میں آپ سے محبت کرتا ہوں، میں آپ سے پیار کرتا ہوں' – یہی آج کی گفتگو (آج کی صحبت) تھی۔ تو پھر آپ دیں! تحفہ، صدقہ نہیں ہوتا۔ پھر آپ اپنی زکوٰۃ دیتے ہیں، پھر آپ اپنا تعاون فراہم کرتے ہیں، پھر آپ اپنی خدمت پیش کرتے ہیں اور لِنکس۔۔۔ اور شیخ کو ہر جگہ آپ کا نام نظر آنے لگتا ہے۔ وہ ہر آنے والے تحفے کو دیکھتے ہیں کہ کوئی شیخ کو اُن کے اور اُن کے خاندان کے لیے تحفہ بھیج رہا ہے، وہ ان لنکس کو دیکھتے ہیں جن کو آپ شئیر کر رہے ہوتے ہیں، وہ ان تمام سرگرمیوں کو دیکھتے ہیں جو آپ کر رہے ہوتے ہیں، تو یقیناً اب شیخ اس شخص سے محبت کرنے لگتے ہیں کیونکہ وہ شخص فعال ہے اور وہ حمایت کر رہا ہے۔ اسی لیے ہم نے کہا کہ صرف یہ کہنا کہ، 'اوہ میرے لیے دعا فرمائیں، میرے لیے دعا کریں' یہ ایسا ہے جیسے کوئی آئے اور جادو کی پھلیاں لے جائے۔ ایسا اس کمیونٹی میں کام نہیں کرتا کیونکہ شیخ وہاں کے کسی بھی تیز آدمی سے کہیں زیادہ تیز ہوتے ہیں، اور آپ جانتے ہیں کہ ہم بہت سی لومڑیوں کا سامنا کرتے رہتے ہیں، وہ سمجھتے ہیں کہ وہ بہت چالاک ہیں لیکن ہم ہر لومڑی کو پیچھے چھوڑ دیتے ہیں کیونکہ یہی حکمت اور دانشمندی ہے جو اللہ عزوجل عطا کرتا ہے۔ آپ چرواہے کے بارے میں جانتے ہیں کہ وہ لومڑی کے کردار سے بخوبی آگاہ ہوتا ہے اور یہ کہ لومڑی کہاں چھپی ہوئی ہے۔ تو اس کا مطلب یہ ہے کہ ہمارے طریقة میں… اسی لیے وہ خدمت پر زور دیتے رہتے ہیں، خدمت پر زور دیتے ہیں، اس لیے کہ شیخ کو ان کے شیخ نے جادو کی پھلیاں دی ہوتی ہیں، اگر کوئی ان پھلیوں میں سے لے کر اُگائے تو اس کی ساری زندگی بدل جائے گی۔
URDU TRANSLITERATION:
Shaykh Syed Nurjan Mirahmadi Naqshbndi (Q) :
Haan fanaa ka maqam yeh hai ke mِt jaya jaye. To yeh tenu marahil hamesha jari rehtay hain – hum mein aik mohabbat mojood ho, hamein huzoori haasil ho aur phir fanaa. Lehaza har cheez mein mohabbat aur ishhq ki zaroorat hoti hai kyunkay aap Shaykh ke sath apne sir ke zariye rishta nahi bana satke. Theek hai? Aap mehez yeh nahi keh satke,' mein aap se pyar karta hon' lekin is ka. .. Is ka koi maqsad nahi. Chunancha woh jantay hain ke hamaray raabtey ka raaz mohabbat hona chahiye, nah ke aap ke sir se ke jis mein mein sirf yeh kehta hon,' mein aap se pyar karta hon, mein aap se mohabbat karta hon, mein aap se pyar karta hon' – yahi aaj ki guftagu ( aaj ki sohbat ) thi. To phir aap den! Tohfa, sadqa nahi hota. Phir aap apni zakat dete hain, phir aap apna ta'awun faraham krtay hain, phir aap apni khidmat paish karte hain aur lِinks. .. Aur Shaykh ko har jagah aap ka naam nazar anay lagta hai. Woh har anay walay tohfay ko dekhte hain ke koi Shaykh ko unn ke aur unn ke khandan ke liye tohfa bhaij raha hai, woh un links ko dekhte hain jin ko aap share kar rahay hotay hain, woh un tamam sar garmion ko dekhte hain jo aap kar rahay hotay hain, to yaqeenan ab Shaykh is shakhs se mohabbat karne lagtay hain kyunkay woh shakhs fa-aal hai aur woh himayat kar raha hai. Isi liye hum ne kaha ke sirf yeh kehna ke,' oh mere liye dua farmaen, mere liye dua karen' yeh aisa hai jaisay koi aaye aur jadu ki phalian le jaye. Aisa is community mein kaam nahi karta kyunkay Shaykh wahan ke kisi bhi taiz aadmi se kahain ziyada taiz hotay hain, aur aap jantay hain ke hum bohat si lomriyon ka saamna karte rehtay hain, woh samajte hain ke woh bohat chalaak hain lekin hum har lomri ko peechay chore dete hain kyunkay yahi hikmat aur danishmandi hai jo Allah azzwajal ataa karta hai. Aap charwahay ke baray mein jantay hain ke woh lomri ke kirdaar se bakhoobi aagah hota hai aur yeh ke lomri kahan chhupi hui hai. To is ka matlab yeh hai ke hamaray tariqah mein … isi liye woh khidmat par zor dete rehtay hain, khidmat par zor dete hain, is liye ke Shaykh ko un ke Shaykh ne jadu ki phalian di hoti hain, agar koi un phaliyo mein se le kar ugaye to is ki saari zindagi badal jaye gi .
ENGLISH TRANSCRIPT:
𝐐𝐮𝐞𝐬𝐭𝐢𝐨𝐧 : Can you please expand on the reality behind annihilation of oneself for the shaykh and how to be accepted into the annihilation of the Prophet ﷺ?
𝐒𝐡𝐚𝐲𝐤𝐡 𝐍𝐮𝐫𝐣𝐚𝐧 𝐌𝐢𝐫𝐚𝐡𝐦𝐚𝐝𝐢 : Yeah the station of annihilation is a fana. So these three stages are always continuous – we have to have a muhabbat (love), we have a hudur (presence) and then the fana (annihilation). So everything requires a muhabbat and love because you can't make the bond with the shaykh through your head. Right? You can't say, 'I love you' but that… that doesn't mean anything. So they know that the secret for us to connect has to be love, not through your head I just say, 'I love you, I love you, I love you,' – that was the talk today. So then you give, gift is not sadaqah (charity). Then you give your zakat (charity), then you give your support, then you give your khidmat (service) and links and the shaykh begins to see your name everywhere. He sees every gift that's coming in. That somebody's giving the shaykh a gift for him and his family, he sees the links that you're supporting, he sees all the activities you're doing, so of course then now the shaykh is loving that person because they're active and they're supporting. That's why we said just telling, 'Oh make du'a for me, make du'a for me' that's somebody coming and taking the magic beans. That doesn't work in this community because shaykhs are far sharper than any sharp person out there, and you know we deal with a lot of foxes, they think they're very clever but we outfox every fox because this is the hikmah and wisdom that Allah (AJ) gives. You know for the shepherd he knows where the fox is hiding and the character of a fox. So means that our way… that's why they keep pushing the khidmat – they keep pushing the service is because the shaykh has been given by his shaykh like magic beans, if anyone takes from these beans and plant them their whole life is going to change.
تو کیسے… ہر کوئی آنا چاہتا ہے اور چوری کرنا چاہتا ہے، صرف پانچ سیکنڈ کے لیے سامنے آنا چاہتا ہے کہ ایک پھلی لے لو اور بھاگو۔ وہ شیخ بھلا ایسا کیوں کریں گے؟ کیونکہ وہ تو اسے آپ کے گھر کے آنگن میں اُگانا چاہتے ہیں اور وہ آ کر اس کے پھل لیں گے۔ کیونکہ وہ آپ کو جانتے ہیں، اس لیے وہ چاہتے ہیں کہ آپ پھلیاں لیں تاکہ جب پھل آئے تو وہ آئیں اور کہیں، ' میرے حصے کے پھل کہاں ہیں؟' تاکہ ان کے پاس اور زیادہ پھلیاں ہوں۔ ورنہ اگر ان کے پاس 10 پھلیاں ہوں، تو یہ بہت منطقی اور سائنسی بات ہے، کیونکہ اگر ان کے شیخ انہیں 10 پھلیاں دے کر کہیں کہ 'بیٹا ان کو اچھی طرح لگاؤ،" تو میں کہتا ہوں، "انشاء اللہ۔" ہم ذکر الٰہی، ذکر، محفلِ ذکر منعقد کرتے ہیں، ہمیں دس مخلص لوگ ملتے ہیں، میں کہتا ہوں، 'ایک (پھلی) آپ کے لیے، ایک آپ کے لیے، ایک آپ کے لیے، ایک آپ کے لیے،' اور وہ پیار سے واپس چلے جاتے ہیں اور وہ اپنی زندگی میں اس محبت کو بوتے ہیں اور یہ دس لوگ بہت خوشحال ہو جاتے ہیں۔ انہوں نے کیا کِیا؟ کیونکہ آپ جانتے تھے کہ وہ عاشقین تھے یقیناً وہ یہ کہیں گے کہ 'ہمارے پاس بڑی فصل پیدا ہوئی ہے اور شیخ یہ والی آپ کی خدمت میں پیش ہے۔' اور اب ہو سکتا ہے کہ شیخ کے پاس 50 پھلیاں ہو جائیں۔ تو وہ ان کو وصول کرتے ہیں اور پھر وہ مزید مخلص لوگوں کی تلاش کرتے ہیں اور وہ انہیں دیتے ہیں، وہ انہیں دیتے، انہیں دیتے ہیں انہیں وہ راز عطا کرتے ہیں۔ اور وہ لوگ پودا لگاتے ہیں اور سو پھلیاں ان کو واپس موصول ہوتی ہیں۔ تو اس کا مطلب یہ ہوا کہ یہ پھلیاں بڑھتی رہتی ہیں – یعنی ہر پہلو سے طالب علم کی زندگی کی خوشحالی، چاہے ان کی مہارت ہو ان کا مال ہو ان کا کردار ہو، وہ کئی طریقوں سے خدمت کرنے لگیں گے اور وہ واپس آتے ہیں اور یہی چیز ہے جو طریقة کو مضبوط بناتی ہے۔ لیکن کوئی اگر شخص "ڈرائیو تھرو" کے ذریعے انہیں لے جانا چاہتا ہے تو وہ شیخ اُن دس پھلیوں کو کھو دیں گے جو ان کے شیخ نے انہیں عطا کی تھیں اور وہ فرمائیں گے کہ، 'آپ نے اسے اس طرح استعمال کیا؟ آپ نے اسے بس ایسے ہی دے دیا، اور اب آپ واپس آکر ہم سے مزید مانگ رہے ہیں؟'' یا عقلمند شیخ اور اُن کے… پھر وہ اپنے شیخ سے یہ درجہ پاتے ہیں کہ ''ذرا دیکھو! ہم نے اس کو (پھلیاں) دیں اس نے ایک باغ لگایا اور اب ہزاروں لوگ اندر داخل ہو رہے ہیں۔ اس کے پاس ہر جگہ سے لوگ موجود ہیں جو تعاون کر رہے ہیں، مضامین لکھ رہے ہیں۔' آپ جانتے ہیں کہ ہمارے پاس مضامین اور کتابوں کے 60 سے زائد مترجم موجود ہیں جو ہمارے سافٹ ویئر اور مینجمنٹ کے تحت ہیں۔
URDU TRANSLITERATION:
To kaisay … har koi aana chahta hai aur chori karna chahta hai, sirf paanch second ke liye samnay aana chahta hai ke aik phali le lo aur bhago. Woh sheikh bhala aisa kyun karen ge? Kyunkay woh to usay aap ke ghar ke aangan mein ugana chahtay hain aur woh aa kar is ke phal len ge. Kyunkay woh aap ko jantay hain, is liye woh chahtay hain ke aap phalian len taakay jab phal aaye to woh ayen aur kahain,' mere hissay ke phal kahan hain ?' Taakay un ke paas aur ziyada phalian hon. Warna agar un ke paas 10 phalian hon, to yeh bohat mantaqi aur scienci baat hai, kyunkay agar un ke sheikh inhen 10 phalian day kar kahain ke' beta un ko achi terhan lagao, " to mein kehta hon, "InshAllah . " Hum zikar ellahi, zikar, mehfil zikar munaqqid karte hain, hamein das mukhlis log mlitay hain, mein kehta hon,' aik ( phali ) aap ke liye, aik aap ke liye, aik aap ke liye, aik aap ke liye,' aur woh pyar se wapas chalay jatay hain aur woh apni zindagi mein is mohabbat ko botay hain aur yeh das log bohat khushaal ho jatay hain. Unhon ne kya kiya? Kyunkay aap jantay thay ke woh ashiqeen thay yaqeenan woh yeh kahain ge ke' hamaray paas barri fasal peda hui hai aur sheikh yeh wali aap ki khidmat mein paish hai.' aur ab ho sakta hai ke sheikh ke paas 50 phalian ho jayen. To woh un ko wusool karte hain aur phir woh mazeed mukhlis logon ki talaash karte hain aur woh inhen dete hain, woh inhen dete, inhen dete hain inhen woh raaz ataa karte hain. Aur woh log poda lagatay hain aur so phalian un ko wapas masool hoti hain. To is ka matlab yeh hwa ke yeh phalian barhti rehti hain – yani har pehlu se taalib ilm ki zindagi ki khushhali, chahay un ki mahaarat ho un ka maal ho un ka kirdaar ho, woh kayi tareeqon se khidmat karne lagen ge aur woh wapas atay hain aur yahi cheez hai jo tereeqat ko mazboot banati hai. Lekin agar koi shakhs "drive-thru" ke zariye inhen le jana chahta hai to woh sheikh unn das phalion ko kho den ge jo un ke sheikh ne inhen ataa ki theen aur woh farmaen ge ke,' aap ne usay is terhan istemaal kya? Aap ne usay bas aisay hi day diya, aur ab aap wapas aakar hum se mazeed maang rahay hain ?' ' ya aqalmand sheikh aur unn ke … phir woh apne sheikh se yeh darja paate hain ke' ' zara dekho! Hum ne is ko ( phalian ) den is ne aik baagh lagaya aur ab hazaron log andar daakhil ho rahay hain. Is ke paas har jagah se log mojood hain jo taawun kar rahay hain, mazameen likh rahay hain.' aap jantay hain ke hamaray paas mazameen aur kitabon ke 60 se zayed mutrajim mojood hain jo hamaray software aur managment ke tehat hain .
ENGLISH TRANSCRIPT:
So how… everyone wants to come and steal them, want to come for five seconds in front take one and run. Why would they do that? Because they want to put it in your backyard and they're going to come and take its fruits, because they know you, so they want you to have the bean so that when the fruits come they're going to come and say, 'Where's my share of the fruits?' So that they have more beans. Otherwise if they have 10 beans it's very logical and scientific, for if his Shaykh gives him 10 beans and says, 'Plant these well my son,' I say, 'InshaAllah.' We do zikr (Divine remembrance), zikr, zikr, we find these ten sincere people, I say, 'One for you, one for you, one for you, one for you,' and they with love they go back and they plant that love in their life and these ten become very prosperous. What did they do? Because you knew that they were with love of course they're going to say, 'We had a great harvest and here Shaykh here's yours,' and now the shaykh may have 50 beans. So then he takes those and then he looks for more sincere people and he give them, he give them, give them, give them that secret and they plant and it came out hundred came back to him. So means it keep… is in multiplying – means that the prosperity of the life of the student in every aspect whether their skills, their financial, their character – they'll be serving in many ways and they come back and that's what make tariqah strong. But somebody just like drive through want to take them then he'll lose the ten that his shaykh gave him and he say, 'This is how you used it? You just gave it, and now you have to come back and ask for more from us?' Or the wise shaykh and his… then he gets his rank from his shaykh that, 'Look we gave to him he planted a garden and now thousands are coming in, he has people from everywhere giving support, writing articles.' You know there's over 60 translators on articles and books that are under their software and management.
تو یہ صرف یہ نہیں ہے کہ آپ کو کچھ وراثت میں ملا ہے، آپ جبہ پکڑیں، آپ باہر جائیں اور آپ صحبت دینے کی کوشش کرنے لگیں۔ یہ ساری زندگی نام پیدا کرنے اور پھر ایک تعلق قائم کرنے اور طالب علم کے ساتھ محبت پیدا کرنے میں لگی۔ کہ وہ آپ پر بھروسہ کرنے لگتے ہیں، وہ پیار کرنے لگتے ہیں، آپ ان سے پیار کرتے ہیں، آپ خدمت کی زندگی گزارتے ہیں، آپ کو جادوئی پھلی ملتی ہے اور آپ کی زندگی بدل جاتی ہے اور اس کے نتیجے میں آپ ان کی حمایت کے لیے وہاں موجود ہوں گے۔ اور یہ صحابہ کرام کا شعار تھا کہ انہوں نے ایسا نہیں کیا کہ اپنے دین کو لیں اور رسول اللہ صلی اللہ علیہ وسلم کو میدان جنگ میں موت کے حوالے کرکے تنہا چھوڑ دیں۔ رسول اللہ ﷺ سے انہیں جو بھی حقائق نصیب ہوئے وہ مرتے دم تک وہیں کھڑے رہے اور وہ سیدنا محمد ﷺ کے مبارک قدموں میں جان دینا چاہتے تھے اور یہی اہل بدر کی حقیقت تھی۔ آپ صلی اللہ علیہ وسلم نے فرمایا کہ "میں تمہیں یہاں ایک کام کے لیے لایا ہوں، پھر سب کچھ بدل گیا اب ایک بڑی جنگ ہونے والی ہے، کوئی جانا چاہے گا؟'' ''جانا چاہیں گے؟ کیسے چلے جائیں؟'' وہ رو رہے تھے، ''ہم کیسے جا سکتے ہیں، ہم آپ کے پاس زمین کے آخری سرے سے آئے ہیں اور ہم آپ کے ساتھ جائیں گے، آپ کے ساتھ اس زندگی کے اخیر تک رہیں گے۔'' اور اسی وجہ سے پھر اللہ عزوجل نے ان کو ان کے تمام حقائق عطا کئے اور اسی لیے اہل بدر کہ جب ہم دعا کرتے ہیں " إِذَا جَاءَ نَصْرُ اللَّـهِ وَالْفَتْحُ، وَرَأَيْتَ النَّاسَ يَدْخُلُونَ فِي دِينِ اللَّـهِ أَفْوَاجًا۔ " یہ آیت الکریم ان اہل بدر کو بیان کر رہی ہے۔
إِذَا جَاءَ نَصْرُ اللَّـهِ وَالْفَتْحُ ﴿١﴾ وَرَأَيْتَ النَّاسَ يَدْخُلُونَ فِي دِينِ اللَّـهِ أَفْوَاجًا ﴿٢﴾
"جب اللہ عزوجل کی نصرت اور فتح نصیب ہوتی ہے۔ (1) اور آپ لوگوں کو جوق در جوق اللہ عزوجل کے دین میں داخل ہوتے دیکھیں گے۔ (النصر، 110:1-2 )
URDU TRANSLITERATION:
To yeh sirf yeh nahi hai ke aap ko kuch waarsat mein mila hai, aap jubba pakren, aap bahar jayen aur aap sohbat dainay ki koshish karne lagen. Yeh saari zindagi naam peda karne aur phir aik talluq qaim karne aur taalib ilm ke sath mohabbat peda karne mein lagi. Ke woh aap par bharosa karne lagtay hain, woh pyar karne lagtay hain, aap un se pyar karte hain, aap khidmat ki zindagi guzartay hain, aap ko jaadoyi phali millti hai aur aap ki zindagi badal jati hai aur is ke nateejay mein aap un ki himayat ke liye wahan mojood hon ge. Aur yeh sahaba karaam ka shoaar tha ke unhon ne aisa nahi kya ke –apne deen ko len aur Rasool Allah sale Allah alaihi wasallam ko maidan jung mein mout ke hawalay karkay tanha chore den. Rasool Allah (s) Se inhen jo bhi haqayiq naseeb hue woh martay dam tak wahein kharray rahay aur woh Syedina Muhammad (S) Ke mubarak qadmon mein jaan dena chahtay thay aur yahi ahal badar ki haqeeqat thi. Aap sale Allah alaihi wasallam ne farmaya ke "min tumhe yahan aik kaam ke liye laya hon, phir sab kuch badal gaya ab aik barri jung honay wali hai, koi jana chahay ga ?' 'jana chahain ge? Kaisay chalay jayen ?' woh ro rahay thay, 'hum kaisay ja satke hain, hum aap ke paas zameen ke aakhri siray se aaye hain aur hum aap ke sath jayen ge, aap ke sath is zindagi ke akheer tak rahen ge.' ' aur isi wajah se phir Allah azzwajal ne un ko un ke tamam haqayiq ataa kiye aur isi liye ahal badar ke jab hum dua karte hain " "Idha jaa a Nasrullahi wal Fath. Waraayta annasa yadkhuloonafee deeni Allahi afwaja" yeh aayat alkrim un ahal badar ko bayan kar rahi hai .
إِذَا جَاءَ نَصْرُ اللَّـهِ وَالْفَتْحُ ﴿١﴾ وَرَأَيْتَ النَّاسَ يَدْخُلُونَ فِي دِينِ اللَّـهِ أَفْوَاجًا ﴿٢﴾
" jab Allah azzwajal ki nusrat aur fatah naseeb hoti hai. ( 1 ) aur aap logon ko joq dar joq Allah azzwajal ke deen mein daakhil hotay dekhen ge. (Surah An-Nasr 110:1-2)
ENGLISH TRANSCRIPT:
So it's not just you know you inherit something, you grab a jubba (robe), you go out and you know try to give talks, this whole life was building a reputation then building a rapport and building a love with the student. That they trust you, they love, you love them, they live a life of service, they get the magic bean and their life changes and as a result you know they're going to be there to support you. And this was the Sahabi (Holy Companions of Prophet ﷺ) that whatever they did you know they didn't take their deen (religion) and leave Prophet ﷺ alone to die in battlefield. Whatever they got from Prophet ﷺ of realities they stook right there until the death and they wanted to die at the feet of Sayyidina Muhammad ﷺ and that was the reality of Ahlul Badr. Said ﷺ that , 'I brought you here for the purpose of one thing, then everything change it's now going to be a big battle, anyone want to leave?' 'Leave? How leave?' They were crying, 'How could we leave, we came to you to the end of the earth and we will go to you, go with you to the end of this existence.' And that's what Allah (AJ) then gave them all their realities and that's why the Ahlul Badr, when we make du'a "Idha jaa a Nasrullahi wal Fath. Waraayta annasa yadkhuloonafee deeni Allahi afwaja" ayatul kareem (the generous verse of Holy Qur'an) is describing these Ahlul Badr.
إِذَا جَاءَ نَصْرُ اللَّـهِ وَالْفَتْحُ ﴿١﴾ وَرَأَيْتَ النَّاسَ يَدْخُلُونَ فِي دِينِ اللَّـهِ أَفْوَاجًا ﴿٢﴾
110:1-2 –"Idha jaa a Nasrullahi wal Fath (1) Waraayta annasa yadkhuloonafee deeni Allahi afwaja (2)." (Surat an Nasr)
"When there comes the Divine Support of Allah and the Victory. (1) And thou dost see the people enter Allah's Religion in crowds." (The Divine Support, 110:1-2)
کہ اللہ عزوجل اُن صحابہ کرام سے اتنا خوش ہوا کہ اس نے ان کو ان کے تمام حقائق عطا فرما دیئے اور آپ بات کر رہے ہیں نبی پاک صلی اللہ علیہ وسلم اور اُن کے ان ۳۱۳ صحابہ کرام کی کہ جن کو ان کی مکمل حقیقت عطا فرما دی گئی تھی، ان کو بھلا کون شکست دے سکتا تھا؟ یہی وجہ ہے کہ جب وہ مکہ میں داخل ہوئے تو سب کچھ بالکل پر سکون تھا، لوگوں میں موجود شیاطین سب فنا ہو گئے تھے اور اس کے نتیجے میں مکہ میں کسی ایک شخص کو بھی دشواری کا سامنا نہ کرنا پڑا۔ کیسے عظیم الشان نبی کریم ہیں کہ جنہوں نے اپنے تمام صحابہ کرام کو روشن ستارہ بنا دیا، یعنی وہ اپنی پوری حقیقت کو پہنچ گئے۔
أَصْحَابِيْ كَالنُّجُـــومْ بِأَيْهِمْ اَقْتَدَيْتِمْ اَهْتَدَيْتِمْ
"میرے صحابہ کرام ستاروں کی مانند ہیں۔ تم ان میں سے جس کی بھی پیروی کرو گے، ہدایت پاؤ گے۔" (سیدنا محمد صلی اللہ علیہ وسلم)
یہ ایک بہت بڑی حقیقت ہے۔ نتیجتاً اس امت کو عظیم الشان صحابی، عالی قدر اہل بیت (علیہم السلام) کا مرتبہ حاصل ہے، تو اس سے بڑھ کر آپ کو کیا چاہئے؟ کہ ایک ایسے نبی کریم جنہوں نے اپنی تمام امت کو کامل کیا اور یہ وہ کمال ہے کہ ہم اس حقیقت سے مستفید ہو رہے ہیں، تو اس سب کے لیے الحمدللہ۔ یہی محبت اور عشق ہے۔ لہٰذا ہم نے اسی طرح شروع کیا تھا، یہ محبت اور عشق کے ساتھ تھا، چنانچہ جب ان میں یہ محبت ہوتی ہے اور طالب علم اس محبت کا اظہار کر رہا ہوتا ہے تو ایک موقع پر شیخ کی دعا ان کی زندگی کے ہر پہلو میں انہیں نوازنے لگتی ہے، یہی ان کی محبت اور ان کا عشق بن جاتا ہے۔ وہ دس مختلف مشائخ کے ارد گرد نہیں منڈلاتے، وہ کسی بھی طرح کی بے وفائی کو اور برے کردار کو نہیں ظاہر کرتے۔ وہ اب وفادار ہیں، وہ اس قدر وفادار ہیں کہ ان کی وفا پر بھروسہ کیا جا سکتا ہے، وہ اب عشق کے سمندر میں داخل ہو چکے ہوتے ہیں۔ جب وہ مراقبہ اور تفکر کرنا شروع کرتے ہیں تو وہ مسلسل حضوری (حاضری) میں رہتے ہیں، ان کی مسلسل تربیت ہوتی ہے کہ – میرے لیے صرف میرے مرشد ہیں اور میں ہر وقت اپنے مرشد کے ساتھ ہوں، اور میں انہیں دیکھتا ہوں اور وہ مجھے نظر میں رکھتے ہیں۔ جب وہ اس حضوری کی گہرائی میں داخل ہوتے ہیں تو اب فنا ہو رہے ہوتے ہیں۔
URDU TRANSLITERATION:
Ke Allah azzwajal unn sahaba karaam se itna khush hwa ke is ne un ko un ke tamam haqayiq ataa farma diye aur aap baat kar rahay hain nabi pak sale Allah alaihi wasallam aur unn ke un 313 sahaba karaam ki ke jin ko un ki mukammal haqeeqat ataa farma di gayi thi, un ko bhala kon shikast day sakta tha? Yahi wajah hai ke jab woh mecca mein daakhil hue to sab kuch bilkul par sukoon tha, logon mein mojood shayateen sab fanaa ho gaye thay aur is ke nateejay mein mecca mein kisi 1 shakhs ko bhi dushwari ka saamna nah karna para. Kaisay azeem al shan nabi kareem hain ke jinhon ne –apne tamam sahaba karaam ko roshan sitara bana diya, yani woh apni poori haqeeqat ko pahonch gaye .
أَصْحَابِيْ كَالنُّجُـــومْ بِأَيْهِمْ اَقْتَدَيْتِمْ اَهْتَدَيْتِمْ
"Mere sahaba karaam sitaron ki manind hain. Tum un mein se jis ki bhi pairwi karo ge, hadaayat pao ge." ( Syedina Muhammad sale Allah alaihi wasallam )
yeh aik bohat barri haqeeqat hai. Nateejatan is ummat ko azeem al shan sahabi, ali qadar Ahl e Bait (as) ka martaba haasil hai, to is se barh kar aap ko kya chahiye? Ke aik aisay nabi kareem jinhon ne apni tamam ummat ko kaamil kya aur yeh woh kamaal hai ke hum is haqeeqat se mustafeed ho rahay hain, to is sab ke liye Alhamdulillah. Yahi mohabbat aur ishhq hai .Lehaza hum ne isi terhan shuru kya tha, yeh mohabbat aur ishhq ke sath tha, chunancha jab un mein yeh mohabbat hoti hai aur taalib ilm is mohabbat ka izhaar kar raha hota hai to aik mauqa par Sheikh ki dua un ki zindagi ke har pehlu mein inhen nawazne lagti hai, yahi un ki mohabbat aur un ka ishhq ban jata hai. Woh das mukhtalif mashaiykh ke ird gird nahi mandlatay, woh kisi bhi terhan ki be wafai ko aur buray kirdaar ko nahi zahir karte. Woh ab wafadar hain, woh is qader wafadar hain ke un ki wafa par bharosa kya ja sakta hai, woh ab ishhq ke samandar mein daakhil ho chuke hotay hain. Jab woh muraqba aur tafakar karna shuru karte hain to woh musalsal huzoori ( haazri ) mein rehtay hain, un ki musalsal tarbiyat hoti hai ke – mere liye sirf mere murshid hain aur mein har waqt –apne murshid ke sath hon, aur mein inhen daikhta hon aur woh mujhe nazar mein rakhtay hain. Jab woh is huzoori ki geherai mein daakhil hotay hain to ab fanaa ho rahay hotay hain .
ENGLISH TRANSCRIPT:
That Allah (AJ) was so happy with this Sahabi He gave them all their realities and you're talking then a Prophet ﷺ with 313 Sahabis in their full reality, who could defeat them? That's why when he walked into Mecca everything was just tranquil, the devils in people were all destroyed and as a result just walked into Mecca with not a single person to be in difficulty. That, what a great Prophet ﷺ that he made all his companions shining stars, means they reach their entire reality.
أَصْحَابِيْ كَالنُّجُـــومْ بِأَيْهِمْ اَقْتَدَيْتِمْ اَهْتَدَيْتِمْ
"Ashabi kan Nujoom, bi ayyihim aqta daytum ahta daytum."
"My companions are like stars. Whoever among them you follow, you will be rightly guided." Prophet Muhammad (saws)
That's an immense, immense reality. As a result the nation has the magnificent status of immense Sahabi, immense Ahlul Bayt (Holy Family of Prophet ﷺ), so what can you ask more than that? That the… a Prophet ﷺ that perfected all his people and that's the perfection that we are benefiting from that reality, so alhamdulillah for all of that. That's the muhabbat and the love. So that's how we started, this was with muhabbat and love, so when they have this love and the student is showing that love then at one point shaykh's du'a, it begin to dress them in every aspect of their life, that becomes their muhabbat and their love. They're not bouncing around to ten different shaykhs, they're not showing all sorts of infidelity and bad character. They're loyal, they're loyal to be trusted in their loyalty, they entered now into the ocean of muhabbat. When they begin to meditate and contemplate they're continuously in the hudur, they're continuously trained that – only shaykh for me and I with the shaykh at all times, and I see him and he sees me. When they enter deep into that hudur now they're annihilating.
لہذا آپ جتنا زیادہ اُن کے حضور (موجودگی) میں رہیں گے اتنا ہی آپ (فنا) ہونے لگیں گے… ان سائی فائی (Sci-Fi) پروگراموں کی طرح کہ آپ ذرّے بننے لگتے ہیں اور غائب ہونا شروع ہوجاتے ہیں – آپ اپنی ٹھوس حالت چھوڑنے لگتے ہیں۔ تو ہر مادے کی تین حالتیں ہوتی ہیں – ٹھوس، مائع، گیس۔ لہٰذا آپ اپنی ٹھوس حالت کو توڑ رہے ہوتے ہیں، جتنا زیادہ آپ اپنے مراقبے اور تفکر کے ذریعے شیخ کی تپش اور اُن کی بارگاہ اور حضوری میں داخل ہوں گے آپ کی حالتِ ٹھوس کا کیا ہونے والا ہے؟ یہ اسے جلانے والی ہوتی ہے تاکہ آپ کی ٹھوس حالت مائع کی طرح بن جائے۔اور بہت سے لوگ اسے برداشت نہیں کر سکتے اور وہ مشتعل ہو جاتے ہیں، وہ ناراض ہو جاتے ہیں، وہ طریقت سے بھاگنے لگتے ہیں کیونکہ آپ کے جلنے کا عمل آپ کو بھاپ میں بدلنے لگتا ہے، آپ کا برا کردار بھاپ ہو جاتا ہے۔ اور آپ کا دماغ بھاپ ہو جاتا ہے، آپ کا سوچنے کا عمل بھاپ ہو جاتا ہے، اور بس پگھلنا، پگھلنا، پگھلنا اور طریقت کی زندگی کی مشکل اور امتحان اور امتحان اور مزید امتحان – آپ پگھلنے لگتے ہیں۔
URDU TRANSLITERATION:
Lehaza aap jitna ziyada unn ke huzoor ( mojoodgi ) mein rahen ge itna hi aap ( fanaa ) honay lagen ge … un sci-fi programon ki terhan ke aap zarray ban'nay lagtay hain aur gayab hona shuru ho jatay hain – aap apni thos haalat chorney lagtay hain. To har maday ki teen halatain hoti hain – thos, maya, gas. Lehaza aap apni thos haalat ko toar rahay hotay hain, jitna ziyada aap –apne mraqbe aur tafakar ke zariye sheikh ki tapish aur unn ki bargaah aur huzoori mein daakhil hon ge aap ki halat-e-thos ka kya honay wala hai? Yeh usay jalanay wali hoti hai taakay aap ki thos haalat maya ki terhan ban jaye. Aur bohat se log usay bardasht nahi kar satke aur woh mushtael ho jatay hain, woh naraaz ho jatay hain, woh tareqat se bhagnay lagtay hain kyunkay aap ke julne ka amal aap ko bhaap mein badalny lagta hai, aap ka bura kirdaar bhaap ho jata hai. Aur aap ka dimagh bhaap ho jata hai, aap ka sochnay ka amal bhaap ho jata hai, aur bas pighalna, pighalna, pighalna aur tareqat ki zindagi ki mushkil aur imthehaan aur imthehaan aur mazeed imthehaan – aap pighalnay lagtay hain.
ENGLISH TRANSCRIPT:
So the more you go into the presence the more you start to… like those sci-fi shows you become particles and begin to vanish – you're leaving your solid state. So every matter has three states – solid, liquid, gaseous. So you're going to break down your solid state, the more you enter into the fire of the shaykh and the hudur and the presence of the shaykh with your muraqabah (spiritual connection) and with your meditation, what's going to happen to your solid state? It's going to burn it so that your solid state it becomes like a liquid and many people can't take that and they become agitated, they become angered, they begin to run from tariqah because the burning process of you evaporating, your bad character evaporating and your brain evaporating, your thought process evaporating, and just melting, melting, melting and the difficulty of tariqah life and testing and testing and testing – you begin to melt. So their nazar and their energy is taking away your solid state because when you're solid and you're trying to fit into his programs you find yourself like it's not fitting, my square thing is not fitting into that. But if you're liquid what happens? Any condition the shaykh throws you in you're liquid, you're lucid, you're fluid – you can flow into anything. And that's the training they want, so wherever the shaykh throws his mureed (devoted disciple), his… You know the shaykh in Naqshbandiya is a mureed, and everyone else is a muhibbin (lovers of the way). So Naqshbandi mureeds are all under ijazah (authorization) and shaykhs.
تو ان کی نظر اور ان کی توانائی آپ کی ٹھوس حالت کو دور کرنے لگتی ہے کیونکہ جب آپ ٹھوس ہوتے ہیں اور آپ ان کے پروگراموں میں فِٹ ہونے کی کوشش کر رہے ہوتے ہیں تو آپ کو لگتا ہے کہ یہ مناسب نہیں ہے، میری مربع چیز اس میں فِٹ نہیں ہوتی۔ لیکن اگر آپ مائع ہیں تو کیا ہوتا ہے؟ شیخ آپ کو کسی بھی حالت میں ڈالتے ہیں تو آپ مائع ہیں، آپ ہموار ہیں، آپ سیال ہیں – آپ کسی بھی چیز میں بہہ سکتے ہیں۔ اور یہی وہ تربیت ہے جو وہ چاہتے ہیں، لہٰذا شیخ جہاں بھی اپنے مرید کو پھینکیں… آپ جانتے ہیں کہ سلسلۂِ نقشبندیہ میں شیخ مرید ہوتے ہیں، اور باقی سب محبین ہوتے ہیں۔ پس تمام نقشبندی مریدین کو (رہنمائی کی) اجازت حاصل ہوتی ہے۔ تو اس کا مطلب یہ ہے کہ ہمارے شیخ جب بھی ہمیں کسی صورت حال میں ڈالیں تو ہمیں مائع ہونا ہوگا – آپ کو اس کے ساتھ بہنے کے قابل ہونا ہوگا اور جیسے کہا جاتا ہے کہ 'بہاؤ کے ساتھ بہہ چلو' یہ نہیں کہ – آپ کا راستہ ہی واحد راستہ ہے اور پھر ضدی اور اڑیل بن جانا۔ پھر کوئی بھی آپ کی بات نہیں سنے گا، کوئی آپ کی تقلید نہیں کرے گا، کوئی بھی آپ کے کسی بھی کام میں شامل نہیں ہو گا۔ تو پھر شیخ کے جلانے کا عمل مادے کو اگلی حالت یعنی مائع میں بدل دے گا۔ تو زندگی میں مادے کی تین حالتیں ہیں، یا تو آپ ٹھوس ہیں اور آپ صرف ضدی ہیں اور ہر چیز کو آپ کی سمجھ، آپ کے طریقہ کار کے مطابق چاہئے اور آپ مسلسل بات کرنا چاہتے ہیں یا آپ جل جائیں گے۔ جب آپ جلتے ہیں تو آپ کو حالتِ مائع میں تبدیل ہونا ہوتا ہے اور پھر وہ مائع اب فنا ہونے کے عمل میں ہوتا ہے۔ ٹھیک ہے؟ مائع سے اور اگر شیخ… اگر طالب علم مائع کی حالت میں پہنچ جاتا ہے تو کیا ہوگا؟ جیسے ہی وہ مائع بنتا ہے، جب بھی شیخ کی نظرِ مبارک اس سے ٹکراتی ہے وہ ہوا کی مانند ہو جاتا ہے، کیونکہ اس کی گیسی حالت کا مطلب یہ ہے کہ فوراً ہی اس کی روح اس کے جسم سے نکل جاتی ہے اور وہ ہر چیز کا تجربہ کرنے لگتا ہے۔ لہٰذا جیسے ہی وہ مجالس میں ہم پر نظر فرماتے ہیں، گیسی حالت ظاہر ہونے لگتی ہے یعنی رونا اور اینرجی کا احساس، کیونکہ ان کی نظر مبارک ایک توانائی کے ساتھ آتی ہے اور یہ مائع کو گیس میں بدل دینے کے لیے کافی ہوتی ہے۔ کسی مائع کو گیس میں بدلنے کے لیے آپ کو زیادہ تپش فراہم کرنے کی ضرورت نہیں ہوتی۔ لیکن ٹھوس چیز کو جلانے (پگھلانے) کے لیے آپ کو بہت زیادہ حدّت کا استعمال کرنا پڑتا ہے۔ تو یہ سمجھ میں آتا ہے ناں؟ مادے کی تین حالتیں، مادے کو جلانے کے لیے بہت زیادہ توانائی درکار ہوتی ہے لیکن ایک بار جب آپ کو نیچے لایا جاتا ہے اور آپ اپنے آپ کو مائع اور سیال محسوس کرتے ہیں – آپ صرف بہاؤ کے ساتھ بہتے جاتے ہیں۔ اس سے واقعی کوئی فرق نہیں پڑتا، 'مجھے کچھ نہیں ملا، کوئی تبصرہ نہیں، میرے پاس کچھ نہیں ہے۔' یہ صرف یوں ہوتا ہے کہ، 'جو کچھ بھی ہو رہا ہے اس کے بہاؤ کے ساتھ بہتے چلو۔' وہ مائع حالت پھر یوں ہے کہ ایک طالب علم ایسا بن جاتا ہے جو فوری طور پر گیس میں تبدیل ہو سکتا ہے، مثلاً جیسے ہی نظر اور توانائی پانی سے ٹکراتی ہے وہ اوپر کی جانب بڑھنے لگتا ہے۔ گیسی حالت ایک ملَکُوتی حقیقت ہے کہ ان کی روح ہر جگہ موجود ہوتی ہے اور وہ مسلسل ایک حال (روحانی حالت) کے اندر رہتے ہیں، اور یہی اہم حالت ہے، انشاء اللہ۔
URDU TRANSLITERATION:
To un ki nazar aur un ki tawanai aap ki thos haalat ko daur karne lagti hai kyunkay jab aap thos hotay hain aur aap un ke programon mein fit honay ki koshish kar rahay hotay hain to aap ko lagta hai ke yeh munasib nahi hai, meri murabba cheez is mein fit nahi hoti. Lekin agar aap maya hain to kya hota hai? Sheikh aap ko kisi bhi haalat mein daaltay hain to aap maya hain, aap hamwar hain, aap seyal hain – aap kisi bhi cheez mein beh satke hain. Aur yahi woh tarbiyat hai jo woh chahtay hain, lehaza sheikh jahan bhi –apne mureed ko phenkay … aap jantay hain ke silsila naqshbandiyah mein sheikh mureed hotay hain, aur baqi sab muhibbin hotay hain. Pas tamam nqshbndi muredain ko ( rahnumai ki ) ijazat haasil hoti hai . To is ka matlab yeh hai ke hamaray sheikh jab bhi hamein kisi soorat e haal mein dalain to hamein maya hona hoga – aap ko is ke sath behnay ke qabil hona hoga aur jaisay kaha jata hai ke' bahao ke sath beh chalo' yeh nahi ke – aap ka rasta hi wahid rasta hai aur phir ziddi aur aryal ban jana. Phir koi bhi aap ki baat nahi sunay ga, koi aap ki taqleed nahi kere ga, koi bhi aap ke kisi bhi kaam mein shaamil nahi ho ga. To phir sheikh ke jalanay ka amal maday ko agli haalat yani maya mein badal day ga. To zindagi mein maday ki teen halatain hain, ya to aap thos hain aur aap sirf ziddi hain aur har cheez ko aap ki samajh, aap ke tareeqa car ke mutabiq chahiye aur aap musalsal baat karna chahtay hain ya aap jal jayen ge. Jab aap jaltay hain to aap ko halat-e-maya mein tabdeel hona hota hai aur phir woh maya ab fanaa honay ke amal mein hota hai. Theek hai? Maya se aur agar sheikh … agar taalib ilm maya ki haalat mein pahonch jata hai to kya hoga? Jaisay hi woh maya bantaa hai, jab bhi sheikh ki nazar mubarak is se takrata hai woh hwa ki manind ho jata hai, kyunkay is ki gaisi haalat ka matlab yeh hai ke foran hi is ki rooh is ke jism se nikal jati hai aur woh har cheez ka tajurbah karne lagta hai. Lehaza jaisay hi woh majalis mein hum par nazar farmatay hain, gaisi haalat zahir honay lagti hai yani rona aur energy ka ehsas, kyunkay un ki nazar mubarak aik tawanai ke sath aati hai aur yeh maya ko gas mein badal dainay ke liye kaafi hoti hai. Kisi maya ko gas mein badalny ke liye aap ko ziyada tapish faraham karne ki zaroorat nahi hoti. Lekin thos cheez ko jalanay ( pighalnay ) ke liye aap ko bohat ziyada hddt ka istemaal karna parta hai. To yeh samajh mein aata hai naa? Maday ki teen halatain, maday ko jalanay ke liye bohat ziyada tawanai darkaar hoti hai lekin aik baar jab aap ko neechay laya jata hai aur aap –apne aap ko maya aur seyal mehsoos karte hain – aap sirf bahao ke sath bahtay jatay hain. Is se waqai koi farq nahi parta,' mujhe kuch nahi mila, koi tabsarah nahi, mere paas kuch nahi hai.' yeh sirf yun hota hai ke,' jo kuch bhi ho raha hai is ke bahao ke sath bahtay chalo.' woh maya haalat phir yun hai ke aik taalib ilm aisa ban jata hai jo fori tor par gas mein tabdeel ho sakta hai, maslan jaisay hi nazar aur tawanai pani se takrata hai woh oopar ki janib bherne lagta hai. Gaisi haalat aik malkuti haqeeqat hai ke un ki rooh har jagah mojood hoti hai aur woh musalsal aik haal ( ruhani haalat ) ke andar rehtay hain, aur yahi ahem haalat hai, inshaAllah .
ENGLISH TRANSCRIPT:
So it means that my shaykh whenever he threw us into a situation, you have to be liquid – you have to be able to flow with it and what they say, 'Go with the flow.' Not – your way's the only way and this and then hard-headed and nobody would listen to you, nobody would follow you, nobody would come to anything that you did. So then the burning of the shaykh will make the next state of matter to be liquid. So three states of matter in life, either you're solid and you're just stubborn and everything has to be your understanding, your way and you continuously want to talk or you'll be burned. When you burn you have to go down to liquid and then that liquid is now in the process of annihilating. Right? From liquid and if the shaykh can… if the student can reach a state of liquid then what happens? As soon as he becomes liquid, every time the nazar of the shaykh hits him he becomes ethereal, because his gaseous state means immediately his soul is out of his body and he's experiencing everything. So as soon as they make nazar upon us in associations the ethereal state begins to flow – the crying and the energy, because their nazar is coming with an energy and that's enough to take the liquid into a gas. You don't have to apply much heat to take a liquid into gas but you have to use a lot of heat to burn down something solid. So that makes sense? Three states of matter, a lot of energy to burn the matter, but once you've been brought down and you feel yourself liquid and fluid – you just go with the flow. It doesn't really matter, 'Nothing I got, no comment, I got no nothing.' It just, 'Go with the flow of whatever is happening.' That liquid state is then a… is a student that immediately can become ethereal, as soon as the nazar and the energy hits the water they're rising. Ethereal is an angelic reality of their soul is all over the place and they continuously within a haal (spiritual state), and this is the important state, InshaAllah.
————————————-
حصہ اول:
Part-1
https://www.facebook.com/…/a.130668968…/763882658336210/
حصہ دوم:
Part-2
حصہ سوم:
Part-3:
حصہ چہارم:
Part-4:
یہ بیان یوٹیوب پر دیکھنے کیلئے
Watch this Bayan on youtube:
https://youtu.be/wAca7jPSJj4.
اس آرٹیکل کو انگلش میں پڑھنے کیلئے
𝐐&𝐀 𝐒𝐭𝐚𝐠𝐞𝐬 𝐨𝐟 𝐀𝐧𝐧𝐢𝐡𝐢𝐥𝐚𝐭𝐢𝐨𝐧 – 𝐒𝐨𝐥𝐢𝐝, 𝐋𝐢𝐪𝐮𝐢𝐝, 𝐄𝐭𝐡𝐞𝐫𝐞𝐚𝐥. 𝐅𝐚𝐥𝐥𝐞𝐧 𝐀𝐧𝐠𝐞𝐥𝐬 𝐇𝐚𝐫𝐮𝐭 𝐚𝐧𝐝 𝐌𝐚𝐫𝐮𝐭 𝐚𝐧𝐝 𝐭𝐡𝐞 𝐖𝐞𝐥𝐥 𝐨𝐟 𝐁𝐚𝐛𝐞𝐥. 𝐑𝐞𝐚𝐥𝐢𝐭𝐢𝐞𝐬 𝐨𝐟 𝐭𝐡𝐞 𝐦𝐨𝐨𝐧 𝐚𝐧𝐝 𝐢𝐭𝐬 𝐩𝐡𝐚𝐬𝐞𝐬 – 𝐰𝐡𝐢𝐭𝐞 𝐚𝐧𝐝 𝐝𝐚𝐫𝐤 𝐧𝐢𝐠𝐡𝐭𝐬. 𝐃𝐨𝐧'𝐭 𝐞𝐧𝐭𝐞𝐫 𝐰𝐨𝐫𝐥𝐝 𝐨𝐟 𝐢𝐦𝐚𝐠𝐢𝐧𝐚𝐭𝐢𝐨𝐧, 𝐟𝐨𝐜𝐮𝐬 𝐨𝐧 𝐲𝐨𝐮𝐫 𝐜𝐨𝐧𝐧𝐞𝐜𝐭𝐢𝐨𝐧. 𝐖𝐡𝐚𝐭 𝐫𝐞𝐚𝐥𝐥𝐲 𝐡𝐚𝐩𝐩𝐞𝐧𝐞𝐝 𝐰𝐢𝐭𝐡 𝐭𝐡𝐞 𝟑𝟑 𝐂𝐡𝐢𝐥𝐞𝐚𝐧 𝐌𝐢𝐧𝐞𝐫𝐬.
https://www.facebook.com/…/a.16933514…/4932661430156942/
یو ٹیوب چینل ابھی سبسکرایب کیجئے
Subscribe Now: The Muhammadan Way Sufi Realities
Www.youtube.com/channel/UC4E8QX7OgwYDgyuuXTBMrcg
شیخ سید نور جان میر احمدی نقشبندی (ق) کا آفشیل فیس بک پیج لائک کیجئے
Official Page: Shaykh Nurjan Mirahmadi
Https://www.facebook.com/shaykhnurjanmirahmadi/
►𝐀𝐧𝐝𝐫𝐨𝐢𝐝 𝐀𝐩𝐩: https://play.google.com/store/apps/details…
► 𝐢𝐏𝐡𝐨𝐧𝐞 𝐀𝐩𝐩: https://apps.apple.com/us/app/muhammadan-way/id1244297852
► 𝐒𝐨𝐮𝐧𝐝𝐂𝐥𝐨𝐮𝐝: https://soundcloud.com/muhammadanway
► 𝐃𝐨𝐧𝐚𝐭𝐞 (𝐏𝐀𝐊𝐈𝐒𝐓𝐀𝐍 𝐚𝐧𝐝 𝐖𝐎𝐋𝐑𝐃𝐖𝐈𝐃𝐄) : https://nurmuhammad.com/donate
Please Subscribe and Share