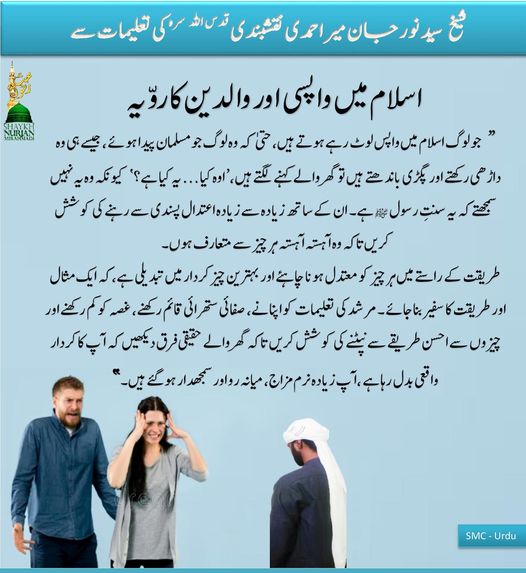 Urdu – سوالات و جوابات : فنا کی حالتیں – ٹھوس، مائع، گیس۔ جنت سے نکالے گئے فرشتے ہاروت …

سوالات و جوابات : فنا کی حالتیں – ٹھوس، مائع، گیس۔ جنت سے نکالے گئے فرشتے ہاروت اور ماروت اور بابل کا کنواں۔ چاند اور اسکے مراحل کے حقائق – سفید اور کالی راتیں۔ خیالوں کی دنیا میں نہ داخل ہوں، اپنے رابطے پر توجہ مرکوز کریں۔ چِلی کے اُن ۳۳ کان کنوں کے ساتھ حقیقت میں کیا ہوا تھا۔ [حصہ اول]
سوال نمبر 1: میں نے آپ کی کتاب [ایک لازمان حقیقت – A Timeless Reality] خریدی ہے اور یہ بہت مددگار ثابت ہوئی ہے۔ میں دائرۂِ اسلام میں واپس لوٹا ہوں اور والدین میری اس تبدیلی کو قبول کرنے کے لیے جدوجہد کر رہے ہیں، میں ان کیلئے اپنی چاہت کا مزیداظہار کیسے کر سکتا ہوں؟
𝐒𝐚𝐰𝐚𝐥𝐚𝐭 𝐨 𝐉𝐚𝐯𝐚𝐛𝐚𝐚𝐭: 𝐅𝐚𝐧𝐚𝐚 𝐊𝐢 𝐇𝐚𝐥𝐚𝐭𝐚𝐢𝐧 – 𝐓𝐡𝐨𝐬, 𝐌𝐚𝐲𝐚, 𝐆𝐚𝐬. 𝐉𝐚𝐧𝐧𝐚𝐭 𝐒𝐚𝐲 𝐍𝐢𝐤𝐚𝐥𝐚𝐲 𝐆𝐚𝐲𝐞 𝐅𝐚𝐫𝐢𝐬𝐡𝐭𝐚𝐲 𝐇𝐚𝐫𝐮𝐭 𝐀𝐮𝐫 𝐌𝐚𝐫𝐮𝐭 𝐀𝐮𝐫 𝐁𝐚𝐛𝐮𝐥 𝐊𝐚 𝐊𝐮𝐧𝐰𝐚𝐧. 𝐂𝐡𝐚𝐚𝐧𝐝 𝐀𝐮𝐫 𝐔𝐬𝐤𝐚𝐲 𝐌𝐚𝐫𝐚𝐡𝐢𝐥 𝐊𝐚𝐲 𝐇𝐚𝐪𝐚𝐢𝐪 – 𝐒𝐮𝐟𝐚𝐢𝐝 𝐀𝐮𝐫 𝐊𝐚𝐚𝐥𝐢 𝐑𝐚𝐚𝐭𝐚𝐢𝐧. 𝐊𝐡𝐚𝐲𝐚𝐥𝐨𝐧 𝐊𝐢 𝐃𝐮𝐧𝐢𝐲𝐚 𝐌𝐞𝐢𝐧 𝐍𝐚𝐡 𝐃𝐚𝐚𝐤𝐡𝐢𝐥 𝐇𝐨𝐧, 𝐀𝐩𝐧𝐞 𝐑𝐚𝐚𝐛𝐭𝐞𝐲 𝐏𝐚𝐫 𝐓𝐚𝐰𝐚𝐣𝐚𝐡 𝐌𝐚𝐫𝐤𝐨𝐨𝐳 𝐊𝐚𝐫𝐞𝐧. 𝐂𝐡𝐢𝐥𝐢 𝐊𝐞 𝐔𝐧𝐧 𝟑𝟑 𝐊𝐚𝐚𝐧 𝐊𝐚𝐧𝐨 𝐊𝐚𝐲 𝐒𝐚𝐭𝐡 𝐇𝐚𝐪𝐞𝐞𝐪𝐚𝐭 𝐌𝐞𝐢𝐧 𝐊𝐲𝐚 𝐇𝐮𝐚 𝐓𝐡𝐚. [𝐏𝐀𝐑𝐓-𝟏]
𝑆𝑎𝑤𝑎𝑙 𝑁𝑜:1. 𝑀𝑒𝑖𝑛 𝑁𝑎𝑦 𝐴𝑎𝑝 𝐾𝑖 𝐾𝑖𝑡𝑎𝑎𝑏 [ 𝐴𝑖𝑘 𝐿𝑎𝑧𝑎𝑚𝑎𝑛 𝐻𝑎𝑞𝑒𝑒𝑞𝑎𝑡 – 𝐴 𝑇𝑖𝑚𝑒𝑙𝑒𝑠𝑠 𝑅𝑒𝑎𝑙𝑖𝑡𝑦] 𝐾ℎ𝑎𝑟𝑖𝑑𝑖 𝐻𝑎𝑖 𝐴𝑢𝑟 𝑌𝑒ℎ 𝐵𝑜ℎ𝑎𝑡 𝑀𝑎𝑑𝑎𝑑𝑔𝑎𝑎𝑟 𝑆𝑎𝑎𝑏𝑖𝑡 𝐻𝑢𝑖 𝐻𝑎𝑖. 𝑀𝑒𝑖𝑛 𝐷𝑎𝑖𝑟𝑎-𝑒-𝐼𝑠𝑙𝑎𝑚 𝑀𝑒𝑖𝑛 𝑊𝑎𝑝𝑎𝑠 𝐿𝑜𝑡𝑎 𝐻𝑜𝑛 𝐴𝑢𝑟 𝑊𝑎𝑙𝑖𝑑𝑎𝑖𝑛 𝑀𝑒𝑟𝑖 𝐼𝑠 𝑇𝑎𝑏𝑑𝑒𝑒𝑙𝑖 𝐾𝑜 𝑄𝑢𝑏𝑜𝑜𝑙 𝐾𝑎𝑟𝑛𝑒 𝐾𝑒 𝐿𝑖𝑦𝑒 𝐽𝑖𝑑𝑑-𝑜-𝐽𝑢ℎ𝑎𝑑 𝐾𝑎𝑟 𝑅𝑎ℎ𝑎𝑦 𝐻𝑎𝑖𝑛, 𝑀𝑒𝑖𝑛 𝑈𝑛 𝐾𝑎𝑦 𝐿𝑖𝑦𝑒 𝐴𝑝𝑛𝑖 𝐶ℎ𝑎ℎ𝑎𝑡 𝐾𝑎 𝑀𝑎𝑧𝑒𝑑 𝐼𝑧ℎ𝑎𝑎𝑟 𝐾𝑎𝑖𝑠𝑎𝑦 𝐾𝑎𝑟 𝑆𝑎𝑘𝑡𝑎 𝐻𝑜𝑛?
𝐐&𝐀 𝐒𝐭𝐚𝐠𝐞𝐬 𝐨𝐟 𝐀𝐧𝐧𝐢𝐡𝐢𝐥𝐚𝐭𝐢𝐨𝐧 – 𝐒𝐨𝐥𝐢𝐝, 𝐋𝐢𝐪𝐮𝐢𝐝, 𝐄𝐭𝐡𝐞𝐫𝐞𝐚𝐥. 𝐅𝐚𝐥𝐥𝐞𝐧 𝐀𝐧𝐠𝐞𝐥𝐬 𝐇𝐚𝐫𝐮𝐭 𝐚𝐧𝐝 𝐌𝐚𝐫𝐮𝐭 𝐚𝐧𝐝 𝐭𝐡𝐞 𝐖𝐞𝐥𝐥 𝐨𝐟 𝐁𝐚𝐛𝐞𝐥. 𝐑𝐞𝐚𝐥𝐢𝐭𝐢𝐞𝐬 𝐨𝐟 𝐭𝐡𝐞 𝐦𝐨𝐨𝐧 𝐚𝐧𝐝 𝐢𝐭𝐬 𝐩𝐡𝐚𝐬𝐞𝐬 – 𝐰𝐡𝐢𝐭𝐞 𝐚𝐧𝐝 𝐝𝐚𝐫𝐤 𝐧𝐢𝐠𝐡𝐭𝐬. 𝐃𝐨𝐧'𝐭 𝐞𝐧𝐭𝐞𝐫 𝐰𝐨𝐫𝐥𝐝 𝐨𝐟 𝐢𝐦𝐚𝐠𝐢𝐧𝐚𝐭𝐢𝐨𝐧, 𝐟𝐨𝐜𝐮𝐬 𝐨𝐧 𝐲𝐨𝐮𝐫 𝐜𝐨𝐧𝐧𝐞𝐜𝐭𝐢𝐨𝐧. 𝐖𝐡𝐚𝐭 𝐫𝐞𝐚𝐥𝐥𝐲 𝐡𝐚𝐩𝐩𝐞𝐧𝐞𝐝 𝐰𝐢𝐭𝐡 𝐭𝐡𝐞 𝟑𝟑 𝐂𝐡𝐢𝐥𝐞𝐚𝐧 𝐌𝐢𝐧𝐞𝐫𝐬. [𝐏𝐀𝐑𝐓-𝟏]
𝑄𝑢𝑒𝑠𝑡𝑖𝑜𝑛 𝑁𝑜:1. 𝐼 𝑏𝑜𝑢𝑔ℎ𝑡 𝑦𝑜𝑢𝑟 𝑏𝑜𝑜𝑘 𝑎𝑛𝑑 𝑖𝑡 ℎ𝑎𝑠 𝑏𝑒𝑒𝑛 𝑠𝑜 ℎ𝑒𝑙𝑝𝑓𝑢𝑙. 𝐼'𝑚 𝑎 𝑟𝑒𝑣𝑒𝑟𝑡 𝑎𝑛𝑑 𝑝𝑎𝑟𝑒𝑛𝑡𝑠 𝑎𝑟𝑒 𝑠𝑡𝑟𝑢𝑔𝑔𝑙𝑖𝑛𝑔 𝑡𝑜 𝑎𝑐𝑐𝑒𝑝𝑡 𝑚𝑦 𝑐ℎ𝑎𝑛𝑔𝑒, ℎ𝑜𝑤 𝑐𝑎𝑛 𝐼 𝑠ℎ𝑜𝑤 𝑚𝑜𝑟𝑒 𝑙𝑜𝑣𝑒 𝑡𝑜 𝑡ℎ𝑒𝑚?
——————————————–
——————————————–
شیخ سید نورجان میراحمدی نقشبندی (ق) کی سنہری تعلیمات سے اقتباس۔
بِسْمِ اللَّـهِ الرَّحْمَـٰنِ الرَّحِيمِ
اَلَّھُمَّ صَلِّ عَلَی سَیَّدِنَا محَمَّدٍ ﷺ وَعَلَی آلِ سَیَّدِنَا محَمَّدٍ ﷺ
سوال :
میں نے آپ کی کتاب [ایک لازمان حقیقت – A Timeless Reality] خریدی ہے اور یہ بہت مددگار ثابت ہوئی ہے۔ میں دائرۂِ اسلام میں واپس لوٹا ہوں اور والدین میری اس تبدیلی کو قبول کرنے کے لیے جدوجہد کر رہے ہیں، میں ان کیلئے اپنی چاہت کا مزیداظہار کیسے کر سکتا ہوں؟
URDU TRANSLITERATION:
𝑆𝑎𝑤𝑎𝑙 𝑁𝑜:1. 𝑀𝑒𝑖𝑛 𝑁𝑎𝑦 𝐴𝑎𝑝 𝐾𝑖 𝐾𝑖𝑡𝑎𝑎𝑏 [ 𝐴𝑖𝑘 𝐿𝑎𝑧𝑎𝑚𝑎𝑛 𝐻𝑎𝑞𝑒𝑒𝑞𝑎𝑡 – 𝐴 𝑇𝑖𝑚𝑒𝑙𝑒𝑠𝑠 𝑅𝑒𝑎𝑙𝑖𝑡𝑦] 𝐾ℎ𝑎𝑟𝑖𝑑𝑖 𝐻𝑎𝑖 𝐴𝑢𝑟 𝑌𝑒ℎ 𝐵𝑜ℎ𝑎𝑡 𝑀𝑎𝑑𝑎𝑑𝑔𝑎𝑎𝑟 𝑆𝑎𝑎𝑏𝑖𝑡 𝐻𝑢𝑖 𝐻𝑎𝑖. 𝑀𝑒𝑖𝑛 𝐷𝑎𝑖𝑟𝑎-𝑒-𝐼𝑠𝑙𝑎𝑚 𝑀𝑒𝑖𝑛 𝑊𝑎𝑝𝑎𝑠 𝐿𝑜𝑡𝑎 𝐻𝑜𝑛 𝐴𝑢𝑟 𝑊𝑎𝑙𝑖𝑑𝑎𝑖𝑛 𝑀𝑒𝑟𝑖 𝐼𝑠 𝑇𝑎𝑏𝑑𝑒𝑒𝑙𝑖 𝐾𝑜 𝑄𝑢𝑏𝑜𝑜𝑙 𝐾𝑎𝑟𝑛𝑒 𝐾𝑒 𝐿𝑖𝑦𝑒 𝐽𝑖𝑑𝑑-𝑜-𝐽𝑢ℎ𝑎𝑑 𝐾𝑎𝑟 𝑅𝑎ℎ𝑎𝑦 𝐻𝑎𝑖𝑛, 𝑀𝑒𝑖𝑛 𝑈𝑛 𝐾𝑎𝑦 𝐿𝑖𝑦𝑒 𝐴𝑝𝑛𝑖 𝐶ℎ𝑎ℎ𝑎𝑡 𝐾𝑎 𝑀𝑎𝑧𝑒𝑑 𝐼𝑧ℎ𝑎𝑎𝑟 𝐾𝑎𝑖𝑠𝑎𝑦 𝐾𝑎𝑟 𝑆𝑎𝑘𝑡𝑎 𝐻𝑜𝑛?
ENGLISH TRANSCRIPT:
𝑄𝑢𝑒𝑠𝑡𝑖𝑜𝑛 𝑁𝑜:1. 𝐼 𝑏𝑜𝑢𝑔ℎ𝑡 𝑦𝑜𝑢𝑟 𝑏𝑜𝑜𝑘 𝑎𝑛𝑑 𝑖𝑡 ℎ𝑎𝑠 𝑏𝑒𝑒𝑛 𝑠𝑜 ℎ𝑒𝑙𝑝𝑓𝑢𝑙. 𝐼'𝑚 𝑎 𝑟𝑒𝑣𝑒𝑟𝑡 𝑎𝑛𝑑 𝑝𝑎𝑟𝑒𝑛𝑡𝑠 𝑎𝑟𝑒 𝑠𝑡𝑟𝑢𝑔𝑔𝑙𝑖𝑛𝑔 𝑡𝑜 𝑎𝑐𝑐𝑒𝑝𝑡 𝑚𝑦 𝑐ℎ𝑎𝑛𝑔𝑒, ℎ𝑜𝑤 𝑐𝑎𝑛 𝐼 𝑠ℎ𝑜𝑤 𝑚𝑜𝑟𝑒 𝑙𝑜𝑣𝑒 𝑡𝑜 𝑡ℎ𝑒𝑚?
شیخ سید نورجان میراحمدی نقشبندی (ق):
انشاءاللہ اُنہیں اپنے ساتھ ہماری نشریات دیکھنے کو کہیں۔ اور ماشاءاللہ آپ کے قبولِ اسلام پر، اور یہ کہ اللہ عزوجل نے آپ کی طریقت (روحانی راستے) کی جانب رہنمائی فرمائی – ایک نرم اور معتدل راستے کی جانب۔ یقینی طور پر انہیں ہماری ویڈیو اور ہماری گفتگو کو سننے اور اچھے کردار کے بارے میں اور اچھی مثال کے ساتھ زندگی گزارنے کے لیے کہیں اور کچھ بھی تیز رفتاری کے ساتھ اور شدت پسندی سے نہ کریں۔ لہذا جیسا کہ آپ جانتے ہیں،ان کے ساتھ زیادہ سے زیادہ اعتدال پسندی سے رہنے کی کوشش کریں تاکہ وہ آہستہ آہستہ ہر چیز سے متعارف ہوں۔ اچانک تبدیلی کسی بھی خاندان، خاص طور پر مسلم خاندانوں کو چونکا سکتی ہے۔ تو معاملہ یہ ہے کہ جو لوگ اسلام میں واپس لوٹ رہے ہوتے ہیں، یہاں تک کہ وہ لوگ جو یہ سمجھتے تھے کہ مسلمان پیدا ہوئے ہیں، تو جیسے ہی وہ داڑھی رکھتے ہیں اور پگڑی باندھتے ہیں اور پھر ان تمام چیزوں کو لاگو کرتے ہیں تو ان کے گھر والے کچھ یوں کہنے لگتے ہیں کہ، 'اوہ کیا… یہ کیا ہے؟' کیونکہ وہ یہ نہیں سمجھتے کہ یہ سنتِ رسول اللہ صلی اللہ علیہ وسلم اور سیدنا محمد صلی اللہ علیہ وسلم کا طریقہ ہے۔ تو یہ ہمیشہ ہر ایک کے لیے ایک ثقافتی جھٹکے کی مانند ہوتا ہے۔
URDU TRANSLITERATION:
Shaykh Syed Nurjan Mirahmadi Naqshbandi (Q) : Insha Allah unhen apne sath hamari nashriyat dekhnay ko kahin. Aur masha Allah aap ke qbolِ-e-islam par, aur yeh ke Allah azzwajal ne aap ki tareqat ( Rohani rastay ) ki janib rahnumai farmai – aik naram aur motadil rastay ki janib. Yakeeni tor par inhen hamari video aur hamari guftagu ko suneney aur achay kirdaar ke baray mein aur achi misaal ke sath zindagi guzaarne ke liye kahin aur kuch bhi taiz raftari ke sath aur shiddat pasandi se nah karen. Lehaza jaisa ke aap jantay hain, un ke sath ziyada se ziyada aitdaal pasandi se rehne ki koshish karen taakay woh aahista aahista har cheez se mutarif hon. Achanak tabdeeli kisi bhi khandan, khaas tor par muslim khandano ko chonka sakti hai. To maamla yeh hai ke jo log islam mein wapas lout rahay hotay hain, yahan tak ke woh log jo yeh samajte thay ke musalman peda hue hain, to jaisay hi woh daarhi rakhtay hain aur pagri bandhtay hain aur phir un tamam cheezon ko laago karte hain to un ke ghar walay kuch yun kehnay lagtay hain ke, 'Oh kya. .. Yeh kya hai ?' kyunkay woh yeh nahi samajte ke yeh sunnat rasool Allah (s) aur Syedna Mohammad (s) ka tareeqa hai. To yeh hamesha har aik ke liye aik saqafati jhatkay ki manind hota hai.
ENGLISH TRANSCRIPT:
𝐒𝐡𝐚𝐲𝐤𝐡 𝐍𝐮𝐫𝐣𝐚𝐧 𝐌𝐢𝐫𝐚𝐡𝐦𝐚𝐝𝐢 : Have them watch the broadcast with you InshaAllah. And mashaAllah on your acceptance to Islam and Allah (AJ) guided you to tariqahs (spiritual path) – a soft and moderate path. Definitely have them watch our video and our talks and to listen to the talks and about good character and living by a good example and nothing extreme and nothing fast. So you know try to be as moderate with them as possible and… so that they slowly to be introduced to everything. Sudden change can shock any family, Muslim families especially. So it's a matter that people coming reverting back into Islam, even people who thought they were born into Islam as soon as they wear a beard and put a turban and then put all these things their families like, 'Oh what… what's this?' Because they don't even understand that that's the sunnah (traditions of Prophet Muhammad ﷺ) and the way of Sayyidina Muhammad ﷺ. So it's always a cultural shock for everyone.
تو بس ہمارے راستے میں ہر چیز کو نرم اور معتدل ہونا چاہئے اور بہترین چیز کردار میں تبدیلی ہے، کہ آپ جانتے ہیں کہ ہمیں اس حقیقت کا سفیر بننا ہے۔ کہ ہم ان تمام تعلیمات کی جانب قدم بڑھاتے ہیں لیکن پھر بھی ہم چیختے اور چلاتے ہیں اور گھر میں برا سلوک روا رکھتے ہیں تو لوگ سوچنے لگتے ہیں اور وہ اسے مخالفت میں استعمال کرنے لگتے ہیں، وہ کہتے ہیں، 'اوہ تو تم صوفی بن گئے مگر پھر بھی ایسے ہو…' اور پھر وہ ان چیزوں کو ہمارے خلاف استعمال کرنا شروع کر دیتے ہیں۔ اور یہ ہمیشہ ایک یاد دہانی ہے کہ ایک مثال بنا جائے اور طریقت کا سفیر بنا جائے اور مرشد پاک کی تعلیمات کو اپنانے اور دھونے (وضو کرنے)، صفائی ستھرائی قائم رکھنے، غصہ کو کم رکھنے اور چیزوں سے احسن طریقے سے نپٹنے کی کوشش کی جائے تاکہ خاندان کے افراد حقیقت میں فرق دیکھیں اور یوں کہیں کہ، 'اوہ ماشاء اللہ آپ ان کے پاس گئے،' یا 'آپ واقعی بدل گئے، آپ کا کردار واقعی بدل رہا ہے اور آپ زیادہ نرم مزاج، زیادہ میانہ رو اور زیادہ سمجھدار ہو گئے ہیں۔'
URDU TRANSLITERATION:
To bas hamaray rastay mein har cheez ko naram aur motadil hona chahiye aur behtareen cheez kirdaar mein tabdeeli hai, ke aap jantay hain ke hamein is haqeeqat ka safeer ban-na hai. Ke hum un tamam talemaat ki janib qadam berhate hain lekin phir bhi hum chikhte aur chillate hain aur ghar mein bura sulooq rava rakhtay hain to log sochnay lagtay hain aur woh usay mukhalfat mein istemaal karne lagtay hain, woh kehte hain, 'Oh to tum sufi ban gaye magar phir bhi aisay ho…' Aur phir woh un cheezon ko hamaray khilaaf istemaal karna shuru kar dete hain. Aur yeh hamesha aik yaad dehani hai ke aik misaal bana jaye aur tareqat ka safeer bana jaye aur murshid pak ki talemaat ko apnane aur dhoney ( wudu karne ), safai sthrayi qaim rakhnay, ghussa ko kam rakhnay aur cheezon say ahsen tareekay say nipatnay ki poori koshish ki jaye taakay khandan ke afraad haqeeqat mein farq dekhen aur yun kahin ke, 'Oh mashaAllah aap un ke paas gaye,' ya 'Aap waqai badal gaye, aap ka kirdaar waqai badal raha hai aur aap ziyada naram mizaaj, ziyada miyana-ro aur ziyada samajh daar ho gaye hain. '
ENGLISH TRANSCRIPT:
So just everything in our path has to be slow and moderate and the best is the change in character, that you know that we have to be an ambassador for this reality. That we come to all these teachings but yet we yell and scream and act bad at home then people think and they start to use it against, say, 'Oh so you become Sufi and you're still like this…' and then they start to use these things against us. And it's always a reminder that to be an exemplar and to be an ambassador of the way and try our best to sort of put in the shaykh's teachings and washing, keeping clean, keeping anger down and struggling against things so that the family members can actually see a difference. Say, 'Oh mashaAllah you went to them,' or 'You really changed, your character's really changing and you're softer and gentler and more understanding.'
لہٰذا، انشاء اللہ، ہم ہمیشہ ایک اچھی مثال قائم کریں تاکہ لوگ جب ہم سے ملیں وہ ہمارے کردار کو عاجزی اور ایک اچھی مثال کے ساتھ دیکھیں تو اس میں دلچسپی محسوس کریں۔ انشاللہ۔
اور سنگاپور کے علاقے اور سنگاپور گروپس اور فیس بک اور واٹس ایپ پر ہماری ویڈیوز شیئر کریں۔ آپ جانتے ہیں کہ کچھ واٹس ایپ گروپس ہیں جن میں 10,000 افراد ہیں یا ٹیلی گرام گروپس جن میں 30,000 یا 100,000 افراد ہیں۔ ہماری ویڈیو لیں اور انہیں وہاں پوسٹ کرتے رہیں، انہیں وہاں ڈالتے دیں، ویڈیوز پوسٹ کریں، پوسٹ کریں، پوسٹ کریں، انشاء اللہ [شیخ ہنستے ہیں]۔ کون جانے کہ یہ کسی کو مِل جائے اور کوئی اس میں دلچسپی رکھتا ہو اور کوئی اردو مضامین کو سمجھتا ہو۔ کہ ہمارے پاس 'نورمحمد' [Nurmuhammad.com] ویب سائیٹ پر اردو کے لیے ایک مکمل سیکشن موجود ہے اور آپ ان اردو مضامین کو لے کر اردو واٹس ایپ گروپس اور ٹیلی گرام اور ان تمام پلیٹ فارمز پر شیئر کر سکتے ہیں۔ اور پورا مضمون اردو میں ہوتا ہے اور بہت خوبصورتی سے مکمل کیا گیا ہوتا ہے، اردو ٹیم بہت محنت سے اس کام کو سرانجام دیتی ہے، وہ ویڈیوز اور gif اور آرٹیکلز کو اکھٹا کرتی ہے، تو الحمدللہ۔ ہمارے تمام سامعین کے لیے متحرک رہنے اور ایک مختلف چیز کرنے کے بہت سے طریقے موجود ہیں، اور پھر آپ بہتر محسوس کرتے ہیں۔ آپ جانتے ہیں کہ خدمت میں زندگی گزارنے سے ہمیں رات کو اچھا محسوس ہوتا ہے – 'میں نے اپنی پوری کوشش کی یا ربی، واقعی میں نے کیا۔ اگر تو مجھے مزید طاقت عطا کرے اور مجھے زیادہ صلاحیت عطا کرے تو میں مزید آگے بڑھوں گا اور مزید کر پاؤں گا۔' تو رات کو یہ ایک اچھا احساس ہے بنسبت یہ جاننے میں کہ – میں نے واقعی کچھ نہیں کیا اور میں واقعی نہیں جانتا کہ کیا اللہ عزعجل مجھ سے محبت کرتا ہے، کیا رسول اللہ صلی اللہ علیہ وسلم مجھ سے محبت کرتے ہیں؟ لیکن آپ جانتے ہیں کہ جب آپ خدمت میں زندگی گزارتے ہیں اور آپ نے اپنی پوری کوشش کی ہو اور آپ مسلسل اپنی پوری کوشش کر رہے ہوں تو وہ دل میں ایک سکون نازل فرما دیتا ہے کہ آپ ان کی محبت محسوس کرتے ہیں، آپ ان کی موجودگی کو محسوس کرتے ہیں، آپ کوان کی حمایت کا احساس ہوتا ہے کہ وہ خوش ہیں اور آپ کو آگے بڑھنے اور انشااللہ مزید کام کرنے کی تحریک دے رہے ہیں۔
URDU TRANSLITERATION:
Lehaza, Insha Allah , hum hamesha aik achi misaal qaim karen taakay log jab hum se milein woh hamaray kirdaar ko aajzi aur aik achi misaal ke sath dekhen to is mein dilchaspi mehsoos karen. InshaAllh .
Aur Singapore ke ilaqay aur Singapore groups aur Facebook aur whatsApp par hamari videos share karen. Aap jantay hain ke kuch wats app groups hain jin mein 10, 000 afraad hain ya Telegram groups jin mein 30, 000 ya 100, 000 afraad hain. Hamari video lain aur inhen wahan post karte rahen, inhen wahan daaltay den, videos post karen, post karen, post karen, Insha Allah [ sahykh hanstay hain ]. Kon jane ke yeh kisi ko mil jaye aur koi is mein dilchaspi rakhta ho aur koi urdu mazameen ko samjhta ho. Ke hamaray paas nurmuhammad.com Website par urdu ke liye aik mukammal section mojood hai aur aap un urdu mazameen ko le kar urdu whatsApp groups aur Telegram aur un tamam platforms par share kar satke hain. Aur poora mazmoon urdu mein hota hai aur bohat khoubsurti se mukammal kya gaya hota hai, urdu team bohat mehnat se is kaam ko sar-anjaam deti hai, woh videos aur gif aur articles ko akatha karti hai, to Alhamdulillah. Hamaray tamam samaeen ke liye mutharrak rehne aur aik mukhtalif cheez karne ke bohat se tareeqay mojood hain, aur phir aap behtar mehsoos karte hain. Aap jantay hain ke khidmat mein zindagi guzaarne se hamein raat ko acha mehsoos hota hai – 'Mein ne apni poori koshish ki ya rabbi, waqai mein ne kya. Agar tu mujhe mazeed taaqat ataa kere aur mujhe ziyada salahiyat ataa kere to mein mazeed agay brhho ga aur mazeed kar paon ga.' To raat ko yeh aik acha ehsas hai banisbt yeh jan-nay mein ke – mein ne waqai kuch nahi kya aur mein waqai nahi jaanta ke kya Allah azzawajal mujh se mohabbat karta hai, kya Rasool Allah (s) mujh se mohabbat karte hain? Lekin aap jantay hain ke jab aap khidmat mein zindagi guzartay hain aur aap ne apni poori koshish ki ho aur aap musalsal apni poori koshish kar rahay hon to woh dil mein aik sukoon nazil farma deta hai ke aap un ki mohabbat mehsoos karte hain, aap un ki mojoodgi ko mehsoos karte hain, aap kawannn ki himayat ka ehsas hota hai ke woh khush hain aur aap ko agay bherne aur inshaAllah mazeed kaam karne ki tehreek day rahay hain .
ENGLISH TRANSCRIPT:
So InshaAllah we leave always a good example so that people come across us and they feel interested in what they see of us of a character and humility and a good example InshaAllah. And share the videos in the Singapore area and the Singapore groups and Facebook and WhatsApp. You know there's some WhatsApp groups with 10,000 people or Telegram groups with 30,000 people or 100,000 people, take the video and just keep throwing them in there, throw them in there, post the videos, post this, post that InshaAllah [Shaykh laughs]. Never know who it comes in contact with and who's interested and who understands the Urdu articles. That we have a whole section on the website for Urdu on 'Nurmuhammad' [Nurmuhammad.com] and you can take those Urdu articles and share them into the Urdu WhatsApp's and chats and Telegram and all of these things. And the whole article is in Urdu and very beautifully done, the Urdu team they put a lot of effort, they put videos together and gifs together and articles together, so alhamdulillah. So many ways for all our audience to sort of be active and to make a difference, and you feel better. You know a life with service we feel good at night that – I tried my best Ya Rabbi, really I did. If You give me to be stronger and You give me more ability I would go more and do more. So that's a good feeling at night versus knowing – I really didn't do anything and I don't really know if you know if Allah (AJ) loves me, if Prophet ﷺ loves me. But you know that when you live a life of service and you've done your best and you're continuously doing your best, they send that sakinah (tranquillity) into the heart that you feel their love, you feel their presence, you feel their support, that they're happy and pushing you to go and do more InshaAllah.
—————————
حصہ دوم:
PART 2:
یہ بیان یوٹیوب پر دیکھنے کیلئے
Watch this Bayan on youtube:
https://youtu.be/wAca7jPSJj4.
اس آرٹیکل کو انگلش میں پڑھنے کیلئے
𝐐&𝐀 𝐒𝐭𝐚𝐠𝐞𝐬 𝐨𝐟 𝐀𝐧𝐧𝐢𝐡𝐢𝐥𝐚𝐭𝐢𝐨𝐧 – 𝐒𝐨𝐥𝐢𝐝, 𝐋𝐢𝐪𝐮𝐢𝐝, 𝐄𝐭𝐡𝐞𝐫𝐞𝐚𝐥. 𝐅𝐚𝐥𝐥𝐞𝐧 𝐀𝐧𝐠𝐞𝐥𝐬 𝐇𝐚𝐫𝐮𝐭 𝐚𝐧𝐝 𝐌𝐚𝐫𝐮𝐭 𝐚𝐧𝐝 𝐭𝐡𝐞 𝐖𝐞𝐥𝐥 𝐨𝐟 𝐁𝐚𝐛𝐞𝐥. 𝐑𝐞𝐚𝐥𝐢𝐭𝐢𝐞𝐬 𝐨𝐟 𝐭𝐡𝐞 𝐦𝐨𝐨𝐧 𝐚𝐧𝐝 𝐢𝐭𝐬 𝐩𝐡𝐚𝐬𝐞𝐬 – 𝐰𝐡𝐢𝐭𝐞 𝐚𝐧𝐝 𝐝𝐚𝐫𝐤 𝐧𝐢𝐠𝐡𝐭𝐬. 𝐃𝐨𝐧'𝐭 𝐞𝐧𝐭𝐞𝐫 𝐰𝐨𝐫𝐥𝐝 𝐨𝐟 𝐢𝐦𝐚𝐠𝐢𝐧𝐚𝐭𝐢𝐨𝐧, 𝐟𝐨𝐜𝐮𝐬 𝐨𝐧 𝐲𝐨𝐮𝐫 𝐜𝐨𝐧𝐧𝐞𝐜𝐭𝐢𝐨𝐧. 𝐖𝐡𝐚𝐭 𝐫𝐞𝐚𝐥𝐥𝐲 𝐡𝐚𝐩𝐩𝐞𝐧𝐞𝐝 𝐰𝐢𝐭𝐡 𝐭𝐡𝐞 𝟑𝟑 𝐂𝐡𝐢𝐥𝐞𝐚𝐧 𝐌𝐢𝐧𝐞𝐫𝐬.
یو ٹیوب چینل ابھی سبسکرایب کیجئے
Subscribe Now: The Muhammadan Way Sufi Realities
Www.youtube.com/channel/UC4E8QX7OgwYDgyuuXTBMrcg
شیخ سید نور جان میر احمدی نقشبندی (ق) کا آفشیل فیس بک پیج لائک کیجئے
Official Page: Shaykh Nurjan Mirahmadi
Https://www.facebook.com/shaykhnurjanmirahmadi/
►𝐀𝐧𝐝𝐫𝐨𝐢𝐝 𝐀𝐩𝐩: https://play.google.com/store/apps/details…
► 𝐢𝐏𝐡𝐨𝐧𝐞 𝐀𝐩𝐩: https://apps.apple.com/us/app/muhammadan-way/id1244297852
► 𝐒𝐨𝐮𝐧𝐝𝐂𝐥𝐨𝐮𝐝: https://soundcloud.com/muhammadanway
► 𝐃𝐨𝐧𝐚𝐭𝐞 (𝐏𝐀𝐊𝐈𝐒𝐓𝐀𝐍 𝐚𝐧𝐝 𝐖𝐎𝐋𝐑𝐃𝐖𝐈𝐃𝐄) : https://nurmuhammad.com/donate
Please Subscribe and Share