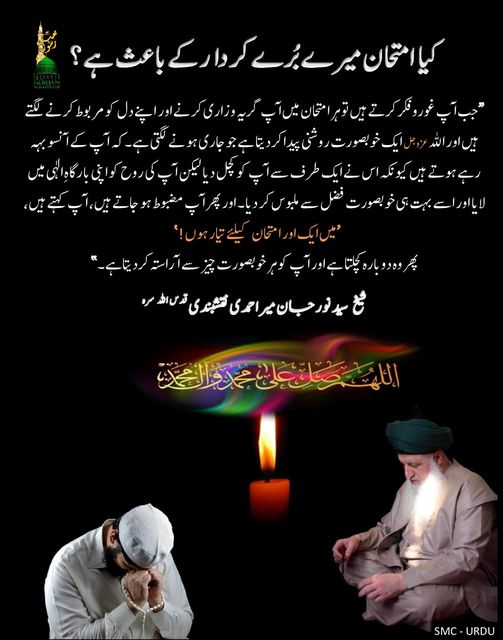 Urdu – سوالات و جوابات: جہاں آپ جاتے ہیں کیا وہاں پر آپ اینرجی کو کھو دیتے ہیں یا حاصل…

سوالات و جوابات: جہاں آپ جاتے ہیں کیا وہاں پر آپ اینرجی کو کھو دیتے ہیں یا حاصل کرتے ہیں؟ اپنے امتحانات کے بارے میں شکایت نہ کریں ، اللہ عزوجل آپ کو کسی چیز سے نوازنا چاہتا ہے۔ محبت اور ایمان ایسی چیز ہے جس کی آپ کو پرورش کرنی ہوگی۔ بند آنکھوں اور کھلی آنکھوں سے کیا جانے والا مراقبہ۔ جدید اداروں سے ہوشیار رہیں۔ درد کی حقیقت اور روح کے 4 دشمن۔ (حصہ دوم)
سوال نمبر 2: کیا محرم کے اس مقدس مہینے میں امتحان بھاری ہو جاتا ہے یا یہ میرے برے کردار کی وجہ سے ہے؟ سب کچھ الٹا پلٹا سا ہوا ہے میری طرف۔
?&? – ??? ??? ??????? ?? ??????? ?????? ???? ????? ??? ??? ???'? ???????? ????? ???? ????????, ????? (??) ????? ?? ????? ??? ???? ?????????. ???? ??? ????? ?? ????????? ??? ???? ?? ???????. ?????????? ???? ???? ?????? ??? ???? ????. ?????? ?? ?????? ????????????. ??? ??????? ?? ???? ??? ??? ? ??????? ?? ??? ????.
????????: ???? ?? ?????? ??????? ??????? ???????? ????? ??? ????? ?? ?? ????? ????? ?????? ?? ????? ??? ?????? ???????? ??????? ?? ?? ???? ?? ??? ??????? ???? ??? ?????? ?? ??????
?? ??ℎ?? ????? ???? ???? ??ℎ?? ??? ?? ?????? ?? ?ℎ? ????? ???? ?? ????? ??????? ????? ????? ????ℎ????? ? ????? ?? ?ℎ?????? ?? ??????, ????ℎ (??) ?? ?? ???? ?ℎ??? ??? ???????? ?ℎ?ℎ?? ???. ??ℎ????? ??? ???? ???? ?ℎ?? ??? ?? ??? ???? ????????ℎ ???? ????. ???? ????ℎ? ??? ?ℎ???? ????ℎ? ??? ???? ????? ??? ???????ℎ. ????? ?????? ??? ???ℎ????? ??ℎ???. ???? ?? ???????? ??? ??ℎ ? 4 ???ℎ???. [????-2]
??????: ??? ??ℎ??? ?? ?? ???????? ??ℎ???? ???? ???ℎ?ℎ??? ?ℎ???? ℎ? ???? ℎ?? ?? ??ℎ ???? ????? ??????? ?? ????ℎ ?? ℎ??? ??? ???ℎ ???? ????? ?? ℎ?? ℎ?? ???? ????? .
——————————————–
——————————————–
شیخ سید نورجان میراحمدی نقشبندی (ق) کی سنہری تعلیمات سے اقتباس۔
بِسْمِ اللَّـهِ الرَّحْمَـٰنِ الرَّحِيمِ
اَلَّھُمَّ صَلِّ عَلَی سَیَّدِنَا محَمَّدٍ ﷺ وَعَلَی آلِ سَیَّدِنَا محَمَّدٍ ﷺ
سوال: کیا محرم کے اس مقدس مہینے میں امتحان بھاری ہو جاتا ہے یا یہ میرے برے کردار کی وجہ سے ہے؟ سب کچھ الٹا پلٹا سا ہوا ہے میری طرف۔
شیخ سید نورجان میراحمدی نقشبندی (ق): ہاں ، شاید آپ کے برے کردار کی وجہ سے [شیخ ہنستے ہیں]۔ نہیں ، الحمدللہ۔ آپ بھلا یہ کیسے بتا سکتے ہیں؟ کیا یہ۔۔۔ اور آپ کیسے فیصلہ کر سکتے ہیں؟ آپ جانتے ہیں کہ جب اللہ عزوجل آپ سے محبت کرتا ہے تو، ہم سکھاتے رہے ہیں کہ، 'یہ آزمائش ہے ، یہ جانچ ہے۔' لیکن آپ کو ایسا نہیں سوچنا چاہیے۔ ہم لوگوں کو یہ سمجھانے کی غرض سے سکھاتے ہیں کہ یہ ایک امتحان ہے ، صبر کریں! آپ جانتے ہیں کہ ہر کوئی چپکے سے کہہ رہا ہوتا ہے کہ، 'میں ولی بننا چاہتا ہوں۔' اگر آپ ان سے پوچھیں تو وہ کہتے ہیں ، 'نہیں ، میں ولی نہیں بننا چاہتا۔' آپ واقعی ولی بننا چاہتے ہیں۔ اسی لیے تو آپ (یہاں) آ رہے ہیں اور اسی لیے آپ اتنے پُرعزم ہیں۔ اوہ ، اگر اللہ عزوجل آپ کو ولایت دینا چاہتا ہے تو کیا وہ آپ کی آزمائش نہیں کرے گا؟ تو یقیناً، آپ کی زندگی امتحانات سے پُر ہوگی۔ اتنا زیادہ کہ آپ کو اب یہ مزید امتحان بھی نہیں لگے گا – یہ تو صرف زندگی کا طریقہ کار ہے۔ تو پھر یہ مزید امتحان نہیں رہتا ، یہ صرف زندگی کا طرز بن جاتا ہے۔ یہ ، 'میں تم سے پیار کرتا ہوں ، تو یقینا میں تمہیں مشکل میں ڈالنے جا رہا ہوں ، تاکہ تمہارا کردار دیکھوں۔ اور میں مسلسل تمہارے درجات (روحانی درجات) ، تمہارے مقام اور تمہارے رتبے کو بلند کرتا رہوں گا۔' تو آپ کی باطنی حقیقت کو اس کی ضرورت تھی چنانچہ اللہ عزوجل آپ کو وہ عطا کر رہا ہوتا ہے۔ تو اس پر اب مزید دھیان نہ دیں۔
???????????????:
Sawal : Kya Mehram ke is muqaddas mahinay mein imthehaan bhaari ho jata hai ya yeh mere buray kirdaar ki wajah se hai? Sab kuch ulta palta sa hwa hai meri taraf .
Shayk Syed Nurjan Naqshbndi (Q) :Haan, shayad aap ke buray kirdaar ki wajah se [ Shaykh hanstay hain ]. Nahi,. Aap bhala yeh kaisay bta satke hain? Kya yeh. .. Aur aap kaisay faisla kar satke hain? Aap jantay hain ke jab Allah azzwajal aap se mohabbat karta hai to, hum sikhate rahay hain ke,' yeh azmaish hai, yeh jaanch hai.' lekin aap ko aisa nahi sochna chahiye. Hum logon ko yeh samjhane ki gharz se sikhate hain ke yeh aik imthehaan hai, sabr karen! Aap jantay hain ke har koi chupkay se keh raha hota hai ke, 'mein walii ban-na chahta hon.' agar aap un se poucheen to woh kehte hain,' nahi, mein walii nahi ban-na chahta.' Aap waqai walii ban-na chahtay hain. Isi liye to aap ( yahan ) aa rahay hain aur isi liye aap itnay purazm hain. Oh, agar Allah azzwajal aap ko Wilayat dena chahta hai to kya woh aap ki azmaish nahi kere ga? To yaqeenan, aap ki zindagi imtehanaat se pur hogi. Itna ziyada ke aap ko ab yeh mazeed imthehaan bhi nahi lagey ga – yeh to sirf zindagi ka tareeqa car hai. To phir yeh mazeed imthehaan nahi rehta, yeh sirf zindagi ka tarz ban jata hai. Yeh,' mein tum se pyar karta hon, to yaqeenan mein tumhe mushkil mein daalnay ja raha hon, taakay tumhara kirdaar daikhon. Aur mein musalsal tumahray darjaat ( Rohani darjaat ), tumahray maqam aur tumahray rutbey ko buland karta rahon ga.' to aap ki baatini haqeeqat ko is ki zaroorat thi chunancha Allah azzwajal aap ko woh ataa kar raha hota hai. To is par ab mazeed dheyaan nah den .
??????? ??????????:
???????? : Is the imtihan or testing become heavy in this holy month of Muharram or is it because of my bad character? Everything is flipped upside down on my side.
?????? ?????? ????????? : Yeah, probably because of your bad character [shaykh laughs]. No, alhamdulillah. How can you tell? What's… and how can you judge? You know when Allah (AJ) loves you, we keep teaching, 'It's testing, it's testing.' But you shouldn't think like that. We teach by virtue of telling people, 'It's a test, be patient.' But when Allah (AJ) loves you, how He's going to give you a higher grade? You know everybody's secretly out there saying, 'I want to be a wali (saint).' If you ask them, they say, 'No, I don't want to be a wali.' No, come on! You really do want to be a wali. That's why you're coming and that's why you're dedicated. Oh, if Allah (AJ) wants to grant you wilayat (sainthood), He's not going to test you? So of course, your life is going to be filled with testing. So much so that you don't even think it's testing anymore – It's just the way of life. So, then it's no more testing, it's just the way of life. That, 'I love you, so of course I'm going to put [you] through difficulty, see your character. And I'm continuously raising your darajat (spiritual rank), your maqam and your stations.' So, your inner reality wanted that, Allah's (AJ) giving you that, so don't focus on it anymore.
پھر آپ اس تعلیم کو حاصل کر لیں گے اور آپ اس تعلیم میں گریجویشن کر لیں گے، 'دراصل مجھے اب صبر کی تربیت دی جا رہی ہے، میں مراقبہ کرتا ہوں ، میں غوروفکر کرتا ہوں۔' جب میں کوئی روحانی مشقیں نہیں کرتے تو یہ سیدھا سیدھا امتحان ہوتا ہے – یہاں تھپڑ، وہاں تھپڑ – چک ، چوک ، چک [تھپڑ کی آوازیں]۔ ٹھیک ہے؟ لیکن جب آپ غوروفکر کرتے ہیں تو ہر امتحان میں آپ گریہ و زاری کرتے ہیں اور آپ اپنے دل کو مربوط کرتے ہیں اور اللہ عزوجل ایک خوبصورت روشنی پیدا کردیتا ہے جو جاری ہونے لگتی ہے۔ کہ آپ کے آنسو بہہ رہے ہوتے ہیں کیونکہ اس نے ایک طرف سے آپ کو کچل دیا لیکن آپ کی روح کو اپنی بارگاہِ الٰہی میں لایا اور اس نے اسے بہت ہی خوبصورت فضل سے ملبوس کر دیا۔ اور پھر آپ مضبوط ہو جاتے ہیں، آپ کہتے ہیں، 'میں ایک اور (امتحان) لینے کیلئے تیار ہوں۔' پھر وہ دوبارہ کچلتا ہے اور آپ کو ہر خوبصورت چیز سے آراستہ کرتا ہے۔ لیکن اگر آپ غوروفکر نہیں کرتے اور روحانیت کو بیدار نہیں کر پاتے تو آپ کا حال یہ ہو گا کہ، 'یہ کیا زندگی ہے؟ بائیں تھپڑ، دائیں تھپڑ' تو ، یہ کلینک کی طرح ہے۔ ان سوالات سے جو ہم پوچھتے ہیں ، تشخیص ہو رہی ہوتی ہے کہ – ہاں ، آپ کو کرنا ہی ہے اور تفکر میں بہت مضبوط ہونا ہے۔ کیونکہ جیسے جیسے زندگی مزید مشکل ہوتی جا رہی ہے اللہ عزوجل اسے مزید خوبصورت بنا رہا ہے۔ لہذا ، ہر مشکل جس پر آپ روتے ہیں اور اپنے دل کو مربوط کرتے ہیں تو اچانک سے حیرت انگیز خوبصورت فضل اور روشنی کا مشاہدہ کرنے لگتے ہیں ، اور اُن مقدس روحوں کا کشف اور مشاہدہ کرنے لگتے ہیں جو آپ کے ساتھ ہیں۔ جو فرما رہی ہوتی ہیں کہ، 'آؤ، ہمارے پاس آؤ۔ ان باتوں کی فکر مت کرو۔ اللہ عزوجل ہر چیز کو ہموار کر دے گا۔'
???????????????:
Phir aap is taleem ko haasil kar len ge aur aap is taleem mein grijoyshn kar len ge,' darasal mujhe ab sabr ki tarbiyat di ja rahi hai, mein muraqba karta hon, mein ghor-o-fikar karta hon.' jab mein koi Rohani mashqen nahi karte to yeh seedha seedha imthehaan hota hai – yahan thapar, wahan thapar – chak, chok, chak [ thapar ki aawazian ]. Theek hai? Lekin jab aap ghor-o-fikar karte hain to har imthehaan mein aap giryaa o zaari karte hain aur aap –apne dil ko marboot karte hain aur Allah azzwajal aik khobsorat roshni peda kardaita hai jo jari honay lagti hai. Ke aap ke ansoo beh rahay hotay hain kyunkay is ne aik taraf se aap ko kuchal diya lekin aap ki rooh ko apni bargaah Ellahi mein laya aur is ne usay bohat hi khobsorat fazl se malbos kar diya. Aur phir aap mazboot ho jatay hain, aap kehte hain,' mein aik aur ( imthehaan ) lainay ke liye tayyar hon.' phir woh dobarah kuchalta hai aur aap ko har khobsorat cheez se aarasta karta hai. Lekin agar aap ghor-o-fikar nahi karte aur rohaniyat ko bedaar nahi kar paate to aap ka haal yeh ho ga ke,' yeh kya zindagi hai? Baen thapar, dayen thapar' to, yeh cilinic ki terhan hai. Un sawalaat se jo hum puchhte hain, tashkhees ho rahi hoti hai ke – haan, aap ko karna hi hai aur tafakar mein bohat mazboot hona hai. Kyunkay jaisay jaisay zindagi mazeed mushkil hoti ja rahi hai Allah azzwajal usay mazeed khobsorat bana raha hai. Lehaza, har mushkil jis par aap rotay hain aur –apne dil ko marboot karte hain to achanak se herat angaiz khobsorat fazl aur roshni ka mushahida karne lagtay hain, aur unn muqaddas roohon ka kashaf aur mushahida karne lagtay hain jo aap ke sath hain. Jo farma rahi hoti hain ke,' aao, hamaray paas aao. Un baton ki fikar mat karo. Allah azzwajal har cheez ko hamwar kar day ga. '
??????? ??????????:
Then you'll take the teaching and you'll have graduated in the teaching that, 'Actually I'm training now on sabr (patience), I'm meditating, I'm contemplating.' When I don't do any practices, it's just straight out testing – slap here, slap there 'Chak, chok, chak,' [slap sounds]. Right? But when you meditate, every test you cry and you connect your heart and Allah (AJ) makes a beatific light to emanate. That, your tears come pouring out because He crushed one side but his soul He brought into His Divinely Presence and He dressed it with very beatific grace. And then you're strong you say, 'I'll take another one.' Then He crush again and dress you with every beatific… But if you're not contemplating and didn't open spiritual, you're like, 'What is this life of slapping left, slapping right?' So, this is like a clinic. By the questions that we're asking, the diagnosis is coming that – yeah, you have to do and be very strong on the tafakkur. Because as life becomes more challenging Allah (AJ) is going to make it more beatific. So, every difficulty you cry and connect your heart and all of a sudden see amazing beatific grace and light, and begin to have khashf and vision of holy souls that are with you. That saying, 'Come, come to us. Don't worry about these things.
اور پہلے سے ہی آپ کو یہ علم ہے کہ مشائخ کی زندگی ایسی ہوتی ہی کہ وہ ایک میں گاڑی ہیں جو پہاڑ کی چوٹی پر بھرپور طریقے سے قلا بازیاں کھا رہی ہوتی ہے لیکن وہ مکمل طور پر سیدھے ہوتے ہیں – وہ اپنے عقیدے میں پُختہ ہوتے ہیں۔ کیونکہ اللہ عزوجل ان کے گرد طوفان برپا کر رہا ہوتا ہے اور وہ بِنا کسی فکر کے طوفان کی زد میں ہوتے ہیں اس خدائی فضل اور خدائی محبت کے سبب جو اُن کو آراستہ کر رہی ہوتی ہے۔ دنیا اس کو کسی ایسی چیز کے طور پر دیکھ رہی ہوتی جو قلا بازیاں کھا رہی ہے۔ تو ، یہ ہے ان حقائق تک پہنچنے کا طریقہ کار۔ لیکن اگر ہم صرف اسی پر توجہ مرکوز رکھنا چاہتے ہیں کہ، 'یہ ایک مسئلہ ہے ، یہ ایک مسئلہ ہے ،' گویا آپ اللہ عزوجل سے شکایت کر رہے ہوں۔ 'تو کیا تم یہ مقام نہیں چاہتے؟ کوئی حرج نہیں، میں تمہیں بھول جاتا ہوں۔' (اللہ عزوجل فرماتا ہے)۔ اور ہم مغرب میں رو رہے تھے – یہ ایک رونے کی سی کیفیت ہوتی ہے کہ جب آپ کا دل قرب محسوس کر رہا ہو، بھیک مانگ رہا ہو اور اللہ عزوجل سے دعا کر رہا ہو کہ، 'مجھے مت بھولنا۔ یا ربی! مجھ سے نہ تھکنا۔ اپنی رحمت کا دروازہ بند نہ کرنا۔ کہ میں نے وہ حاصل نہیں کر پایا جو مجھے حاصل کرنا تھا تو کہیں تو مجھ سے اُکتا جائے۔ اور اگر تو مجھ سے اُکتا جائے تو میں کہاں جاؤں گا؟' لہذا وہ دعا نہیں کرتے کہ امتحان رک جائے بلکہ وہ دعا کرتے ہیں کہ اللہ عزوجل ان سے بیزار نہ ہو۔ 'اوہ، میں نے تمہیں کافی دیکھ لیا، تم کہیں نہیں پہنچ رہے ، اور شاید تم نے اچھی طرح سے دھیان نہیں دیا۔' (اللہ عزوجل فرماتا ہے)۔ لہذا ، مسلسل درخواست کرتے رہیں ، 'یا ربی ، مجھے مت چھوڑنا۔ اپنے خدائی فضل کو مجھ سے دور نہ کرنا،'
???????????????:
Aur pehlay se hi aap ko yeh ilm hai ke mashaiykh ki zindagi aisi hoti hi ke woh aik mein gaari hain jo pahar ki chouti par bharpoor tareeqay se qala bazyan kha rahi hoti hai lekin woh mukammal tor par seedhay hotay hain – woh apne aqeday mein pُkhtah hotay hain. Kyunkay allah azzwajal un ke gird tufaan barpaa kar raha hota hai aur woh bِna kisi fikar ke tufaan ki zad mein hotay hain is khudai fazl aur khudai mohabbat ke sabab jo unn ko aarasta kar rahi hoti hai. Duniya is ko kisi aisi cheez ke tor par dekh rahi hoti jo qala bazyan kha rahi hai. To, yeh hai un haqayiq tak pounchanay ka tareeqa car. Lekin agar hum sirf isi par tawajah markooz rakhna chahtay hain ke,' yeh aik masla hai, yeh aik masla hai,' goya aap allah azzwajal se shikayat kar rahay hon.' to kya tum yeh maqam nahi chahtay? Koi harj nahi, mein tumhe bhool jata hon.' ( Allah azzwajal farmata hai ). Aur hum maghrib mein ro rahay thay – yeh aik ronay ki si kefiyat hoti hai ke jab aap ka dil qurb mehsoos kar raha ho, bheek maang raha ho aur allah azzwajal se dua kar raha ho ke,'mujhe mat bhoolna. Ya rabbi! Mujh se nah thakna. Apni rehmat ka darwaaza band nah karna. Ke mein ne woh haasil nahi kar paaya jo mujhe haasil karna tha to kahin to mujh se uqta jaye. Aur agar to mujh se uqta jaye to mein kahan jaoon ga?' lehaza woh dua nahi karte ke imthehaan ruk jaye balkay woh dua karte hain ke Allah azzwajal un se bezaar nah ho.' oh, mein ne tumhe kaafi dekh liya, tum kahin nahi pahonch rahay, aur shayad tum ne achi terhan se dheyaan nahi diya.' ( Allah azzwajal farmata hai ). Lehaza, musalsal darkhwast karte rahen,' ya rabbi, mujhe mat chhorna. apne khudai fazl ko mujh se daur nah karna, '
??????? ??????????:
Allah (AJ) will make everything to be smooth.' And before you know it the lives of shaykhs they're like in a car spinning completely off of a cliff but they're straight up – they're solid in their belief [the shaykhs]. Because Allah's (AJ) making as a storm around them, they are in the eye of the storm with no problem because of Divine Grace and Divine Love that's dressing. The world may see it as something spinning. So, this is the… this is the way of reaching these realities. But if we just want to keep focusing, 'This is a problem, this is a problem,' as if you're complaining to Allah (AJ). 'So, you don't want this station? No problem, I can forget about you' [says Allah (AJ)]. And we were crying in Maghrib (evening prayer) – this was a crying that, that when your heart is drawing near, begging and praying for Allah (AJ), 'Don't forget me. Ya Rabbi don't get tired of me. Don't close the door of Your rahmah. That, I didn't achieve what I was supposed to achieve, and then You become tired of me. And if You should be tired of me, where am I going to go?' Who will take care of me if Allah (AJ) not with me? So, they don't pray the testing stops but they pray that Allah (AJ) don't get sick of them. 'Oh, I had enough of you. You're not getting anywhere, and maybe you didn't listen enough' [says Allah (AJ)]. So, continuously asking, 'Ya Rabbi don't, don't give up on me. Don't turn Your Divine Grace away from me.'
محبت اور ایمان دونوں ایسی چیزیں ہیں جن کی پرورش ضروری ہے کیونکہ وہ ایک جیسے ہیں۔ جن سے آپ محبت کرتے ہیں انہیں یہ جاننا ضروری ہے کہ آپ ان سے محبت کرتے ہیں۔ اگر آپ لوگوں کو یہ نہیں بتاتے رہتے کہ آپ ان سے محبت کرتے ہیں اور آپ اپنی محبت کا اظہاران لوگوں سے نہیں کر رہے جن سےآپ محبت کرتے ہیں تو یہ ختم ہو جائے گی یہ چلی جائے گی۔ اور نبی پاک ﷺ نے بیان کیا، "محبت ایمان کی طرح ہے اور ایمان قمیض کی طرح ہے اور قمیض پرانی ہو جاتی ہے – آپ اپنا ایمان کھو دیں گے۔"
عَنْ عَبْدِ اللَّهِ بْنِ عَمْرِو بْنِ الْعَاصِ قَالَ قَالَ رَسُولُ اللَّهِ صَلَّى اللَّهُ عَلَيْهِ وَآلِهِ وَسَلَّمَ إِنَّ الْإِيمَانَ لَيَخْلَقُ فِي جَوْفِ أَحَدِكُمْ كَمَا يَخْلَقُ الثَّوْبُ الْخَلِقُ فَاسْأَلُوا اللَّهَ أَنْ يُجَدِّدَ الْإِيمَانَ فِي قُلُوبِكُمْ
5 المستدرك على الصحيحين
1590المحدث الألباني خلاصة حكم المحدث صحيح في صحيح الجامع(
عبداللہ بن عمرو رضی اللہ عنہ سے روایت ہے کہ رسول اللہ ﷺ نے فرمایا: "یقیناً تم میں سے کسی کا ایمان اس کے اندر خستہ حال ہو جائے گا، جس طرح ایک قمیض پُرانی ہو جاتی ہے۔ چنانچہ اللہ عزوجل سے دعا کیا کرو کہ وہ تمہارے ایمان کی تجدید کرے۔" ماخذ: المستدرک 5۔
یہ مت سوچو کہ، 'اوہ ، میں نے اسلام قبول کر لیا ہے' یا 'میں پیدائشی مسلمان ہوں۔' نہیں! تمہارا ایمان ختم ہو جائے گا۔ یہ ایک قمیض کی طرح بن جائے گا – پرانا (خستہ حال)۔ اور آخر میں ایک دن تم دیکھو اور کہو، 'حتٰی کہ میرے پاس ایمان ہے ہی نہیں۔ میں جو کام کر رہا ہوں ، میں تو ایمان والا بندہ ہی نہیں۔تو آپ کو معلوم ہوتا ہے کہ خدانخواستہ اللہ عزوجل آپ سے منہ موڑ چکا ہے۔ لیکن یہ محبت ، کیونکہ دنیاوی محبت اور الٰہی محبت ایک ایسی چیز ہے جس پر ہم روزانہ کام کرتے ہیں، ہر لمحہ ہمارے محاسبہ میں اور اپنے احتساب میں اللہ عزوجل سے التجا کرتے ہیں ، 'میں تجھ سے محبت کرتا ہوں یا ربی ، مجھے معاف کر دے۔ میں تجھ سے محبت کرتا ہوں یا ربی ، براہِ کرم مجھ پر اپنی تجلی نازل فرما۔ کہ اپنے سجدے میں جہاں آپ بارگاہِ الٰہی کے قریب ہیں ،'یا ربی برائے مہربانی اپنی مدد (میرے لئے) بھیج ، اپنا کرم مجھ پر نازل فرما،اپنی نعمتیں مجھ پر نازل فرما، سیدنا محمد ﷺ کی محبت نازل فرما ، مجھے مت چھوڑنا۔' اگر آپ اللہ عزوجل سے محبت کر رہے ہیں تو پھر اللہ عزوجل آپ سے کیسے محبت نہیں کرے گا؟ لیکن جب آپ اپنے آپ کو اللہ عزوجل سے محبت کرتا ہوا نہیں پا رہے – آپ دور ہٹ رہے ہیں۔ کیونکہ وہ کہتے ہیں ، 'تم کیسے جانتے ہو کہ تم اللہ عزوجل کے کتنے قریب ہو؟' میں جانتا ہوں کیونکہ میں اللہ عزوجل سے اتنا پیار کرتا ہوں۔ اگر آپ کے پاس وہ محبت نہیں ہے تو یہ اس بات کی علامت ہے کہ آپ اس محبت سے کتنے دور ہیں۔ لیکن جس سے آپ محبت کرتے ہیں وہ آپ سے محبت کرتا ہے۔ جس پر آپ توجہ مرکوز کرتے ہیں وہ آپ پر توجہ مرکوز کرتا ہے! چانچہ آپ کو پیار دینا ہوگا تو آپ اسے وصول کر پائیں گے۔ آپ اس کی پرورش کریں اور اسے مسلسل پروان چڑھائیں اور اسے تعمیر کرتے رہیں۔ اور پھر محبت کوئی ایسی چیز نہیں ہے جسے آپ صرف پوشیدہ رکھیں، بلکہ آپ اُس محبت سے بھرے اعمال انجام دیں، 'میں آپ سے پیار کرتا ہوں اور یہ لیجئے کچھ خوبصورت! میں آپ سے پیار کرتا ہوں اور میں نے یہ کیا۔' اب تصور کریں کہ یہ تو زمین پر اپنے پیاروں کے لیے ہے، آپ اپنے بچوں سے پیار کرتے ہیں آپ انہیں ایک تحفہ دیتے ہیں اور وہ جان جاتے ہیں کہ، 'میرے والد مجھ سے محبت کرتے ہیں۔ وہ مجھ سے ہر موقع پر اس کا اظہار کرتے ہے۔' پھر اللہ عزوجل کہتا ہے ، 'اگر تم مجھ سے محبت کرتے ہو تو تم کسی کو کھانا کیوں نہیں کِھلا رہے ہو؟ میں نے جن (کاموں کے کرنے) کا حکم دیا ہے اس میں سے کوئی اچھا کام کرنے کی کوشش کیوں نہیں کر رہے ہو؟' اوہ، بھلا آپ اللہ عزوجل سے کیسے محبت کیں گے؟ جب اس کی مخلوق سے محبت کریں، جب آپ اس کی مخلوق کی خدمت کریں! یہ کہ آپ خدمت کرنے کی پوری کوشش کریں ، 'یا ربی میں اپنے پیار کا اظہار کرنے کی کوشش کر رہا ہوں، میں خدمت کرنے کی کوشش کر رہا ہوں، میں کوشش کر رہا ہوں کہ جس سے تو پیار کرتا اُس سے پیار کروں – تیرے سب سے محبوب – سیدنا محمد ﷺ۔ اور یہی وجہ ہے کہ یہ تمام تعلیمات محبت کی ہیں۔ اور یہ کہ ہم دعا کرتے ہیں کہ یہ محبت بیدار ہو جائے اور یہ ایمان مضبوط ہو جائے۔ اسے محض نیست و نابود ہو جانے اور دور ہو جانے نہ دیں ، انشاء اللہ۔
???????????????:
Mohabbat aur imaan dono aisi cheeze hain jin ki parwarish zaroori hai kyunkay woh aik jaisay hain. Jin se aap mohabbat karte hain inhen yeh janna zaroori hai ke aap un se mohabbat karte hain. Agar aap logon ko yeh nahi batatay rehtay ke aap un se mohabbat karte hain aur aap apni mohabbat ka izhaar un logon se nahi kar rahay jin se aap mohabbat karte hain to yeh khatam ho jaye gi yeh chali jaye gi. Aur nabi pak (s) Ne bayan kya," mohabbat imaan ki terhan hai aur imaan kameez ki terhan hai aur kameez purani ho jati hai – aap apna imaan kho den ge. "
Abdullah bin umro razi Allah anho se riwayat hai ke rasool Allah (s) Ne farmaya : " yaqeenan tum mein se kisi ka imaan is ke andar khasta haal ho jaye ga, jis terhan aik kameez porani ho jati hai. Chunancha Allah azzwajal se dua kya karo ke woh tumahray imaan ki tajdeed kere." maakhuz : Almustadrik 5
Yeh mat socho ke,' oh, mein ne islam qubool kar liya hai' ya' mein pedaishi musalman hon.' nahi! Tumhara imaan khatam ho jaye ga. Yeh aik kameez ki terhan ban jaye ga – purana ( khasta haal ). Aur aakhir mein aik din tum dekho aur kaho,' hatta ke mere paas imaan hai hi nahi. Mein jo kaam kar raha hon, mein to imaan wala bandah hi nahi. To aap ko maloom hota hai ke khuda na khasta Allah azzwajal aap se mun mourr chuka hai. Lekin yeh mohabbat, kyunkay dunyawi mohabbat aur Ellahi mohabbat aik aisi cheez hai jis par hum rozana kaam karte hain, har lamha hamaray muhasba mein aur apne ehatasab mein Allah azzwajal se iltija karte hain,' mein tujh se mohabbat karta hon ya rabbi, mujhe maaf kar day. Mein tujh se mohabbat karta hon ya rabbi, barahay karam mujh par apni tajallii nazil farma. Ke apne sjday mein jahan aap bargaah Ellahi ke qareeb hain,' ya rabbi baraye meharbani apni madad ( mere liye ) bhaij, apna karam mujh par nazil farma, apni naematain mujh par nazil farma, syedna Mohammad (s) Ki mohabbat nazil farma, mujhe mat chhorna.' agar aap Allah azzwajal se mohabbat kar rahay hain to phir Allah azzwajal aap se kaisay mohabbat nahi kere ga? Lekin jab aap apne aap ko Allah azzwajal se mohabbat karta sun-hwa nahi pa rahay – aap daur hatt rahay hain. Kyunkay woh kehte hain,' tum kaisay jantay ho ke tum Allah azzwajal ke kitney qareeb ho ?' mein jaanta hon kyunkay mein Allah azzwajal se itna pyar karta hon. Agar aap ke paas woh mohabbat nahi hai to yeh is baat ki alamat hai ke aap is mohabbat se kitney daur hain. Lekin jis se aap mohabbat karte hain woh aap se mohabbat karta hai. Jis par aap tawajah markooz karte hain woh aap par tawajah markooz karta hai! Chunancha aap ko pyar dena hoga to aap usay wusool kar payen ge. Aap is ki parwarish karen aur usay musalsal parwan charhayen aur usay taamer karte rahen. Aur phir mohabbat koi aisi cheez nahi hai jisay aap sirf posheeda rakhen, balkay aap uss mohabbat se bharay aamaal injaam den,' mein aap se pyar karta hon aur yeh lijiye kuch khobsorat! Mein aap se pyar karta hon aur mein ne yeh kya.' ab tasawwur karen ke yeh to zameen par apne pyaron ke liye hai, aap apne bachon se pyar karte hain aap inhen aik tohfa dete hain aur woh jaan jatay hain ke,' mere waalid mujh se mohabbat karte hain. Woh mujh se har mauqa par is ka izhaar karte hai.' phir Allah azzwajal kehta hai,' agar tum mujh se mohabbat karte ho to tum kisi ko khana kyun nahi khilla rahay ho? Mein ne jin ( kamon ke karne ) ka hukum diya hai is mein se koi acha kaam karne ki koshish kyun nahi kar rahay ho ?' oh, bhala aap Allah azzwajal se kaisay mohabbat kee ge? Jab is ki makhlooq se mohabbat karen, jab aap is ki makhlooq ki khidmat karen! Yeh ke aap khidmat karne ki poori koshish karen,' ya rabbi mein –apne pyar ka izhaar karne ki koshish kar raha hon, mein khidmat karne ki koshish kar raha hon, mein koshish kar raha hon ke jis se to pyar karta uss se pyar karoon – tairay sab se mehboob – Syedna Mohammad (s). Aur yahi wajah hai ke yeh tamam talemaat mohabbat ki hain. Aur yeh ke hum dua karte hain ke yeh mohabbat bedaar ho jaye aur yeh imaan mazboot ho jaye. Usay mehez naist o nabood ho jane aur daur ho jane nah den, Insha Allah.
??????? ??????????:
We pray that Allah (AJ) inspire and dress us to reach towards these realities and the immensity. Love and faith are both something that have to be nourished because they're the same. Those whom you love they have to know you love them. If you're not telling people you love them and you're not showing your love to those whom you love – it will be lost, it will go. And Prophet ﷺ described, 'Love is like faith and faith is like a shirt and the shirt becomes worn – you'll lose your faith.'
عَنْ عَبْدِ اللَّهِ بْنِ عَمْرِو بْنِ الْعَاصِ قَالَ قَالَ رَسُولُ اللَّهِ صَلَّى اللَّهُ عَلَيْهِ وَآلِهِ وَسَلَّمَ إِنَّ الْإِيمَانَ لَيَخْلَقُ فِي جَوْفِ أَحَدِكُمْ كَمَا يَخْلَقُ الثَّوْبُ الْخَلِقُ فَاسْأَلُوا اللَّهَ أَنْ يُجَدِّدَ الْإِيمَانَ فِي قُلُوبِكُمْ
5 المستدرك على الصحيحين
1590 المحدث الألباني خلاصة حكم المحدث صحيح في صحيح الجامع
Abdullah ibn Amr reported: The Messenger of Allah, peace and blessings be upon him, said, "Verily, the faith of one of you will wear out within him, just as a shirt becomes worn out, so ask Allah to renew faith in your hearts."
Source: al-Mustadrak 5
Don't think, 'Oh, I accepted Islam' or 'I'm a born Muslim.' No, your faith will go. It will become like a shirt – worn. And in the end one day you look, say, 'I don't even have faith. The things I'm doing, I'm not even a person of faith.' And you know that Allah (AJ) has turned from you, God forbid. But this love, because earthly love and Divinely Love is something that everyday we work on, every moment in our muhasabah (self-examination) and in our accounting is begging Allah (AJ), 'I love You Ya Rabbi, please forgive me. I love You Ya Rabbi, please send Your tajalli (manifestation) upon me. That, Ya Rabbi…' in your sujood (prostration) where you're closest to Divinely Presence, '…Ya Rabbi please send Your madad (support) to me, send Your grace to me, send Your blessings to me, send the love of Sayyidina Muhammad ﷺ, don't give up on me.' And that's a daily love affair with the Divinely Presence. How Allah (AJ) then not going to love you if you're loving Allah (AJ)? But when you find yourself not loving Allah (AJ) – you're drawing away. Because they say, 'How do you know how close you are to Allah (AJ)?' I know because how much I love Allah (AJ). If you don't have that love that's the sign of how far you are from that love. But that which you love, loves you. That which you focus on, focuses on you. So, you got to give the love and you receive it. You nurture it and continuously develop it and build it. And then love is not something you just keep hidden, but you provide the actions of that love, 'I love You and here's something beautiful. I love You and I did that.' Now, imagine this is for loved ones on the earth. You love your children; you give them a gift and they know, 'My dad loves me. He shows me at every opportunity.' Then Allah (AJ) say, 'If you love Me, how come you're not feeding anyone? How come you're not trying to do any… any good deeds from what I asked.' Oh, how you're going to love Allah (AJ)? When love His creation, when you serve His creation! That, you try your best to be of service, 'Ya Rabbi I'm trying to show my love, I'm trying to be of service, I'm trying to love whom You love, Your most beloved – Sayyidina Muhammad ﷺ.' And that's why all of these teachings of muhabbat (love). And that we pray then this love is blossom and this faith becomes strong. Don't let it to just perish and go away, inshaAllah.
——————————–
پہلا حصہ:
Part-1:
یہ بیان یوٹیوب پر دیکھنے کیلئے
Watch this Bayan on youtube:
اس آرٹیکل کو انگلش میں پڑھنے کیلئے
?&? – ??? ??? ??????? ?? ??????? ?????? ???? ????? ??? ??? ???'? ???????? ????? ???? ????????, ????? (??) ????? ?? ????? ??? ???? ?????????. ???? ??? ????? ?? ????????? ??? ???? ?? ???????. ?????????? ???? ???? ?????? ??? ???? ????. ?????? ?? ?????? ????????????. ??? ??????? ?? ???? ??? ??? ? ??????? ?? ??? ????.
یو ٹیوب چینل ابھی سبسکرایب کیجئے
Subscribe Now: The Muhammadan Way Sufi Realities
Www.youtube.com/channel/UC4E8QX7OgwYDgyuuXTBMrcg
شیخ سید نور جان میر احمدی نقشبندی (ق) کا آفشیل فیس بک پیج لائک کیجئے
Official Page: Shaykh Nurjan Mirahmadi
Https://www.facebook.com/shaykhnurjanmirahmadi/
► ??????? ???: https://play.google.com/store/apps/details?Id=com.nurmuhammad.muhammadanway
► ?????? ???: https://apps.apple.com/us/app/muhammadan-way/id1244297852
► ??????????: https://soundcloud.com/muhammadanway
► ?????? (???????? ??? ?????????) : https://nurmuhammad.com/donate
Please Subscribe and Share