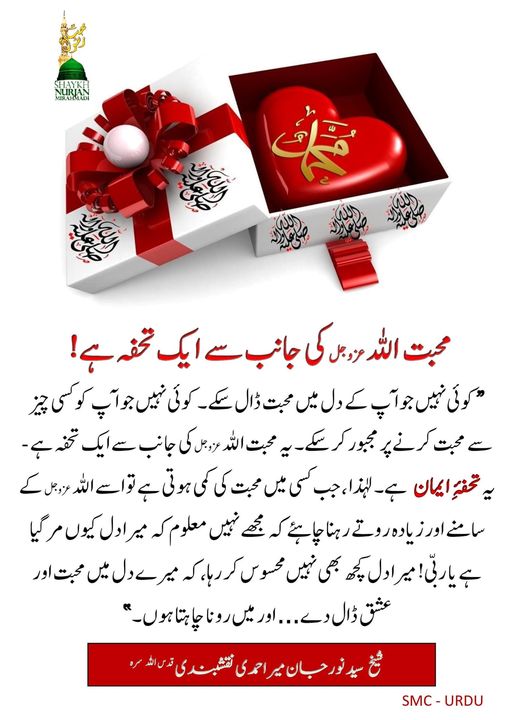 Urdu – سوالات و جوابات: جہاں آپ جاتے ہیں کیا وہاں پر آپ اینرجی کو کھو دیتے ہیں یا حاصل …

سوالات و جوابات: جہاں آپ جاتے ہیں کیا وہاں پر آپ اینرجی کو کھو دیتے ہیں یا حاصل کرتے ہیں؟ اپنے امتحانات کے بارے میں شکایت نہ کریں ، اللہ عزوجل آپ کو کسی چیز سے نوازنا چاہتا ہے۔ محبت اور ایمان ایسی چیز ہے جس کی آپ کو پرورش کرنی ہوگی۔ بند آنکھوں اور کھلی آنکھوں سے کیا جانے والا مراقبہ۔ جدید اداروں سے ہوشیار رہیں۔ درد کی حقیقت اور روح کے 4 دشمن۔ (تیسرا حصہ)
سوال نمبر 3: ماہِ محرم میں ماتم کا صحیح طریقہ کیا ہے؟
𝐐&𝐀 – 𝐀𝐫𝐞 𝐲𝐨𝐮 𝐥𝐨𝐨𝐬𝐢𝐧𝐠 𝐨𝐫 𝐠𝐚𝐢𝐧𝐢𝐧𝐠 𝐞𝐧𝐞𝐫𝐠𝐲 𝐟𝐫𝐨𝐦 𝐰𝐡𝐞𝐫𝐞 𝐲𝐨𝐮 𝐠𝐨? 𝐃𝐨𝐧'𝐭 𝐜𝐨𝐦𝐩𝐥𝐚𝐢𝐧 𝐚𝐛𝐨𝐮𝐭 𝐲𝐨𝐮𝐫 𝐭𝐞𝐬𝐭𝐢𝐧𝐠𝐬, 𝐀𝐥𝐥𝐚𝐡 (𝐀𝐉) 𝐰𝐚𝐧𝐭𝐬 𝐭𝐨 𝐛𝐥𝐞𝐬𝐬 𝐲𝐨𝐮 𝐰𝐢𝐭𝐡 𝐬𝐨𝐦𝐞𝐭𝐡𝐢𝐧𝐠. 𝐋𝐨𝐯𝐞 𝐚𝐧𝐝 𝐟𝐚𝐢𝐭𝐡 𝐢𝐬 𝐬𝐨𝐦𝐞𝐭𝐡𝐢𝐧𝐠 𝐲𝐨𝐮 𝐡𝐚𝐯𝐞 𝐭𝐨 𝐧𝐮𝐫𝐭𝐮𝐫𝐞. 𝐌𝐞𝐝𝐢𝐭𝐚𝐭𝐢𝐨𝐧 𝐰𝐢𝐭𝐡 𝐞𝐲𝐞𝐬 𝐜𝐥𝐨𝐬𝐞𝐝 𝐚𝐧𝐝 𝐞𝐲𝐞𝐬 𝐨𝐩𝐞𝐧. 𝐁𝐞𝐰𝐚𝐫𝐞 𝐨𝐟 𝐦𝐨𝐝𝐞𝐫𝐧 𝐢𝐧𝐬𝐭𝐢𝐭𝐮𝐭𝐢𝐨𝐧𝐬. 𝐓𝐡𝐞 𝐫𝐞𝐚𝐥𝐢𝐭𝐲 𝐨𝐟 𝐩𝐚𝐢𝐧 𝐚𝐧𝐝 𝐭𝐡𝐞 𝟒 𝐞𝐧𝐞𝐦𝐢𝐞𝐬 𝐨𝐟 𝐭𝐡𝐞 𝐬𝐨𝐮𝐥.
𝐐𝐮𝐞𝐬𝐭𝐢𝐨𝐧: 𝐖𝐡𝐚𝐭 𝐭𝐨 𝐜𝐡𝐨𝐨𝐬𝐞 𝐛𝐞𝐭𝐰𝐞𝐞𝐧 𝐥𝐞𝐭𝐭𝐢𝐧𝐠 𝐬𝐢𝐛𝐥𝐢𝐧𝐠𝐬 𝐯𝐢𝐬𝐢𝐭 𝐨𝐮𝐫 𝐡𝐨𝐮𝐬𝐞 𝐨𝐫 𝐰𝐞 𝐯𝐢𝐬𝐢𝐭 𝐭𝐡𝐞𝐢𝐫 𝐡𝐨𝐮𝐬𝐞? 𝐈𝐬 𝐭𝐡𝐞𝐫𝐞 𝐚𝐧𝐲 𝐞𝐧𝐞𝐫𝐠𝐲 𝐫𝐞𝐥𝐚𝐭𝐢𝐧𝐠 𝐢𝐬𝐬𝐮𝐞𝐬? 𝐃𝐨 𝐰𝐞 𝐩𝐢𝐜𝐤 𝐮𝐩 𝐭𝐡𝐞 𝐛𝐮𝐫𝐝𝐞𝐧𝐬 𝐟𝐫𝐨𝐦 𝐭𝐡𝐞 𝐡𝐨𝐮𝐬𝐞𝐬 𝐰𝐞 𝐯𝐢𝐬𝐢𝐭?
𝐴𝑝 𝐽𝑎ℎ𝑎𝑛 𝐽𝑎𝑡𝑎𝑦 𝐻𝑎𝑖𝑛 𝐾𝑖𝑦𝑎 𝑊𝑎ℎ𝑎𝑛 𝑃𝑒𝑟 𝐴𝑝 𝐸𝑛𝑒𝑟𝑔𝑦 𝐾𝑜 𝐾ℎ𝑜 𝐷𝑒𝑡𝑎𝑦 𝐻𝑖𝑎𝑛 𝑌𝑎 𝐻𝑎𝑠𝑖𝑙 𝐾𝑟𝑙𝑒𝑡𝑎𝑦 𝐻𝑎𝑖𝑛? 𝐴𝑝𝑛𝑎𝑦 𝐼𝑚𝑡𝑖ℎ𝑎𝑛𝑎𝑎𝑡 𝐾 𝐵𝑎𝑟𝑎𝑦 𝑀𝑒 𝑆ℎ𝑖𝑘𝑎𝑦𝑎𝑡 𝑁𝑎 𝐾𝑎𝑟𝑎𝑖𝑛, 𝐴𝑙𝑙𝑎ℎ (𝐴𝐽) 𝐴𝑝 𝐾𝑜 𝐾𝑖𝑠𝑖 𝐶ℎ𝑒𝑒𝑧 𝑆𝑎𝑦 𝑁𝑎𝑤𝑎𝑎𝑧𝑛𝑎 𝐶ℎ𝑎ℎ𝑡𝑎 𝐻𝑎𝑖. 𝑀𝑢ℎ𝑎𝑏𝑏𝑎𝑡 𝐴𝑢𝑟 𝐼𝑚𝑎𝑛 𝐴𝑖𝑠𝑖 𝐶ℎ𝑒𝑧 𝐻𝑎𝑖 𝐽𝑖 𝑆𝑘𝑖 𝐴𝑝𝑘𝑜 𝑃𝑒𝑟𝑣𝑎𝑟𝑖𝑠ℎ 𝐾𝑟𝑛𝑖 𝐻𝑜𝑔𝑖. 𝐵𝑎𝑛𝑑 𝐴𝑎𝑛𝑘ℎ𝑜 𝐴𝑢𝑟 𝐾ℎ𝑢𝑙𝑙𝑖 𝐴𝑎𝑛𝑘ℎ𝑜 𝑆𝑎𝑦 𝐾𝑖𝑦𝑎 𝐽𝑎𝑛𝑎𝑦 𝐴𝑙𝑎 𝑀𝑢𝑟𝑎𝑞𝑏𝑎ℎ. 𝐽𝑎𝑑𝑒𝑑 𝐼𝑑𝑎𝑎𝑟𝑜 𝑆𝑎𝑦 𝐻𝑜𝑠ℎ𝑖𝑦𝑎𝑎𝑟 𝑅𝑎ℎ𝑎𝑖𝑛. 𝐷𝑎𝑟𝑑 𝐾𝑖 𝐻𝑎𝑞𝑒𝑒𝑞𝑎𝑡 𝐴𝑢𝑟 𝑅𝑢ℎ 𝐾 4 𝐷𝑢𝑠ℎ𝑚𝑎𝑛. [𝐏𝐀𝐑𝐓-3]
𝑺𝒂𝒘𝒂𝒂𝒍: 𝑀𝑎ℎ-𝑒-𝑀𝑢ℎ𝑎𝑟𝑟𝑎𝑚 𝑀𝑒𝑖𝑛 𝑀𝑎𝑡𝑎𝑚 𝐾𝑎 𝑆𝑎ℎ𝑖ℎ 𝑇𝑎𝑟𝑒𝑒𝑞𝑎 𝐾𝑖𝑦𝑎 𝐻𝑎𝑖?
——————————————–
——————————————–
شیخ سید نورجان میراحمدی نقشبندی (ق) کی سنہری تعلیمات سے اقتباس۔
بِسْمِ اللَّـهِ الرَّحْمَـٰنِ الرَّحِيمِ
اَلَّھُمَّ صَلِّ عَلَی سَیَّدِنَا محَمَّدٍ ﷺ وَعَلَی آلِ سَیَّدِنَا محَمَّدٍ ﷺ
سوال: اس ماہ محرم میں ماتم کا صحیح طریقہ کیا ہے؟
شیخ سید نورجان میراحمدی نقشبندی (ق): صبح اٹھیں۔ [شیخ ہنستے ہیں]
سامعین: جیسے رونا …
شیخ سید نورجان میراحمدی نقشبندی (ق): کیا؟
سامعین: ماتم۔
شیخ سید نورجان میراحمدی نقشبندی (ق): [شیخ ہنستے ہیں] اوہ ، آپ اسے ابھی دیکھ رہے ہیں۔ ٹھیک ہے؟ میں نے پچھلے دو دنوں میں رونا نہیں روکا ، شاید لوگ دیکھ رہے ہیں کہ، 'اس شخص کے ساتھ کیا مسئلہ ہے؟ اسے شاید بہت ساری پریشانیوں کا سامنا ہے۔' نہیں! صرف ایسا ہے کہ دل بہت زیادہ توبہ ، بے حد دکھ ، بے پناہ مشکلات کا سگنل موصول کر رہا ہے۔ مخلوق میں سب سے محبوب ذات کے بے پناہ مقدس خاندان کو ذبح کر دینا – اداسی کے سوا کچھ نہیں۔ ندامت اور توبہ کے سوا کچھ نہیں۔ ایک یہ کہ، ایسی قوم کے لیے توبہ کرنا جو اپنے لوگوں کے خلاف ہی ایسی حرکت کر ڈالے۔ ہمیں اسلام میں کسی بیرونی دشمن کی ضرورت نہیں ہے۔ ہم یہودیوں سے نہیں ڈرتے ، ہم عیسائیوں سے نہیں ڈرتے ہم مسلمانوں سے خوفزدہ ہیں کیونکہ مسلمان، مسلمان کے خلاف سب سے زیادہ خطرناک ہے۔ تو ، یہ دکھ ہے کہ نبی پاک ﷺ اپنی قوم سے کس قدر محبت کرتے ہیں ، اپنے خاندان سے کس قدر محبت کرتے ہیں، انہوں نے فرمایا کہ، 'وہ ایک دوسرے کے ساتھ کیا کر رہے ہیں؟' 1400 سال پہلے جو ہوا وہ آج بھی ہو رہا ہے۔ آج بھی وہ ایک دوسرے کو ذبح کر رہے ہیں اور ایک دوسرے کو نقصان پہنچا رہے ہیں۔ تو ، پھر اس بابِ توبہ (توبہ کا دروازہ) میں بے پناہ توانائی ، بے پناہ روشنیاں ہیں۔ یہ وہ وقت ہے جس میں ان تمام کاموں کے بارے میں سوچا جائے ہے جو کئے جا چکے ہیں اور دل نرم اور رونے والا بنایا جائے۔ اور جب آپ روتے ہیں تو آپ اپنے لیے معافی مانگ رہے ہوتے ہیں ، ان کے لیے نہیں – وہ تو پہلے ہی بہت اعلٰی مقاما حاصل کر چکے ہیں، 'لیکن یا ربی میں تیرے اطمینان تک پہنچنے کے لیے کچھ ایسا کیسے کر پاؤں گا۔ مجھے ، میرے بچوں کو ، میری برادری کو ، ہمارے تمام پیاروں کو بچا۔' اور یہ عظیم بابِ رحمت بن جاتا ہے۔
𝗧𝗥𝗔𝗡𝗦𝗟𝗜𝗧𝗘𝗥𝗔𝗧𝗜𝗢𝗡:
Sawal : Is Mah Muharram Mein Maatam Ka Sahih Tareeqa Kya Hai ?
Shaykh Syed Nurjan Mirahmadi Naqshbandi (Q): Subah utheen. [ Sheikh hanstay hain ]
Samaeen : Jaisay rona. . .
Shaykh Syed Nurjan Mirahmadi Naqshbandi (Q): kya ?
Samaeen : Maatam .
Shaykh Syed Nurjan Mirahmadi Naqshbandi (Q: [ Shaykh hanstay hain ] oh, aap usay abhi dekh rahay hain. Theek hai? Mein ne pichlle do dinon mein rona nahi roka, shayad log dekh rahay hain ke,' is shakhs ke sath kya masla hai? Usay shayad bohat saari pareshaniyon ka saamna hai.' nahi! Sirf aisa hai ke dil bohat ziyada tauba, be had dukh, be panah mushkilaat ka signal masool kar raha hai. Makhlooq mein sab se mehboob zaat ke be panah muqaddas khandan ko zibah kar dena – udasi ke siwa kuch nahi. Nedamat aur tauba ke siwa kuch nahi. Aik yeh ke, aisi qoum ke liye tauba karna jo apne logon ke khilaaf hi aisi harkat kar daaley. Hamein islam mein kisi bairooni dushman ki zaroorat nahi hai. Hum yahudion se nahi dartay, hum esaion se nahi dartay hum musalmanoon se khaufzadah hain kyunkay musalman, musalman ke khilaaf sab se ziyada khatarnaak hai. To, yeh dukh hai ke Nabi Pak (S) Apni qoum se kis qader mohabbat karte hain, apne khandan se kis qader mohabbat karte hain, unhon ne farmaya ke,' woh aik dosray ke sath kya kar rahay hain ?' 1400 saal pehlay jo hwa woh aaj bhi ho raha hai. Aaj bhi woh aik dosray ko zibah kar rahay hain aur aik dosray ko nuqsaan pouncha rahay hain. To, phir is bab-e- tauba ( tauba ka darwaaza ) mein be panah tawanai, be panah roshniyan hain. Yeh woh waqt hai jis mein un tamam kamon ke baray mein socha jaye hai jo kiye ja chuke hain aur dil naram aur ronay wala banaya jaye. Aur jab aap rotay hain to aap apne liye maffi maang rahay hotay hain, un ke liye nahi – woh to pehlay hi bohat aala mqama haasil kar chuke hain,' lekin ya rabbi mein tairay itminan tak pounchanay ke liye kuch aisa kaisay kar paon ga. Mujhe, mere bachon ko, meri baradri ko, hamaray tamam pyaron ko bacha.' aur yeh azeem bab-e-rehmat ban jata hai .
𝗘𝗡𝗚𝗟𝗜𝗦𝗛 𝗧𝗥𝗔𝗡𝗦𝗖𝗥𝗜𝗣𝗧:
𝐐𝐮𝐞𝐬𝐭𝐢𝐨𝐧 : During this month of Muharram, what is the correct way of mourning?
𝐒𝐡𝐚𝐲𝐤𝐡 𝐍𝐮𝐫𝐣𝐚𝐧 𝐌𝐢𝐫𝐚𝐡𝐦𝐚𝐝𝐢 : Get up in the morning. [Shaykh laughs].
𝐀𝐮𝐝𝐢𝐞𝐧𝐜𝐞 : Like crying…
𝐒𝐡𝐚𝐲𝐤𝐡 𝐍𝐮𝐫𝐣𝐚𝐧 𝐌𝐢𝐫𝐚𝐡𝐦𝐚𝐝𝐢 : Huh?
𝐀𝐮𝐝𝐢𝐞𝐧𝐜𝐞 : Mourning
𝐒𝐡𝐚𝐲𝐤𝐡 𝐍𝐮𝐫𝐣𝐚𝐧 𝐌𝐢𝐫𝐚𝐡𝐦𝐚𝐝𝐢 : [Shaykh laughs]. Oh, you're watching it now. Right? I haven't stopped crying in the last two days, people probably watching say, 'What's wrong with this guy? He probably has a lot of problems.' No, it's just the heart is picking up on a signal of immense repentance, immense sorrow, immense difficulties. From the most beloved of creation, the slaughtering of his immense holy family – there's nothing but sadness. Nothing but remorse and repentance. One – repenting for a nation that does such a thing against their own people. We don't need any outside enemies in Islam. We're not fearful of Jews, we're not fearful of Christians; we're fearful of Muslims because Muslim to Muslim is the most dangerous. So, this is the sadness that Prophet ﷺ so love his nation, so love his family, said 'What they're doing to each other? What happened 1400 years ago is happening still to today. Still to today they're slaughtering each other and harming each other. So, then this Baab at Tawbah (door of repentance) has an immense energy, immense lights. These are the time in which to think about all these acts that have been done and the heart to become soft and cry. And when you cry, you're asking for a forgiveness for yourself, not for them – they achieved immense stations, 'But Ya Rabbi how I'm going to ever do anything to reach Your satisfaction. Save me, my children, my community, all our loved ones.' And that becomes the gate of immense blessings
اور مولانا شیخ (ق) فرماتے ہیں کہ 'محرم کے ان اوقات میں اپنی آنکھوں کو رونے والا بناؤ۔' اگر آپ آنسو بہانے کے قابل نہیں ہیں تو آپ کے دل کی حالت میں کچھ غلط ہے! کیاآپ کسی چیز کے بارے میں نہیں سوچ رہے؟ کیا آپ نہیں سوچتے کہ آپ کے بچے آپ کے سامنے ذبح ہو جائیں؟ کیا آپ یہ نہیں سوچتے کہ آپ کے سامنے آپ کے خاندان کی بےحُرمتی کی جائے؟ کیا آپ اُن لوگوں کا دکھ اور مشکل نہیں دیکھتے جو نہ کھاتے اور نہ پیتے ہیں اور مشکلات کا شکار ہیں؟ اور اپنے آپ کو اور اپنے گھر والوں کو ہر چیز اور حالات میں ڈالیں اور کہیں ، 'میں اس طرح کے وقت اور اس طرح کے امتحان کا کیسے سامنا کر سکتا تھا؟' اپنے دل کے اندر ہر چیز کو حقیقی اور پُرجوش بنائیں تاکہ دل کے اندر خُشیة (نرمی) محسوس ہو۔ کیونکہ جب دل پتھر کی طرح سخت ہوتا ہے تو اُس میں کوئی جذبات نہیں ہوتے۔ اور جب دل میں نرمی ہوتی ہے – جیسے اللہ عزوجل نے اسے کئی بار کچل دیا ہو، یہ آئینے کی طرح ہوتا ہے۔ جب اداسی آتی ہے تو اداسی کی تجلی رونما ہوتی ہے، جب پُرمسرت تجلی آتی ہے تو خوشگوار تجلی رونما ہوتی ہے۔ اور اسی وقت کیلئے اللہ عزوجل بیان کرتا ہے کہ ، 'تمہارے رب کی ہر لمحےایک تجلی رونما ہو رہی ہوتی ہے۔' تو ، 30 منٹ میں آپ ان باتوں پر 20 مختلف تجلِّیات سے گزر سکتے ہیں کیونکہ آنے والی اینرجی پر منحصر پھر یہ تجلِّیات نازل ہو رہی ہوتی ہیں اور منعکس ہو رہی ہوتی ہیں۔ لیکن یہ ایک ایسا وقت ہے جس میں دل کو نرم کیا جانا چاہئے اور دل کے اندر ہمدردی پیدا کی جانی چاہئے اور وہ لوگ جنہیں تکالیف درپیش تھیں، وہ اپنے دکھوں کو یاد کریں۔ وہ لوگ جو دکھوں میں مبتلا ہیں اور دوسروں کے دکھوں کا مطالعہ کرتے ہیں تو اُن دکھوں کو یاد کریں اور پھر دل نرم ہونے لگتا ہے ، آنسو بہنے لگتے ہیں اور وہ دل، ایک نرم دل ہوتا ہے – خُشیة! اور اس دل میں بے پناہ محبت اور فضلِ الہی ہوتا ہے جو اس کے اندر بہہ رہا ہوتا ہے ، کیونکہ یہ دل میں اللہ عزوجل کی عطا ہے۔
𝗧𝗥𝗔𝗡𝗦𝗟𝗜𝗧𝗘𝗥𝗔𝗧𝗜𝗢𝗡:
Aur Mawlana Shaykh ( Q ) farmatay hain ke ' Muharram ke in auqaat mein apni aankhon ko ronay wala banaao.' agar aap ansoo bahanay ke qabil nahi hain to aap ke dil ki haalat mein kuch ghalat hai! Kyaaap kisi cheez ke baray mein nahi soch rahay? Kya aap nahi sochte ke aap ke bachay aap ke samnay zibah ho jayen? Kya aap yeh nahi sochte ke aap ke samnay aap ke khandan ki be hurmati ki jaye? Kya aap unn logon ka dukh aur mushkil nahi dekhte jo nah khatay aur nah peetay hain aur mushkilaat ka shikaar hain? Aur apne aap ko aur apne ghar walon ko har cheez aur halaat mein dalain aur kahin,' mein is terhan ke waqt aur is terhan ke imthehaan ka kaisay saamna kar sakta tha ?' Apne dil ke andar har cheez ko haqeeqi aur pur-josh banayen taakay dil ke andar khashyat ( narmi ) mehsoos ho. Kyunkay jab dil pathar ki terhan sakht hota hai to uss mein koi jazbaat nahi hotay. Aur jab dil mein narmi hoti hai – jaisay Allah azzwajal ne usay kayi baar kuchal diya ho, yeh aaiine ki terhan hota hai. Jab udasi aati hai to udasi ki tajallii runuma hoti hai, jab pur musarrat tajallii aati hai to Khushgawar tajallii runuma hoti hai. Aur isi waqt ke liye Allah azzwajal bayan karta hai ke,' tumahray rab ki har lamhay aik tajallii runuma ho rahi hoti hai.' to, 30 minute mein aap un baton par 20 mukhtalif tjlyat se guzar satke hain kyunkay anay wali energy par munhasir phir yeh tjlyat nazil ho rahi hoti hain aur munakis ho rahi hoti hain. Lekin yeh aik aisa waqt hai jis mein dil ko naram kya jana chahiye aur dil ke andar hamdardi peda ki jani chahiye aur woh log jinhein takaleef darpaish theen, woh apne dukhoon ko yaad karen. Woh log jo dukhoon mein mubtala hain aur doosron ke dukhoon ka mutalea karte hain to unn dukhoon ko yaad karen aur phir dil naram honay lagta hai, ansoo behnay lagtay hain aur woh dil, aik naram dil hota hai – khashyat! Aur is dil mein be panah mohabbat aur fzlِ ellahi hota hai jo is ke andar beh raha hota hai, kyunkay yeh dil mein Allah azzwajal ki ataa hai .
𝗘𝗡𝗚𝗟𝗜𝗦𝗛 𝗧𝗥𝗔𝗡𝗦𝗖𝗥𝗜𝗣𝗧:
And Mawlana Shaykh (Q) would say that, 'In these times of Muharram make your eyes to cry.' If you're not able to shed a tear, something's wrong with the state of your heart! You're not, you're not thinking about anything? You don't think like your children going to be slaughtered in front of you? You don't think that your family going to be violated in front of you? You don't see the sorrow and the difficulty of people who don't eat and don't drink and have difficulty? And put yourself and your family in everything and to very situation and say, 'How could I have survived a time like that and a test like that?' Make everything to be real and passionate within your heart so the heart has a khushiya (softness). Because when a heart is hard like a rock – there's no emotion. And when the heart has a softness – like Allah (AJ) crushed it so many times, it's like a mirror. When sadness comes – sadness tajalli comes, joyful tajalli – joyful tajalli comes. And that's when Allah (AJ) is describing that, 'Your Lord has a tajalli at every moment.' So, in 30 minutes you can go through 20 different tajallis on these talks because depending upon the energy that's coming then these tajallis are coming and reflecting out. But this is a time in which to soften the heart and to have the compassion within the heart and those whom have suffered, remember their suffering. Those whom have and study the suffering of others, remember their suffering and then the heart begins to soften, the tears begin to flow and that heart is a soft heart – khushiya. And that heart has immense love and Divine Grace that flowing within it, for it's Allah's (AJ) gift inside the heart.
کیونکہ ہم پہلے بیان کر چکے ہیں کہ ، 'محبت اللہ عزوجل کی طرف سے ایک تحفہ ہے۔' کوئی نہیں جو آپ کے دل میں محبت ڈال سکے۔ کوئی نہیں جو آپ کو کسی چیز سے محبت کرنے پر مجبور کر سکے۔ یہ محبت اللہ عزوجل کی جانب سے ایک تحفہ ہے – یہ تحفۂِ ایمان ہے۔ لہذا ، جب کسی میں محبت کی کمی ہوتی ہے تو اسے اللہ عزوجل کے سامنے اور زیادہ روتے رہنا چاہئے! جائیں اور جا کر پیاز لے آئیں، اسے اپنی آنکھوں کے سامنے رکھیں، سجدے میں جائیں اور کہیں 'مجھے نہیں معلوم کہ میرا دل کیوں مر گیا ہے یا ربی! میرا دل کچھ بھی نہیں (محسوس کر رہا)، مجھے کچھ نہیں ہو رہا۔ کہ میرے دل میں محبت اور عشق ڈال دے اور میں رونا چاہتا ہوں۔' انشااللہ۔
𝗧𝗥𝗔𝗡𝗦𝗟𝗜𝗧𝗘𝗥𝗔𝗧𝗜𝗢𝗡:
Kyunkay hum pehlay bayan kar chuke hain ke,' mohabbat Allah azzwajal ki taraf se aik tohfa hai.' koi nahi jo aap ke dil mein mohabbat daal sakay. Koi nahi jo aap ko kisi cheez se mohabbat karne par majboor kar sakay. Yeh mohabbat Allah azzwajal ki janib se aik tohfa hai – yeh Tohfa imaan hai. Lehaza, jab kisi mein mohabbat ki kami hoti hai to usay Allah azzwajal ke samnay aur ziyada rotay rehna chahiye! Jayen aur ja kar pyaaz le ayen, usay apni aankhon ke samnay rakhen, sjday mein jayen aur kahin' mujhe nahi maloom ke mera dil kyun mar gaya hai ya rabbi! Mera dil kuch bhi nahi ( mehsoos kar raha ), mujhe kuch nahi ho raha. Ke mere dil mein mohabbat aur ishhq daal day aur mein rona chahta hon.' inshaallah .
𝗘𝗡𝗚𝗟𝗜𝗦𝗛 𝗧𝗥𝗔𝗡𝗦𝗖𝗥𝗜𝗣𝗧:
Because we said before, 'Love is a gift from Allah (AJ).' There is nobody that can put love into your heart. There's nobody who can force you to love something. That love is a gift from Allah (AJ) – that is the gift of faith. So, when somebody is lacking love then they have to be crying even more to Allah (AJ). Go get onions, put it right by your eyes, go into sujood and say, 'I don't know why my heart is dead Ya Rabbi. My heart is not, not… nothing is happening to me. That put love and ishq into my heart and I want to cry,' inshaAllah.
——————————–
پہلا حصہ:
Part-1:
دوسرا حصہ:
Part-2:
یہ بیان یوٹیوب پر دیکھنے کیلئے
Watch this Bayan on youtube:
اس آرٹیکل کو انگلش میں پڑھنے کیلئے
𝐐&𝐀 – 𝐀𝐫𝐞 𝐲𝐨𝐮 𝐥𝐨𝐨𝐬𝐢𝐧𝐠 𝐨𝐫 𝐠𝐚𝐢𝐧𝐢𝐧𝐠 𝐞𝐧𝐞𝐫𝐠𝐲 𝐟𝐫𝐨𝐦 𝐰𝐡𝐞𝐫𝐞 𝐲𝐨𝐮 𝐠𝐨? 𝐃𝐨𝐧'𝐭 𝐜𝐨𝐦𝐩𝐥𝐚𝐢𝐧 𝐚𝐛𝐨𝐮𝐭 𝐲𝐨𝐮𝐫 𝐭𝐞𝐬𝐭𝐢𝐧𝐠𝐬, 𝐀𝐥𝐥𝐚𝐡 (𝐀𝐉) 𝐰𝐚𝐧𝐭𝐬 𝐭𝐨 𝐛𝐥𝐞𝐬𝐬 𝐲𝐨𝐮 𝐰𝐢𝐭𝐡 𝐬𝐨𝐦𝐞𝐭𝐡𝐢𝐧𝐠. 𝐋𝐨𝐯𝐞 𝐚𝐧𝐝 𝐟𝐚𝐢𝐭𝐡 𝐢𝐬 𝐬𝐨𝐦𝐞𝐭𝐡𝐢𝐧𝐠 𝐲𝐨𝐮 𝐡𝐚𝐯𝐞 𝐭𝐨 𝐧𝐮𝐫𝐭𝐮𝐫𝐞. 𝐌𝐞𝐝𝐢𝐭𝐚𝐭𝐢𝐨𝐧 𝐰𝐢𝐭𝐡 𝐞𝐲𝐞𝐬 𝐜𝐥𝐨𝐬𝐞𝐝 𝐚𝐧𝐝 𝐞𝐲𝐞𝐬 𝐨𝐩𝐞𝐧. 𝐁𝐞𝐰𝐚𝐫𝐞 𝐨𝐟 𝐦𝐨𝐝𝐞𝐫𝐧 𝐢𝐧𝐬𝐭𝐢𝐭𝐮𝐭𝐢𝐨𝐧𝐬. 𝐓𝐡𝐞 𝐫𝐞𝐚𝐥𝐢𝐭𝐲 𝐨𝐟 𝐩𝐚𝐢𝐧 𝐚𝐧𝐝 𝐭𝐡𝐞 𝟒 𝐞𝐧𝐞𝐦𝐢𝐞𝐬 𝐨𝐟 𝐭𝐡𝐞 𝐬𝐨𝐮𝐥.
https://www.facebook.com/…/a.54493796…/6836259173066958/
یو ٹیوب چینل ابھی سبسکرایب کیجئے
Subscribe Now: The Muhammadan Way Sufi Realities
Www.youtube.com/channel/UC4E8QX7OgwYDgyuuXTBMrcg
شیخ سید نور جان میر احمدی نقشبندی (ق) کا آفشیل فیس بک پیج لائک کیجئے
Official Page: Shaykh Nurjan Mirahmadi
Https://www.facebook.com/shaykhnurjanmirahmadi/
► 𝐀𝐧𝐝𝐫𝐨𝐢𝐝 𝐀𝐩𝐩: https://play.google.com/store/apps/details…
► 𝐢𝐏𝐡𝐨𝐧𝐞 𝐀𝐩𝐩: https://apps.apple.com/us/app/muhammadan-way/id1244297852
► 𝐒𝐨𝐮𝐧𝐝𝐂𝐥𝐨𝐮𝐝: https://soundcloud.com/muhammadanway
► 𝐃𝐨𝐧𝐚𝐭𝐞 (𝐏𝐀𝐊𝐈𝐒𝐓𝐀𝐍 𝐚𝐧𝐝 𝐖𝐎𝐋𝐑𝐃𝐖𝐈𝐃𝐄) : https://nurmuhammad.com/donate
Please Subscribe and Share