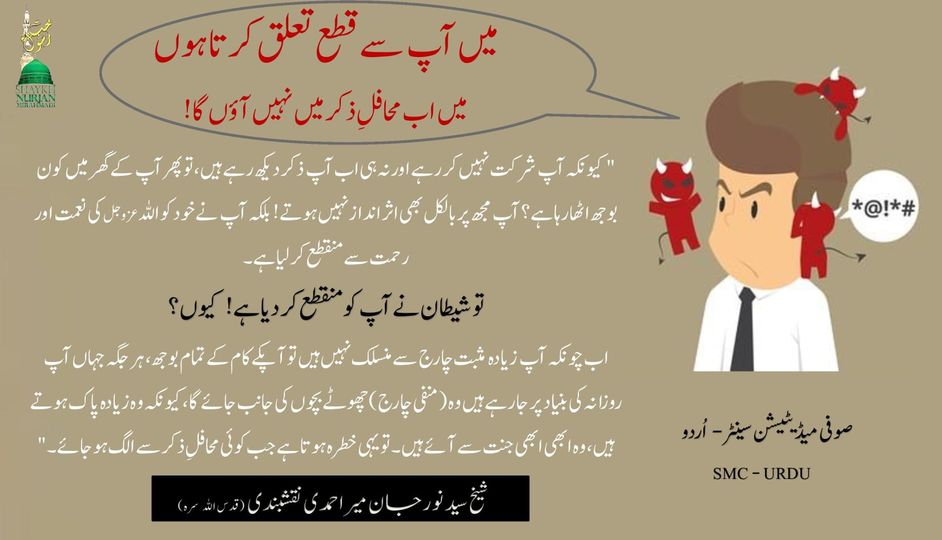 Urdu – سوالات و جوابات: جہاں آپ جاتے ہیں کیا وہاں پر آپ اینرجی کو کھو دیتے ہیں یا حاصل…

سوالات و جوابات: جہاں آپ جاتے ہیں کیا وہاں پر آپ اینرجی کو کھو دیتے ہیں یا حاصل کرتے ہیں؟ اپنے امتحانات کے بارے میں شکایت نہ کریں ، اللہ عزوجل آپ کو کسی چیز سے نوازنا چاہتا ہے۔ محبت اور ایمان ایسی چیز ہے جس کی آپ کو پرورش کرنی ہوگی۔ بند آنکھوں اور کھلی آنکھوں سے کیا جانے والا مراقبہ۔ جدید اداروں سے ہوشیار رہیں۔ درد کی حقیقت اور روح کے 4 دشمن۔ (حصہ اوّل)
سوال نمبر 𝟏: بہن بھائیوں کے ہمارے گھر آنے یا ہمارے ان کے گھر جانے کے درمیان کیاانتخاب کیا جائے؟ کیا اینرجی سے متعلق کوئی مسئلہ درپیش ہو سکتا ہے؟ کیا ہم ان گھروں سے جہاں پر ہم جاتے ہیں، بوجھ سمیٹ لیتے ہیں؟
𝐐&𝐀 – 𝐀𝐫𝐞 𝐲𝐨𝐮 𝐥𝐨𝐨𝐬𝐢𝐧𝐠 𝐨𝐫 𝐠𝐚𝐢𝐧𝐢𝐧𝐠 𝐞𝐧𝐞𝐫𝐠𝐲 𝐟𝐫𝐨𝐦 𝐰𝐡𝐞𝐫𝐞 𝐲𝐨𝐮 𝐠𝐨? 𝐃𝐨𝐧'𝐭 𝐜𝐨𝐦𝐩𝐥𝐚𝐢𝐧 𝐚𝐛𝐨𝐮𝐭 𝐲𝐨𝐮𝐫 𝐭𝐞𝐬𝐭𝐢𝐧𝐠𝐬, 𝐀𝐥𝐥𝐚𝐡 (𝐀𝐉) 𝐰𝐚𝐧𝐭𝐬 𝐭𝐨 𝐛𝐥𝐞𝐬𝐬 𝐲𝐨𝐮 𝐰𝐢𝐭𝐡 𝐬𝐨𝐦𝐞𝐭𝐡𝐢𝐧𝐠. 𝐋𝐨𝐯𝐞 𝐚𝐧𝐝 𝐟𝐚𝐢𝐭𝐡 𝐢𝐬 𝐬𝐨𝐦𝐞𝐭𝐡𝐢𝐧𝐠 𝐲𝐨𝐮 𝐡𝐚𝐯𝐞 𝐭𝐨 𝐧𝐮𝐫𝐭𝐮𝐫𝐞. 𝐌𝐞𝐝𝐢𝐭𝐚𝐭𝐢𝐨𝐧 𝐰𝐢𝐭𝐡 𝐞𝐲𝐞𝐬 𝐜𝐥𝐨𝐬𝐞𝐝 𝐚𝐧𝐝 𝐞𝐲𝐞𝐬 𝐨𝐩𝐞𝐧. 𝐁𝐞𝐰𝐚𝐫𝐞 𝐨𝐟 𝐦𝐨𝐝𝐞𝐫𝐧 𝐢𝐧𝐬𝐭𝐢𝐭𝐮𝐭𝐢𝐨𝐧𝐬. 𝐓𝐡𝐞 𝐫𝐞𝐚𝐥𝐢𝐭𝐲 𝐨𝐟 𝐩𝐚𝐢𝐧 𝐚𝐧𝐝 𝐭𝐡𝐞 𝟒 𝐞𝐧𝐞𝐦𝐢𝐞𝐬 𝐨𝐟 𝐭𝐡𝐞 𝐬𝐨𝐮𝐥.
𝐐𝐮𝐞𝐬𝐭𝐢𝐨𝐧: 𝐖𝐡𝐚𝐭 𝐭𝐨 𝐜𝐡𝐨𝐨𝐬𝐞 𝐛𝐞𝐭𝐰𝐞𝐞𝐧 𝐥𝐞𝐭𝐭𝐢𝐧𝐠 𝐬𝐢𝐛𝐥𝐢𝐧𝐠𝐬 𝐯𝐢𝐬𝐢𝐭 𝐨𝐮𝐫 𝐡𝐨𝐮𝐬𝐞 𝐨𝐫 𝐰𝐞 𝐯𝐢𝐬𝐢𝐭 𝐭𝐡𝐞𝐢𝐫 𝐡𝐨𝐮𝐬𝐞? 𝐈𝐬 𝐭𝐡𝐞𝐫𝐞 𝐚𝐧𝐲 𝐞𝐧𝐞𝐫𝐠𝐲 𝐫𝐞𝐥𝐚𝐭𝐢𝐧𝐠 𝐢𝐬𝐬𝐮𝐞𝐬? 𝐃𝐨 𝐰𝐞 𝐩𝐢𝐜𝐤 𝐮𝐩 𝐭𝐡𝐞 𝐛𝐮𝐫𝐝𝐞𝐧𝐬 𝐟𝐫𝐨𝐦 𝐭𝐡𝐞 𝐡𝐨𝐮𝐬𝐞𝐬 𝐰𝐞 𝐯𝐢𝐬𝐢𝐭?
𝐴𝑝 𝐽𝑎ℎ𝑎𝑛 𝐽𝑎𝑡𝑎𝑦 𝐻𝑎𝑖𝑛 𝐾𝑖𝑦𝑎 𝑊𝑎ℎ𝑎𝑛 𝑃𝑒𝑟 𝐴𝑝 𝐸𝑛𝑒𝑟𝑔𝑦 𝐾𝑜 𝐾ℎ𝑜 𝐷𝑒𝑡𝑎𝑦 𝐻𝑖𝑎𝑛 𝑌𝑎 𝐻𝑎𝑠𝑖𝑙 𝐾𝑟𝑙𝑒𝑡𝑎𝑦 𝐻𝑎𝑖𝑛? 𝐴𝑝𝑛𝑎𝑦 𝐼𝑚𝑡𝑖ℎ𝑎𝑛𝑎𝑎𝑡 𝐾 𝐵𝑎𝑟𝑎𝑦 𝑀𝑒 𝑆ℎ𝑖𝑘𝑎𝑦𝑎𝑡 𝑁𝑎 𝐾𝑎𝑟𝑎𝑖𝑛, 𝐴𝑙𝑙𝑎ℎ (𝐴𝐽) 𝐴𝑝 𝐾𝑜 𝐾𝑖𝑠𝑖 𝐶ℎ𝑒𝑒𝑧 𝑆𝑎𝑦 𝑁𝑎𝑤𝑎𝑎𝑧𝑛𝑎 𝐶ℎ𝑎ℎ𝑡𝑎 𝐻𝑎𝑖. 𝑀𝑢ℎ𝑎𝑏𝑏𝑎𝑡 𝐴𝑢𝑟 𝐼𝑚𝑎𝑛 𝐴𝑖𝑠𝑖 𝐶ℎ𝑒𝑧 𝐻𝑎𝑖 𝐽𝑖 𝑆𝑘𝑖 𝐴𝑝𝑘𝑜 𝑃𝑒𝑟𝑣𝑎𝑟𝑖𝑠ℎ 𝐾𝑟𝑛𝑖 𝐻𝑜𝑔𝑖. 𝐵𝑎𝑛𝑑 𝐴𝑎𝑛𝑘ℎ𝑜 𝐴𝑢𝑟 𝐾ℎ𝑢𝑙𝑙𝑖 𝐴𝑎𝑛𝑘ℎ𝑜 𝑆𝑎𝑦 𝐾𝑖𝑦𝑎 𝐽𝑎𝑛𝑎𝑦 Wa𝑙𝑎 𝑀𝑢𝑟𝑎𝑞𝑏𝑎ℎ. 𝐽𝑎𝑑𝑒𝑑 𝐼𝑑𝑎𝑎𝑟𝑜 𝑆𝑎𝑦 𝐻𝑜𝑠ℎ𝑖𝑦𝑎𝑎𝑟 𝑅𝑎ℎ𝑎𝑖𝑛. 𝐷𝑎𝑟𝑑 𝐾𝑖 𝐻𝑎𝑞𝑒𝑒𝑞𝑎𝑡 𝐴𝑢𝑟 𝑅𝑢ℎ 𝐾 4 𝐷𝑢𝑠ℎ𝑚𝑎𝑛. [𝐏𝐀𝐑𝐓-𝟏]
𝑺𝒂𝒘𝒂𝒂𝒍: 𝐵𝑒ℎ𝑎𝑛 𝑏ℎ𝑎𝑖𝑦𝑜𝑛 𝑘𝑒 ℎ𝑎𝑚𝑎𝑟𝑎𝑦 𝑔ℎ𝑎𝑟 𝑎𝑛𝑎𝑦 𝑦𝑎 ℎ𝑎𝑚𝑎𝑟𝑎𝑦 𝑢𝑛 𝑘𝑒 𝑔ℎ𝑎𝑟 𝑗𝑎𝑛𝑒 𝑘𝑒 𝑑𝑎𝑟𝑚𝑖𝑦𝑎𝑛 𝑘𝑦𝑎 intikhab kia 𝑗𝑎𝑦𝑒? 𝐾𝑦𝑎 𝑒𝑛𝑒𝑟𝑔𝑦 𝑠𝑒 𝑚𝑢𝑡𝑎𝑙𝑖𝑞 𝑘𝑜𝑖 𝑚𝑎𝑠𝑙𝑎 𝑑𝑎𝑟𝑝𝑎𝑖𝑠ℎ ℎ𝑜 𝑠𝑎𝑘𝑡𝑎 ℎ𝑎𝑖? 𝐾𝑦𝑎 ℎ𝑢𝑚 𝑢𝑛 𝑔ℎ𝑎𝑟𝑜𝑛 𝑠𝑒 𝑗𝑎ℎ𝑎𝑛 𝑝𝑎𝑟 ℎ𝑢𝑚 𝑗𝑎𝑡𝑎𝑦 ℎ𝑎𝑖𝑛, 𝑏𝑜𝑗ℎ 𝑠𝑎𝑚𝑎𝑖𝑡𝑡 𝑙𝑒𝑡𝑎𝑦 ℎ𝑎𝑖𝑛?
——————————————–
——————————————–
شیخ سید نورجان میراحمدی نقشبندی (ق) کی سنہری تعلیمات سے اقتباس۔
بِسْمِ اللَّـهِ الرَّحْمَـٰنِ الرَّحِيمِ
اَلَّھُمَّ صَلِّ عَلَی سَیَّدِنَا محَمَّدٍ ﷺ وَعَلَی آلِ سَیَّدِنَا محَمَّدٍ ﷺ
انشاء اللہ ہمارے ہاں ہمیشہ سوالات و جوابات پر مبنی جمعرات ، جمعہ ، ہفتہ ، پیر ، منگل ، بدھ ہوتے ہیں۔ (شیخ مسکراتے ہیں)۔ پورے طریقة (روحانی راستہ) کو ہی انٹرایکٹو (interactive) ہونا چاہیے۔ شیخ کے ساتھ تعلق یہ ہے کہ آپ یہ محسوس کریں کہ آپ کی نمائندگی قانونی مشیر کر رہے ہیں۔ تاکہ آپ خود اپنی نمائندگی نہ کریں کیونکہ کہا جاتا ہے کہ، 'صرف احمق ہی عدالت میں اپنی نمائندگی خود کرتا ہے۔' لہذا نور اور عدل کی خدائی عدالت میں یہ ایک قانونی نمائندگی کی طرح ہے۔ چنانچہ اس رشتے کو پروان چڑھانااہم ہے جس میں آپ '[email protected]' پر ای میل کریں اور ان سے متعلق (سوالات کر سکتے ہیں) کہ کس طرح اعمال انجام دیں، اپنے اورادووظائف کیسے ادا کریں ، ان حقائق کو کیسے حاصل کیا جائے اور کیا مطالعہ کیا جائے۔ انشا اللہ اور اس طرح سے آپ اس تعلق کو استوار کرتے ہیں۔ اور یہ ضروری ہے کہ جوآپ کادل کہہ رہا ہے اس کے ساتھ آگے بڑھنے کیلئے، آپ جو محسوس کرتے ہیں کہ آپ کو الہام ہو رہا ہے – اس الہام کو جانچنے کے لیے، آیا کہ یہ شیطانی الہام ہے جو آپ کو کسی چیز کی طرف دھکیل رہا ہے یا یہ رحمٰن (انتہائی رحم کرنے والا) کی جانب سے ہے؟ انشاءاللہ. تاکہ آپ اُس الہام تک پہنچ سکیں اور آگے بڑھیں۔ راستہ ان تمام مشکلات کے ساتھ جو ہمیں اپنی دنیا میں درپیش ہیں اور جو ہمیں گھیرے ہوئے ہیں، زیادہ مشکل ہوتا جا رہا ہے۔ ان شاءاللہ۔
𝐓𝐑𝐀𝐍𝐒𝐋𝐈𝐓𝐄𝐑𝐀𝐓𝐈𝐎𝐍:
Insha Allah hamaray haan hamesha sawalaat o jawabaat par mabni jumaraat, jummay, hafta, peer, mangal, budh hotay hain. ( Shaykh muskuratay hain ). Poooray Tariqah ( Rohani rasta ) ko hi interactive hona chahiye. Shaykh ke sath talluq yeh hai ke aap yeh mehsoos karen ke aap ki numaindagi qanooni musheer kar rahay hain. Taakay aap khud apni numaindagi nah karen kyunkay kaha jata hai ke, ' sirf ahmaq hi adalat mein apni numaindagi khud karta hai.L lehaza noor aur Adal ki khudai adalat mein yeh aik qanooni numaindagi ki terhan hai. chunancha is rishte ko parwan charhana aham hai jis mein aap '[email protected]' par e-mil karen aur un se mutaliq ( sawalaat kar satke hain ) ke kis terhan aamaal injaam den, apne awraad o wazaif kaisay ada karen, un haqayiq ko kaisay haasil kya jaye aur kya mutalea kya jaye. insha Allah aur is terhan se aap is talluq ko ustuwar karte hain. aur yeh zaroori hai ke jo apka dil keh raha hai is ke sath agay bherne ke liye, aap jo mehsoos karte hain ke aap ko ilham ho raha hai – is ilham ko jhanchne ke liye, aaya ke yeh shaytani ilham hai jo aap ko kisi cheez ki taraf dhakel raha hai ya yeh Rehman ( intehai reham karne wala ) ki janib se hai? Insha Allah . Taakay aap uss ilham tak pahonch saken aur agay barheen. rasta un tamam mushkilaat ke sath jo hamein apni duniya mein darpaish hain aur jo hamein ghairay hue hain, ziyada mushkil hota ja raha hai. InshaAllah .
𝐄𝐍𝐆𝐋𝐈𝐒𝐇 𝐓𝐑𝐀𝐍𝐒𝐂𝐑𝐈𝐏𝐓:
InshaAllah we have always an interactive Thursday, Friday, Saturday, Monday, Tuesday, Wednesday [shaykh smiles]. The whole tariqah (spiritual path) is supposed to be interactive. The relationship with the shaykh is that you have to feel that you are represented by legal counsel. So that you don't represent yourself because they say, 'Only a fool represents himself in a court of law.' So, this is a legal representation in the Divine courts of illumination and justice. So, this relationship is important to develop in which you [email your questions to] '[email protected]' and those that related to how to practice, how to do our practices, how to achieve these realities and what to study inshaAllah and that way you build that relationship. And it's important to come forward with what your heart is telling you, what you feel that you're being inspired by – to calibrate that inspiration. Is that a satanic inspiration pushing you to something or its from Rahman (The Most Compassionate)? InshaAllah. So that you can get that inspiration and continue. The path becomes more and more difficult with all the difficulty we have in our dunya (material world) that surrounds us, inshaAllah.
سوال: بہن بھائیوں کے ہمارے گھر آنے یا ہمارے ان کے گھر جانے کے درمیان کیاانتخاب کیا جائے؟ کیا اینرجی سے متعلق کوئی مسئلہ درپیش ہو سکتا ہے؟ کیا ہم ان گھروں سے جہاں پر ہم جاتے ہیں، بوجھ سمیٹ لیتے ہیں؟
شیخ سید نورجان میراحمدی نقشبندی (ق): آپ کو کتاب لینی چاہئے۔ یہ سوالات کتاب میں سے ہیں۔ 'ایک لازمان حقیقت' [شیخ نے کتاب اُٹھائی] "لازمان حقیقت" انشاءاللہ۔ میرے خیال میں یہ آخری کتاب ہے جسے ہم نے پیش کیا۔ ہم محض صلوٰاة میں کچھ ترامیم کرنے جا رہے ہیں مگر یہ غالباً آخری کتاب ہے جو ہم نے پیش کی ہے اور یہی وہ کتاب ہے جس سے تمام کتب کاآغاز ہوتا ہے۔ تو اس کا مطلب ہر چیز جو کوئی پڑھنا چاہتا ہے ، وہ طریقت (روحانی راستہ) میں نیا آتا ہے ، وہ صوفی میڈیٹیشن سنٹر کے اس نظام میں نئے آرہے ہیں – تو پھر آپ کو کتاب 'لازمان حقیقت' لینی چاہئے۔ آپ اس کا مطالعہ کریں اور پھر ہم اس کی تفاہیم پر مزید بات چیت کر سکتے ہیں۔ لہٰذا ہمیں لگتا ہے کہ آپ نے یہ کتاب نہیں لی اور آپ نے اسے نہیں پڑھا۔ اس طرح سے یہ ایک کورس اور نصاب ہے۔ لہذا ، بنیادی اینرجی کا سوال ، آپ جہاں بھی جائیں وہاں اینرجی موجود ہوتی ہے!
𝐓𝐑𝐀𝐍𝐒𝐋𝐈𝐓𝐄𝐑𝐀𝐓𝐈𝐎𝐍:
𝑆𝑎𝑤𝑎𝑙 : 𝐵𝑒ℎ𝑎𝑛 𝑏ℎ𝑎𝑖𝑦𝑜𝑛 𝑘𝑒 ℎ𝑎𝑚𝑎𝑟𝑎𝑦 𝑔ℎ𝑎𝑟 𝑎𝑛𝑎𝑦 𝑦𝑎 ℎ𝑎𝑚𝑎𝑟𝑎𝑦 𝑢𝑛 𝑘𝑒 𝑔ℎ𝑎𝑟 𝑗𝑎𝑛𝑒 𝑘𝑒 𝑑𝑎𝑟𝑚𝑖𝑦𝑎𝑛 𝑘𝑦𝑎 𝑗𝑎𝑦𝑒? 𝐾𝑦𝑎 𝑒𝑛𝑒𝑟𝑔𝑦 𝑠𝑒 𝑚𝑢𝑡𝑎𝑙𝑖𝑞 𝑘𝑜𝑖 𝑚𝑎𝑠𝑙𝑎 𝑑𝑎𝑟𝑝𝑎𝑖𝑠ℎ ℎ𝑜 𝑠𝑎𝑘𝑡𝑎 ℎ𝑎𝑖? 𝐾𝑦𝑎 ℎ𝑢𝑚 𝑢𝑛 𝑔ℎ𝑎𝑟𝑜𝑛 𝑠𝑒 𝑗𝑎ℎ𝑎𝑛 𝑝𝑎𝑟 ℎ𝑢𝑚 𝑗𝑎𝑡𝑎𝑦 ℎ𝑎𝑖𝑛, 𝑏𝑜𝑜𝑗ℎ 𝑠𝑎𝑚𝑎𝑖𝑡𝑡 𝑙𝑒𝑡𝑎𝑦 ℎ𝑎𝑖𝑛 ?
Shaykh Syed Nurjan Mirahmadi Naqshbndi (Q) : Aap ko kitaab leni chahiye. Yeh sawalaat kitaab mein se hain. 'Aik Laa-Zamaan Haqeeqat' [ shaykh ne kitaab uthai ] insha Allah. Mere khayaal mein yeh aakhri kitaab hai jisay hum ne paish kya. Hum mehez slwat mein kuch tarameem karne ja rahay hain magar yeh ghaliban aakhri kitaab hai jo hum ne paish ki hai aur yahi woh kitaab hai jis se tamam kutub ka aaghaz hota hai. To is ka matlab har cheez jo koi parhna chahta hai, woh tareqat ( rohani rasta ) mein naya aata hai, woh sufi meditation center ke is nizaam mein naye arhay hain – to phir aap ko kitab 'Aik La-Zamaan Haqeeqat' leni chahiye. Aap is ka mutalea karen aur phir hum is ki par mazeed baat cheet kar satke hain. Lehaza hamein lagta hai ke aap ne yeh kitaab nahi li aur aap ne usay nahi parha. Is terhan se yeh aik course aur nisaab hai. Lehaza, bunyadi energy ka sawal, aap jahan bhi jayen wahan energy mojood hoti hai !
𝐄𝐍𝐆𝐋𝐈𝐒𝐇 𝐓𝐑𝐀𝐍𝐒𝐂𝐑𝐈𝐏𝐓:
𝐐𝐮𝐞𝐬𝐭𝐢𝐨𝐧 : What to choose between letting siblings visit our house or we visit their house? Is there any energy relating issues? Do we pick up the burdens from the houses we visit?
𝐒𝐡𝐚𝐲𝐤𝐡 𝐍𝐮𝐫𝐣𝐚𝐧 𝐌𝐢𝐫𝐚𝐡𝐦𝐚𝐝𝐢 : You have to get the book. These are the book questions. 'A Timeless Reality' [Shaykh holds up the book]. 'Timeless Reality' inshaAllah. I think this is the last book that we put out. We're just going to do some editing for salawats (praises upon Prophet Muhammad(s) but this is probably the last book that we put out and this is the book that is the beginning of books. So, means from anything that somebody wants to read, they want to come new to the tariqah (spiritual path), they're coming new to this system of Sufi Meditation Center – is then you get 'Timeless Reality.' You read it and then we can discuss further its understandings. So, that we understand that you didn't get the book and you didn't read it. That way this is a course and a curriculum. So, basic energy question, anywhere you go there's energy.
لہٰذا ، اگر آپ زیادہ مثبت ہیں اور کوئی منفی ہے، تو اسی طرح آپ اس بات کا تعین کرسکتے ہیں کہ میں کہاں قدم رکھ رہا ہوں۔ ہر چیز یا تو زیادہ وولٹیج (voltage) کی ہے یا کم وولٹیج کی۔ میں جہاں بھی قدم رکھتا ہوں کیا یہ نیچے کی طرف جا رہا ہے؟ تو پھر میں بوجھ اٹھانے جا رہا ہوں۔ اگر میں اونچی سطح پر قدم رکھ رہا ہوں تو وہ میرے بوجھ اٹھانے جا رہے ہوتے ہیں۔ ٹھیک؟ لہٰذا ، آپ ذکرِ الٰہی کرنے والے گروہوں کی تلاش کریں، وہ آپ کے بوجھ اٹھانے والے ہوتے ہیں۔ آپ ایک شیخ کی تلاش کریں وہ آپ کے بوجھ اٹھانے والے ہوتے ہیں۔ آپ موٹر سائیکل گینگ کے ساتھ گھومتے پھرتے ہیں توآپ ان کے بوجھ اٹھانے جارہے ہوتے ہیں – چنانچہ آپ کو دونوں تشبیہات کو آزمانا ہوگا کیونکہ اگر یہ درمیانی راہ ہو تو لوگ کہتے ہیں ، 'ٹھیک ہے پھر بوجھ کون اٹھانے جا رہا ہوتا ہے؟' مگر قطبی مخالفین سے آغاز کرتے ہیں۔ لہٰذا ، جہاں بھی آپ قدم رکھتے ہیں آپ کو سوچنا ہوگا کہ، 'انجمن میں کون بوجھ اٹھانے جا رہا ہے؟' اور اسی وجہ سے ہم نے کہا، یہاں تک کہ اگر آپ (ظاہری طور پر) آ نہیں سکتے اور آپ کہتے ہیں ، 'میں اب ذکر کیلئے نہیں جاؤں گا ،' ٹھیک ہے، تو آپ مجھے اپنے گھر آنے دیں! آپ مجھ پر بالکل بھی اثر انداز نہیں ہوتے بلکہ آپ نے اپنے آپ کو اللہ عزوجل کی نعمت اور رحمت سے منقطع کر لیا ہے۔ تو شیطان نے آپ کو منقطع کر دیا ہے ، کیوں؟ کیونکہ اب جب آپ زیادہ مثبت چارج سے منسلک نہیں ہیں ، تو آپ کے گھر میں بوجھ کون اٹھاتا ہے؟ عمر کے لحاظ سے نیچے جاتے ہوئے، کیونکہ جیسے جیسے وہ بڑے ہوتے جاتے ہیں – ہر بڑے پر منفی چارج آ جاتا ہے۔ تمام چھوٹے بچوں پر مثبت چارج ہوتا ہے۔ لہذا ، گھر میں آپ کے کام کے تمام بوجھ ، آپ باہر مال میں جا رہے ہیں ، آپ شاپنگ سینٹرز جا رہے ہیں – ہر جگہ جہاں آپ روزانہ کی بنیاد پر جا رہے ہیں وہ (منفی چارج) چھوٹے بچوں کی جانب جائے گا۔ چونکہ وہ چھوٹے ہوتے ہیں وہ زیادہ پاک ہوتے ہیں ، وہ ابھی ابھی جنت سے آئے ہیں۔ تو یہی خطرہ ہوتا ہے جب کوئی ذکر اور انجمنوں سے الگ ہوجائے اور پھر یہ تفہیم۔ پھر اگر آپ ذکر کرنے والے شخص ہیں اور آپ تزکیہ نفس اور مسلسل مراقبہ اور غور و فکر کرنے والے شخص ہیں تو اپنے آپ کو موٹرسائیکل گینگ اور خراب جگہوں پر مت لے کر جائیں کیونکہ وہ آپ کی ساری اینرجی کھینچ لیتے ہیں اور آپ دیوالیہ ہوجاتے ہیں – آپ اینرجی سے دیوالیہ ہوجاتے ہیں ، اور یہی خطرہ ہے۔
𝐓𝐑𝐀𝐍𝐒𝐋𝐈𝐓𝐄𝐑𝐀𝐓𝐈𝐎𝐍:
Lehaza, agar aap ziyada masbet hain aur koi manfi hai, to isi terhan aap is baat ka taayun kar saktay hain ke mein kahan qadam rakh raha hon. Har cheez ya to ziyada voltage ki hai ya kam voltage ki. Mein jahan bhi qadam rakhta hon kya yeh neechay ki taraf ja raha hai? To phir mein boojh uthany ja raha hon. Agar mein onche satah par qadam rakh raha hon to woh mere boojh uthany ja rahay hotay hain. Theek? Lehaza, aap zikar e Ellahi karne walay garohoon ki talaash karen, woh aap ke boojh uthany walay hotay hain. Aap aik sheikh ki talaash karen woh aap ke boojh uthany walay hotay hain. Aap motorcycle gang ke sath ghumte phirtay hain toaap un ke boojh uthany jarahay hotay hain – chunancha aap ko dono tashbeehaat ko aazmana hoga kyunkay agar yeh darmiyani raah ho to log kehte hain, 'theek hai phir boojh kon uthany ja raha hota hai?' Magar qutbi mukhalfin se aaghaz karte hain. Lehaza, jahan bhi aap qadam rakhtay hain aap ko sochna hoga ke,' anjuman mein kon boojh uthany ja raha hai ?' aur isi wajah se hum ne kaha, yahan tak ke agar aap ( zahiri tor par ) aa nahi satke aur aap kehte hain,' mein ab zikar ke liye nahi jaoon ga,' theek hai, to aap mujhe apne ghar anay den! Aap mujh par bilkul bhi assar andaaz nahi hotay balkay aap ne apne aap ko allah azzwajal ki nemat aur rehmat se munqata kar liya hai. To shetan ne aap ko muaqita kar diya hai, kyun? Kyunkay ab jab aap ziyada masbet charge se munsalik nahi hain, to aap ke ghar mein boojh kon uthata hai? Umar ke lehaaz se neechay jatay hue, kyunkay jaisay jaisay woh barray hotay jatay hain – har barray par manfi charge aa jata hai. Tamam chhootey bachon par masbet charge hota hai. Lehaza, ghar mein aap ke kaam ke tamam boojh, aap bahar maal mein ja rahay hain, aap shopping centers ja rahay hain – har jagah jahan aap rozana ki bunyaad par ja rahay hain woh ( manfi charge ) chhootey bachon ki janib jaye ga. Chunkay woh chhootey hotay hain woh ziyada pak hotay hain, woh abhi abhi jannat se aaye hain. To yahi khatrah hota hai jab koi zikar aur anjmnon se allag hojaye aur phir yeh tafheem . Phir agar aap zikar karne walay shakhs hain aur aap tazkia nafs aur musalsal muraqba aur ghhor o fikar karne walay shakhs hain to –apne aap ko motocycle gang aur kharab jaghon par mat le kar jayen kyunkay woh aap ki saari energy khech letay hain aur aap dewalia ho jatay hain – aap energy se dewalia ho jatay hain, aur yahi khatrah hai .
𝐄𝐍𝐆𝐋𝐈𝐒𝐇 𝐓𝐑𝐀𝐍𝐒𝐂𝐑𝐈𝐏𝐓:
So, if you're the more positive and who's the negative – and that's how we can determine where I step. Everything is either higher voltage or lower voltage. Everywhere I step, is it going to be towards a lower? Then I'm going to carry the burdens. If I'm stepping into a higher – they're going to carry my burdens. Right? So, you look for the zikr (Divine remembrance) groups; they're going to carry your burdens. You look for a shaykh; they're going to carry your burdens. You hang out with a motorcycle gang; you're going to carry their burdens. Because you have to try both analogies because if it's middle ground they say, 'Well who's carrying the burdens then?' But let's go from the polar opposites. So, anywhere you step you have to think, 'Who's carrying the burdens in the association?' And that's why we said, even if you don't step and you say, 'I'm not going to zikr anymore,' then okay let me come into your house now! And in your house who's carrying the burdens since you're not coming here and you're not attending and you're not watching your zikr anymore? You say, 'Oh, I'm going to get back at you, I'm not watching anymore.' You don't affect me at all. You cut yourself from Allah's (AJ) ni'mat (blessing) and rahmah (mercy). So that shaitan (satan) isolate you, why? Because now in your home when you're no longer connected to a more positive charge, who carries the burden in your house? By age going down, because as they're older – everyone older has the negative charge. All the little ones have the positive charge. So, in the home all the burdens of your work, your going out to the mall, your going to shopping centers – everywhere you're going on a daily basis will go towards the little ones. Because as they're smaller they're more pure, they just came from paradise. So, that's the danger of one isolating themselves from the zikrs and the associations and then that understanding. Then if you are a person of zikr and you're a person of purification and continuous muraqabah (spiritual connection) and contemplation then don't take yourself where motorcycle gangs are and bad places because they're going to pull all your energy and you become bankrupt – you become bankrupt from the energy, and that's the danger.
————————————————————————–
یہ بیان یوٹیوب پر دیکھنے کیلئے
Watch this Bayan on youtube:
اس آرٹیکل کو انگلش میں پڑھنے کیلئے
𝐐&𝐀 – 𝐀𝐫𝐞 𝐲𝐨𝐮 𝐥𝐨𝐨𝐬𝐢𝐧𝐠 𝐨𝐫 𝐠𝐚𝐢𝐧𝐢𝐧𝐠 𝐞𝐧𝐞𝐫𝐠𝐲 𝐟𝐫𝐨𝐦 𝐰𝐡𝐞𝐫𝐞 𝐲𝐨𝐮 𝐠𝐨? 𝐃𝐨𝐧'𝐭 𝐜𝐨𝐦𝐩𝐥𝐚𝐢𝐧 𝐚𝐛𝐨𝐮𝐭 𝐲𝐨𝐮𝐫 𝐭𝐞𝐬𝐭𝐢𝐧𝐠𝐬, 𝐀𝐥𝐥𝐚𝐡 (𝐀𝐉) 𝐰𝐚𝐧𝐭𝐬 𝐭𝐨 𝐛𝐥𝐞𝐬𝐬 𝐲𝐨𝐮 𝐰𝐢𝐭𝐡 𝐬𝐨𝐦𝐞𝐭𝐡𝐢𝐧𝐠. 𝐋𝐨𝐯𝐞 𝐚𝐧𝐝 𝐟𝐚𝐢𝐭𝐡 𝐢𝐬 𝐬𝐨𝐦𝐞𝐭𝐡𝐢𝐧𝐠 𝐲𝐨𝐮 𝐡𝐚𝐯𝐞 𝐭𝐨 𝐧𝐮𝐫𝐭𝐮𝐫𝐞. 𝐌𝐞𝐝𝐢𝐭𝐚𝐭𝐢𝐨𝐧 𝐰𝐢𝐭𝐡 𝐞𝐲𝐞𝐬 𝐜𝐥𝐨𝐬𝐞𝐝 𝐚𝐧𝐝 𝐞𝐲𝐞𝐬 𝐨𝐩𝐞𝐧. 𝐁𝐞𝐰𝐚𝐫𝐞 𝐨𝐟 𝐦𝐨𝐝𝐞𝐫𝐧 𝐢𝐧𝐬𝐭𝐢𝐭𝐮𝐭𝐢𝐨𝐧𝐬. 𝐓𝐡𝐞 𝐫𝐞𝐚𝐥𝐢𝐭𝐲 𝐨𝐟 𝐩𝐚𝐢𝐧 𝐚𝐧𝐝 𝐭𝐡𝐞 𝟒 𝐞𝐧𝐞𝐦𝐢𝐞𝐬 𝐨𝐟 𝐭𝐡𝐞 𝐬𝐨𝐮𝐥.
یو ٹیوب چینل ابھی سبسکرایب کیجئے
Subscribe Now: The Muhammadan Way Sufi Realities
Www.youtube.com/channel/UC4E8QX7OgwYDgyuuXTBMrcg
شیخ سید نور جان میر احمدی نقشبندی (ق) کا آفشیل فیس بک پیج لائک کیجئے
Official Page: Shaykh Nurjan Mirahmadi
Https://www.facebook.com/shaykhnurjanmirahmadi/
► 𝐀𝐧𝐝𝐫𝐨𝐢𝐝 𝐀𝐩𝐩: https://play.google.com/store/apps/details?Id=com.nurmuhammad.muhammadanway
► 𝐢𝐏𝐡𝐨𝐧𝐞 𝐀𝐩𝐩: https://apps.apple.com/us/app/muhammadan-way/id1244297852
► 𝐒𝐨𝐮𝐧𝐝𝐂𝐥𝐨𝐮𝐝: https://soundcloud.com/muhammadanway
► 𝐃𝐨𝐧𝐚𝐭𝐞 (𝐏𝐀𝐊𝐈𝐒𝐓𝐀𝐍 𝐚𝐧𝐝 𝐖𝐎𝐋𝐑𝐃𝐖𝐈𝐃𝐄) : https://nurmuhammad.com/donate
Please Subscribe and Share