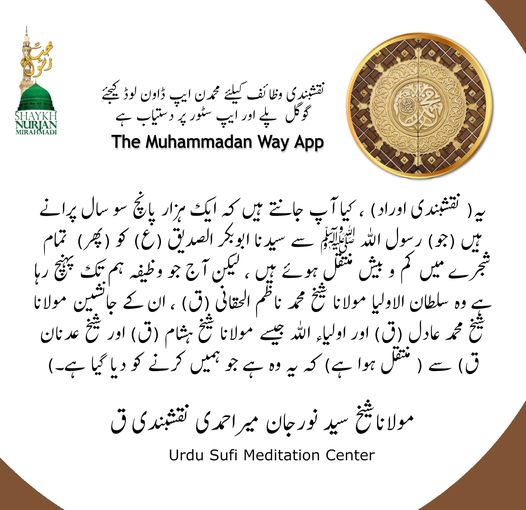 Urdu – سوالات و جوابات – بہشتی حقائق کے لیے اپنا مراقبہ کریں، سراجاً منیراً کی حقیقت کی…

سوالات و جوابات – بہشتی حقائق کے لیے اپنا مراقبہ کریں، سراجاً منیراً کی حقیقت کیا ہے| رجب – دنیا بہت سی مختلف مشکلات میں داخل ہونے والی ہے | 7 میں سے(ہر) 6 زمین پر تباہ ہوجائیں گے| امام مھدی علیہ السلام سب سے عظیم محمدن ھادی(گائیڈ) ہیں[حصہ-دوم]
?&? – ??? ???? ?????????? ??? ???????? ?????????, ???? ?? ??? ??????? ?? ????? ??????? | ????? – ??? ????? ?? ????? ?? ????? ???? ???? ????????? ???????????? | ? ??? ?? ? ???? ?????? ?? ????? | ???? ????? (??) ??????? ?????????? ????? [PART-2]
Sawalaat O Jawabaat – behishti haqayiq ke liye apna muraqba karen, Siraajan Munira ki haqeeqat kya hai | Rajab – duniya bohat si mukhtalif mushkilaat mein daakhil honay wali hai | 7 mein se ( har ) 6 zameen par tabah ho jaien ge | Imam Mahdi alaihi salam sab se azeem Muhammadan haadi ( guide ) hain [Hissa-Doam]
——————————————–
——————————————–
شیخ سید نورجان میراحمدی نقشبندی (ق) کی سنہری تعلیمات سے اقتباس۔
بِسْمِ اللَّـهِ الرَّحْمَـٰنِ الرَّحِيمِ
اَللَّھُمَّ صَلِّ عَلَی سَیَّدِنَا محَمَّدٍ ﷺ وَعَلَی آلِ سَیَّدِنَا محَمَّدٍ ﷺ
سوال : السلام علیکم سیدی ، آپ کی تمام رہنمائی کے لئے جزاك الله خير (اللہ پاک آپکو اجرِ عظیم عطا فرمائے)۔ کیا کسی مرید کو اپنے شیخ سے ذاتی وظیفہ طلب کرنا چاہئے؟ یا جب صحیح وقت آئے گا تو خود ہی عطا کر دیا جائے گا؟
مولانا شیخ سیدنورجان میر احمدی نقشبندی ق : وَعَلَيْكُمُ السَّلاَمْ اس وقت اور دور میں ذاتی وظیفے کی حیثیت سے کسی چیز کی ضرورت نہیں ہے ، لوگ عمومی رابطہ ہی نہیں کر رہے۔ اس لئے کوئی ذاتی وظیفہ نہیں ہے سوائے ذاتی مشکلات یا بیماریوں یا کسی ایسی چیز کیلئے جو مشکل ہو (تو اسمیں) شیخ ایک اور ذکر شامل فرما دیں گے، اگر اس کی اجازت ہو تو ، جو اس سے نجات دلائے گا یا صلوات (حضرت محمد صلی اللہ علیہ وآلہ وسلم پر درودوسلام) جو کسی خاص مشکل کو دور کرنے کیلئے ہو ۔ لیکن اس کی بنیاد نقشبندی اوراد کے ساتھ جڑا ہونا ہے۔کہ یہ(اوراد) ، کیا آپ جانتے ہیں کہ ایک ہزار پانچ سو سال پرانے ہیں (جو) رسول اللہ ﷺ سے سیدنا ابوبکر الصدیق (ع) کو، (پھر) تمام شجرے میں کم و بیش منتقل ہوئے ہیں ، لیکن آج جو وظیفہ ہم تک پہنچ رہا ہے وہ سلطان الاولیا مولانا شیخ محمد ناظم الحقانی (ق) ، ان کے جانشین مولانا شیخ محمد عادل (ق) اور اولیاء اللہ جیسے مولانا شیخ ہشام (ق) اور شیخ عدنان (ق) سے ( منتقل ہوا ہے) کہ یہ وہ ہے جو ہمیں کرنے کو دیا گیا ہے۔
جب ہم یہ کام روزانہ کی بنیاد پر سارے قرآن کے ساتھ، تمام دلائل الخیرات (رسول اللہ صلی اللہ علیہ وآلہ وسلم پر درود و سلام کی کتاب) کے ساتھ کرتے ہیں اور وہ سب جو ضروری ہے تو بس یہ کافی ہے۔پھر جب آپ رابطہ قائم کرتے ہیں، اور اپنے دل کو جوڑتے ہیں اور اپنے اوراد کرتے ہیں تو یہ اوراد بندے کو ملبوس کرنے لگتے ہیں تاکہ وہ اس فیض کو حاصل کرنا شروع کردیں۔ایسے لوگ بھی ہیں جو آس پاس جاتے ہیں اور کچھ تلاوت کرنے کے لئے، کچھ پڑھنے کے لئے، کچھ مانگتے رہتے ہیں ، مجھے لگتا ہے کہ یہ بہت سارے کلچرز میں عادت ہے کہ جہاں بھی آپ جائیں وہ کہتے ہیں ، مجھے پڑھنے کے لئے ایک وظیفہ دیجئے ، یہ سوچ کر کہ ، اس سے کچھ سکون ملے گا لیکن اس سے پہلے آپ کو معلوم ہوتا ہے کہ ان کے پاس دو سو مختلف چیزیں ہیں جو وہ تلاوت کررہے ہیں، جو کہ آپ جانتے ہیں کہ بہت ساری چیزیں ہیں جس میں سے وہ کسی کو بھی مکمل نہیں کر پا رہے ہیں۔ لہذا یہ بہت سارے مختلف انٹرنیٹ سگنلز کے لئے بہت زیادہ مختلف لاگ اِنز ہیں۔لہذا ایک کے ساتھ ہونا بہترین ہے اور پھر اپنے نورمحمد [نورمحمد ڈاٹ کام] پر جائیں اور وائی فائی کو گوگل کریں ، 'آسمانی وائی فائی' آرٹیکل کو دیکھیں اور ہم اس طرح اس کو دوبارہ پڑھیں اور سمجھنا ہے کہ آپ کو اس وائی فائی سے جڑنا ہے جو بھیجا جا رہا ہے اور مضبوطی سے اس سے منسلک ہونا ہے۔ اور ان شاء اللہ یہ کافی ہونا چاہئے اور اگر کوئی دوسری خصوصیات یا مشکلات موجود ہیں تو ایپ [محمدن وے ایپ] سب اجازت کے ساتھ ہے لہذا کسی کو بھی ہمیں ای میل کی حاجت نہیں کہ، 'کیا میں اس دعاء کو پڑھنے کے لئے اجازت لے سکتا ہوں؟ 'چنانچہ حقیقتاً ایپ جاری کرنے کی قانونی حقیقت ان دعاؤں، ان صلوات،(الغرض) ہر چیز کو پڑھنے کی اجازت ہے۔ تو ایک طالب علم کے لیے اتنا کچھ ہے کہ انھیں ان شاء اللہ مزید مانگنے کی ضرورت نہیں۔
——————————————–
——————————————–
Sawal : Assalamu Alaikum Sayyidi , aap ki tamam rahnumai ke liye JazakAllah khair ( Allah pak aapko ajar e azeem ataa farmaiye ). kya kisi mureed ko–apne Shaykh se zaati wazifa talabb karna chahiye? ya jab sahih waqt aaye ga to khud hi ataa kar diya jaye ga ?
Mawlana Shaykh Nurjan Mirahmedi Naqshbandi qs: Wa Alaikum As Salam iss waqt aur daur mein zaati wazifay ki hesiyat se kisi cheez ki zaroorat nahi hai, log umomi rabita hi nahi kar rahay. iss liye koi zaati wazifa nahi hai siwaye zaati mushkilaat ya bimarion ya kisi aisi cheez ke liye jo mushkil ho ( tou ismein ) Shaykh aik aur zikar shaamil farma den ge, agar iss ki ijazat ho tou, jo iss se nijaat dilay ga ya salawaat ( Hazrat Muhammad salla Allah alaihi wa-alehe wasallam par drood o salam ) jo kisi khaas mushkil ko door karne ke liye ho. lekin is ki bunyaad Naqshbandi Awrad ke sath jura hona hai. ke yeh ( Awrad ), kya aap jantay hain ke aik hazaar paanch so saal puranay hain ( jo ) rasool Allah Sallalahu Alaihi wa Alayhi wa sallam se Sayyedina Abu Baker Al Siddiq ( AS ) ko, ( phir ) tamam shajray mein kam o besh muntaqil hue hain, lekin aaj jo wazifa hum tak pahonch rahay hai woh Sultanul Awliya Mawlana Shaykh Muhammad Nazim Al Haqqani ( q ), un ke janasheen Mawlana Shaykh Muhammad Adil ( q ) aur Awliya Allah jaisay Mawlana Shaykh Hisham ( q ) aur Shaykh Adnan ( q ) se ( muntaqil hua hai ) ke yeh woh hai jo hamein karne ko diya gaya hai .
jab hum yeh kaam rozana ki bunyaad par saaray quran ke sath, tamam dalailul khairaat (Sallalahu Alayhi Wa Alayhi Wasallam par duroood o salam ki kitaab ) ke sath karte hain aur woh sab jo zaroori hai to bas yeh kaafi hai. phir jab aap rabita qaim karte hain, aur –apne dil ko jorhte hain aur –apne Awrad karte hain tou yeh Awrad bande ko malboos karne lagtay hain taakay woh is Faiz ko haasil karna shuru kar dein. aisay log bhi hain jo aas paas jatay hain aur kuch tilawat karne ke liye, kuch parhany ke liye, kuch mangte rehtay hain, mujhe lagta hai ke yeh bohat saaray Cultures mein aadat hai ke jahan bhi aap jayen woh kehte hain, mujhe parhany ke liye aik wazifa dijiye, yeh soch kar ke, is se kuch sukoon miley ga lekin is se pehlay aap ko maloom hota hai ke un ke paas do so mukhtalif cheeze hain jo woh tilawat kar rahay hain, jo ke aap jantay hain ke bohat saari cheeze hain jis mein se woh kisi ko bhi mukammal nahi kar pa rahay hain. lehaza yeh bohat saaray mukhtalif internet signals ke liye bohat ziyada mukhtalif logins hain. lehaza aik ke sath hona behtareen hai aur phir –apne nurmuhammd [nurmuhammad.com] par jayen aur Wi-Fi ko Google karen,' aasmani Wi-Fi ' article ko dekhein aur hum iss terhan is ko dobarah parhein aur samjhna hai ke aap ko is Wi-Fi se jurna hai jo bheja ja raha hai aur mazbooti se is se munsalik hona hai. aur In shaa Allah yeh kaafi hona chahiye aur agar koi doosri khususiyaat ya mushkilaat mojood hain to app [ Muhammadan way app ] sab ijazat ke sath hai lehaza kisi ko bhi hamein email ki haajat nahi ke,' kya mein is dua ko parhany ke liye ijazat le sakta hon ?' chunanchay haqeeqatan app jari karne ki qanooni haqeeqat un duaon, un salawat , ( algaraz ) har cheez ko parhany ki ijazat hai. tou aik taalib e ilm ke liye itna kuch hai ke unhein In Shaa Allah mazeed mangnay ki zaroorat nahi.
——————————————–
——————————————–
???????? : As Salaamu Alaykum Seyyidi, Jazakallah khair for all your guidance. Should a mureed ask his or her shaykh for personal wazifa? Or will this be given when the time is right?
?????? ?????? ????????? : Wa Alaikum Salam. In this time and age there's no need for anything as a personal wazifa (spiritual practice), people are not doing the general connection. So there is no personal wazifa except for personal difficulties or ailments or something that is of a difficulty the shaykh will include another zikr that will relieve that or a salawat (praises upon Prophet Muhammad ﷺ) that will relieve a certain difficulty if there is permission for that but the main is to connect with the Naqshbandi awrad. That, that is you know a thousand years old 1500 years old from Prophet ﷺ to Sayyidina Abu Bakr As-Siddiq (as) all through the Shajarah been modified, but to what is reaching us today is the wazifa that Sultan al-Awliya (king of saints) Mawlana Shaykh Muhammad Nazim al-Haqqani (Q), his representative Mawlana Shaykh Muhammad Adil (Q) and awliyaullah (saints) like Mawlana Shaykh Hisham (Q) and Shaykh Adnan (Q), that this is what's been given to us to do.
When we do that on a daily basis with all the Qur'an with all the dalail ul khairat (Book of praising upon Prophet ﷺ) and all that's necessary, that's it. Then when you connect and connect your heart and do your practices this wazifa begins to dress the servants so that they can begin to receive these faizes. There are people who go around and keep asking for something to recite something to recite something to recite, I think it's more of a habit for a lot of cultures that everywhere you go they say, 'Give me a wazifa to recite,' thinking that, that will relieve something but before you know it they have like 200 different things that they're reciting which is you know a lot of different things to recite of which they're not completing any of them. So these are too many different logins for too many different internet signals. So best to keep with one and then go to your Nurmuhammad [Nurmuhammad.com] and google the Wi-Fi, 'Heavenly Wi-Fi' article and we sort of read up again on that and the understanding that you have to be connected to this Wi-Fi that is being transmitted and strongly connected to them. And inshaAllah that should be enough and if there are other specifics or difficulties then the app [MuhammadanWay App] is all with ijaza (permission) so nobody has to email us that, 'Can I have ijaza to read this du'a (supplication)?' By the fact the word the legal fact of sending out the app, that is the ijaza to recite those du'as to recite those salawats, everything. So there's so much there for a student to do they don't need to keep asking for more inshaAllah.
———————————————-
حصہ اوّل:
PART – 1:
یہ بیان دیکھنے کیلئے
Watch this Bayan :

یوٹیوب چینل سبسکرائب کیجئے
Subscribe Now: The Muhammadan Way Sufi Realities
Www.youtube.com/channel/UC4E8QX7OgwYDgyuuXTBMrcg
شیخ سید نور جان میر احمدی نقشبندی (ق) کا آفشیل فیس بک پیج لائک کیجئے
Official Page: Shaykh Nurjan Mirahmadi
Https://www.facebook.com/shaykhnurjanmirahmadi/
► ??????? ???: https://play.google.com/store/apps/details?Id=com.nurmuhammad.muhammadanway
► ?????? ???: https://apps.apple.com/us/app/muhammadan-way/id1244297852
► ??????????: https://soundcloud.com/muhammadanway
► ?????? (???????? ??? ?????????) : https://nurmuhammad.com/donate
Please Subscribe and Share