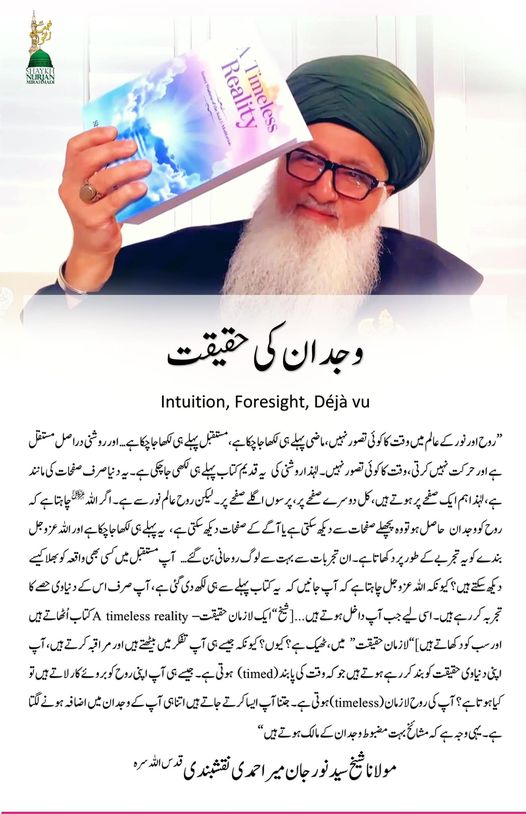 Urdu – سوالات و جوابات : اللہ عزوجل تک رسائی حاصل کرنے کے آداب – عاجزی کا راستہ اختیار…

سوالات و جوابات : اللہ عزوجل تک رسائی حاصل کرنے کے آداب – عاجزی کا راستہ اختیار کیا جائے نہ کہ شیطان کا۔ بہشتی ڈریگن بمقابلہ شیطانی اُڑتے سانپ۔ ساز بجاتے برتنوں اور فریکوئینسیز کا ذکراللہ کے ساتھ کوئی مقابلہ نہیں۔ الہام کی حقیقت اور ڈیجاوو، ہر چیز پہلے ہی لکھی جا چکی ہے۔ دجال اپنے ہدف کا شکار کرنے کیلئے ٹائم ٹریول کا استعمال کرے گا۔ (ساتواں/آخری حصہ)
Sawalaat O Jawabaat : Allah Azzwajal Tak Rasai Haasil Karnay Kay Aadaab – Aajzi Ka Rasta Ikhtiyar Kya Jaye Nah Ke Shaitan Ka. Bahishti Dragon Ba-Muqabla Shaytani Urtay Saanp. Saaz Bajatay Bartano Aur Frequencies Ka Zikrullah Ke Sath Koi Muqaabla Nahi. Ilham Ki Haqeeqat Aur Déjà vu, Her Cheez Pehlay Hi Likhi Ja Chuki Hai. Dajjal Apne Hadaf Ka Shikaar Karne Ke Liye Time Travel Ka Istemaal Karay Ga. [Part-7/LAST PART]
𝐐&𝐀 𝐌𝐚𝐧𝐧𝐞𝐫𝐢𝐬𝐦𝐬 𝐨𝐟 𝐚𝐩𝐩𝐫𝐨𝐚𝐜𝐡𝐢𝐧𝐠 𝐀𝐥𝐥𝐚𝐡 (𝐀𝐉), 𝐭𝐚𝐤𝐢𝐧𝐠 𝐭𝐡𝐞 𝐰𝐚𝐲 𝐨𝐟 𝐡𝐮𝐦𝐢𝐥𝐢𝐭𝐲 𝐚𝐧𝐝 𝐧𝐨𝐭 𝐨𝐟 𝐬𝐡𝐚𝐢𝐭𝐚𝐧. 𝐇𝐞𝐚𝐯𝐞𝐧𝐥𝐲 𝐃𝐫𝐚𝐠𝐨𝐧𝐬 𝐯𝐬 𝐒𝐡𝐚𝐢𝐭𝐚𝐧'𝐬 𝐟𝐥𝐲𝐢𝐧𝐠 𝐬𝐧𝐚𝐤𝐞𝐬. 𝐒𝐢𝐧𝐠𝐢𝐧𝐠 𝐛𝐨𝐰𝐥𝐬 𝐚𝐧𝐝 𝐟𝐫𝐞𝐪𝐮𝐞𝐧𝐜𝐢𝐞𝐬 𝐚𝐫𝐞 𝐧𝐨𝐭𝐡𝐢𝐧𝐠 𝐜𝐨𝐦𝐩𝐚𝐫𝐞𝐝 𝐭𝐨 𝐙𝐢𝐤𝐫𝐮𝐥𝐥𝐚𝐡. 𝐑𝐞𝐚𝐥𝐢𝐭𝐲 𝐨𝐟 𝐢𝐧𝐭𝐮𝐢𝐭𝐢𝐨𝐧 𝐚𝐧𝐝 𝐃é𝐣à 𝐯𝐮, 𝐞𝐯𝐞𝐫𝐲𝐭𝐡𝐢𝐧𝐠 𝐡𝐚𝐬 𝐚𝐥𝐫𝐞𝐚𝐝𝐲 𝐛𝐞𝐞𝐧 𝐚𝐧𝐜𝐢𝐞𝐧𝐭𝐥𝐲 𝐰𝐫𝐢𝐭𝐭𝐞𝐧. 𝐃𝐚𝐣𝐣𝐚𝐥 𝐰𝐢𝐥𝐥 𝐮𝐬𝐞 𝐭𝐢𝐦𝐞 𝐭𝐫𝐚𝐯𝐞𝐥 𝐭𝐨 𝐞𝐥𝐢𝐦𝐢𝐧𝐚𝐭𝐞 𝐡𝐢𝐬 𝐭𝐚𝐫𝐠𝐞𝐭𝐬. [Part-7/LAST PART]
———————————-
———————————-
شیخ سید نورجان میراحمدی نقشبندی (ق) کی سنہری تعلیمات سے اقتباس۔
بِسْمِ اللَّـهِ الرَّحْمَـٰنِ الرَّحِيمِ
اَلَّھُمَّ صَلِّ عَلَی سَیَّدِنَا محَمَّدٍ ﷺ وَعَلَی آلِ سَیَّدِنَا محَمَّدٍ ﷺ
سوال نمبر 9: وجدان کی حقیقت کیا ہے؟
شیخ سید نورجان میراحمدی نقشبندی (ق):
وجدان – دور اندیشی رکھنا۔ ٹھیک ہے؟ اُس دن ہم کیا پوچھ رہے تھے؟ وجدان اور… Déjà vu [شیخ سامعین کو مخاطب کرتے ہیں]
سامعین: اوہ "ڈیجا وو"۔
شیخ سید نورجان میراحمدی نقشبندی (ق): ہاں۔ تب ہی جب کسی نے وجدان اور ڈیجا وو کے بارے میں پوچھا تھا۔ یاد رکھیں کہ ہم جو کچھ بھی کر رہے ہیں، اور یہ تعلیم روشنی کی دنیا سے ہے، روح اور نور کی دنیا میں وقت کا کوئی تصور نہیں ہے۔ ماضی پہلے ہی لکھا جا چکا ہے۔ مستقبل پہلے ہی لکھا جا چکا ہے۔ کوئی شخص بھی ایسی سوچ نہیں رکھ سکتا کہ اللہ عزوجل کل کو لکھنے کے لیے کل کا انتظار کر رہا ہے، اور پھر وہ اگلا دن لکھے گا، اور پھر اُس سے اگلا دن لکھے گا۔ یہ پہلے ہی لکھا جا چکا ہے۔ اور روشنی دراصل مستقل ہے اور حرکت نہیں کرتی۔ وقت کا کوئی تصور نہیں۔ لہٰذا روشنی کی یہ قدیم کتاب پہلے ہی لکھی جا چکی ہے۔ یہ دنیا صرف صفحات کی مانند ہے، لہٰذا ہم ایک صفحے پر ہوتے ہیں، کل دوسرے صفحے پر، پرسوں اگلے صفحے پر۔ لیکن روح نور کی دنیا سے ہے۔ اگر اللہ (عزوجل) چاہتا ہے کہ روح کو وجدان حاصل ہو تو وہ پچھلے صفحات سے دیکھ سکتی ہے یا آگے کے صفحات دیکھ سکتی ہے۔ یہ پہلے ہی لکھا جا چکا ہے اور اللہ عزوجل بندے کو یہ تجربے کے طور پر دکھاتا ہے۔ ان تجربات سے بہت سے لوگ روحانی بن گئے کیونکہ انہوں نے پہلے سے ہی اس کو سمجھ لیا تھا، 'واہ، کیا…' وہ ہم نے کیا لفظ استعمال کیا تھا؟ ہم نے بس ابھی استعمال کیا (شیخ سامعین سے سوال کرتے ہیں)،
سامعین: 'Déjà vu'
شیخ سید نورجان میراحمدی نقشبندی (ق): ڈیجا وو۔ کیوں؟ آپ مستقبل میں کسی بھی واقعہ کو بھلا کیسے دیکھ سکتے ہیں؟ کیونکہ اللہ عزوجل چاہتا ہے کہ آپ جانیں کہ، 'یہ کتاب پہلے سے ہی لکھ دی گئی ہے، آپ صرف اس کے دنیاوی حصے کا تجربہ کر رہے ہیں۔' اسی لیے جب آپ داخل ہوتے ہیں… [شیخ "ایک لازمان حقیقت – A timeless reality کتاب اُٹھاتے ہیں اور سب کو دکھاتے ہیں] "لازمان حقیقت" میں، ٹھیک ہے؟ کیوں؟ کیونکہ جیسے ہی آپ تفکر میں بیٹھتے ہیں اور مراقبہ کرتے ہیں، آپ اپنی دنیاوی حقیقت کو بند کر رہے ہوتے ہیں جو کہ وقت کی پابند (timed) ہوتی ہے۔ جیسے ہی آپ اپنی روح کو بروئے کار لاتے ہیں تو کیا ہوتا ہے؟ آپ کی روح لازمان (timeless) ہوتی ہے۔ جتنا آپ ایسا کرتے جاتے ہیں اتنا ہی آپ کے وجدان میں اضافہ ہونے لگتا ہے۔ یہی وجہ ہے کہ مشائخ بہت مضبوط وجدان کے مالک ہوتے ہیں۔ ٹھیک ہے؟ وہ دنیا پر منحصر نہیں، انکا روشنی پر انحصار ہوتا ہے۔ روشنی پر منحصر ہونے کے نتیجے میں، چونکہ یہ صفحات پہلے سے لکھے جا چکے ہیں، اس لیے ان کو وجدان ہوتا ہے کہ، 'اس صفحہ پر کوئی مسئلہ درپیش ہونے والا ہے، اس شخص کے ساتھ ایسا معاملہ نہ کریں۔ اس میں سرمایہ کاری مت کریں، اس طرح مت کریں۔' اسی لیے جب آپ مشائخ سے مشورہ مانگ رہے ہوتے ہیں تو جب یہ ضروری ہوتا ہے اور انہیں اپنے وجدان کا استعمال کرنا ہوتا ہے تو انہیں روشنی کی دنیا سے اشارہ ملتا ہے کہ ماضی کچھ ایسا تھا اور جو مستقبل میں ہونے جا رہا ہے وہ اچھا نہیں ہو گا یا اچھا ہونے والا ہے۔ تو یہ اس دنیا سے ہے جسے ہم وجدان سمجھتے ہیں۔ وہ روشنی کی دنیا ہدایت دے رہی ہوتی ہے کیونکہ اللہ (عزوجل) چاہتا ہے کہ لوگ یہ سمجھ جائیں کہ وہ صرف ظاہری مخلوق نہیں ہیں، وہ دراصل روحانی مخلوق ہیں۔ تو ڈیجا وو یہ ہے کہ آپ، 'ارے، میں پہلے ہی اس کا تجربہ کر چکا ہوں۔' وہ لمحہ آتا ہے اور آپ کہتے ہیں کہ، 'مجھے یہ یاد ہے، میں نے یہ خواب میں دیکھا تھا یا کسی مشاہدے کی جھلک میں دیکھا تھا کہ ایسا ہو گا۔ یہ ہو گا اور یہ اصل میں واقع ہوا.' کیوں؟ کیونکہ اللہ (عزوجل) چاہتا ہے کہ آپ جان لیں کہ وہ صفحہ بہت پہلے لکھ دیا گیا تھا، یہ قدیم طور پر لکھ دیا گیا ہے۔ لیکن اللہ (عزوجل) قرآن میں بیان فرماتا ہے، 'ہم جب چاہیں کتاب بدل سکتے ہیں' وہ مٹا سکتا ہے لکھ سکتا ہے، وہ جو چاہے دوبارہ لکھ سکتا ہے۔ اور ہم اس کا تذکرہ ٹائم ٹریول (time travel) میں کر چکے ہیں۔ کہ جیسے اللہ عزوجل صفحے کو لپیٹ سکتا ہے اور وہ پوری تقدیر کو دوبارہ لکھ سکتا ہے۔
يَوْمَ نَطْوِي السَّمَاءَ كَطَيِّ السِّجِلِّ لِلْكُتُبِ ۚ كَمَا بَدَأْنَا أَوَّلَ خَلْقٍ نُّعِيدُهُ ۚ وَعْدًا عَلَيْنَا ۚ إِنَّا كُنَّا فَاعِلِينَ ﴿١٠٤﴾
"جس دن ہم آسمان کو اس طرح لپیٹیں گے جیسے کتاب کے اوراق لپیٹے جاتے ہیں (مکمل)۔ ہم نے ہی پہلی مخلوق کو پیدا کیا، اسی طرح ہم ایک نئی پیدا کریں گے، ایک وعدہ جو ہم نے کیا ہے، ہم اسے ضرور پورا کریں گے۔" (سورت الانبیاء، 21:104)
URDU TRANSLITERATION:
Sawal Number 9 : Wajdan Ki Haqeeqat Kya Hai ?
Shaykh Syed Nurjan Mirahmadi Naqshbandi ( Q ) :
wajdan – daur andeshi rakhna. Theek hai? Uss din hum kya pooch rahay thay? Wajdan aur … déjà vu [ Shaykh samaeen ko mukhatib karte hain ]
Samaeen : Oh déjà vu
Shaykh Syed Nurjan Mirahmadi nqshbndi ( Q ) : Haan. Tab hi jab kisi ne wajdan aur déjà vu ke baray mein poocha tha. Yaad rakhen ke hum jo kuch bhi kar rahay hain, aur yeh taleem roshni ki duniya se hai, rooh aur noor ki duniya mein waqt ka koi tasawwur nahi hai. Maazi pehlay hi likha ja chuka hai. Mustaqbil pehlay hi likha ja chuka hai. Koi shakhs bhi aisi soch nahi rakh sakta ke Allah azzwajal kal ko likhnay ke liye kal ka intzaar kar raha hai, aur phir woh agla din likhay ga, aur phir uss se agla din likhay ga. Yeh pehlay hi likha ja chuka hai. Aur roshni darasal mustaqil hai aur harkat nahi karti. Waqt ka koi tasawwur nahi. Lehaza roshni ki yeh qadeem kitaab pehlay hi likhi ja chuki hai. Yeh duniya sirf safhaat ki manind hai, lehaza hum aik safhay par hotay hain, kal dosray safhay par, parson aglay safhay par. Lekin rooh noor ki duniya se hai. Agar Allah ( azzwajal ) chahta hai ke rooh ko wajdan haasil ho to woh pichlle safhaat se dekh sakti hai ya agay ke safhaat dekh sakti hai. Yeh pehlay hi likha ja chuka hai aur Allah azzwajal bande ko yeh tajarbay ke tor par dekhata hai. Un tajarbaat se bohat se log Rohani ban gaye kyunkay unhon ne pehlay se hi is ko samajh liya tha,' wah, kya…' woh hum ne kya lafz istemaal kya tha? Hum ne bas abhi istemaal kya ( Shaykh samaeen se sawal karte hain ) ,
Samaeen : 'déjà vu '
Shaykh Syed Nurjan Naqshbandi ( Q ) : 'déjà vu'.
Kyun? Aap mustaqbil mein kisi bhi waqea ko bhala kaisay dekh satke hain? Kyunkay Allah azzwajal chahta hai ke aap jaanen ke, 'yeh kitaab pehlay se hi likh di gayi hai, aap sirf is ke dunyawi hissay ka tajurbah kar rahay hain.' isi liye jab aap daakhil hotay hain. .. [ Shaykh "Aik Lazamaan Haqeeqat – A Timeless Reality" kitaab uthatay hain aur sab ko dikhatay hain ] "La-zamaan Haqeeqat" mein, theek hai? Kyun? Kyunkay jaisay hi aap tafakar mein baithtay hain aur muraqba karte hain, aap apni dunyawi haqeeqat ko band kar rahay hotay hain jo ke waqt ki paband ( timed ) hoti hai. Jaisay hi aap apni rooh ko barooay kaar laatay hain to kya hota hai? Aap ki rooh lazamaan ( timeless ) hoti hai. Jitna aap aisa karte jatay hain itna hi aap ke wajdan mein izafah honay lagta hai. Yahi wajah hai ke mashaiykh bohat mazboot wajdan ke maalik hotay hain. Theek hai? Woh duniya par munhasir nahi, inka roshni par inhisaar hota hai. Roshni par munhasir honay ke nateejay mein, chunkay yeh safhaat pehlay se likhay ja chuke hain, is liye un ko wajdan hota hai ke, 'Is safhay par koi masla darpaish honay wala hai, is shakhs ke sath aisa maamla nah karen. Is mein sarmaya kaari mat karen, is terhan mat karen.' Isi liye jab aap mashaiykh se mahswara maang rahay hotay hain to jab yeh zaroori hota hai aur inhen apne wajdan ka istemaal karna hota hai to inhen roshni ki duniya se ishara milta hai ke maazi kuch aisa tha aur jo mustaqbil mein honay ja raha hai woh acha nahi ho ga ya acha honay wala hai. To yeh is duniya se hai jisay hum wajdan samajte hain. Woh roshni ki duniya hadaayat day rahi hoti hai kyunkay Allah ( azzwajal ) chahta hai ke log yeh samajh jayen ke woh sirf zahiri makhlooq nahi hain, woh darasal Rohani makhlooq hain. To déjà vu yeh hai ke aap, 'arrey, mein pehlay hi is ka tajurbah kar chuka hon.' Woh lamha aata hai aur aap kehte hain ke, 'mujhe yeh yaad hai, mein ne yeh khawab mein dekha tha ya kisi mushahiday ki jhalak mein dekha tha ke aisa ho ga. Yeh ho ga aur yeh asal mein waqay hwa.' kyun? Kyunkay Allah ( azzwajal ) chahta hai ke aap jaan len ke woh safha bohat pehlay likh diya gaya tha, yeh qadeem tor par likh diya gaya hai. Lekin Allah ( azzwajal ) quran mein bayan farmata hai,'Hum jab chahain kitaab badal satke hain' Woh mita sakta hai likh sakta hai, Woh jo chahay dobarah likh sakta hai. Aur hum is ka tazkara time travel ( time travel ) mein kar chuke hain. Ke jaisay Allah azzwajal safhay ko lapait sakta hai aur woh poori taqdeer ko dobarah likh sakta hai.
"Jis din hum aasman ko is terhan lapatain ge jaisay kitaab ke ourak lapete jatay hain ( mukammal ). Hum ne hi pehli makhlooq ko peda kya, isi terhan hum aik nai peda karen ge, aik wada jo hum ne kya hai, hum usay zaroor poora karen ge. " ( Surat al-Anbiya, 21:104)
ENGLISH TRANSCRIPT:
𝐐𝐮𝐞𝐬𝐭ion : What is the reality of intuition?
𝐒𝐡𝐚𝐲𝐤𝐡 𝐍𝐮𝐫𝐣𝐚𝐧 𝐌𝐢𝐫𝐚𝐡𝐦adi (Q) : Intuition – to have foresight. Right? What was the other one we were asking the other day? Intuition and… Déjà vu.
𝐀𝐮𝐝𝐢𝐞nce : Oh Déjà vu.
𝐒𝐡𝐚𝐲𝐤𝐡 𝐍𝐮𝐫𝐣𝐚𝐧 𝐌𝐢𝐫𝐚𝐡𝐦adi (Q) : Yeah. That's when somebody had asked about intuition and Déjà vu. Remember that anything we're doing, and the teaching is from the world of light. The soul and the world of light has no time. The past is already been written. The future has already been written. Nobody would imagine that Allah's (AJ) waiting for tomorrow to write for tomorrow, and then He's going to write the next day, and then He's going to write the next day. It's already been written. And light is actually constant and doesn't move; there's no time. So this ancient book of light has already been written. This dunya is just pages, so we're on one page, tomorrow another page, tomorrow another page. But the soul is from the world of light. If Allah (AJ) wants the soul to have an intuition, it can see the pages back or it can see the pages forward. It's already been written and that Allah (AJ) gives for the servant as experience. Many by these experiences became spiritual because it's understood for them, 'Wow, what's…' what we said was the word, just we just used now?
𝐀𝐮𝐝𝐢𝐞nce : 'Déjà vu.'
𝐒𝐡𝐚𝐲𝐤𝐡 𝐍𝐮𝐫𝐣𝐚𝐧 𝐌𝐢𝐫𝐚𝐡𝐦adi (Q) : Déjà vu. Why? How could you possibly see an event in the future? Because Allah (AJ) wants you to know, 'This book has been written, you're just experiencing the dunya part of it.' That's why when you enter… [shaykh picks up 'A Timeless Reality' book] 'Timeless reality.' Right? Why? Because as soon as you sit in tafakkur (contemplation) and meditate, you're closing your dunya reality which is timed. As soon as you operate from your soul, what happens? Your soul is timeless. The more you do that, the more your intuitions are coming. That's why the shaykhs have a very strong intuition. Right? They're not dunya based, they're light based. As a result of light base, these pages are already written so their intuition comes that, 'On this page there's going to be a problem, don't do that with that person. Don't invest in this, don't get like that.' That's why when you're asking for advice from shaykhs, when it's important and they have to use their intuition they're getting a signal from the world of light that – this was the past is something like this and what's happening in the future it's not going to be good or it's going to be good. So that's from the world of what we understand of intuition. That world of light is giving the guidance because Allah (AJ) wanted people to understand that they're not physical beings, they're actually spiritual beings. So Déjà vu is that you, 'Hey, I've already experienced this.' That moment comes and said, 'I remember this, I saw this in a dream or in a flash of a vision this would happen, this would happen and it actually occurred.' Why? Because Allah (AJ) wants you to know – that page was written long ago, it's anciently been written. But Allah (AJ) describes in Qur'an, 'We can change the book any time we want.' He can erase and write, rewrite whatever He wants. And we described that in time travel. That as Allah (AJ) can fold the page and He can rewrite the whole of a destiny.
يَوْمَ نَطْوِي السَّمَاءَ كَطَيِّ السِّجِلِّ لِلْكُتُبِ ۚ كَمَا بَدَأْنَا أَوَّلَ خَلْقٍ نُّعِيدُهُ ۚ وَعْدًا عَلَيْنَا ۚ إِنَّا كُنَّا فَاعِلِينَ ﴿١٠٤﴾
21:104 – "Yawma natwee asSama a katayyi assijelli lilKutubi, kama bada anaa awwala khalqin nu'iduhu, wa'dan 'alayna, inna kunna fa'ileen." (Surat Al-Anbiya)
"The Day when We will fold/roll up the heaven like the folding/scroll rolled up of sheets of book (completed). We produced the first creation, so shall We produce a new one: a promise We have undertaken: truly shall We fulfil it." (The Prophets, 21:104)
تو دجال ٹائم ٹریول کا تصور استعمال کرے گا۔ کیوں؟ کیونکہ جس کو وہ زمین سے غائب کر دینا چاہتا ہے، وہ اپنے شیاطین کو بھیجے گا کہ وہ وقت میں واپس جائیں تاکہ اُس شخص کو تلاش کریں اور اُن کو مار ڈالیں، اور جب وہ اُنہیں مار ڈالے گا تو وہ مستقبل میں ظاہر نہیں ہوں گے۔ ٹھیک ہے؟ کہ وہ توانائی کے اس سپیکٹرم سے گزرتے ہیں اور وہ واپس آپ کے جد (آباؤ اجداد) – جو آپ کے دادا، پردادا، نانا… تھے اُن تک پہنچتے ہیں اگر اُس ایک شخص کو دنیا سے غائب کر دیا جائے تو آپ یہاں سے غائب ہو جائیں گے اور اللہ (عزوجل) قرآن میں بیان فرماتا ہے کہ، 'وہ اس کی اجازت دیتا ہے؛اور ہم اسے دوبارہ لکھیں گے، ہم اس ساری تخلیق کو دوبارہ لکھیں گے'۔ اگر وہ (غائب ہونے والا) شخص ایک معمار تھا، تو وہ تمام عمارتیں جو اس نے بنائی تھیں وجود میں نہیں آئیں گی۔ تو اس فتنے کی وجہ سے جو دجال زمین پر لانے والا ہے، تو پھر اللہ عزوجل نے اسلام اور قرآن پاک کی حفاظت کیسے کی۔ ٹھیک ہے؟ تو قرآن پڑھنے والوں کو کیا کہا جاتا ہے؟ یاد کرنے والے نہیں بلکہ 'حافظ' کیوں؟ کیونکہ وہ 'محافظ' ہیں۔ اللہ عزوجل نے انہیں یاد کرنے والے نہیں کہا، وہ انہیں 'یاد کرنے والے' بھی کہہ سکتا تھا لیکن وہ حافظ القرآن ہیں، وہ قرآن کے محافظ ہیں۔ تو جب یہ فتنہ (قرآن پاک کو) تبدیل کرنے لگے گا تو یہ حافظ موجود ہیں۔ آپ ان سب کو نہیں ختم کر سکتے۔ تو قرآن پاک میں اگر ایک آیت یا ایک حرف بھی بدلا جاتا ہے تو آپ کے پاس کتنے ارب حافظ ہیں یا آپ کے پاس کئی سو یا لاکھوں حافظ موجود ہیں اور فوراً آئیں گے اور کہیں گے کہ 'نہیں، یہ بدلا گیا ہے۔' اور وہ اللہ عزوجل ہی ہے جو دجال کے ان تمام آنے والے فتنوں کو سمجھتا بھی ہے اور وہ ہی اُن کا لکھنے والا بھی ہے، اور اس طرح سے اسلام کو محفوظ کیا گیا ہے۔ کہ قرآن پاک کے پڑھنے والے حافظ ہیں۔ اور پھر وہ لوگ جو متقی ہیں وہ 'معصوم' نہیں بلکہ کیا کہلاتے ہیں؟
سامعین : 'محفوظ'۔
شیخ سید نورجان میراحمدی نقشبندی (ق): 'محفوظ' – اُن کو حفاظت میں لے لیا گیا ہے۔ اُن کو کس چیز سے محفوظ کر لیا گیا ہے؟ کہ جب دجال کو معلوم ہو جائے کہ وہ کون ہیں اور اُن کا سیدنا مہدی علیہ السلام کے ساتھ کیا تعلق ہے، تو ان کی پوری فائل آخر تک سیدنا آدم علیہ السلام تک انکرپٹ (encrypt) کر دی جاتی ہے۔ کہ کوئی ایسا شیطان نہیں جو ان کے نظام میں داخل ہو سکے اور جا کر ان کے آباؤاجداد کو مارنے کی کوشش کرے تاکہ وہ پیدا ہی نہ ہوں۔ ان کی پوری فائل ایک مکمل انکرپٹڈ لاک فائل (encrypted) ہے اور اس کے نتیجے میں وہ اس زمین پر محفوظ ہیں۔ ذرا تصور کریں کہ شیطان کیا کرے گا اگر وہ جان لے کہ وہ کون ہیں! اور اسی لیے اللہ (عزوجل) فرماتا ہے، 'وہ منصوبہ بناتا ہے، میں بہتر منصوبہ بندی کرنے والا ہوں۔ پریشان نہ ہوں، میں پہلے ہی یہ سب کچھ دیکھ چکا ہوں، میں ہی اس کا لکھنے والا ہوں۔' الحمدللہ۔
وَيَمْكُرُونَ وَيَمْكُرُ اللَّـهُ ۖ وَاللَّـهُ خَيْرُ الْمَاكِرِينَ ﴿٣٠﴾
"…لیکن وہ منصوبہ بناتے ہیں، اور اللہ عزوجل بھی منصوبہ بندی کرتا ہے۔ اور اللہ عزوجل بہترین تدبیر کرنے والا ہے۔" (سورت الانفال، 8:30)
سُبْحَانَ رَبِّكَ ربِّ الْعِزَّةِ عَمَّا يَصِفُونَ، وَسَلَامٌ عَلَىٰ الْمُرْسَلِينَ وَالْحَمْدُ لِلَّٰهِ‎ رَبِّ الْعَالَمِينَ. بِحرُمَةِ مُحَمَدِالمُصطفٰي وَبِسِرِّ سُورَةِ الفَاتِحَة۔
URDU TRANSLITERATION:
To Dajjal time travel ka tasawwur istemaal kere ga. Kyun? Kyunkay jis ko woh zameen se gayab kar dena chahta hai, woh –apne shayateen ko beje ga ke woh waqt mein wapas jayen taakay uss shakhs ko talaash karen aur unn ko maar dalain, aur jab woh unhen maar daaley ga to woh mustaqbil mein zahir nahi hon ge. Theek hai? Ke woh tawanai ke is spiktrm se guzarte hain aur woh wapas aap ke jadd ( abao ajdaad ) – jo aap ke dada, pardada, nana … thay unn tak pahunchte hain agar uss 1 shakhs ko duniya se gayab kar diya jaye to aap yahan se gayab ho jayen ge aur Allah ( azzwajal ) quran mein bayan farmata hai ke, 'Woh is ki ijazat deta hai; hum usay dobarah likhain ge, hum is saari takhleeq ko dobarah likhain ge '. Agar woh ( gayab honay wala ) shakhs aik maimaar tha, to woh tamam emiratein jo is ne banai theen wujood mein nahi ayen gi. To is ftne ki wajah se jo Dajjal zameen par laane wala hai, to phir Allah azzwajal ne islam aur quran pak ki hifazat kaisay ki. Theek hai? To quran parhnay walon ko kya kaha jata hai? Yaad karne walay nahi balkay' Hafiz ' kyun? Kyunkay woh' Muhafiz ' hain. Allah azzwajal ne inhen yaad karne walay nahi kaha, woh inhen' yaad karne walay' bhi keh sakta tha lekin woh Hafiz al Quran hain, woh quran ke Muhafiz hain. To jab yeh fitnah ( Quran pak ko ) tabdeel karne lagey ga to yeh Hafiz mojood hain. Aap un sab ko nahi khatam kar satke. To quran pak mein agar aik aayat ya aik harf bhi badla jata hai to aap ke paas kitney arab Hafiz hain ya aap ke paas kayi so ya lakhoon Hafiz mojood hain aur foran ayen ge aur kahin ge ke 'nahi, yeh badla gaya hai.' aur woh Allah azzwajal hi hai jo Dajjal ke un tamam anay walay ftnon ko samjhta bhi hai aur woh hi unn ka likhnay wala bhi hai, aur is terhan se islam ko mehfooz kya gaya hai. Ke quran pak ke parhnay walay Hafiz hain. Aur phir woh log jo mut-taqi hain woh' masoom' nahi balkay kya kehlate hain ?
Samaeen :'mehfooz' .
Shaykh Syed Nurjan Mirahmadi Naqshbandi ( Q ) :'mehfooz' – unn ko hifazat mein le liya gaya hai. Unn ko kis cheez se mehfooz kar liya gaya hai? Ke jab Dajjal ko maloom ho jaye ke woh kon hain aur unn ka Sayyidina Mahdi (as) ke sath kya talluq hai, to un ki poori file aakhir tak Sayyidina Adam (as) tak encrypt kar di jati hai. Ke koi aisa shetan nahi jo un ke nizaam mein daakhil ho sakay aur ja kar un ke aabao ajdaad ko maarny ki koshish kere taakay woh peda hi nah hon. Un ki poori file aik mukammal encrypted lock file hai aur is ke nateejay mein woh is zameen par mehfooz hain. Zara tasawwur karen ke shetan kya kere ga agar woh jaan le ke woh kon hain! Aur isi liye Allah ( azzwajal ) farmata hai, 'woh mansoobah banata hai, mein behtar mansoobah bandi karne wala hon. Pareshan nah hon, mein pehlay hi yeh sab kuch dekh chuka hon, mein hi is ka likhnay wala hon.' Alhamdulillah.
". .. Lekin woh mansoobah banatay hain, aur Allah azzwajal bhi mansoob:ah bandi karta hai. Aur Allah azzwajal behtareen tadbeer karne wala hai. " ( Surat al-Anfaal, 8:30 )
ENGLISH TRANSCRIPT:
So dajjal (man of deceit) will be using the concept of traveling in time. Why? Because whom he wants to take off the earth, he'll send his shaitans to go back in time to find that person and to kill them, and when he kills them they won't appear in the future. Right? That they move through this spectrum of energy and they go back to who your jad (ancestors) was – who your grandparent, grandparent… If that one is taken off the earth, you no longer appear here. And Allah (AJ) describes in Qur'an that, 'Allows it and We'll rewrite it, We'll rewrite the whole of that creation.' All the subsequent creations will be written in a flash. If the person was an architect, all the buildings they built will not be in existence. So because of that fitna (confusion) that dajjal is going to bring upon the earth, then how He preserved Islam and Qur'an. Right? So the reciters of Qur'an are called what? Not memorizers but 'Hafiz'. Why? Because they're 'Guardians'. He (AJ) didn't call them 'Memorizers,' He would have called them 'Memorizers' but they are Hafiz ul Qur'an – they are the guardians of Qur'an. So when this fitna changes, these are hafiz. You can't kill them all. So one… one verse or one letter changes in Qur'an how many billion hafiz you have or hundred or millions of hafiz you have will immediately come and say, 'No, it's been changed.' So that's Allah (AJ) understanding and writing all of these fitnas of dajjal that would be coming, that's how Islam has been preserved. That the Qur'an its reciters are hafiz. And then those whom are pious they're called not 'Ma'soom' (innocent) but what are they called?
𝐀𝐮𝐝𝐢ence : 'Mahfuz.'
𝐒𝐡𝐚𝐲𝐤𝐡 𝐍𝐮𝐫𝐣𝐚𝐧 𝐌𝐢𝐫𝐚𝐡madi : 'Mahfuz' – they're guarded. Guarded from what? So that when dajjal knows who they are and who they are with Sayyidina Mahdi (as), their whole file is encrypted all the way back to Sayyidina Adam (as). That, there's no shaitan that can go into their system and go and try to kill their grandparents so that they don't exist. Their whole file is an encrypted lock file and as a result they are mahfuz (safeguarded) on this earth. Imagine what shaitan would do if he knew who they were! And that's why Allah (AJ) say, 'He plans, I plan better. Don't worry, I already foresaw all that, I wrote this.' Alhamdulillah.
وَيَمْكُرُونَ وَيَمْكُرُ اللَّـهُ ۖ وَاللَّـهُ خَيْرُ الْمَاكِرِينَ ﴿٣٠﴾
8:30 – "… wa yamkuroona wa yamkurul laahu, Wallaahu khairul maakireen" (Surat Al-Anfal)
"…But they plan, and Allah plans. And Allah is the best of planners." (The Spoils of War, 8:30)
Subhana rabbika rabbal izzati amma yasifoon, wa Salamun alal mursaleen, wal hamdulillahi rabbil aalameen. Bi hurmati Muhammad al-Mustafa wa bi sirri surat al-Fatiha .
———————-
حصہ اول:
PART-1:
حصہ دوم:
PART-2:
حصہ سوم:
PART-3
حصہ چہارم:
PART-4
حصہ پنجم:
PART-5:
حصہ ششم
PART-6
یہ بیان یوٹیوب پر دیکھنے کیلئے
Watch this Bayan on youtube:
اس آرٹیکل کو انگلش میں پڑھنے کیلئے
𝐐&𝐀 𝐌𝐚𝐧𝐧𝐞𝐫𝐢𝐬𝐦𝐬 𝐨𝐟 𝐚𝐩𝐩𝐫𝐨𝐚𝐜𝐡𝐢𝐧𝐠 𝐀𝐥𝐥𝐚𝐡 (𝐀𝐉), 𝐭𝐚𝐤𝐢𝐧𝐠 𝐭𝐡𝐞 𝐰𝐚𝐲 𝐨𝐟 𝐡𝐮𝐦𝐢𝐥𝐢𝐭𝐲 𝐚𝐧𝐝 𝐧𝐨𝐭 𝐨𝐟 𝐬𝐡𝐚𝐢𝐭𝐚𝐧. 𝐇𝐞𝐚𝐯𝐞𝐧𝐥𝐲 𝐃𝐫𝐚𝐠𝐨𝐧𝐬 𝐯𝐬 𝐒𝐡𝐚𝐢𝐭𝐚𝐧'𝐬 𝐟𝐥𝐲𝐢𝐧𝐠 𝐬𝐧𝐚𝐤𝐞𝐬. 𝐒𝐢𝐧𝐠𝐢𝐧𝐠 𝐛𝐨𝐰𝐥𝐬 𝐚𝐧𝐝 𝐟𝐫𝐞𝐪𝐮𝐞𝐧𝐜𝐢𝐞𝐬 𝐚𝐫𝐞 𝐧𝐨𝐭𝐡𝐢𝐧𝐠 𝐜𝐨𝐦𝐩𝐚𝐫𝐞𝐝 𝐭𝐨 𝐙𝐢𝐤𝐫𝐮𝐥𝐥𝐚𝐡. 𝐑𝐞𝐚𝐥𝐢𝐭𝐲 𝐨𝐟 𝐢𝐧𝐭𝐮𝐢𝐭𝐢𝐨𝐧 𝐚𝐧𝐝 𝐃é𝐣à 𝐯𝐮, 𝐞𝐯𝐞𝐫𝐲𝐭𝐡𝐢𝐧𝐠 𝐡𝐚𝐬 𝐚𝐥𝐫𝐞𝐚𝐝𝐲 𝐛𝐞𝐞𝐧 𝐚𝐧𝐜𝐢𝐞𝐧𝐭𝐥𝐲 𝐰𝐫𝐢𝐭𝐭𝐞𝐧. 𝐃𝐚𝐣𝐣𝐚𝐥 𝐰𝐢𝐥𝐥 𝐮𝐬𝐞 𝐭𝐢𝐦𝐞 𝐭𝐫𝐚𝐯𝐞𝐥 𝐭𝐨 𝐞𝐥𝐢𝐦𝐢𝐧𝐚𝐭𝐞 𝐡𝐢𝐬 𝐭𝐚𝐫𝐠𝐞𝐭𝐬.
https://web.facebook.com/sufimeditationcenterUSA/photos/a.1693351444087973/5077173515705732/
یو ٹیوب چینل ابھی سبسکرایب کیجئے
Subscribe Now: The Muhammadan Way Sufi Realities
Www.youtube.com/channel/UC4E8QX7OgwYDgyuuXTBMrcg
شیخ سید نور جان میر احمدی نقشبندی (ق) کا آفشیل فیس بک پیج لائک کیجئے
Official Page: Shaykh Nurjan Mirahmadi
Https://www.facebook.com/shaykhnurjanmirahmadi/
►𝐀𝐧𝐝𝐫𝐨𝐢𝐝 𝐀𝐩𝐩: https://play.google.com/store/apps/details?id=com.nurmuhammad.muhammadanway&hl=en&gl=US
► 𝐢𝐏𝐡𝐨𝐧𝐞 𝐀𝐩𝐩: https://apps.apple.com/us/app/muhammadan-way/id1244297852
► 𝐒𝐨𝐮𝐧𝐝𝐂𝐥𝐨𝐮𝐝: https://soundcloud.com/muhammadanway
► 𝐃𝐨𝐧𝐚𝐭𝐞 (𝐏𝐀𝐊𝐈𝐒𝐓𝐀𝐍 𝐚𝐧𝐝 𝐖𝐎𝐋𝐑𝐃𝐖𝐈𝐃𝐄) : https://nurmuhammad.com/donate
Please Subscribe and Share