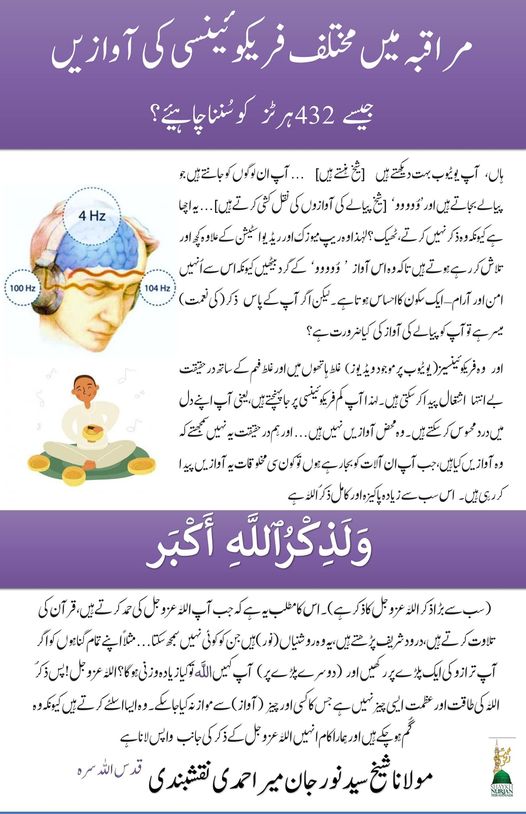 Urdu – سوالات و جوابات : اللہ عزوجل تک رسائی حاصل کرنے کے آداب – عاجزی کا راستہ اختیار…

سوالات و جوابات : اللہ عزوجل تک رسائی حاصل کرنے کے آداب – عاجزی کا راستہ اختیار کیا جائے نہ کہ شیطان کا۔ بہشتی ڈریگن بمقابلہ شیطانی اُڑتے سانپ۔ ساز بجاتے برتنوں اور فریکوئینسیز کا ذکراللہ کے ساتھ کوئی مقابلہ نہیں۔ الہام کی حقیقت اور ڈیجاوو، ہر چیز پہلے ہی لکھی جا چکی ہے۔ دجال اپنے ہدف کا شکار کرنے کیلئے ٹائم ٹریول کا استعمال کرے گا۔ (حصہ چہارم)
Sawalaat O Jawabaat : Allah Azzwajal Tak Rasai Haasil Karnay Kay Aadaab – Aajzi Ka Rasta Ikhtiyar Kya Jaye Nah Ke Shaitan Ka. Bahishti Dragon Ba-Muqabla Shaytani Urtay Saanp. Saaz Bajatay Bartano Aur Frequencies Ka Zikrullah Ke Sath Koi Muqaabla Nahi. Ilham Ki Haqeeqat Aur Déjà vu, Her Cheez Pehlay Hi Likhi Ja Chuki Hai. Dajjal Apne Hadaf Ka Shikaar Karne Ke Liye Time Travel Ka Istemaal Karay Ga. [Part-4]
𝐐&𝐀 𝐌𝐚𝐧𝐧𝐞𝐫𝐢𝐬𝐦𝐬 𝐨𝐟 𝐚𝐩𝐩𝐫𝐨𝐚𝐜𝐡𝐢𝐧𝐠 𝐀𝐥𝐥𝐚𝐡 (𝐀𝐉), 𝐭𝐚𝐤𝐢𝐧𝐠 𝐭𝐡𝐞 𝐰𝐚𝐲 𝐨𝐟 𝐡𝐮𝐦𝐢𝐥𝐢𝐭𝐲 𝐚𝐧𝐝 𝐧𝐨𝐭 𝐨𝐟 𝐬𝐡𝐚𝐢𝐭𝐚𝐧. 𝐇𝐞𝐚𝐯𝐞𝐧𝐥𝐲 𝐃𝐫𝐚𝐠𝐨𝐧𝐬 𝐯𝐬 𝐒𝐡𝐚𝐢𝐭𝐚𝐧'𝐬 𝐟𝐥𝐲𝐢𝐧𝐠 𝐬𝐧𝐚𝐤𝐞𝐬. 𝐒𝐢𝐧𝐠𝐢𝐧𝐠 𝐛𝐨𝐰𝐥𝐬 𝐚𝐧𝐝 𝐟𝐫𝐞𝐪𝐮𝐞𝐧𝐜𝐢𝐞𝐬 𝐚𝐫𝐞 𝐧𝐨𝐭𝐡𝐢𝐧𝐠 𝐜𝐨𝐦𝐩𝐚𝐫𝐞𝐝 𝐭𝐨 𝐙𝐢𝐤𝐫𝐮𝐥𝐥𝐚𝐡. 𝐑𝐞𝐚𝐥𝐢𝐭𝐲 𝐨𝐟 𝐢𝐧𝐭𝐮𝐢𝐭𝐢𝐨𝐧 𝐚𝐧𝐝 𝐃é𝐣à 𝐯𝐮, 𝐞𝐯𝐞𝐫𝐲𝐭𝐡𝐢𝐧𝐠 𝐡𝐚𝐬 𝐚𝐥𝐫𝐞𝐚𝐝𝐲 𝐛𝐞𝐞𝐧 𝐚𝐧𝐜𝐢𝐞𝐧𝐭𝐥𝐲 𝐰𝐫𝐢𝐭𝐭𝐞𝐧. 𝐃𝐚𝐣𝐣𝐚𝐥 𝐰𝐢𝐥𝐥 𝐮𝐬𝐞 𝐭𝐢𝐦𝐞 𝐭𝐫𝐚𝐯𝐞𝐥 𝐭𝐨 𝐞𝐥𝐢𝐦𝐢𝐧𝐚𝐭𝐞 𝐡𝐢𝐬 𝐭𝐚𝐫𝐠𝐞𝐭𝐬. [Part-4]
——————————————–
——————————————–
شیخ سید نورجان میراحمدی نقشبندی (ق) کی سنہری تعلیمات سے اقتباس۔
بِسْمِ اللَّـهِ الرَّحْمَـٰنِ الرَّحِيمِ
اَلَّھُمَّ صَلِّ عَلَی سَیَّدِنَا محَمَّدٍ ﷺ وَعَلَی آلِ سَیَّدِنَا محَمَّدٍ ﷺ
سوال نمبر 5: مراقبہ کرتے ہوئے مختلف فریکوئینسیز والی آوازیں سننے کی حقیقت کیا ہے؟ کیا ان 432 ہرٹز فریکوئنسیز کو سننا میری حقیقت کو بدل سکتا ہے؟
شیخ سید نورجان میراحمدی نقشبندی (ق):
[شیخ ہنستے ہیں] ہاں، آپ یوٹیوب بہت دیکھتے ہیں۔ کہ… جیسا کہ آپ جانتے ہیں کہ یہ چیزیں ان کیلئے اچھی ہیں کہ وہ ان کے ذریعے ہم تک پہنچتے ہیں لیکن ہم ان کی طرف نہیں جاتے۔ آپ ان لوگوں کو جانتے ہیں جو پیالے سے کھیلتے ہیں اور 'وُوووو' [شیخ پیالے کی آوازوں کی نقل کشی کرتے ہیں]، یہ اچھا ہے کیونکہ وہ ذکر نہیں کرتے۔ ٹھیک ہے؟ لہٰذا وہ ریپ میوزک اور ریڈیو اسٹیشن کے علاوہ اور کچھ تلاش کر رہے ہوتے ہیں تاکہ وہ اس آواز 'وُوووو' کے گرد بیٹھیں کیونکہ اس سے انہیں امن اور آرام کا احساس ہوتا ہے – ایک سکون۔ لیکن اگر آپ کو ذکر میسر ہے تو آپ کو پیالے کی آواز کی کیا ضرورت ہے؟ اور وہ فریکوئینسیز غلط ہاتھوں میں اور غلط فہم کے ساتھ درحقیقت ایک بہت بڑا اشتعال پیدا کر سکتی ہیں۔ لہذا آپ کم فریکوئینسی پر جا پہنچتے ہیں، یعنی آپ اپنے دل میں درد محسوس کر سکتے ہیں۔ وہ محض آوازیں نہیں ہیں… اور ہم درحقیقت یہ نہیں سمجھتے کہ وہ آوازیں کیا ہیں، جب آپ ان آلات کو بجا رہے ہوں تو کون سی مخلوقات یہ آوازیں پیدا کر رہی ہیں۔ پس سب سے زیادہ پاکیزہ اور کامل ذکرُ اللہ ہے، 'ذِکرُ اللہِ اَکبَر' (سب سے بڑا ذکر اللہ عزوجل کا ذکر ہے)۔ اس کا مطلب یہ ہے کہ جب آپ اللہ عزوجل کی حمد کرتے ہیں، قرآن کی تلاوت کرتے ہیں، درود شریف پڑھتے ہیں، یہ وہ روشنیاں ہیں جن کو کوئی نہیں سمجھ سکتا، یہ سیدھا سیدھا جنت کے حقائق میں سے ہیں۔ اگر آپ صرف یہ کہتے ہیں کہ 'اللہ (عزوجل)'، تو اللہ (عزوجل) کے میزان پر اس کی کیا طاقت ہے؟ مثلاً اپنے تمام گناہوں کو اگر آپ ترازو کی ایک پلڑے پر رکھیں اور آپ کہیں، "اللہ عزوجل" تو کیا زیادہ وزنی ہوگا؟ اللہ عزوجل! پس ذکرُ اللہ کی طاقت اور عظمت ایسی چیز نہیں ہے جس کا کسی اور چیز سے موازنہ کیا جا سکے۔ وہ ایسا اسلئے کرتے ہیں کیونکہ وہ گُم ہو چکے ہیں اور ہمارا کام انہیں اللہ عزوجل کے ذکر کی جانب واپس لانا ہے۔
لیکن ہم اُدھر (پیالے کی آوازوں کی جانب) نہیں جاتے۔ تو ان کا موازنہ نہیں، کوئی موازنہ نہیں!
URDU TRANSLITERATION:
Sawal number 5: Muraqba kartay hue mukhtalif frequencies wali aawazian sun'ney ki haqeeqat kya hai? Kya un 432 Hz frequencies ko sun'na meri haqeeqat ko badal sakta hai?
Shaykh Syed Nurjan Mirahmadi Naqshbndi (Q) ;
[ Shaykh hanstay hain ] haan, Aap youtube bohat dekhte hain. Ke … jaisa ke aap jantay hain ke yeh cheeze un ke liye achi hain ke woh un ke zariye hum tak pahunchte hain lekin hum un ki taraf nahi jatay. Aap un logon ko jantay hain jo pyaale se khailtay hain aur 'wooo' [ Shaykh pyaale ki awazon ki naqal kashi karte hain ], yeh acha hai kyunkay woh zikar nahi karte. Theek hai? Lehaza woh wraps music aur radio station ke ilawa aur kuch talaash kar rahay hotay hain taakay woh is aawaz 'wooo' ke gird bathain kyunkay is se inhen aman aur aaraam ka ehsas hota hai – aik sukoon. Lekin agar aap ko zikar muyassar hai to aap ko pyaale ki aawaz ki kya zaroorat hai? Aur woh frequencies ghalat hathon mein aur ghalat feham ke sath dar haqeeqat aik bohat bara ishtial peda kar sakti hain. Lehaza aap kam frikoyinsi par ja pahunchte hain, yani aap apne dil mein dard mehsoos kar satke hain. Woh mehez aawazian nahi hain … aur hum dar haqeeqat yeh nahi samajte ke woh aawazian kya hain, jab aap un alaat ko baja rahay hon to kon si makhloqaat yeh aawazian peda kar rahi hain. Pas sab se ziyada pakeeza aur kaamil zikar Allah hai, 'zikarullahi Akbar' ( sab se bara zikar Allah azzwajal ka zikar hai ). Is ka matlab yeh hai ke jab aap Allah azzwajal ki hamd karte hain, quran ki tilawat karte hain, duroood shareef parhte hain, yeh woh roshniyan hain jin ko koi nahi samajh sakta, yeh seedha seedha jannat ke haqayiq mein se hain. Agar aap sirf yeh kehte hain ke' Allah ( azzwajal ) ', to Allah ( azzwajal ) ke maizaan par is ki kya taaqat hai? Maslan –apne tamam gunaaho ko agar aap traazo ki aik plrhe par rakhen aur aap kahin, "Allah (AJ)" to kya ziyada wazni hoga? Allah azzwajal! Pas zikar Allah ki taaqat aur Azmat aisi cheez nahi hai jis ka kisi aur cheez se mawazna kya ja sakay. Woh aisa isliye karte hain kyunkay woh gum ho chuke hain aur hamara kaam inhen Allah azzwajal ke zikar ki janib wapas lana hai .
Lekin hum udhar ( pyaale ki awazon ki janib ) nahi jatay. To un ka mawazna nahi, koi mawazna nahi !
ENGLISH TRANSCRIPT:
𝐐𝐮𝐞𝐬𝐭𝐢𝐨n : What is the reality of meditating while listening to different sound frequencies? Can listening to these 432 and Hz frequencies change my reality?
𝐒𝐡𝐚𝐲𝐤𝐡 𝐍𝐮𝐫𝐣𝐚𝐧 𝐌𝐢𝐫𝐚𝐡𝐦𝐚di : [Shaykh laughs] Yeah you're on too much YouTube. That… that you know that those things are good for them to come to us but we don't go to them. You know those people who play with bowls and 'woooo' [Shaykh imitates sound bowl], that's nice because they don't do zikr. Right? So they're looking for anything other than rap music and the radio station so they sit around 'woooo' because it gives a sense of a peace and aramesh – a calmness. But if you have zikr why would you need the sound of a bowl? And those frequencies in the wrong hands and wrong understanding actually can cause an immense agitation. So you go down to lower frequencies, that you can feel a pain in your heart. Those are not sounds… and we don't understand really what those sounds are, what creatures are making those sounds when you're playing on those devices. So the most pure and the most perfected is zikrullah (remembrance of Allah), Zikrullahi akbar (greatest remembrance is the remembrance of Allah (AJ)). Means that when you praise upon Allah (AJ), recite Qur'an, make durood sharif (praising on Prophet Muhammad ﷺ), that's lights that nobody can understand, it's straight from paradise realities. If you just say, 'Allah (AJ),' what type of power that has on the scale for Allah (AJ). Say all your sayyiat (sins) if you put on a scale and you say, 'Allah (AJ),' what's going to weigh more? Allah (AJ)! So the power and the might of zikrullah is not something that can be compared with anything else. They do that because they're lost and our job is to bring them to the zikr of Allah (AJ), but not we go there. So not comparable, not comparable.
————————-
حصہ اول:
PART-1:
حصہ دوم:
PART-2:
حصہ سوم:
PART-3
یہ بیان یوٹیوب پر دیکھنے کیلئے
Watch this Bayan on youtube:
اس آرٹیکل کو انگلش میں پڑھنے کیلئے
𝐐&𝐀 𝐌𝐚𝐧𝐧𝐞𝐫𝐢𝐬𝐦𝐬 𝐨𝐟 𝐚𝐩𝐩𝐫𝐨𝐚𝐜𝐡𝐢𝐧𝐠 𝐀𝐥𝐥𝐚𝐡 (𝐀𝐉), 𝐭𝐚𝐤𝐢𝐧𝐠 𝐭𝐡𝐞 𝐰𝐚𝐲 𝐨𝐟 𝐡𝐮𝐦𝐢𝐥𝐢𝐭𝐲 𝐚𝐧𝐝 𝐧𝐨𝐭 𝐨𝐟 𝐬𝐡𝐚𝐢𝐭𝐚𝐧. 𝐇𝐞𝐚𝐯𝐞𝐧𝐥𝐲 𝐃𝐫𝐚𝐠𝐨𝐧𝐬 𝐯𝐬 𝐒𝐡𝐚𝐢𝐭𝐚𝐧'𝐬 𝐟𝐥𝐲𝐢𝐧𝐠 𝐬𝐧𝐚𝐤𝐞𝐬. 𝐒𝐢𝐧𝐠𝐢𝐧𝐠 𝐛𝐨𝐰𝐥𝐬 𝐚𝐧𝐝 𝐟𝐫𝐞𝐪𝐮𝐞𝐧𝐜𝐢𝐞𝐬 𝐚𝐫𝐞 𝐧𝐨𝐭𝐡𝐢𝐧𝐠 𝐜𝐨𝐦𝐩𝐚𝐫𝐞𝐝 𝐭𝐨 𝐙𝐢𝐤𝐫𝐮𝐥𝐥𝐚𝐡. 𝐑𝐞𝐚𝐥𝐢𝐭𝐲 𝐨𝐟 𝐢𝐧𝐭𝐮𝐢𝐭𝐢𝐨𝐧 𝐚𝐧𝐝 𝐃é𝐣à 𝐯𝐮, 𝐞𝐯𝐞𝐫𝐲𝐭𝐡𝐢𝐧𝐠 𝐡𝐚𝐬 𝐚𝐥𝐫𝐞𝐚𝐝𝐲 𝐛𝐞𝐞𝐧 𝐚𝐧𝐜𝐢𝐞𝐧𝐭𝐥𝐲 𝐰𝐫𝐢𝐭𝐭𝐞𝐧. 𝐃𝐚𝐣𝐣𝐚𝐥 𝐰𝐢𝐥𝐥 𝐮𝐬𝐞 𝐭𝐢𝐦𝐞 𝐭𝐫𝐚𝐯𝐞𝐥 𝐭𝐨 𝐞𝐥𝐢𝐦𝐢𝐧𝐚𝐭𝐞 𝐡𝐢𝐬 𝐭𝐚𝐫𝐠𝐞𝐭𝐬.
https://web.facebook.com/sufimeditationcenterUSA/photos/a.1693351444087973/5077173515705732/
یو ٹیوب چینل ابھی سبسکرایب کیجئے
Subscribe Now: The Muhammadan Way Sufi Realities
Www.youtube.com/channel/UC4E8QX7OgwYDgyuuXTBMrcg
شیخ سید نور جان میر احمدی نقشبندی (ق) کا آفشیل فیس بک پیج لائک کیجئے
Official Page: Shaykh Nurjan Mirahmadi
Https://www.facebook.com/shaykhnurjanmirahmadi/
►𝐀𝐧𝐝𝐫𝐨𝐢𝐝 𝐀𝐩𝐩: https://play.google.com/store/apps/details?id=com.nurmuhammad.muhammadanway&hl=en&gl=US
► 𝐢𝐏𝐡𝐨𝐧𝐞 𝐀𝐩𝐩: https://apps.apple.com/us/app/muhammadan-way/id1244297852
► 𝐒𝐨𝐮𝐧𝐝𝐂𝐥𝐨𝐮𝐝: https://soundcloud.com/muhammadanway
► 𝐃𝐨𝐧𝐚𝐭𝐞 (𝐏𝐀𝐊𝐈𝐒𝐓𝐀𝐍 𝐚𝐧𝐝 𝐖𝐎𝐋𝐑𝐃𝐖𝐈𝐃𝐄) : https://nurmuhammad.com/donate
Please Subscribe and Share