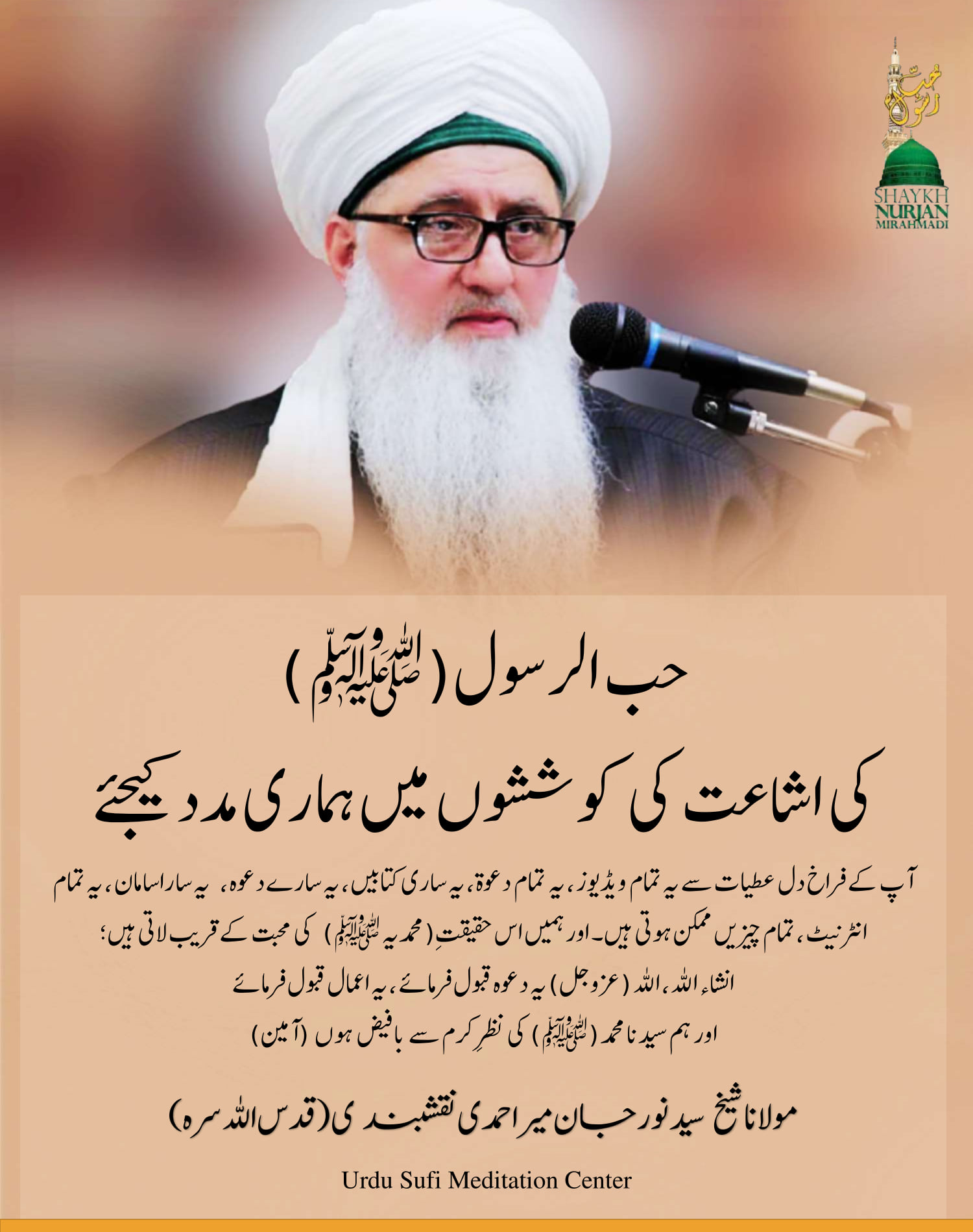 Urdu – روح کو آزاد کرنے کیلئے الفاظ کا خفیہ کوڈ(حصہ سوئم) |Ruh Ko Azaad Karne Ke Liye…
روح کو آزاد کرنے کیلئے الفاظ کا خفیہ کوڈ(حصہ سوئم)
|Ruh Ko Azaad Karne Ke Liye Alfaaz Ka Khufiya Code|
𝐒𝐞𝐜𝐫𝐞𝐭 𝐂𝐨𝐦𝐛𝐢𝐧𝐚𝐭𝐢𝐨𝐧 𝐨𝐟 𝐖𝐨𝐫𝐝𝐬 𝐭𝐨 𝐔𝐧𝐥𝐨𝐜𝐤 𝐘𝐨𝐮𝐫 𝐒𝐨𝐮𝐥 (𝐏𝐚𝐫𝐭-𝐈𝐈𝐈)
اَعُوْذُ بِاللہ مِنَ الشَّیْطٰنِ الرَّجِیْمِ ۞
بِسْمِ اللہ الرَّحْمٰنِ الرَّحِیْمِ ۞
اللہ کی پناہ مانگتا ہوں شیطان مردود سے۔
اللہ کے نام سے شروع کرتا ہوں جو نہایت مہربان رحم کرنے والا ہے ۔
ربیع الثانی 36 اور سورۃ یٰس کی حقیقت ہے
|Rabiul Thani 36 aur Surah Yaseen ki haqeeqat hai|
𝐑𝐚𝐛𝐢'𝐮𝐥 𝐓𝐡𝐚𝐧𝐢 𝐢𝐬 𝐭𝐡𝐞 𝐑𝐞𝐚𝐥𝐢𝐭𝐲 𝐨𝐟 𝟑𝟔 𝐚𝐧𝐝 𝐒𝐮𝐫𝐚𝐡 𝐘𝐚𝐒𝐞𝐞𝐧
ہم دعاگو ہیں کہ اللہ (عزوجل) سورۃ یٰس (ﷺ) کے اس ماہِ مقدس میں ، ہمیں زیادہ سے زیادہ سمجھ عطا فرمائے اور زیادہ سے زیادہ حقائق سے نوازے؛ ایسا مہینہ جس میں اللہ (عزوجل) ہمیں ان نعمتوں سے نوازتا ہے، مزین فرماتا ہے ۔ ہم (محمداً ) ایپ پر جاتے ہیں اور مہینے کی حقیقت (کا آپشن )کھولتے ہیں اور آپ دیکھیں گے کہ ربیع الثانی، ۹ کی طاقت 4 گنا ہو تو 36 بنتا ہے ، ہم نے بیان کیا ہے یہ (مہینہ) 36 کا راز ہے۔ ہمارے لئے 36 اتنا اہم کیوں ہے؟ یہ قُرب حق کے قلب کی علامت ہے، یہ سیدنا محمد (ﷺ) کے نام یٰس (ﷺ) کی حقیقت ہے ۔
|Hum daago hain ke Allah (AJ) Suratul YaSeen (sws) ke is mahe muqaddas mein, hamein ziyada se ziyada samajh ataa farmaiye aur ziyada se ziyada haqaiq se nawaze; aisa maheena jis mein Allah (AJ) hamein un nematon se nwazta hai, muzayyan farmata hai. Hum ( the Muhammadan ) App par jatay hain aur mahinay ki haqeeqat ( ka option ) kholtey hain aur aap dekhen ge ke Rabiul Thani ki taaqat 4 guna ho to 36 bantaa hai, hum ne bayan kya hai yeh ( maheena ) 36 ka raaz hai. Hamaray liye 36 itna ahem kyun hai? Yeh qurb Haq ke Qalab ki alamat hai, yeh Sayedena Muhammad (sws) ke naam Suratul YaSeen (sws) ki haqeeqat hai.|
We pray that Allah (AJ) give us more and more understanding and more and more realities to dress ourselves within this holy month of Suratul YaSeen (sws), a month in which Allah (AJ) is dressing and blessing us from these blessings. We go to the app and open up the reality for the month and you'll see that Rabi'ul Thani, they say oh 9 times 4, 36, we said this is then the secret of 36. Why 36 is so important for us? It's a symbol of the heart of Divinely presence. It's the reality of the name YaSeen (sws) of Sayyidina Muhammad (sws).
اللہ (عزوجل) اور نبی کریم سیدنا محمد(ﷺ) کا چھتیسواں اسمائے مبارکہ
|Allah (AJ) aur Nabi Kareem, Sayedena Muhammad (sws) ka 36 ismaye mubaraka|
𝐓𝐡𝐞 𝟑𝟔𝐭𝐡 𝐍𝐚𝐦𝐞 𝐨𝐟 𝐀𝐥𝐥𝐚𝐡 (𝐀𝐉) 𝐚𝐧𝐝 𝐏𝐫𝐨𝐩𝐡𝐞𝐭 𝐌𝐮𝐡𝐚𝐦𝐦𝐚𝐝 (𝐬𝐰𝐬)
سیدنا محمد (ﷺ) کا 36 چھتیسواں نام " مُحی " ہے ، جو زندہ کرتا ہے ، محی القلوب (دلوں کو زندہ کرنے والا) ۔ اللہ (عزوجل) کا 36 چھتیسواں نام جو"محی" نے کھولا وہ " الاعلی" ہے، علی، سب سے اعٰلی، یہ ایک اچھی ٹیم ہے: " مُحی" ، زندہ کرنے والا اور " علی " تالا— چابی اور تالا، جو انعام و اکرام کھولتے ہیں۔ اللہ (عزوجل) نے امام علی ؑ کا نام، الاعلی کیوں رکھا؟ 36 چھتیسواں باب، سورۃ یٰس (ﷺ) کے اسرار ہیں۔
حجاب (پردہ) اور انعام جو اللہ (عزوجل) سیدنا محمد (ﷺ) کی روح القدس کو عطا فرما رہا ہے، اللہ (عزوجل) کے 9،000 خدائی سال تک ، جن کا نہ کوئی آغاز ہے اور نہ ہی کوئی اختتام، اسکی تعریف " سُبْحَانَ رَفِيْعُ الْأَعْلَي"ہے ، پاک ہے وہ ذات جو رفیع اور الا علی ہے ، اس ماہِ مبارک میں اللہ (عزوجل) کا سیدنا محمد (ﷺ) کی روح القدس پہ ذکر ، " سُبْحَانَ رَفِيْعُ الْأَعْلَي" ہے۔
|Sayedena Muhammad (sws) ka 36 naam Muhyi hai, jo zindah karta hai, Muhyil Qulub ( dilon ko zindah karne wala). Allah (AJ) ka 36 naam jo Muhyi ne khola who Al-Ali hai. Ali, sab se aala, yeh aik achi team hai: Muhyi, zindah karne wala aur Ali, tala — chaabi aur tala, jo inaamo Ikram kholtey hain. Allah (AJ) ne imam Ali (as) ka naam, Al-Ali kyun rakha? 36 baab, Surah YaSeen (sws) ke asaraar. Hijaab ( parda ) aur inaam jo Allah (AJ) Sayedena Muhammad (sws) ki ruh al quds ko ataa farma raha hai, Allah (AJ) ke 9,000 khudai saal, jin ka nah koi aaghaz hai aur nah hi koi ikhtataam, uski tareef Subhana rafi' ul`ala hai, pak hai woh zaat jo Rafi aur ila Ali hai, is muqaddas mahinay mein Allah (AJ) ka Sayedena Muhammad (sws) ki ruh al quds pay zikar," Subhana rafi' ul`ala " hai .|
The 36th name of Sayyidina Muhammad (sws), Muhyi, the one whom revives. Muhyil Qulub (reviver of hearts). 36th name of Allah (AJ) that Muhyi opens is Al-Ali. Ali, the Most High. It's a nice team, Muhyi, the reviver and Ali, the lock. The key and lock, they open these dresses. Why Allah (AJ) named Imam Ali (as), Al-Ali? 36th chapter, secrets of Suratul YaSeen (sws) .
The hijab (veil) and the dress that Allah (AJ) is dressing upon the soul of Sayyidina Muhammad (sws) for 9,000 of Allah's (AJ) Divinely years which has no beginning and no end, its praise is Subhana rafi' ul`ala. Rafi'ul Ala, glory be to the one whom elevated and high. Allah's (AJ) zikr (Divine remembrance) upon the soul of Sayyidina Muhammad (sws) in this holy month, Subhana rafi' ul`ala.
سُبْحَانَ رَفِيْعُ الْأَعْلَي
Subhana rafi' ul`ala.
Glory be to the Elevated, the High.
یہ آسمانی علوم حاصل کرنے کا وقت ہے
|Yeh asmaani alum hasil karne ka waqat hai|
𝐍𝐨𝐰 𝐢𝐬 𝐭𝐡𝐞 𝐓𝐢𝐦𝐞 𝐭𝐨 𝐀𝐜𝐪𝐮𝐢𝐫𝐞 𝐇𝐞𝐚𝐯𝐞𝐧𝐥𝐲 𝐊𝐧𝐨𝐰𝐥𝐞𝐝𝐠𝐞
ان حقائق کی وسعت اور نجات کی عظمت ہے ، (جب) وہ یہ علوم عطا فرماتے ہیں، یہ روح کو ایک طاقت عطا کرتے ہیں۔ یہ (علوم ) مشکل ایام کیلئے روح کو بے انتہا حقیقت سے نوازتے ہیں۔ اسی وجہ سے ہم نے سارے بیان کا آغاز کیا، ہمیں نہیں معلوم کہ ہمارے پاس کیا ہے ، ہم نہیں جانتے کہ اللہ (عزوجل) ہمیں کیا عطا فرما رہا ہے ، حتی کہ ایک دن آئے گا جب ہم سمجھنے لگیں گے ۔ اسی وجہ سے وہ یہ تعلیم فرما رہے تھے۔ اسی لئے وہ ہمیں ایسا کرنے کی تلقین فرمارہے تھے۔ اسی لئے انہوں نے ایسا کیا۔ ' وہ وراثت جو جمع کر دی گئی ہے ، ہم اس کا استعمال نہیں جانتے کیونکہ ابھی اس کا صحیح وقت نہیں ہے۔ ابھی وہ وقت ہے کہ جب علم حاصل کیا جائے ، علم کو سمجھیں ، اس کا مطالعہ کریں ، تفکر اور غور و فکر کریں، تاکہ اس کی کھوج لگائی جا سکے اور اس کو قائم رکھا جاسکے۔
|Un haqaiq ki wusat aur nijaat ki azmat ke woh yeh alum ataa farmatay hain, yeh ruh ko aik taaqat ataa karte hain. woh mushkil ayyaam ke liye ruh ko be intahaa haqeeqat se nawaazte hain. Isi wajah se hum ne saaray bayan ka aaghaz kya, hamein nahi malum ke hamaray paas kya hai, hum nahi jantay ke Allah (AJ) hamein kya ataa farma raha hai, hatta ke aik din aaye ga jab hum samajhney lagen ge.' isi wajah se woh yeh taleem farma rahay thay. Isi liye woh hamein aisa karne ka frmarhe thay. Isi liye unhon ne aisa kya.' woh waarsat jo jama kar di gayi hai, hum is ka istemaal nahi jantay kyunkay abhi is ka sahih waqt nahi hai. Abhi woh waqt hai ke ilm haasil karen, ilm ko samjhain, is ka mutalea karen, tafakar aur ghhor o fikar karen, taakay is ki khoj lagai ja sakay aur is ko qaim rakha jasakay.|
The immensity of these realities and the immensity of the salvation that they give these knowledges, they give a power to the soul. They give immense reality to the soul for the days of difficulty. That's why we started the whole discussion, we don't know what we have, we don't know what Allah (AJ) bestowing upon us until a day comes where we begin to understand, 'That's why they were teaching. That's why they were telling us to do like this. That's why they did like that.' That inheritance that been deposited, we don't understand it's use because the time isn't right for that right now. Now is the time to acquire the knowledge, to understand the knowledge, to study it, to make tafakkur and contemplation just to be able to ascertain it and to keep it.
آسمانی قوت حاصل کرنے کیلئے غور و فکر( تفکر) کو معمول بنائیں
|Asmani Quwwat ke hasul ka liye ghuro fiker taffakur ko mamul banayen|
𝐌𝐚𝐤𝐞 𝐑𝐞𝐠𝐮𝐥𝐚𝐫 𝐂𝐨𝐧𝐭𝐞𝐦𝐩𝐥𝐚𝐭𝐢𝐨𝐧 𝐭𝐨 𝐑𝐞𝐜𝐞𝐢𝐯𝐞 𝐇𝐞𝐚𝐯𝐞𝐧𝐥𝐲 𝐄𝐧𝐞𝐫𝐠𝐲
اگر آپ کی روح میں اتنی قوت نہیں ، اور اتنا فیض حاصل نہیں ، شیخ کا جُذبہ نہیں، تو اس ( بیان) کا مطلب آپ نہیں سمجھ پا رہے ہونگے اور آپکو شاید نیند آرہی ہو گی ،یہ بھی ٹھیک ہے کیونکہ وہ آپ کو دوسری جانب پکڑ لیں گے، آپ ( کا جسم جب ) راستے سے ہٹ گیا اور وہ آپ کی (روح کو ) عالم ارواح میں تعلیم دیں گے۔ لیکن وہ ہم سے کیا چاہتے ہیں کہ اپنی قوت ( اینرجی) بڑھائیں ، فیض بڑھائیں ، اس فیضان کو بڑھائیں اور یہ طاقت جو پاور سٹیشن سے آرہی ہے، ایک موبائل فون کی طرح ہے کہ آپ کو زیادہ سگنل کی ضرورت ہے ، زیادہ رس ، اور زیادہ قوت ( اینرجی) حاصل کرنی ہے ۔
|Agar aap ki ruh mein itni qowat nahi, aur itna Faiz haasil nahi, Shaykh ka Jazba nahi, to is ( bayan ) ka matlab aap nahi samajh pa rahay hunge aur aapko shayad neend aa rahi ho gi, yeh bhi theek hai kyunkay woh aap ko doosri janib pakar len ge, aap ( ka jism jab ) rastay se hatt gaya aur woh aap ko aalam arwah mein taleem den ge. lekin woh hum se kya chahtay hain ke apni qowat ( energy ) barhayain, faiz barhayain, is faizan ko barhayain aur yeh taaqat jo power station se aa rahi hai, aik mobile phone ki ki tarah aap ko ziyada signal ki zarurat hai, ziyada ras, aur ziyada qowat ( energy ) haasil karni hai.|
If you don't have enough energy on your soul and not enough of the faiz (downpouring blessing) and the juzba (attraction) of the shaykh, this is not making any sense to you and you're probably falling asleep. That's ok too because they will catch you on the other side. You actually get out of the way and they'll teach you in the world of souls. But what it wants from us is that build your energy, build the faiz, build this emanation and this power coming from this power station like a mobile phone.That you need more of the signal, more of the juice, more of the energy to come.
تفکر ( غور وفکر ) کرنے سے زیادہ سے زیادہ فیض مل ہو رہا ہے ، فیض مل رہا ہے ، ہر روز صرف چند منٹ ، نماز کے بعد اپنے دل کو جوڑیں، تھوڑی سی صلوات ( درود شریف ) لگا لیں، خود کو روضہ شریف (ﷺ) میں تصور کریں، نبی کریم (ﷺ) کا قرب مانگیں — کہ آپکے قدمین میں پڑا رہوں، اپنے انوار ( روشنیوں) سے بھر دیجئے، اپنی نگاہِ کرم فرمائیں ، جو اپنے مرشدین آپ نے میری زندگی میں بھیجے ہیں، ان کے حضور سے انعام فرمائیں ، یا ربی ،ہمیشہ سیدنا محمد (ﷺ) کے اپنے قدمینِ الہی میں مجھے سر رکھنے کی اجازت عطا فرمائیں۔
|Tafakar ( ghoro fikar ) karne se ziyada se ziyada faiz mil ho raha hai, faiz mil raha hai, har roz sirf chand minute, namaz ke baad apne dil ko jorhin, thori si slwat ( durud shareef ) laga len, khud ko Roza shareef (sws), Nabi Kareem (sws) ka qurb mangeen — ke apke qadmeen mein para rahon, apne anwaar ( roshiniyon ) se bhar dijiye, apni ngahِ karam farmaen, jo apne murshideen aap ne meri zindagi mein beje hain, un ke huzoor se inaam farmaen, ya Rabbi, hamesha Sayedena Muhammad (sws) ke apne qadmain ellahi mein mujhe sir rakhnay ki ijazat ataa farmaen.|
The more the faiz coming, the more the faiz is coming by doing your tafakkur. Just a few minutes everyday, connecting your heart right after you make your salah (prayer), play little bit of salawats (praising upon Prophet (sws) ), visualize yourself at Rauza e Sharif (holy burial chamber) asking just to be in the presence of Sayyidina Muhammad (sws) . To be at your holy feet, dress me from your lights, dress me from your nazar (gaze). Dress me from the presence of your guides that you have sent into my life, Ya Rabbi. And let me to keep my head always at your Divinely feet of Sayyidina Muhammad (sws).
جب آپ اپنی اینرجی تعمیر کرتے ہیں تو آپ کی روح بلند ہو جاتی ہے
|Jab aap apni energy tamer karte hain toh apki ruh buland ho jati hai|
𝐘𝐨𝐮𝐫 𝐒𝐨𝐮𝐥 𝐄𝐥𝐞𝐯𝐚𝐭𝐞𝐬 𝐖𝐡𝐞𝐧 𝐘𝐨𝐮 𝐁𝐮𝐢𝐥𝐝 𝐘𝐨𝐮𝐫 𝐄𝐧𝐞𝐫𝐠𝐲
اور ہر روز ، ہر روز ، ہر روز ، جب اللہ (عزوجل) کا حکم جاری ہوتا ہے کہ 'سب لوگ اپنے گھروں میں پلٹ جاؤ'، یعنی اب ، آپ کے پاس غور وفکر ( تفکر) کرنے کا وقت ہے کہ بیٹھ جائیں اور غور و فکر کریں اور اپنا رابطہ بنائیں اور فیض کو محسوس کریں اور نازل ہونے والی یہ قوت محسوس کریں۔ جب یہ اینرجیاں نازل ہوتی ہیں اور وہ شدید لرزش ( وائیبریشن ) اور شدید مقدار میں آتی ہیں تو ، یہ علوم زیادہ سے زیادہ واضح ہونا شروع ہوجائیں گے کیونکہ روح کی قوت کو بلند کیا جارہا ہے۔ اس وقت ، روح کو گہری سے گہری سمجھ آرہی ہوتی ہے۔
|Aur har roz, har roz, har roz, jab Allah (AJ) ka hukum jari hota hai ke' sab log apne gharon mein palat jao ', yani ab, aap ke paas ghhor wa fikar (tafakar) karne ka waqt hai ke baith jayen aur ghhor o fikar karen aur apna rabita banayen aur Faiz ko mehsoos karen aur nazil honay wali yeh qowat mehsoos karen. Jab yeh energian nazil hoti hain aur woh shadeed larzish (vibration) aur shadeed miqdaar mein aati hain to, yeh aloom ziyada se ziyada wazeh hona shuru ho jaien ge kyunkay ruh ki qowat ko buland kya ja raha hai. Is waqt, ruh ko gehri se gehri samajh aa rahi hoti hai.|
And everyday, everyday, everyday when Allah (AJ) order everybody, 'Everybody back into your homes,' it means now you have time to contemplate. That sit and contemplate and make your connection and begin to feel the faiz and begin to feel these energies that come. When these energies come and they come in strong vibrations and strong amounts, these knowledges will begin to become more and more clear because the energy of the soul is being elevated. At that time, the soul is understanding deeper and deeper.
ورنہ ، پہلے صرف علم حاصل ہوتا ہے اور روح جیسے اندھیرے میں ہو ، علم نہیں رکھتی کہ یہ لوگ کس بارے میں بات کر رہے ہیں۔ یہ (علم) ضائع نہیں ہوتا کیونکہ یہ روح کی حقیقت میں جمع ہوتا چلا جاتاہے۔ جیسے ہی آپ فیض پانے کیلئے غور و فکر (مراقبہ) کرتے ہیں ، ایسا ہے گویا ' آپ روشنی کی اس دنیا ( عالم نور کی کھڑکی) کھول رہے ہیں ، اب آپ اندھیرے میں نہیں رہے ، آپ کو گھپ اندھیرے میں روشنی کی کرن محسوس ہونے لگتی ہے جو اب دل کے اندر پھوٹ رہی ہے۔پیار اور محبت کے حامل نیک دلوں میں۔
|Warna, pehlay sirf ilm haasil hota hai aur ruh jaisay andheray mein ho, nahi ilm rakhti ke yeh log kis baray mein baat kar rahay hain. Yeh ( ilm ) zaya nahi hota kyunkay yeh ruh ki haqeeqat mein jama hota chala jata hai. Jaisay hi aap Faiz panay ke liye ghhor o fikar ( muraqba ) karte hain, aisa hai goya' aap roshni ki is duniya ( aalam noor ki khirki ) khol rahay hain, ab aap andheray mein nahi rahay, aap ko ghup andheray mein roshni ki kiran mehsoos honay lagti hai jo ab dil ke andar phoot rahi hai. Pyar aur mohabbat ke haamil naik dilon mein|
Otherwise, first is just coming as a knowledge and the soul like in a darkness, doesn't know what the heck these people are talking about. It's not lost because it comes on deposited upon the reality of the soul. As soon as you meditate to get the faiz, it's like you're opening this world of light. You're no longer in the dark, you begin to feel the glimpse of light at the end of the tunnel is now opening within the heart. Good hearts with love and muhabbat.
اھل بیت ؑہمیشہ مقدس مجالس میں حاضر ہوتے ہیں
|Ahlul Bayt (sws) hamesha muqadas majalis mai hazir hote hain|
𝐀𝐡𝐥𝐮𝐥 𝐁𝐚𝐲𝐭 (𝐬𝐰𝐬) 𝐀𝐥𝐰𝐚𝐲𝐬 𝐀𝐭𝐭𝐞𝐧𝐝 𝐇𝐨𝐥𝐲 𝐄𝐯𝐞𝐧𝐭𝐬
ان مجالس پر ارواح الہی نظر فرماتے ہیں، جب بھی سیدنا محمد (ﷺ) کی محبت کیلئے عاشقین ایک مجلس سجاتے ہیں، سیدنا محمد (ﷺ) کی ساری آلِ اطہار حاضر ہیں۔ انہیں زمین پر ہونے والی مقدس مجالس سے بڑھ کر کچھ عزیز نہیں ۔ جنت میں جو تقریبات ہیں، وہاں سب فرشتے ہیں۔ لیکن اللہ (عزوجل) نے قرآن مجید میں پوچھا ہے ، 'کیا تم نے بلند ہونے(اُوپر اُٹھنے) کی کوشش کی ؟ ہم یہ نہیں سمجھ پاتے کہ اُوپر اُٹھنے کی کوشش کرنا کتنا اہم ہے۔ جب اللہ (عزوجل) پوچھتا ہے ، 'کیا آپ نے آسمانوں میں پرواز کی کوشش کی ؟'
فَلَا اقْتَحَمَ الْعَقَبَةَ ۞
وہ تو دشوار گزار گھاٹی میں داخل ہی نہیں ہوا/
سورۃ البلد )۹۰) آیت ۱۱
|Un majalis par arwah illahi nazar farmatay hain, jab bhi Sayedena Muhammad (sws) ki mohabbat ke liye ashiqeen aik majlis sajaate hain, Sayedena Muhammad (sws) ki saari aal-e-athaar haazri mein hain. Inhen zameen par honay wali muqaddas taqrebaat se barh kar kuch Aziz nahi. Jannat mein jo taqrebaat hain, wahan sab farishtay hain. Lekin Allah (AJ) ne quran Majeed mein poocha hai,' kya tum ne buland honay ( ooper utney ) ki koshish ki? Hum yeh nahi samajh paate ke ooper utney ki koshish karna kitna ahem hai. Jab Allah (AJ) puchta hai,' kya aap ne asmano mein parwaaz koshish ki hai? '
These gatherings are witnessed by Divinely souls. That anytime a gathering for the love of Sayyidina Muhammad (sws) from 'ashiqeen (lovers), then all the family of Sayyidina Muhammad (sws) are in attendance. There is nothing more dear to them than holy events on Earth. The events in heavens is given, is all angels. But Allah (AJ) asked in Qur'an, 'Have you made the ascent?' We don't understand how important it is when we try to lift up. When Allah (AJ) ask, 'Have you made an attempt to ascend into the heavens?'
فَلَا اقْتَحَمَ الْعَقَبَةَ ﴿١١
90:11 – Falaq tahamal-'aqabah. (Surat al Balad)
But he hath not attempted the Ascent. (The City, 90:11)
اس کی اہمیت پر زور دینے کیلئے کہ جب ایک عبد عالم دنیا سے آسمانوں کی طرف اُڑنے کی کوشش کرتا ہے اور سیدنا محمد (ﷺ) کی محبت میں، زمین پر مجلس (سجاتا ہے ) اللہ (عزوجل) سب سے معزز مہمانوں کو بھیجتا ہے۔ اھل بیت کی شرکت ، اُن کی نظر ( تشریف لاتی ہے )— اور وہ ایک لمحے میں لامحدود جگہوں پر ہو سکتے ہیں، یہ ہمارے تصور سے آگے کی بات ہے۔ ہمیں بس اتنا کرنا ہے کہ اس محبت کی نیت باندھ لیں؛ ' یا ربی ، ہم اس پیار اور اس محبت کی خاطر ملنے کی نیت کر تےہیں ۔ ہمارے راز کو تعظیم بخش دیجئے ، ہماری مجلس کو تعظیم بخش دیجئے' اور اللہ (عزوجل) فرماتا ہے: آمین ، میں ان ارواح مقدسہ کے حضور کے صدقے تعظیم فرماتا ہوں۔
|Is ki ahmiyat par zor dainay ke liye ke jab aik abd aalam duniya se asmano ki taraf urnay ki koshish karta hai aur Sayedena Muhammad (sws) ki mohabbat mein, zameen par majlis ( sajata hai ) Allah (AJ) sab se muaziz mehmanon ko bhejta hai. Ahlul bayt ki shirkat, unn ki nazar— aur woh aik lamhay mein laa-mehdood jaghon par ho satke hain, yeh hamaray tasawwur se agay ki baat hai. Hamein bas itna karna hai ke is mohabbat ki niyat bandh lain' Ya Rabbi, hum is pyar aur is mohabbat ki khatir milnay ki niyat kartte hain. Hamaray raaz ko tazeem bakhash dijiye, hamari majlis ko tazeem bakhash dijiye' aur Allah (AJ) farmata hai: ameeen, mein un arwah muqaddisa ke huzoor ke sadqy tazeem farmata hon.|
Stressing the importance when a servant tries to lift from dunya (material world) to go towards heavens and a majlis (association) on Earth for the love of Sayyidina Muhammad (sws) , Allah (AJ) sends the most noblest of guests. The attendance of these Ahlul Bayt (sws) , their nazar and they can be at infinite places at one moment. It's something beyond our imagination. All we have to do is make intention for that love, 'Ya Rabbi, we're intending to meet for the purpose of this love and this muhabbat. Sanctify our secret. Sanctify our association.' And Allah (AJ) says, 'Ameen. I sanctify by the presence of these holy souls.'
اچھا اخلاق وہ تمغات ہیں جو صالحین کو متوجہ کرتے ہیں
|Acha Ikhlaaq wo tamghaat hain jo saliheen ko matwaju kate hain|
𝐆𝐨𝐨𝐝 𝐂𝐡𝐚𝐫𝐚𝐜𝐭𝐞𝐫 𝐀𝐫𝐞 𝐌𝐞𝐝𝐚𝐥𝐥𝐢𝐨𝐧𝐬 𝐓𝐡𝐚𝐭 𝐀𝐭𝐭𝐫𝐚𝐜𝐭 𝐏𝐢𝐨𝐮𝐬 𝐏𝐫𝐞𝐬𝐞𝐧𝐜𝐞
کہ اُنکا مقام ، ملائیکہ (فرشتوں) کے مقام سے بہت اوپر ہے ، کیونکہ اُن کے پاس آزاد منشا( مرضی) تھی اور انہوں نے زمین پر اپنی مرضی قربان کر دی اور انہوں نے اللہ (عزوجل) کے طاقت اور جلال کے بحرین الہی (خدائی سمندروں) کی انتہائی قربت حاصل کرلی۔ جیسے ہی ان مجالس کا آغاز ہوگا ، ان کی نیک ارواح ، وہ آس پاس موجود ہیں۔ آپ جہاں بھی، وہ آپ کے آس پاس موجود ہیں۔ اچھا اخلاق، اچھا حضور قائم رکھیں۔ آپ کا پیار ، اور آپ کی محبت اور آپ کے محبت میں ڈوبے اعمال اور جب آپ اس محبت کا اظہار کرتے ہیں تو ، یہ ایک ایسا انعام اور تمغہ ہے جو مجلس میں ان کی مبارک حاضری لے آتا ہے ، ان کے پاک قرب کو متوجہ کرتا ہے۔
|Ke unkaa maqam, malaika ( firshton ) ke maqam se bohat upar hai, kyunkay unn ke paas azad mansha ( marzi ) thi aur unhon ne zameen par apni marzi qurbaan kar di aur unhon ne Allah (AJ) ke taaqat aur jalal ke bahrain ellahi ( khudai samndron ) ki intehai qurbat haasil karli. Jaisay hi un majalis ka aaghaz hoga, un ki naik arwah, woh aas paas mojood hain. Aap jahan bhi, woh aap ke aas paas mojood hain. Acha ikhlaq, acha huzoor qaim rakhen. Aap ka pyar, aur aap ki mohabbat aur aap ke mohabbat mein doobe aamaal aur jab aap is mohabbat ka izhaar karte hain to, yeh aik aisa inaam aur tamgha hai jo majlis mein un ki mubarak haazri le aata hai, un ke pak qurb ko mutwajjah karta hai.|
That their station far above the station of malaika (angels) because they had a will and they submitted their will on Earth and they achieved immense proximity to the presence of Allah's (AJ) Divinely oceans of Might and Majesty. As soon as these associations begin, their noble souls, they're surrounding. Wherever you are, they're surrounding you. Keep good character, good presence. Your love and your muhabbat and your actions of love and when you show that love, it's a dress and a medallion that brings their holy presence into the association, attracts their holy presence.
زبان ان حقائق کو الفاظ میں بیان کرنے سے قاصر ہے ۔ یہ ایسی چیز نہیں ہے جسے آپ الفاظ میں بیان کر سکیں، بلکہ ہومنگ ڈیوائس (کسی عین ہدف میں لگنے والےتیر کی طرح)۔ یہ پیار، محبت اوراخلاق کے اچھے اعمال، وہ ہم پر ایسی شئے چسپاں کر دیتے ہیں کہ سیدنا محمد (ﷺ) کے بیت اطہارکے دل میں گھر کر لیتے ہیں۔ یہ محبت اور اچھا اخلاق ، اُن کی توجہ آپ کے گھر پہ، آپ کی نعمتوں اور کھانے پینے اور رزق کی طرف کھنچ لیتا ہے ۔ آپ جو کچھ بھی کرتے ہیں وہ ان کے نظر کی اُس تجلی کے ماتحت ہوتا ہے اور اچھے عمل اور اچھے اخلاق جو ہم اپنی زندگی میں کرنے اور ان پر عمل درآمد کرنے کی کوشش کر رہے ہیں، اُن کے ذریعہ برکات نازل ہوتی ہیں۔
|Zabaan un haqaiq ko alfaaz mein bayan karne se qassar hai. Yeh aisi cheez nahi hai jisay aap alfaaz mein bayan kar saken, balkay homing device (kisi ain hadaf mein lagnay walay teer ki terhan ). Yeh pyar, mohabbat aur ikhlaaq ke achay aamaal, woh hum par aisi shye chaspan kar dete hain ke Sayedena Muhammad (sws) ka bayt athaar (as) dil mein ghar kar letay hain. Yeh mohabbat aur acha ikhlaaq, kirdaar, unn ki tawajah aap ke ghar pay, aap ki nematon aur khanay peenay aur rizaq ki taraf khench laita hai. Aap jo kuch bhi karte hain woh un ke nazar ki is tajallii ke matehat hota hai aur achay amal aur achay ikhlaq jo hum apni zindagi mein karne aur un par amal daraamad karne ki koshish kar rahay hain, unn ke zareya barkaat nazil hoti hain.|
The tongue is short on words on how to describe these realities. It's not something that you can put to words, but like a homing device. These good actions of love and muhabbat and character, they attach something to us that this family of Sayyidina Muhammad (sws) homes in onto that. This muhabbat and good character draws their attention into your home, onto your ni'mat (blessings) and food and rizq (sustenance). Everything that you do is under this tajalli (manifestation) of their nazar and their blessings by the good action and good characters that we are trying to do and implement in our life.
زمین پر بے پناہ تاریکی چھا رہی ہے
|Zameen per bepanah tareeki chah rahi hai|
𝐄𝐱𝐭𝐫𝐞𝐦𝐞 𝐍𝐞𝐠𝐚𝐭𝐢𝐯𝐢𝐭𝐲 𝐢𝐬 𝐄𝐧𝐭𝐞𝐫𝐢𝐧𝐠 𝐔𝐩𝐨𝐧 𝐄𝐚𝐫𝐭𝐡
ہم نہیں سمجھ پاتے کہ یہ کتنا اہم ہے۔ ایک بار پھر ، یہی وجہ ہے کہ آج رات اس موضوع کو چھیڑا گیا ہے کہ ہم سمجھ نہیں پاتے کہ کیا ہو رہا ہے۔ صرف اس صورت میں جب ہم زمین پر تاریکی کی انتہا دیکھنے لگتے ہیں ، ہمیں اس کی جھلک نظر آنا شروع ہوتی ہے، ' یا ربی ، مجھے لگتا ہے کہ مجھے بہت زیادہ مدد کی ضرورت ہے۔' اس زمین پر کیا ہونے والا ہے – بیماری کا یہ دور بے پناہ ظلم کے ادوار کھول دیتا ہے۔ جو (شیطان) بھی ان پر مسلط ہے اور ان کی ذات پر قابض ہے ، وہ بدروحیں سامنے آرہی ہیں۔ اور یہ آسیب ، اُن کی خوراک 'چیخنا' ہے اور ان کا مشروب 'درد' ہے۔ وہ انسانیت کے دکھوں پر پلتے ہیں۔ جو سب کچھ ہم کر رہے ہیں، اُس سے ایک نور ، ایک تجلی ، اُن اولیااللہ کی، جنہیں ہم اولیااللہ مانتے ہیں، اھل بیتؑ کی ذیشان ارواح کی ایک نظر عنایت ہوتی ہے۔
|Hum nahi samajh paate ke yeh kitna ahem hai. Aik baar phir, yahi wajah hai ke aaj raat is mauzo ko cheda gaya hai ke hum samajh nahi paate ke kya ho raha hai. Sirf is soorat mein jab hum zameen par tareqi ki intahaa dekhnay lagtay hain, hamein is ki jhalak nazar aana shuru hoti hai,' ya rabbi, mujhe lagta hai ke mujhe bohat ziyada madad ki zaroorat hai.' is zameen par kya honay wala hai – bemari ka yeh daur be panah zulm ke adwaar khol deta hai. jo bhi un par musallat hai aur un ki zaat par qaabiz hai, woh bad rohain samnay aa rahi hain. Aur yeh asaib, unki khoraak' cheekhna' hai aur un ka mashroob' dard' hai. Woh insaaniyat ke dukhoon par paltaay hain. Jo sab kuch hum kar rahay hain, aik noor, aik tajallii, un Awliya-Allah ki, hum jinhein Awliya-Allah mantay hain, Ahlul Bayt ki zeeshan arwah ki aik nazar inayat hoti hai.|
We don't understand how important. Again, that's why the theme tonight opened is we don't understand what's happening. Only when we begin to see the immensity of negativity on Earth, we're beginning to get a glimpse of, 'Ya Rabbi, I think I need a lot more help.' What's coming upon this Earth – this phase of sickness opens phases of immense violence. Whatever they're being possessed with and occupied in there being, they're coming out as demons. And these demons, their food is 'screaming' and their drink is 'pain.' They eat and drink the suffering of mankind. Everything that we're doing is bringing a light, a tajalli, a nazar of these awliyaullah of these, what we consider awliyaullah, these immense souls of Ahlul Bayt (sws) .
اللہ (عزوجل) چند اشخاص پہ فیض برساتا ہے جو بہت سے لوگوں کی نمائندگی کرتے ہیں
|Allah (AJ) chand ashkhas pe faiz barsata hai jo bohat se logon ki numaindgi krte hain|
𝐀𝐥𝐥𝐚𝐡 (𝐀𝐉) 𝐃𝐫𝐞𝐬𝐬𝐞𝐬 𝐭𝐡𝐞 𝐅𝐞𝐰 𝐓𝐡𝐚𝐭 𝐑𝐞𝐩𝐫𝐞𝐬𝐞𝐧𝐭 𝐭𝐡𝐞 𝐌𝐚𝐧𝐲
اصھاب النبی (ﷺ) کی ذِیشان ارواح اور صحابہ کرام ، سب مجلس میں حاضر ہونے تشریف لاتے ہیں کیونکہ مجلس اللہ (عزوجل) اور سیدنا محمد (ﷺ) کی محبت کی خاطر ہیں۔ اس زمین پر اس سے بہتر اور کونسی مجلس ہو گی جہاں وہ تشریف لے جا سکتے ہے۔ اور جب تم دیکھو کہ اس زمین پر کم اور کم اور کم ( حلقہ ذکر) ہیں ، تو جان لیجئے کہ ہماری مجالس میں یادہ سے زیادہ بھیڑ ہے ، کیونکہ جانے کیلئے بہت کم جگہ رہ گئی ہیں کہ "اھلاً و سہلاً، خو ش آمدید ، تشریف لائیے۔" ٹھیک ہے؟ انہیں ہر گھر جانا چاہئے لیکن کوئی اپنے رب کا ذکر نہیں کرتا ۔
|Ashaabun Nabi (sws) ki zeeshan arwah aur sahaba karaam, sab majlis mein haazir honay tashreef laatay hain kyunkay majlis Allah (AJ) aur Sayedena Muhammad (sws) ki mohabbat ki khatir hain. Is zameen par is se behtar aur konsi majlis ho gi jahan woh tashreef le ja satke hai. Aur jab tum dekho ke is zameen par kam aur kam aur kam ( anjuman ) hain, to jaan lijiye ke hamari majalis ziyada se ziyada bheer hai, kyunkay jane ke liye bohat kam jagah reh gayi hain ke "Ahlan wa sahlan, khush aamdeed, tashreef layiyae." Theek hai? Inhen har ghar jana chahiye lekin koi apne rab ka zikar nahi karta.|
The immense souls of Ashab e Nabi (sws) (Holy Companions of Prophet (sws) ) and the holy companions all come to be present at the associations because the associations are for the love of Allah (AJ) and the love of Sayyidina Muhammad (sws) . What better association could they be going to on this Earth? And when you begin to see on the Earth less and less and less, know that our associations are more and more crowded because there's less places for them to go, Ahlan wa sahlan, please come. Right? They should be going to every home but nobody is remembering their Lord.
تو ، پھر وہ چند گھروں میں جاتے ہیں لیکن بہت زیادہ (تعداد میں) اور پھر اللہ (عزوجل) ان ارواح پر انعام اور نعمتیں برساتا ہے ، تو وہ چند لوگ ہیں جو ڈھیروں کی نمائندگی کرتے ہیں۔ چند، جنہیں محبت ہے، اس زمیں پر جہاں کہیں بھی ہیں ، وہ بہت ساری ارواح صالحہ کی بے پناہ طاقت ، بے پناہ قربت ، بے پناہ محبت کی نمائندگی کرتے ہیں۔ آپ کی زندگی میں ان کی موجودگی سے ، ہر فیض آپ پر برستا ہے ، ہر مشکل آپ سے ہٹا دی جائے گی۔
|Toh, phir woh chand gharon mein jatay hain lekin bohat saaray. Aur phir Allah (AJ) un arwah par inaam aur naematain barsata hai, to woh chand log hain jo dheron ki numaindagi karte hain. Chand, jinhein mohabbat hai, is zamee par jahan kahin bhi hain, woh bohat saari arwah-saleha ki be panah taaqat, be panah qurbat, be panah mohabbat ki numaindagi karte hain. Aap ki zindagi mein un ki mojoodgi se, har faiz aap par barasta hai, har mushkil aap se hata di jaye gi.|
So, then they come to the few homes but many. And then Allah (AJ) dress and bless those souls so they become the few that represent the many. The few whom have love wherever they are on this Earth, they represent these many pious souls with immense power, immense proximity, immense love. By their presence in your life, every faiz comes to you, every difficulty will be taken from you.
اللہ (عزوجل) کے ہر کام میں حکمت ہے
|Allah (AJ) ke har kaam mein hikmat hai|
𝐓𝐡𝐞𝐫𝐞 𝐢𝐬 𝐚 𝐖𝐢𝐬𝐝𝐨𝐦 𝐢𝐧 𝐄𝐯𝐞𝐫𝐲𝐭𝐡𝐢𝐧𝐠 𝐀𝐥𝐥𝐚𝐡 (𝐀𝐉) 𝐝𝐨𝐞𝐬
ہماری زندگی کی ہر گرہ کھل جائے گی ، وہ(گرہ) نہیں جو آپ کھولنا چاہتے ہیں کیونکہ ہو سکتا ہے ، اُسی ( گرہ ) نے آپ کو طریقت (روحانی راستے ) میں باندھ رکھا ہو۔ آپ نہیں جانتے کہ آپ اُس راستے میں کیوں بندھے ہوئے ہیں، ٹھیک کہا؟ ۔۔۔ کیا آپ نے کبھی دیکھا ہے کہ بیل کو کس طرح قابو کیا جاتا ہے؟ آپ کو اُسکے ہاتھ اور پیر باندھنے پڑتے ہیں۔ اگر آپ بیل کی ڈور ڈھیلی کر دیں تو کیا ہوگا؟ کیا آپ ذبیحہ کر پائیں گے ؟ نہیں ، بیل دوڑ جائے گا۔
|Hamari zindagi ki har girah khul jaye gi, woh nahi jo ( girah ) aap kholna chahtay hain kyunkay ho sakta hai, usi ( girah ) ne aap ko tareqat ( Rohani rastay ) mein bandh rakha ho. Aap nahi jantay ke aap uss rastay mein kyun bandhay hue hain, theek kaha ?. .. kya aap ne kabhi dekha hai ke bail ko kis terhan qaboo kya jata hai? Aap ko uske haath aur paiir bandhnay parte hain. Agar aap bail ki dor dheeli kar den to kya hoga? Kya aap zabiha kar payen ge? nahi, bail daur jaye ga.|
Every knot will be untied within our lives, not the ones that you want untied because that may be the one that's holding you into the tariqah (spiritual path). You don't know what's holding you into this path, right? If Allah (AJ) was to, you know, have you ever seen how you takedown a bull? You got to tie the hands and legs. If you take the string off the bull what going to have? You going to have zabiha (sacrifice)? No. The bull is running.
لہذا ، یہ ضروری نہیں ہے کہ آپ اللہ (عزوجل) سے کیا حل چاہتے ہو۔ اللہ ( عزوجل) کے ہر کام میں ایک حکمت ہوتی ہے ، ذات باری تعالی عبد کو باندھ دیتا ہے تاکہ وہ وہیں رہے ۔ لیکن ہر وہ درپیش مشکل ، جس کی ضرورت نہیں ، ان مقدس ارواح کے قرب سے ، ہر مشکل ہٹنے لگتی ہے۔ ہر وہ اہم بیماری جو مریض یا فرد کا ایمان بہتر بنانے میں معاون نہیں، وہ ہلکی ہوجاتی ہے۔ ہر نعمت ان کے قرب سے ملتی ہے۔
|Lehaza, yeh zaroori nahi hai ke aap Allah (AJ) se kya hal chahtay ho. Allah (AJ) ke har kaam mein aik hikmat hoti hai, zaat baari taala Abd ko bandh deta hai taakay woh wahein rahay. Lekin har woh darpaish mushkil, jis ki zaroorat nahi, un muqaddas arwah ke qurb se, har mushkil hatnay lagti hai. Har woh ahem bemari jo mareez ya fard ka imaan behtar bananay mein muawin nahi, woh halki hojati hai. Har nemat un ke qurb se millti hai.|
So, it's not necessarily what you wanted Allah (AJ) to take away. There's a hikmah (wisdom) in everything Allah (AJ) does. He ties the servant so they're there. But any other difficulty that is not needed to be there, by the presence of these holy souls, every difficulty begins to vanish. Every significant sickness that is not something that the patient or person can deal with to improve their faith becomes lightened. Every blessing comes by their presence.
آپ اُس کے ساتھ ہونگے جس سے آپکو محبت ہوگی
|Ap uske sath hon gey jis se apko Muhabbat hogi|
𝐘𝐨𝐮 𝐖𝐢𝐥𝐥 𝐁𝐞 𝐖𝐢𝐭𝐡 𝐖𝐡𝐨𝐦 𝐘𝐨𝐮 𝐋𝐨𝐯𝐞
اولیااللہ بیان فرماتے ہیں ، زمین پہ ہر بارش اور اللہ ( عزوجل) کی نعمت ، ان ارواح اور ان ارواح کے ساتھیوں کی قربت کی بناء پر برستی ہے۔ جب ایک روح اس بے پناہ محبت، بے پناہ احترام، انتہائی قربت اور تمام اھل البیتؑ اور اھل البیت کی ارواح ہمیشہ اُن کے ساتھ ہوں ، کیا آپ کو نہیں لگتا اللہ (عزوجل) کثرت سے اُن پر بارش برساتا ہے ؟ اُن پر رزق کی کثیر بارش ہوتی ہے ؟ اُن پہ کثیر فیض جاری ہوتا ہے ؟ اس لئے نہیں کہ وہ کیا جانتے ہیں پر وہ کس کو جانتے ہیں اور وہ کس کے ساتھ ہیں ، کیونکہ ، رسولِ کریم (ﷺ) ارشاد فرماتے ہیں : 'تم جس سے محبت کرتے ہو اُس کے ساتھ ہو۔'
حدیث مبارکہ| قَالَ رَسُول اللَّهِ صلى الله عليه و سلم: الْمَرْءُ مَعَ مَنْ أَحَب
رسول اللہ (ﷺ) نے ارشاد فرمایا ہے:" ہر شخص اُس کے ساتھ ہو گا جس سے وہ محبت کرتا ہے"
|Awlia-Allah bayan farmatay hain, zameen pay har barish aur Allah (AJ) ki nemat , un arwah aur un arwah ke sathiyon ki qurbat ki binaa par barasti hai. Jab aik ruh is be panah mohabbat, be panah ihtram, intehai qurbat aur tamam ahlul Bayt aur ahlul bayt ki arwah hamesha unn ke sath hotay hain, kya aap ko nahi lagta Allah (AJ) kasrat se un par barish barsata hai? Unn par rizaq ki kaseer barish hoti hai? Unn pay kaseer faiz jari hota hai? is liye nahi ke woh kya jantay hain par woh kis ko jantay hain aur woh kis ke sath hain, kyunkay, Rasul Kareem (sws) irshad farmatay hain :'tum jis se mohabbat karte ho uss ke sath ho.'|
Where awliyaullah describe that every rain and ni'mat of Allah (AJ) comes based on the presence of these souls and the companion of these souls on this Earth. When a soul has this immense love, immense respect, immense proximity and all these Ahlul Bayt (sws) and souls of Ahlul Bayt (sws) are always with them, don't you think Allah (AJ) sends rain upon them in abundance? Rizq upon them in abundance? Faiz upon them in abundance? Not for what they know but who they know and who they kept because Allah (AJ), Prophet (sws) describe, 'You be with whom you love.'
قَالَ رَسُول اللَّهِ صلى الله عليه و سلم: الْمَرْءُ مَعَ مَنْ أَحَب
Qala Rasulullah (saws): Almar o, ma'a man ahab.
Prophet Muhammad (pbuh) said: One is with those whom he loves.
ارواحِ صالحین کا ساتھ اپنائیں تاکہ کعبہ کی مانند بن سکیں
|Arwahe Saliheen Ka Sath Apnain Takey Kabah ki Manind Ban Saken|
𝐀𝐜𝐜𝐨𝐦𝐩𝐚𝐧𝐲 𝐏𝐢𝐨𝐮𝐬 𝐒𝐨𝐮𝐥𝐬 𝐭𝐨 𝐁𝐞𝐜𝐨𝐦𝐞 𝐋𝐢𝐤𝐞 𝐚 𝐖𝐚𝐥𝐤𝐢𝐧𝐠 𝐊𝐚'𝐛𝐚𝐡
جب آپ اُن سے محبت کرتے ہیں تو ، وہ آپ کے ساتھ ہیں۔ یہی وجہ ہے کہ اچھا اخلاق اور محبت ہمارے گھروں میں ہر طرح کی نعمت لاتے ہیں ، چاہے آپ کتنی ہی دور کیوں نہ بیٹھے ہوں۔ آپ محبت دیکھاتے ہیں ، عزت کرتے ہیں ۔ اور جتنا آپ محبت دیکھائیں گے ، آپ جتنی محبت کا اظہار کریں گے، ایسا ہے گویا زیادہ سے زیادہ اعزازات ، اس آلِ اطہار کی جانب سے راغب ہو رہے ہیں۔ اور اگر بیت اطہار تشریف لاتے ہیں ، زرا تصور کریں کہ تمام نیک ارواح اور خادم جو بیت اطہار کی خدمت پر معمور رہے اور فدیون، جو فدات بشم تھے، جو اس خدمت میں اپنی زندگی فدا کر دیتے ہیں ، وہ تشریف لاتے ہیں، یہی مراد ہے جب اللہ (عزوجل) فرماتا ہے 'میں آ رہا ہوں'۔
|Jab aap unn se mohabbat karte hain to, woh aap ke sath hain. Yahi wajah hai ke acha ikhlaq aur mohabbat hamaray gharon mein har terhan ki nemat laatay hain, chahay aap kitni hi daur kyun nah baithy hon. Aap mohabbat daikhatay hain, izzat karte hain. Aur jitna aap mohabbat dekhayeen ge, aap jitni mohabbat ka izhaar karen ge, aisa hai goya ziyada se ziyada ezazat, is aal-athaar (as) ki janib se raghib ho rahay hain. aur agar bayt-athaar (as) tashreef laatay hain, zara tasawwur karen ke tamam naik arwah aur khadim jo bayt athar ki khidmat par maamoor rahay aur fiddiyun, jo fidayat be-sham thay, jo is khidmat mein apni zindagi fida kar dete hain, woh tashreef laatay hain, yahi morad hai jab Allah (AJ) farmata hai' mein aa raha hon' .|
When you love them, they're with you. That's why the good character and love brings every ni'mat (blessing) into our homes, no matter how far away you are. You show the love, you keep the respect. And the more you show the love, the more you show the love as if more more medallions are attracting more and more of this family. And if the family comes, imagine all the souls and pious souls who served and were the khadims (servants) of the family. And they served and the fiddiyoon who gave the fidayat be-sham, the ones whom they gave their lives in that service, they come and this is what Allah (AJ) meant by, 'I'm coming.'
نبین سےتمہیں محبت ہے، تمہاری محبت کی وجہ سے ، تمام بڑے صدیقین تشریف لائیں گے ، شھداءیقیناً (تشریف لائیں گے ) وہ سب دیکھتے (مشاہدہ ) کرتےہیں اور ان سب کے ساتھ وہ صالحین تشریف لاتے ہیں۔ آپ اس زندگی میں جہاں بھی جائیں ، آپ کعبہ کی مانندہوجائیں گے۔ ان سب کا ساتھ اللہ (عزوجل) کی محبت ہے۔ جب آپ کے ساتھ اللہ (عزوجل) کی محبت ہو تو کچھ بھی کیسے ہوسکتا ہے؟ آپ کو لگتا ہے کہ شیطان آپ کو کھانے آ رہے ہیں؟ وہ آپ سے موت کی حد تک خوفزدہ ہیں۔
وَمَن يُطِعِ اللّهَ وَالرَّسُولَ فَأُوْلَـئِكَ مَعَ الَّذِينَ أَنْعَمَ اللّهُ عَلَيْهِم مِّنَ النَّبِيِّينَ وَالصِّدِّيقِينَ وَالشُّهَدَاء وَالصَّالِحِينَ وَحَسُنَ أُولَـئِكَ رَفِيقًا۞
اور جو کوئی اللہ اور رسول(ﷺ) کی اطاعت کرے تو یہی لوگ ان (ہستیوں) کے ساتھ ہوں گے جن پر اللہ نے انعام فرمایا ہے
جو کہ انبیاء، صدیقین، شہداءاور صالحین ہیں، اور یہ بہت اچھے ساتھی ہیں۔
سورۃ النسا٫ (4) آیت 69
|Nibyeen se tumhe woh mohabbat hai, tumhari mohabbat ki wajah se, tamam barray siddiqueen tashreef layein ge, Shuhada, yaqeenan (tashreef layein ge) woh sab dekhte (mushahida) karte hain aur un sab ke sath woh saliheen tashreef laatay hain. Aap is zindagi mein jahan bhi jayen, aap Kaabah ki manind ge. Un sab ka sath Allah (AJ) ki mohabbat hai. Jab aap ke sath Allah (AJ) ki mohabbat ho to kuch bhi kaisay ho sakta hai? Aap ko lagta hai ke sheytan aap ko khanay aa rahay hain? Woh aap se mout ki had tak khaufzadah hain. [Ayat Ka Tarjuma: Aur jo koi Allah aur Rasool (sws) ki itaat kere to yahi log un ( hastiyon ) ke sath hon ge jin par Allah ne inaam farmaya hai jo ke anbia, siddiqeen , shuhada aur Saliheen hain, aur yeh bohat achay saathi hain 4:69]|
Nabiyeen, you have that love. Siddiqeen all the big siddiqs coming because of your ishq (love). Shuhada, definitely they're all the ones whom see and with all of whom they accompany are Saliheen. Wherever you go in this life, you be like a ka'bah. They're all of Allah's (AJ) love with you. How can anything come when Allah's (AJ) love is with you? You think demons are coming to eat you? They're scared to death of you.
وَمَن يُطِعِ اللّهَ وَالرَّسُولَ فَأُوْلَـئِكَ مَعَ الَّذِينَ أَنْعَمَ اللّهُ عَلَيْهِم مِّنَ النَّبِيِّينَ وَالصِّدِّيقِينَ وَالشُّهَدَاء وَالصَّالِحِينَ وَحَسُنَ أُولَـئِكَ رَفِيقًا ﴿٦٩
4:69 – Wa man yuti' Allaha war Rasola faolayeka ma'al ladheena an'ama Allahu 'alayhim minan Nabiyeena, was Siddiqeena, wash Shuhadai, was Saliheena wa hasuna olayeka rafeeqan. (Surat An-Nisa)
And whoever obeys Allah and the Messenger (pbuh) are in the company of those on whom Allah has bestowed His Favours/Blessings – of the prophets, the sincere Truthful, the witnesses to the truth (who testify), and the Righteous, and excellent are those as companions. (The Women, 4:69)
Recitation of Ila Sharafin Nabi
حب الرسول(ﷺ) پھیلانے کی کاوش میں ہماری مدد کیجئے
|Hub-e-Rasul Philanay Ki Kawish Mein Hamari Madad Kijye|
𝐏𝐥𝐞𝐚𝐬𝐞 𝐒𝐮𝐩𝐩𝐨𝐫𝐭 𝐭𝐡𝐞 𝐏𝐫𝐨𝐩𝐚𝐠𝐚𝐭𝐢𝐨𝐧 𝐨𝐟 𝐏𝐫𝐨𝐩𝐡𝐞𝐭'𝐬 (𝐬𝐰𝐬) 𝐋𝐨𝐯𝐞
کوئی بھی سوال ہو ، براہ کرم ہیلپ می@ نورمحمد پہ بھیجیں ، ( پرانے ای میل) انفو پر نہیں اور براہ کرم بات چیت کا دروازہ کھلا رکھیں۔ ویڈیوز کو سپورٹ کریں ، نیچے سپورٹ بٹن ہے ، براہ کرم سپورٹ کریں۔ آپ کے فراخ دل عطیات سے یہ تمام ویڈیوز ، یہ تمام دعوۃ ، یہ ساری کتابیں ، یہ سارے دعوہ ، یہ ساراسامان ، یہ تمام انٹرنیٹ ، تمام چیزیں ممکن ہوتی ہیں۔ اور ہمیں اس حقیقت کی محبت کے قریب لاتی ہیں۔ انشاء اللہ ، اللہ (عزوجل) یہ دعوہ قبول فرمائے ، یہ اعمال قبول فرمائے اور ہم سیدنا محمد (ﷺ) کی نظرِ کرم سے بافیض ہوں اور برکت پائیں، ان شاءاللہ۔
|Koi bhi sawal ho, barah karam helpme@nurmuhammad.com pay bhejen, ( puranay email ) info par nahi aur barah karam baat cheet ka darwaaza khula rakhen. Videos ko support karen, neechay support button hai, barah karam support karen. Aap ki faragh dil atyat se yeh tamam videos, yeh tamam dawah, yeh saari kitaaben, yeh saaray dawah, yeh sara saman, yeh tamam internet, tamam cheeze mumkin hoti hain. Aur hamein is haqeeqat ki mohabbat ke qareeb laatay hain. InshaAllah , Allah (AJ) yeh dawah qubool farmaiye, yeh aamaal qubool farmaiye aur hum Sayedena Muhammad (sws) ki nazre karam se bafaiz rahen aur barkaat payeen, insha'Allah. |
Please always, any questions 'Helpme' not 'Info.' Helpme, helpme@nurmuhammad.com. And please keep the line of communication open. Please support the videos, at the bottom we have a support button, please support. Your generous contributions go to put out all these videos, all these propagation, all these books, all this dawah, all this equipment, all this internet, everything. And brings us closer into the love of this reality. InshaAllah, Allah (AJ) accept this dawah, accept these actions. And that the nazar of Sayyidina Muhammad (sws) to be upon us, dress us and bless us, inshaAllah.
Subhana rabbika rabbal 'izzati 'amma yasifoon, wa salaamun 'alal mursaleen, walhamdulillahi rabbil 'aalameen. Bi hurmati Muhammad al-Mustafa wa bi siri Surat al-Fatiha.
Special thanks to our transcribers for their help with transcribing this suhbah.
یہ بیان اس لنک پر دیکھا جا سکتا ہے
🌺Watch this Bayan on YouTube
https://www.youtube.com/watch?v=Xxs-EDHVf4Q
🍃First Part: حصہ اول
https://web.facebook.com/SMCURDU/posts/451368479587631
🍃Second Part: حصہ دوئم
https://web.facebook.com/SMCURDU/posts/463110431746769
🌺Donate: عطیات کیلئے
https://fzhh.org/donate/
3/3