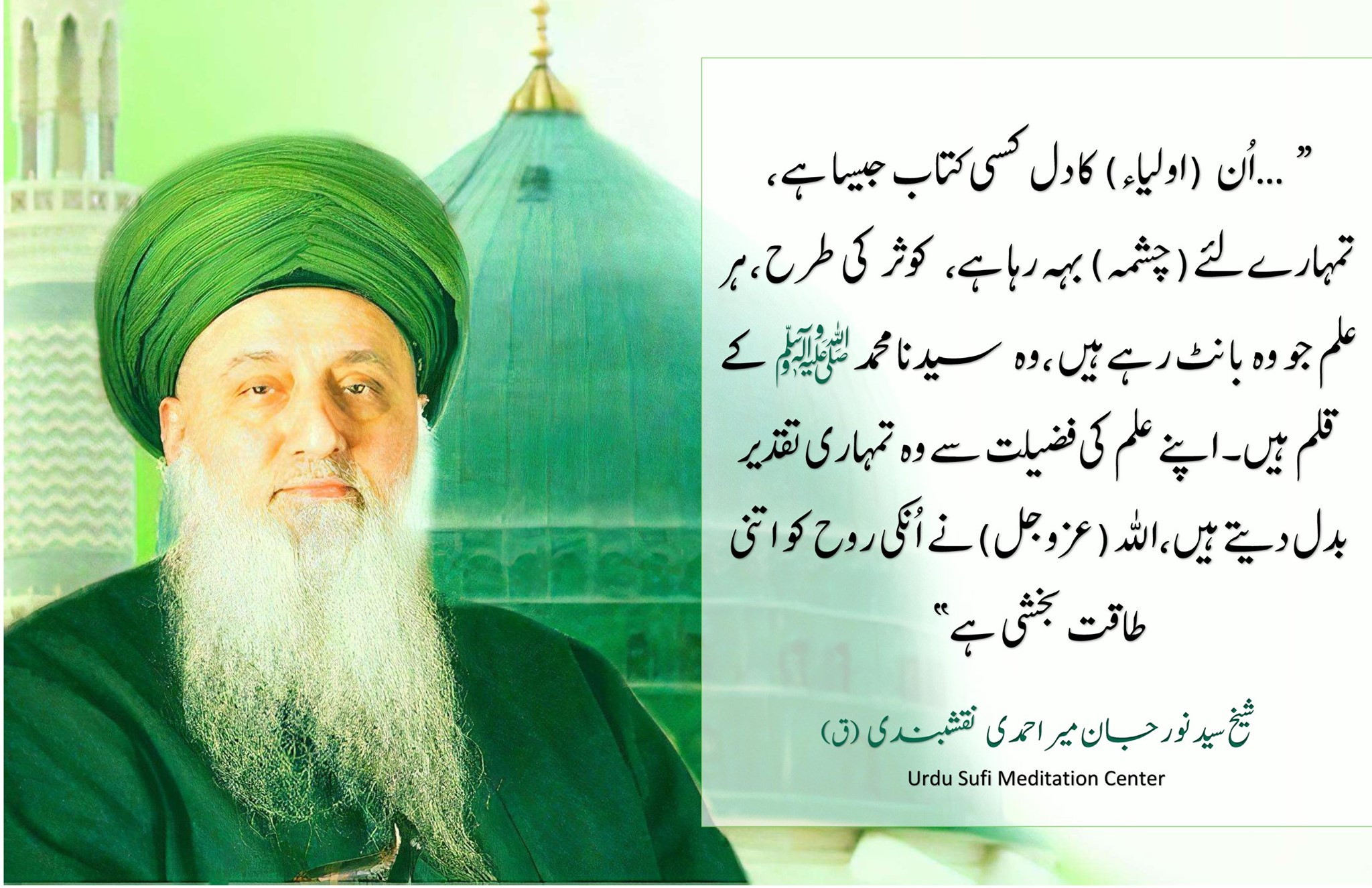 Urdu – روحانی قبلہ (نماز کی سمت) — تین قبلے اور اُن کی حقیقت (حصہ اول) – Roohani…
روحانی قبلہ (نماز کی سمت) — تین قبلے اور اُن کی حقیقت (حصہ اول)
– Roohani Qibla (Namaz ki Simmat) Aur Unki Haqeeqat (Hissa Awal)
-Spiritual Qibla (Direction of Prayer) – Reality of the Three Qiblas (PART ONE)
شیخ سید نورجان میر احمدی نقشبندی (ق) کی تعلیمات مولانا (ق) کے حقائق سے
اَعُوْذُ بِاللہ مِنَ الشَّیْطٰنِ الرَّجِیْمِ ۝ بِسْمِ اللہ الرَّحْمٰنِ الرَّحِیْمِ ۝
أَطیعُوا اللّٰهِ وَأَطیعُوا الرَّسُول وَأُولی الأمرِ مِنْکُمْ۝…
اللہ کی پناہ مانگتا ہوں شیطان مردود سے۔اللہ کے نام سے شروع کرتا ہوں جو نہایت مہربان رحم کرنے والا ہے ۔
…اللہ (عزوجل) کی اطاعت کرو اور رسول (ﷺ) کی اطاعت کرو اوراپنے میں سے (اہلِ حق) صاحبانِ اَمر کی۔
( سورۃ النساء، آیت 59)
اور ہمیشہ خود کو یہ بات یاد دلائی ہے کہ میں ایک ضعیف عبد ہوں، یا رب، میں آپ کا بندہِ عاجز،ضعیف، مسکین، ظالم اور جاہل ہوں (یَا رَبّی، اَنَا عَبْدُكَ الْعَاجِزُ، ضَعِیْفُ، مِسْکِینُ، ظَالِمْ وَ جَھَل) لیکن اللہ (عزوجل) کے فضل سے ہم ابھی تک زندہ ہیں۔ اور انشا٫اللہ، ہم سب پر اللہ (عزوجل) کی رحمۃ اور اُسکی رحمت نازل ہو اور ہم سب کی غلطیاں معاف فرمائے ۔
-Shaykh Sayed Nurjan Mirahmadi Naqshbandi (Q) ki Taleemat Mawlana (Q) ke Haqaiq se. A'udhu Billahi Minash Shaitanir Rajeem. Bismillahir Rahmanir Raheem. Allah (AJ) ki itaat karo aur rasool (saws) ki itaat karo aur apnay mein se ( Ehl-e-Haq ) sahbanِ-e Amar ki. (Surah an Nisaa, Ayat 59 ) Aur hamesha khud ko yeh baat yaad dilae hai ke mein aik zaeef abad hon, ya Rab, mein Aap ka banda-e aajiz, zaeef, maskeen, zalim aur jaahil hon (Ya Rabbi ana abdukal 'ajeez, wa dayeef, wa miskin, wa zhalim, wa jahl ) Lekin Allah ( AJ ) ke fazl se hum abhi taq zindah hain. Aur inshaAllah, hum sab par Allah ( AJ) ki Rehma aur Us kee Rehmat nazil ho aur hum sab ki ghalatiyan maaf farmaiye-
[I seek refuge in Allah from Satan, the rejected one. In the Name of Allah, the Most Beneficent, the Most Merciful."Atiullaha wa atiur Rasula wa Ulil amre minkum" and always a reminder for myself that I'm a weak servant, Ya Rabbi ana abdukal 'ajeez, wa dayeef, wa miskin, wa zhalim, wa jahl and but for the Grace of Allah (AJ), we are still in existence, that Allah's (AJ) rahmah (mercy) and mercy, inshaAllah, to be upon us all and to forgive us our wrongdoings.]
الحمدللہ ، اولیااللہ کی تعلیمات سے ، "أَطیعُوا اللّٰهِ وَأَطیعُوا الرَّسُول وَأُولی الأمرِ مِنْکُمْ" سے ، کہ ہمارے قبلہ (نماز ادا کرنے کی سمت ) کی حقیقت اور ہماری صلاۃ (نماز) کی حقیقت ، ہماری معرفت کی حقیقت ، کیونکہ ہم پہلے دُنیادی ، ظاہری لوگوں کے بارے میں بات کر رہے تھے ۔ اس لیئے جب تم یہ نعت، کلام سنتے ہو اور جو ہم نے نقطہ کے بارے میں ڈاکٹر اقبال ، علامہ اقبال اور پھر بابا بلھے شاہ (ق) کا (کلام) پوسٹ کیا ہے ۔ یہ اولیااللہ ، جب وہ نقطہ کے بارے میں بات کرتے ہیں ، نقطے کی تلاش اور ان حقائق کے مقابلہ میں باقی سب کچھ غیر اہم ہے۔ ان حقائق کی باتیں بہت حیرت انگیز ہیں اور بہت پناہ ہیں۔ یہ روشنی کی دنیا (عالمِ نور) ، وہ لوگ جن کی توجہ ملک اور ظاہری دنیا پر مرکوز ہے ، ایسے ہیں جیسے وہ کسی دوسرے مذہب کے پیروکار ہیں اور وہ ایک نہایت ظاہری بےمعنی ، کھوکھلی اور معمولی جستجو میں کھو گئے ہیں ، اللہ (عزوجل) کی زبردست طاقت کے سامنے یہ بہت بچگانہ جماعت لگتی ہے ۔ اُس نے اپنے بندوں کیلئے جوطے کر رکھا ہے، اُس کیلئے عاجزی درکار ہوتی ہے، تمام آدب اور تربیت چاہیئے، طریقت کے آداب بُھلا دیئے گئے ہیں۔
-Alhamdulilah , Awliyaullah ki taleemaat se, 'Atiullaha wa atiur Rasula wa Ulil amre minkum,' se, ke hamaray qibla ( namaz ada karne ki simt ) ki haqeeqat aur hamari Salah ( namaz ) ki haqeeqat, hamari Maarfat ki haqeeqat, kyunkay hum pehlay Dunia, zahiri logon ke baaray mein baat kar rahay thay. Is liye jab tum yeh naat, kalaam suntay ho aur jo hum nay nuqta ke baaray mein Dr Iqbal , Allama Iqbal aur phir baba blhe Shah (Q) ka ( kalaam ) post kya hai. Yeh Awliyaullah jab woh nuqta ke barey mein baat karte hain, nuqtay ki talaash aur un haqayiq ke muqaabla mein baqi sab kuch ghair ahem hai. Un haqayiq ki baatein bohat herat angaiz hain aur bohat panah hain. Yeh roshni ki duniya ( aalmِ noor ), woh log jin ki tavajja malik aur zahiri duniya par markooz hai, aisay hain jaisay woh kisi dosray mazhab ke peirokaar hain aur woh aik nihayat zahiri be maienay, khokhli aur mamooli justojoo mein kho gay hain, Allah (AJ) ki zabardast taaqat ke samnay yeh bohat bchganh jamaat lagti hai. Uss naay apne bundo ke liye jo teh kar rakha hai, uss ke liye aajzi darkaar hoti hai, tamam aadab aur tarbiyat chahiye, tareqat ke aadaab bُhla diye gay hain-
[Alhamdulillah, from the teaching of awliyaullah (saints) from "Atiullaha wa atiur Rasula wa Ulil amre minkum," that the reality of our qibla (direction of prayer) and the reality of our salah (prayer), the reality of our ma'rifah (Gnosticism) because we were talking earlier about dunya (material world), zahiri people. That's why when you listen to these naat kalam (words of praises) and the one that we posted on the nuqt (dot) and Dr. Iqbal, Allama Iqbal and then Bulleh Shah (Q), these awliyaullah, when they talked about the nuqt, the pursuit of the nuqt and everything else was so insignificant talking about these haqqaiqs (realities) are so amazing and immense. This world of light that people whom are focusing on this mulk (earthly realm) and the world of form as is if they're practicing some other religion and they're lost in a very external understanding, external pursuit and trivial; it seems almost kindergarten-ish compared to the majestic Might of Allah (AJ). What He has in store for His servants requires a humility, requires all of the adab (manners) and training which tariqah (spiritual path) adab is lost.]
طریقت کا آدب: شیخ کی انکساری کے سامنے عاجزی دیکھائیں
(Tareqat Ka Aadab : Shaykh Ki Inkisari Ke Samnay Aajzi Dekhayeen)
Tariqah Adab: Humble Yourself in Front of Shaykh's Humility
اب کوئی طریقت کا آدب نہیں جانتا ۔ (آدب کا) یہ فن کھو چکا ہے۔ . یہ سب تعلیمات ہمارے سیکھنے اور اپنی زندگیوں پر اس کا اطلاق کرنے کیلئے ہیں۔ جو سب کچھ ہم " لا الہ الا اللہ محمد رسول اللہ " سے متعلق درس دیتے ہیں وہ تمہیں اخلاق اور کردار سکھاتا ہے کہ یہ سیدنا محمد ( ﷺ) کی انکساری ہے کہ وہ تشریف لاتے ہیں اور " لا الہ الا اللہ" کے بارے میں درس دیتے ہیں ، " لا الہ الا اللہ" کی اہمیت سکھاتے ہیں اور " محمدرسول اللہ " کے بارے تعلیم نہیں دیتے۔ اگر تمہیں اس بات ( کی گہرائی ) سمجھ نہ آئی تو تم سارے طریقت سے محروم ہو رہے ہو ۔
– Ab koi tareqat ka aadab nahi jaanta. (Aadab ka ) yeh fann kho chuka hai. Yeh sab talemaat hamaray seekhnay aur apni zindagion par is ka itlaq karne ke liye hain. Jo sab kuch hum" La Ilaha Illallah Muhammadun Rasulallah " se mutaliq dars dete hain woh tumhe ikhlaq aur kirdaar sakata hai ke yeh Sayyidina Muhammad (s) ki inkisari hai ke woh tashreef laatay hain aur" La Ilaha Illallah " ke baaray mein dars dete hain, "La Ilaha Illallah " ki ahmiyat sikhate hain aur" Muhammadun Rasulallah (s) " ke barey taleem nahi dete. Agar tumhe is baat (ki geherai) samajh nah aayi to tum saaray tareqat se mahroom ho rahay ho –
[Tariqah adab is not understood anymore, it's a lost art. All this teaching is for us to learn and apply it on our own lives. When everything we're teaching about la ilaha illAllah Muhammadun RasulAllah ﷺ (there is no God but Allah and Muhammad is his Messenger) teaches you the akhlaaq and character that the humility of Sayyidina Muhammad ﷺ is to come and teach about la ilaha illAllah and bring the significance of la ilaha illAllah and not teach about Muhammadun RasulAllah ﷺ. If you don't get that, you're missing the whole tariqah.]
تو جب وہ (لوگ ) شیخ ناظم (ق) کے پاس جاتے اور شیخ ناظم (ق) سے پوچھتے، 'آپ کا شیخ کون ہے ؟ اس طریقت کا شیخ کون ہے' آپ (ق) فرماتے : " بیشک، شیخ عبداللہ الفائز ا لدغستانی (ق)۔ تو ( ہماری ) میراث بھی یہی ہے۔اگر تم "محمد رسول اللہ " ( ﷺ) کے پاس جاؤ گے ، تو وہ "محمد رسول اللہ "( ﷺ) کے بارے بات نہیں کریں گے۔ وہ " لاالہ الا اللہ" کے بارے میں بات کریں گے ۔
– Toh jab woh ( log ) Shaykh Nazim (Q) ke paas jatay aur Shaykh Nazim (Q) se puchhte,' aap ka Shaykh kon hai? Is tareqat ka Shaykh kon hai' aap (Q) farmate :" bay shak, Shaykh Abdullah Faiz ad-Daghestani (Q).To ( hamari ) meeras bhi yahi hai . Agar tum Muhammadun RasulAllah (s) ke paas jao ge, to woh" Muhammadun RasulAllah " (s ) ke baaray baat nahi karen ge. Woh" la ilaha illAllah" ke baaray mein baat karen ge-
[So, when they would go to Shaykh Nazim (Q) and ask Shaykh Nazim (Q), 'Who's your shaykh? Who's the Shaykh of the tariqah?' He says: 'Of course, Shaykh Abdullah Faiz ad-Daghestani (Q).' So, inheriting same. Because if you go to Muhammadun RasulAllah ﷺ, he doesn't talk about Muhammadun RasulAllah ﷺ. He talks about la ilaha illAllah.]
شیخ کے مقام کا غلط اندازہ مت لگاؤ
(Shaykh ke Maqam Ka Ghalat Andaza Mat Lagao)
Don't Underestimate the Station of a Shaykh
تو اُس شیخ کے مقام کا غلط اندازہ مت لگاؤ جو تمہیں سکھاتے ہیں اور نہ ہی اُنکی قابلیت کا ، جو تمہیں دو سیکنڈ میں بارگاہ الہی میں لےجا سکتی ہے۔ کیونکہ وہ تشریف لاتے ہیں اور تمہارے ساتھ عاجزی سے بات کرتے ہیں ، تب تم یہ سوچتے ہوئے اپنا دماغ کھو بیٹھتے ہو کہ 'فلاں (شیخ ) ایسے ہیں ، یہ ویسے ہیں ، میں اُنکے پاس جاؤں گا ، میں یہاں جاؤں گا ، میں وہاں جاؤں گا۔' تب تم ان دوسرے مذہب کے لوگوں کی طرح وہابی بن جاتے ہو ۔ وہ سمجھتے ہیں کہ وہ اللہ (عزوجل) کے پاس جا ئیں گے اور اللہ (عزوجل) ان پر فیض جاری کرے گا اور اُنہیں یہ سارے مقامات دے گا ۔ تب وہ انہیں تعلیم دیتے ہیں ، 'تم کیا بات کر رہے ہو؟' اللہ (عزوجل) تمہیں " محمدرسول اللہ " (ﷺ) کی طرف بھیج دے گا۔ اگر وہ تمہیں یہ حقیقت نہ دینا چاہتا ، تو وہ اُنہیں بھیجتا ہی نہیں۔ اور تم اہل- لاالہ الا اللہ ہوتے۔تو ، یہ تمام درس طالب علم کو یہ حقیقت سکھانے کیلئے تھا۔
– Tow uss Shaykh ke maqam ka ghalat andaza mat lagao jo tumhe sikhate hain aur nah hi unkee qabliyat ka, jo tumhe do second mein bargaah ellahi mein le ja sakti hai. kyunkay woh tashreef laatay hain aur tumahray sath aajzi se baat karte hain, tab tum yeh sochte hue apna dimagh kho baithtay ho ke' falan ( Shaykh ) aisay hain, yeh waisay hain, mein aُnke paas jaoon ga, mein yahan jaoon ga, mein wahan jaoon ga.' tab tum un dosray mazhab ke logon ki terhan wahabi ban jatay ho. woh samajte hain ke woh Allah (AJ) ke paas ja yin ge aur Allah (AJ) un par Faiz jari kere ga aur unhay yeh saaray maqamat day ga. tab woh inhen taleem dete hain,' tum kya baat kar rahay ho ?' Allah (AJ) tumhe" Muhammadun RasulAllah " (s ) ki taraf bhaij day ga. agar woh tumhe yeh haqeeqat nah dena chahta, to woh unhay bhejta hi nahi. aur tum Ahl e la ilaha illAllah hotay. Toh, yeh tamam dars taalib ilm ko yeh haqeeqat sikahnay ke liye tha-
[So, don't underestimate the station of the Shaykh who's teaching you and the ability within two seconds to lift you into Divine Presence. Because they come and talk humble to you, then you lost your mind thinking, 'Oh! This one this, this one, I'll go to this, I'll go here, I'll go there.' Then you become like these other mazhab people, Wahabis. They think that they're going to go to Allah (AJ) and Allah (AJ) going to dress them and give them all these maqams (stations). When they're teaching them, 'What are you talking about?' Allah (AJ) is going to direct you to Muhammadun RasulAllah ﷺ. If He didn't want to go give you that reality, He wouldn't have brought it and then you would have been Ahl e la ilaha illAllah. So, this whole teaching was to teach the student this reality.]
انکساری میں مقابلہ کرنے والے شیخ سب سے زیادہ فیض حاصل کرتے ہیں
(Inkisari Mein Muqaabla Karne Walay Shaykh Sab Se Zyada Faiz Haasil Karte Hain)
Shaykh Competing in Humility Receives the Most Faiz
لہذا ، جب وہ پوچھتے ہیں اور سُنتے ہیں اور وہ شائستہ انداز میں سُنتے ہیں ، جس انداز میں یہ شیخ بات کرتے ہیں کیونکہ یہ (انداز ) تمہارے کلچر کا حصہ نہیں ہے۔ یعنی تم اپنے کلچر کی (مذہبی ) تقریبات میں بیٹھتے ہو تو (تعارف بہت سے القابات سے کرایا جاتا ہے) فلاں فلاں علامہ ، اور فلاں فلاں حاجی ، اور فلاں فلاں مفتی ، سب سے زیادہ علم رکھنے والے (جناب عالم فاضل) یہ اور وہ۔یہ سب عنوانات کیا ہیں؟ وہ انہیں اسکول میں پڑھاتے ہیں کہ جب تم ان مشائخ کے کسی گروہ میں ہوں اور وہ اپنے ساتھ بیٹھے اگلے عالم کے بارے میں بات کرنا چاہیں ، تو وہ اسے اعلیٰ ترین نام ، بڑے بڑے ناموں سے بلاتے ہیں۔ اگلا مڑ کر اُس سے کہتا ہے ، "تم سب سے اُونچے ہو ۔ تم سب سے بڑے ہو "
– Lehaza, jab woh puchhte hain aur suntay hain aur woh shaista andaaz mein suntay hain, jis andaaz mein yeh Shaykh baat karte hain kyunkay yeh ( andaaz ) tumahray culture ka hissa nahi hai. Yani tum apne culture ki ( mazhabi ) taqrebaat mein baithtay ho to ( taaruf bohat se alqabaat se karaya jata hai ) falan falan allama, aur falan falan haji, aur falan falan mufti, sab se ziyada ilm rakhnay walay ( janab aalam fazil ) yeh aur woh. Yeh sab anwanat kya hain? Woh inhen school mein parhatay hain ke jab tum un mashaiykh ke kisi giroh mein hon aur woh –apne sath baithy aglay aalam ke baray mein baat karna chahain, to woh usay aala tareen naam, barray barray naamon se bulatay hain. Agla murr kar uss se kehta hai," tum sab se unche ho. Tum sab se barray ho "-
[So, when they ask and they hear and they hear the humble way in which these shaykhs talk because it's not from your culture that way. It means you sit in your cultured events, the Allama so and so Hajji so and so, Mufti so and so, the highest knowers of this and this, so and so. What are all these titles? They teach them in school that when you're in a group of these shaykhs and they want to talk about the next 'aalim (scholar) next to him. They call him the highest names, biggest names. The next one turns around and says to him, 'You are the highest one. You're the biggest one.']
اور ہم سلطان الاولیا کے پاس بیٹھےاور انہوں نے کبھی کسی کا ذکر نہیں کیا ، انھوں نے کبھی بھی کسی کی تعریف اُس کی موجودگی میں نہیں کی اور انہوں نے فرمایا ، "صرف اللہ (عزوجل) کا بندہ اور قوم (اُمت ) کا خادم"۔ اور اگر ایک لمحے کیلئے تم نے خیال کیا کہ 'وہ (شیخ ) کچھ نہیں ' ، تم نے طریقت کھو دیا ۔ اگر تم اُن لوگوں کی تلاش کر رہے ہو جو خود کو کچھ سمجھتے ہیں تو تم غلط ہاتھوں میں چلے جاؤ گے ، لہذا طریقت آکر سکھاتی ہے ، اُسے ڈھونڈو جو عاجزی میں مقابلہ کر رہے ہیں۔ کہ وہ مسلسل خود کو فنا کررہے ہیں اور لوگوں کو بتا رہے ہیں ، وہ کچھ بھی نہیں ہیں اور وہ کمزور ہیں ، وہ غریب ہیں ، وہ اللہ (عزوجل) کے راستے میں فقیر ہیں،کیونکہ وہ تم سے بات نہیں کررہے ۔ لیکن وہ ان مشائخ سے گفتگو کر رہے ہیں جو ان کے رُوبرو ہیں ، انہیں فیض دیتے ہیں۔ کہ اُن کی صحبت میں وہ بالکل ناچیز ہیں۔ ان کی طرف دیکھتے ہوئے وہ کہتے ہیں ، "ہم کچھ بھی نہیں ، ہم کچھ نہیں ، ہم کچھ بھی نہیں کہ آپ اپنے نور کی تاب میرے زریعے عکس کرتے ہیں اور یہ جھلک لوگوں تک پہنچتی ہے۔
– Aur hum Sultan ul-Awliya ke paas baithy aur unhon ne kabhi kisi ka zikar nahi kya, unhon ne kabhi bhi kisi ki tareef uss ki mojoodgi mein nahi ki aur unhon ne farmaya," sirf Allah (AJ) ka bandah aur qoum (umatt ) ka khadim ". Aur agar aik lamhay ke liye tum ne khayaal kya ke' woh ( Shaykh ) kuch nahi ', tum ne tareqat kho diya. Agar tum unn logon ki talaash kar rahay ho jo khud ko kuch samajte hain to tum ghalat hathon mein chalay jao ge, lehaza tareqat aakar sikhati hai, ussay dhuundo jo aajzi mein muqaabla kar rahay hain. Ke woh musalsal khud ko fanaa kar rahay hain aur logon ko bta rahay hain, woh kuch bhi nahi hain aur woh kamzor hain, woh ghareeb hain, woh Allah (AJ) ke rastay mein faqeer hain, kyunkay woh tum se baat nahi kar rahay. Lekin woh un mashaiykh se guftagu kar rahay hain jo un ke rubaroo hain, inhen Faiz dete hain. Ke unn ki sohbat mein woh bilkul nacheez hain. Un ki taraf dekhte hue woh kehte hain," hum kuch bhi nahi, hum kuch nahi, hum kuch bhi nahi ke aap –apne noor ki taab mere zariye aks karte hain aur yeh jhalak logon taq pahunchti hai-
[And we sat with the Sultan (King) of saints and he never mentioned anyone. He never praised anyone in their presence and he said he's just a servant of Allah (AJ) and a servant of the nation. And for a moment, you thought, 'He was no one,' you lost the tariqah (spiritual path). If you're looking for people who call themselves someone, you'll end up in the wrong hands. So, tariqah comes and teaches find the one whom is competing in their humility. That they are continuously effacing themselves and telling people, they're nothing and that they're weak, they're poor, they're faqir in Allah's (AJ) way because they're not talking to you. But they're talking to the shaykhs that are facing them, giving them a faiz (downpouring blessings). That in their association they are absolutely nothing that looking to them they say, 'We are nothing, we're nothing, we're nothing, that you shine your light reflect through me and that reflection to go out to people.']
شیخ ایک مستند وسیلہ ہے جو آپ کیلئے ابدی حقائق کھولتا ہے
(Shaykh Aik Mustand Waseela Hai Jo Aap Ke Liye Abdi Haqayiq Kholta Hai)
The Shaykh is an Authorized Wasila Who Opens Eternal Realities for You
لیکن بدقسمتی سے ، سامعین سن رہے ہیں ، 'اوہ! انہوں نے فرمایا کہ وہ کچھ بھی نہیں ہے لہذا میں ، دوسرے شیخ کی تصویر لگا لیتا ہوں، یہ میرے شیخ ہیں' ۔ تم نے سارا نقطہ کھو دیا اگر تمہیں یہ (شیخ) تعلیم نہ دیں ، تمہیں نہ اُٹھائیں ، بُلند نہ کریں اور تمہیں ان مشائخ کی موجودگی میں پیش نہ کریں ، تو تم اس حقیقت کے باہری دروازے تک بھی نہ پہنچ پاتے ۔ لیکن ان کے ذریعہ اور ان کی وسیلہ (راستہ / معاونت) کے ذریعہ وہ تمہیں اپنے حاصل کردہ حصہ کے اندرونی ایوان میں لے جاتے ہیں اور اس داخلی ایوان کے اندرونی چیمبر میں لے جاتےہیں جس کو وہ "لوب" کہتے ہیں ، پھل اور اس پھل کا جوہر ، جیسے جوز (گِری/مغز)۔ جہاں تمہیں اسکے اندر مغز (گودہ) ملتا ہے ، جہاں اس کا روغن موجود ہوتا ہے ، جہاں اس کی حقیقت موجود ہوتی ہے۔ بیرونی خول نہیں جہاں تم پھنسے ہوئے ہو ۔
– Lekin bad qismati se, samaeen sun rahay hain,' oh! Unhon ney farmaya ke woh kuch bhi nahi hai lehaza mein, dosray shaykh ki tasweer laga laita hon, yeh mere shaykh hain '. Tum ney sara nuqta kho diya agar tumhe yeh ( shaykh ) taleem nah den, tumhe nah uthain, buland nah karen aur tumhe un mashaiykh ki mojoodgi mein paish nah karen, to tum is haqeeqat ke baahiri darwazay taq bhi nah poanch paate. Lekin un ke zareya aur un ki waseela ( rasta / muawnat ) ke zareya woh tumhe –apne haasil kardah hissa ke androoni ewaan mein le jatay hain aur is dakhli ewaan ke androoni chimbr mein le jatay hain jis ko woh" lubh" kehte hain, phal aur is phal ka johar, jaisay jauz ( giri / maghaz ). Jahan tumhe uskay andar maghaz ( guda) milta hai, jahan is ka roghan mojood hota hai, jahan is ki haqeeqat mojood hoti hai. Bairooni khoal nahi jahan tum phansay hue ho-
[But unfortunately, the audience is hearing, 'Oh! He said he's nothing so let me put pictures of the other one, this is my shaykh.' You lost the whole point. If not for this one teaching you, lifting you, raising you and presenting you to the presence of those shaykhs, you can't even get to the outside door of that reality. But through them and their wasila (a means) they take you to the inner chamber of what they have achieved and that inner chamber into the inner chamber – what they call a loob, the fruit and the essence of the fruit of like a nut. You get the maghz (brain) inside this, where the oil, where the reality of it is. Not the outer shell you're stuck on.]
اولیااللہ اپنے علم کی فضیلت سے تمہاری تقدیر بدل سکتے ہیں
(Awliya Allah Apne Ilm Ki Fazeelat Se Tumhari Taqdeer Badal Satke Hain)
Awliya Can Change Your Destiny By Virtue of Their Knowledge
لہذا، سیدنا محمد ( ﷺ) کی محبت کے ساتھ تم کہاں پہنچے؟ " لاالہ الا اللہ" کے حقائق اور حقیقتوں تک۔ تو ، وہی حقائق ، وہی تعلیمات جھلک رہی ہے۔ جب وہ یہ فرما رہے ہیں کہ اُن کے مشائخ عظیم ہیں کہ وہ (حضرت شیخ) تمہیں اُس دل اور اُس بارگاہ میں لے جاسکتے ہیں ، تمہیں اُن کی حقیقت سے آراستہ کرسکتے ہیں ، تمہیں اُس سے برکت عطا کرسکتے ہیں اور اُن کا علم اس بات کی نشانی ہے نہ کہ کتاب سےپڑھنے میں ، یہ علم کہ، اُن کا دل کسی کتاب جیسا ہے ، تمہارے لئے (علوم کا چشمہ) بہہ رہا ہے۔ "کوثر" ( چشمہ کثرت ) کی طرح ، ہر علم جو وہ بانٹ رہے ہیں ،یہ سیدنا محمد ( ﷺ) کے "قلم" ہیں ۔ اپنے علم کی فضیلت سے وہ تمہاری تقدیر بدل دیتے ہیں، اللہ (عزوجل) ان کی روح کو اتنی طاقت بخشی ہے ۔
– Lehaza, Sayedena Muhammad (s) ki mohabbat ke sath tum kahan puhanche ? "la ilaha illAllah " ke haqayiq aur haqeeqaton taq. To, wohi haqayiq, wohi talemaat jhalak rahi hai. Jab woh yeh farma rahay hain ke unn ke mashaiykh azeem hain ke woh ( hazrat Shaykh ) tumhe uss dil aur uss bargaah mein le jasakte hain, tumhe unn ki haqeeqat se aaraasta kar saktay hain, tumhe uss se barket ataa kar saktay hain aur unn ka ilm is baat ki nishani hai nah ke kitaab se parhnay mein, yeh ilm ke, unn ka dil kisi kitaab jaissa hai, tumahray liye ( aloom ka chashma ) beh raha hai." kawthar " ( chashma kasrat ) ki terhan, har ilm jo woh baant rahay hain, yeh Sayedena Muhammad (s) ke" Qalam" hain. Apne ilm ki fazeelat se woh tumhaarii taqdeer badal dete hain, Allah (AJ)un ki rooh ko itni taaqat bakhsh hai –
[So, with the love of Sayyidina Muhammad ﷺ, where you get to? The realities and haqqaiqs of la ilaha illAllah. So, same realities, same teaching is reflecting. When he's saying his shaykhs are great that he can take you into that heart and into that presence, dress you from its reality, bless you from it and that their knowledge is a sign not the book reading. The knowledge that their heart is like a book, flowing for you, like a kawthar (fountain of abundance). Every knowledge that they're giving, these are the qalam (pen) of Sayyidina Muhammad ﷺ. By virtue of their knowledge, they change your destiny. That's how much power Allah (AJ) gave to their soul.]
تمہارے مقدر میں 'برگر کنگ' کام کرنا لکھا تھا اور تمہیں ہیمبرگر اور فرائز (بنانے ) کے علاوہ کچھ نہیں پتہ تھا۔ جیسے ہی تم ان ( اولیا) کے ساتھ بیٹھ گئے ، انہوں نے تمہیں دو "کلام" سکھائے اور اس سے تمہاری روح کی تقدیر بدل گئی ۔ اور ذرا تصور کرو کہ ان کی روح تمہیں اپنی گرفت میں لیکر اور ہر رات تمہیں کس کی بارگاہ میں لے جاتی ہے ۔ یہی وجہ ہے کہ تمہیں ہر 5 منٹ بعد ( بار بار) اُن سے پوچھنے کی ضرورت پیش نہیں آتی کہ میرے لئے دعا کیجئے ، میرے لئے دعا کیجئے ، یہ تمہارے نفس اور تمہاری انا کی وجہ سے ہے۔ ان کی روح اچھی طرح جانتی ہے کہ تمہارے ساتھ کیا کرنا ہے۔ یہ منتظر نہیں کہ تم اُن سے درخواست کرو کہ کیا کرنا ہے ۔ ان کی روح مضبوطی سے پکڑتی ہے اور اُس طرح (آگے ) بڑھتی ہے جیسے سیدنا محمد ( ﷺ) اسے بڑھانا چاہتے ہیں ۔تو ، پس پردہ بہت سی چیزیں ہورہی ہیں اور اُنھیں اس بارے میں بات کرنے کی ضرورت نہیں ہے ، اُنہیں یہ ظاہر کرنے کی ضرورت نہیں ہے ، انہیں خود کو کچھ ظاہر کرنے کی ضرورت نہیں۔ انہیں اس غلیظ دنیا میں فنا ئیت کے سمندر میں مقابلہ کرنا ہے۔
-Tumahray muqaddar mein' Burger King ' kaam karna likha tha aur tumhe hamburger aur fries ( bananay ) ke ilawa kuch nahi pata tha. Jaisay hi tum un ( Awliya) ke sath baith gaye, unhon ny tumhe do" kalaam" sikhayiye aur is se tumhaarii rooh ki taqdeer badal gayi. Aur zara tasawwur karo ke un ki rooh tumhe apni girift mein leker aur har raat tumhe kis ki bargaah mein le jati hai. Yahi wajah hai ke tumhe har 5 minute baad ( baar baar ) unn se poochnay ki zaroorat paish nahi aati ke mere liye dua kijiyej, mere liye dua kijiyej, yeh tumaray nafs aur tumhari anaa ki wajah se hai. Un ki rooh achi terhan janti hai ke tumaray sath kya karna hai. Yeh muntazir nahi ke tum unn se darkhwast karo ke kya karna hai. Un ki rooh mazbooti se pakadati hai aur uss terhan ( agay ) barhti hai jaisay Sayedena Muhammad (s) usay barhana chahtay hain. Toh, pas-e parda bohat si cheeze horahee hain aur unhen is baaray mein baat karne ki zaroorat nahi hai, unhay yeh zahir karne ki zaroorat nahi hai, inhen khud ko kuch zahir karne ki zaroorat nahi. Inhen is ghaleez duniya mein fanaa yit ke samandar mein muqaabla karna hai –
[Your destiny was coming to work at Burger King and you knew nothing more than a hamburger and a fries. As soon as you sat with them, they taught you two kalam and that changed the destiny of your soul. And imagine that their soul grabs you and takes you every night into whose presence, that's why you don't have to keep asking them every 5 minutes, 'Make a du'a (supplication) for me, make a du'a for me.' This from your nafs and your ego. Their soul knows exactly what to do with you. It's not waiting for you to ask them what to do. Their soul grabs and moves exactly the way that Sayyidina Muhammad ﷺ wants it to move. So, many things are happening behind the scenes and they don't have to talk about it, they don't have to show it, they don't have to show anything of themselves. They have to compete in this filthy world in the ocean of nothingness.]
سلطان الاولیا: 124،000 اولیاء میں سے سب سے طاقتور نقط ہیں
(Sultan al Awliya: 124,000 Awliya Mein Se Sab Se Taaqatwar Nuqt Hain)
Sultan al Awliya: Most Powerful Nuqt Amongst the 124,000 Awliya
جس کو سب سے زیادہ فنائیت ملتی ہے اُسے نقط دیا جاتا ہے ۔ وہ منفی -1 ، -2 ، -3 ، -4 ہوجاتا ہے ، وہ اللہ (عزوجل) کے حضور زیادہ طاقتور ہوتا جاتا ہے۔ تو ، مولانا شیخ (ق) نے فرمایا: "124،000 اولیا میں سے، میں منفی صفر صفر صفر صفرصفر صفر 124،000 ولی ہوں"۔اس کا کیا مطلب ہے ؟ "جس لمحہ اللہ (عزوجل) مجھے آن کرتا ہے ، تب مجھ میں 124،000 اولیا کی طاقت ہوتی ہے" ، نہ کہ 1۔ میں نے مقابلہ کیا اور میں نے اپنی فنائیت کی تربیت حاصل کی لیکن جب اللہ (عزوجل) نے سوئچ پلٹا تو وہ اس "نقظ" کو لے کر دوسری طرف پلٹ دیتے ہیں۔
– Jis ko sab se ziyada finayat millti hai ussay nuqt diya jata hai. Woh -1, -2, -3, -4 hojata hai, woh Allah (AJ) ke huzoor ziyada taaqatwar hota jata hai. To, Mawlana Shaykh (Q) naay farmaya :" 124, 000 Awliya mein se, mein manfi sifar sifar sifar sifar sifar sifar 124, 000 Walii hon ". Is ka kya matlab hai ?" jis lamha Allah (AJ) mujhe aan karta hai, tab mujh mein 124, 000 Awliya ki taaqat hoti hai ", nah ke 1. Mein ney muqaabla kya aur mein ney apni finayat ki tarbiyat haasil ki lekin jab allah (aj) ney switch palta to woh is 'nuqt' ko le kar doosri taraf palat dete hain-
[The one whom achieves the most nothingness is being given a nuqt. He goes -1, -2, -3, -4; he's becoming more powerful in Allah's (AJ) Presence. So, Mawlana Shaykh (Q) said, 'Out of 124,000 awliya (saints), I am the negative 000000 124,000 wali (saint).' Means what? 'The minute Allah (AJ) turns me on, I have the power of 124,000 awliya.' Not 1. I competed and I trained in my nothingness but when Allah (AJ) flipped the switch, He takes this nuqt and flips it on that side.]
لہذا، اسکا مطلب ہے کہ دُنیا (میں) ،تم منفی کالم میں ہونے کا مقابلہ کرتے ہو ،' میں ناچیز ہوں، کچھ نہیں ہوں، کچھ بھی نہیں ہوں ، اللہ (عزوجل) تمھیں فنا ہونے میں مدد کرتا ہے ، تمہارے پاس لوگ بھیجتا ہے ، تمہاری توہین کرنے کیلئے ، تمھیں دھوکہ دینے کیلئے ، تمھیں بدنام کرنے کیلئے۔ تو ، پھر تم پیچھے کی طرف جارہے ہو۔ نقطہ آ رہا ہے، نقطہ آ رہا ہے، نقطہ آ رہا ہے، لیکن مولانا شیخ (ق) یہ تعلیم دے رہے تھے کہ ، "جب اللہ (عزوجل) سوئچ پلٹتا ہے تو ، یہ نکتہ دوسری طرف پلٹ جاتا ہے اور تمام 124،000 اولیاء اللہ ، وہ ان سب کی طاقت رکھتا ہے۔" اور اگر ایک ولی کو اجازت ملے تو پوری دنیا کو اُلٹ پلٹ کر سکتا ہے۔ یہ ان کیلئے کوئی بڑی بات نہیں ہے ۔ اگر وہ ان کی روح کو دیکھیں تو ، وہ اپنی روح کو اس ارض (زمین) کو (ہاتھ میں ) پکڑے ہوئے ، اس زمین کو تھامے ہوئے دیکھتے ہیں ۔ لیکن یہ دنیا فنائیت (کچھ بھی نہیں ہونے ) کا ٹھکانہ ہے۔ لیکن یہی وجہ ہے کہ وہ ان حقائق کی تعلیم دے رہے ہیں۔
-Lehaza, uska matlab hai ke duniya ( mein ), tum manfi kalm mein honay ka muqaabla karte ho,' mein nacheez hon, kuch nahi hon, kuch bhi nahi hon, Allah (AJ) tumhen fanaa honay mein madad karta hai, thumare paas log bhejta hai, tumahari tauheen karne ke liye, tumhen dhoka dainay ke liye, tumhen badnaam karne ke liye. To, phir tum peechay ki taraf jarahay ho. Nuqta aa raha hai, nuqta aa raha hai, nuqta aa raha hai, lekin Mawlana Shaykh (Q) yeh taleem day rahay they ke," jab Allah (AJ) switch palat-ta hai to, yeh nuqta doosri taraf palat jata hai aur tamam 124, 000 Awliya- Allah , woh un sab ki taaqat rakhta hai." aur agar aik walii ko ijazat miley to poori duniya ko ulat palat kar sakta hai. Yeh un ke liye koi barri baat nahi hai. Agar woh un ki rooh ko dekhen to, woh apni rooh ko is arz ( zameen ) ko ( haath mein ) pakdae hue, is zameen ko thaamay hue dekhty hain. Lekin yeh duniya finayat ( kuch bhi nahi honay ) ka thikana hai. Lekin yahi wajah hai ke woh un haqayiq ki taleem day rahay hain –
[So, it means dunya – you compete to be in the negative column, 'I'm nothing, I'm nothing, I'm nothing.' Allah (AJ) helps you by being nothing by sending people to insult you, betray you, disgrace you. So, then you're going backward. The nuqt is coming, nuqt is coming, nuqt is coming. But Mawlana Shaykh (Q) was teaching that, 'But when Allah (AJ) flips the switch, this nuqt flips on this side and all 124,000 awliyaullah, he carries all their power.' And one wali (saint), if given permission, can flip the whole dunya upside down. It's not something big for them. If they see their soul, they see their soul holding this ard (earth), holding this earth. But this dunya (material world) is the abode of 'be nothing.' But that's why they're teaching these realities.]
احادیث نبی کریم (ﷺ) کے دل سے براہ راست نشر ہوتی ہیں
(Ahadith Nabi Kareem (S) Ke Dil Se Barah-e Raast Nashar Hoti Hain)
Ahadith are Transmitted Live From the Heart of Prophet Muhammad (saws)
ایک لمحے کیلئے بھی نہ سوچئے کیونکہ سیدنا محمد ( ﷺ) نے یہ نہیں فرمایا، کہ حدیث کہاں ہے کہ نبی کریم (ﷺ) نے یہ فرمایا ہے ؟ حدیث کہاں ہے جس میں نبی کریم (ﷺ) نے یہ فرمایا ہے ؟ یہ اس بارے میں نہیں تھا۔ اور یہ اُن (ﷺ) کی حدیث مبارکہ کے اندر پوشیدہ ہے۔ وہ لوگ جو صرف حدیث کا ترجمہ کرتے ہیں ، وہ اردو (ترجمعے )سے لیتے ہیں ، عربی بول دیتے ہیں اور(الفاظ) بول دیتے ہیں یا عربی سے عربی میں اور ( صرف لفظ ) بول دیتے ہیں ۔ لیکن ایک لفظ بھی نہیں جانتے کہ وہ حدیث کیا بیان کررہی ہے کیونکہ اسے سیدنا محمد ( ﷺ) کے قلبِ مبارک سے براہ راست آنا ہو گا۔ حدیث ٖفٹ نوٹ ( وضاحتی حاشیہ) جیسی ہے۔ جیسے ہی وہ حدیث کے ، ان چند الفاظ کی تلاوت کرتے ہیں، یہ ایک انڈیکس کی طرح ہے جو سیدنا محمد ( ﷺ) کے قلبِ مبارک سے آتاہے اور براہ راست (لائیو) بیان منتقل ہونا شروع ہوتا ہے ۔ وہ بیان جو ابھی مناسبت رکھتا ہے جو سیدنا محمد ( ﷺ) اس خطے کی امت کیلئے چاہتے ہیں، اُس علاقے میں ، اُس ولی کیلئے چاہتے ہیں اوراُن کیلئے جن کو "وعدوں ( عہد ) کے دن" اُس (ولی ) کو تقسیم کیا گیا تھا۔
-Aik lamhay ke liye bhi nah sochye kyunkay Sayedena Muhammad (s) nay yeh nahi farmaya, ke Hadith kahan hai ke Nabi Kareem (s) nay yeh farmaya hai? Hadith kahan hai jis mein Nabi Kareem (s) nay yeh farmaya hai? Yeh is baaray mein nahi tha. Aur yeh unn (s) ki Hadith mubarikah ke andar posheeda hai. Woh log jo sirf hadees ka tarjuma karte hain, woh urdu ( tarjumay ) se letay hain, Arabi bol dete hain aur ( alfaaz ) bol dete hain ya arabi se Arabi mein aur ( sirf lafz ) bol dete hain. Lekin aik lafz bhi nahi jantay ke woh Hadith kya bayan kar rahi hai kyunkay usay Sayedena Muhammad (s) ke Qalbِ-e-Mbarak se barah e raast aana ho ga. Hadith foot note ( wazahati Hashia ) jaisi hai. Jaisay hi woh Hadith ke, un chand alfaaz ki talawat karte hain, yeh aik index ki terhan hai jo Sayedena Muhammad (s) ke Qalbِ-e-Mbarak se aatahe aur barah e raast (live) bayan muntaqil hona shuru hota hai . Woh bayan jo abhi munasbat rakhta hai jo Sayedena Muhammad (s) is khittay ki ummat ke liye chahtay hain, uss ilaqay mein, uss walii ke liye chahtay hain aur in ke liye jin ko" wadon ( ehad ) ke din" uss ( walii ) ko taqseem kya gaya tha –
[Don't think for a second that because Sayyidina Muhammad ﷺ didn't say it, where is the hadith (saying of Prophet ﷺ) that Prophet ﷺ said this? Where is the hadith that Prophet ﷺ said this? It wasn't about that. And it is hidden within his holy ahadith. Those whom only translate ahadith, they take from Urdu, speak Arabic and say it or from Arabic to Arabic and say it. But they yet don't know a single word of what that hadith is describing because it has to come live from the heart of Sayyidina Muhammad ﷺ. The ahadith are like a footnote. As soon as they recite those few words of the hadith, it's like an index that comes from the holy heart of Sayyidina Muhammad ﷺ and begin to transmit the live talk, the talk that's relevant to right now on what Sayyidina Muhammad ﷺ wants for the nation in that region, in that area for that wali (saint). And for whom has been partitioned to him on the day of promises.]
بارگاہ الہی میں کوثری شیخ آپ کے وکیل ہیں
(Bargaah Ellahi Mein Kawthari Shaykh Aap Ke Wakeel Hain)
Kawthari Shaykh is Your Wakeel in the Divinely Presence
جب اللہ (عزوجل) نے روحوں کو تقسیم کیا اور فرمایا ، "یہ روح ، یہ روح ، یہ روح ، یہ روح—یہ (شیخ) تمہارے وکیل ہونگے اور یہ ہماری بارگاہ الہی میں تمہارے ذمہ دار ہونگے "۔ اور روح نے کہا :" بَلَىٰ، جی ہاں ہم مانتے ہیں، اے ہمارے رب" اور ہماری زندگی (کا مقصد ) اُنہیں ڈھونڈنا تھا۔
وَإِذْ أَخَذَ رَ‌بُّكَ مِن بَنِي آدَمَ مِن ظُهُورِ‌هِمْ ذُرِّ‌يَّتَهُمْ وَأَشْهَدَهُمْ عَلَىٰ أَنفُسِهِمْ أَلَسْتُ بِرَ‌بِّكُمْ ۖ قَالُوا بَلَىٰ ۛ شَهِدْنَا ۛ أَن تَقُولُوا يَوْمَ الْقِيَامَةِ إِنَّا كُنَّا عَنْ هَـٰذَا غَافِلِينَ ۝
"اور (یاد کیجئے!) جب آپ کے رب نے اولادِ آدم کی پشتوں/ذرے سے ان کی نسل نکالی اور ان کو انہی کی جانوں پر گواہ بنایا (اور فرمایا:) کیا میں تمہارا رب نہیں ہوں؟ وہ (سب) بول اٹھے: جی ہاں، ہم گواہی دیتے ہیں تاکہ قیامت کے دن یہ (نہ) کہو کہ ہم اس عہد سے غافل تھے"
سورۃ الاعراف (7) آیت 172
-Jab Allah (AJ) ne roohon ko taqseem kya aur farmaya," yeh rooh, yeh rooh, yeh rooh, yeh rooh—( Shaykh ) thumare wakeel hunge aur yeh hamari bargaah ellahi mein thumare zimma daar hunge ". Aur rooh ne kaha :" BALA, jee haan hum mantay hain, ae hamaray Rab" aur hamari zindagi ( ka maqsad ) unhay dhondhna tha ." Aur ( yaad kijiyej! ) jab aap ke Rab ne avladِ aadam ki pshton / zarray se un ki nasal nikaali aur un ko unhi ki jaanun par gawah banaya ( aur farmaya) kya mein tumhara Rab nahi hon? Woh ( sab ) bol utthay : jee haan, hum gawahi dete hain taakay qayamat ke din yeh ( nah ) kaho ke hum is ehad se ghaafil they "7:172-
[When Allah (AJ) partition the souls and said, Shaykhs 'This soul, this soul, this soul, this soul, this will be your wakeel (representative) and this one will be responsible for you in Our Divinely Presence.' And the soul said, 'Bala, yes we agree, Ya Rabbi' and our life was to find them.
وَإِذْ أَخَذَ رَ‌بُّكَ مِن بَنِي آدَمَ مِن ظُهُورِ‌هِمْ ذُرِّ‌يَّتَهُمْ وَأَشْهَدَهُمْ عَلَىٰ أَنفُسِهِمْ أَلَسْتُ بِرَ‌بِّكُمْ ۖ قَالُوا بَلَىٰ ۛ شَهِدْنَا ۛ أَن تَقُولُوا يَوْمَ الْقِيَامَةِ إِنَّا كُنَّا عَنْ هَـٰذَا غَافِلِينَ ﴿١٧٢
7:172 – "Wa idh akhadha rabbuka min banee adama min Zhuhorihim dhurriyyatahum wa ashhadahum 'ala anfusihim alastu biRabbikum qalo bala shahidna an taqolo yawmal qiyamati inna kunna 'an hadha ghafileen. " (Surat Al-A'raf)
"And [mention] when your Lord took from the children of Adam from their atoms/loins – their descendants and made them testify concerning themselves, [saying to them], Am I not your Lord? " They said, "Yes, we do testify! " [This] – lest you should say on the day of Resurrection, Indeed, we were of this unaware. " (The Heights, 7:172)
اور انہیں ڈھونڈنے کے نتیجے میں، وہ ہماری فائل( ریکارڈ) رکھتے ہیں۔ ان کے پاس ہماری حقیقت ، ہماری منزل اور ہمارے روحانی جستجو کی جو ضروریات ہیں ، اُن کی فائل ہے۔ جس میں سے کچھ بھی دکھایا نہیں جائے گا اور یہ سب دل سے ہے۔ اگر تم چھوڑو گے تو ، تم اس حقیقت سے محروم ہوجاؤ گے۔ اور تمہارا نفس تمھیں بہت ساری سمتوں میں دکھیل دے گا یہاں تک کہ دُنیا کی مار پیٹ اچھی طرح پڑ جائے اور ہو سکتا ہے تم واپس آجاؤ اور جب تم واپس آؤ گے تو پھر اس حقیقت میں جدوجہد کرنا اور بھی مشکل ہو گا۔
– Aur inhen dhoandne ke nateejay mein, woh hamari file ( record ) rakhtay hain. Un ke paas hamari haqeeqat, hamari manzil aur hamaray rohani justojoo ki jo zaroriat hain, unn ki file hai. Jis mein se kuch bhi dekhaya nahi jaye ga aur yeh sab dil se hai. Agar tum chhorro ge to, tum is haqeeqat se mahroom hojao ge. Aur tumhara nafs tumhen bohat saari simtao mein dakhail day ga yahan taq ke duniya ki maar pait achi terhan par jaye aur ho sakta hai tum wapas aajao aur jab tum wapas ao ge to phir is haqeeqat mein jad-o-jehad karna aur bhi mushkil ho ga –
[And as a result of finding them, they hold our file. They have the file for our reality, our destination and what is required of our spiritual pursuit; none of which will be shown and all of it is by the heart. If you should leave, you lose that reality. And your nafs (ego) will make you in many directions until the beating of dunya (material world) is good enough and you may come back. And when you come back, then it's even harder to struggle into that reality.]
اپنی روحانی ترقی (نشوونما) کیلئے شیخ کی تعلیمات کو جذب کریں
(Apni Rohani Taraqqi ( Nashonuma ) Ke Liye Shaykh Ki Talemaat Ko Jazb Karen)
Absorb the Teachings of the Shaykh for Your Spiritual Growth
لہذا ،اس کا مطلب یہ ہے کہ یہ ساری تعلیم بہت ہی قابل فکر ہے ، جو کچھ بھی وہ سکھا رہے ہیں اگر تم ہوشیار ہو ، مشاہدہ کرو ، اسے جذب کرو اور اسے سمجھو کہ تم اسے اپنے روحانی تعلق اور شیخ کے ساتھ اپنے نسبت کیلئے کس طرح استعمال کر رہے ہیں ۔ وہ علوم جو ان سے بہہ رہے ہیں وہ تمہیں ان کی حقیقت کی علامت بتائیں گے ۔ کہ یہ حقائق محمدیہ، سیدنا محمد ( ﷺ) کے دل سے براہ راست آنے والے چشمے کی طرح ہیں۔ وہ زمین پر وافر ( کثیر تعداد میں )نہیں ہیں۔ یہ مت سمجھو کہ وہ ہر طرف بہنے والی نہریں ہیں کیونکہ (ایسا سمجھنے سے) اس حقیقت کی قدر کم لگے گی ۔ وہ بہت تھوڑے اور کہیں کہیں ہیں۔ اور یہ کوثری ندیوں ہیں جو بہتی ہیں۔
– Lehaza, is ka matlab yeh hai ke yeh saari taleem bohat hi qabil fikar hai, jo kuch bhi woh sikha rahay hain agar tum hooshiyar ho, mushahida karo, usay jazb karo aur usay samjhoo ke tum usay –apne Rohani talluq aur Shaykh ke sath –apne nisbat ke liye kis terhan istemaal kar rahay hain. Woh aloom jo un se beh rahay hain woh tumhe un ki haqeeqat ki alamat bitayen ge. Ke yeh haqayiq mhmdih, Sayedena Muhammad (s) ke dil se barah e raast anay walay chashmay ki terhan hain. Woh zameen par waafar ( kaseer tadaad mein ) nahi hain. Yeh mat smjo ke woh har taraf behnay wali nehrein hain kyunkay ( aisa samajhney se ) is haqeeqat ki qader kam lagey gi. woh bohat thoray aur kahin kahin hain. Aur yeh Kawthari nadiyon hain jo behti hain-
[So, it means this whole teaching is very reflective. Whatever they're teaching, if you're clever, observe, absorb it and understand how you're going to use it for your spiritual connection and your relationship with the shaykh. The knowledges that are flowing from them should give you a symbol of their reality. That these Muhammadan haqqaiqs are like a fountain coming directly from the heart of Sayyidina Muhammad ﷺ. They are not abundant upon the earth. Don't think they're streams flowing everywhere because that would be cheapening that reality. They're few and far between. And those are Kawthari streams that flow.]
اس حقیقت سے ایک قطرہ، اگر تم اس کی حقیقت سے پیتے ہو —اس حقیقت میں پینے سے مراد سُننا ہے کیونکہ تمہاری روح اسے پیتی ہے ، تمہارامنہ نہیں۔جب وہ حقیقت سے پینے کے بارے میں بات کرتے ہیں تو (اسکا مطلب ہے کہ ) تمہاری روح ایک علم لیتی ہے اور اسے پیتی ہے۔ اللہ (عزوجل) سے اس میں جانے کی درخواست کرتی ہے اور پھر اس حقائق کے سمندر میں (روح) نہانا شروع کردیتی ہے اور اگلے بیان ہونے تک نہیں رُکتی اور یہ جاری ہے اور اس کا اب بھی اس سے کوئی تعلق نہیں ہے کہ شیخ روح کو کس طرح لے جا رہا ہیں اور پیش کر رہے ہیں ، اور روحوں کے ساتھ انجمنیں جو کبھی بھی نہیں ، کبھی ختم نہیں ہوتی ۔ جسم رک سکتا ہے اور کہہ سکتا ہے ، "گڈ نائٹ" ، روح کیلئے کوئی وقت نہیں ہے۔ روحوں کی انجمن ابھی شروع ہوئی ہے ۔ وہ مسلسل ایک درس اور تعلیم لے رہے ہیں ۔ لگاتار ایک تعلیم اور بلندی ( درجات) ہو رہی ہوتی ہیں، تو ، پردے کے پیچھے بہت سے واقعات ہو رہے ہیں۔
– Is haqeeqat se aik qatra, agar tum is ki haqeeqat se peetay ho —is haqeeqat mein peenay se morad sُnna hai kyunkay tumhari rooh usay peeti hai, tumhara mau nahi. Jab woh haqeeqat se peenay ke baray mein baat karte hain to (uska matlab hai ke ) tumhari rooh aik ilm layte hai aur usay peeti hai. Allah (AJ) se is mein jany ki darkhwast karti hai aur phir is haqayiq ke samandar mein ( rooh ) nahana shuru kardeti hai aur aglay bayan honay taq nahi rukti aur yeh jari hai aur is ka ab bhi is se koi talluq nahi hai ke Shaykh rooh ko kis terhan le ja raha hain aur paish kar rahay hain, aur roohon ke sath anjmnin jo kabhi bhi nahi, kabhi khatam nahi hoti. Jism ruk sakta hai aur keh sakta hai," Goodnight ", rooh ke liye koi waqt nahi hai. Roohon ki anjuman abhi shuru hui hai. Woh musalsal aik dars aur taleem le rahay hain. Lagataar aik taleem aur bulandi (darjaat) ho rahi hoti hain, to, parday ke peechay bohat se waqeat ho rahay hain-
[One drop of its reality, if you were to drink from its reality. The drinking in this reality is to hear because your soul drinks it, not your mouth. When they talk about drinking from a reality, it's your soul takes a knowledge and drinks it, asks Allah (AJ) to go into it and then begins to bathe within the ocean of that haqqaiq (reality) and doesn't stop until the next talk and it's going. And that has still nothing to do with how the shaykh is taking the soul and presenting them. And associations with the souls that are never, never over. The body may stop and say, 'Goodnight.' There's not time for the soul. The association of the soul is just beginning. They're continuously under a dars (lesson) and a teaching, continuously a teaching and a raising. So, many things happening behind the scenes.]
Part 1/2
یہ بیان یو ٹیوب کے اس لنک پر دیکھا جا سکتا ہے
YouTube link to watch this Suhbah:
Spiritual Qibla Direction of Prayer
https://youtube.com/watch?v=vEwTO7ZlUn4
مضامین کے اُردو ترجمہ پڑھنے کیلئے
Translation of Other Articles:
https://nurmuhammad.com/category/urdu/
یو ٹیوب چینل ابھی سبسکرایب کیجئے۔
Subscribe Now: The Muhammadan Way Sufi Realities
https://www.youtube.com/channel/UC4E8QX7OgwYDgyuuXTBMrcg
شیخ سید نور جان میر احمدی نقشبندی (ق) کا آفشیل فیس بک پیج لائک کیجئے
Official Page: Shaykh Nurjan Mirahmadi
https://facebook.com/shaykhnurjanmirahmadi/
Please Like and Share